This article may contain affiliate links; if you click on a shopping link and make a purchase I may receive a commission. As an Amazon Associate, I earn from qualifying purchases.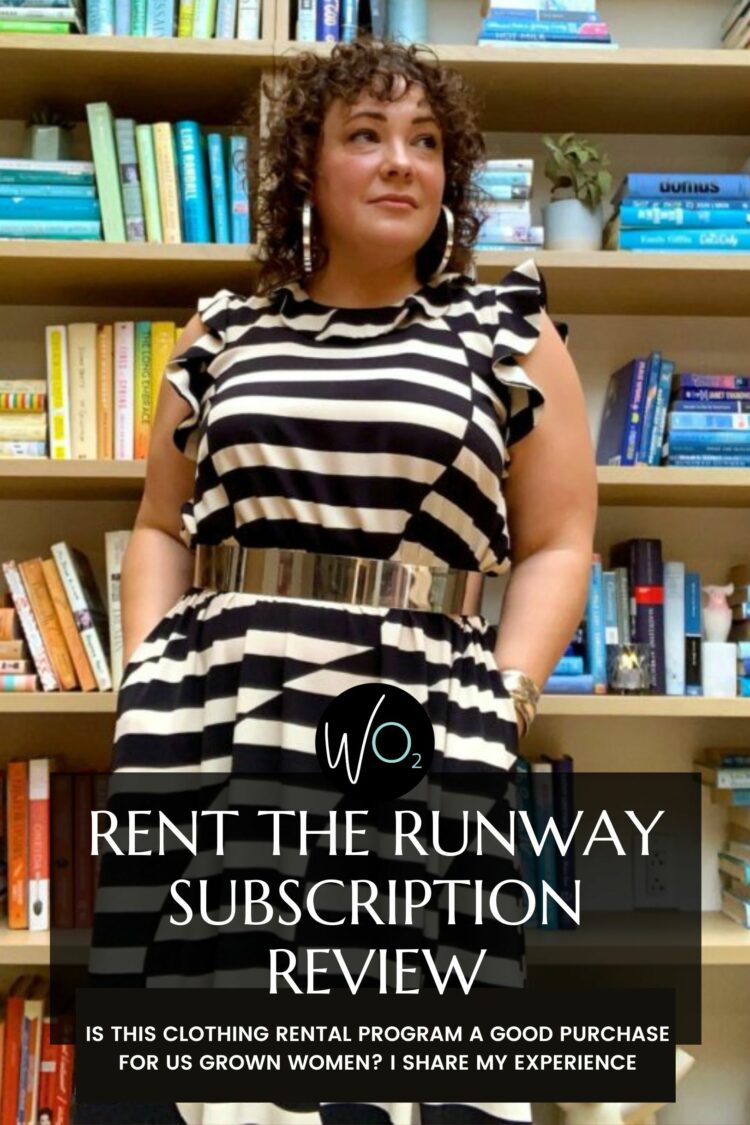 The past two months have been a blur of travel and events related to the blog and next month it will be travel and events for my non-blog life.  I feel I have built a pretty good core wardrobe of basics that mix and match and can transform with a switch of shoes and accessories.  However, some events just need a unique look and well… I get BORED with my closet!  Enter a Rent the Runway subscription. Below is an honest Rent the Runway subscription review after using for several months.
Why I'm Loving My Rent the Runway Subscription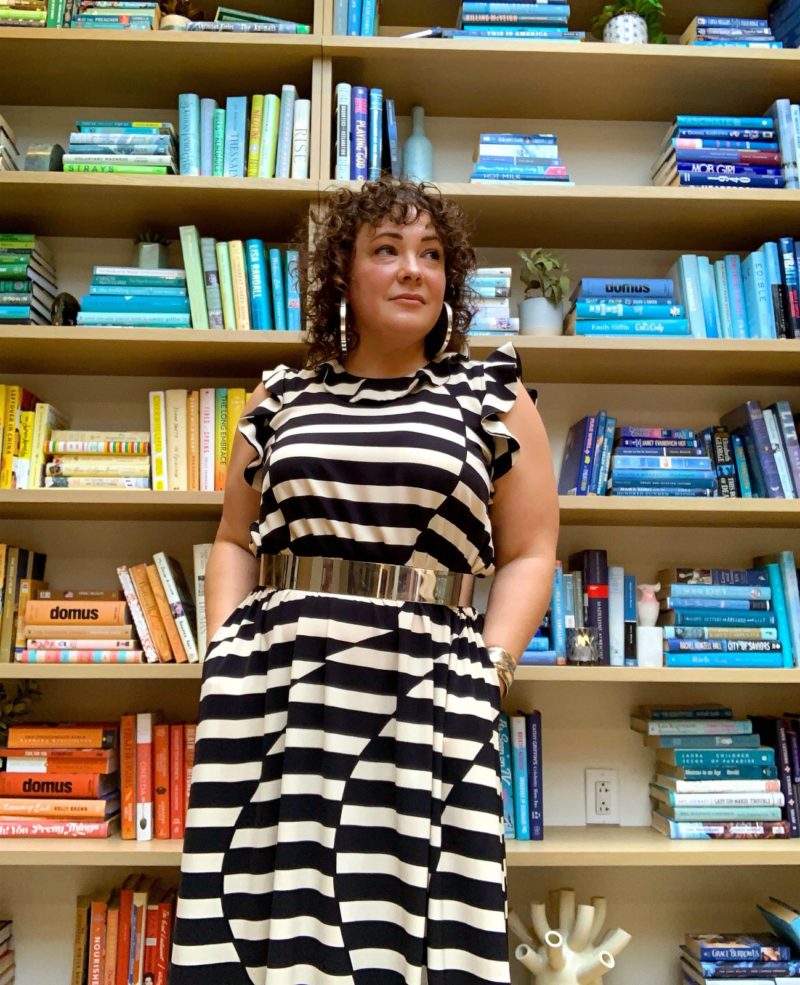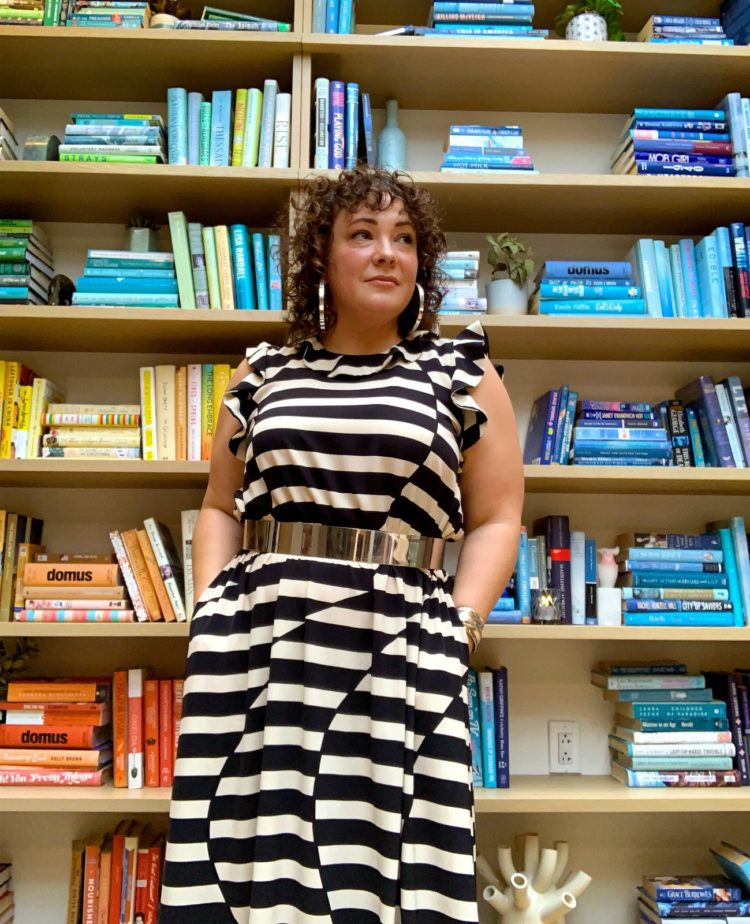 dress | earrings | belt | bracelet | shoes
I wrote about my experience with a Rent the Runway subscription but that was my first delivery.  A super cute dress arrived, I rocked it, I photographed it, I wrote a review still on that blue dress high. Since then, I have received two more deliveries and feel I can give a better review.  And it's still pretty glowing.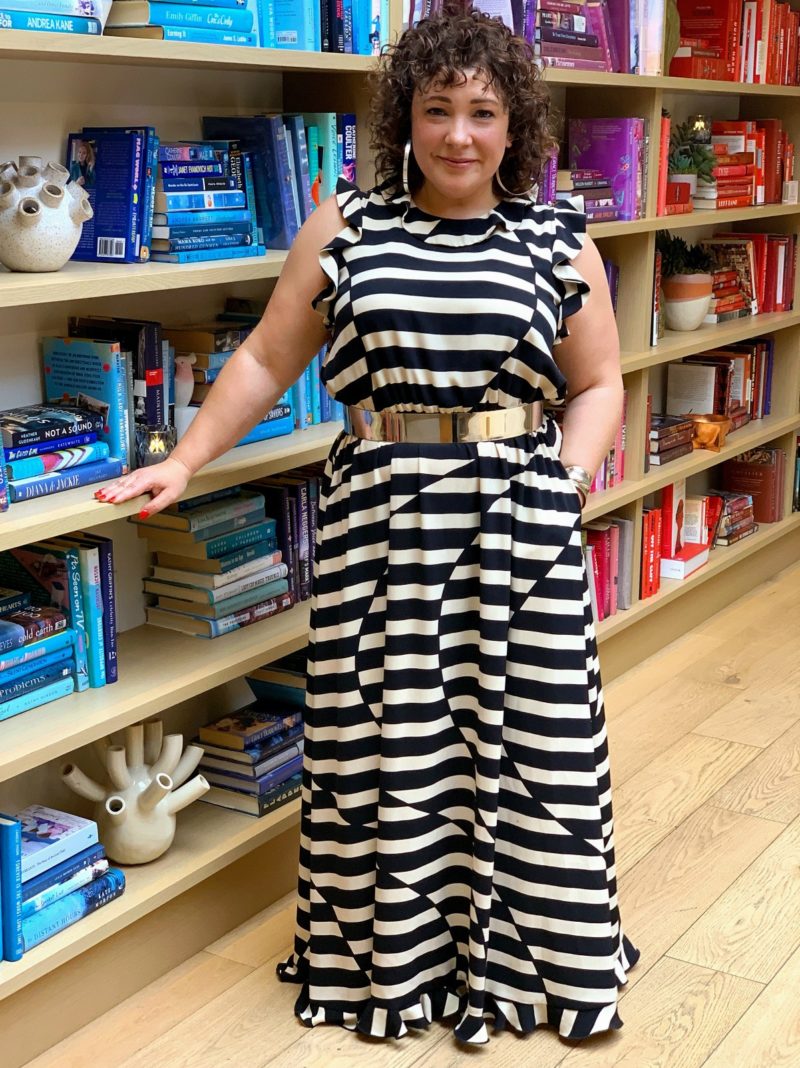 Dress: Stine Goya Studio via Rent the Runway Unlimited (XL; buy at Saks on sale; buy at Hampden Clothing) | Earrings: Cober Hoops c/o Jenny Bird | Bracelet: old; budget-friendly alternative | Shoes: LISSOM | Belt: ASOS (old; same in gold) 
I saw this striped dress on Rent the Runway and couldn't decide if it would look cool or make me look like a court jester in a maxi. The reviews were glowing, I love stripes, and heck if it sucked I'd pack it back up and get a replacement piece a couple days later.  I put it on and saw why the reviews were positive. 
The stripes weren't typical, they swirled and shifted creating curves and giving the dress the effect that it was swirling in the breeze.  The ruffles at the neck, hem, and armholes weren't stiff and added a feminine and fun touch to what was otherwise a very ordinary silhouette.  Matte jersey, partially lined, fully opaque, pockets, and just a small button at the neck that was easy to close on my own. The length worked with heels but also with flats, which is what I chose the night I wore the dress to an event in DC.
Rent the Runway Subscription Review
Rent the Runway doesn't use cardboard boxes or plastic bags like most online retailers.  Instead, they use sturdy reusable canvas garment bags that reduce waste and also better protect your delivery.  Unzip the bag, items are on hangers or in pouches within zippered mesh compartments, and the whole contraption can be hung on the back of your closet door.  When you send back your delivery, put everything back as usual, take the UPS shipping label and slip it in the clear pocket on the front, zip it up, and seal it with the included plastic lock. My second delivery came in two of these garment bags.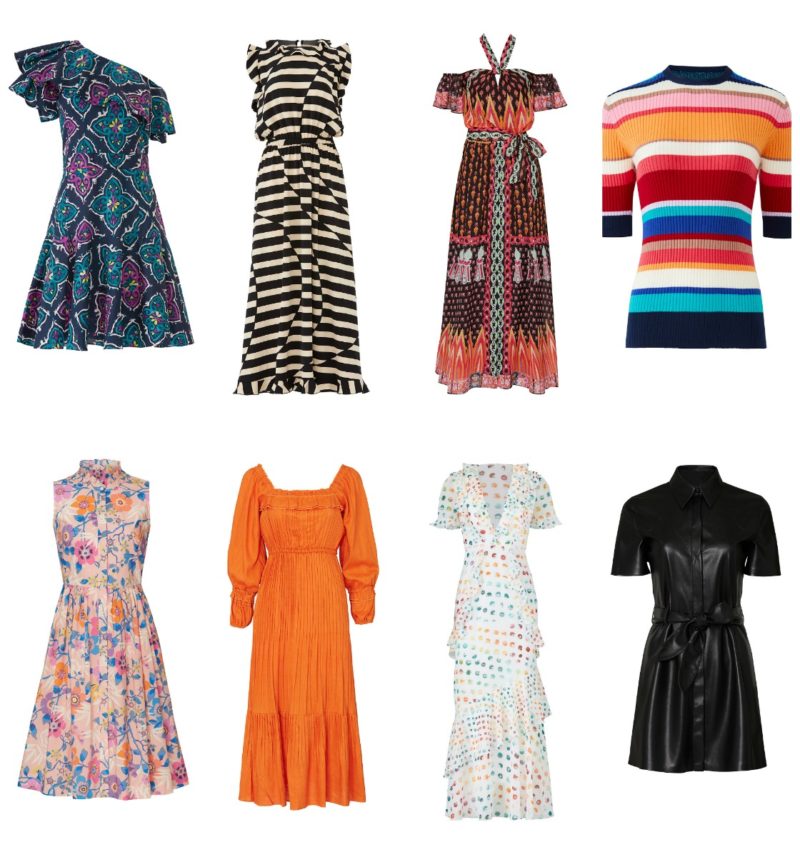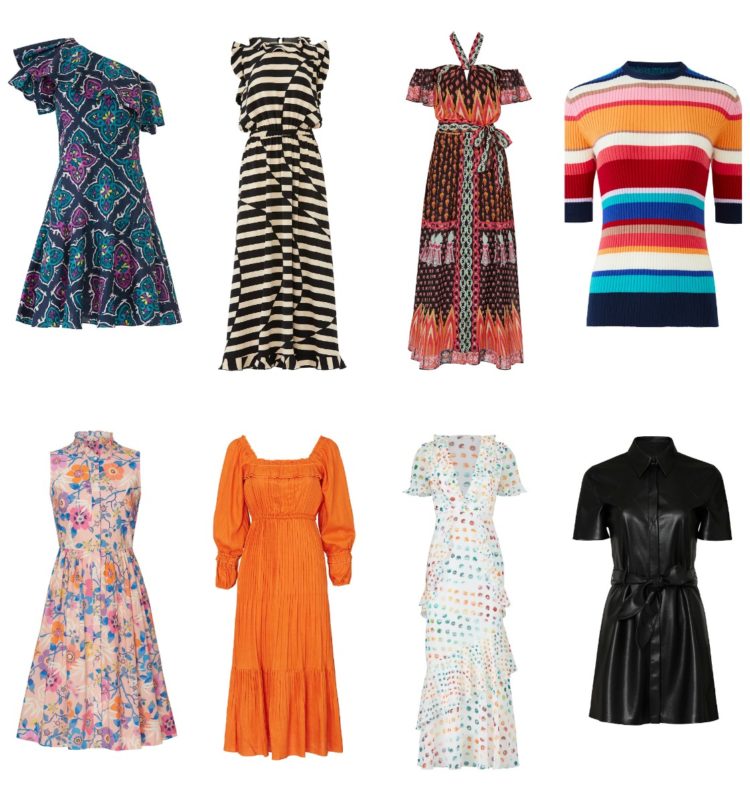 Some of the items I've received in recent Rent the Runway Unlimited deliveries:
one-shouldered dress from Josie (size 16; see in this post) | striped dress from Stine Goya as seen in this post (size XL) | printed halter maxi from Temperley London (size 14; needed a 12) | striped sweater from Trina Turk (XL; could have done an L) | pink floral shirtdress from J. Crew (16; needed a 14) | orange dress from Nicholas (16; needed a 14) | dotted maxi from ML Monique Lhuillier (16) | faux leather shirtdress from Nanushka (XL; too small in bust)
My second Rent the Runway subscription delivery was a mixed bag – one dress fit everywhere but the bust and ribcage, one dress was too big everywhere, one dress fit great but didn't "wow" me (though would have been just dandy for a wedding or spring/summer event), and the fourth was this dress.  Since I received my order in two garment bags, I immediately bagged up the two definite no dresses and dropped them off at the UPS box at a nearby office park.
Two days later two new pieces arrived – a gorgeous rainbow striped short-sleeved sweater from Trina Turk that is currently for sale in stores and a badass yet too small faux leather shirtdress from Nanushka that is also currently selling at retailers.  I wore the sweater that same day with white jeans and gold jewelry and had three strangers stop me to ask where the sweater was from (and two were shocked to find Trina Turk came in larger sizes).
This striped dress I wore to an event Rent the Runway hosted at The Wing in Georgetown.  They brought Veronica Swanson Beard from the brand Veronica Beard to talk about being an entrepreneur and I felt it fitting to wear something from RTR.  Did you know that this past February Veronica Beard increased their size range to 24?  And just in the past month since I joined Rent the Runway Unlimited, the Veronica Beard selection in my size (14/16) has increased to two pages of blazers, dresses, denim jackets, and other separates.  Several of you readers have also noticed that Rent the Runway Unlimited has increased the selection and quality of pieces in sizes over size 12.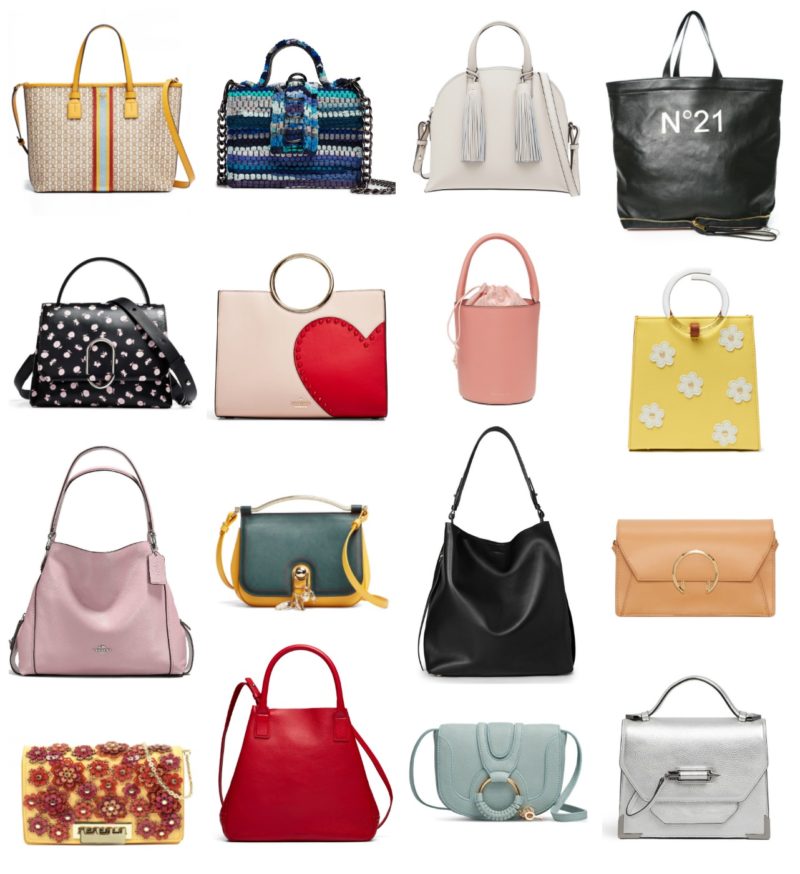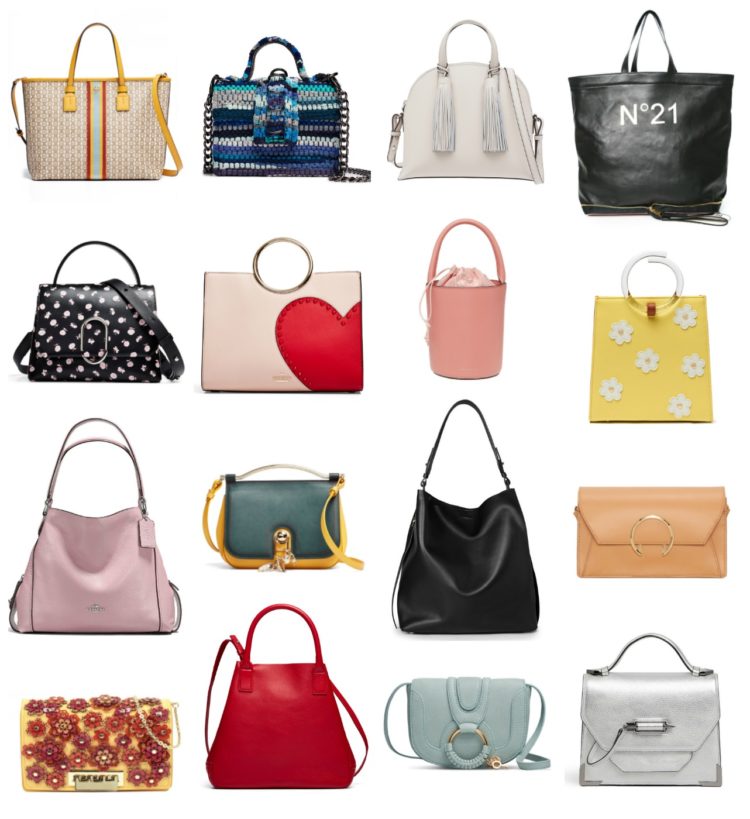 A few of the designer bags available for rent through Rent the Runway Unlimited
I'm also happy about using Rent the Runway instead of adding to my wardrobe.  I recently read this Slate article about how most clothing that is donated isn't useable. In a typical year, charities only reuse one-fifth of what we donate.  And what gets donated, which I know from my past as a closet auditor and from my trips to the local thrift shops are the kinds of clothes I'm renting from Rent the Runway – the statement pieces, the trendy items that may not be appealing in a year or so, the sample sale or clearance pieces we swore we'd lose five pounds to fit into.
Also what is donated and rarely sellable are the fast fashion dupes for the designer trends.  They're bought to update a wardrobe but rarely survive a season without falling apart or looking worse for wear (let's not even get into how they are usually manufactured).  With Rent the Runway, I don't buy those things and I can "afford" the real deal instead of succumbing to fast fashion dupes and counterfeits. And, if I find something I truly love and think will wear again, I can buy it from RTR for a discount (for example, if I decide to keep the dress I'll get it for 30% off retail).
Yes, I have a temporary Rent the Runway subscription for free thanks to the company, but there are no expectations for me to write about it.  I do use affiliate links in the post, if you make a purchase I may make a small commission.  But I'm writing because I do feel this is a valuable program for those who feel they need to update their wardrobe but for various reasons don't want those updates permanent.
Fluctuating weight, a busy social calendar, several weddings all with the same group of guests, wanting to try new brands, business travel, or maybe you Marie Kondo-ed or capsule wardrobed your closet into minimalistic boredom. For all of these reasons and more I think a Rent the Runway subscription is a great option.
Rent the Runway Discount Code
New customers can use code RTRDC22F051 at checkout for $100 off the first month.  I share in this post that it's pretty easy to cancel if you decide it's not for you.  In the comments of that post are WO2 readers who share their experiences with Rent the Runway Unlimited so you can hear from others that it's a pretty great program.  Click here to learn more about subscribing to Rent the Runway and to sign up. And as always, if you have questions ask them below and I will answer them honestly!