This article may contain affiliate links; if you click on a shopping link and make a purchase I may receive a commission. As an Amazon Associate, I earn from qualifying purchases. 
This post is sponsored by Walmart and ShopStyle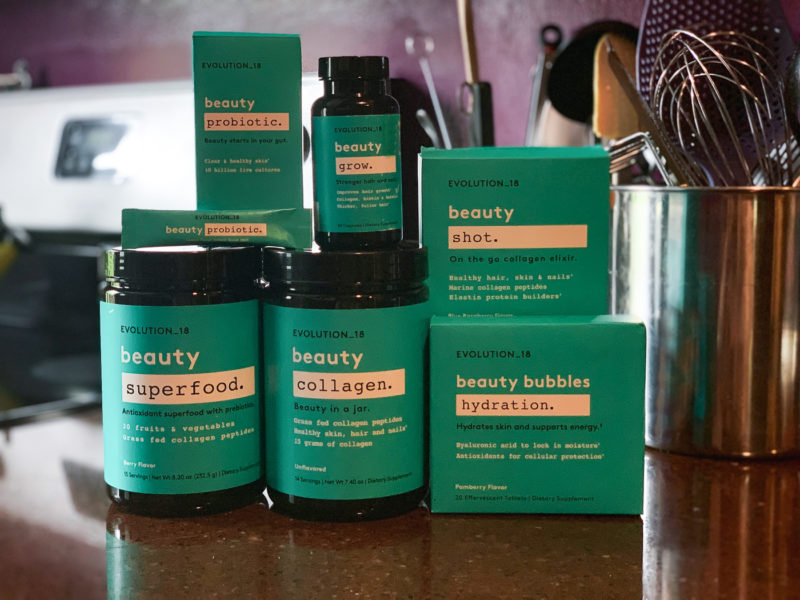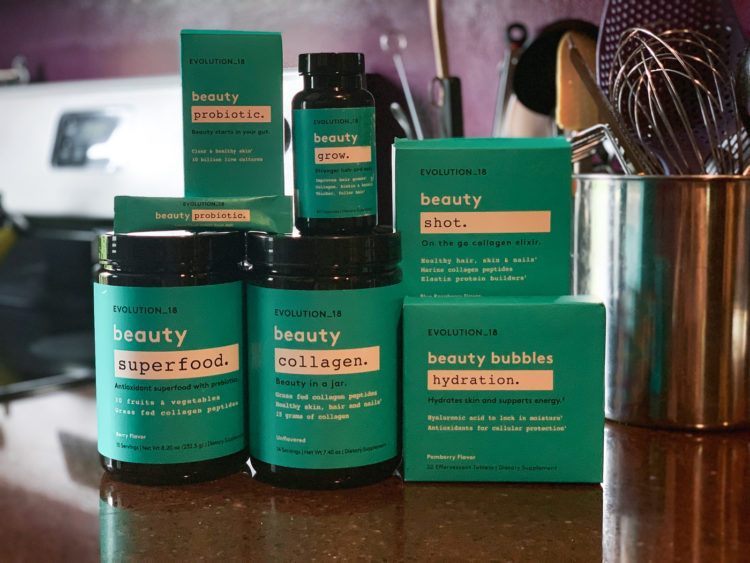 My husband has always been health-conscious; he's a yoga instructor, the primary cook for the family, a gardener, always reading up on supplements and diet changes to reduce inflammation, improve quality of life, and longevity. I've gone through spurts of joining him – we bought a tandem bike as a wedding gift to ourselves but it hasn't seen the light of day since I got pregnant, I was vegetarian for a few years, I'd start taking some vitamin or supplement and see improvement but never stick with it. That all changed last year.
It was 2017 and I couldn't even say I was unhappy because I was too busy and numb to experience so much emotion. As I've shared in other blog posts, I felt as though I was experiencing life inside a Plexiglass box, and the box kept getting scratched and harder to see through. I had a high-pressure job, a successful blog, a family, but didn't really enjoy any of it. I worked long hours sitting in front of a computer, living off coffee to stay awake and wine to help me relax. I finally had enough and quit my day job to focus on Wardrobe Oxygen full-time.
Along with that, I made other life changes. I joined a gym, one I still go to almost every weekday morning. I also changed my diet; no longer was it to lose weight but it was a necessity to have the energy to get through my weight-training workouts. I noticed that not only did changing what I consumed help me with endurance, it also helped me with my skin, my hair, my digestion, and my sleep. This sent me on a journey of trying a variety of supplements and products to increase the benefits I was getting from my diet. But such products are often costly and you're not really sure what you're getting in them.
As soon as I heard of EVOLUTION_18 I was intrigued. I've admired the creator for many years and have loved her beauty from the inside out message. EVOLUTION_18 is a collection of highly effective, simple formulas that are designed to target a wide range of beauty concerns. Formulated with clean, high-quality ingredients, these supplements have everything you need for a beauty boost from within. I was invited to try this collection and post about it here on the blog. I decided to buy all the products that were in line with my desires for a healthy from the inside out mentality and share my thoughts.
EVOLUTION_18 Review
First things first, I am super appreciative of the pricepoint. Health and wellness are expensive endeavors, and many products promoted for helping one's hair, skin, nails, and digestion are ridiculously expensive. Though the products have a lower price than other brands, EVOLUTION_18 is made with quality ingredients, are easy to incorporate into one's daily routine, and come in gram-worthy packaging. Non-GMO, gluten free, no artificial colors or flavors, and made in the USA; I compared the nutritional data to supplements I have in my home and they are very similar or the same. I really appreciate EVOLUTION_18 making inner beauty more accessible.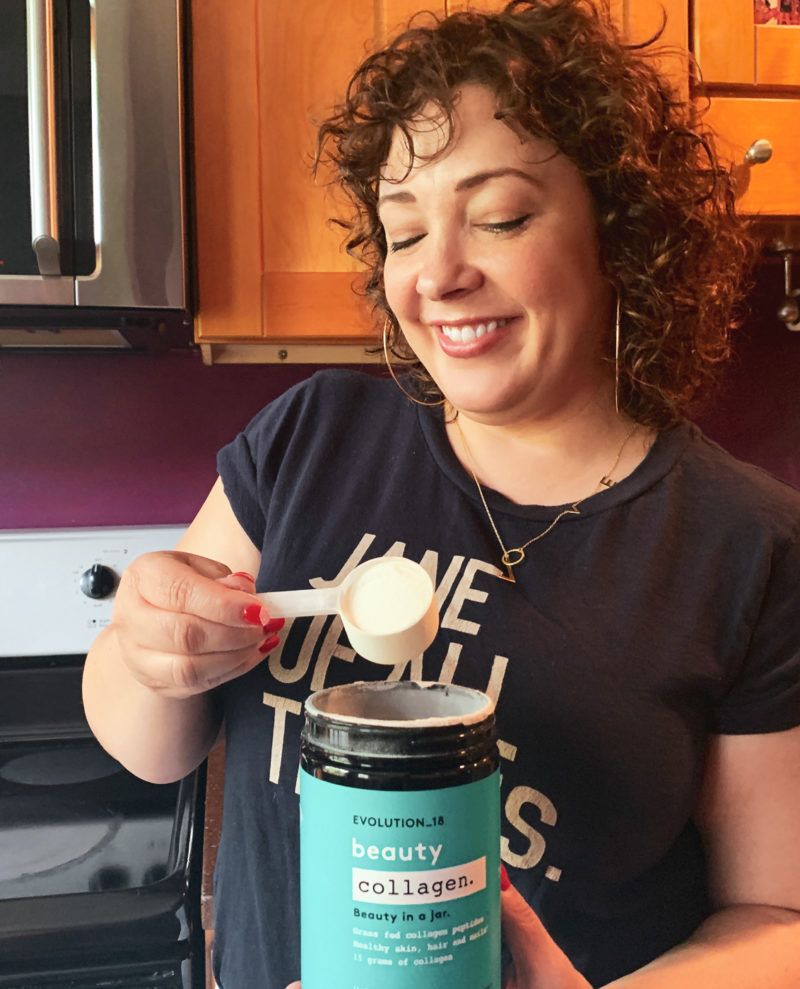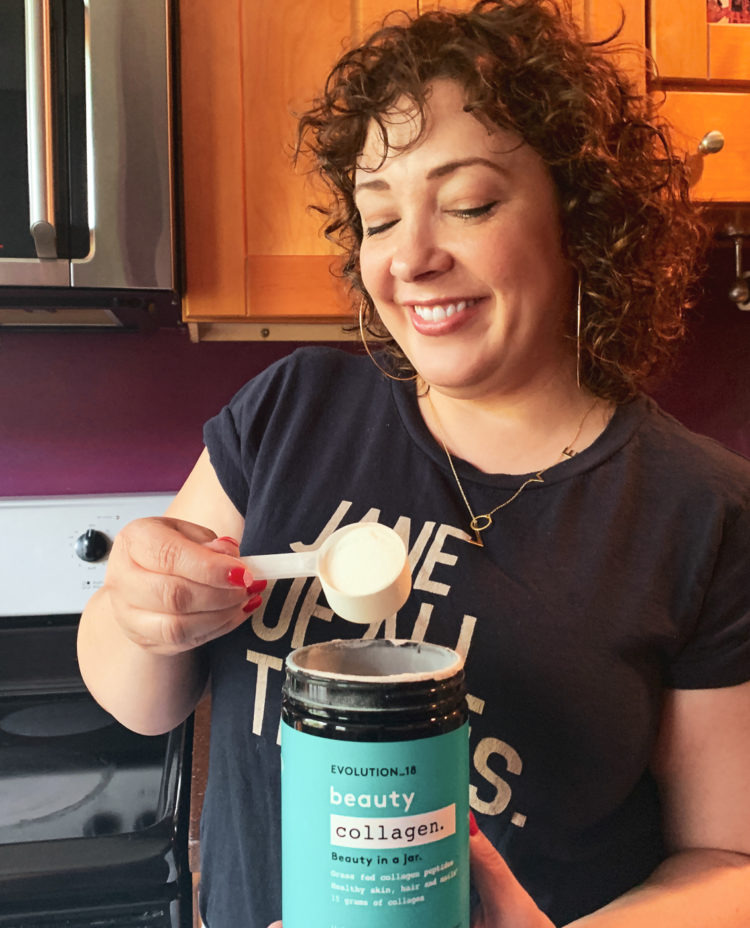 EVOLUTION_18 Beauty Collagen
I first purchased collagen peptides when I read on a beauty message board that it helped with thinning hair. Hearing it was tasteless, I did as others said they did – added it to my coffee. Um, that stuff is NOT tasteless and NOT odorless! I gagged down that grody coffee for a week and ended up freecycling the rest of it because I gave up. When I started lifting weights I read collagen peptides would help with recovery and joint pain and again bought a canister. This time I was smart and added it to my sweet and cold protein shake where the smell, taste, and texture were completely hidden. I've been using collagen peptides on and off for a year and when I do use it I feel a big difference in my knees and I also find my hair and nails to be stronger and my skin less dry. I'm off it because I just can't budget it so I was excited to try the version from EVOLUTION_18. To be honest, I can't tell a difference in taste, texture, or results. The peptides I have been buying requires two scoops which has 70 calories, 18g of protein, 20g of collagen peptides, and 110mg of sodium. The version from EVOLUTION_18 requires one scoop, has 50 calories, 14g of protein, 15g of hydrolyzed bovine collagen, and only 25mg of sodium. The one from EVOLUTION_18 is half the size and more than half the price, but you also need to consume less per serving.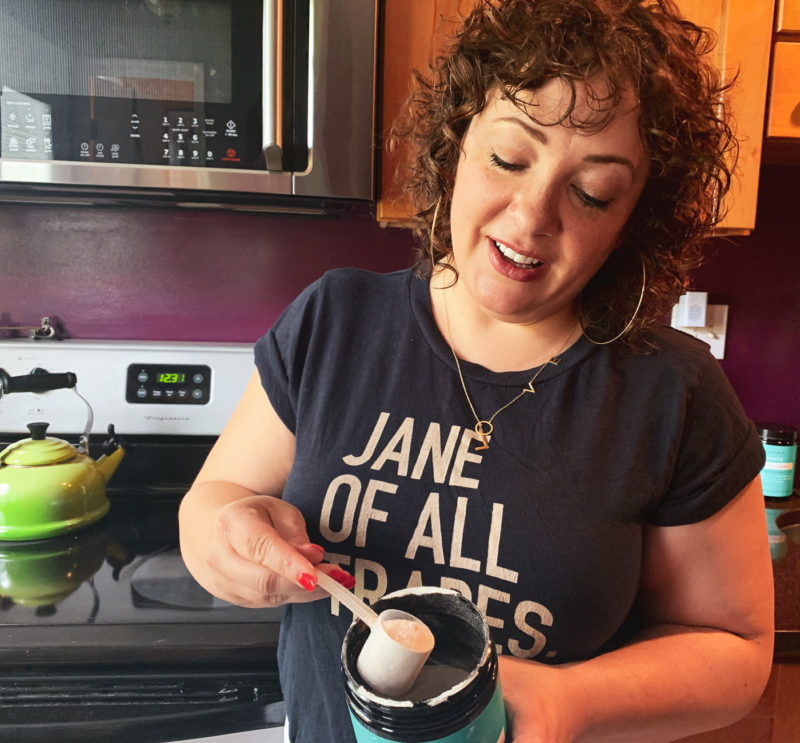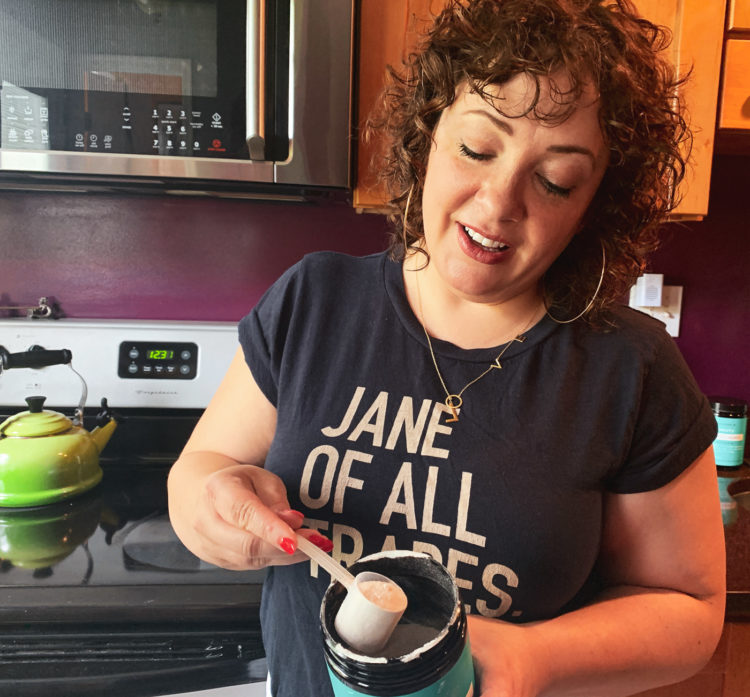 EVOLUTION_18 Beauty Superfood
While I have learned how to consume collagen peptides and drink regular fruit and veggie smoothies, not everyone has the time or tastebuds for it. I decided to review Beauty Superfood because it's what I wish I had when I was working crazy hours and wanted to get in some nutrition without having to wash a blender or plan ahead. This powder features a blend of over 30 fruits and vegetables, plus healthy fats from coconut oil, collagen peptides, and prebiotic fiber. You add one scoop to 8oz of water or your favorite beverage and mix well. You could also mix Beauty Superfood into any other beverage or smoothie. You use only one scoop. Each scoop has 70 calories, 3.5g of fat (made from coconut oil, sunflower oil, avocado oil, flaxseed oil, MCT oil powder, and coconut milk powder), 7g of carbs, 1g of sugar (less than 1g of added sugar), 3g of protein, and 2-mg of sodium. I haven't used this but a few times in water and mixed into smoothies so I haven't had enough time to feel any benefits.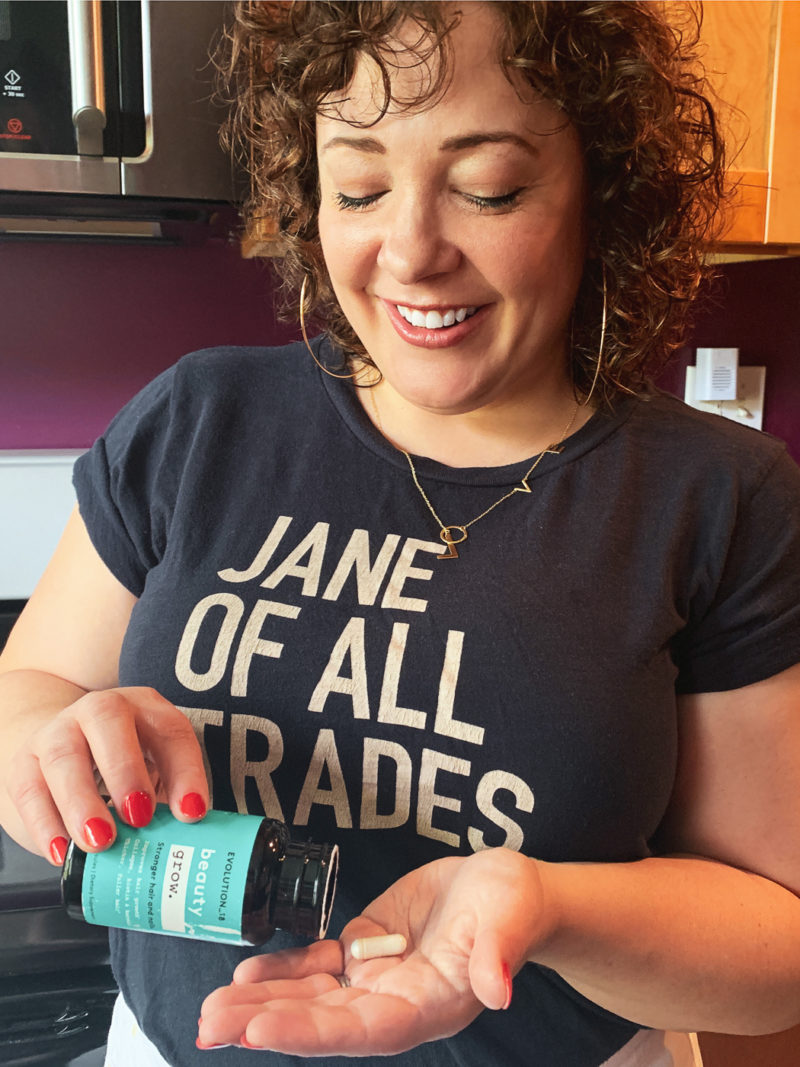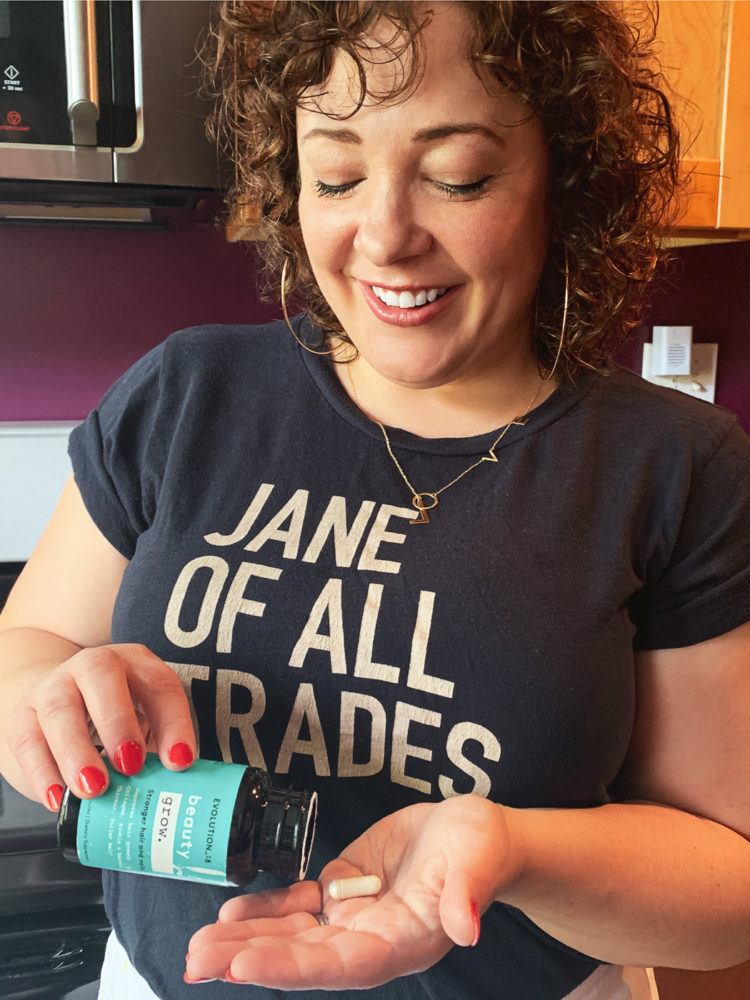 EVOLUTION_18 Beauty Grow
Two years ago I reviewed a similar product to Beauty Grow and really liked it. This version from EVOLUTION_18 offers smaller capsules and you only need to take two each day. The softgels I used to take had far more ingredients, many I didn't need because I took them separately or got enough from my diet. Beauty Grow is formulated specifically just to provide shinier hair, stronger nails and firmer skin with Niacin, Vitamin B6, Biotin, Pantothenic Acid, Zinc, Copper, hydrolyzed bovine and chicken collagen, and soluble keratin. I used to take Biotin alone and it caused cystic acne. I've taken these pills for a week and no acne, though not enough time to see any big difference.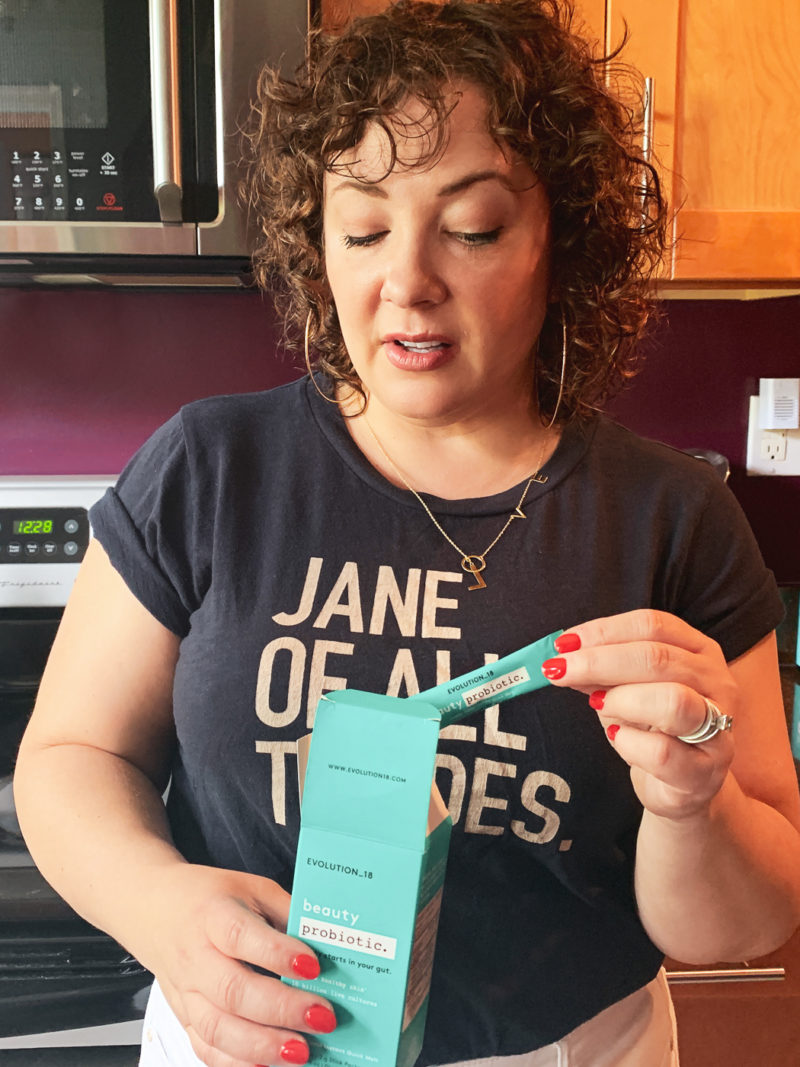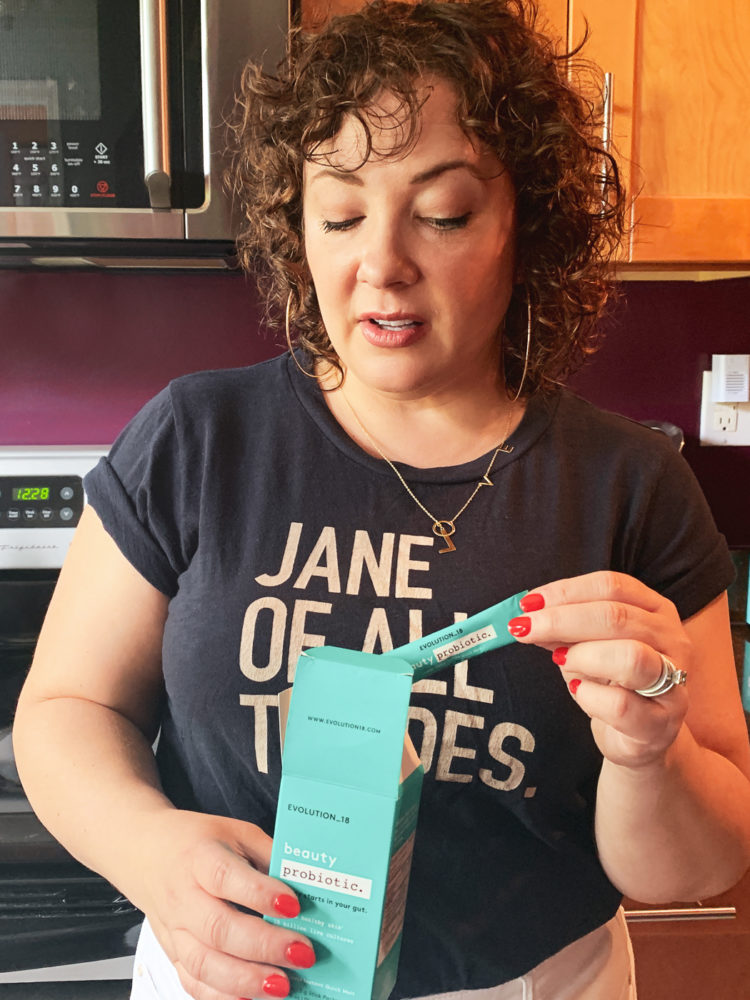 EVOLUTION_18 Beauty Probiotic
Per the Harvard Health Letter, "Microbes in the lower intestinal tract help us digest food, fight harmful bacteria, and regulate the immune system. But sometimes an imbalance of microbes occurs, leading to diarrhea and other health problems. When the gut becomes unbalanced with unhealthy levels of certain bacteria, probiotics can help restore the balance. They've been shown to secrete protective substances, which may turn on the immune system and prevent pathogens from taking hold and creating major disease." EVOLUTION_18 states that their Beauty Probiotic is made 10 billion live cultures; their quick melt is made up of vital bacteria and essential prebiotic fiber, making it easy to nourish your gut for a healthy microbiome and in turn, have clear and beautiful skin. I never took probiotics until I went on a trip with a brand and a fellow blogger told me she swears by them to prevent "travel tummy." Constipation, gas, indigestion, acne, and more happen with less sleep, changed diet, jet lag, and the stress of travel. Since she mentioned it, I've started taking probiotics with me on travel and take them daily to keep me feeling myself. Unfortunately, these arrived while I was on travel so I couldn't take them with me. Beauty Probiotic are little individual packets that you open and let the powder melt on your tongue. The taste is super subtle.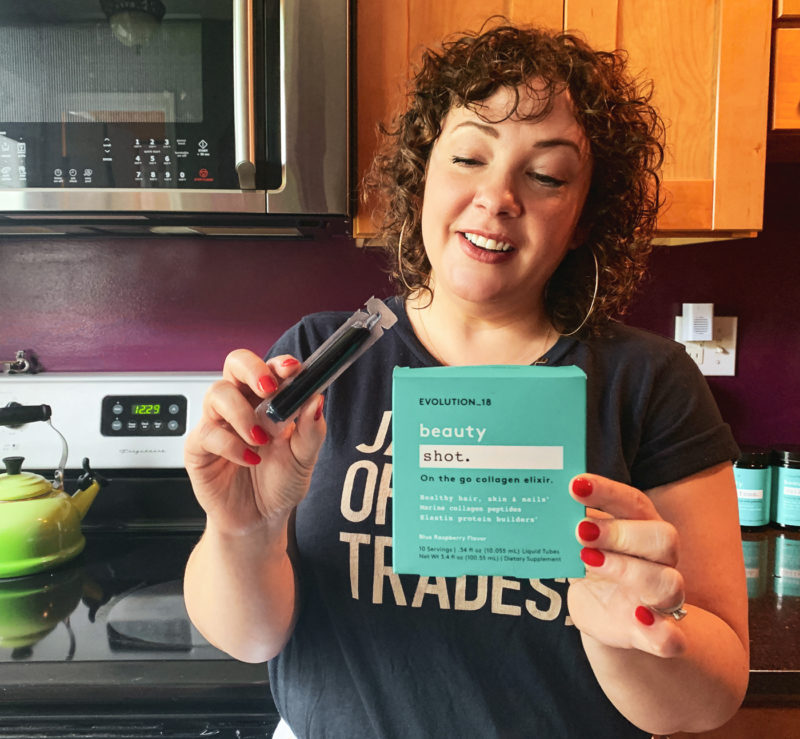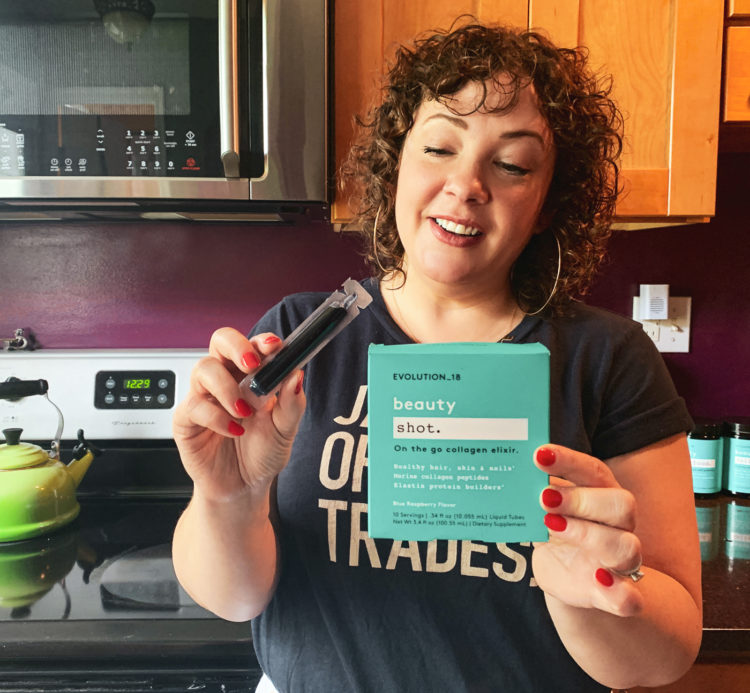 EVOLUTION_18 Beauty Shot
Beauty Shot, an on-the-go collagen elixir builds elastin and promotes healthy hair, skin, and nails. Formulated with marine collagen peptides to restore dry and dull skin, decrease the appearance of fine lines, and strengthen hair and nails. The box contains 10 individual servings of ink blue liquid in plastic vials. The benefits of Beauty Shot is that it's self-contained, doesn't require a mixer, and can be taken on the go.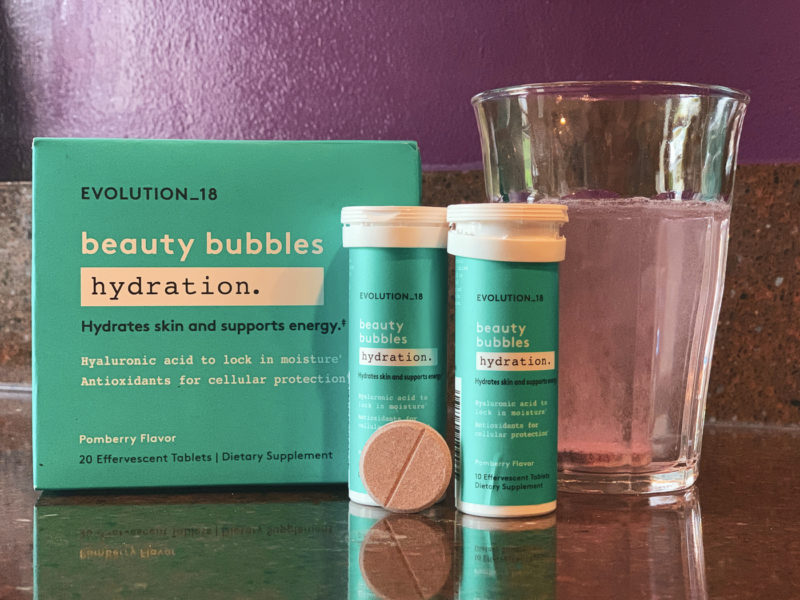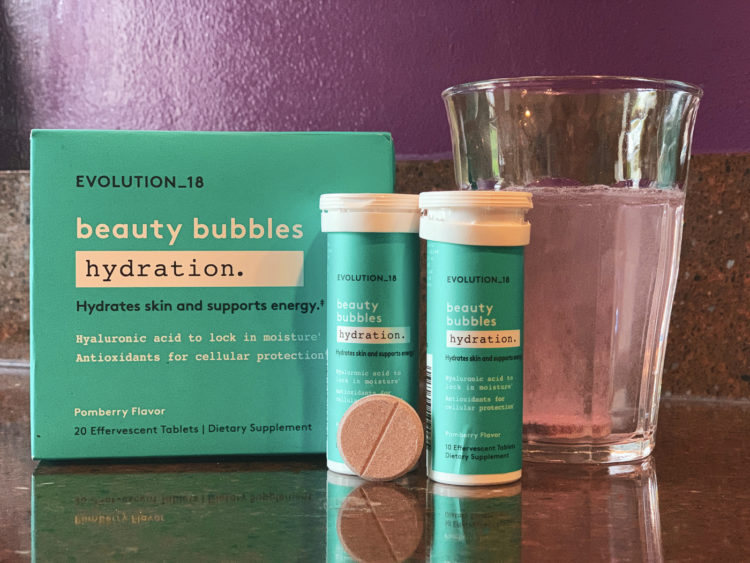 EVOLUTION_18 Beauty Bubbles
Packed with bovine collagen peptides to help build collagen and elastin in the body, these effervescent tablets promote healthy hair, skin, and nails. Added essential vitamins and minerals work to nourish your entire body and provide an extra beauty boost. Add a tablet to 8oz water and allow to dissolve. Beauty Bubbles have a pomberry flavor and there are 20 of these round tablets in a box. My husband has purchased similarly-shaped hydration tablets with a similar flavor to drink when he's spending the day gardening or doing outdoor sports and we always took them with us when we attended music festivals. These are not a replacement for those. In place of calcium, chloride, and potassium, the Beauty Bubbles have ingredients to hydrate your skin and improve elasticity from the inside out. I've tried these a couple of times and the flavor isn't bad, they dissolve well, but I am not sure if they accomplish anything.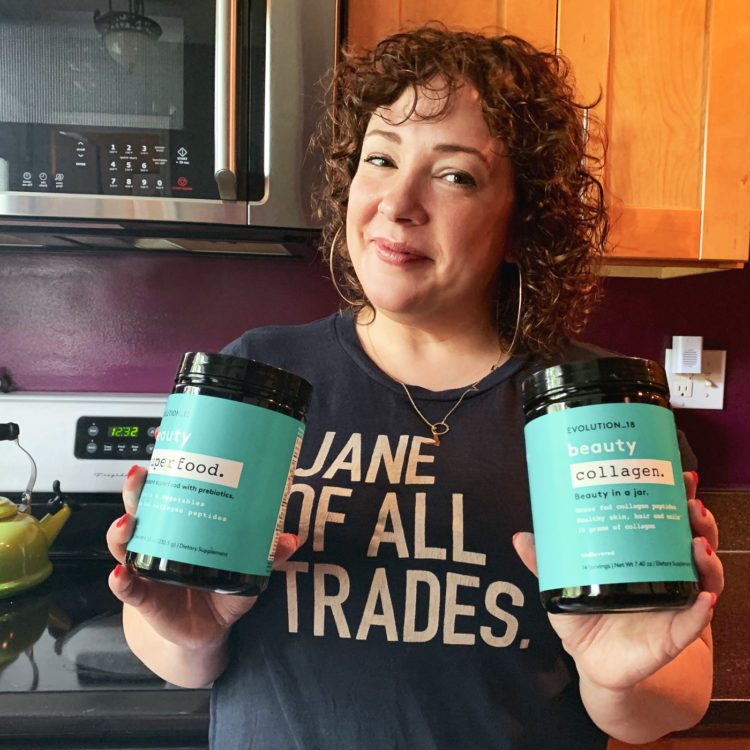 Final Thoughts on EVOLUTION_18
I think EVOLUTION_18 is a great line of inner beauty products and supplements. Clean ingredients, reasonable pricepoints, and if you look online for reviews of the line you'll see I am not the only one to like the products. I am enjoying the Beauty Collagen, Beauty Grow, and Beauty Probiotic and can see myself repurchasing when I run out. I'm also curious to see how the Beauty Superfood works for me!
This post was sponsored by Walmart and ShopStyle, which means I was paid to write this. However, all thoughts are my own. There are affiliate links in this post; if you click on a link and make a purchase I may earn a small commission. I do not claim to be an expert on these products or health and wellness in general but if you have any questions about the products ask them in the comments and I will answer to the best of my ability.
Shop the Post: