This article may contain affiliate links; if you click on a shopping link and make a purchase I may receive a commission. As an Amazon Associate, I earn from qualifying purchases. 
We all have safety nets in our wardrobe. These are items we collect because they are comfy, they are cheap and they often remind us of younger, happier and more fun days (come now, who doesn't get excited when the weather warms up enough for flip flops?). Problem is, many of these wardrobe safety nets are devoid of any style and often end up destroying the personal style we otherwise may possesses on a given day. How do you keep it easy, breezy, yet maintain your personal style?
The Flip Flop Alternative
Don't get me wrong, I love flip flops as much as the next gal. This weekend when grabbing a pair so I could play in the yard with my dog, I rifled through eight different pairs to find my beloved Reefs. I have stacked ones for longer pants, crocheted ones that are a tad dressier, aqua ones to match my bathing suit, ones that work well in wet conditions, ones that work with certain sun dresses or beach coverups in my closet. The thing is, flip flops are not real shoes. They don't look like real shoes, they don't wear like real shoes (any orthopedist will tell you they are terrible for your feet), they are often dirty, run-down and ruin the line of your silhouette. Flip flops are great for the beach, the pool, the casual cookout in your friend's backyard or putting around your own; but what does a gal grab when heading to the market, to work and other places where flip flops are just not a chic choice?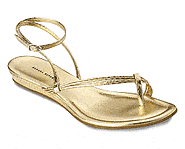 The Gladiator Sandal – this style of shoe has been in style for many summers, and with good reason. It's flat, it's simple, and it looks chic. In a metallic leather and with a simple and low silhouette, this shoe works with cotton and linen trousers for work, simple dresses and skirts all week long, and can even be paired with a maxi dress for a wedding or social affair. Due to their versatility, look for a pair that is well-made, low on additional adornment (the metallic fabric and a few o-rings to connect the straps is all that is necessary) and comfortable. If you have large ankles, look for styles that don't have straps that come all the way to the actual ankle; a lower-rise of sandal will be more comfortable and elongate the leg.
Some options:Lands End Casual Flat Sandal
Isaac Mizrahi for Target Gladiator Sandal
Report Gladiator Thong Sandal
The Flat – the flat isn't going anywhere. Each season we seem to acquire more options in flat shoes. A classic ballet flat is a popular choice, but not the best for those with short or heavy legs. A style with a peep-toe, a slight wedge heel (even 1/4″), or a pointed toe will elongate the silhouette. Instead of opting for a safe pair in brown, tan or black, consider a bright color to add pop to your outfits. You will be amazed how a Kelly green, orange, or magenta color will work with the majority of your wardrobe. The shoe is so small and so far away from your summer dresses and shorter pants, colorful flats will be a great unexpected accent.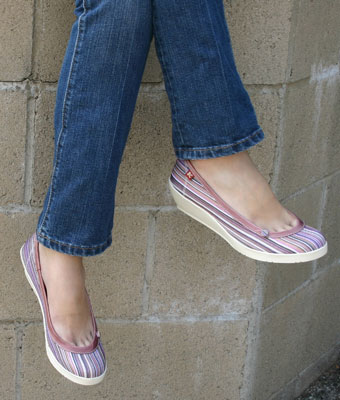 The Skimmer – skimmers usually have the tread and even sidewalls of tennis shoes, but a low profile. They offer more support than a classic flat, and can come in casual canvas, or even a more polished look of leather and microfiber. Be careful, in a neutral color and style skimmers can often look matronly (if in leather), or cheap (if in canvas or with sneaker-details). However with some knotted fabric detail, a buckle or variation on fabric a skimmer can be a great alternative not just to the flip flop but also the walking shoe.
The Leather Thong – If you must get flip flops, get them of a substantial fabric and with a bit more heft to the style. Every store seems to be selling a jazzed-up version of the flip flop out of leather, and often with hardware. Many leather thongs are just as comfy as your favorite foamies, but are chic enough to pair with trousers or skirts for work.
Some options:Indigo by Clarks Leather Thong
Aerosoles Winky Toe Thongs
Frye's Dani Thong
The Hoodie Alternative
Many times I see women wearing the cutest little outfits and then cover it with a hooded zip-up sweatshirt. Shrunken to fit, baggy, a color coordinating the outfit, a fun pattern… it is still a hoodie. Hoodies are for rainy Sundays on the couch, to ward off chill after a yoga class, to bundle in on a camping trip, to pair with jeans and sneaks for a day at Home Depot or 8am college classes. A hoodie is not appropriate wear for work, and it is not a go-to coverup for lightweight tops and sun dresses. This weekend I attended a wedding where I saw a girl in the cutest cotton floral sun dress, peeptoe heels, flowing hair… and a navy blue shrunken hoodie with a graphic on the back. Heading to work, I often see women in tailored shirts, pencil skirts and hoodies – it's an afterthought.
Head out the door, find it's not as warm as you thought so you grab an extra layer… we all do this. Well here are some hoodie alternatives that may prove to be more versatile and work with, instead of against your style:
The Pashmina – a pashmina is an easy way to ward off chill but maintain your style. Pashminas are great for weddings and more formal events for they compliment dresses and feminine silhouettes and can be tossed over a chair when you want to dance or move around. They are great for travel for they pack up to almost nothing and can be a nice alternative to a scratchy airplane blanket. Nothing makes an outfit seem more chic than tossing a pashmina over your shoulders (especially in your favorite cheery color!).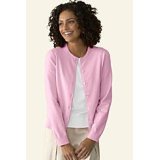 The Cardigan – cardigans come in various necklines and with a variety of closure methods. The classic crewneck cardigan with buttons is a great choice to throw over a tee, sun dress or tank. A v-neck style is great with collared shirts or even a simple ribbed tank peeking out. Choosing a one-button or style tat ties at the neck adds femininity to the look. There are also many styles that are drapey and even tie in front or wrap around like a pashmina – good choice for chilly offices or road trips. Do stay away from the sweater coats and long belted cardigans – these usually bunch up at the rear and add bulk, not style to your look. If you desire warmth in a longer style, choose a heavier knit or a boiled wool style so it skims along your body.
Some options:Lands End Fine Gauge Cotton Cardigan
Talbots Woman Textured Cardigan
Ann Taylor One-button Swing Jacket

The Casual Jacket – I have a collarless jacket with bracelet sleeves of Ponte de Roma knit. On a cool day, I toss it over my top or dress to stay warm but still stylish. My mom has a denim jacket that nips in at the waist, zips up and has a flattering dark hue. It's the perfect spring-season coat that matches her style of bright colors and bold silver jewelry. Having a jacket with a bit of structure will keep your shape as well as your style on cooler days. If the jacket is low on adornments, it will be easily paired with most of your wardrobe. Consider a collarless jacket, a lightweight blazer with stretch, a denim jacket with shape, or a solid-colored heavy knit for something that is just as comfy as your favorite hoodie.
The Crop Pant Alternative
It's too hot for long pants, and you would rather die than walk around in shorts (I agree, most styles are so unflattering). What's a woman to do? If you visit stores like J. Jill you would think the only alternative is cropped pants or capris. Those wide-legged pants that hit between the calf and the ankle bone, often made of a wrinkled linen or stiff chino. Well ladies, these pants do not look good on ANYONE. But what is available for a woman who wants something other than Daisy Dukes?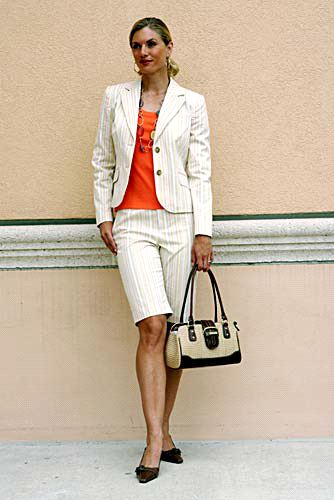 City Shorts – the past couple of seasons have brought shorts to more flattering lengths. City shorts are a tailored, crisp look that can be paired with jackets and blouses for a work-worthy look (check with HR before you attempt this in your office). They hit at the knee, and usually have the same details as your favorite work pants (cuffs, creases, belt loops, even lining). Worn with a blazer and sandals it is a great alternative for a casual work environment (or even a trip to the mall); with a simple sleeveless top it is a nice look for the weekend or running errands.
Some options:Ann Taylor Loft Sateen City Shorts
IGIGI Plus-size Cuffed Shorts
Eddie Bauer Tab-front Denim Shorts
Bermudas – similar to city shorts, Bermudas are usually cut a bit more narrow in the leg and are without the cuff. Sold in almost every fabric imaginable, these are a flattering style for a woman with medium to slim thighs who likes her knees. They can be worn with tanks, tailored shirts and floaty peasant-style tops alike.
Some options:Old Navy Women's Plus Sateen Bermudas
Gap Clean Bermuda Shorts
Mossimo for Target Bermuda shorts
Culottes – these are not the candy-colored poly-blend divided skirts of the 70s and 80s. Culottes have gotten a hip makeover. Often described as shorts or gauchos, these garments hit anywhere from just at the knee to right above the large part of the calf. In stiffer fabrics (twill, denim), they have a slight a-line to each leg that is as flattering as a skirt of the same cut. Culottes look best with a tailored top so that the excess width doesn't drown you in fabric or lose your shape. Fabrics with more flow (jersey, ponte, matte jersey) will often have a fuller leg. This fabrication of culottes is a bit trickier to wear; look for tops in similar fabrication for a dressy lounge look and be sure your shoes compliment (flats and delicate sandals are good choices).
You Look Fab wrote an amazing post on this exact subject. She explains the difference between walk shorts and capris and offers some images to show how a shorter or slimmer pant is actually more flattering on a woman's body.
The Messy/Gelled Ponytail Alternative
For many years I lived with an elastic on my wrist at all times. Work, dates, nights out, the gym, even as a bridesmaid in a wedding… that elastic was there as my safety blanket. I had long layered hair that never wanted to behave. It parted int he middle, feathered, would never be straight, my curls were frizzy and frustrating and most days my hair was piled into a messy topknot by lunch. I recognize you sisters with frustrating hair – you have it gelled into a very tight ponytail because nothing seems to handle the curls. Messy topknots cover grown out layers, roots, and split ends. A butterfly clip holds back those bangs you are growing out as you tend to your computer, your meal preparation or your children. There are just not enough hours in the day as it is, who wants to spend a lot of time with their hair?
The thing is, your hair is one of the first things people see. You wear it more often than any garment in your wardrobe and are judged by it faster than with a muffin top or tapered jeans. Yes, it can be a pain and time consuming, but there are ways to make your hair manageable, attractive, and still fit into your busy schedule.
Haircut/Color – first things first, hair that is not maintained looks like crap. No matter how many products or what accessories you put on it, hair that is overgrown, washed out and grown out looks messy and has people think you don't care about yourself. If it has been a few months, at least go in for a quick trim. If you are living in a ponytail 24/7… stop and wonder what the point of a long mane is if it is always pinned up. Your life may be easier and your morning routine faster with a shorter 'do.
If your hair is unmanageable even when straight from the hairdresser… you may need a new hairdresser. Before hitting up every salon in town, do a bit of homework. Google your hair texture and more often than not you will find many message boards, blogs and Web sites dedicated to your hair, full of fellow women with the same plight. You may be able to find resources on products to use, stylists who specialize in your hair, and cuts that work best for your texture. Jen at Mythbuster Beauty often reviews products for curly hair and discusses her specific hair type. She and many of her readers have recently taken on The Curly Hair Challenge, a new spin on how to manage curly hair.
Accessories – butterfly clips are great for holding sections of your hair when blowing it dry, they aren't great for day (and never good for evening) wear. Snagging your daughter's colorful baubles to hold back your mane isn't going to improve your style either. Your best bet are simple, hair-colored accessories. Ouchless elastics in tan, brown and black are great – take a piece of your hair from underneath, wrap it around the elastic and hold in place with a Bobby pin and you have made a boring ponytail quite chic. Slim tortoise-shell and black plastic headbands with teeth are a great way to deal with bangs that are growing out; skinny elastic bands are excellent for the gym and casual looks, and headbands in fun colors and prints will add femininity and style to a simple outfit. Barrettes should be used in moderation – a small one to hold back a section of hair at the top of the head can work on some, but large barettes that hold all your hair or a bedazzled or decked out with bows are dated and should be disposed of immediately.
The Yoga Pant Alternative
It's that time of the month, your nursing a cold or possibly a hangover. The last thing you want to do is suck yourself into a pair of rigid jeans or lined trousers. However heading out of the house in yoga pants or sweatpants isn't going to make you feel or lookk much better. Gym wear is NOT streetwear, no matter how many tacky fake-baked women sport it at the local mall. This means velour loungesuits, yoga pants with matching hoodies, terry sweatsuits, bulky hooded sweatshirts supporting your favorite sports team, or athletic shorts. They don't hide your bumps, they don't help you blend into the woodwork, and they don't boost your self-esteem. No matter your budget or figure, there are garments out there that are both flattering and comfortable.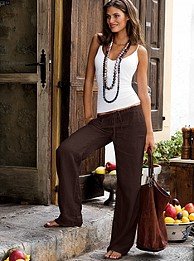 Linen Drawstring Pants – I love my linen drawstring pants! I get them for a great price at places like Victoria's Secret and Old Navy and wear the heck out of them. Paired with a tank and flops, I can sip my morning coffee on my back deck. With a cotton peasant top, long necklace and sandals, I am dressed for a casual day at work. With a coordinating linen tank and heels, it becomes an elegant look for a dinner date with my husband or a bridal shower. Do recognize that white and light colors are often quite sheer and require skin-colored (NOT WHITE) smooth undergarments. Black tends to fade, so wash them on the gentle cycle and invest in a colorfast clothing wash. Most companies have linen drawstring pants in basics like black, white, brown aand beige and in a laarge range of sizes and lengths. They are the chic equivalent to scrubs or yoga pants, and jsut as comfy.
Some options:Victoria's Secret Linen Drawstring Pant
Old Navy Wide-Leg Linen Pants
Charter Club Drawstring Waist Linen Pant
Jeans with Lycra – denim may be the fabric of choice for Americans, but thyat doesn't means its comfortable. Lack of stretch, bunching at the crotch, digging into the tummy, gaping at the waist, and the dreaded muffin top… jeans can be downtright horrible to a woman's frame and torture to wear. Many companies offer jeans of a lighter-weight denim that have Lycra infused into them which makes them more forgiving to a woman's curves and also far more comfortable.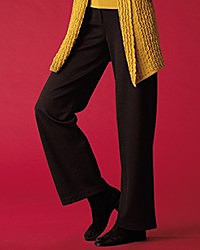 Ponte Trousers – ah Ponte De Roma, my favorite fabric. This fabric was in every collection that Express carried when I started working there in 1997 – the District Manager who interviewed me was wearing a belted safari jacket and pencil skirt out of the fabric, and when I started I was encouraged to purchase a pair of the boot-cut, elastic-waist ponte pants in black "because they go with everything." A couple years later, us employees would giggle when customers would come in the store asking where we kept our ponte pants for they had quickly become passe and the attire of the wanna-be hip grandmother and the mom-to-be. Too bad, as that ponte fabric is a densly-woven heavyweight knit that holds its shape, hides lumps and bumps and works in almost every season.
Well Ponte de Roma has returned and I couldn't be more thrilled. No elastic-waist boot-cut leggings this go-round, ponte is being used for Jackie-O inspired jackets, shift dresses, suits and trousers. The fabric is refined and appropriate for work, yet is as comfortable as a pair of your favorite yoga pants. Even with a zipper and waistband, ponte fabric has enough give that a structured pair of trousers will not cut or dig into you. If dry cleaned or washed gently and left to line or flat dry, ponte fabric will maintain its shape and color for years.
Some options:Alfani Woman Ponte Pant
Sutton Studio Petite Ponte Pants
Tee Shirt Dress – when all else fails, through on a tee shirt. The tee shirt dress is usually a lightly heavier weight than your favorite top and hits at or slightly above the knee. If it is a straight or slightly a-line style, it will be forgiving even on the most bloated of days. Paired with a scarf or necklace and a sassy pair of sandals, a tee shirt dress will work for most daytime affairs. In a saturated color, people will notice the hue before they notice that it's made of jersey, and if the quality of cotton is good, it will look totally appropriate at the office as well as at Target or book club.
Some options:Old Navy Cap Sleeve Knit Dress
Banana Republic Long-sleeved Geo Print Dress
C&C California Classic Tee Shirt Dress