I'll admit it, I am NOT a know-it-all. I have only lived in my part of the US, I am not a mother, I am not a gardener, I am not a tall woman so I do not know off-hand the right thing for every woman out there. I often get emails and comments that my suggestions are not appropriate for all women's lifestyles. Some I disagree with (if you attend weddings and Bar Mitzvas and special events in your life you should own a simple dress) and some I agree with. Recently I was contacted by a member of Pattern Review – an awesome message board of sewers (hello ladies!!!) who suggested some options for those women who live in climates where it is always warm. She being from Texas knows a thing or two about a warm-climate wardrobe! I was happy to hear from an expert on that subject and would like to share her tidbits with you all!
I love clothes, and am forever reading lists suggesting ways to put together a simple wardrobe that can form the basis of your entire closet. But, those lists are usually written for people who live in four-season climates. (Here in central Texas, we joke that we, too, have four seasons: Summer, Almost Summer, It Was Just Summer, and Christmas).
Kidding aside, it was a challenge for me, as a native Midwesterner, to learn how to dress for a warm climate. While I think that the individual articles of clothing each woman needs are going to vary widely according to her job, her taste, and other lifestyle differences, I can at least offer a few tips I've learned in seven years of warm-weather dressing:
1) Know When to Shop. Clothing stores have at least four distinct collections each year, which show up about two months before the season in which they're typically worn in four-season climates. So, stores get their fall sweaters in July, their winter coats in September, etc. That's great if you live in a four-season climate…and not very convenient if you live somewhere warm, because stores still follow the same merchandising calendar as the rest of the country. Rather than shopping throughout the year, save up and do your shopping for the entire year during February, March, and April, when spring and summer clothes and shoes are on the shelves. (By contrast, shop for winter clothing at the very end of winter, when everything's on clearance. You only need a few pieces, and because this type of clothing isn't in high demand there's usually a pretty good selection still left.)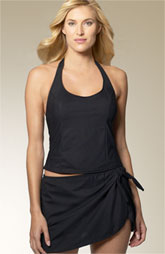 2) Purchase a Good Swimsuit. It doesn't matter if you are terrified of water (or your reflection in a swimsuit), the fact is that swimming–and poolside activities like BBQs and ice cream socials—are common social events for young people in the Deep South when the temperature climbs. Chances are, if you refuse to don a bathing suit, you may never see your gaggle of friends. Shop early for the best selection so that you can get one that's flattering and that you feel really confident in. If you are curvy or hard to fit, skip the department store and try your local underwear boutique first.
Along with a great swimsuit, invest in a flattering cover-up and some flip flops that do not slip and slide when wet (consider brands like Teva, Reef and Merrel that offer athletic-inspired styles).
3) Comfort First. Yes, most of us have watched What Not to Wear and know that jackets and blazers disguise and flatter an apple shape with a large tummy. However when you are factoring in tripe-digit heat, the concept of layers is ridiculous. Comfort should be you first consideration when buying summer clothes. Purchase breathable fabrics: linen, cotton, silk. (Wrinkles are far more acceptable in the South than cooler regions where poly-blends are popular (and realistic) summer fabrics.) Look for silhouettes that skim but don't cling: remember that you're going to be sweating so you want shapes that will glide right over an overheated body. Don't even consider layers when you know you're going to be outside for a while: one piece on top, one on bottom (or one uber-comfy dress).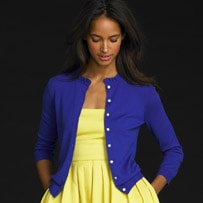 4) Layer While Indoors. I know I just said "no layers," but that's for outdoors. Indoors it's often quite chilly as the AC is cranked up much of the year. Lightweight sweaters in cotton or cashmere are pretty and versatile. Thin fabrics are best because they will be tucked into your bag as soon as you leave any building. Find yourself a versatile and pretty cardigan and it will be a wiser choice for this climate than a pashmina or jacket.
4) Be Prepared. This one isn't about clothing, but it IS about staying cool and comfortable. When northerners ask me about Texas weather, I say, "It's just like your weather. We also have a season where it can be dangerous to leave the house unprepared or dressed improperly. It's just that for us, that season is summer." From April through October, I don't leave the house without a mini-stick of deodorant, a washcloth (for washing my face or for mopping up sweat), a bottle of water, and a compact of loose powder. I have also noticed that Southern women tend to be VERY well groomed, perhaps because they are less covered-up for much of the year. I'd never had a pedicure until I moved here; now, they're de rigueur.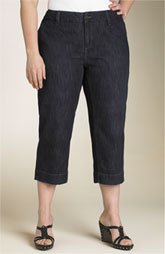 5) Capris are Great. Capris and cropped pants are a wardrobe staple in warm climates. Those extra few inches of bare leg are a Godsend, and unlike shorts, they're work-appropriate. With some skimmers or sandals they transform into casual weekend attire.
6) You Still Need Some Winter Garments. As a native Midwesterner, I know cold, and Central Texas almost never gets cold. The fact that we have whole decades without hard frosts disqualifies us from ever complaining about "cold." However, if you're acclimated, 40 degrees Fahrenheit can seem darn chilly. And it gets cold in the South though we act surprised about it every single time. So buy a nice coat in a classic style, and gloves, a hat, and scarf to match. Purchase two or three heavy sweaters in flattering solid colors and a couple pairs of trousers that come all the way to your instep. Invest classic, quality pieces that won't fall out of fashion quickly, wear them for those few weeks a year that warrant them, and they'll last you for years.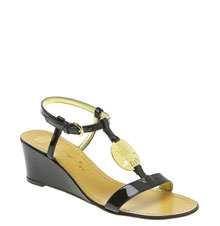 7) There Are Sandals, and Then There Are Sandals. Sandals are worn most of the year; but not all sandals are created equal. Flip-flops and sparkly little thongs should only be worn in the most casual of environments. My boss' rule of thumb is a good one: "If you'd wear 'em to the beach, don't wear 'em to work."
Consider your height and frame when purchasing sandals. Many sandals in the stores the past few seasons are very flat and/or strappy (think the "gladiator" style celebs seem to covet), which works best on slim figures and with floaty lightweight dresses and skirts. Consider a city sandal in a neutral shade and a classic fabric like leather. Having a solid heel, wedge or at least a substantial sole will balance out curvy frames and more substantial fabrics in your outfit. It is possible to find sandals that will go with pants, capris, skirts, AND shorts.
8) Know Your Environment. I live in a very casual city in Texas; one can go to just about any restaurant, even the four-star ones, in jeans. I haven't worn pantyhose in years; there might actually be a law against them here. Dallas, on the other hand—just three hours north—is far more conservative in terms of fashion; if I'm visiting friends there and know we're going out to dinner, I bring a skirt.
For example, in my area appropriate attire for a baby shower is khakis and a nice blouse. However, I recently attended a friend's bridal shower in Louisville and was embarrassingly underdressed in this outfit—all the other women were in dresses, heels, and nice jewelry. If you are new to the area or travelling, don't be afraid to ask a friend what the "dress code" may be for that town.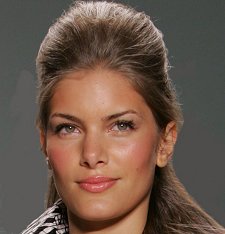 9) Makeup. Most people get so much sun here that their skin tone changes a couple of times over the course of a normal year. Even I, with the world's fairest skin that burns fast and never tans, end up a shade browner in the summer and need a different foundation. Second, you must wear sunscreen every day, no exceptions! A moisturizer with built-in SPF makes this step worry-free. Finally, keep it simple. Makeup slips and slides in high temperatures, so don't even attempt to maintain several layers of product. Anyway, neutral colors applied lightly look better on sun-kissed skin than heavy makeup does!
10) Enjoy Being a Fashion Plate. Admit it: those of us in the South do have gorgeous weather most of the time. This frees you from ever needing a whole host of clothing that is simply a fact of life for many Americans north of the Mason-Dixon Line: puffy down coats, rainpants, balaclavas, etc. Please enjoy never buying jeans two sizes too big so you can wear long underwear underneath! Revel in the fact that your winter boots can have high heels if you want—a thoroughly impractical thing in icy areas! Raise children who have never once complained about having to cover up their Halloween costumes with giant winter parkas! We're lucky to live in a climate that rarely interferes with our fashion sense—enjoy it!