This article may contain affiliate links; if you click on a shopping link and make a purchase I may receive a commission. As an Amazon Associate, I earn from qualifying purchases.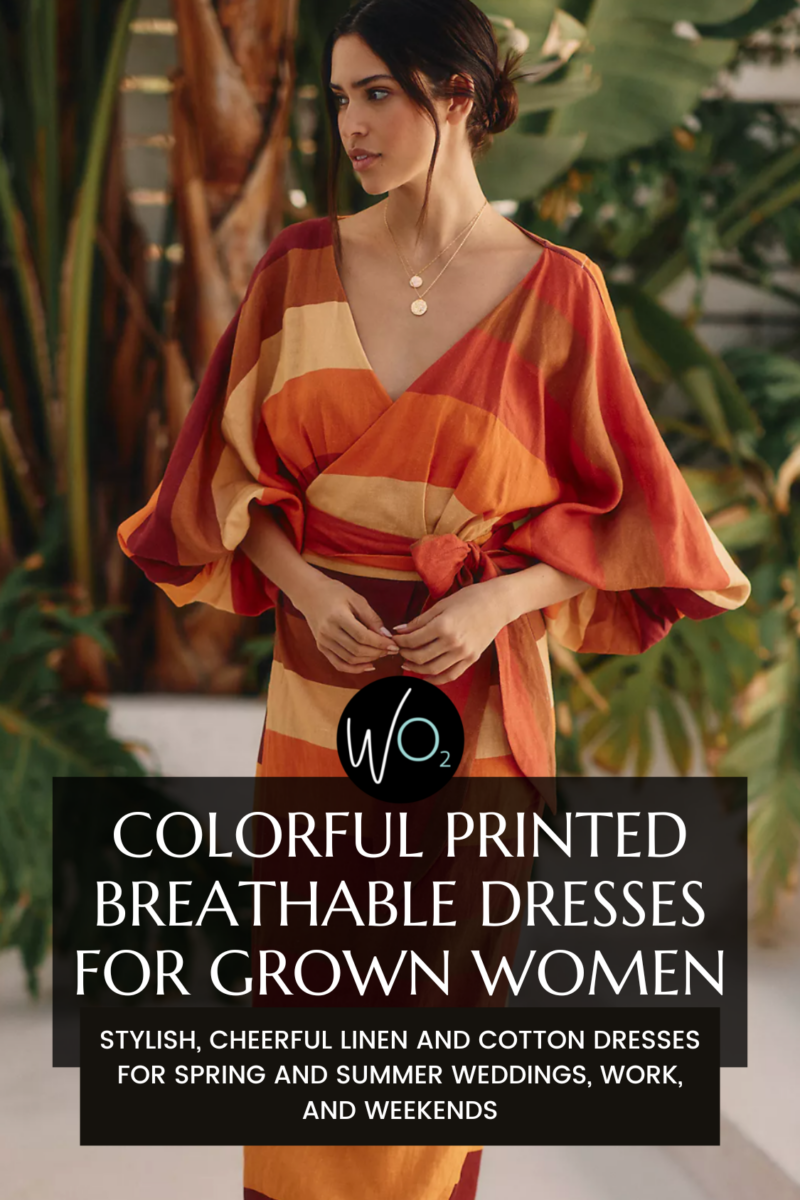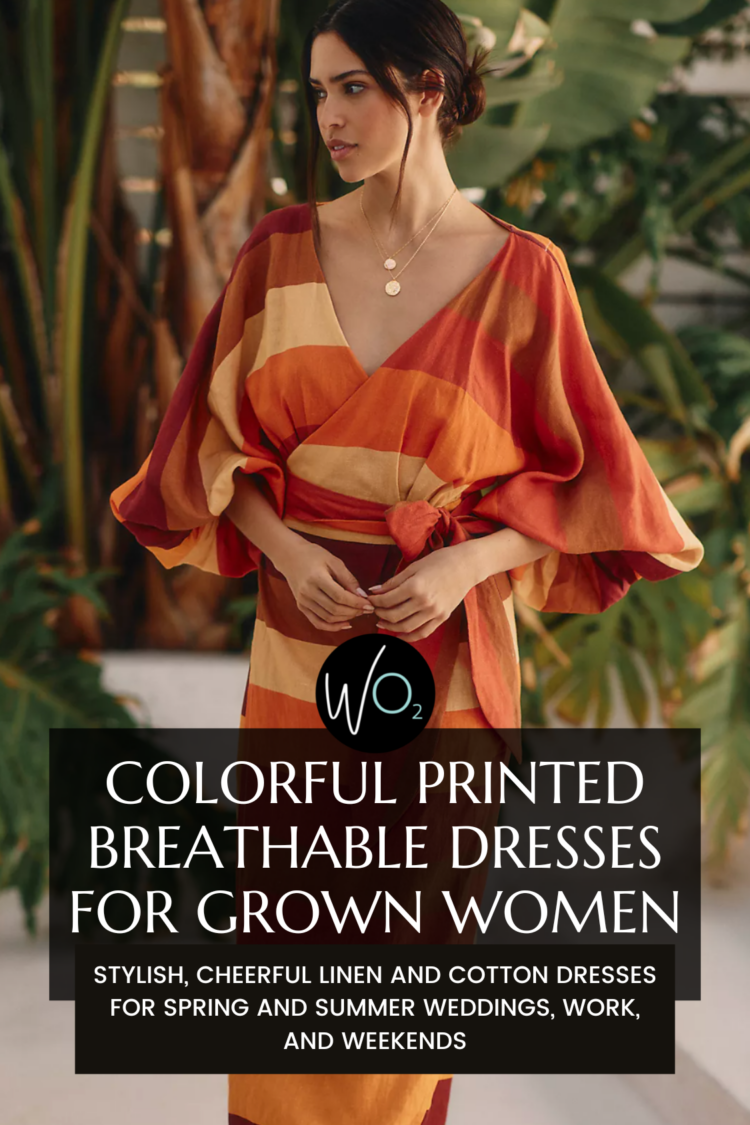 Colorful Printed Breathable Dresses for Grown Women
A lot of time when you are searching for breathable dresses in fabrics like linen, cotton, and tencel, they are n neutral colors that are versatile, but can sometimes be more basic than what you're looking for. It's hard to find colorful printed breathable dresses; it's something I myself search for every spring.
I've learned that while there may be snow on the ground where you live, now is the time to start thinking about and shopping for your spring wardrobe. This is when the new spring collections are launched, and there is the best selection of sizes.
I've been looking at spring apparel thinking of you, the Wardrobe Oxygen community. You already can easily find solid-colored breathable dresses at many retailers in most sizes. But prints are harder, especially when you're looking for brighter colors or bolder patterns. Those are usually kept for synthetic or less breathable fabrics… and styles a grown woman may not wish to wear.
Why I Recommend a Colorful Printed Dress for Spring and Summer
As a fellow grown woman, I am a fan of printed dresses. Yes, they are more memorable, but that isn't a bad thing. It is not wearing the same thing over and over, it's creating a TRUE capsule wardrobe; one that has the perfect thing for each situation and this dress is perfect for all the kinds of situations where you wear it. It's signature style.
We must let go of the idea of rewearing a look is a bad thing. I am inspired by my husband, who I think has great style. He is not afraid of prints or color, and likes to take risks with his wardrobe. Whatever the occasion, he can find something in there positvely perfect to wear. But he takes up less than 1/3 of our closet, with his hangers all comfortably spaced. I on the other hand, even though I try very hard to curate my closet and shop thoughtfully, I take up the rest of the space and could easily fill a bigger closet.
Don't be afraid of prints, they hide sweat, they take the focus from your shape, they feel festive and fun, and depending on the print, add a modernity to more traditional styles. It's not rewearing, it's having signature style!!
Colorful Printed Breathable Dresses for Grown Women
Any woman can wear whatever the heck they want and look chic. Fashion is fluid, and confidence is the best accessory. We're grown women, and 2023 style is taking up the space we deserve. That can be by breaking style rules, by trying a bolder silhouette, by having fun with color, or even choosing a print instead of a solid.
These colorful printed dresses are all from breathable fabrics, primarily cotton and linen. While many other fabrics can be breathable, they may be higher maintenance or not as easily found in bright colorful prints and versatile styles. And while some styles of the breathable dresses below may benefit from a strapless bra (or a small bust), none have cutouts, open backs, or complicated details that require special underpinnings.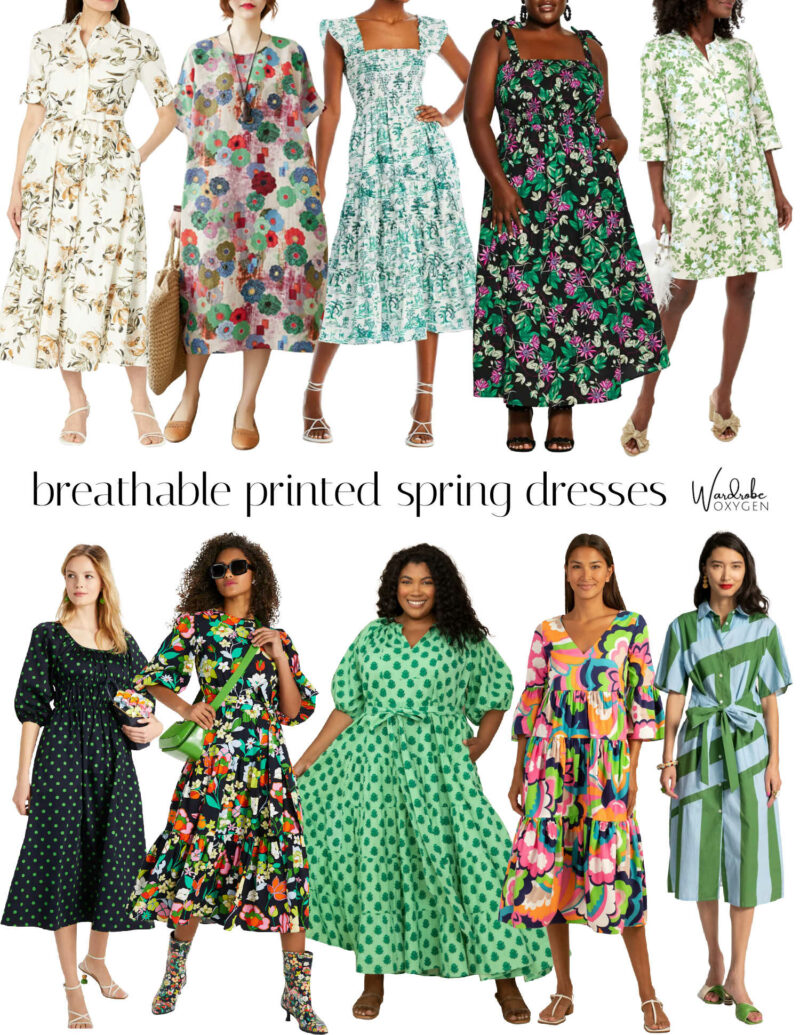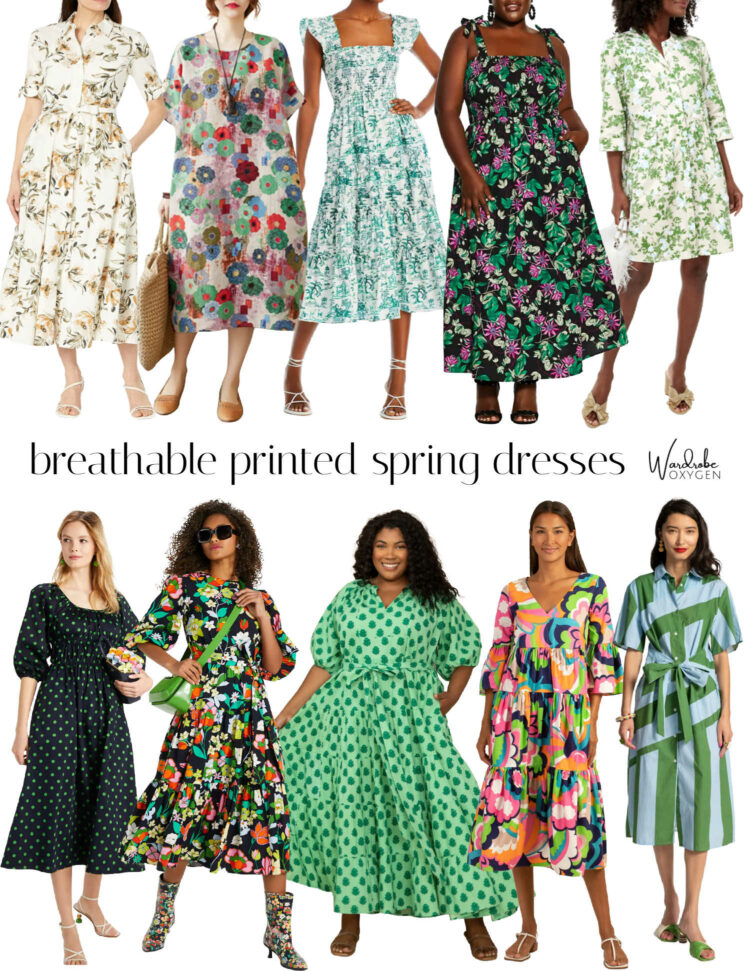 Shop the Collage:
Top Row: white floral shirtdress (2-14) | floral caftan (4-16 but also custom) | green and white sundress (XS-XL) | black floral sundress (12W-24W) | green and white shirtdress (XXS-3X)
Bottom Row: black with green dots (XXS-XXL) | black floral (XXS-XXL) | green on green dots (XXS-4X) | colorful Mod print (XS-XXL) | blue and green shirtdress (XS-3X)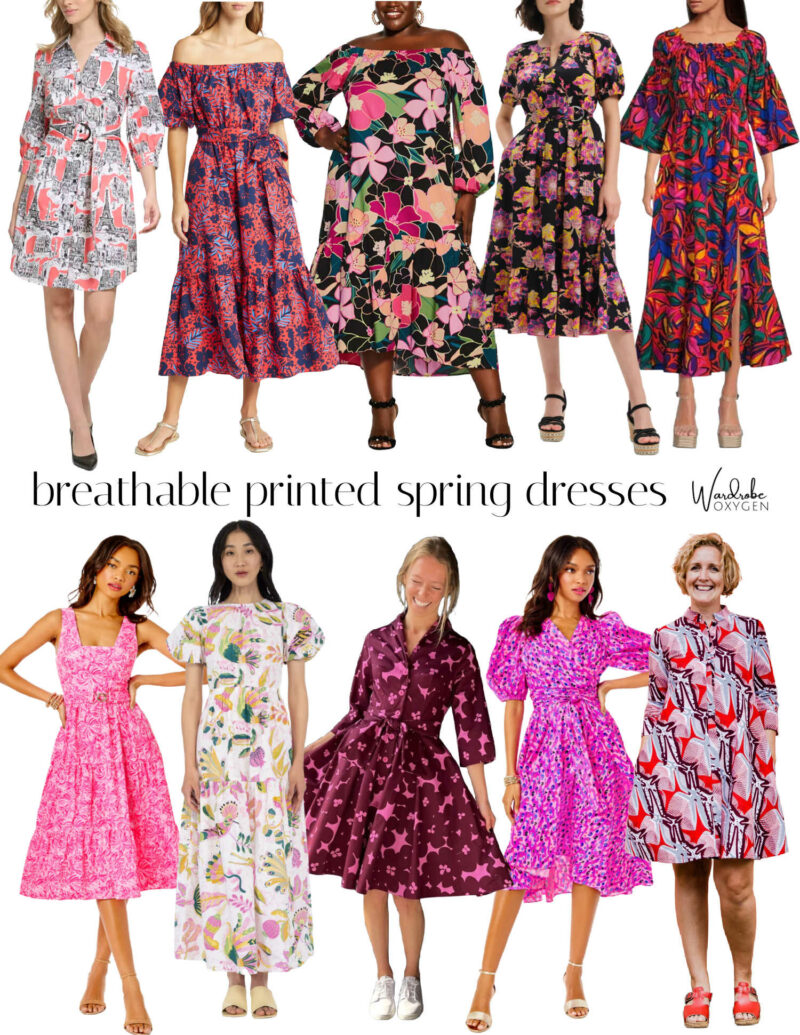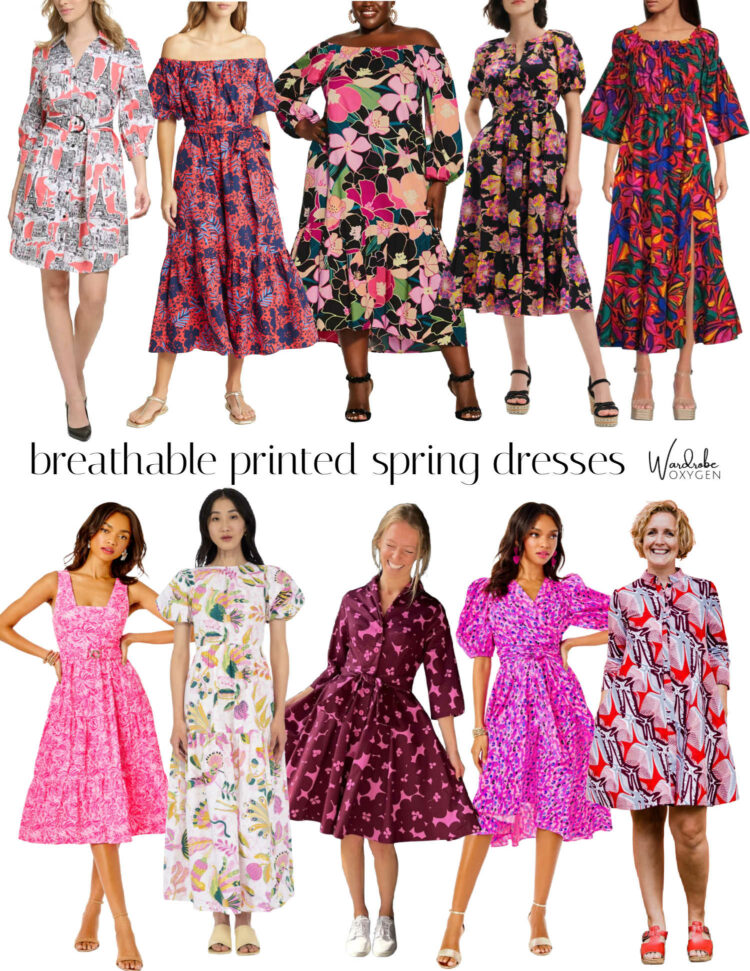 Shop the Collage:
Top Row: Paris print shirtdress (2-16) | red and blue off the shoulder self-belt midi dress (XXS-XL) | black floral off the shoulder dress (14W-22W) | black floral belted dress (0-16) | red floral full sleeve midi dress (XS-XL)
Bottom Row: Pink belted fit and flare (00-16) | white floral puff sleeve maxi dress (XS-XXL) | maroon and pink shirtdress (XS-3XL) | pink printed puff sleeve dress (00-16) | red and pink trapeeze shirtdress (XXS-3XL)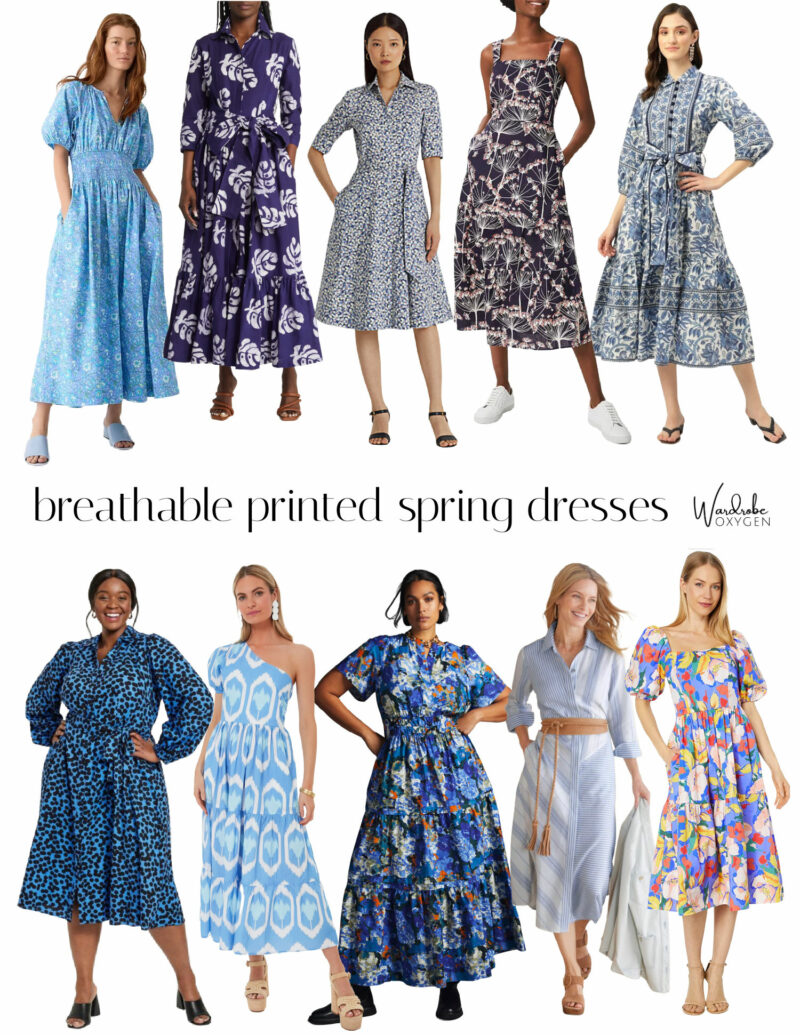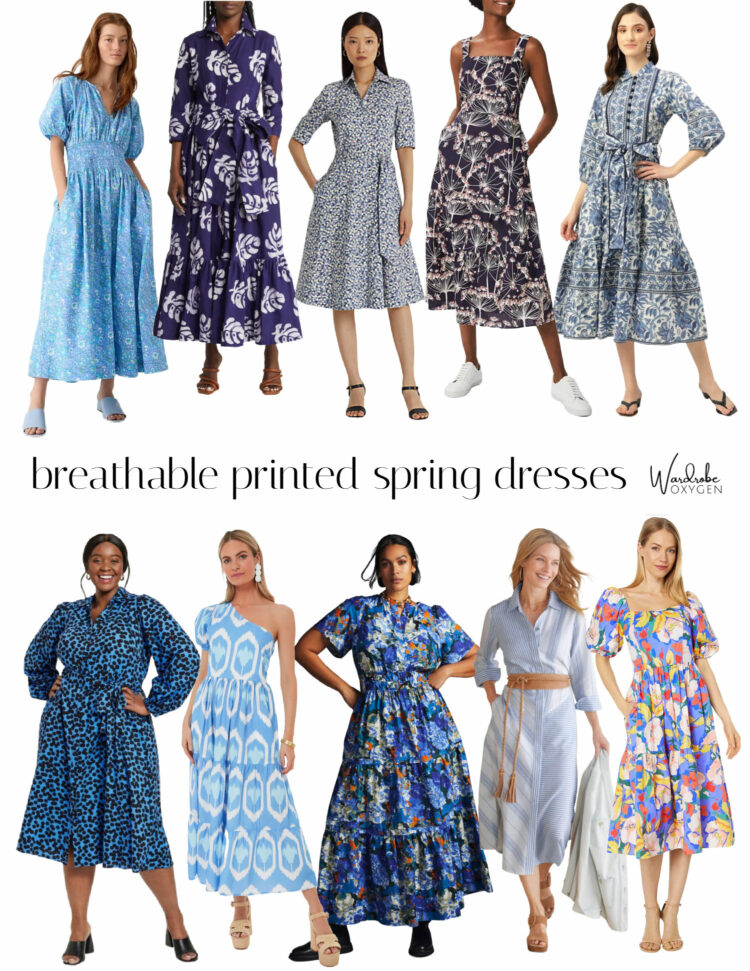 Shop the Collage:
Top Row: light blue floral dress (XXS-3X) | indigo and white print shirtdress (2-10) | blue and white tiny floral shirtdress (00-18) | navy and pink print sundress (2-14) | blue and ivory print dress (XS-XXL + custom; this is similar as the Etsy shop I chose when making the collage went on hiatus the following day)
Bottom Row: blue and black shirtdress (XXL-4X) | blue one-shoulder dress (XS-XL) | blue floral maxi dress (XXS-3X + petite) | pale blue stripe shirtdress (XS-3X + petite) | blue floral puff sleeve dress (2-12)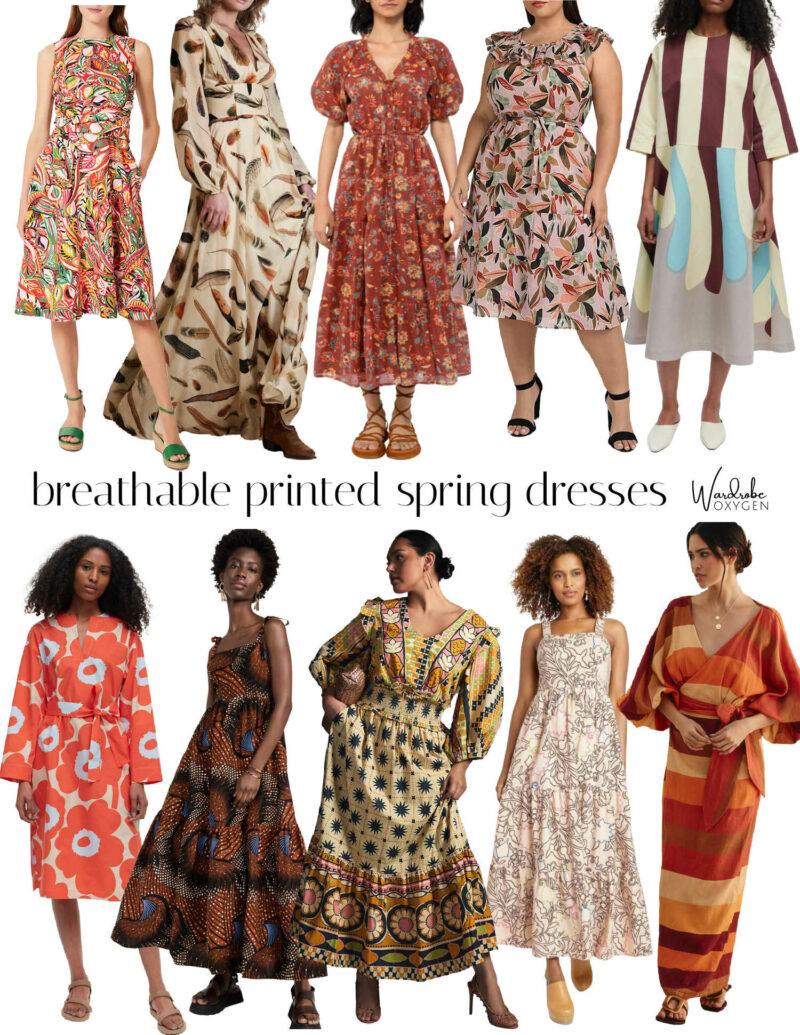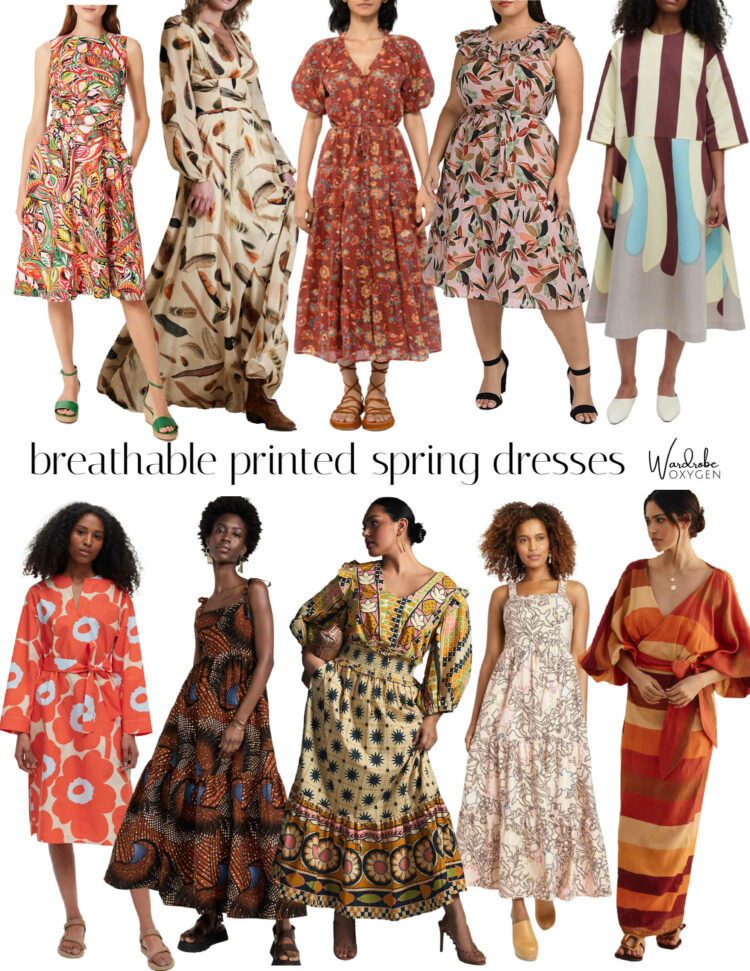 Shop the Collage:
Top Row: bold printed sleeveless dress (2-16) | beige feather print maxi dress (0-20 + tall & petite) | paprika-colored floral dress (XS-XL) | pale pink print belted dress (1X-3X) | brown and yellow pieced print dress (32-46)
Bottom Row: orange floral belted shift (32-46) | brown print sundress (2-18) | tan mixed print maxi dress (XS-3X + petite) | beige floral sundress (XS-4X) | striped maxi dress (XS-XL)