This article may contain affiliate links; if you click on a shopping link and make a purchase I may receive a commission. As an Amazon Associate, I earn from qualifying purchases.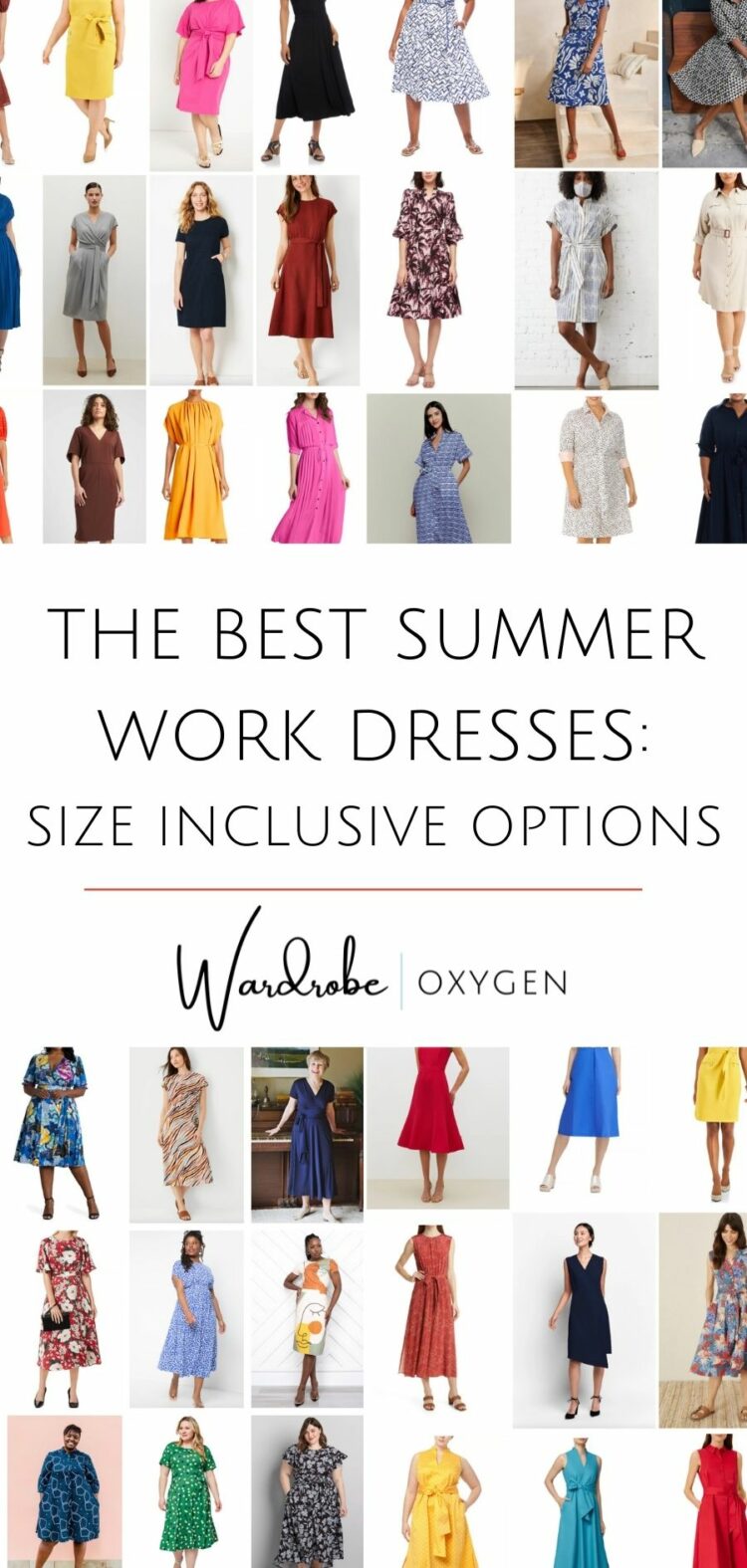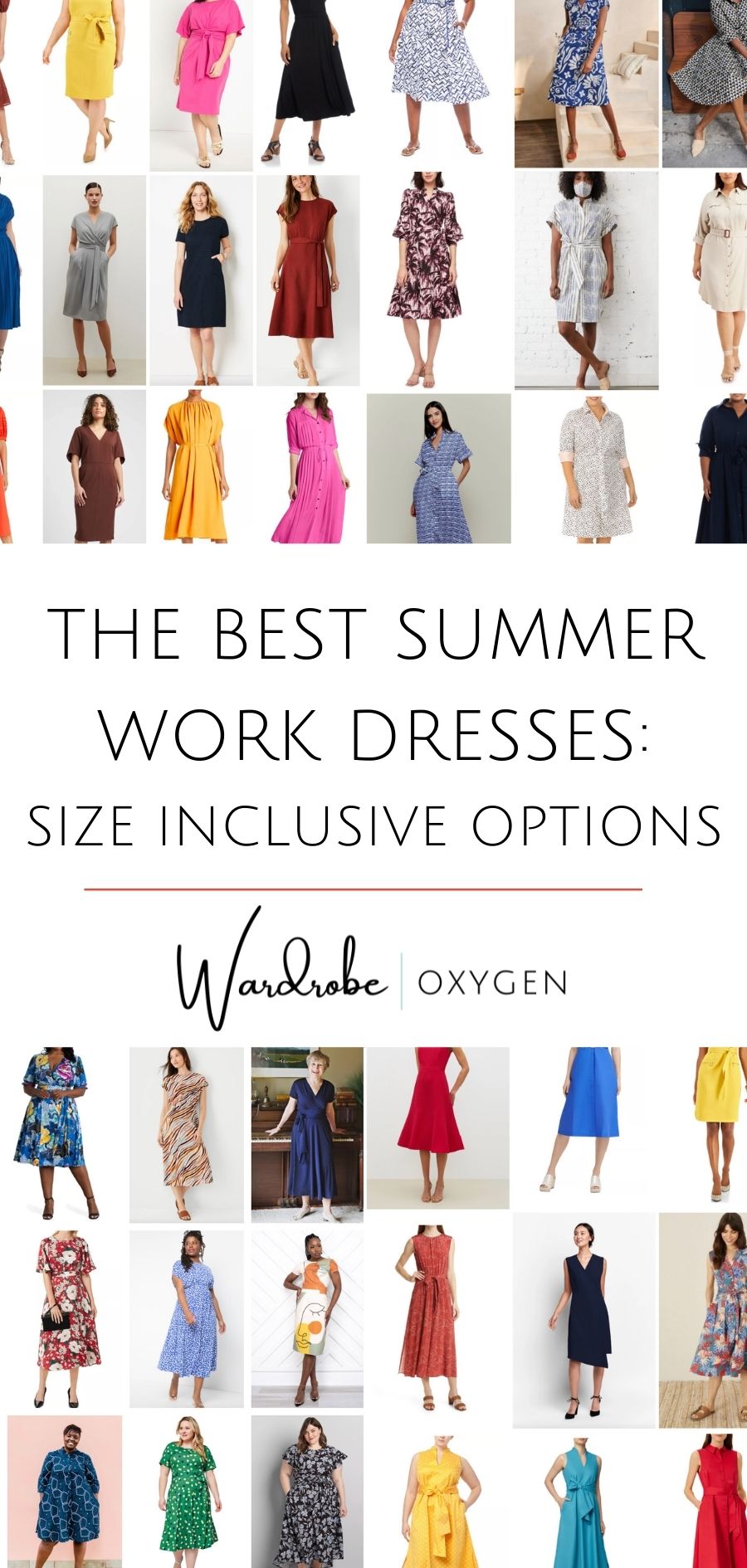 After a year at home, many are returning to the office. Forgot how to dress for work? Wondering how to look polished and professional when it's hot out? Here are some great summer work dresses I've found lately I just HAD to share with you!
Summer Work Dresses; What to Look For
When it's summer, especially when you have any sort of public transportation, bike, or walking portion of a commute, you want clothing that won't cling and won't cause you to overheat. For casual wear that's easy: linen, cotton, all the high-tech moisture-wicking fabrics are there for all sorts of garments. But for the office, those fabrics don't always read professional. Here are some tips when shopping for summer work dresses:
Look for dresses that have flow: swingy skirts, fuller sleeves, surplice or wrap bodices will help catch any breeze while still being work-appropriate. Little details like structured shoulders or puffed sleeves can make a big impact on your comfort level in the heat.
Consider at or below the knee styles: When the dress is a bit longer, you can get away with dresses that may have more body to not stick to the skin, or styles that catch the breeze. When shorter, they can read Juniors; with a bit of length it feels more retro-inspired while also providing a more professional appearance.
Cover all the bits: If in doubt, size up and take a dress to the tailor to be sure your bra is hidden, your underwear lines aren't prominent, and the dress fits comfortably and isn't clinging. Too tight, and you'll be uncomfortable in the heat (and sweat will be more likely to show). Too loose, and you lose your polish.
The print/color sets the tone: Dresses usually come in more than one color or print. Think about the general vibe of your office and choose a print or color that fits it. A more subtle print or color will read more conservative, dressy, and professional. Bright colors and prints are fantastic for creative workplaces. Novelty prints, neons, and the bolder pastels that are popular now can read juvenile or casual so wear with care.
Be careful with embellishment: Beading, sequins, and embroidery can read vacation attire; sharkbite, high-low, and scarf hemlines (especially with chiffon overlay) can read wedding guest. Eyelet and seersucker can read casual, and cut-outs rarely are a good choice for the workplace. However, you know your office environment best; my advice is a guide not gospel.
Shoes make the person: The same summer dress can be perfect for a wedding, a backyard barbecue, a baby shower, a brunch, a Target run, and the office. The difference is your footwear. Switching out sandals for a pair of professional-looking flats or kitten heel slingbacks can make all the difference in adding a professional touch to dresses already in your closet.
Stylish Summer Work Dresses: My Picks
Below are a few collages featuring summer work dresses I've found. Below each collage I will have links to the dresses along with the size range available. Below that will be carousels of those and additional dresses in that category. Use the arrows to scroll through the carousel. If you click on an image in the carousel or a link on this page, a separate browser window will open to the shop page with additional details.
Sleeveless Summer Work Dresses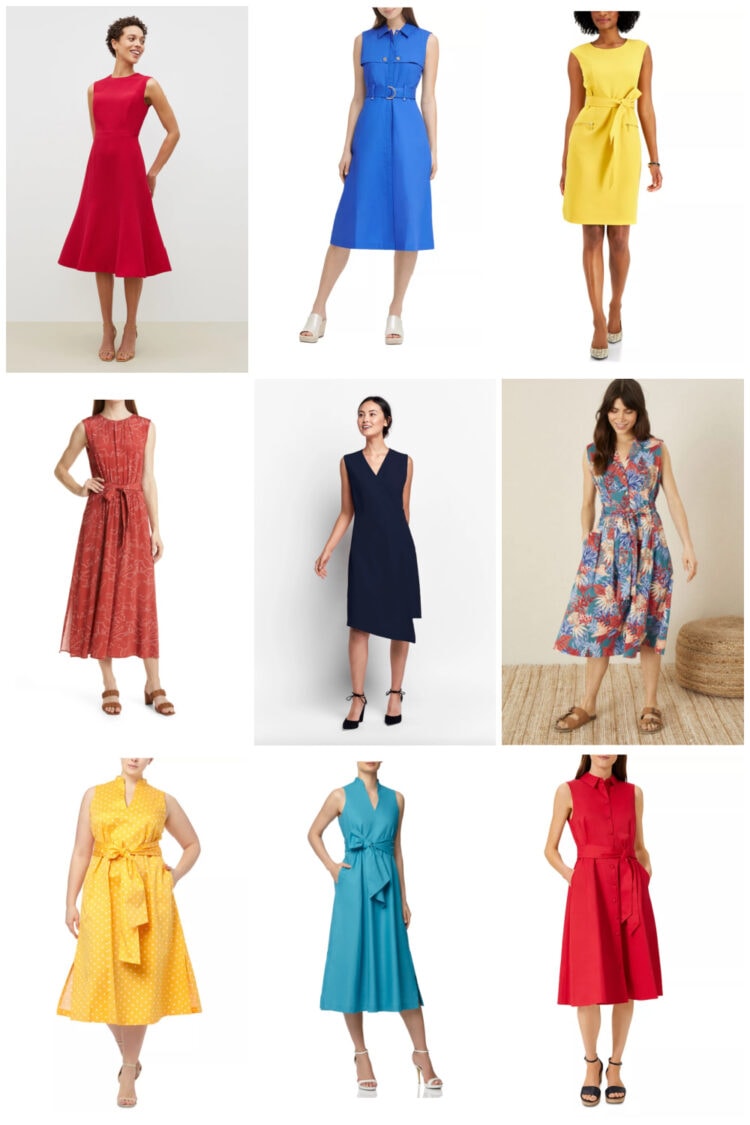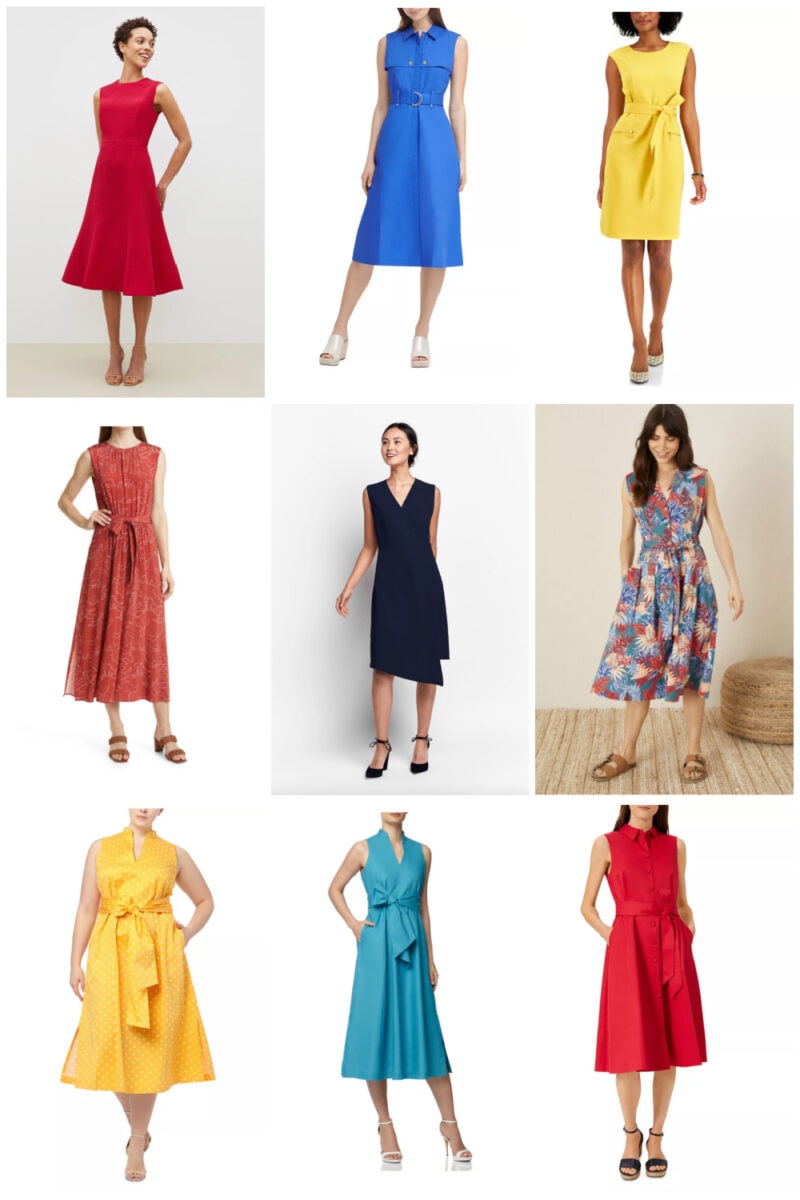 Shop Sleeveless Summer Work Dresses:

I know not everyone is comfortable baring their arms, especially in the workplace. But for those who do, the dresses above have professional enough of a look that the exposed arms aren't an issue. Note that these aren't tank or wide strap styles, they are just sleeveless. As I mentioned above, better to size up and tailor to not have it gape at the bust or expose your bra under your arms.
Summer Shirtdresses for the Office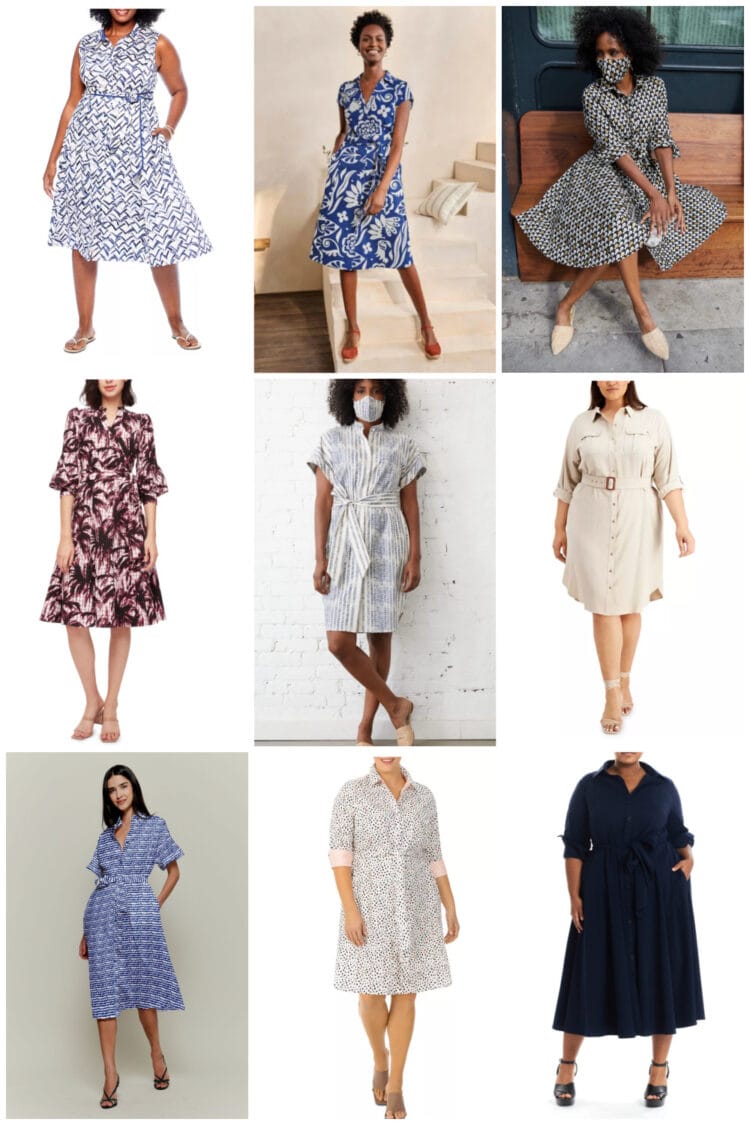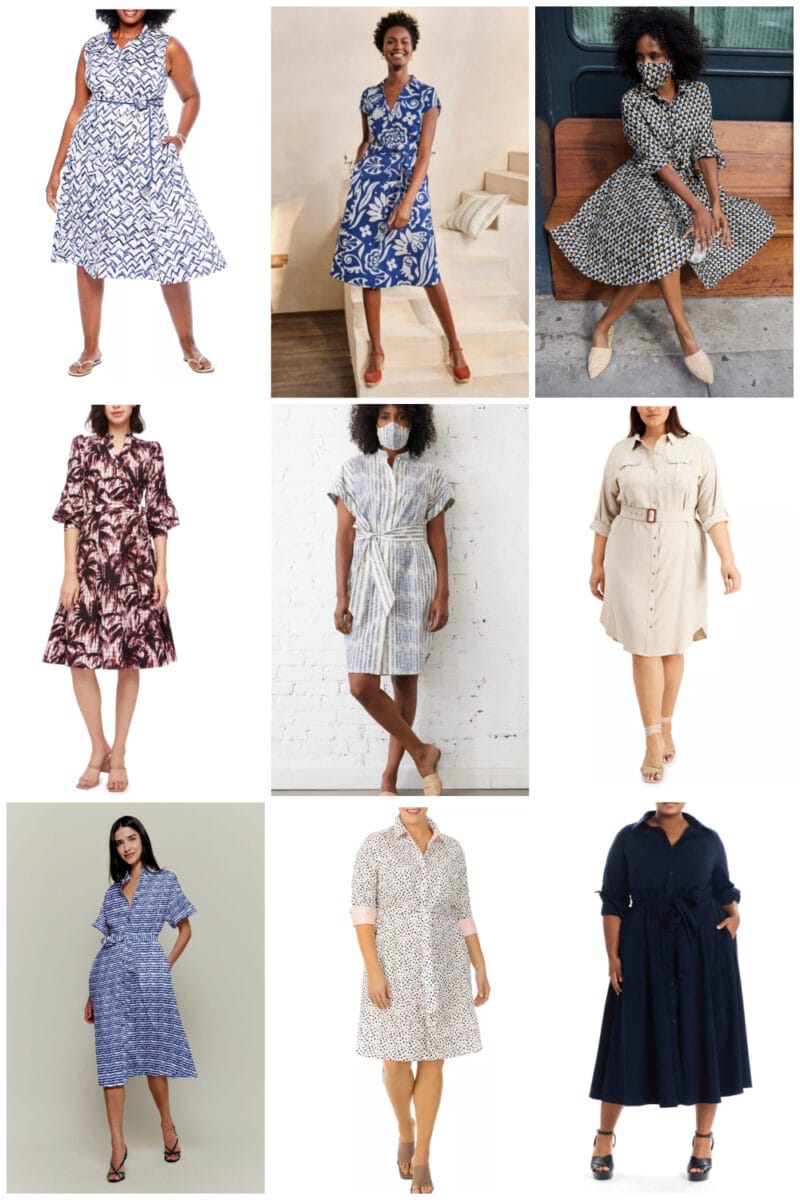 Shop Work-friendly Shirtdresses:

You can't go wrong with a shirtdress for the office. The collar and buttons automatically give it a workplace vibe, even in more casual fabrics like cotton poplin, linen, and Tencel. With an a-line or fuller skirt, you can catch the breeze while still looking polished and professional.
Printed Summer Work Dresses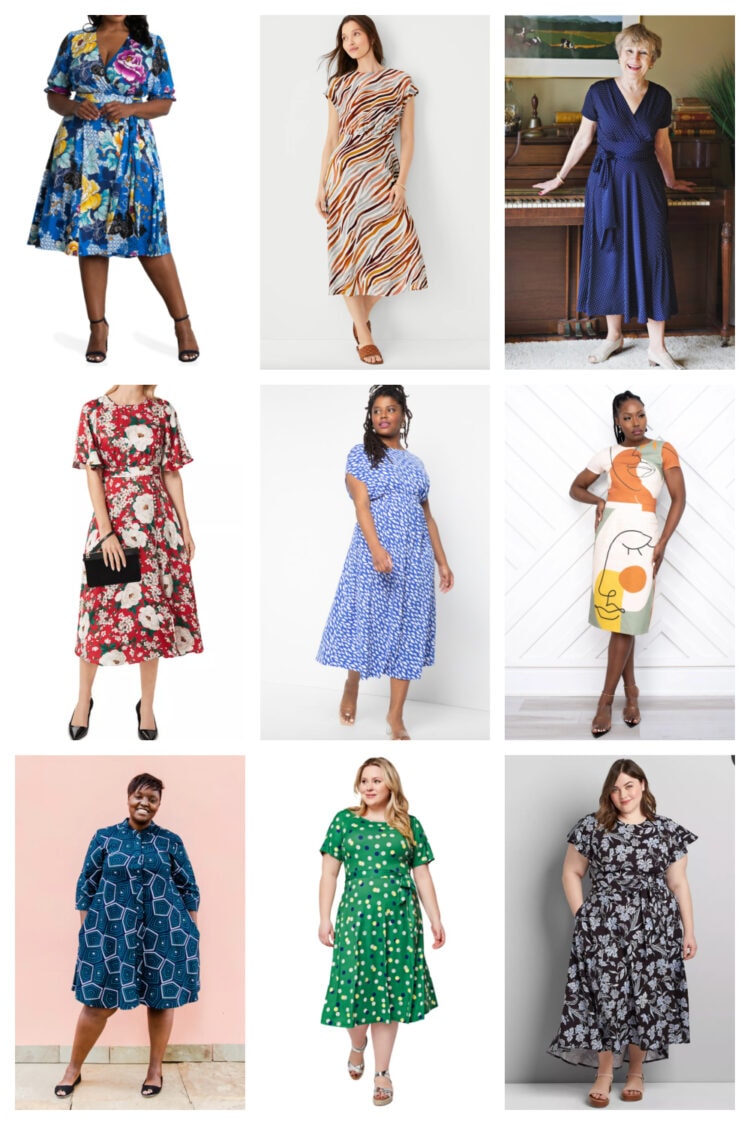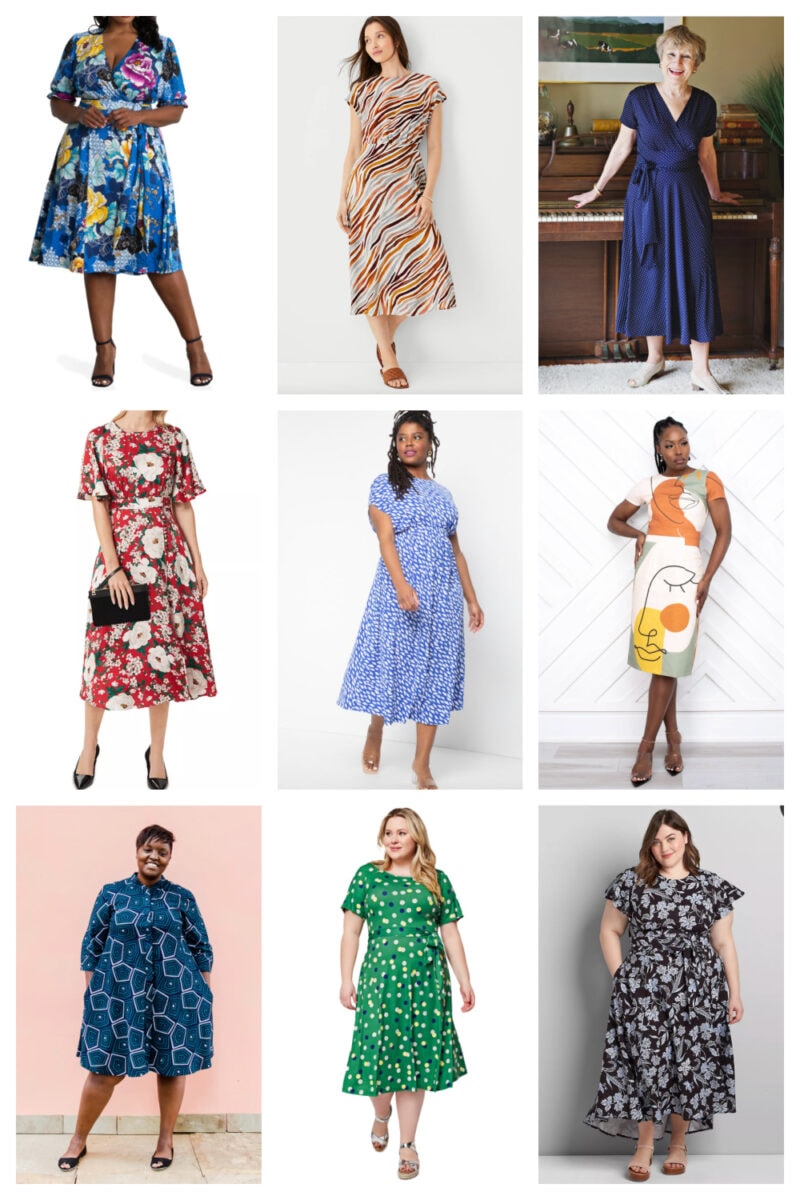 Shop Professional Printed Summer Work Dresses:

Prints are so fun to wear, but some prints can be too juvenile, casual, or too statement-making for many workplaces. While a lot of creative, education, and support fields welcome cheerful prints to uplift clients, students, and patients, they can be too much for Corporate America. These dresses offer fun and whimsy while still looking professional enough for your next staff meeting.
Solid-Colored Summer Work Dresses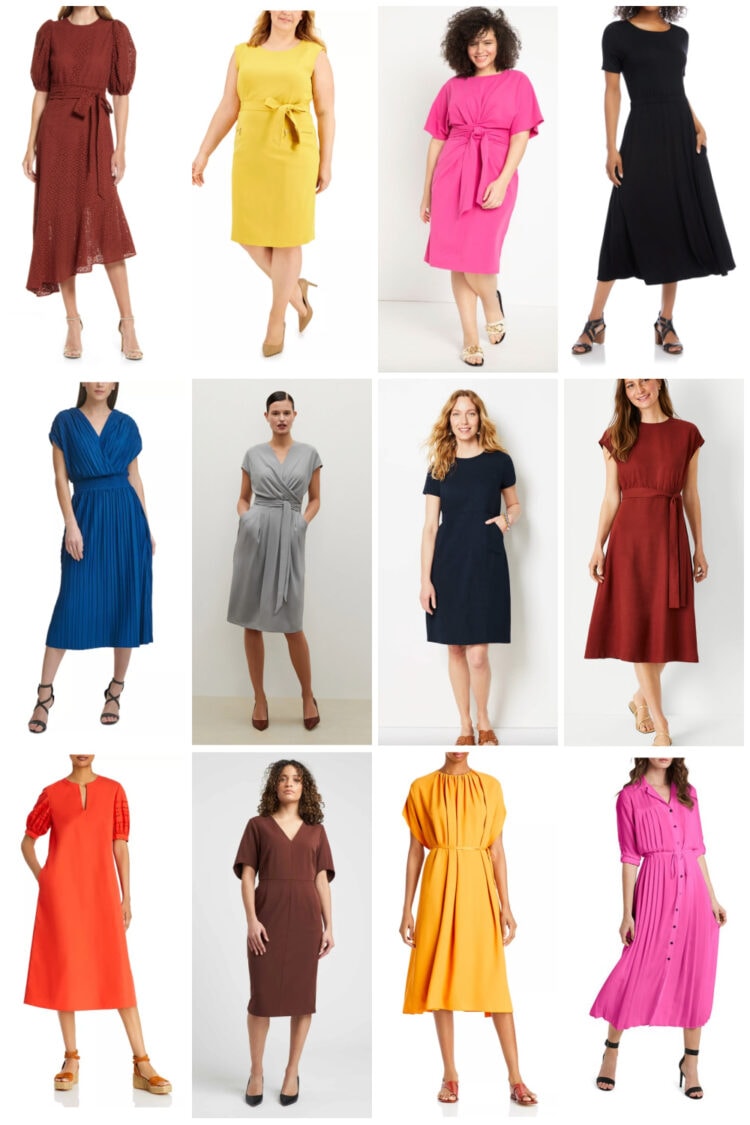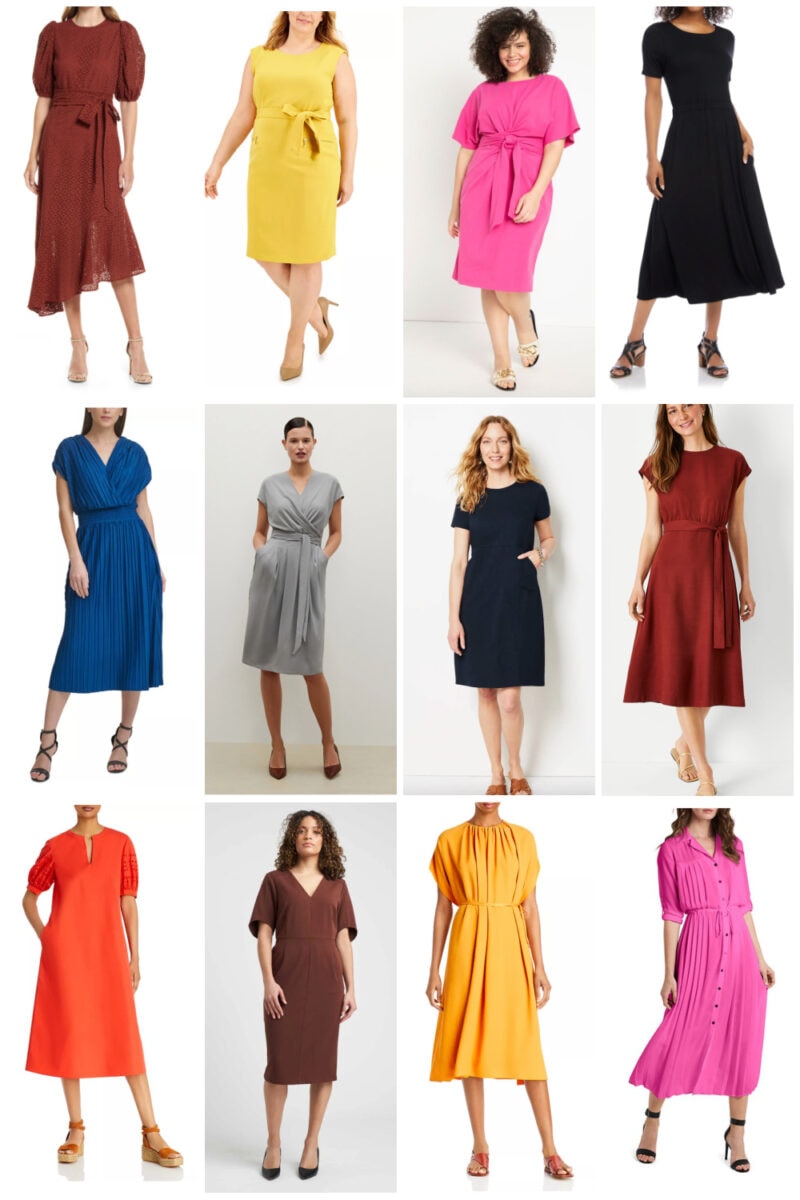 Shop Solid-colored Summer Work Dresses:

A solid color can read more dressy, conservative, and polished. Pair with nude-to-you heels or pointed toe flats and a simple and elegant necklace for a serious meeting, add contrast shoes and fun earrings for a more casual and creative office setting. Solid colors are more likely to show sweat; consider wearing a sweat-catching garment underneath and sizing up and using a tailor for a custom not-tight fit.
If you have found a really great summer work dress that isn't featured here, do share in the comments! And if you have tried any of these dresses, we'd love to read your feedback, positive or negative! Your thoughts help fellow Wardrobe Oxygen readers and shoppers!