This article may contain affiliate links; if you click on a shopping link and make a purchase I may receive a commission. As an Amazon Associate, I earn from qualifying purchases.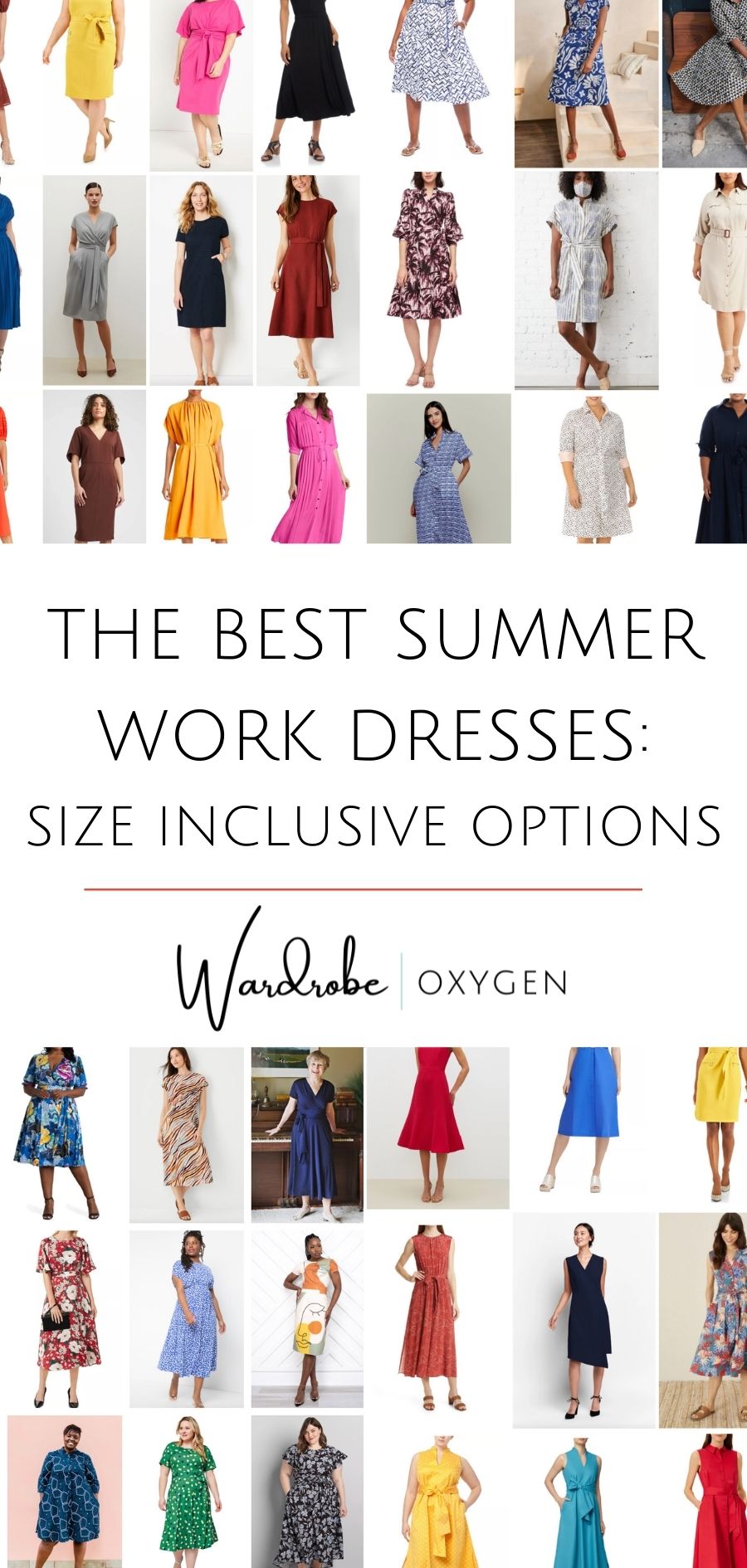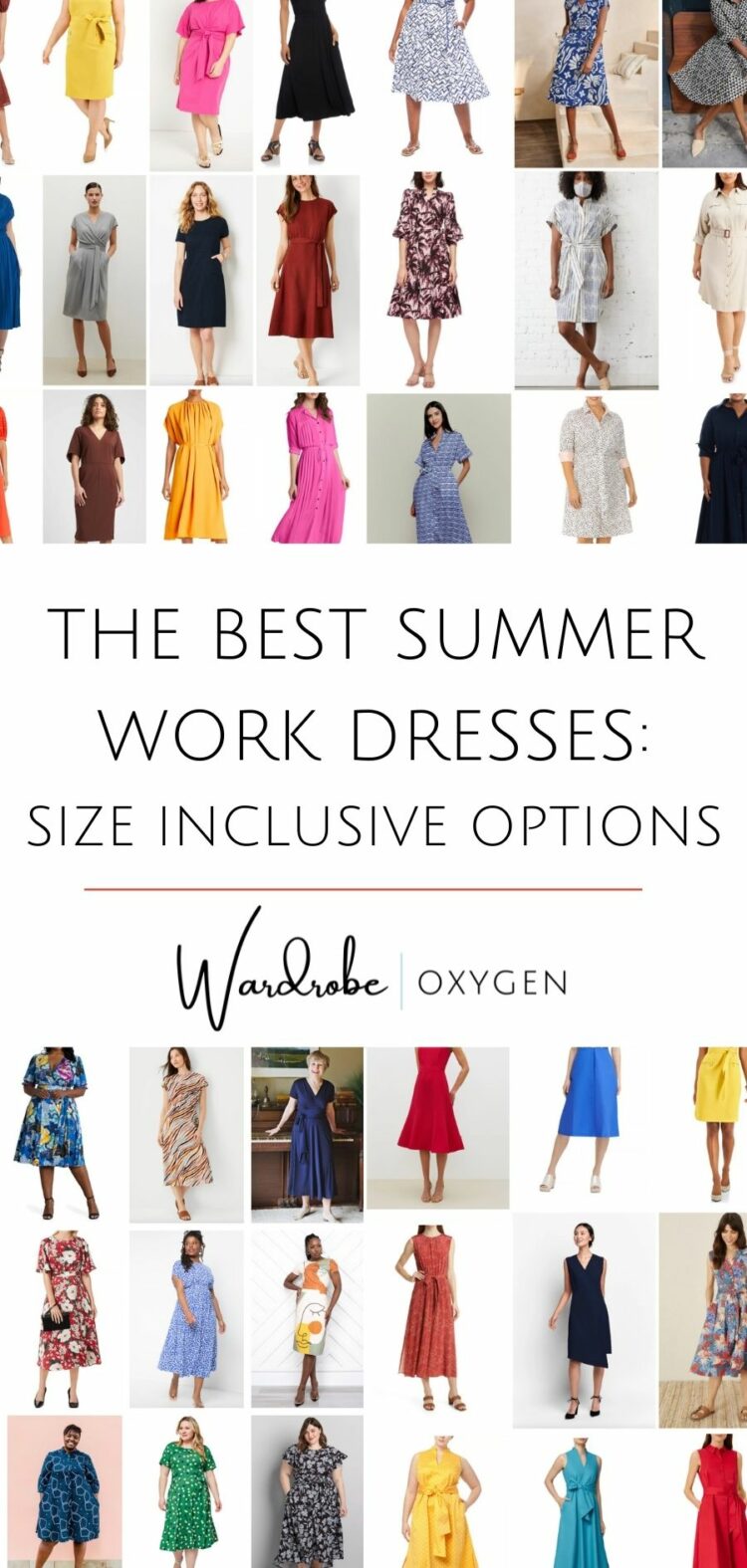 So even the President of the United States is encouraging us to head back to the office. After a while working from home, did you forget how to dress for work? Wondering how to look polished and professional when it's hot out? Here are some great summer work dresses I've found lately I just HAD to share with you!
And while it may be the second half of summer, we all know that doesn't mean it's getting colder. I know here in the Washington DC area, I am wearing frocks like these summer work dresses straight into October and reaching for them again once April arrives. I promise my selections below provide many fabrics, colors, prints, and silhouettes that read summer but will also be chic corporate attire come fall.
This post was originally written in 2021 but updated as many asked for an updated list of summer work dresses that are available for purchase this year.
Summer Work Dresses; What to Look For
When it's summer, especially when you have any sort of public transportation, bike, or walking portion of a commute, you want clothing that won't cling and won't cause you to overheat. For casual wear that's easy: linen, cotton, and all the high-tech moisture-wicking fabrics are there for all sorts of garments. But for the office, those fabrics don't always read professional. Here are some tips when shopping for summer work dresses:
Look for dresses that have flow:
Swingy skirts, fuller sleeves, surplice or wrap bodices will help catch any breeze while still being work-appropriate. Little details like structured shoulders or puffed sleeves can make a big impact on your comfort level in the heat.
Consider at or below-the-knee styles:
When the dress is a bit longer, you can get away with dresses that may have more body to not stick to the skin, or styles that catch the breeze. When shorter, they can read Juniors; with a bit of length, it feels more retro-inspired while also providing a more professional appearance.
Cover all the bits:
If in doubt, size up and take a dress to the tailor to be sure your bra is hidden, your underwear lines aren't prominent, and the dress fits comfortably and isn't clinging. Too tight, and you'll be uncomfortable in the heat (and sweat will be more likely to show). Too loose, and you lose your polish.
The print/color sets the tone:
Dresses usually come in more than one color or print. Think about the general vibe of your office and choose a print or color that fits it. A more subtle print or color will read more conservative, dressy, and professional. Bright colors and prints are fantastic for creative workplaces. Novelty prints, neons, and the bolder pastels that are popular now can read juvenile or casual so wear them with care.
Be careful with embellishment:
Beading, sequins, and embroidery can read vacation attire; shark bite, high-low, and scarf hemlines (especially with chiffon overlay) can read wedding guests. Eyelet and seersucker can read casually, and cut-outs rarely are a good choice for the workplace. However, you know your office environment best; my advice is a guide, not a gospel.
Shoes make the person:
The same summer dress can be perfect for a wedding, a backyard barbecue, a baby shower, a brunch, a Target run, and the office. The difference is your footwear. Switching out sandals for a pair of professional-looking flats or kitten-heel slingbacks can make all the difference in adding a professional touch to dresses already in your closet.
Summer Hot Work Dress Types
Summer work dresses are not just practical and comfortable; they can also be beautifully designed, elevating your style while keeping you cool and stylish in the hot weather. Dresses are a versatile and easy-to-wear option that exude a sense of femininity and grace, making them the perfect choice for the office during the summertime.
One of the reasons why dresses are great for the summer is their breathability. Made from lightweight fabrics such as cotton or linen, they allow for maximum airflow, preventing you from feeling overheated and sweaty in the scorching heat. The loose and flowy silhouettes of summer dresses also promote airflow, ensuring comfort throughout the day.
In addition to their practicality, summer work dresses are often beautifully designed, incorporating vibrant colors, playful prints, and flattering cuts. They effortlessly add a touch of elegance and sophistication to your work wardrobe, making you feel confident and put-together. From classic shift dresses to wrap styles and sheath dresses, there are endless options to suit various body types and personal styles, allowing you to express your individuality even in a professional setting.
Investing in beautifully designed summer work dresses is a smart choice as they can be dressed up or down, easily transitioning from the office to post-work events or weekend outings. Pairing them with statement accessories, such as a wide-brimmed hat, a stylish belt, or a pair of wedges, can instantly elevate their look and make them suitable for more formal occasions.
Midi Dresses
If you're someone who prefers dresses with a longer hemline, midi dresses are the perfect option for you. They hit at or below the knee, making them appropriate for most office environments. Opt for structured silhouettes or flowing fabrics, depending on your personal style and dress code. Midi dresses are versatile and can transition effortlessly from work to wherever your day takes you.
Shirt Dresses
Shirt dresses exude timeless elegance with their button-down design and collared neckline. They're a versatile option and can be dressed up or down based on the occasion. To keep things professional, choose cotton or linen that feels light and breezy during the summer months. Whether you prefer sandals or pumps, pairing them with a shirt dress is a surefire way to make a lasting impression at work.
Swing Dresses
Swing dresses are the epitome of comfort and style. They have a loose, flowy fit that flatters a variety of body types and is perfect for busy workdays when comfort is key. Dress them up with a pair of heels to give them a more formal look, or wear your favorite flats or sneakers if you're on the go. Swing dresses are versatile and can easily transition from day to night.
Wrap Dresses
Wrap dresses are the ultimate feminine choice, featuring a cinched waist and flattering V-neckline that many find gives them more confidence about their frame. They're perfect for anyone looking to make an effortless statement at work. Choose fun prints or stick to muted colors for a more professional aesthetic. Wrap dresses are versatile and can easily transition from workwear to evening chic.
Maxi Dresses
Maxi dresses are unbeatable for staying cool but can look more holiday than professional. Choose breathable fabrics such as cotton or rayon for summertime comfort. I recommend steering clear of prints, which can feel more beach getaway than office conference room. Accessorize with sandals or wedges to complete your ensemble; flats are also a good option for maxu dresses.. I personally find maxi dresses are only suitable for outdoor offices or work environments with a more casual dress code but you know your workplace best.
Print Dresses
Print dresses are the perfect way to add personality and charm to your office wardrobe. They're available in a variety of styles, including florals, stripes, and bold geometric patterns. Choose a muted or neutral color palette when incorporating prints into your workwear unless you work in a creative or relaxed workplace. Print dresses are perfect for showcasing your personal style and embracing the summer season.
Stylish Summer Work Dresses: My Picks
Below are a few collages featuring summer work dresses I've found and really liked and think are good purchases. Below each collage, I will have links to the dresses along with the size range available. Below that I provide shoppable carousels of those same dresses as well as additional dresses in that category that are good picks.
To navigate the shopping carousels, use the arrows on either side to scroll. If you click on an image in the carousel or a link on this page, a separate browser window will open to the shop page with additional details. And as always, if you have a great summer dress that is still for sale, please share it in the comments and support others in the Wardrobe Oxygen community!
Sleeveless Summer Work Dresses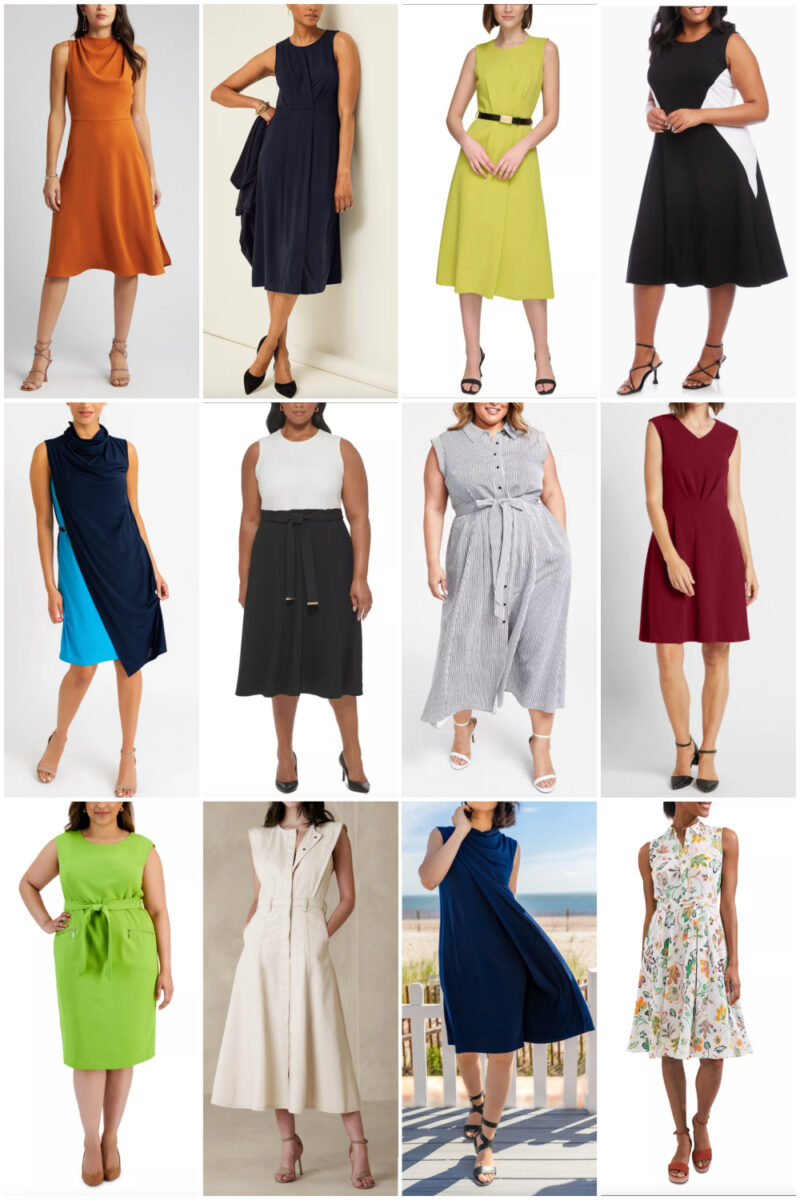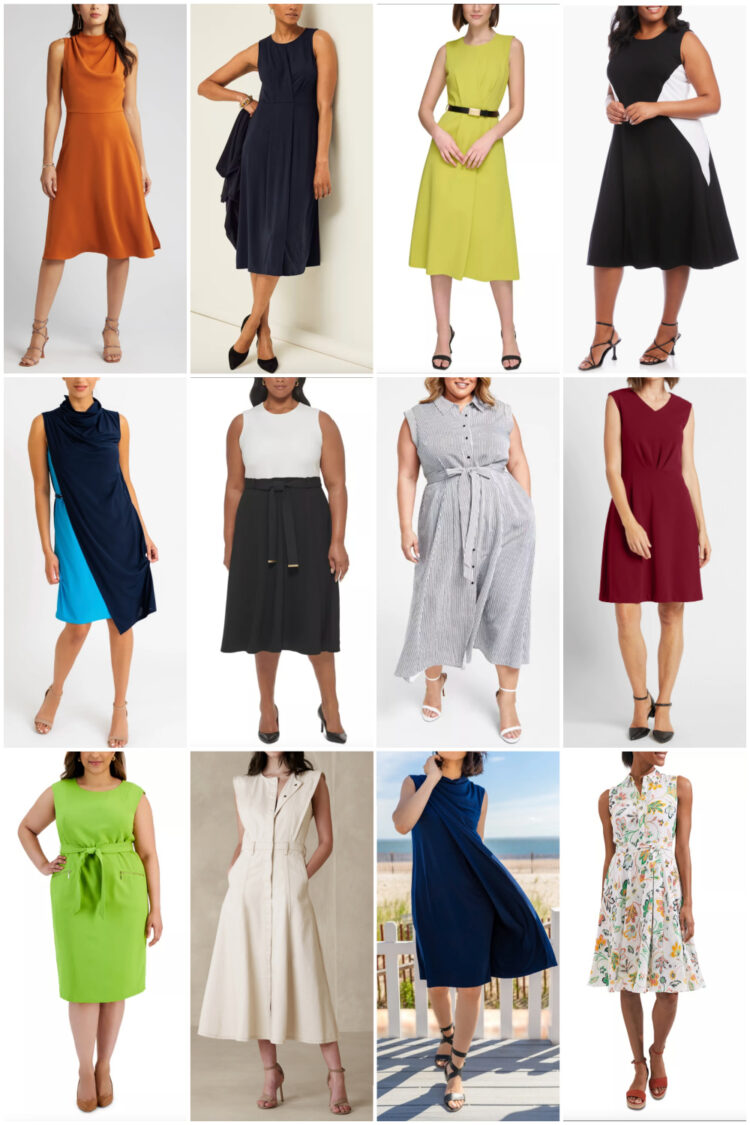 row 1: pumpkin (0-16) | navy (XS-4X) | chartreuse (2-16) | black with white (0X-3X)
row 2: navy and cerulean (XS-3X) | black and white (14W-22W) | striped shirtdress (14W-24W) | dark red (0-20W)
row 3: lime green (14W-24W) | cream (0-20) | navy (XS-3X) | white floral (2-16)
Shop Sleeveless Summer Work Dresses:
I know not everyone is comfortable baring their arms, especially in the workplace. But for those who do, the dresses above have professional enough of a look that the exposed arms aren't an issue. Note that these aren't tank or wide strap styles, they are just sleeveless. As I mentioned above, better to size up and tailor to not have it gape at the bust or expose your bra under your arms.

Summer Shirtdresses for the Office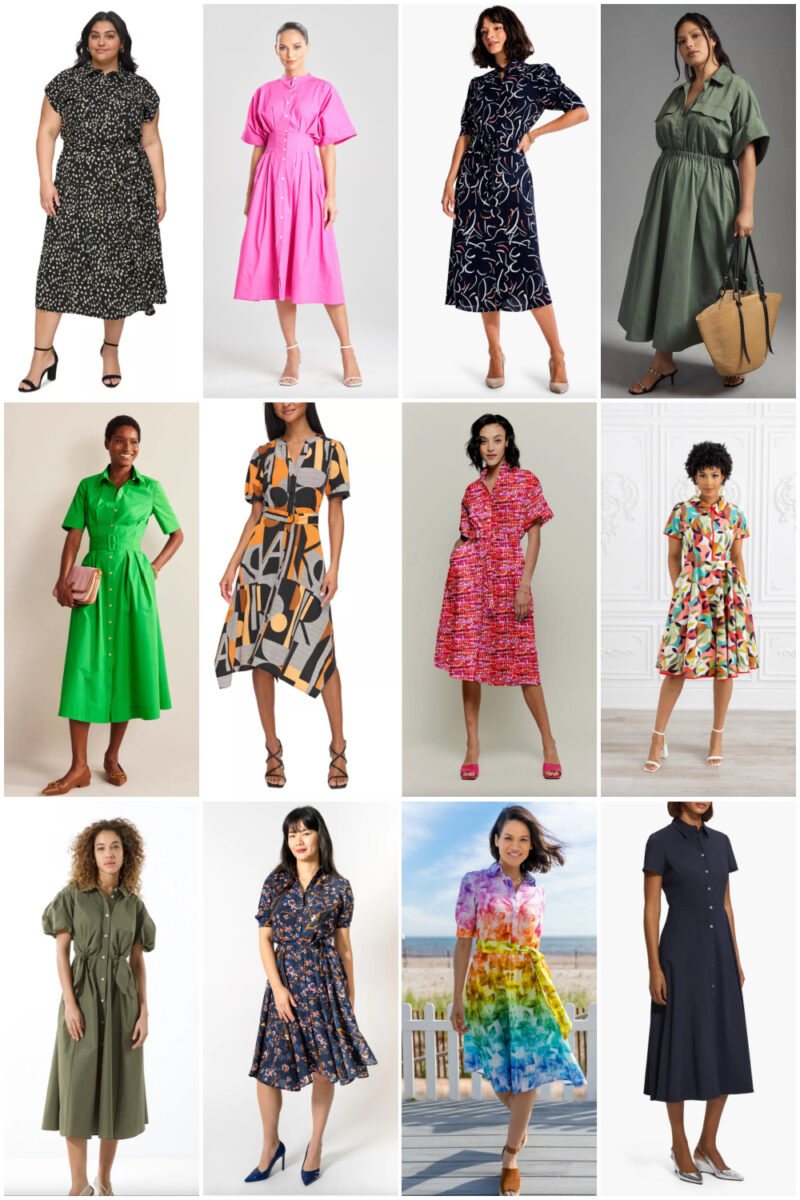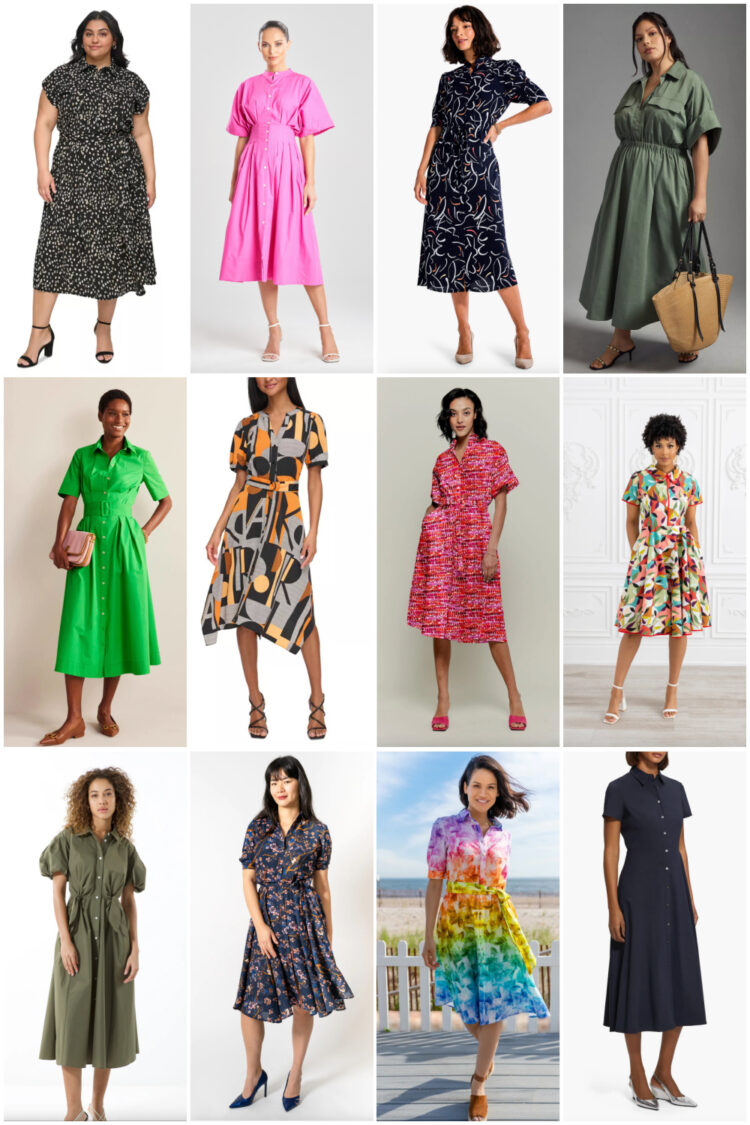 row 1: black print (14W-22W) | pink (0-16) | black with orange and white print (XS-XXL) | moss green (XXS-3X)
row 2: green (2-20/22) | orange and gray print (2-12) | pink and red print (XXS-2X) | multicolored (2-22)
row 3: olive (00-14) | navy floral (XS-3X) | rainbow (XS-3X) | navy (2-12)
Shop Work-friendly Shirtdresses:
You can't go wrong with a shirtdress for the office. The collar and buttons automatically give it a workplace vibe, even in more casual fabrics like cotton poplin, linen, and Tencel. With an a-line or fuller skirt, you can catch the breeze while still looking polished and professional.

Printed Summer Work Dresses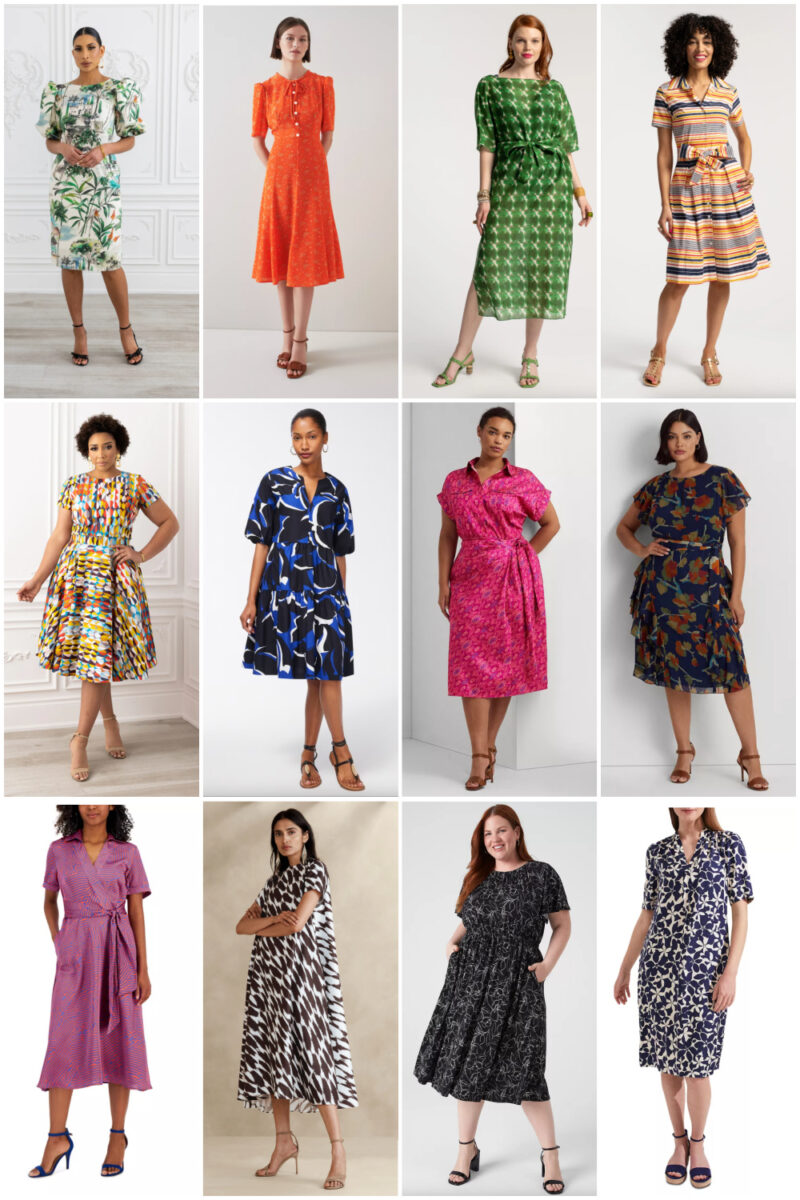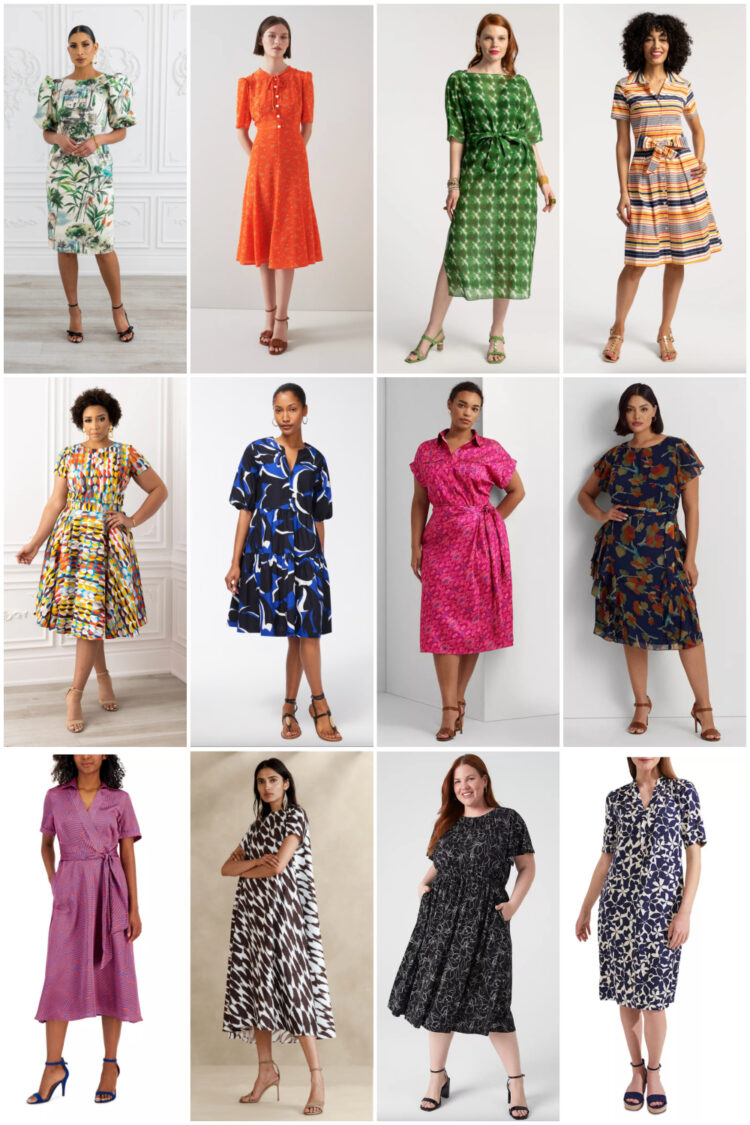 row 1: white with green (4-16) | orange (2-14) | green (XS-3X) | stripe (XS-3X)
row 2: multicolor (2-22) | blue and black (0/2-20/22) | pink (14-20) | navy abstract (14W-22W)
row 3: pink and blue (4-14) | brown and white (XXS-XL) | black squiggles (10/12-38-40) | blue and white (2-16)
Shop Professional Printed Summer Work Dresses:
Prints are so fun to wear, but some prints can be too juvenile, casual, or too statement-making for many workplaces. While a lot of creative, education, and support fields welcome cheerful prints to uplift clients, students, and patients, they can be too much for Corporate America. These dresses offer fun and whimsy while still looking professional enough for your next staff meeting.

Solid-Colored Summer Work Dresses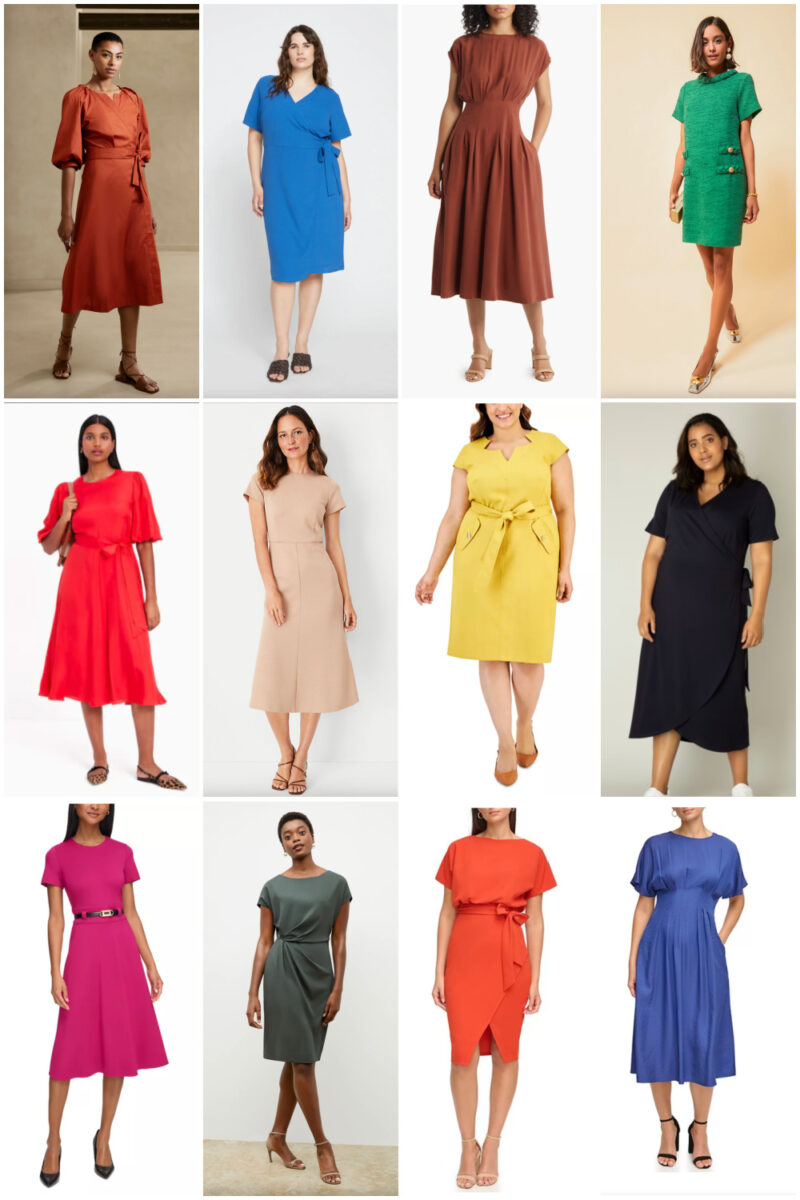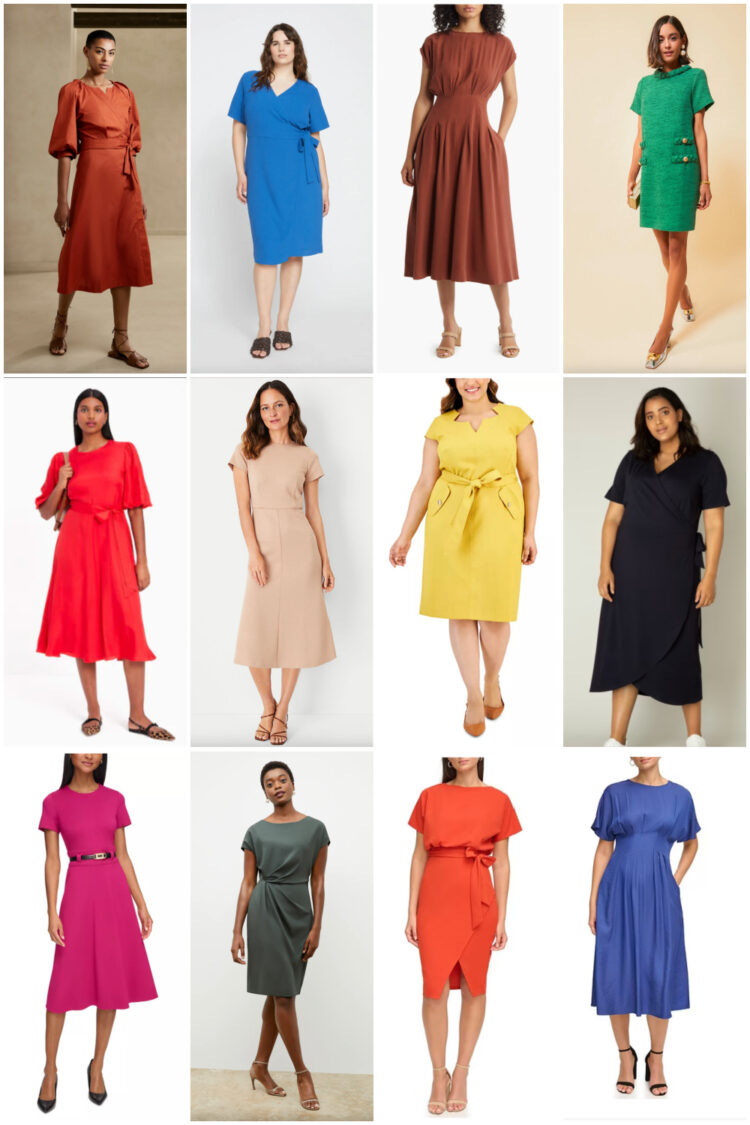 row 1: rust (XXS-XXL) | blue (00/0-38/40) | brown (XS-L; link to plus) | green (2XS-3XL)
row 2: red (00-16) | tan (00-18) | yellow (14-22) | navy (14-26/28)
row 3: hot pink (2-16) | aloe (00-18) | orange (0-16) | blue (0-16)
Shop Solid-colored Summer Work Dresses:
A solid color can read more dressy, conservative, and polished. Pair with nude-to-you heels or pointed toe flats and a simple and elegant necklace for a serious meeting, add contrast shoes and fun earrings for a more casual and creative office setting. Solid colors are more likely to show sweat; consider wearing a sweat-catching garment underneath and sizing up and using a tailor for a custom not-tight fit.

Plus Size Summer Work Dresses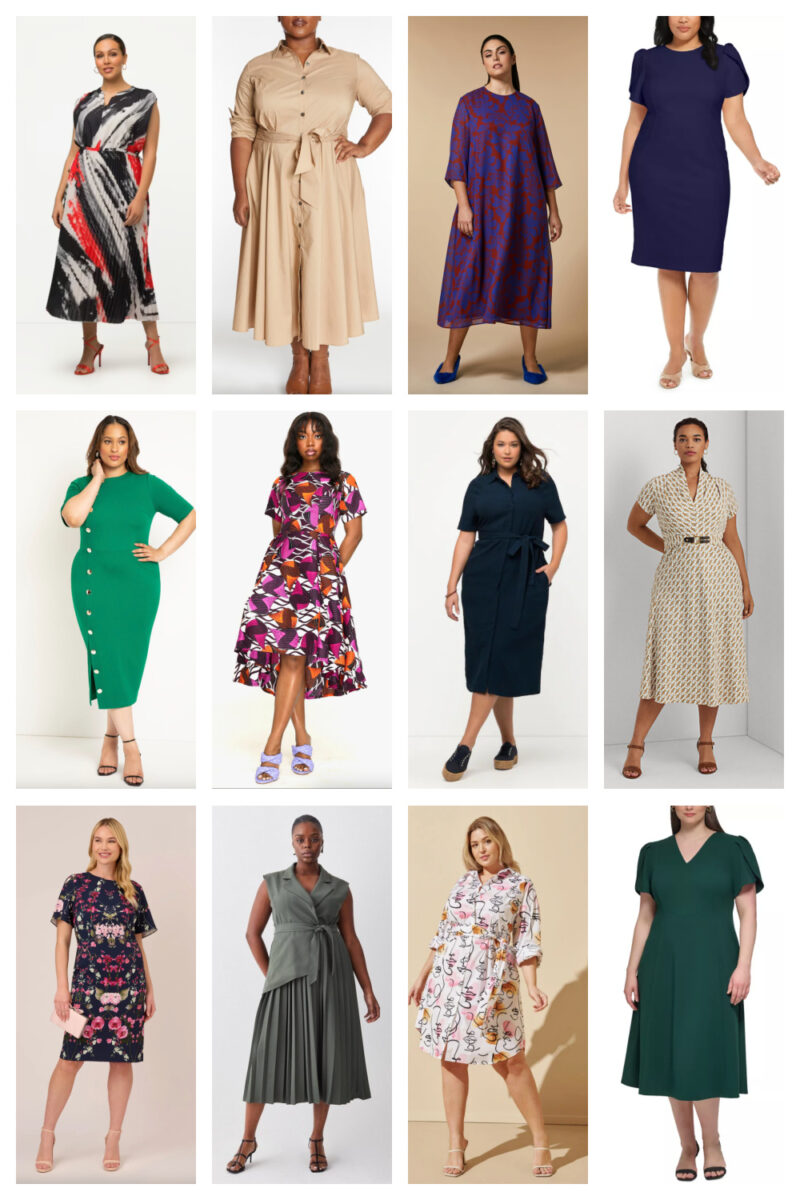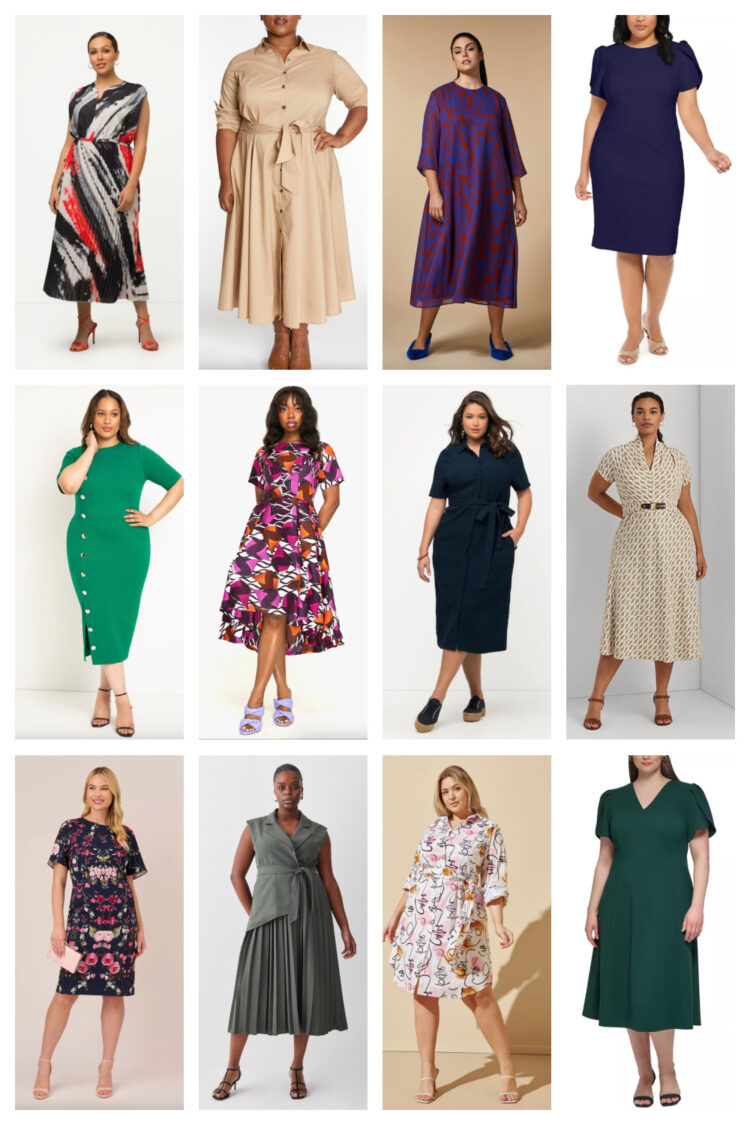 row 1: black, white, and red (12-32) | tan (14-24) | blue and red (8-24) | navy (14-22)
row 2: green (14-32) | pink print (M-4X) | navy (12/14 – 28/30) | cream print (14-24)
row 3: navy floral (14-30) | gray-green (14-20) | white print (10-34/36) | dark green (14-22)
Shop Plus Size Summer Work Dresses

While I have plus size summer work dresses in all the previous categories, I have a separate category for plus size work dresses because they are hard to find, especially for grown women. Chiffon overlays, weird cutouts, cheap fabrics, or somber shapeless shifts are quite prevalent in plus-size workwear so I made an effort to find chic, professional, and summer-appropriate dresses in plus sizes.
If you have found a really great summer work dress that isn't featured here, do share in the comments! And if you have tried any of these dresses, we'd love to read your feedback, positive or negative! Your thoughts help fellow Wardrobe Oxygen readers and shoppers!