This article may contain affiliate links; if you click on a shopping link and make a purchase I may receive a commission. As an Amazon Associate, I earn from qualifying purchases. 
Before I became a parent, I wrote about ways to make it easier to be stylish and be a mom. I usually got attacked by current moms saying I was unrealistic and didn't know how it was.
Well now I do. My daughter is eight months old, I work full time out of the home, I have a lengthy work commute, assist my husband with his photography business, manage three blogs, spend free time with friends and family. It isn't easy, but it can all be done while looking stylish and not breaking the bank. Here are some tricks I have learned over the past few months that have helped me look pulled together without tearing out my hair or blowing my budget: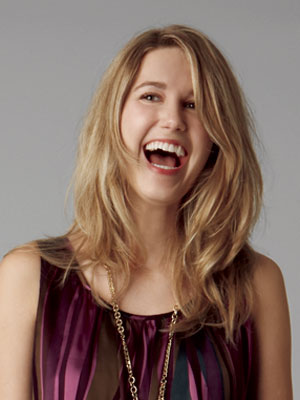 1. Get a Wash and Wear Hairstyle… or at least a style that you can manage half-asleep and in the dark. This doesn't mean you need to chop off all your hair or live in a ponytail, it just means you need to reassess your mane. For me, this meant I needed to stop trying to straighten my hair or get the tousled waves all the celebs wear and I covet. I have naturally wavy/curly hair that likes to part in the middle. I researched online during lunch hours to find products well-reviewed for hair like mine that work when the tresses are air-dried. With my next cut, I let my stylist know I was going the more natural route and she trimmed accordingly. I now have a style that I can wash, condition, add a bit of product, scrunch and go. If I wish to have it be more polished, I whip out a curling iron and a second product.
For you, it may be a style that can be achieved with five minutes of a wet-to-dry flat iron, or one that uses some molding mud, your fingers and a hot blast of the dryer. Whatever it is, stop trying to reinvent the wheel every morning, trying to make your hair something it isn't. Work with what nature gave you and you can spend less time with the styling tools, less time in a messy ponytail and more time with your child.
2. Buy the polish. All the magazines say in this time of recession, do your own pedicure. What mom has the time to whip out the orange stick, the cuticle cream, the top coat… and who can do it without little fingers wanting to help or investigate? A pedicure at the local nail spa is a cheap and quick way to decompress and have some Me Time. However, moms don't usually have the time or the funds for Me Time as often as they did pre-family. I have found I can extend a pedicure far longer than I used to with a couple supplies. A daily swipe of clear topcoat will keep chips at bay. Owning the polish color will help when you do get a chip, and will also hide growth. Wearing slippers or socks around the house instead of bare feet will prevent your carpets or hardwood floors from absorbing the natural oils in your feet, and putting a bit of Vaseline on your feet at night will keep your feet looking soft (and if you have your slippers near your bed you can slip into them without slipping across the floor as you bolt up to the sound of a crying child).
As for the hands… I find it's best to keep them bare and buffed. I love Sally Hansen Hand Repair Hand Nail & Cuticle Cream – I keep a tube in my purse and apply it to my hands (and the excess to my elbows) while I am waiting for the train, stuck in traffic, after washing my hands. It absorbs quickly so I am not too greasy to wield a steering wheel, has a mild orange scent and does a great job at keeping my hands looking soft. That plus a buffing cube can keep your hands looking lovely without trying to maintain a full manicure.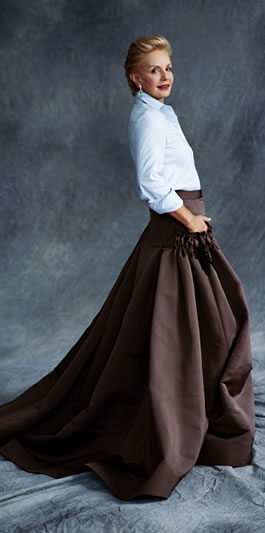 3. Create a uniform. So what if you wear jewelneck cardigans, lace-trimmed camisoles and flat-front trousers almost every day? If the outfit flatters and is appropriate for your lifestyle, then do it. The most stylish women have uniforms. No one criticizes Carolina Herrera for her collection of crisp white shirts – in fact women dream of being as chic as she.
Stop trying for variety, and look for quality. Buy fabrics that you love and love you in return. Choose colors that make your skin look amazing and make you smile when you see them time and again. Find silhouettes that flatter and buy in bulk.
My mom uniform consists of dresses. I find them easy, flattering and fun. A wrap style makes it easy to nurse or pump. I can slip on a dress in the dark and know I will look polished for most any occasion. Fabrics like matte jersey and ponte glide over my curves and are easy to launder.
For some women, their uniform is a pencil skirt and cashmere turtleneck. For others, it's a button-down shirt and dark jeans. Accept your body and your lifestyle. Stop and think about the pieces you already own that you constantly go to in your closet and drawers. Ask a trusted friend what looks best on your body and stock up on that style.
Stick to a certain color palette so that it is easier to mix and match. This way, you won't need as many pairs of shoes, as many belts, as many bags, as many accessories. I am one to pair black or white with jewel tones, but many women love a warm palette of browns, creams and greens or a collection of grays and navys with rich colors of merlot, amethyst and teal. Find the palette that pleases and compliments you and feel free to purchase multiples when you find the perfect color as well as silhouette.
4. Keep that uniform for the rest of your look. What's the point of a wardrobe of pencil skirts and cashmere turtlenecks if you don't have go-to uniform shoes? Last year I loved in peeptoe pumps – I had them in leather, snakeskin, leopard print, patent and silk. I knew this style of shoe and the height of the heel worked with most of my dresses, skirts and trousers. Now that I have a baby to carry around, I am desire a shoe that is a bit more stable and wearable for long hours. I found a great T-strap from Sofft that came in a dark red patent and looked like a vintage shoe. I could wear it for hours and not feel any pain, and it looked great with trousers and dresses. Instead of looking for other silhouettes to add to my closet, I bought this same shoe in black and found a very similar silhouette from the same brand in a brown croco-embossed leather and had a shoe wardrobe to get me through all of summer and most of the fall.
Make a uniform with your accessories – it's okay to wear the same earrings or necklace every day – stop thinking of it as boring and consider it your signature piece! Purchase a bag that looks great every day with your wardrobe (tip: a color will be more versatile than black or brown), and make sure that it has enough room for a few kid essentials.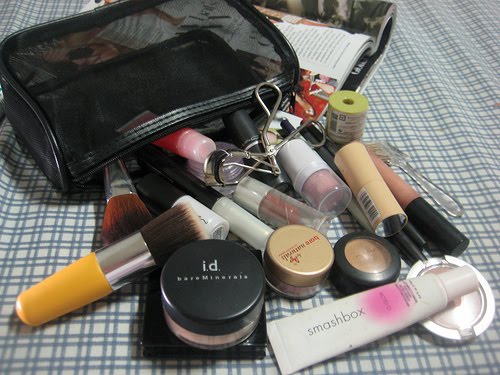 5. Simplify your makeup bag.
It's totally okay to wear the same exact shadow, liner, mascara, blush and lipstick every single day. Buy a second powder and lipstick and keep it in your purse for touchups. I actually have a small mascara that was part of a Gift With Purchase and a second compact of my favorite concealer in my purse in case I don't have time to complete a full face in the morning.
6. Get rid of Dry Clean Only. I don't know about you, but I have a bag of clothes that need to go to the dry cleaners that is in the trunk of my car and it has been in there since June. At the end of the day, the last thing I want to do is head to the cleaners. I don't want to waste the time, and I don't want to spend the money.
Many fabrics state that they are dry clean only, but can be washed on the gentle cycle and hung up to dry. Matte jersey, poly crepe, merino wool, and most synthetics can survive a gentle tumble in the washing machine. Once or twice a month I wash these pieces and hang them in the hallway bathroom from the curtain rod. They get put back in the closet before the next time guests come to visit (yes, I often get dressed in that bathroom, picking right from the curtain rod).
Stick with fabrics that can take a bit of a beating through the day – I like items with stretch because they don't crease, usually launder easily, and allow me to crawl on the floor with my daughter and not be all stretched out and weird-looking after little hands grab at my neckline or I sit at my desk for ten hours straight.
7. Be prepared. Keep a bag in your bag with essentials – a couple safety pins, a Tide-to-Go pen or Shout wipes, your makeup uniform, mints, an elastic to hold back hair when needed (like when holding your little one), feminine products, a band aid, pain reliever, etc. This bag then can move from purse to diaper bag and back with ease. Nothing ruins a look more than a boo-boo, so be ready for that dropped hem, spilled salad dressing or blister.
8. Accept your new life. I may still have an active social calendar, but I am not hitting night clubs or cocktail parties like I used to. I don't have the need for a dozen LBDs or a single garment with sequins. That being said, I have also realized that since I work outside the home and spend most evenings in my living room with my family, I have little need for more than one pair of jeans. Don't purchase that which you don't need and don't hold onto that which is from a previous life. CraigsList, eBay, donate or gift away the items which you know you don't need any more and make room for more pieces that are sensible yet stylish.
Even if you are a stay at home mom or a telecommuter, you shouldn't be sporting flannel pajama pants and nursing tanks 24/7. It is possible to be comfortable and look great. Refined knits, matte jersey, ponte, merino wool… these are all fabrics that wash well, wear well and look polished.
9. Don't write off fashion. You can carry off current trends while being true to your life. You may not have a need for over-the-knee boots, but you can totally rock knee-high boots with jeans or leggings and a slouchy sweater. The skinny jean may look fantastic with high-heeled booties or pumps, but they can also work with flats. Short dresses can work at the office or the café with opaque tights and boots or sturdy platform pumps.
And classic fashion is always chic – crisp white shirts like Carolina Herrera, solid-colored v-neck and turtleneck sweaters with flat-front trousers or pencil skirts, dark jeans with refined knits, sheath and wrap dresses in basic black or flattering hues, classically cut leather pumps, tall boots and traditional ballet flats.
10. Quality, not quantity! You can own one pair of jeans if they are made well and fit you like a dream. The same black v-neck sweater can be worn more than once a week if it is made of good quality and has an elegant drape. A higher-quality garment can handle being washed and worn time and time again.
Purchase bras that lift and separate, panties that are invisible under your clothes, shoes that look more expensive than their price tag. Spend money on your hair and skin so you can save time (and the cost of multiple beauty products that never work). The smaller your collection, the easier it is to dress every morning.