This article may contain affiliate links; if you click on a shopping link and make a purchase I may receive a commission. As an Amazon Associate, I earn from qualifying purchases. 
There are no pictures from Wednesday because my husband has decided to paint the hallway. This means the rug, the table, the artwork and everything else is in the room with the full-length mirror to the point that one cannot fully open or close the room's door. Also the light in that room? Well the lightbulb on the bedside table died so instead of going to the store to buy more bulbs, Hubby chose to remove the bulb from the lesser-used office and put it in the bedroom. Hot. So until he finishes his project, you will see my pictures taken in my company's elevator (if I am so lucky to have it to myself).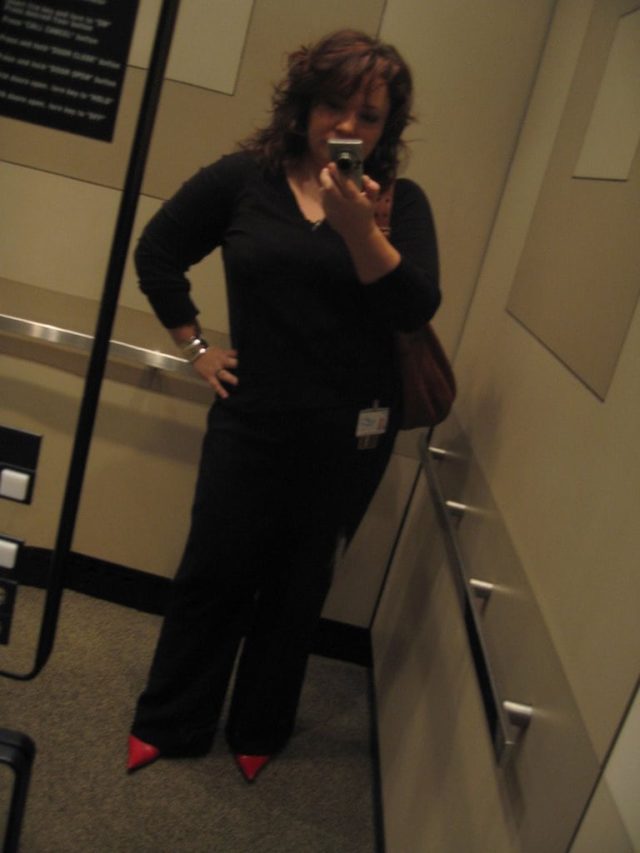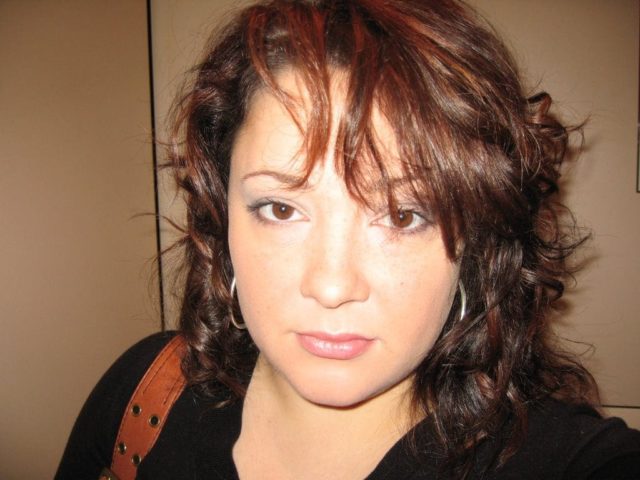 Here is today. Nothing too exciting, and it's quite a shame because tonight I am seeing Andre Leon Talley speak in the city. I really hate that my wardrobe is so bland and old and worn and I am meeting the epitome of a fashionista. hey, fashion mavens wear a lot of black, right? Black is safe. Black doesn't show the pounds I have put back on and doesn't show that I haven't washed the pants since I wore them to my last business trip two weeks ago.
Black stretchy v-neck sweater from Banana Republic, black triacetate suiting pants from Ann Taylor. Silver medium hoops and silver cuff, red pointy leather pumps from Steven. Oh, and fancy-dancy company badge hanging from waistband. The accessory to beat all accessories.
Hair washed, conditioned, a bit of Frizz-Ease Dream Curls applied, scrunch dried and curled where unruly. Didn't work nearly as well as it did on Monday. Sort of looks a bit redneck/mullet. You know, I am having such an icky week, I really am over my hair. And it knows and is reacting. love how I fluff it, spray it, bend over upside down, even do a bit of backcombing yet it still wants to be a square Soccer Mom Mullet combo.
Makeup is L'Oreal True Match foundation, Body Shop stick concealer, Chanel pressed powder applied with big brush. Nars Orgasm blush. On eyes, I took the ivory shadow from the
Revlon ColorStay quad and put in the inner corners and along the brow bone. A gray shadow from the Body Shop on the lids, a Soft Black also from The Body Shop in the crease and along the lash lines. On lips is the Sheer Lipcolor from the Body Shop in 03. And extra spritz of Burberry London to at least make me smell happy.
I am feeling better now. the day is almost over (leaving early for the presentation), the sun has come out, and I get to spend the evening with my sister.