So I decided to treat myself to the portabella and goat cheese sandwich at Au Bon Pain and on my way back to the office, I saw the most horrific sight…
A woman, around my age (early to mid 30s) wearing a pink corduroy hip-length coat with pink faux fur trim around the hood, brown trousers a tad too short so I could see her rainbow-striped socks, brown loafers, brown leather gloves and a knit hat that had a face and ears on it so it looked like a cat/mouse/non-human creature. The hat tied under her chin in a pink-ribboned bow. She was talking on her cell phone and carrying a Coach purse.
Ladies, WHY do you do this to yourself? WHY?
Yes, the hat was very cute, and pink is one of my favorite colors as well. Heck, as I type this I am wearing my favorite rainbow-striped socks (completely hidden under boots). I just don't understand why adult women feel the need to dress as children. This woman was obviously working at a corporate job, made an attempt to look professional with her trousers and shoes, but seemed to… give up.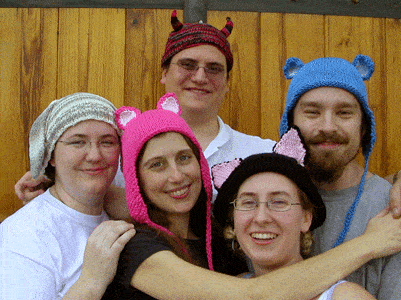 The majority of women running around this globe in Disney-gear, hats made for toddlers, cartoon tee shirts and toe-socks are usually compensating for something. More often than not, frustration at a typical women's clothing store causes one to give up, purchase an oversized fleece or tee shirt with Tigger and Pooh embroidered on the front. This purchase is justified by saying, "but I LOVE Pooh!" or, "I'm just a kid at heart!"
Men, you aren't off the hook, you do this as well. Gain a few pounds, you trade in your oxfords for football jerseys and tee shirts advertising your favorite cartoon/dead musician/Nascar driver. I swear if I see another "Family Guy" tee shirt I think I may scream.
I'll let you in on a little secret. I love Barbie. Okay, not that shocking of a secret, considering my passion for fashion and my love of the color pink. However, my love goes so deep for the top-heavy blonde one that I own a Barbie. No, this is not a Barbie from my youth, this is a Barbie purchased in this millennium just for moi. And not only that, she has outfits to change into. She used to sit on my computer monitor in my home office, gazing at me with her perfectly shadowed plastic eyes.
Do I own any clothing that makes mention of my Barbie fascination? No. Do I attempt to dress like Barbie? Heck no. Does this mean I love Barbie any less? No. It means I have accepted that I can be an adult, a well-dressed individual AND still have a place in my heart for my childhood toys. That I can wear stylish, flattering garments and STILL be a "kid at heart."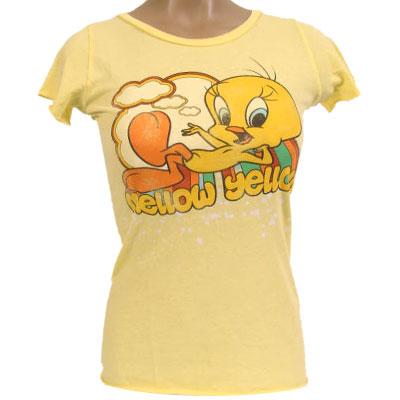 Dressing like a child does not make you look fun, child-like, cute, creative or endearing. It makes you look foolish, stunted and confused.
Now, you KNOW that I am all about a woman celebrating her personality through her clothing. We should not all be cardboard cutouts of one another. Wearing your Hello Kitty backpack with your business suit, or a hat in the shape of a rodent to the grocery is not showing your personality. Your personality is far deeper than your adoration for a cartoon character or childhood fairy tale. Blatantly advertising your hobbies and interests makes one wonder if you have any depth or other interests, and it trivializes any other passions in your heart. You are not a flimsy magazine or pamphlet, you are a novel. Your clothing is the cover of that novel, attracting readers, making them desire more, to read every page and not skim the inside flaps of the jacket. Wear your favorite color of Care Bear, purchase a watch from your trip to Disney World, get a Hello Kitty bag to hold your cosmetics in your purse, wear Underoos under your power suit. Embrace your hobbies and interests, but remember that you are a woman of depth, intelligence, creativity and heart. There is far more to you than your passion for Pooh. Let the world see your depth, and not dismiss you as a shallow person stuck in the past.

None of these pictures are from personal sites or blogs; out of respect all pictures are from online retailers and those photographed are models.