This article may contain affiliate links; if you click on a shopping link and make a purchase I may receive a commission. As an Amazon Associate, I earn from qualifying purchases. 
What a hectic day yesterday! Sorry for not posting, but there just wasn't any time.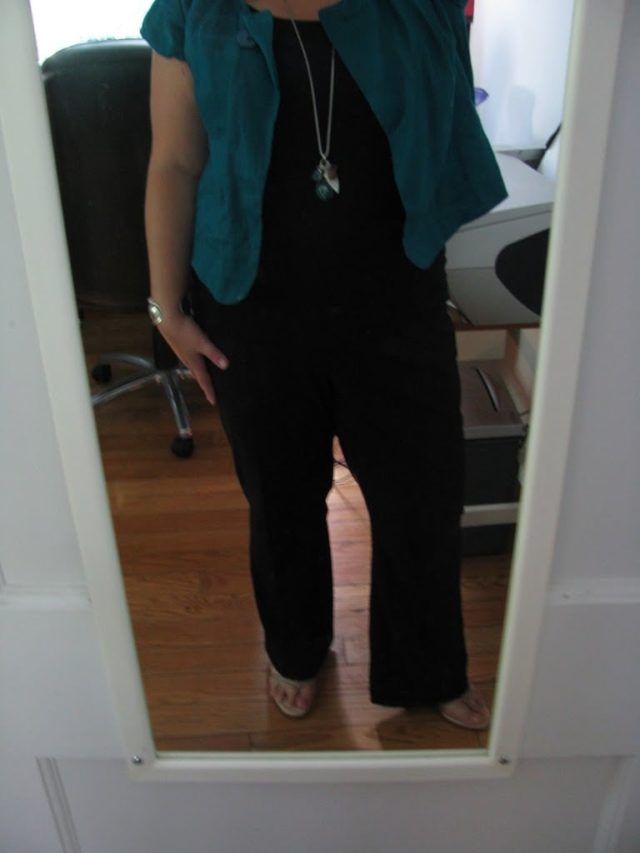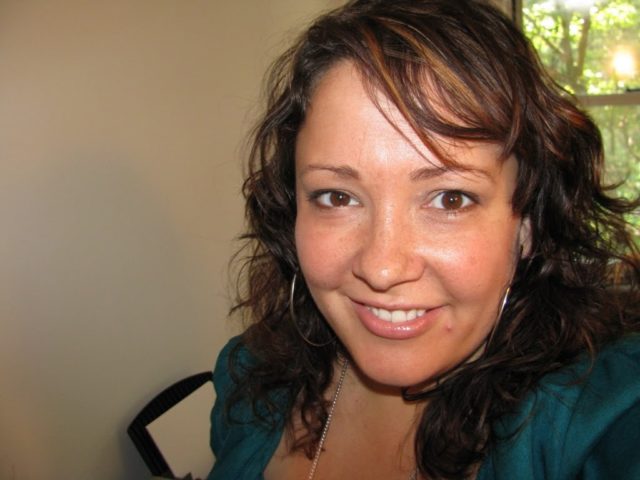 Attire:
Banana Republic: Black knit tank
Ann Taylor: Teal linen jacket
Liz Lange for Target: Black trousers
Callisto: Tan heeled sandals
Limited: Silver and teal necklace
Silver hoops and cuff
Hair:
Jonathan Silky Dirt
Let air dry, used dryer to smooth bangs
Beauty:
One big honking zit! Ack! Hot compresses and some zit cream and I hope it's gone before the weekend
Philosophy: The Supernatural Color Correctors in Light
L'Oreal: Infallible lip gloss in Coral Sands
Cargo: Matte BeachBlush in Tenerife
Body Shop: Eye color in Taupe
Cover Girl: LashBlast mascara in Black
Avon: Luxury Eye Liner in Black
Maybelline: Brow powder in Dark Brown
The day started with my monthly pregnancy appointment. I changed medical practitioners, so this appointment was at a different office – a bit farther from my home. My husband couldn't get off so I went with my mom and we first had breakfast.
Since it was the first appointment at this new facility it went quite long. No worries, I was totally thrilled with my decision to change practitioners and had a great appointment. Found out that my due date is actually January 2nd, baby's heartbeat is upper 140s, I gained a little less than three pounds this month, the measurement from pelvic bone to belly is right in line with how many weeks I am, and had a lot of questions answered. I also got a referral to get a sonogram – should be scheduling it today once my husband gets his shoot schedule for next week.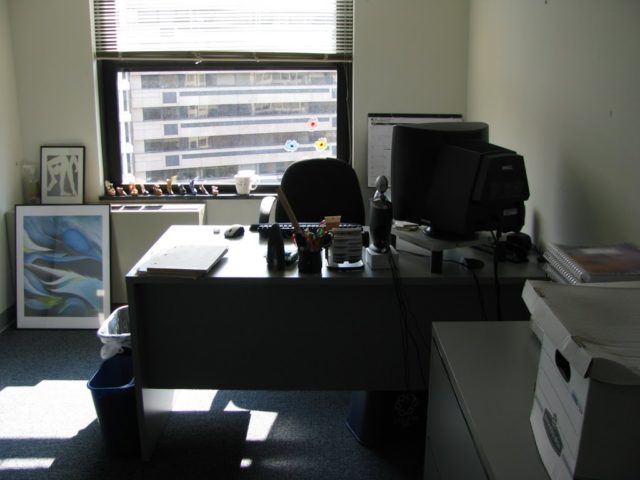 Headed back toward DC and hopped on the Metro to find out that there was an electrical problem on one of the lines I have to take to get to work. Ended up sitting for 20 minutes at a station in a non-moving car (that luckily had A/C) and ended up at work a bit after noon. The plan was to move my office before I got in (yep, third office since here – we keep growing and growing!) but I arrived to my computers and equipment not yet set up. I know how to do it, but the IT guy was there and it makes him feel better to know that he did it so I roamed around for 30 minutes until my desk was usable. Here's a pic of how my office still looks this morning – plenty of boxes, unhung art, but at least the computer and phone are functioning! 🙂
No time to relax or organize, I have a major deliverable due before the end of the week and I am off on Friday, a different client wants some changes to his product, and then the normal projects of every day. I ended up staying at work until 10pm to catch up. I don't want it to, but this pregnancy has been affecting my work performance. I don't feel as fast, I get sleepy and I catch myself making silly mistakes and having to re-do things, costing time. Staying late with the office all silent did help me focus and get back on track.
Got home a bit after 11pm, washed my face, brushed my teeth and crashed. My husband had tried to stay up and wait for me, but I had to wake him from the couch and have him follow me upstairs. Around 2:45 am I get rustled awake by Ruckus. He is tugging at the comforter and whining and pacing. I get up and let him out and he is out there for at least 15 minutes. He comes in, rushes to get some to drink, and I hear his stomach gurgling and he asks to go back outside. He seems to take care of whatever is going on with his tummy and we go back upstairs to bed… only to have him wake me again 15 minutes later. I ended up going out on the deck with my husband's bathrobe and a throw blanket and slept out there for about 30 minutes while he paced and did whatever he needed to do to feel better. Anyone else's dog eat the most disgusting things? We have many cats in our neighborhood, they catch moles and such and leave the carcasses and Ruckus will find them, snack on them and the next day he's up all night with indigestion. Argh!
Anyway, he finally came and joined me on the deck so I knew he was good so we went back to bed to wake less than two hours later to the alarm. Le sigh.
So today needless to say I am not on my A-game. I hit snooze a thousand times, but then rushed when I realized I wanted to get in early to finish this deliverable and be able to do a load of laundry before heading out (heading to the beach tomorrow and I need some clean clothes!).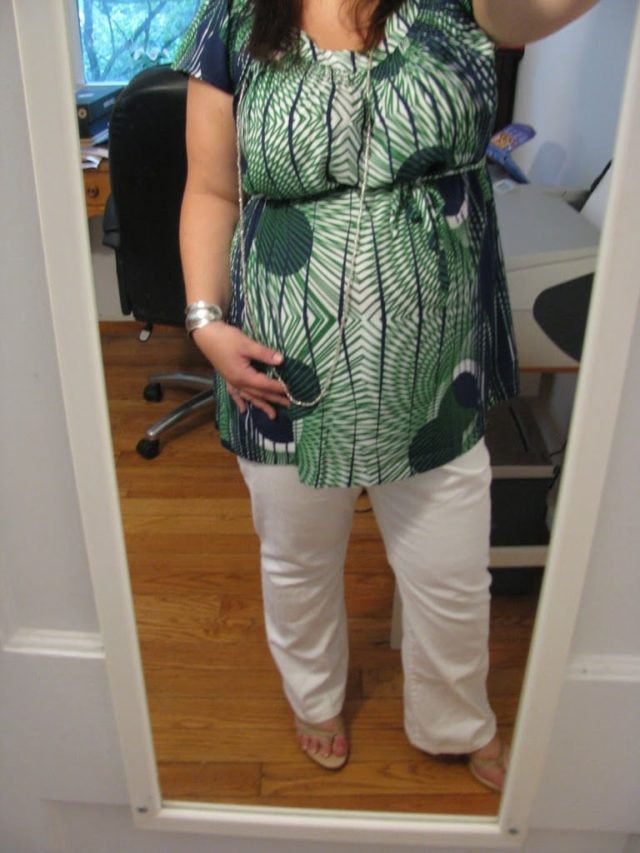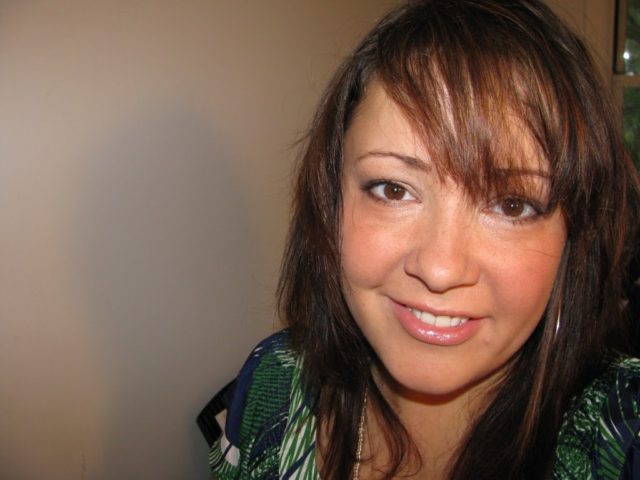 Attire:
Liz Lange for Target: Green, white and navy poly top
Ann Taylor Loft Maternity: White bootcut jeans
H&M: Silver necklace
Callisto: Tan heeled sandals
Silver hoops and cuff
Hair:
Second day
Straightened with Croc wet-to-dry flat iron
Beauty:
Zit finally popped and is in the crusty nasty healing process…
L'Oreal: True Match foundation in C3
Philosophy: The Supernatural Color Correctors in Light
Cargo: Matte BeachBlush in Tenerife
Body Shop: Eye Shimmers in Warmth
Cover Girl: LashBlast mascara in Very Black
Maybelline: Brow powder in Dark Brown
Revlon: Super Lustrous lip gloss in Pink Afterglow
I won't be posting until Monday because I am headed to Rehoboth beach with my mom and sister for our annual girl's getaway. Looking forward to some sun, no email, and plenty of relaxation. You KNOW I will be taking pictures and will return with a full recap. Hope all of you have a great weekend!