This article may contain affiliate links; if you click on a shopping link and make a purchase I may receive a commission. As an Amazon Associate, I earn from qualifying purchases. 
Hi Allie, I have a dinner to attend & was wondering if you might be able to suggest something to wear with black straight (not skinny) ankle trousers similar to these. I'll be wearing a pair of dressy heeled black pumps with them, but could use some up-to-date ideas for a blouse/jacket or sweater, something I could hopefully wear again! Thank you so much!
Cute pants! I am a big fan of the straight but not skinny crops – they flatter the figure better and are more likely to be stylish next year. I also like a bit shorter of a crop – it doesn't cut off the leg like many cropped pants; pairing with dressy pumps will elongate the leg even more. Here's a couple ideas to dress up these pants for a dinner event. For each ensemble I used the same Tory Burch 'Beverly' cropped pants and sleek heels.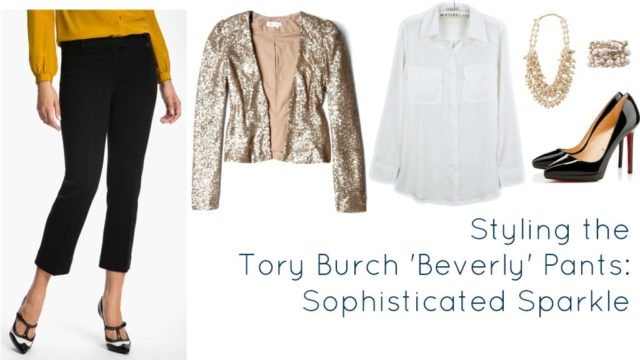 Sophisticated Sparkle
I'll admit I have a similar outfit in my closet that I plan to wear in the near future. When you asked about cropped pants I immediately thought of this combination. A classic and crisp white shirt is perfect for evening when worn under a sparkly jacket. I chose the soft gold because it's not too extreme to have you look like a disco ball, but still jazzes up the separates to be perfect for a dinner function. This could also work with a traditional blazer or a cardigan that is sequined, beaded, or otherwise bedazzled. Keep the sparkle a more subtle shade – pewter, ivory, blush, rose gold, brass – this way you won't steal the spotlight, just be enhanced by its glow. Such a jacket can later be paired with an LBD or even with a simple white tank and boyfriend jeans for a night out on the town.
With such a flashy jacket, you need accessories to make it look purposeful, but a less blingy choice is best. I own this very necklace from Stella and Dot and love how it makes a statement without taking center stage.
Feminine Tuxedo
A simple way to glam up cropped black pants is to make them part of a tuxedo. A tuxedo jacket is a surprisingly versatile wardrobe addition that can coordinate with everything from distressed denim to frothy cocktail frocks. A satin lapel will make the different fabrics of the jacket and trousers seem more purposeful and clearly state that this blazer is for the evening, not the office. While most any color or neutral (even more black) would be fine for a shell, I chose an unexpected dark green for interest, and because it can really showcase more unusual accessories.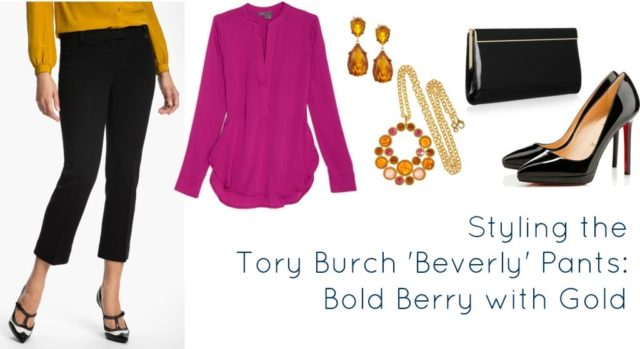 Silky and Saturated Color
Once it's after 5pm, it's time to bring out the luxe fabrics. This tunic is made of silk, which will pick up candlelight and glow in most evening settings. I added to the sparkle with a bold pendant and drop earrings. A clutch in a textile matching the shoes pulls the blacks together, and the hint of gold on the bag keeps the shine continuous. Feel free to continue the color play with a strong lip or smoky eye in purple or berry hues. This type of blouse can easily be worn after this event – pair with skinny dark jeans and boots or flats for a weekend ensemble or pair with trousers for the office.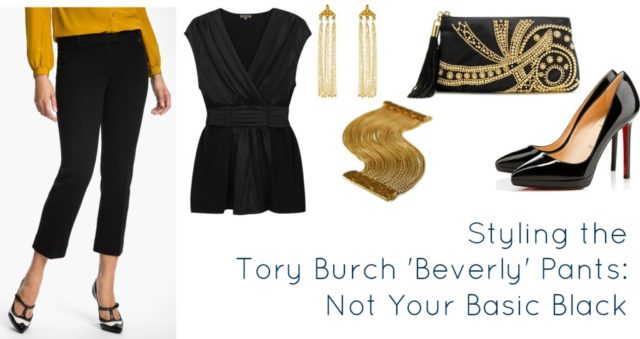 Not Your Basic Black
A cropped pant works quite well with a top that nips in at the waist but flows below. Be it a peplum, or a more classic style like the tunic pictured, it's a great way to hide the tummy but still look elegant. All black is also a sophisticated way to dress up separates. I chose a top in a silky fabric to increase the evening look, and added bold gold jewelry to keep it from looking boring. A show-stopping clutch completes the look, making an all-black ensemble anything but basic. Such a blouse can be worn year-round with everything from pencil skirts to a pantsuit for the office.
Follow Me | Twitter | Facebook