This article may contain affiliate links; if you click on a shopping link and make a purchase I may receive a commission. As an Amazon Associate, I earn from qualifying purchases. 
Hey guys, long time no talk!!
So as you know, Monday I went to work and looked relatively put together. Hooray!
Tuesday I worked from home, and no one wants to see me in my yoga pants, so no picture was taken.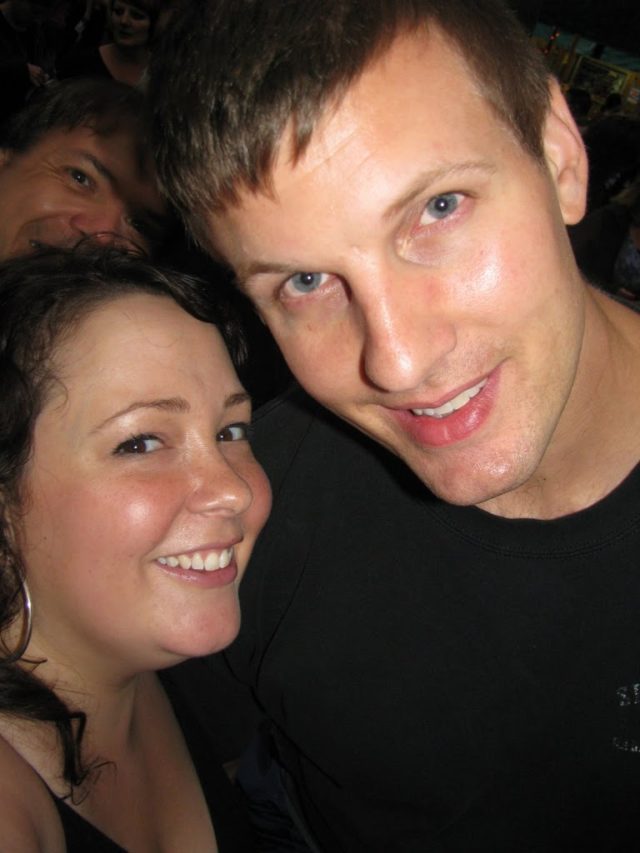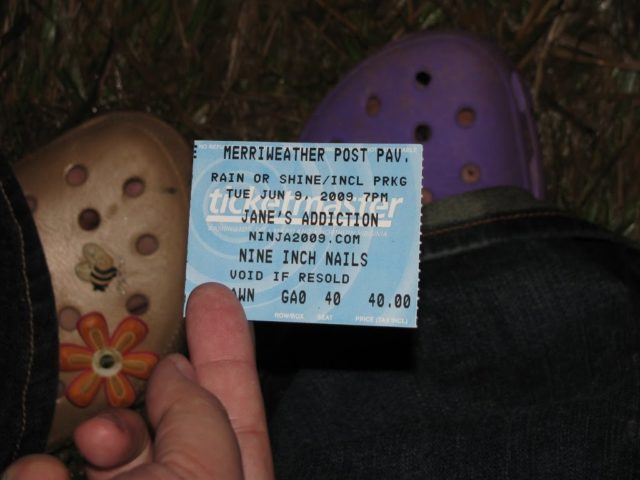 However that night I went to a concert (Nine Inch Nails/Jane's Addiction – utterly amazing BTW) and did clean up a bit. A BIT. The rain was insanity, though it completely stopped a bit before the show started and stayed clear the rest of the evening.
My hair was dirty, but it was behaving nicely and I knew once I got outside it would jsut become a curly/frizzy mess. Surprisingly it got curly/frizzy in a cool beachy way and not in a headbanger way.
I wore a black nursing tank from Gap, my Gap Essential jeans and *gasp* Crocs. You KNOW I despise Crocs, but it was a necessity as that we had lawn seats and the place was utter muckety-muck. I would have busted my arse in flip flops or destroyed a perfectly good pair of proper footwear. So Crocs it was. My sister and I HAD to get a picture of a ticket with the Crocs because it was so ridiculous.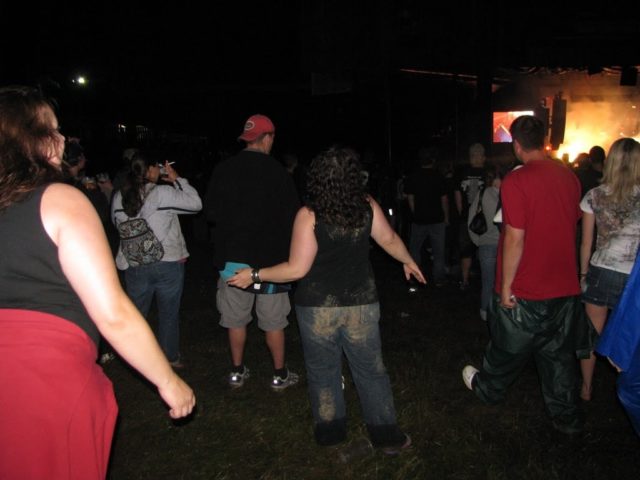 Times like this I wish I still owned a pair of Doc Martens…
Well the Crocs help, I still slipped down a hill when heading to the bathroom. However it was already dark and later in the evening so I wasn't TOO embarassed. However I may have been one of the only sober folks who fell in such a manner. My friends HAD to get a picture of my muddy back as I was dancing to Jane's Addiction…
The show was awesome, we went with a whole group of friends and we all had a grand time. My husband's cousin watched E so we could get away. If it were a differnet show and different weather, I think we would have brought E so she would get used to live music. We already have a pair of baby headphones ready for the next concert!
Tuesday I felt a bit icky, and that night E and I both weren't feeling our best. Wednesday I took off work to take E to the pediatrician and get myself some needed sleep. She and I are now fine, just a little stomach bug going around.
Thursday I went back to work, though not feeling my complete Allie self. I wore a tangerine colored puff-sleeve tee from Old Navy, my blue-gray low-slung pants from Gap, some orange leather thongs from Born, coral cut glass bead necklaces from a shop in Rehoboth Beach and second-day hair. No picture because my husband also worked and the only picture I would be able to capture would be dark.
So now we are on to today – Friday. Feeling good, so though it's Casual Friday I decided to clean up a bit. Hair looks a bit strange because it was still wet (only dried the bangs, the rest dried by time I got to the Metro).
Black matte jersey wrap dress from Ann Taylor, red patent leather heels from Sofft, Silver hoops.
Makeup is really basic – just a bit of L'Oreal True Match foundation where needed, Nars blush in Orgasm, Benefit lipstick in Bouquet Dive and Cover Girl LashBlast mascara in Rich Black.
This weekend looks as though it's going to be pretty insane. Tomorrow we have a 2-year old's birthday party and a photo shoot immediately following. Sunday I may go house hunting with my sister, and I will surely be stopping by the farmer's market for produce for the week.
I hope everyone has a wonderful weekend and I will "see" you on Monday!