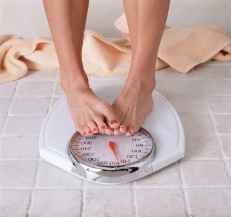 I haven't had a Weight Watchers update in a couple of weeks because I haven't attended a meeting in a couple of weeks.
The month of January is pretty hectic for my family. First week was Emerson's birthday, the next was my mom's, the next my sister's, the week after is my birthday. On top of that, January is always busy at work. I was proud to even attend one meeting last month.
I was also proud to see that after so many birthday meals and toasts and parties I still was able to remove 0.8 pound. I actually expected a bit more – I have been on a roll lately.
What's new:
– FINALLY Weight Watchers is a Lifestyle, not a Diet. I don't feel as though I am suffering with my food choices and they are becoming choices I enjoy. When I go against Weight Watchers I feel sluggish, slimy, heavy.
On my birthday, my husband took me to a local microbrewery/restaurant. I walked in and smelled burgers. We looked at each other and said, "I'm getting a burger." I got one with blue cheese and bacon with a side of fries. I ate 80% of that amazingly delicious burger and at least half of the fries along with two glasses of Malbec and felt utterly disgusting. We went home, Emerson went to bed, my husband and I were sitting in the living room. He was sitting in his chair, I in my spot on one of the couches and we both looked as though we had climbed K2 – tired, slouched, done. We ended up not doing anything that night and were in bed by 9pm. We knew it was due to our filthy dinners.
We agreed to eat healthier meals the rest of the weekend. The next day, I had oatmeal for breakfast, edamame and sushi for lunch, and homemade chicken noodle soup for dinner and I had so much energy! I felt as though I had completed a detox. It reminded me how heavy foods may taste good, but they aren't worth it.


– I'm All About the Sippy Cup. I have a Camelbak bottle
at work with a Bite-n-Sip valve
and without even noticing, I will down over 64 ounces before 5pm. I now have one at home
and carry it everywhere with me. I feel like Emerson, who carries a sippy cup as though it's her security blanket. However I was noticing that though I am great with water consumption at work, I find myself not drinking (or drinking wine or Diet Coke or beer) when at home. Now I get at least another 26 ounces in my body each weeknight and at least 60 ounces each weekend day.
– I Am Down Two Sizes. I mentioned this in a previous post, but I finally comfortably fit into a 12 petite. This is not a generously sized stretchy 12, but lined items from brands like Calvin Klein, Halogen, and Ralph Lauren. Not yet able to fit into dresses of this size, but it feels good to strut around town in a 12 petite pencil skirt and I can't wait to dig into my spring clothing in the attic.


– I Put on a Bathing Suit and Didn't Want to Vomit/Cry. I will have a post soon detailing this experience, but I was approached by SwimSpot.com to try out their program where they do a virtual consultation and help you find the perfect suit. I readily agreed to this because last year I wore the most God-awful suit from MiracleSuit
that made my boobs look saggier than they already are, and the cut totally added ten years to me.
My new suit arrived (in a size 12 thankyouverymuch) and it's awesome. So awesome, I left it on and put on my bathrobe and surprised my husband with it when he came home from teaching. He thought I looked pretty smokin' too!
– I Hit the Gym. Okay, I went to the gym ONCE, but it's better than no gym at all! Work has been hectic and it's hard to fit in exercise either before or after work. I have been doing morning stretches and the occasional set of crunches, have been taking lunchtime walks when I have a lunch (and it's not gross out), but really want to get regular moving into the routine. I think I need to schedule gym time, just like everything else in my week to ensure it happens. Even if I only go once a week and only get a chance for 30 minutes on the elliptical, it's better than nothing at all.
I am feeling pretty good about this new me, this new life. It's not a strain like it was a couple months ago – I don't constantly feel deprived, and when I do go over points I don't feel so guilty or defeated. Yes, I want to lose weight to look good, but I keep reminding myself this isn't about how I look, but how I live. I want to be strong, I want to be healthy, I want to see Emerson graduate from college and get married. I want to end the cycle of heart disease, diabetes, and high blood pressure that plagues my family. I want to be able to keep up with my husband and daughter, and enjoy activities that over the past decade I have stopped doing because of this larger, softer, weaker body.
When I think about clothing, it actually makes me feel like giving up. My beloved black patent wide belt is on its last notch and will need to be replaced within five pounds. My black pencil skirt was too big and it took a long time to find an equally classic, well-made and simple replacement. Some of my shoes are too big, and I have had to replace all of my jeans – even jeans I purchased just three months ago. Part of me is scared to try on my stash of spring clothes for I fear most if not all will be too big or hang wrong on this new body. I desperately need to go bra shopping. I don't have the money to replace my entire wardrobe every 15 pounds, and I really don't like shopping. It would be so easy to stop now – stay in this better body that has clothes that fit okay. It's safe, it's comfortable, it's cheap.
But a new wardrobe is cheaper than a triple bypass. A new pair of shoes is a worthy investment if I can extend my life by a decade. Who cares about a belt if I can keep up with my very active husband and toddler? I want to ride the tandem bike we bought ourselves as a wedding gift – it has been YEARS. I want to take Emerson to the pool and teach her how to swim – I was on swimteam from 2nd grade through high school and was a lifeguard all through college – I should be the one teaching her, not my husband. And for these experiences, it's worth it to save up for that new pencil skirt in a smaller size.