So Summer has arrived. I can tell by the perspiration, the breakouts, the visible pores and the unruly hair. What am I using lately to keep me looking as good as possible?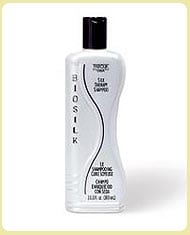 BioSilk
Okay, I have raved about this before but I need to again. Go out, get yourself the tiniest bottle you can find, that's all you will need for a long while. I put this on wet hair and allow to air dry for piecey waves. I apply it to straightened hair for shine and frizz reduction. I twirl it around curls on curly days for definition and shine. Then the leftover that I emulsified in my hands is rubbed into cuticles and my elbows for soft moisture. What other hair product is as good for your skin as it is for your tresses? I bought mine at Trade Secret, but it is sold at most salons and beauty supply stores.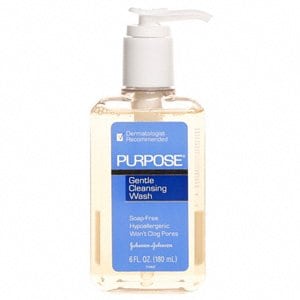 Purpose Gentle Cleansing Wash
Used with a face brush, this really cleans my skin well at night without drying it out. The brush helps with exfoliation and gutting out those enlarged pores. It doesn't irritate my eyes, even if my contacts are in and it removes crazy makeup like long-wearing lipstick and liquid eyeliner.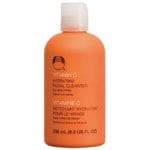 The Body Shop Vitamin C Face Wash
So the A/C is acting up and I wake up coated in sweat. I go to the gym right when I wake and come home with a salty face. Whatever the reason, if I have to wash my face in the morning as well as at night, this is a great soap-free cream cleanser that removes the sweat or dirt but not the essential oils.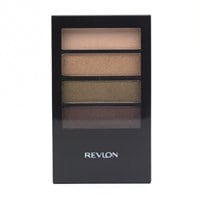 Revlon ColorStay Eyeshadow
Wow! Just tried this out on a whim because I ran out of my ivory shadow. This quad holds four very wearable colors that look great together or alone. Just a hint of shimmer so totally work appropriate. They are cool neutrals, so they don't look too yellow or warm on my skin – compliment my hint of tan. And they DO stay! I have seasonal allergies that cause me to unconsciously rub my eyes and have my eyes water. After a day of sneezing, rubbing and tearing I still have a beautifully shadowed lid. Love it!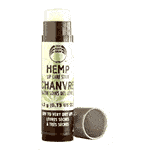 The Body Shop's Hemp Lip Balm
This has the most interesting scent – not patchouli, not pot/hemp. Slightly sweet, slightly woodsy, and mild enough that it doesn't make me want to eat my lips. It moisturizes, keeps my lips supple but is light enough that I can apply Lipcolor over it without it disappearing on me. I am one of those who have chapped lips year-round and this stuff is great for keeping it at bay.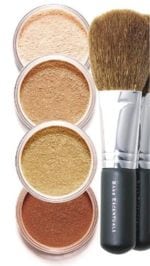 Bare Escentuals Foundation, Concealer and Warmth
For summer I have switched from Fairly Light foundation to Light. I have kept with the Bisque all-purpose minerals and use it as foundation (applied with flat brush) and have begun using Warmth again as a very natural looking bronzer/face color. For the foundation and Warmth, I use Sephora's Bronzer Brush – densely packed and soft enough to buff the minerals beautifully, leaving no streaks. I love this mineral makeup because it really does stay on all day – through sweat and rain and rubbing and everything else. It looks very natural – my freckles peek out but my dark circles and redness on the cheeks and under the nose are camouflaged.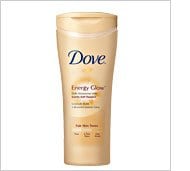 Dove Energy Glow Daily Moisturizer With Self Tanners
I love this stuff. The smell is not too strong (I can't deal with self tanners because of the stench) and it does moisturize the skin nicely. I got a free sample in the mail because I filled out something at some time, and liked it enough that I went out and bought a whole bottle!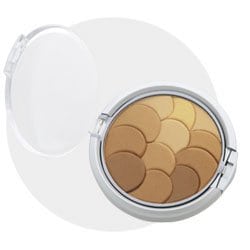 Physician's Formula Magical Mosaics Bronzer
I can't remember where I read a review about this – some fabulous beauty blog. Well based on this random review I went to Target and picked this stuff up. My other bronzers had run out, looked fake or where too glitzy for day use. I like this one because I can control the color – use all sides for a dark color with shimmer, use only one side of the palette if I want it lighter or matte. The price is good and the color is natural. No complaints!



Suave Professionals Healthy Curls Line
This stuff is supposed to be equivalent to Redken. I have not used the Redken line, but I must say I adore this Suave stuff! The products are less than $2 each at my local Target. The smell is a bit herbal and fresh, it doesn't strip my color and leaves my hair clean and bouncy but not frizzy. I rarely use mousse because I think it causes either crunchy curls or frizz, but this product leaves my hair still soft, not frizzy, but in control.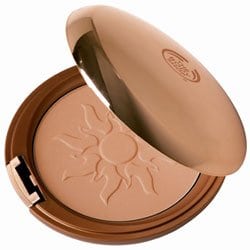 The Body Shop Special Edition Bronzing Powder
It's new, it has a pretty bronze container and an imprint of the sun on the product. I already own a ton of bronzers, but what the heck, I'll try this one too. So glad I did! The color is gorgeous, it layers nicely, is a great natural matte finish and just looks like color, not makeup.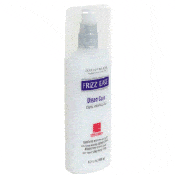 Frizz Ease Dream Curls Perfector
This stuff ROCKS! I tried it on damp hair and ended up with messy beachy waves. Not horrible, will be in my bag for my next trip to the shore. When I tried it on dry hair I fell in love. I remember in high school when I had the curly bob with the mall bangs I used to use a curling spray from L'Oreal Studio Line. I could put it on dry hair and it would spring back my crunchy gelled curls giving them plastic shine, a trendy smell and more crunch for my buck. Dream Curls does not make the hair crunchy, plastic or overly shiny. It just gives some bounce to hair at the end of the day. I have it in my office, spritz it on if I am planning on going to dinner or for drinks after works – totally revitalizes my soft curls and waves and looks natural! Good stuff!
Degree Ultra Clear Deodorant (Picture Not Available, it's a lighter green than the traditional container)
Okay, the ad says it's black dress approved. I don't agree, even though it's clear I do get little bits of whiteness – how can you not with a stick deodorant? Besides that, the stuff keeps me very dry. It doesn't have an intense deodorant or powdery scent (I usually use the "fresh" scents) and doesn't irritate (in the summer I often get sensitive skin under my arms). In the winter I was happy with Dove, but come summer I need a bit more assistance. This does the job!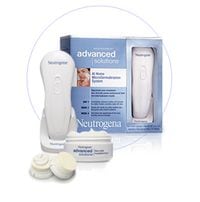 Neutrogena Advanced Solutions At Home MicroDermabrasion System
My sister bought this and decided she didn't like it so she gave it to me. Two spongy discs, a base that could double as a vibrator and a tub of grainy stuff. What the heck, it's free and it's skincare. I love free skincare! Let's play! Well the first time it didn't seem to do much but make my face feel very clean and almost raw. I waited a day and did it again and the next day at work I felt as though my skin was burning around my lips. I decided to drop down to once a week max, and on a Sunday morning so I have time to heal. Well I am ready to buy my second tub and my skin can't stop thanking me. My pores look smaller, I have less blackheads and I think my skin looks…. More pliable. Softer. Maybe it's wishful thinking but I am pleased enough to spend more on this product!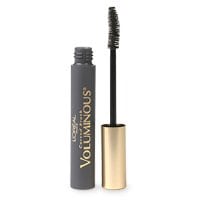 L'Oreal Voluminous Mascara
I was reading InStyle and they raided Evangeline Lilly's (from LOST) makeup bag. I was psyched because she seems to be a big fan of The Body Shop like me. Then I saw she wears Voluminous and I remembered I loved this mascara back in college. It held up to nights of dancing, sweating and having pitchers of beer tossed on my head (ah, the elegant days of being in a sorority). It made my lashes nice and thick, and I like thick better than I like soft and separated. So when my MAC X mascara ran out, I headed to CVS and bought a tube of this old standby. SO GOOD! I think it is equivalent to Dior Addict mascara, but without the crazy price tag. I don't wear waterproof (breaks your lashes) but this product holds up to sweat, allergy eyes and rubbing very nicely.