This article may contain affiliate links; if you click on a shopping link and make a purchase I may receive a commission. As an Amazon Associate, I earn from qualifying purchases.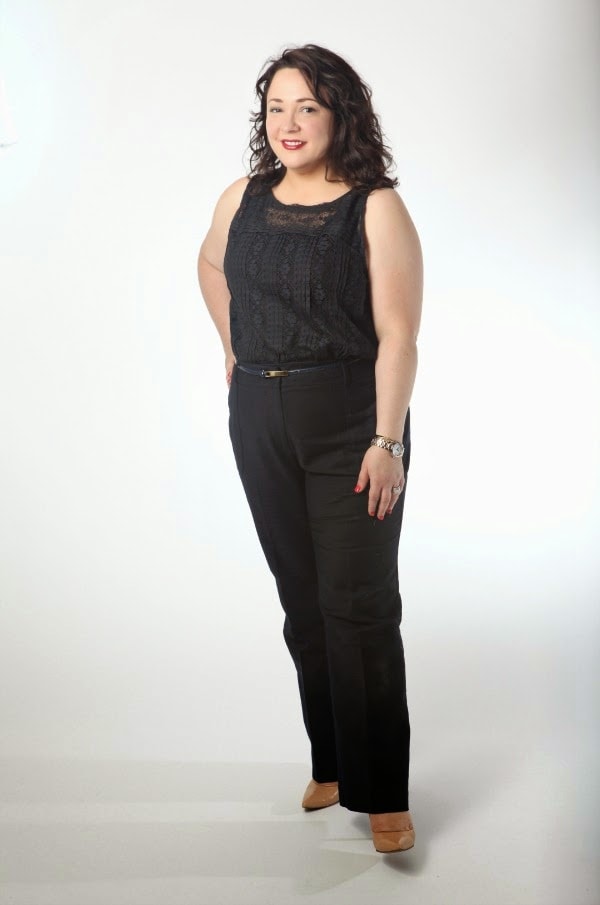 I feel as though every outfit post recently is about how I break rules! With my figure, rules say I should wear sleeves, I should wear a top untucked, and have shoes the same color as my trousers to make me look taller and leaner. Well the weather's getting warmer and I think it's ridiculous for women to have to sweat and hide their arms just because they're not as thin or toned as society thinks they should be. And honestly, I have this body whether or not I tuck in my top, I'd rather look polished than pretend to hide anything.
I'm so happy that navy is back in the stores, I'm really enjoying it and have been mixing it with a lot of white, tan, coral, and pink. I bought this belt a HOBO sample sale for a couple bucks and I don't know if I wore before, but with my growing navy wardrobe, it's getting some play. This top is just a lace shell so I can dress it up like this for my Business Casual office, but it's also cute with a white tank and a pair of denim cutoffs for the weekend!
Follow Me | Twitter | Facebook | Instagram