This article may contain affiliate links; if you click on a shopping link and make a purchase I may receive a commission. As an Amazon Associate, I earn from qualifying purchases.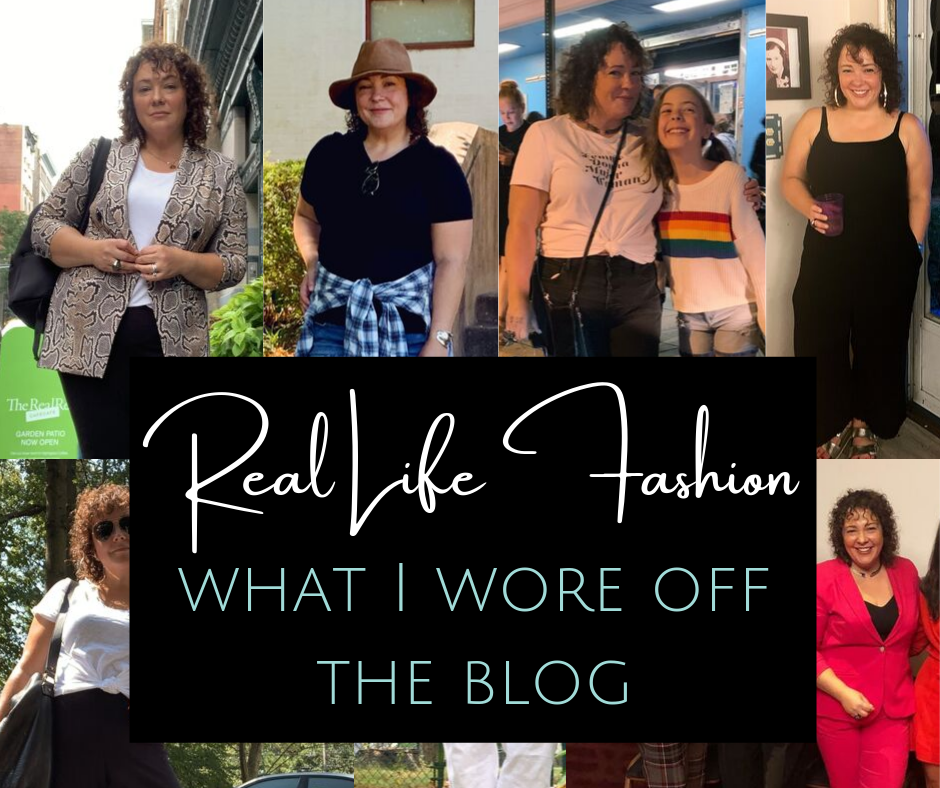 I realized I haven't done one of these posts recently.  Since my summer road trip, I haven't been as click-happy with my phone and haven't captured as many looks but I'll try to be better about that.  I love when I see what people wear for their day-to-day, and since a lot of what I wear are pieces I previously showcased on Wardrobe Oxygen, this helps you get a feel for how they wear, how they look after being washed, and other ways to style them.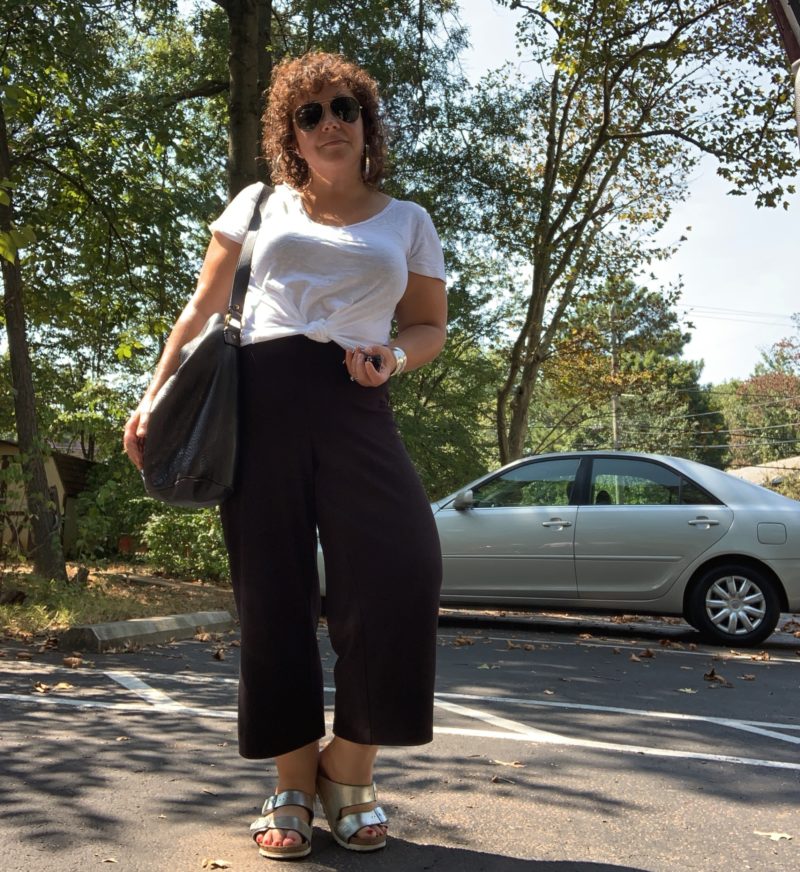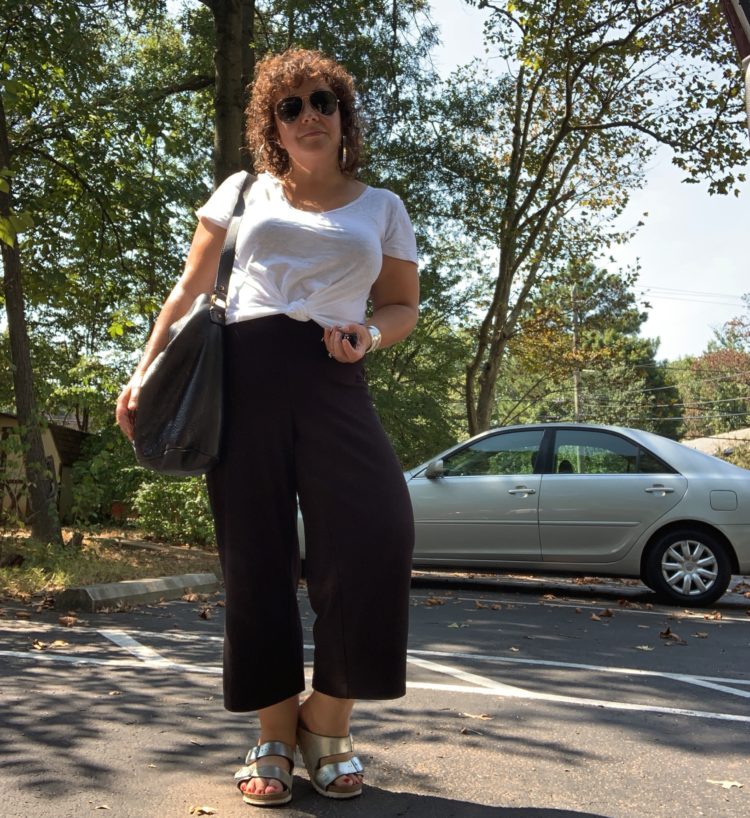 This was after a day of running around town.  These are the same ponte wide-leg pants seen in this blog post.  On top is the J. Crew Vintage v-neck in white; it's a couple of years old but think this is the same one.  Instead of doing a knot, I grabbed two parts of the hem and tied them into a square knot.  This cinches the waist without adding bulk. Silver Birkenstocks and my silver Jenny Bird hoops to add shine and style. The bag is old, I bought it at MYHABIT (RIP), it's from Isabella Fiore (RIP this bag brand) I think back in 2014; you can see it in these posts.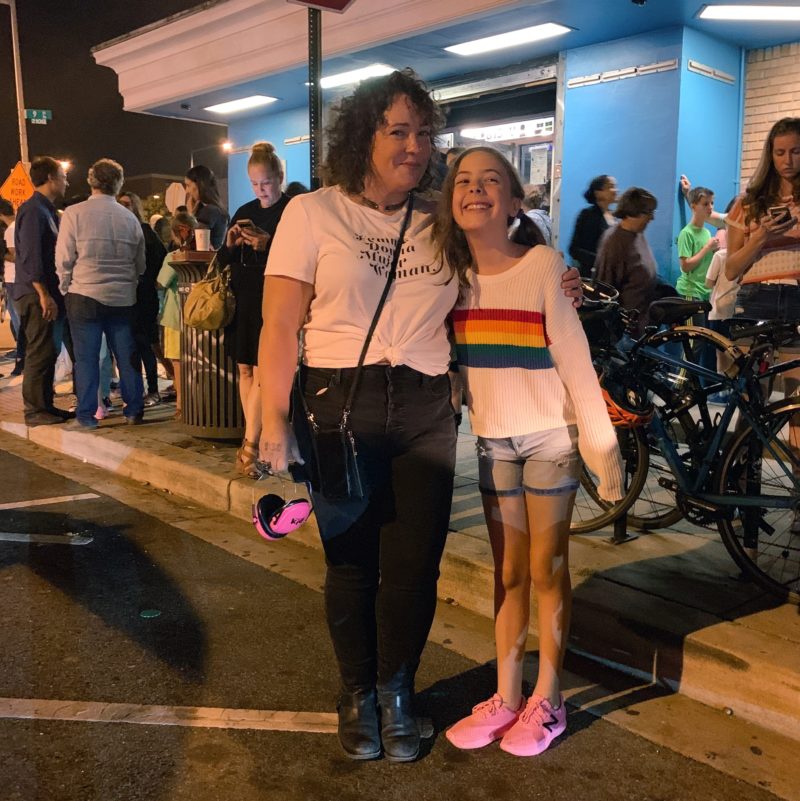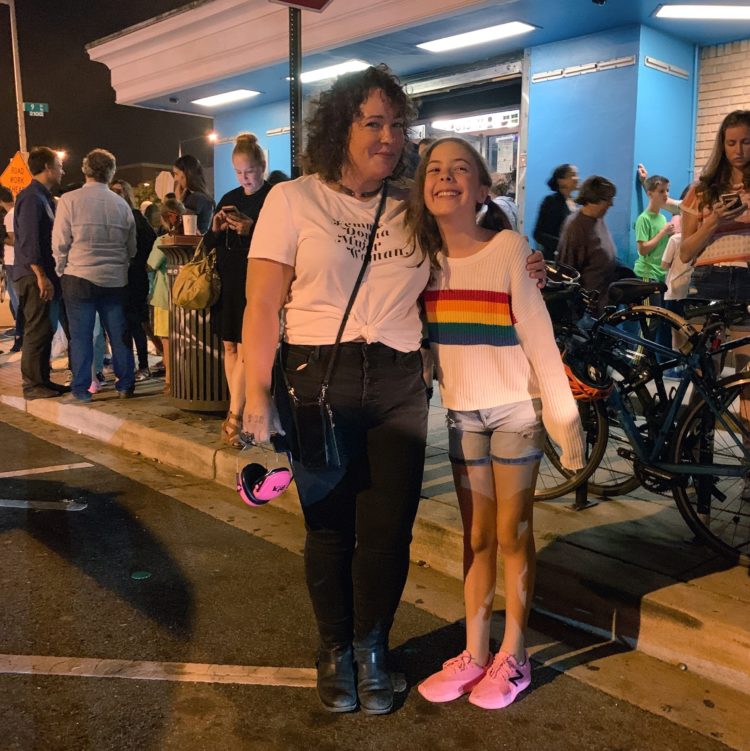 Our daughter has been to concerts before, but not to the 9:30 Club, a DC institution.  Grace VanderWaal was performing and we decided to go as a family.  She had a blast!  I am wearing a t-shirt from Banana Republic that is sold out but I found some other fab ones on Etsy I've linked to below.  The jeans are these from Everlane, I am wearing a 32 short, here's my original Everlane jeans review.  My boots are very old from LL Bean, these are very similar and when finding similar I found this crazy good price on Frye harness boots.  And slightly random, but when seeing if LL Bean carried my boots again I found these fab Chelsea boots that come in two widths on sale. My phone is on a Bandolier which is a crossbody strap and wallet in one.  I added one of these pouches to it to have a bit more space for gum, lip balm, etc.  For jewelry, I am wearing this collar and this ring from REALM.  My daughter is wearing this sweater from Justice.  And a few have asked about her legs; there were mopeds parked to my right creating weird shadows on us. In my hand are earmuffs from Peltor.  We bought these when our kid was still a baby and they're a must for live music while also being great for fireworks, overly loud movies at the theater, and more.  I mentioned on Instagram that a friend had a pair on her baby registry and I bought them for her… and now they are my favorite baby shower gift to give!
Shop Graphic Tees from Etsy: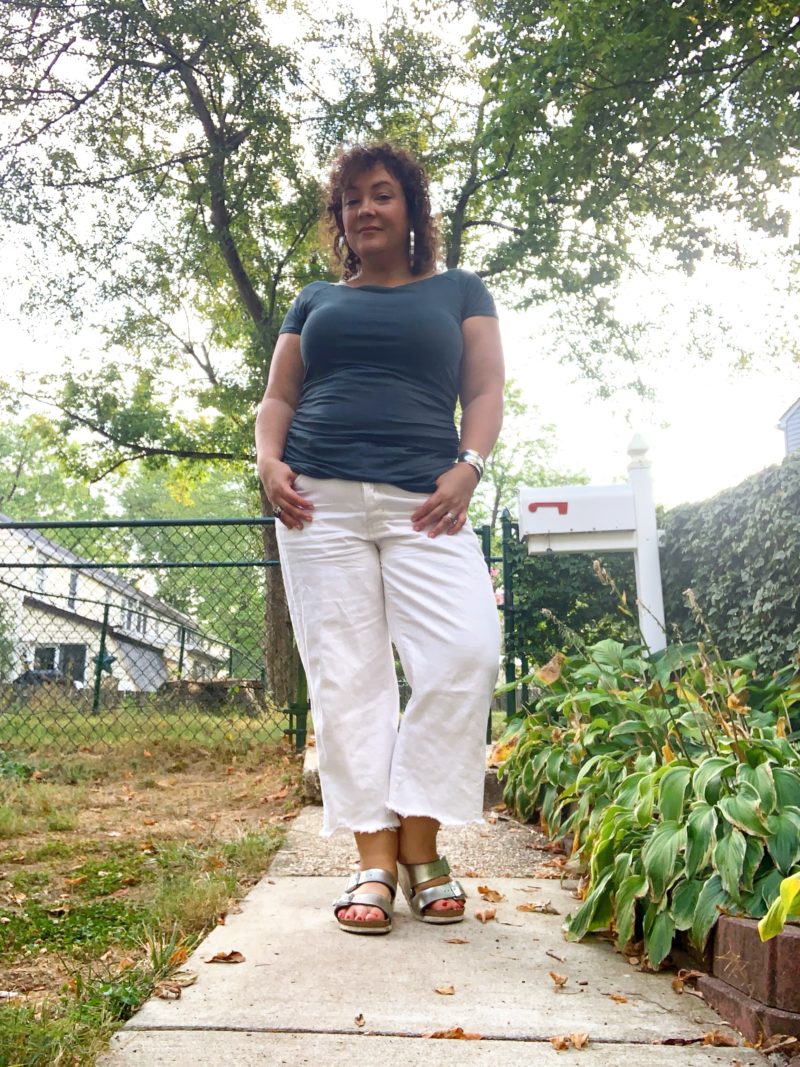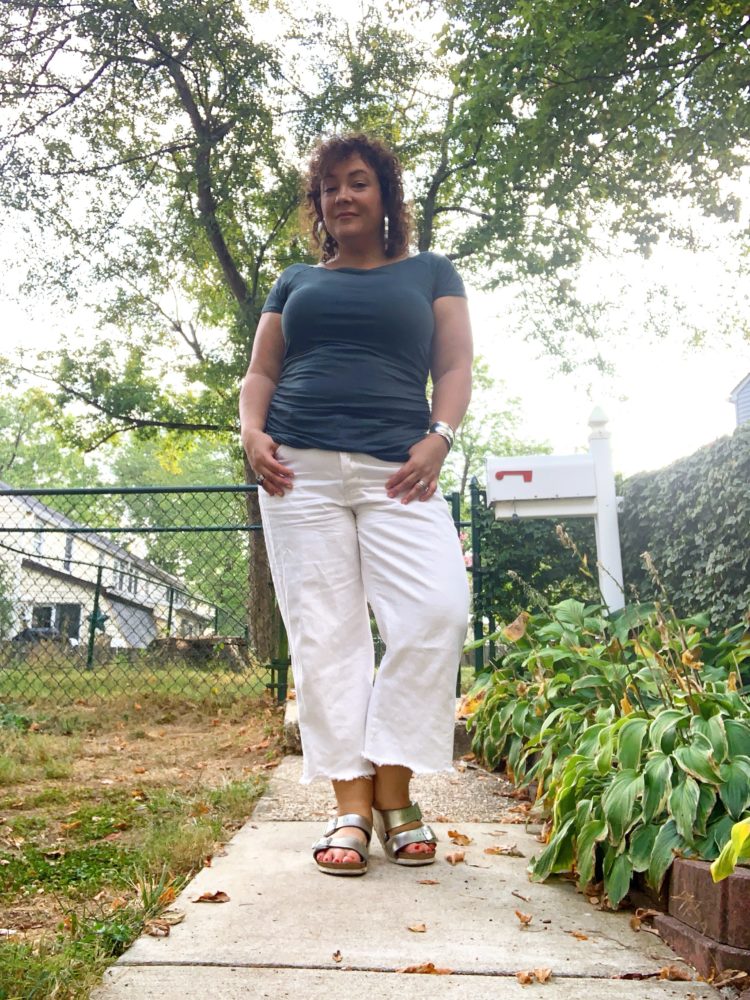 Another day of running around town and grabbing coffee with a friend to discuss a possible collaboration.  This top is from Boden and a couple of years old; you can see it in this blog post.  I struggled to find anything similar, seriously the only thing I found was a maternity top.  So here is the sweater I wanted to wear instead but it was just too hot so I switched to this top.  I have it in purple dewberry which is a gorgeous bright orchid shade.  Here's a plus alternative for the sweater. The jeans are from American Eagle, I wore them in this blog post and they are still for sale online.  Again, silver Birkenstocks and silver hoops!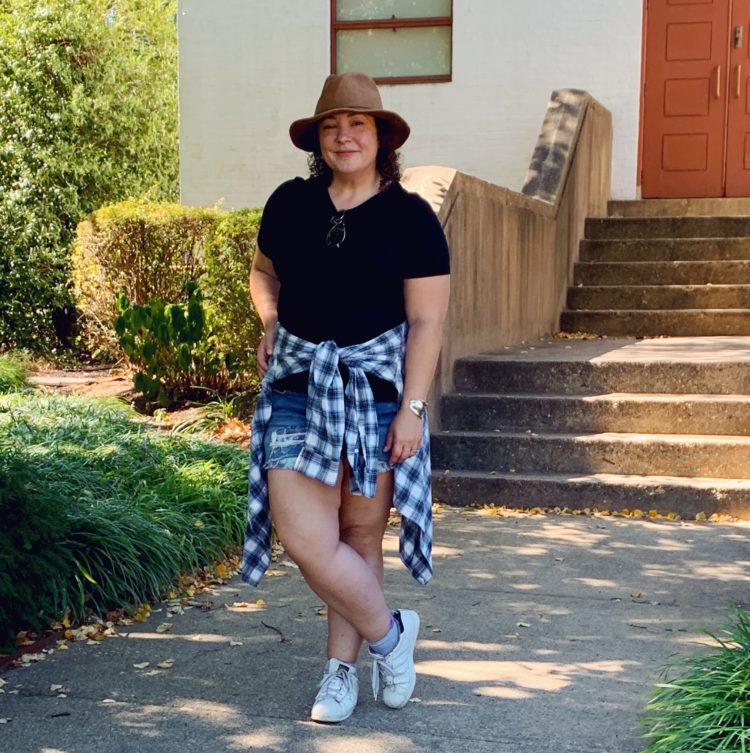 This is what I wore to the farmers market a couple of weekends ago.  I love this beat-up bent leather hat from Stetson. It started off perfect, but it has been shoved under plane seats and into the trunk of my car.  It's been to the beach and on canoes and I can't wait to see what it looks like in a decade (here it is on the blog earlier this year).  The t-shirt is Universal Standard from their FOUNDATION collection.  It's fitted but uber stretchy and so soft and completely opaque.  The shorts are from SLINK Jeans, they're old but these look similar.  The plaid flannel is Karl's but this is similar.  And then my well-worn Adidas Superstars (just bought a shiny new white pair for non-active situations).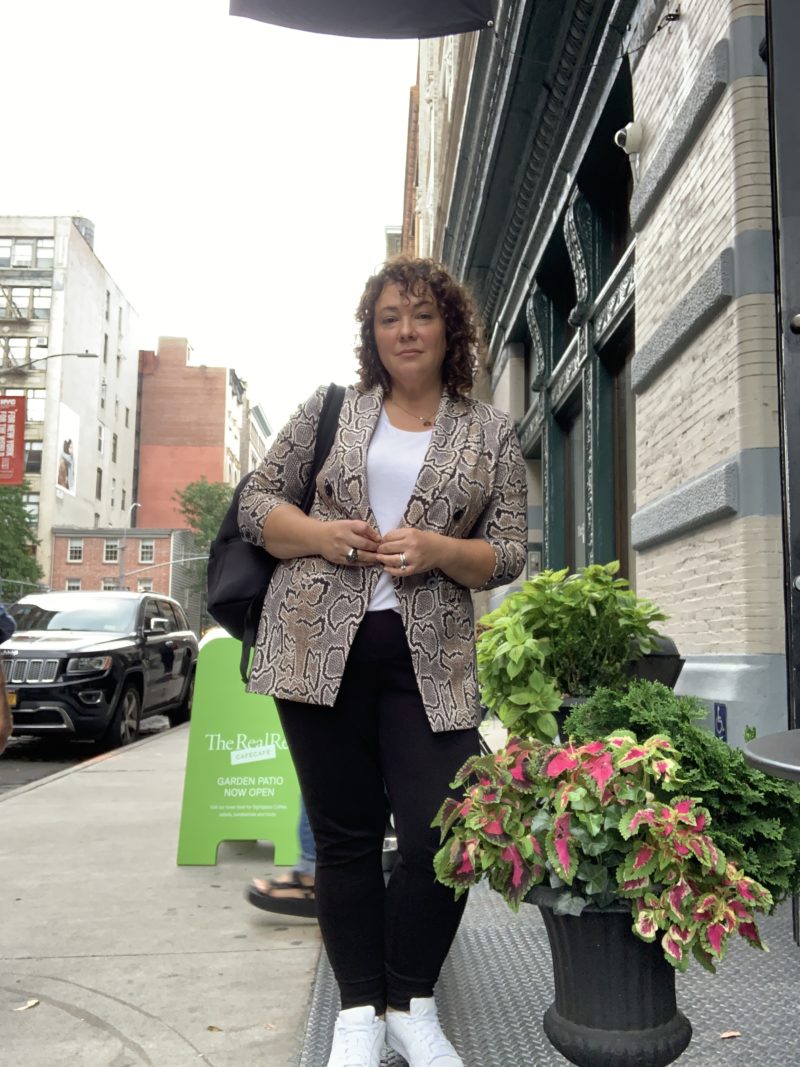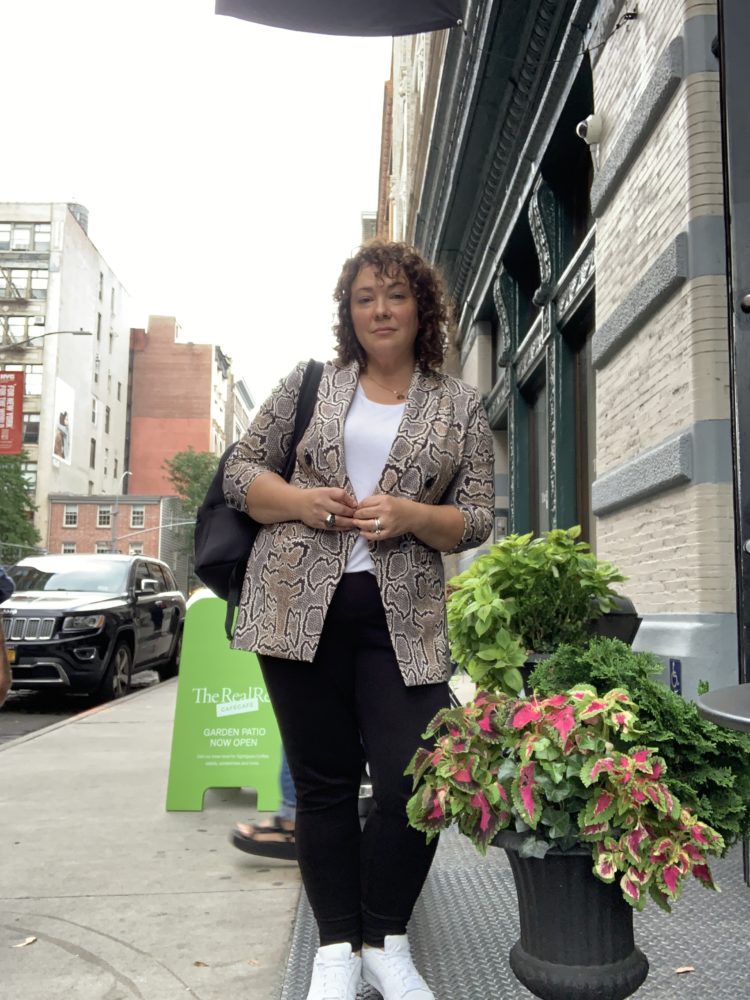 Last week I went up to NYC to tape a segment for The Today Show.  It's going to go live October 2nd and I am so excited!  I took the train and went straight from Penn Station to the taping so I needed something that would look good on camera after sitting (and let's be honest, napping) for hours prior.  I chose the cabi Python Blazer, which is made out of a scuba-like material that is super stretchy without looking schlubby.  Under is the Soma Essential Tee I mentioned in this blog post.  On my legs are these leggings also from Soma.  And making an appearance are my shiny new white Adidas Superstars! For jewelry, I wore this necklace from Jenny Bird and this ring from REALM.  To carry everything I used the Large Dagne Dover Dakota backpack.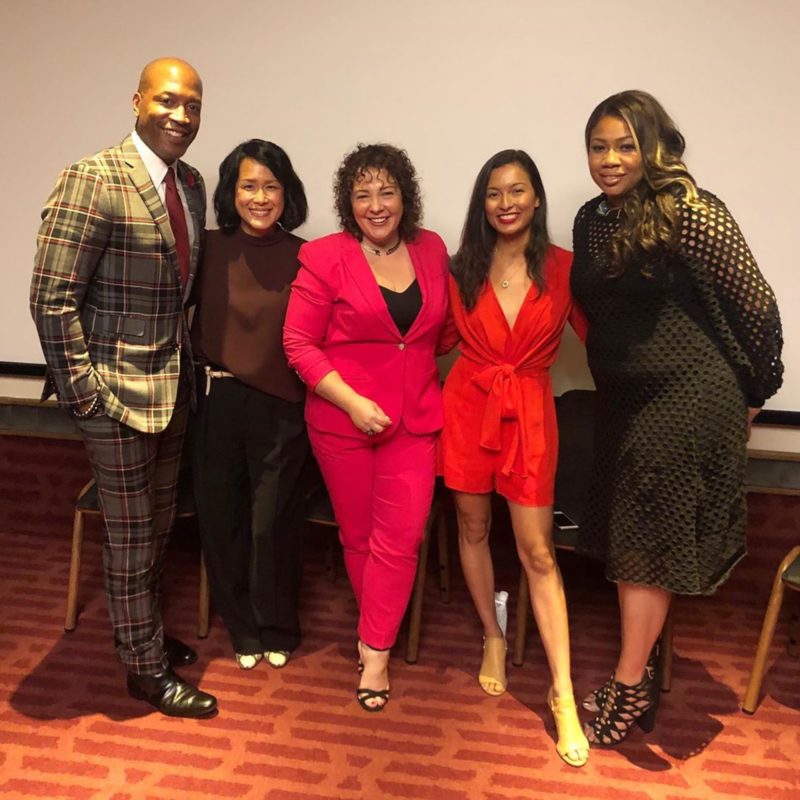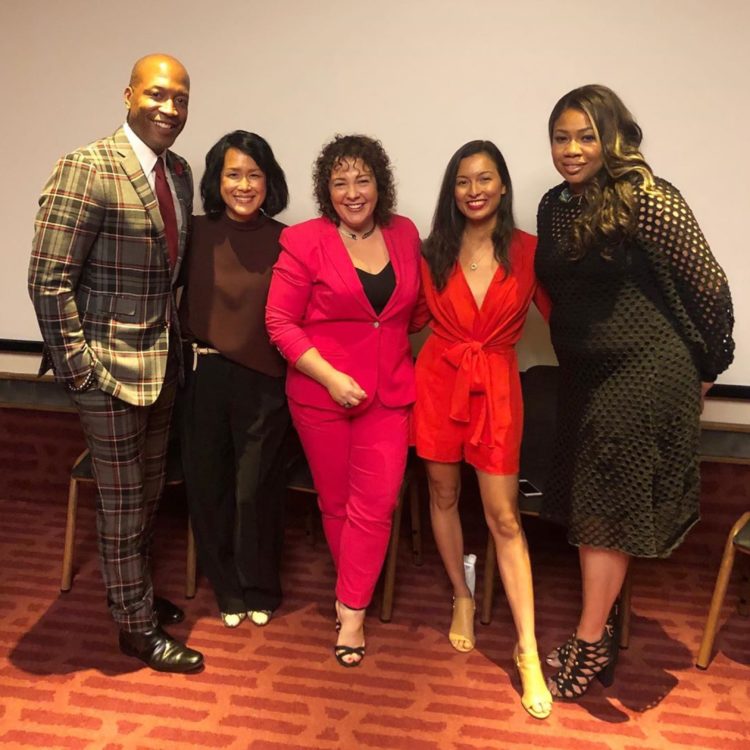 Last week I spoke on a panel about diversity and inclusion in fashion for the DC chapter of Fashion Group International.  I was not feeling well and had little time to get ready so I went with my go-to, my hot pink Banana Republic pantsuit.  You've seen this suit many times over the years; I think the first time I wore it was in 2017 to the rewardStyle conference.  I wore it to speak to grad students at the University of Maryland, to NewsBash an event with a pink dress code, and to celebrate the How Bold Are You campaign with Chico's. Banana no longer has this suit but I've linked to a few different colorful suits below; I find a color more versatile than black because it can feel festive and cheery in an instant, but with accessories can also glam up. Under I wore this cami from J. Crew (I own three and am tempted to get more) and a very old pair of shoes from ASOS, my go-to for wide width trendy shoes.  For jewelry, I wore my REALM collar and ring.
Shop Colorful Suiting: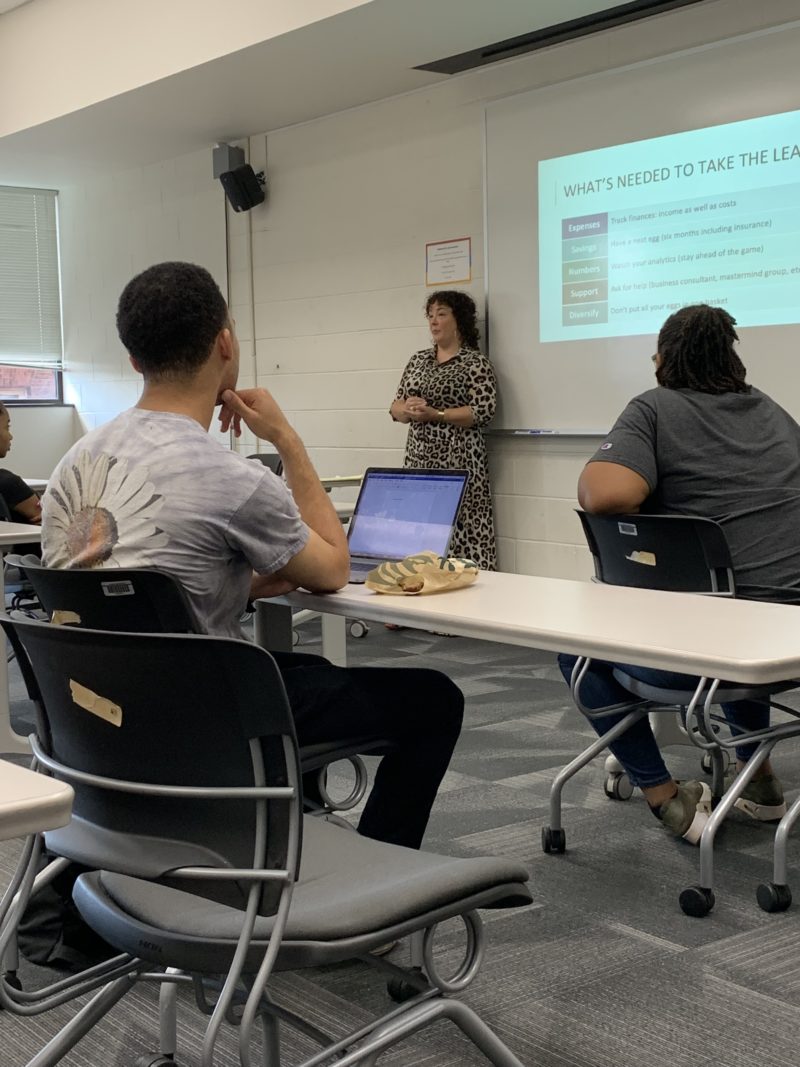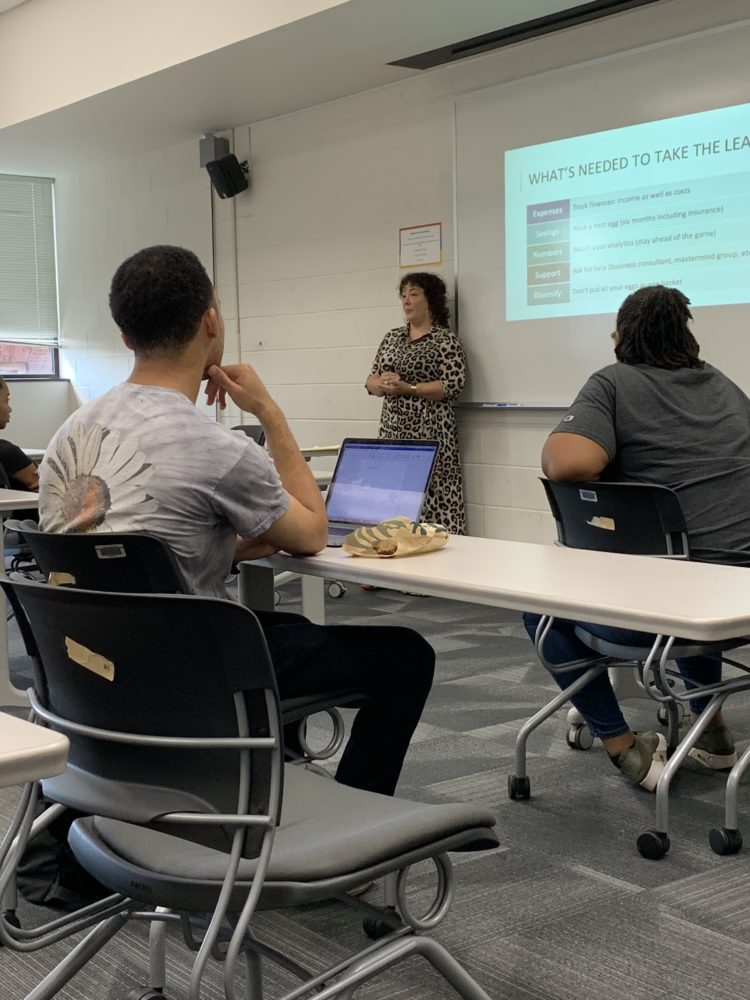 Earlier that day I was feeling even more unwell but was scheduled to speak at the Howard University Business School about being a full-time influencer.  The professor let me know the A/C hadn't been working and it could be super hot.  I also thought I wouldn't be going home in between and wanted something okay for this and the panel and wouldn't crease and crumple before the evening.  I chose the Banana Republic dress I wore in this blog post. With it, I wore my gold Jenny Bird hoops and my orange-red Rothy Points. I didn't love this look, likely because I didn't feel well and my heart wasn't in it, so I went home to change.  However, this dress is super comfy and does hold up even when it's hot and a long day. Banana no longer has this dress, but if I didn't own this dress I'd buy this dress in an instant.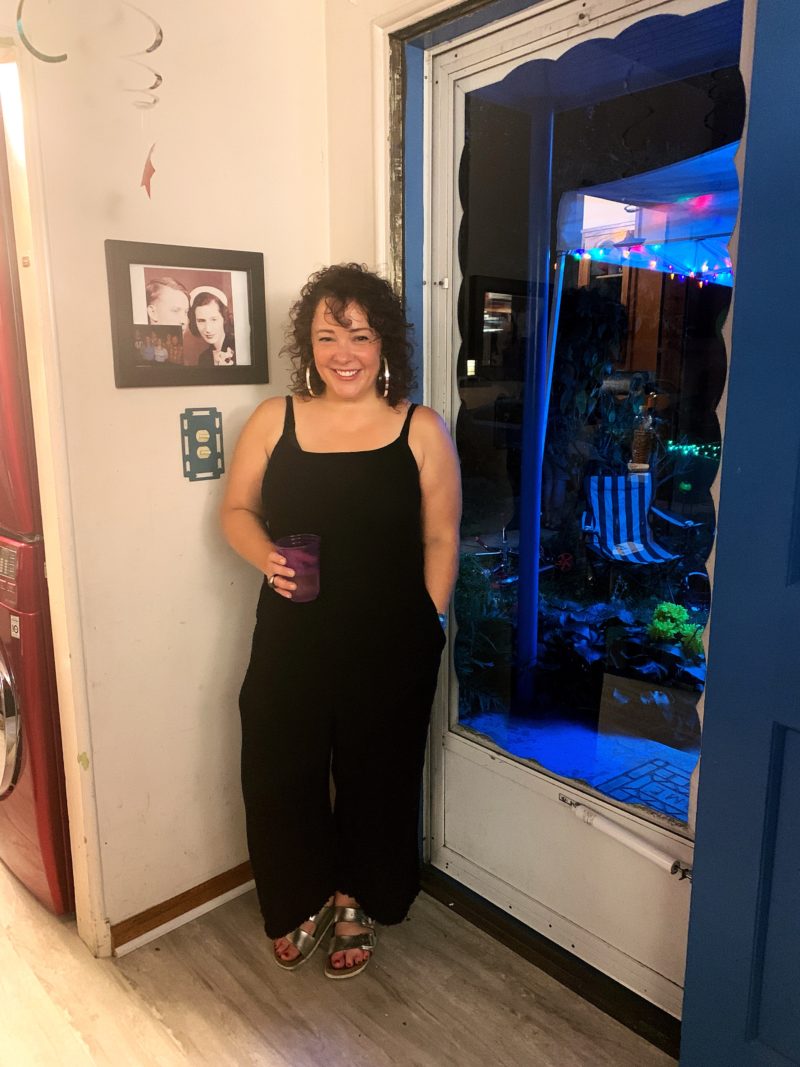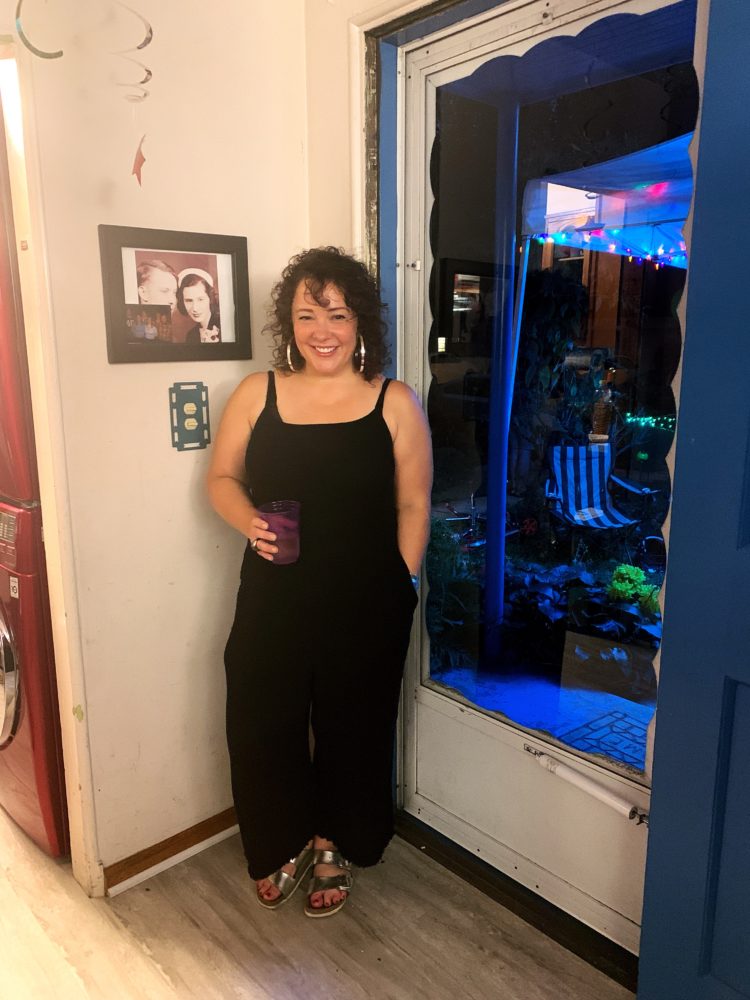 My friend Tom turned 50 and hosted a big birthday bash at his house.  He had a band play out on the deck, and it felt as though the whole neighborhood came to celebrate. The evening was very hot and humid and I knew the crowd was a relaxed bunch.  I wore this jumpsuit from Eileen Fisher.  I don't own a lot of Eileen Fisher, while I adore the brand and its beliefs and the quality is stellar… the style really doesn't mesh with mine.  But every so often I find something I love and this jumpsuit is one of them.  I wore it with a regular black bra, the straps sort of blended together.  The jumpsuit is loose and has deep pockets. There's a back zipper but I find I can get it on and off without having to mess with it.  I believe it has some complicated set of washing instructions but I wash it in the machine and hang it to dry and it's been great. I also took this jumpsuit on vacation and wore it in NYC and Vermont.  With it, the silver Birkenstocks again, my silver Jenny Bird hoops, and my black REALM ring.
Shop the Items Mentioned in This Post: