Through this weekend, Gap is having up to 50% off everything, and then an additional 20% off your order with the promo code CHEERS. Not only that, this is GapCash time, so you will earn GapCash to use closer to the holidays. Reader Kim asked me to share what I think are the best buys during this Gap Sale, my picks are below.
Gap Crazy Stripe
I shared the Gap Crazy Stripe on Facebook yesterday. This is such a fun stripe, festive without screaming a specific holiday, a fun look for holiday photos, and a great gift.  The classic crew sweater is awesome, it comes in sizes for women (with tall and petite options), girls, and toddlers. I got me and Emerson matching ones, I sized up for her so hopefully we can still wear them together next year too.  Is a dress more your thing?  Again they have one for toddlers, girls, and adults.  Want your pup in on the Crazy Stripe action? Here you go!  I bought this scarf for Karl; it may be categorized for women but the men's Crazy Stripe pieces aren't the same color combo and I think it looks relatively gender neutral.  Same goes for the beanie, it could be worn by anyone.  Some other cute Crazy Stripe pieces are the Crazy Stripe slipper for women, the cutest headband with pomp pom "ears", adorable booties for little ones, and these gloves that will slide up under your coat to keep your wrists warm.  Speaking of warm, it's ridiculous but I adore this Crazy Stripe union suit, and the sweater leggings for girls, toddlers, and women would make for cozy loungewear with the matching sweater.  Now I want to get the leggings for me and Emerson… this is the dangerous part of writing these sale posts for you – I want it all!
Festive Fashion
'Tis the season to be jolly… and sparkly.  Whether it's a cookie exchange in your office lunchroom or a black tie gala at a hotel ballroom, likely there's a situation coming up in the next several weeks where you need to look festive.  Gap's fit can be hit or miss, but these are the pieces that look the best IMO: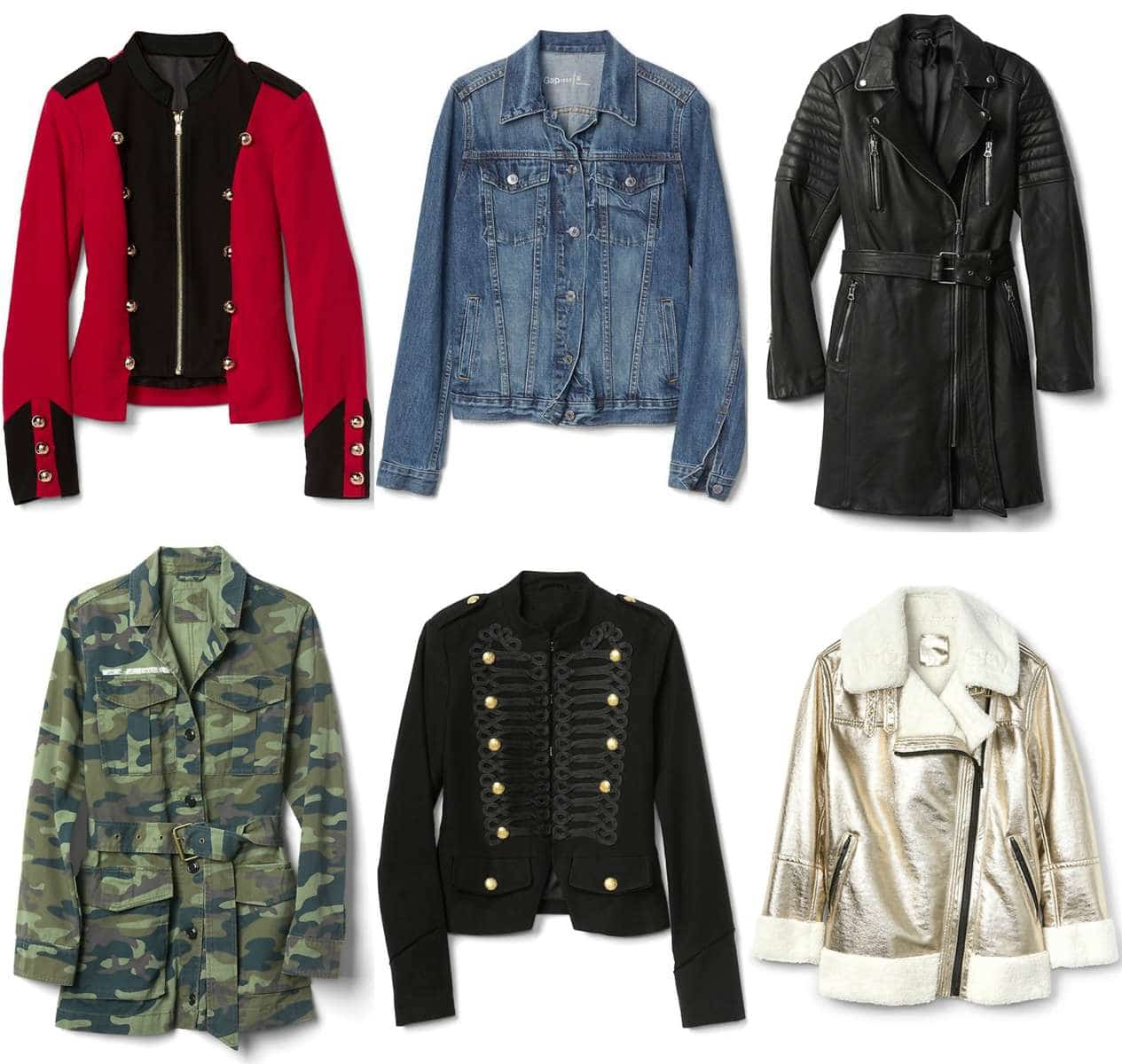 Jackets and Coats
Gap does cool jackets and outerwear really well.  I have Gap jackets that are decades old and they have a perennial cool style that transcends trends and I find to be pretty versatile with a variety of personal styles.

Jeans
Jeans are a personal decision.  What works for one doesn't always work for another.  However, I've had a lot of luck with Gap jeans over the years and I know a lot of you have figures similar to mine.  If I were shopping for jeans right now from Gap I'd be heading to their Real Straight Jeans which are a fave of mine.  I have these Mid Rise Classic Straight Jeans and they are a nice basic that looks classic and clean.  No frills, nothing to make them look cheap or too trendy.  I buy the short length for regular, it fits better for a curvy bum than petite.  My grey jeans are from Gap and getting threadbare; these high rise slim straight fit jeans look like a nice replacement pair.  As I mentioned, velvet is a hot trend this season but it doesn't have to be just for evening wear.  A pair of velvet jeans are a fun alternative to corduroy.  I'm loving these velvet skinny ankle pants (they look more like jeans but Gap calls them pants) and they come in five fantastic colors.

Miscellaneous
Some items caught my eye and they just don't fit in a category.  Like this loop-fringe block cardigan that would look amazing with the velvet jeans in the same French vanilla ice cream color.  Or this hooded sweatshirt with a badass tiger graphic on it that channels Gucci without the insane price tag.  And the whole Softspun collection.  I have a dress from it and it is a fave; their winter pieces in this super soft lovely washable fabric look like the best loungewear ever and many pieces are quite appropriate for brunch, errand running, or even a casual office.
Do know this isn't all that is great at Gap.  I focused on street wear and didn't even delve into their amazing activewear or their sleepwear/intimates.  I've found their accessories and pants to be hit or miss; if you like them it's worth a gander because there's some gorgeous looking pieces.  And of course, Gap is great for babies, kids, and men (I love that they have tall options for Karl).  Let me know if you score any good deals at Gap this weekend!
FYI I tried to create collages of images for all the categories but I'm working for one of the first times on a Mac and I was STRUGGLING with PicMonkey and Gap's images acting weird.  I also had trouble grabbing Gap images for the collage I shared on Facebook and now I can't get it on this computer.  Give me a bit of time, I hear you and will try to have images in future sale roundups!