This article may contain affiliate links; if you click on a shopping link and make a purchase I may receive a commission. As an Amazon Associate, I earn from qualifying purchases.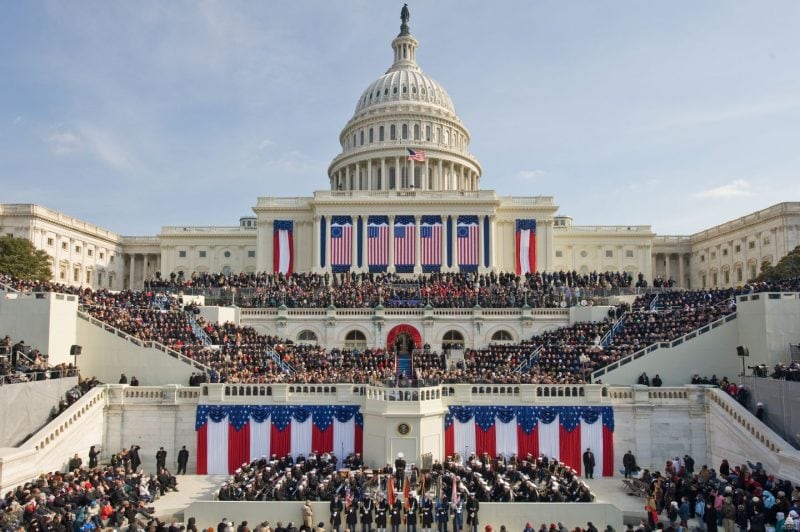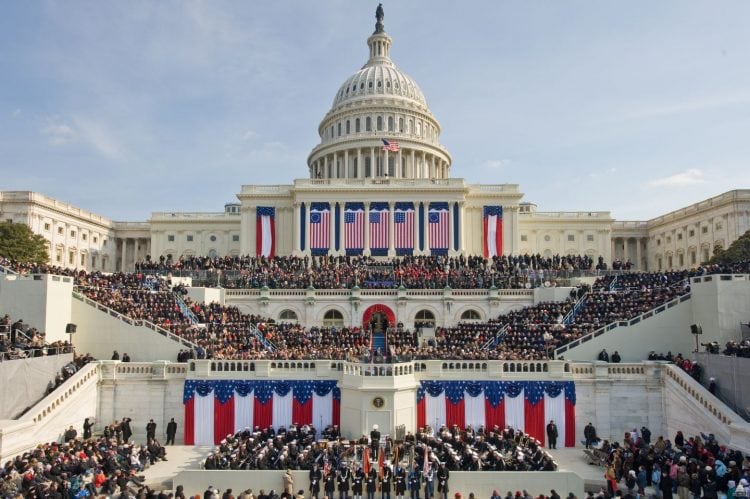 Details for the 2021 Presidential Inauguration Day festivities have not yet been announced, but I know many are planning to attend from states and countries who are not familiar with DC weather in January. I was born in DC and have lived in the DC area my entire life and have attended quite a few protest marches and inaugurations during January and want to share my tips on what to wear to Inauguration Day in DC.
Before we get into what to bring and what to wear to Inauguration Day, let's talk specifics about the event. Minimal details for the 2021 Inauguration Day events have been posted; below is what I have found for 2021 and information that has been consistent for past inaugurations. As I learn more I will update these sections.
However, while I am writing a post offering what to wear and pack, I'd recommend that you reconsider attending in person. We are in the middle of a pandemic and 2020 has shown us that group activities are what causes the spread.
While we saw this summer that protests where individuals wore masks and when possible, kept social distance weren't spreaders, we also know that the virus is stronger in the cold. Even though I live only a few miles from The National Mall, I plan on staying home and watching the festivities on my television.
That being said, I know many will attend anyway. This is an historic event and a hard-fought election. If you do plan to come, I hope the information below will keep you warm, comfortable, and safe.
When is the Presidential Inauguration?
The 46th President of the United States will be sworn in on Wednesday, January 20, 2021, on the West Lawn of the U.S. Capitol.
The ceremony usually takes place around noon, and then around 3:00 pm, there is a ceremonial parade that goes down Pennsylvania Avenue from the U.S. Capitol to the White House.
Is it Free to Attend the Presidential Inauguration?
The Inauguration is a free event and the public is welcome to attend. You must have a ticket to attend the swearing-in ceremony. Tickets are free, but they're in high demand and must be applied for through your senator or representative's office. Don't be sad if you don't get one, there are only around 250,000 of them.
Jumbotrons and speakers are set up all over the National Mall for everyone to see the ceremony and from past experience, being in the crowd is a fun experience. There will be an area on the Mall west of Fourth Street NW that will be open to the public without tickets.
The parade is also free to watch. A limited number of bleacher seats can be reserved through the Presidential Inauguration Committee, but you can also catch a glimpse from the sidewalks along Pennsylvania Avenue, which are unreserved.
When Can the Public Arrive for the Inauguration?
In the past, security screening gates opened at 6:00 am. Not much happens until around 9:30 am when they start music over the speakers. Opening remarks usually begin around 11:30 am with the swearing-in taking place around noon.
I highly recommend arriving as early as you can, and coming with at least one other person so you can hold your spot as one goes to get warm beverages, use the facilities, etc. Prepare for a long and chilly day on your feet.
When I attended Obama's inaugurations, I was outside my local Metro station's gates before they opened so I could get on the first train to the National Mall. Even so, I waited for about an hour in line to get through security screening.
With additional measures in place this time for health, safety, and possible protests, I expect the security screening to take even longer.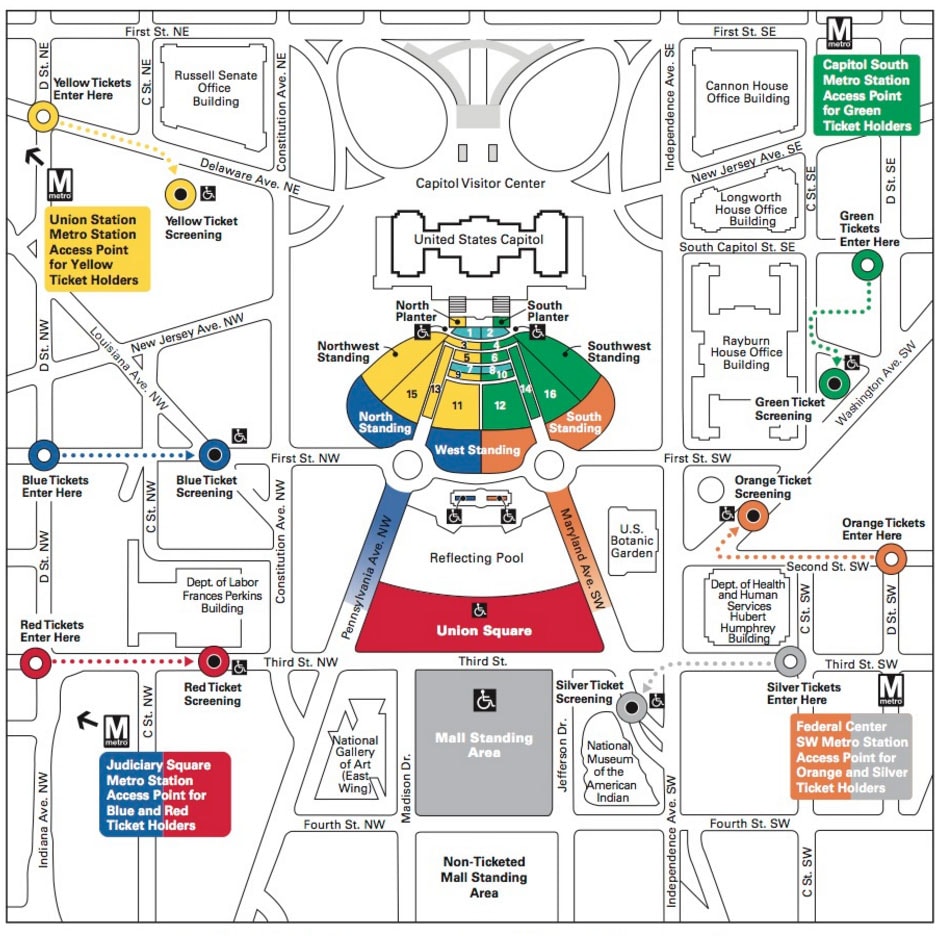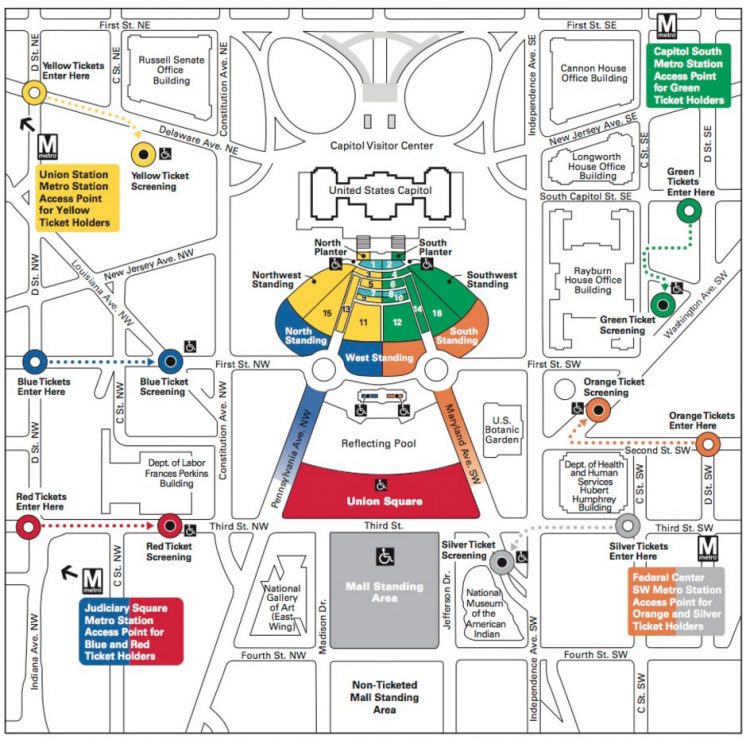 What's the Best Way to Get to the Presidential Inauguration?
Don't think of driving and finding a place nearby to park. Many roads will be shut down and parking will not be easy to find. Even if you do find a parking spot, road closures may change through the day causing your car to be inaccessible when it's time to go home.
Metro, a rideshare program, or having a loved one drive you in and drop you off are your best bets. For past inaugurations, marches, and other events on the National Mall, I have either used Metro or been part of a group that chartered a bus.
When leaving the events, I've found the crowds at the Metro stations to be overwhelming and found it better to walk several blocks away from the event and try to get a rideshare program to pick me up or have a friend get me and drive me home.
This was before COVID; as I hear of safe methods of transportation for the inauguration I will update this section with those details.
What to Wear to Inauguration Day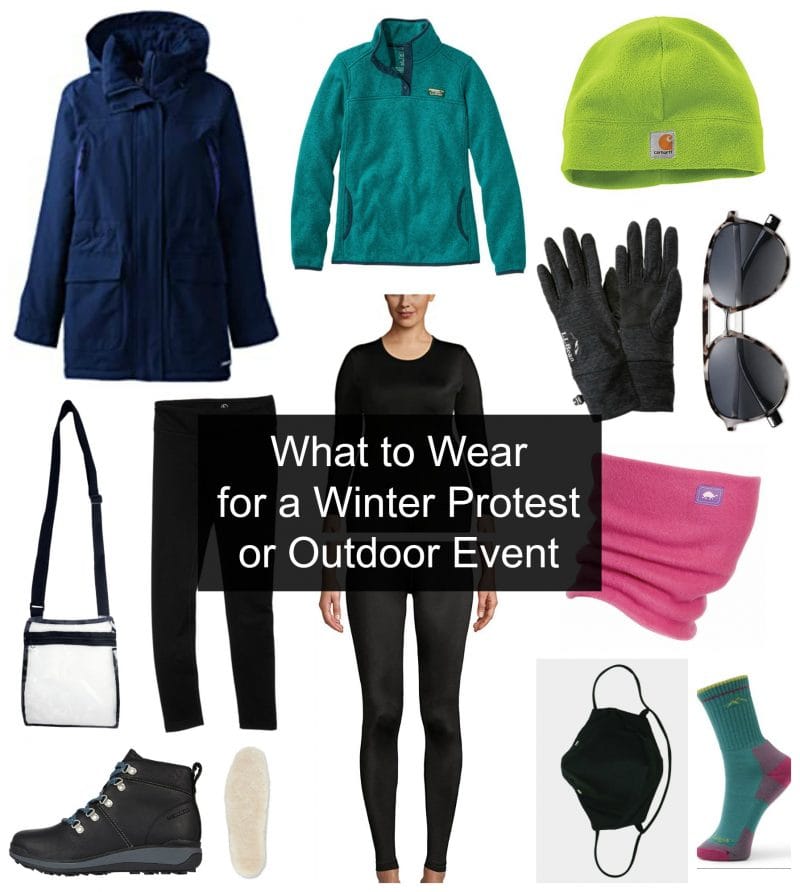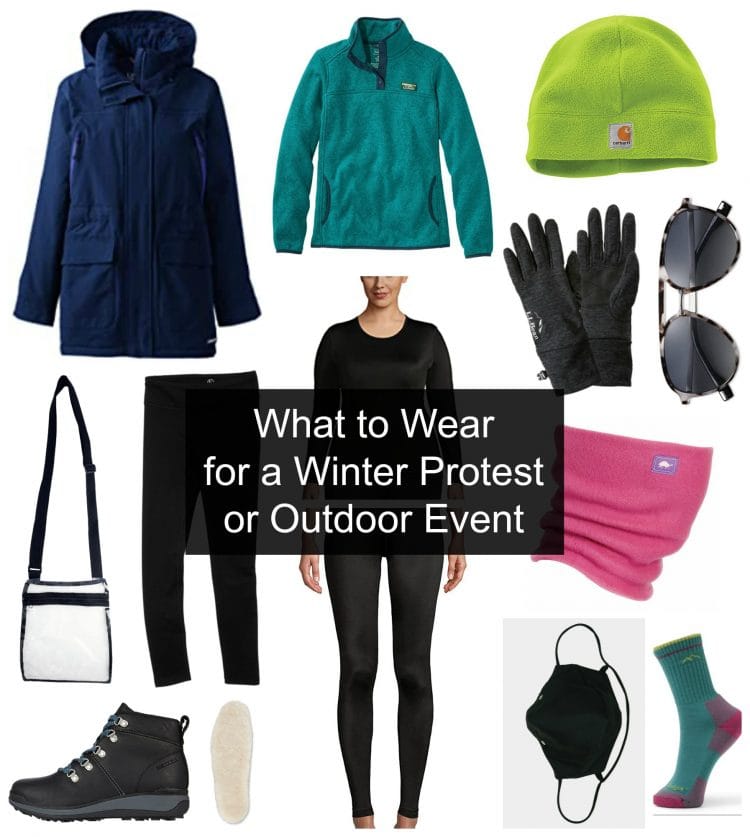 A sample outfit for Inauguration Day or any winter outdoor event or protest:
Parka in Regular, Petite, and Tall (link to plus and petite plus sizes) | Polartec Leggings (available up to 3XL)| Clear Crossbody Bag | Boots | Shearling Insoles | Sweater Fleece (available up to 3XL) | Thermaskin Top (link to plus sizes) | Thermaskin Pants (link to plus sizes) | Fleece Beanie | Gloves | Sunglasses That Won't Make You Cry if You Lose or Break Them | Neck Gaiter | Flannel Face Mask (available in two sizes) | Coolmax Socks
Okay, now to the section Wardrobe Oxygen is known for – clothing!
Knowing from past experience, attending the inauguration as a member of the public is a long day where you will be on your feet the entire time.
Washington DC has wacky weather in January: we've had blizzards and we've had days where it has been in the 60s (Fahrenheit). DC averages nine days in January for rain and three for snow, so be prepared for precipitation either falling on you or under your feet.
The National Mall is primarily grass and gravel with few concrete paths meaning if it has recently rained or snowed the ground will be muddy. Dress for comfort, and dress in layers.
Feet First
The key to a comfortable day is focusing first on your feet. I have found the best footwear for protests, marches, inaugurations, and other events in DC is a pair of waterproof hiking boots. The high shaft will support and protect your ankles, arch support will keep your feet happy, insulation will keep the toes cozy, and you can stomp through puddles, slush, and muck and stay dry.
For the Women's March in 2017, I wore a pair of insulated Merrell boots and was comfortable for hours. For Obama's inauguration, I wore a pair of knee-high leather boots figuring I would have more wind and precipitation protection; by adding a pair of shearling insoles and waterproofing the leather, my feet survived the long and very cold day.
If you choose to wear your favorite boots or sneakers, I recommend adding insoles not just for arch support, but for warmth. The ground will be very cold, and having insulation between it and your feet will make a major difference in how warm you feel.
I have these shearling insoles and love them; these are a vegan alternative that also get great reviews. Wool socks will not only keep your feet warm, but also wick away sweat to keep you comfortable and help prevent blisters.
Have a Base Layer
This is the kind of day where you will want long underwear. Silk is a great base layer as it is super thin, clothing slides right over it, and it will insulate without bulk. If silk isn't your thing I am a big fan of Lands' End's Thermaskin collection.
For an event like this I recommend long underwear pants as well as a long-sleeved top; choose a dark-colored top so if the day ends up warm you can strip down to this base layer without looking like you've stripped down to your skivvies.
Your Coat Matters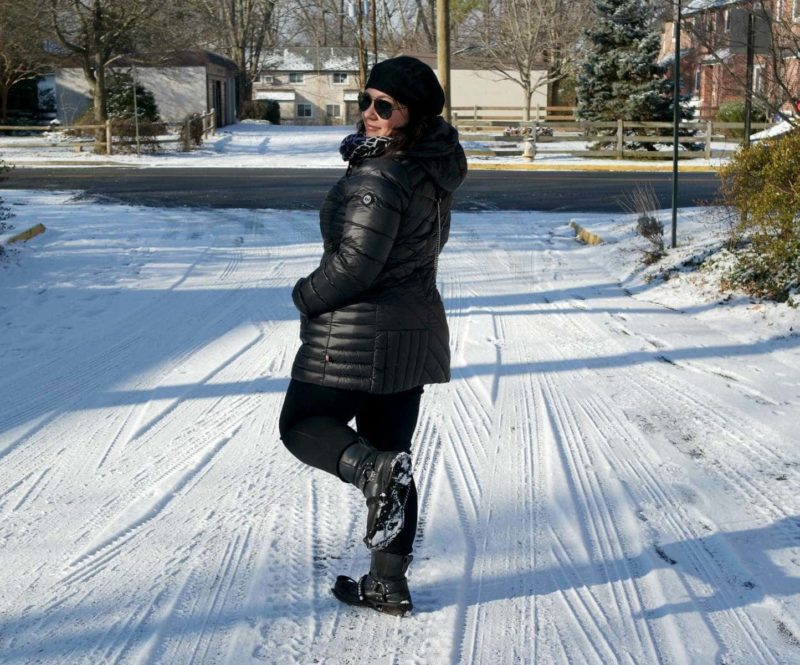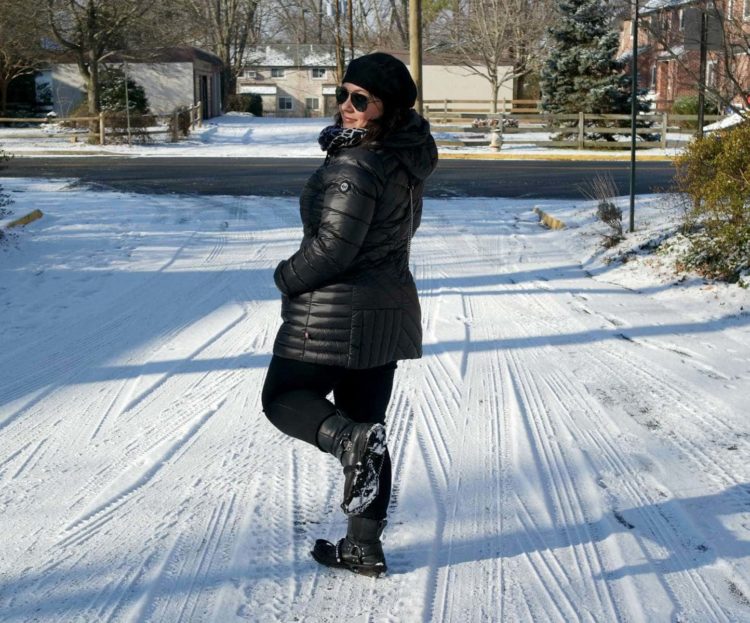 The average temperate in DC in January is in the low 40s Fahrenheit. Considering there is a good chance for precipitation or wet grounds from recent rain or snow, I recommend a coat that is insulated and waterproof. Keep your wool peacoat at home and choose something more durable and something you can wash once you're back home.
Past inaugurations have only allowed small purse-sized umbrellas and this year's security rules have not yet been posted so err on the side of caution and choose a coat with a waterproof hood that will protect you in case of a downpour.
I have a Lands' End Squall parka that is 20 years old, has been washed and dried so many times, been through so many adventures, and is still awesome. Being insulated, waterproof, with a hood, many secure pockets, and a walkable yet protective length, it's a perfect choice for such an event in DC in January. Available in regular, petite, tall, and plus sizes to 3XL and in several colors, it's a cult classic for a reason.
Columbia's Suttle Mountain Jacket is another great insulated coat with smart pockets and a storm hood that is available up to size 3XL in a variety of colors that will be practical and classic enough of a style for many many years of wear.
Cold-Weather Accessories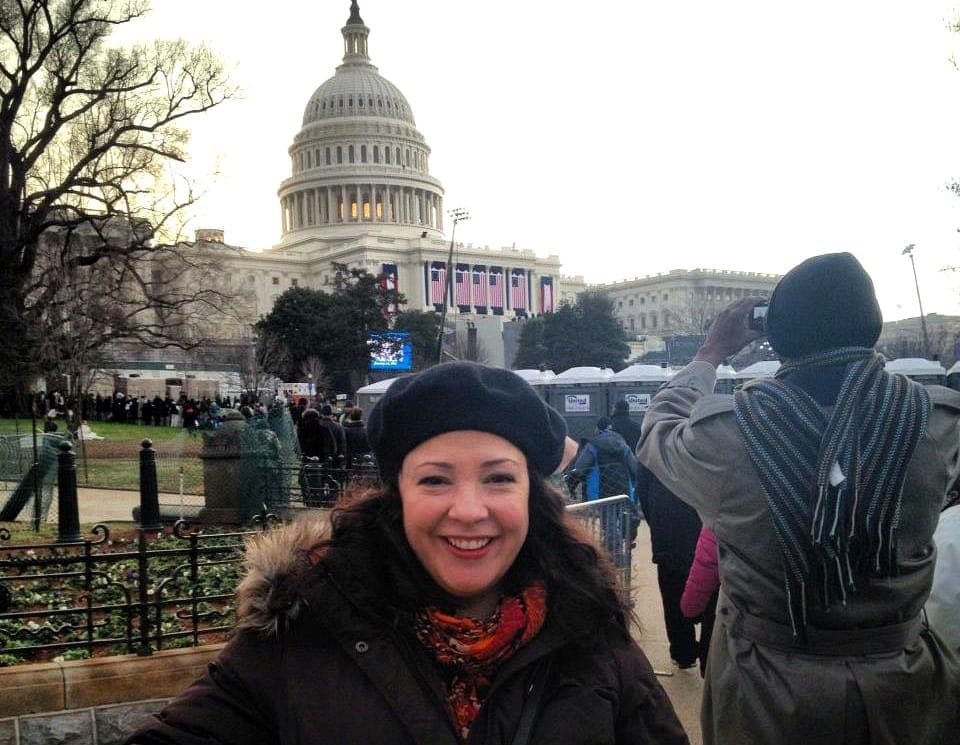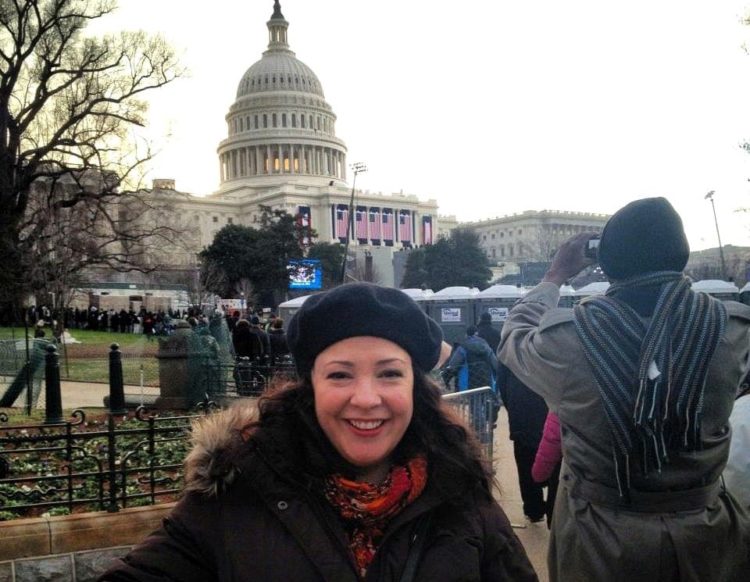 You may be in the shade or the blazing sun. It may be snowing or a bright sunshiny day. The day may start off frigid and warm up by noon. It's smart to have a variety of accessories to be comfortable no matter what.
Even if you have a hood, I recommend also having a hat. This is where you can add some of your style, choosing a beanie in your favorite color or proclaiming your favorite message. I recently bought my husband a beanie from this Etsy shop that embroidered a custom design for me; this is a fun gift idea as well as a way to stay warm for the inauguration or any day. For Obama's inauguration, I wore a beret which looked stylish while also keeping me warm. Since you won't be moving a lot, you may also wish to pack a pair of ear warmers to wear with or without the hat and hood.
Even though it's winter, I highly recommend a pair of sunglasses for sun protection but also wind protection.
Gloves are a must; if it's super cold I like wearing a pair of thinner gloves like these and then have windproof mittens like these to slip over and take off when I need to grab something or use my phone.
For a scarf, consider a neck gaiter which will not only keep your neck warm, but also the bottom half of your face and ears and can be adjusted with one gloved hand.
Some face masks are warmer than others. I have the V4 Tom Bihn face mask and it is breathable, has a nose wire, neck cord, fits great but is made of flannel making it cozy without being claustrophobic. It's a great choice when you will be outdoors when it is cold so you can stay warm and still be able to breathe.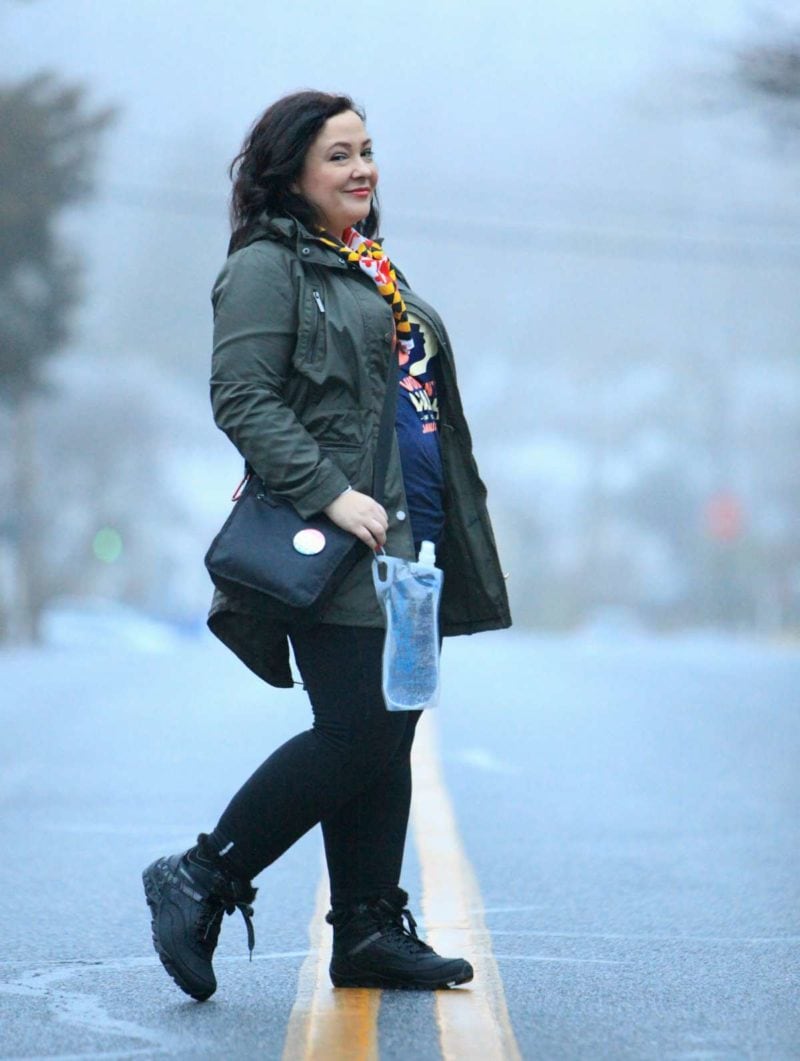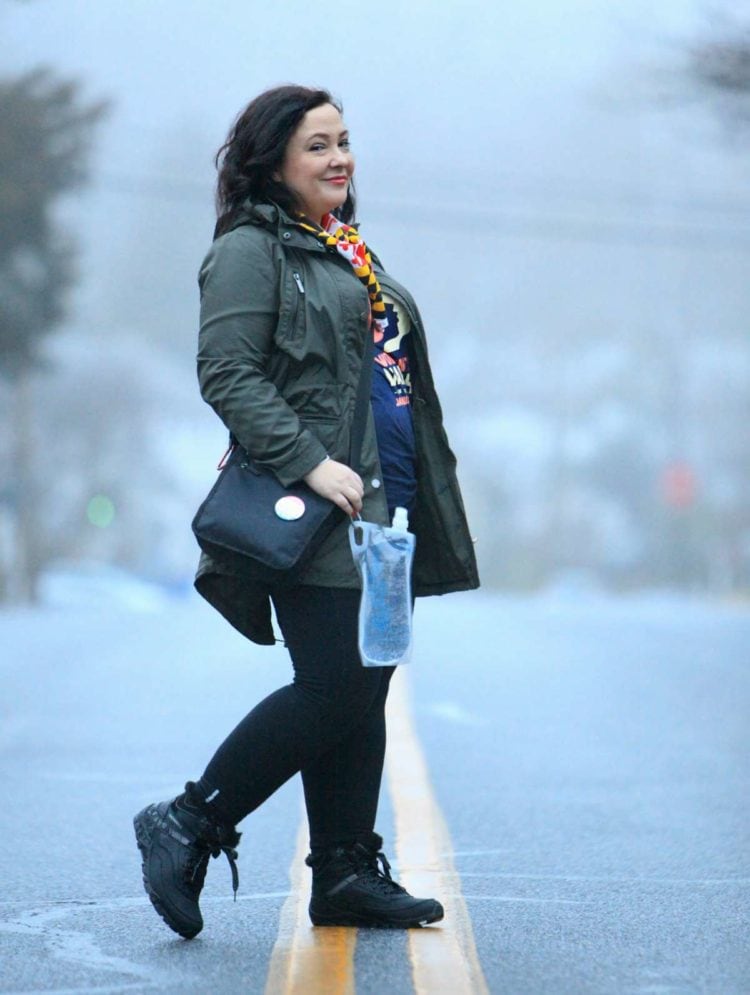 All parade and event attendees are subject to a thorough security screening before entering any of the Inaugural event sites. When I went to past inaugurations, security opened and thoroughly scanned the contents of every bag. Backpacks and duffle bags were not permitted. For the Women's March there were strict rules about the size of bags and that the bags had to be clear, but I was never checked. I think it makes sense to err on the side of caution and go with as small as a bag as you can for your essentials, and if you have a clear bag to use that. A perk, your clear bag is likely water resistant!
What Should I Pack for Inauguration Day?
Don't expect to find a seat, don't expect the ground to be dry enough to sit on, and while we're at it, don't think you can easily find a bathroom, cup of coffee, or even a bottle of water. The National Mall is a wide open space surrounded by museums and you have to walk beyond them to find restaurants, cafes, and shops. Port-a-potties will be set up, but that doesn't mean they will be anywhere near where you are standing. Be sure to pack for a long day away from creature comforts.
Water: I really like reusable water bags like these because they don't weigh a lot, can mold to a space, and roll up to almost nothing when empty. Use a carabiner and you can clip it to your bag or coat.
Snacks: Think of items that do well with gloves and on the go. Energy and snack bars are a smart choice, as are purees and energy gels in a squeeze pouch.
Personal Care Products: I recommend bringing a travel-sized pack of wet wipes. They can be used for the porta-potties but also for other cleanups during the day. One of those purse packs of tissues is also awesome, especially in cold runny nose weather. If you're having your period or want to be the BFF of someone who may have had theirs come earlier than expected, bring a couple of tampons or pads. If you have a nervous stomach, some Imodium AD may end up your BFF. Lip balm is smart especially in cold and windy weather, as are eye drops especially if you wear contacts.
In Case Of Products: Every time I go to an event like this I always pack a few safety pins, a bit of duct tape, a binder clip, and a bandana. These three things can accomplish a lot for repairs and makeshift tools or carrying items when away from home and aren't seen through security checks to be weapons.
Communication Essentials: Yes, you will bring your phone, but be sure it has a sturdy case that will protect it if it falls on the ground or into a puddle. Lack of WiFi and taking plenty of photos will deplete your battery super fast; be prepared with a battery pack. I have this one and this one and both have done me well for many hours and still have juice to share with someone else who is running on empty.
Personal Identification and Money: Bring your ID, your insurance cards and medical information, one credit or debit card, and $25-$40 in cash. If you don't have phone numbers memorized, consider a piece of paper or write on your arm the number of an emergency contact just in case your phone dies or gets lost. All money and IDs should be on your person, whether it's in a card case in an interior pocket, one of those neck wallets, or in a bag pinned to your bra. Leave everything else at home, the more you bring the more chance to have those items lost or stolen and it will just weigh you down.
A Paper Map: Especially if you are not familiar with DC, bring a paper map with you. You can't rely on cell service to get you around, especially if there will be a crowd, and trying to use GPS or search maps on your phone will drain your battery quick. If you don't want to carry a paper map, at least save some maps as photos on your phone so you can enlarge and get your way around town.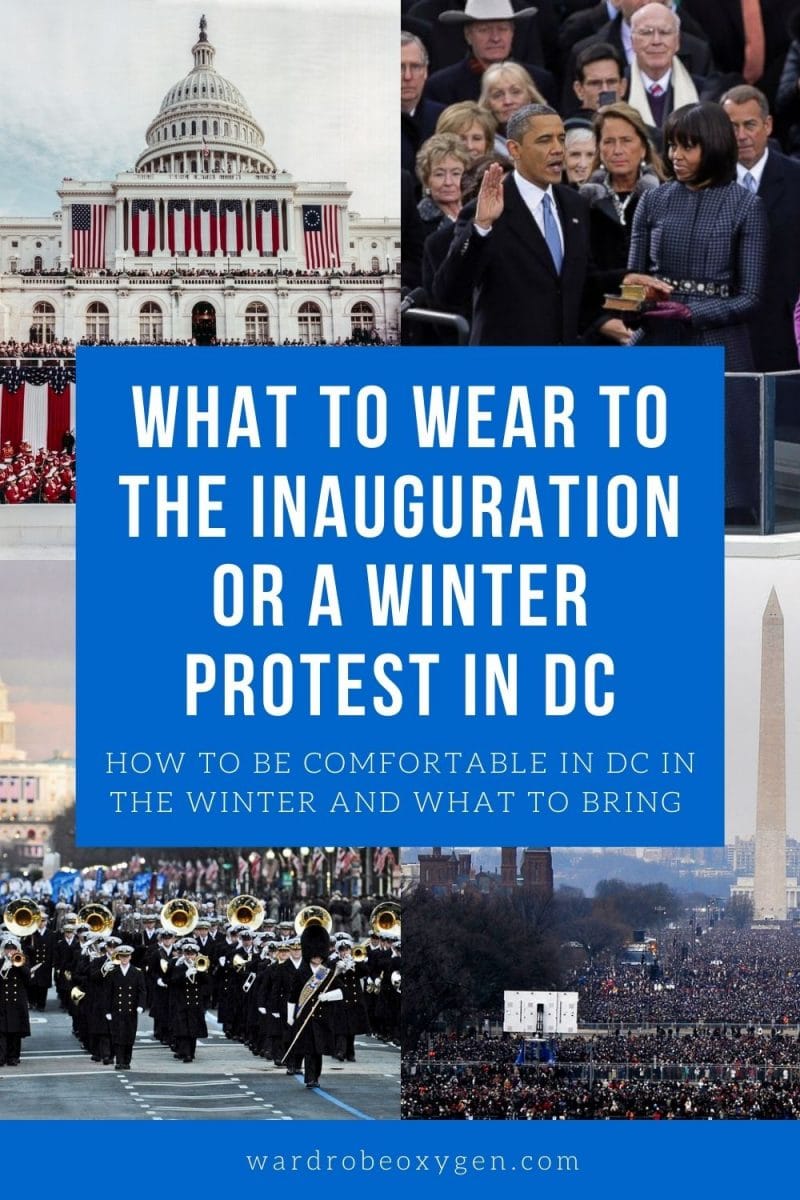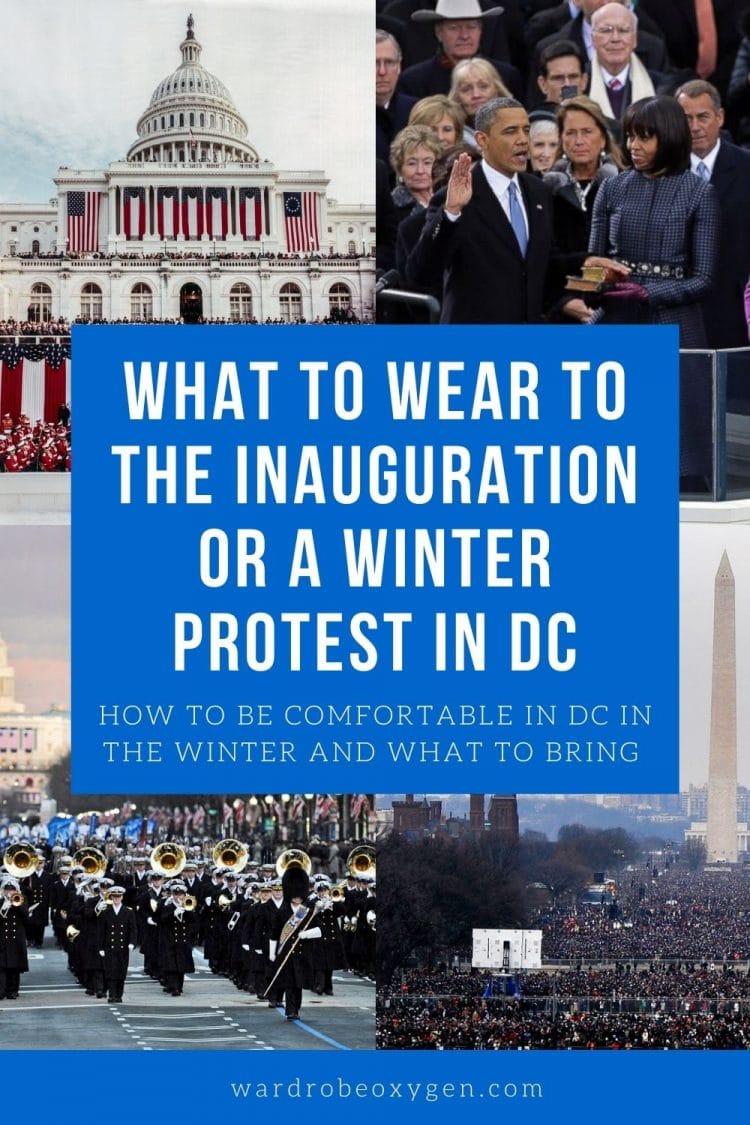 Gathering During Civil Unrest
The Presidental Inauguration is usually a day of celebration, but you cannot ensure this year will be similar in tone. Instead of treating this like a party, I would prepare as though you are going to a protest. Hope for the best but prepare for the worst. At the time of writing this there have already been paperwork submitted for five different protests to take place on the same day.
For the 2017 Women's March, I wrote what to wear to a protest march in the winter. This past summer, I updated the post to be helpful for protests any time of year. I recommend you review this post as well; some parts are repetitive but there is advice on how to keep you and others safe with these additional factors.
Again, I must stress that any president that cares for its people will not want them to risk their health and safety for a celebration. I am writing this before the transition has formally begun, and specific plans for the inauguration have not been shared. Please be safe, and please keep those around you, whether or not you know them or even agree with them, safe.