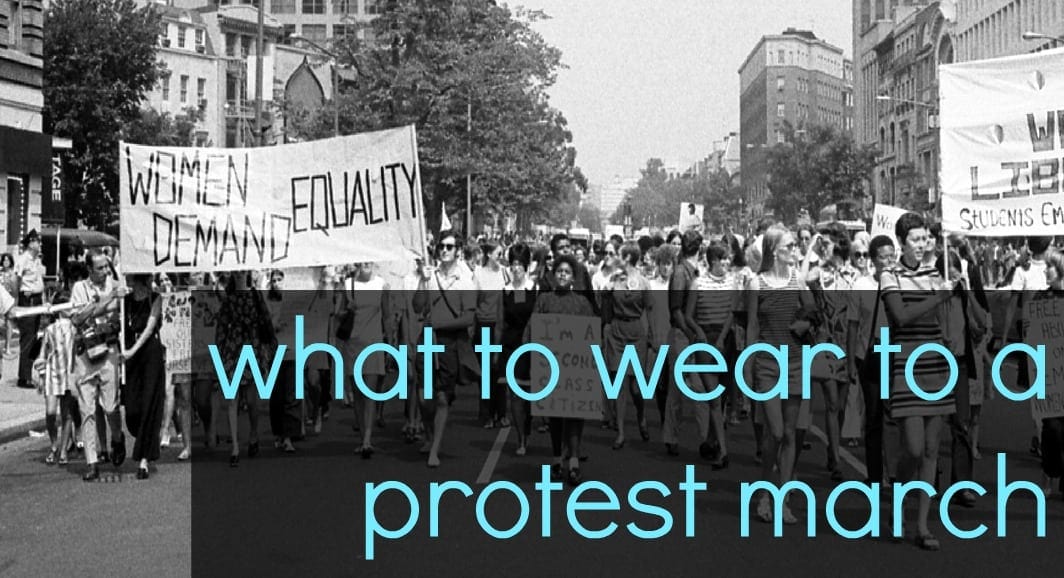 Thousands are expected to come to Washington DC on January 21st to march on the first day of incoming President Donald Trump's administration. As someone who lives in the area and attended rallies and inaugurations at this time of year I can tell you it's going to be cold, you're going to be on your feet for a long while, and basic necessities like bathrooms and bottled water are few and far between. What's a woman to wear when sending a message to the government that women's rights are human rights?
Update: The weather is now to be in the 50s and cloudy.  Most folks in this country should be familiar with such weather. Consider lightweight layers, a waterproof jacket, boots that can handle mud as it's supposed to rain the day prior.  Consider bringing a packable poncho (they often have these at big  box retailers, camping stores, and convenience stores near the umbrellas) in case the rain lingers.
What to Wear to a Protest March in the Winter
Feet First
You're going to be doing a lot of walking and a lot of standing. Depending on the weather, you may be doing it in snow, slush, or soggy muddy grass. A waterproof hiking boot is your best choice as it will provide arch support, warmth, a high profile to protect from splashes or puddles, and a fabric that will keep you dry even if you're in two inches of mud slush.  I recommend something like my well-loved Bogs 'Sidney' waterproof boots which have a solid waterproof rubberized base with a roomy toebox and is solid enough to protect my toes if someone accidentally steps on me in the crowd. The shaft is neoprene (some styles are waterproof wool) and insulated for warmth. This version of Bogs lace up so you can adjust to fit, and are easy to pull on and off. Other styles are straight pull-on. The sole is grippy enough to feel secure on the slick DC sidewalks, and they work slipped over skinny jeans or fleece leggings or slipped under bootcut or looser pants and jeans.
There's plenty of other boots out there that are perfect and may be even more perfect for the weather; just be sure to find one that has a grippy sole, insulation, arch support, a roomy toebox, waterproofing, and be sure to break them in and find them easy to move quickly in before the day of the march.
Keeping your feet warm, dry, and comfortable will be your best defense in surviving the day. I highly recommend adding a wool or shearling insole to your boots to add more comfort as well as warmth between you and the frozen sidewalks. I have shearling insoles and they are utterly awesome; these are a vegan alternative that also get great reviews. I've seen wool insoles on Etsy for just $10 that are great.  Wool socks will not only keep your feet warm, but also wick away sweat to keep you comfortable and help prevent blisters.
Have a Base Layer
I swear by Lands' End's Thermaskin collection. Their silk-like pieces are so thin they can slip under suiting pants and even leggings without feeling like the Michelin Man, yet keep you extremely warm. They also come in regular, petite, and plus sizes up to 3X. I recommend the pants and long-sleeved shirt for an event like this, though a tank or cami is great if you'll be moving more and just need to focus on keeping your core warm. Silk underwear accomplishes the same thing though at the time of posting I haven't been able to find a brand that carries a broad range of sizes; if you know of one please share in the comments.
The Coat Matters
Like your boots, I recommend something that is insulated, comfortable, and waterproof. While many have wool, for a protest march I recommend something that will repel water and has a hood. The weather is unexpected this time of year and you won't have a place to huddle under and an umbrella in a crowd is a bad idea. A longer coat will protect more, but be sure it's a length where it's easy to move around and move quickly. My Lands' End Squall Parka is over a decade old, has been on many adventures, and keeps on kicking. It's waterproof, has plenty of pockets, a hood that can go up without covering my eyes or taking away my peripheral vision, a neck that zips up to protect my throat without choking me, and the hand pockets are fleece lined so they're a nice place to keep your fingers between snaps on your phone. It comes in regular, petite, tall, plus, and petite plus up to 3X and has some lovely colors so you can stand out in a crowd while staying warm and dry. Their Squall Stadium Coat is a longer alternative with all the same great features. I personally like wearing a color so I'm easier for friends to find in a crowd if we get separated.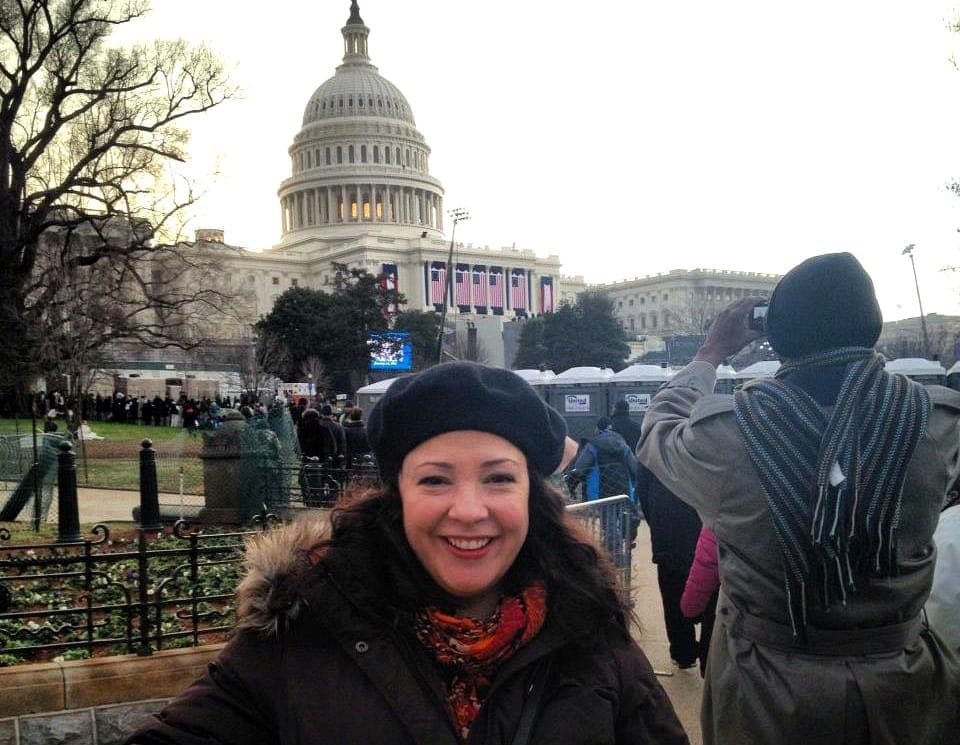 Time to Accessorize
Accessories are key. They can be stuffed in a pocket or bag when not in use, but can keep you extra warm and toasty when standing and waiting or if the wind picks up.
For hands, I like the combo of thinner touchscreen-friendly gloves and waterproof mittens to go over. A reader made a great suggestion – connect your mittens with a long piece of elastic and thread through your sleeves.  Remember doing this as a kid or for kids? Makes sense for adults too especially if you keep slipping them off to take pictures!
For the top half, I like using a mix of items instead of an all-in-one. A beanie (or knit one of these!), ear warmer/headband, scarf, and a pair of large lightweight sunglasses will give you options depending on the weather and whether you're walking, chanting, or standing and huddling to stay warm. For a scarf, I find a pashmina style to be the most versatile as it can wrap around the head, the throat, or be crossed across the body and tucked under the coat for extra core protection. Sunglasses will protect your eyes from the sun, wind, and anything else without restricting your vision or your complete identity.
Should I Bring a Bag to a Protest March?
Due to Security Considerations – D.C. Area Law Enforcement has enacted the following policy for the Women's March on Washington:
Please note all bags may be subject to search.
Backpacks are not permitted unless they are clear and no larger than 17″x12″x6″ (colored transparent bags are not permitted). Consider a ripstop fabric crossbody with a wide strap that won't dig into your shoulder.
Bags should be no larger than 8"x6"x4".
Specifically for people who would like to bring meals, each marcher is permitted one additional 12"x12"x6" plastic or gallon bag.  This Cross-body clear bag is the type approved for stadiums that have this same policy.  Many are taking gallon Ziploc bags and using duct tape to attach paracord or twine to make a tote.
For marchers who have medical needs or for mothers who need baby bags or breast pumps, one clear bag or backpack no larger than 17″x12″x6″ will be permitted and subject to search (colored transparent bags are not permitted).  This clear tote bag has sturdier plastic and a wider strap which will better accommodate the weight of pumps and baby gear yet is within the size limitations.
What Should I Pack for a Protest March?
Again I reiterate, bring as little as possible, but pack thinking you may be there longer than expected and with fewer facilities than expected. The basics:
Water: Bring water as it may be hard to find. I really like those reusable water bags, as they don't take up much space or weigh much once empty.  You can also use a bladder for backpacks like Camelbaks without the actual backpack. Don't expect stations to refill them though, bring enough for 12 hours – if you have too much you can share with others who didn't bring enough.
Snacks: Energy bars are the best as they don't take up much space, can be broken and shared with others, and can be eaten without having to remove your gloves.
Medications and Glasses: If you take medication, bring enough for a minimum of 12 hours even if you think you'll be there far less. Better safe than sorry. If you wear contacts, bring a backup pair of glasses and eye drops.
Personal Care Products: I recommend bringing a travel-sized pack of wet wipes. They can be used for the porta-potties but also for other cleanups during the day. One of those purse packs of tissues is also awesome, especially in cold runny nose weather. If you're having your period or want to be the BFF of someone who may have had theirs come earlier than expected, bring a couple tampons or pads. Again plan for 12 hours even though your day will likely be shorter. If you have a nervous stomach, some Immodium AD may be your BFF. I recommend bringing at least one clean bandana. It's not heavy, won't take up much space, and can prove quite useful for a face cover, washcloth, pouch to hold small items, head covering, and more.  Also bring lip balm – it's something that will make you more comfortable and help if you have to go a while without refilling your water.
Communication Essentials: If you don't have a sturdy phone case, this is a good time to get one. Also bring a battery pack to juice up your phone mid-day (or be the hero of a fellow protester). Business cards are great to share contact info with new friends made. Some paper or a notepad is also good to bring. I recommend a Sharpie as it can write on most anything, even if it's damp from rain or snow.
Personal Identification and Money: Bring your ID, your insurance cards and medical information, one credit or debit card, and $25-$40 in cash. If you don't have phone numbers memorized, consider a piece of paper or write on your arm the number of an emergency contact just in case your phone dies or gets lost. Along with a pre-filled Metro SmarTrip card (you do NOT want to have to add more money after the march – TRUST ME), download the Uber or Lyft app as a backup.  All money and IDs should be on your person. This is a time when that money belt or neck wallet your mom bought you before your first overseas trip will come in handy. Not only will this prevent pickpockets, it will keep your hands free and make it easy to move quickly.

If you haven't yet purchased a SmarTrip card, I recommend getting one before the day of the march.  This link shows all the CVS store locations that sell SmarTrip passes.  If you can't visit one, consider stopping by a Metro station Friday afternoon or evening and buying one.

AFTER THE MARCH: If you no longer need your SmarTrip card, consider mailing it to Martha's Table.  It costs $2 to get a new SmarTrip Card; Martha's Table will be donating leftover cards to women in need at DC shelters.  Click here for the address.  Consider collecting them on your rally bus, Amtrak, or at your hotel. $2 x 200,00 marchers is a whole lot of help #MarchCards.

Especially if you are not familiar with DC, bring a paper map with you.  With so many people, you can't rely on cell service to get you around.  Trying to get basics like a map on your phone will drain your battery quick; if you don't want to carry a paper map at least save some maps as photos in your phone so you can enlarge and get your way around town.  For those who are locals, we have a duty to help fellow protesters who look lost or confused.

If you have room, a bit of duct tape can prove quite useful for making signs on the spot, helping out a fellow protester with a broken bag, and other unexpected situations.
If you are unable to stand for long periods of time, I recommend bringing something like a cane seat even if you don't normally use such a thing.  With some bungee cords you can even strap it to your backpack when not in use.
What if There's No Cell Service?
Don't expect to have reliable cell service at the Women's March.  With so many people, the cell towers will be struggling and you can easily deplete your battery just trying to send a single text.  Many march delegates are using FireChat, and I recommend everyone download it to their phones before the day of the March.  FireChat lets you text without cell service or data.  Click here to read more about FireChat.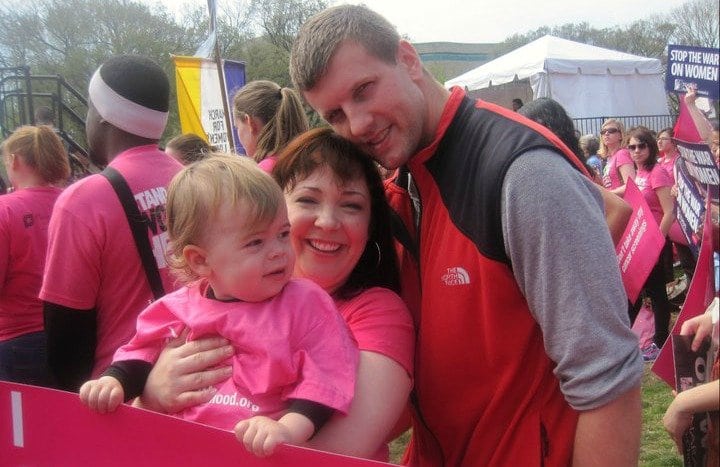 What Not to Bring to a Protest March
While a march is a time to connect with like-minded individuals to hopefully make positive change, it is a serious event and not a music festival. Feel free to dress in the color associated with the event, wear clothing and accessories relevant to the cause, and bring signs. However, leave at home the glow sticks, goofy hats and glasses, the tutus and fairy wings.  Along with this, a protest march is not a place for drugs or alcohol.  Do not bring anything that could be considered a weapon. That includes your tiny Swiss Army knife on your keychain.  It also includes signage with handles like wooden sticks. Keep your jewelry and expensive items at home.
Should I Bring My Child to a Protest March?
As for children, you as the parent know best.  If it's one where there's a good chance for arrests and violence I'd keep them home.  I've been to several protest marches and rallies over my lifetime and taken my child when she was little; the biggest issue I've faced was the lack of bathrooms.  Many have written about this subject, here's some links that can prove helpful:
FAQ Regarding Transportation: From Buses to March
I've had a few of you from out of town email me regarding how to get around DC for this march.  I don't live in DC proper but have lived in the area almost all my life and worked downtown for many years.  Please check the comments for additional information, and also check in with your local Facebook page for the most up-to-date information and data relevant to your location and bus.
From what I have heard from those taking buses to DC, rally buses will park at RFK Stadium Lot, and buses will remain exactly where you leave them for your return trip. The Stadium Armory Metro Station serves RFK and is located 4 stops away from Federal Center Station (March starting point). The Women's March will begin at Independence Avenue and 3rd Street SW, in front of the Capitol.  Some groups are planning to meet at Hancock Park.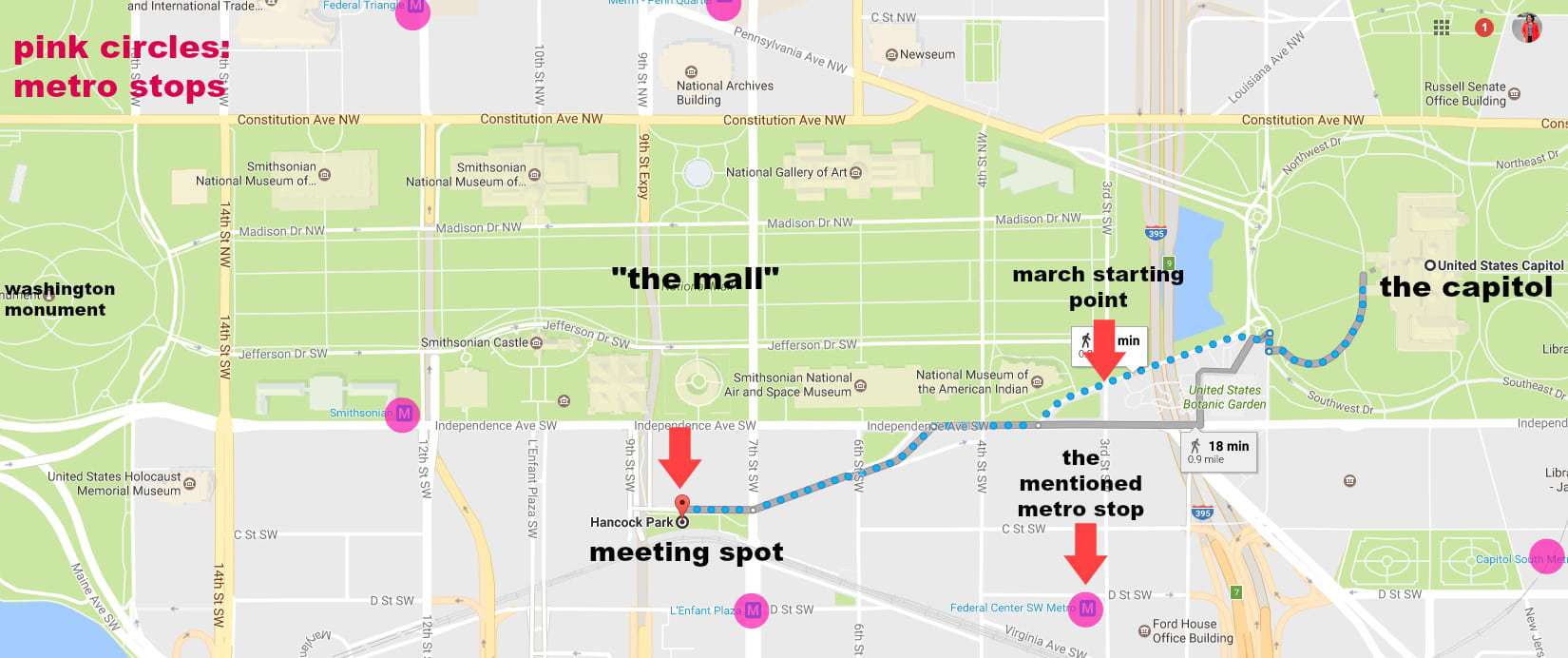 This is a map I made for a reader, and wanted to share with you all.  It's not awesome, but I hope this puts all these places into perspective.  A great thing about DC is it's a grid, so no wonky wavy streets to confuse you.  Right click the map and choose to open in another tab or window to see it larger.  You should be able to right click to save to your computer.  I made this with Google Maps.  If you enter any of the landmarks (RFK, Hancock Park, The US Capitol, Federal Center Metro, etc.) you can create directions and choose walking as the transportation option to see your route and what is around you.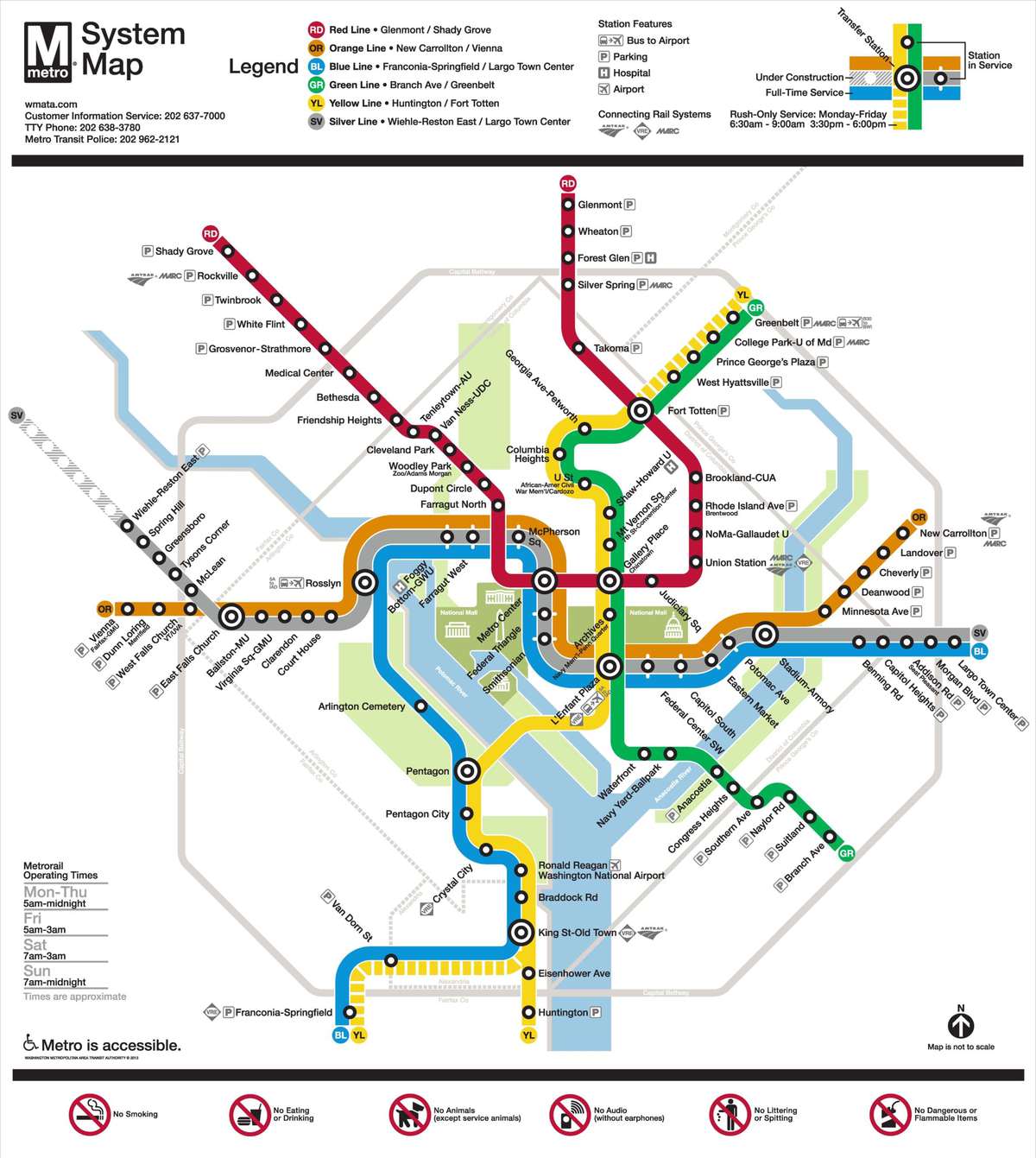 This is a map of the DC Metro system.  Again, right click to see it bigger and to save to your computer or click here for a full-color PDF.  I've lived here forever and live right near a Metro spot yet I still have this saved as a photo on my phone for regular reference.  Those "bullseye" stations on the map are where you can change lines.  When leaving the march, don't expect to be able to get back into the same station you came out of.  Don't worry, if your bus is at RFK, just take any line that will go to Metro Center or L'Enfant Plaza, and then take EITHER the Orange line towards New Carrolton OR the Blue or Silver line towards Largo Town Center.  ALL THREE will go to Stadium Armory and return to you to the buses.
PLEASE get a Metro SmarTrip card BEFORE your trip (links above).  The Metro stations get utterly crazy just for a Nationals baseball game, the 21st is going to be pandemonium.  Be prepared with a card.  Do note, you can't share your card with another.  If you scan to enter a metro station, it will only let you scan to get out, not have another come in.  If you are a local with extra cards, consider bringing them to be charitable to those unprepared or who lost theirs at the march.
Don't be afraid to ask for help.  We DC locals are used to tourists.  We may grumble when you stand in the middle of the escalator or block a door to the Metro, but we want to help you get to your destination.  Unlike some cities, it's okay to whip out a map to get your bearings and confirm your location.  You may find others on the train more helpful and knowledgeable than station managers or Metro staff.  Don't be shy or too proud to ask for help and get to where you need to be.
Don't assume there's a bathroom at the Metro station.  While there technically is, and you have the right to use it, don't expect access especially on the 21st.  If you find a porta-potty, take advantage.  And take Clorox wipes and a bit of TP in a Ziploc baggie.
Be prepared to walk.  The Metro may be so overwhelmed it's not usable.  I know when leaving Obama's second inauguration we couldn't access any stations at all they were all overloaded. We ended up walking a mile away from the Mall to where it wasn't packed so we could get home.
Don't expect to have cell service.  With so many people in one spot, it's quite likely your texts and calls won't always go through.  Have a designated meet up spot and time (and not be something popular or generic like The Washington Monument; choose a smaller location like a cafe or street corner away from the crowd).  Also consider downloading and using FireChat to communicate without cell service.
Where To Go to Rest/Eat/Use the Bathroom
This Google Doc is constantly being updated with places that are Welcome Stations and safe places the day of the march.  Consider printing this Friday, so it's as up to date as possible.  Below is a map of places that will have Welcome Stations; click it to see it larger or to open up in Google Maps on your phone. This map is also constantly being updated.  Also from 8:30-4 the Woolly Mammoth Theater Company at 641 D Street NW is offering bathrooms, hot drinks and snacks to March attendees.  All In Service is a DC-wide industry fundraising event the weekend of January 20-22. Participating bars, restaurants, and coffeeshops in the DMV area will donate funds to organizations that service the DC community.  Click this link to find out more about what charities are being supported and what establishments are part of this campaign.
FAQ Regarding the Women's March
FAQ Regarding the Content of this Post
I am a blogger by profession.  Links within this post are affiliate links; if you click on them I may make a small commission if you make a purchase.  If you do not wish to click on them, I think I provided enough information for you to find on your own; feel free to ask questions or offer alternative retailers in the comments.  Also check the comments where many readers have offered cheaper or thrifted options!
I didn't write this post to be a money maker; any money I am making from affiliate links past the average amount I make from writing any post on this blog I am donating to the march.  I already donated multiple times since publishing this and will do more through the coming month.  Once the march is over, any income made from this post will go to other nonprofit organizations that defend women's rights.
Some have questions my choice to link to Lands' End considering what happened earlier this year with them pulling the Gloria Steinem piece and her ERA tote.  When that happened I stopped featuring Lands' End on my blog.  However, the CEO who made those decisions has been outed from the company. I believe in voting with my wallet and respect that so many of you do as well.  If you still do not wish to support Lands' End I respect that and there's many other outerwear retailers out there who provide high quality merchandise perfect for this situation.  I have chosen to give Lands' End the benefit of the doubt with this corporate change and appreciate their extended size range, generous return policy, and reasonable prices.
Save