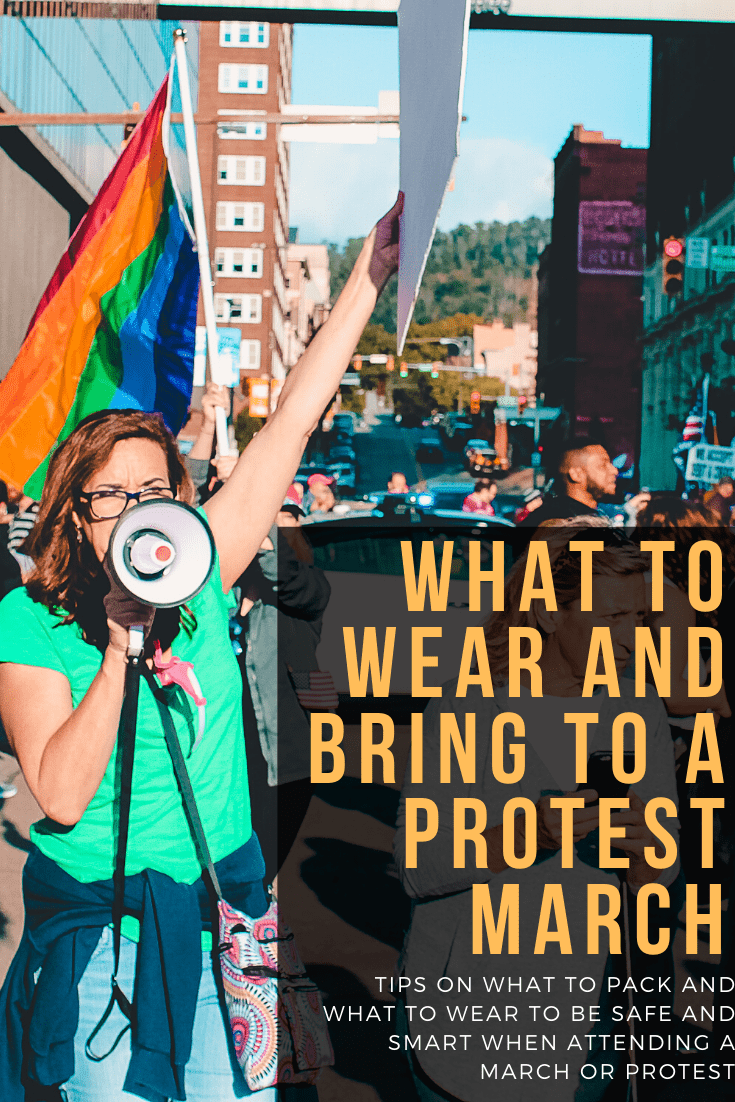 This post was originally written in December 2016 in preparation for the first Women's March. Since then, we as Americans have had several reasons to continue marching and protesting. I have since updated this post to be a valuable resource for anyone who is attending a protest march in winter or during cold months. Some of the part of this post, such as what to take to a protest march and what to pack for a protest march I think would prove useful no matter the time of year. If you have additional resources or tips, please share them in the comments so this can be a useful destination for all.
Thousands are expected to come to Washington DC on January 21st to march on the first day of incoming President Donald Trump's administration. As someone who lives in the area and attended rallies and inaugurations at this time of year I can tell you it's going to be cold, you're going to be on your feet for a long while, and basic necessities like bathrooms and bottled water are few and far between. What's a woman to wear when sending a message to the government that women's rights are human rights?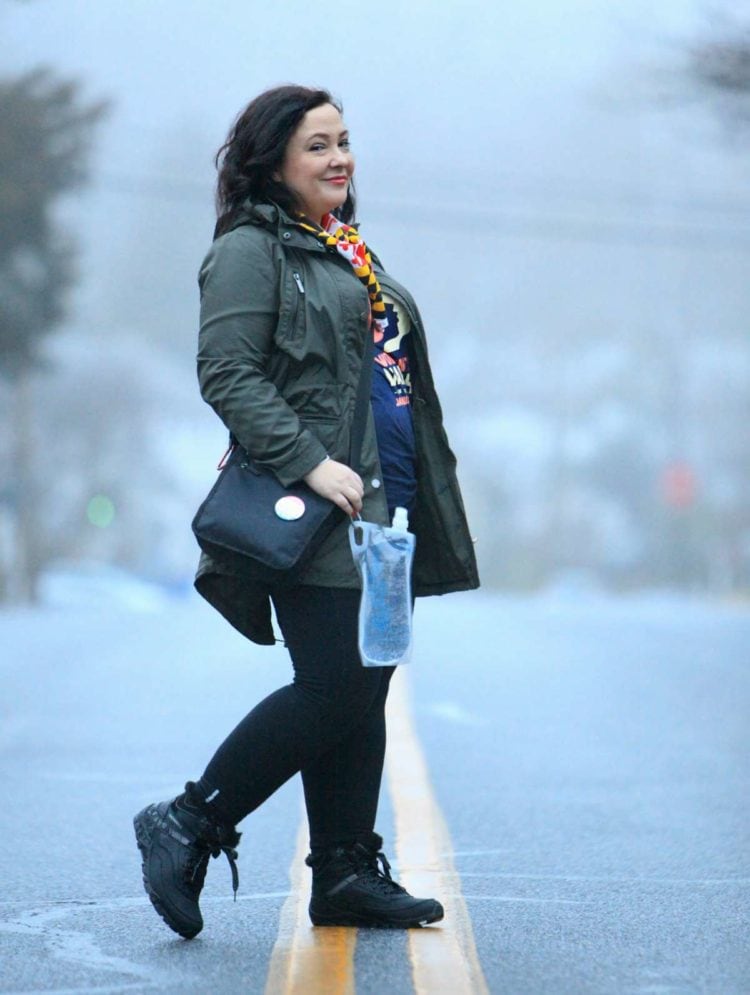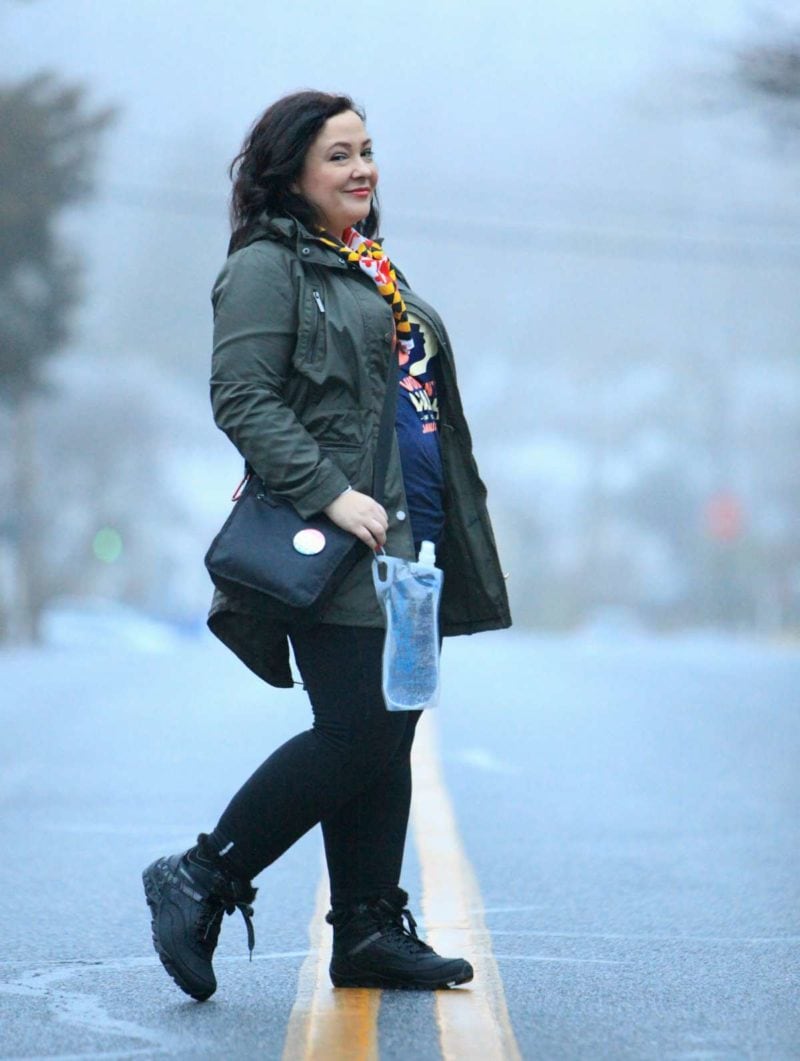 What to Wear to a Protest March in Winter
Feet First
You're going to be doing a lot of walking and a lot of standing. A waterproof hiking boot is a great choice as it will provide arch support, warmth, a high profile to protect from splashes or puddles, and a fabric that will keep you dry even if you're in two inches of mud slush. For the Women's March, I wore my Merrell winter boots that have Vibram® Arctic Grip™ outsoles for traction on wet ice. They kept my feet warm, dry, and comfortable.
If you are wearing traditional boots or sneakers, I highly recommend adding a wool or shearling insole to add more comfort as well as warmth between you and the frozen sidewalks. I have shearling insoles and they are utterly awesome; these are a vegan alternative that also get great reviews. I've seen wool insoles on Etsy for just $10 that are great. Wool socks will not only keep your feet warm, but also wick away sweat to keep you comfortable and help prevent blisters.
Have a Base Layer
I swear by Lands' End's Thermaskin collection. Their silk-like pieces are so thin they can slip under suiting pants and even leggings without feeling like the Michelin Man, yet keep you extremely warm. They also come in regular, petite, and plus sizes up to 3X. I recommend the pants and long-sleeved shirt for an event like this, though a tank or cami is great if you'll be moving more and just need to focus on keeping your core warm. Silk underwear accomplishes the same thing though at the time of posting I haven't been able to find a brand that carries a broad range of sizes; if you know of one please share in the comments.
The Coat Matters
Like your boots, I recommend something that is insulated, comfortable, and waterproof. While many have wool, for a protest march I recommend something that will repel water and has a hood. The weather is unexpected this time of year and you won't have a place to huddle under and an umbrella in a crowd is a bad idea. A longer coat will protect more, but be sure it's a length where it's easy to move around and move quickly. My Lands' End Squall Parka is over a decade old, has been on many adventures, and keeps on kicking. It's waterproof, has plenty of pockets, a hood that can go up without covering my eyes or taking away my peripheral vision, a neck that zips up to protect my throat without choking me, and the hand pockets are fleece lined so they're a nice place to keep your fingers between snaps on your phone. It comes in regular, petite, tall, plus, and petite plus up to 3X and has some lovely colors so you can stand out in a crowd while staying warm and dry. Their Squall Stadium Coat is a longer alternative with all the same great features. I personally like wearing a color so I'm easier for friends to find in a crowd if we get separated.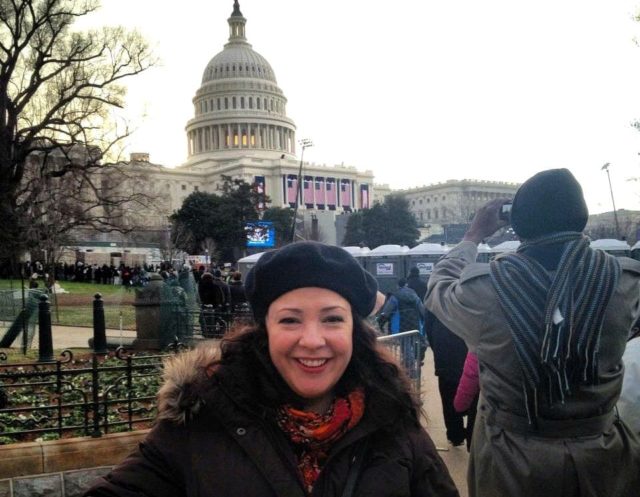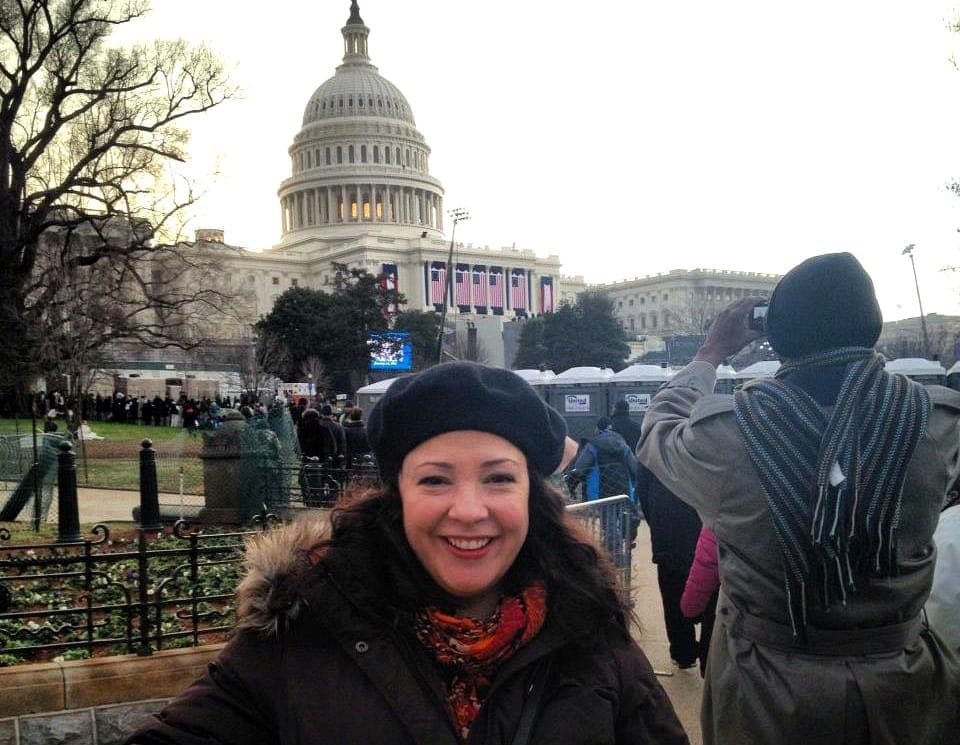 Time to Accessorize
Accessories are key. They can be stuffed in a pocket or bag when not in use, but can keep you extra warm and toasty when standing and waiting or if the wind picks up.
For hands, I like the combo of thinner touchscreen-friendly gloves and waterproof mittens to go over. A reader made a great suggestion – connect your mittens with a long piece of elastic and thread through your sleeves. Remember doing this as a kid or for kids? Makes sense for adults too especially if you keep slipping them off to take pictures!
For the top half, I like using a mix of items instead of an all-in-one. A beanie (or knit one of these!), ear warmer/headband, scarf, and a pair of large lightweight sunglasses will give you options depending on the weather and whether you're walking, chanting, or standing and huddling to stay warm. For a scarf, I find a pashmina style to be the most versatile as it can wrap around the head, the throat, or be crossed across the body and tucked under the coat for extra core protection. Sunglasses will protect your eyes from the sun, wind, and anything else without restricting your vision or your complete identity.
What to Bring to a Protest March
Should I Bring a Bag to a Protest March?
Due to Security Considerations – D.C. Area Law Enforcement has enacted the following policy for the Women's March on Washington:
Please note all bags may be subject to search.
Backpacks are not permitted unless they are clear and no larger than 17″x12″x6″ (colored transparent bags are not permitted). Consider a ripstop fabric crossbody with a wide strap that won't dig into your shoulder.
Bags should be no larger than 8"x6"x4".
Specifically for people who would like to bring meals, each marcher is permitted one additional 12"x12"x6" plastic or gallon bag. This Cross-body clear bag is the type approved for stadiums that have this same policy. Many are taking gallon Ziploc bags and using duct tape to attach paracord or twine to make a tote.
For marchers who have medical needs or for mothers who need baby bags or breast pumps, one clear bag or backpack no larger than 17″x12″x6″ will be permitted and subject to search (colored transparent bags are not permitted). This clear tote bag has sturdier plastic and a wider strap which will better accommodate the weight of pumps and baby gear yet is within the size limitations.
Once at the Women's March, I found no one checking bags. I ended up carrying a black nylon crossbody that was within the size range. It has a wide strap that wouldn't be easy to break and remained comfortable all day. A fanny pack or hip bag is a great alternative to hold your essentials while keeping your hands free. Both types of bags can slip under your coat to remain safe and out of the way.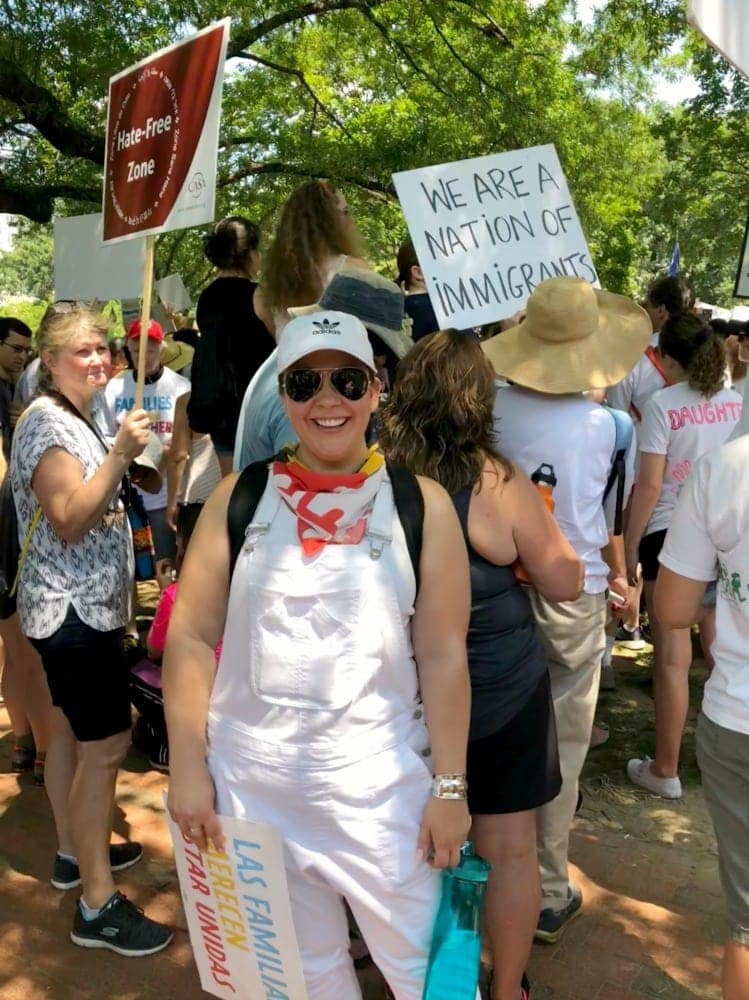 What Should I Pack for a Protest March?
Again I reiterate, bring as little as possible, but pack thinking you may be there longer than expected and with fewer facilities than expected. The basics:
Water: Bring water as it may be hard to find. I really like those reusable water bags, as they don't take up much space or weigh much once empty. You can also use a bladder for backpacks like Camelbaks without the actual backpack. Bring enough for 12 hours – if you have too much you can share with others who didn't bring enough.
Snacks: Energy bars are the best as they don't take up much space, can be broken and shared with others, and can be eaten without having to remove your gloves.
Medications and Glasses: If you take medication, bring enough for a minimum of 12 hours even if you think you'll be there for far less. Better safe than sorry. If you wear contacts, bring a backup pair of glasses and eye drops.
Personal Care Products: I recommend bringing a travel-sized pack of wet wipes. They can be used for the porta-potties but also for other cleanups during the day. One of those purse packs of tissues is also awesome, especially in cold runny nose weather. If you're having your period or want to be the BFF of someone who may have had theirs come earlier than expected, bring a couple tampons or pads. Again plan for 12 hours even though your day will likely be shorter. If you have a nervous stomach, some Immodium AD may be your BFF. I recommend bringing at least one clean bandana. It's not heavy, won't take up much space, and can prove quite useful for a face cover, washcloth, pouch to hold small items, head covering, and more. Also bring lip balm – it's something that will make you more comfortable and help if you have to go a while without refilling your water.
Communication Essentials: If you don't have a sturdy phone case, this is a good time to get one. Also bring a battery pack to juice up your phone mid-day (or be the hero of a fellow protester). Business cards are great to share contact info with new friends made. Some paper or a notepad is also good to bring. I recommend a Sharpie as it can write on most anything, even if it's damp from rain or snow.
Personal Identification and Money: Bring your ID, your insurance cards and medical information, one credit or debit card, and $25-$40 in cash. If you don't have phone numbers memorized, consider a piece of paper or write on your arm the number of an emergency contact just in case your phone dies or gets lost. All money and IDs should be on your person. This is a time when that money belt or neck wallet your mom bought you before your first overseas trip will come in handy. Not only will this prevent pickpockets, it will keep your hands free and make it easy to move quickly.
A Paper Map: Especially if you are not familiar with DC, bring a paper map with you. With so many people, you can't rely on cell service to get you around. Trying to get basics like a map on your phone will drain your battery quick; if you don't want to carry a paper map at least save some maps as photos in your phone so you can enlarge and get your way around town. For those who are locals, we have a duty to help fellow protesters who look lost or confused.
If you have room, a bit of duct tape can prove quite useful for making signs on the spot, helping out a fellow protester with a broken bag, and other unexpected situations.

What Do I Need to Be Safe at a Protest?
I am updating this post in 2020 where Americans are experiencing violence when peacefully protesting. It is important to be prepared to protect yourself and your loved ones while exercising your right to protest.
Wear Unidentifyable Clothing to Cover Yourself. Your clothing can protect your skin from pepper spray, so choose long pants, long sleeves, and a jacket or shirt with a hood. Choose clothing that isn't memorable; dark solid colors, no logos, and clothing that can cover identifiable features such as tattoos.
Pick Shoes You Can Run In. My original post is assuming a lot of walking and standing; current protests are not as controlled and you need to be able to escape quickly. Sneakers or broken-in boots are your best bet.
Emergency Contact Information. Let three individuals who are not joining you know where you are going, when you are going, and when you plan to be back. Ensure they will answer the phone if you need to call. Memorize their phone numbers or write them with a Sharpie onto your arm.
Bring Eye Protection. Safety goggles aren't expensive, can be found at most home improvement stores, and will protect your eyes from pepper spray, tear gas, and debris. If you can afford it, bring extra pairs to pass out to other protestors. If possible, choose to not wear contacts and use your glasses. Do not wear eye makeup, as it can make the situation worse if you experience pepper spray or tear gas.
Bring a Mask. The pandemic is still happening, but you also want to protect your identity as well as your face from tear gas and pepper spray. Along with a traditional mask, consider bringing at least one bandana which can be used as a bandage, moistened to clean skin, and much more. Please note, wetting a bandana or mask is not proven to help in situations of gas and spray; keep them dry unless you're using it for hygiene or cleaning an injury.
Prepare Your Phone. Turn off BlueTooth, go into Airplane Mode, and turn off your fingerprint or Face ID feature. This article from Wired delves into the reasons you need to secure your phone during a protest and why you may be better off leaving it at home. If you are using your phone to document the event, do not take any photos of protesters' faces to protect their identity.
Have a Meet-Up Point. There is a good chance you will be separated from your group and any location within the area of the protest may be blocked off. Together choose a location far enough away from the protest area to meet up at the end of the night.
If you Need a Bag, Make it a Backpack. You may have to run, crouch down, and hide in places. This will be easiest with a slim backpack carrying only the essentials.
What Not to Bring to a Protest March
Do not bring anything that could be considered a weapon. That includes your tiny Swiss Army knife on your keychain. It also includes signage with handles like wooden sticks that police could claim is a weapon. Along with this, a protest march is not a place for drugs or alcohol. Keep your jewelry and expensive items at home.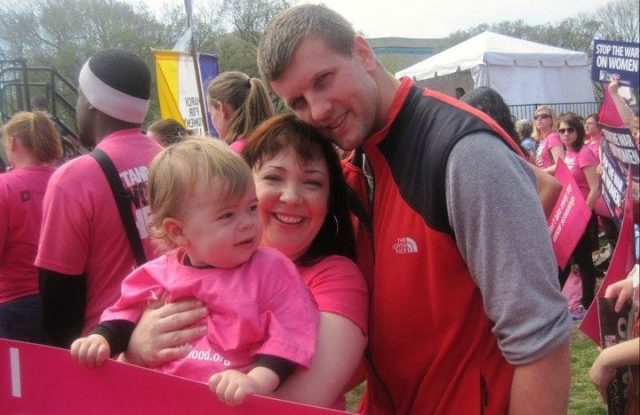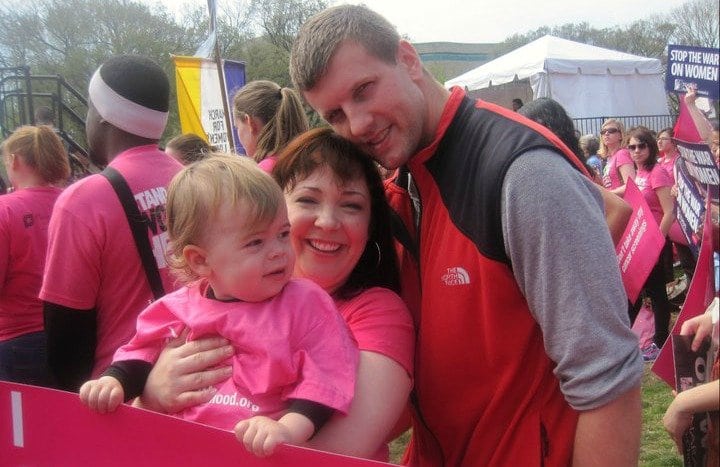 Should I Bring My Child to a Protest March?
As for children, you as the parent know best. If it's one where there's a good chance for arrests and violence I'd keep them home. This is not a time for a photo op, you could risk the health and safety of your child. Small lungs are more impacted by tear gas and pepper spray and there is a great chance you will have to run to escape a dangerous situation. Many have written about this subject, here are some links that can prove helpful:
FAQ Regarding the Content of this Post
I am a blogger by profession. Links within this post are affiliate links; if you click on them and make a purchase, I may make a small commission if you make a purchase. Please click on this link to understand how blogs and webstites make money. If you do not wish to click on them, I think I provided enough information for you to find on your own; feel free to ask questions or offer alternative retailers in the comments. Also check the comments where many readers have offered cheaper or thrifted options! I didn't write this post to be a money maker; any money I am making from affiliate links past the average amount I make from writing any post on this blog I donated. In 2016 thanks to this blog post, I was able to donate $1,356 to the Women's March, ACLU, and Planned Parenthood. I have donated over $2,000 since 2016 to the ACLU from affiliate revenue made from this blog post and I will continue to donate any income from this post to organizations that protect our right to protest.
Save