This article may contain affiliate links; if you click on a shopping link and make a purchase I may receive a commission. As an Amazon Associate, I earn from qualifying purchases.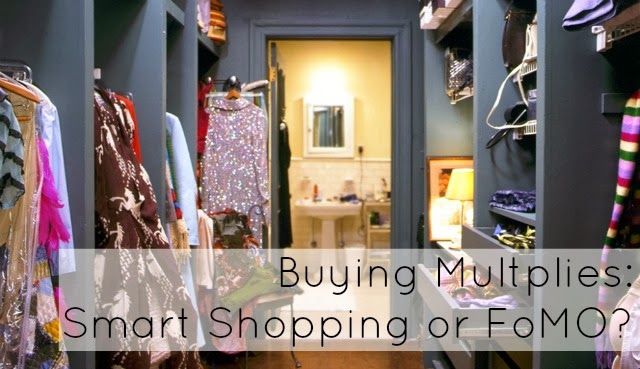 Yesterday I shared a piece titled, The FoMO Closet and many of you said that purchasing multiples is what you do, and it works for you. I read your emails, your comments, and your discussion on message boards. And I hear you loud and clear. I too purchase multiples. If something is perfect, it makes sense to buy a backup or make it a signature silhouette.
The FoMO Closet is more about the woman who has 12 of the same collarless jacket in different fabrics and colors because she feels it elongates her neck. She keeps buying them, even if the shoulders don't fit correctly or the sleeves too short or the fabric too stiff because she knows she looks good in a collarless jacket and she fears that they will soon go out of style and not be available anywhere. That not quite right is better than none at all.

The FoMO Closet is about the woman who had a stylist tell her a decade ago that she should wear bootcut pants because they balance out her hips. Now, all she has in her wardrobe are bootcut pants – bootcut jeans, bootcut trousers, even silk bootcut pants to match her tux-inspired jacket for evening affairs. Some are too short, some are a size too small just in case she loses weight, some are in colors that don't go with anything else in the closet but were an amazing low clearance price. Since that closet inventory, she has never tried any trousers that aren't bootcut, and therefore has not tried any styles of shoes that don't work with bootcut pants.
The FoMO Closet is about the woman who loves the look of a knee-length sheath dress with a draped neckline. It makes her feel sophisticated, lean, elegant. Any time she finds a dress with the right neckline, she buys it and now has over 10 drape-neck sheaths in her closet. Black crepe for cocktail parties, mauve silk for a day wedding, plum silk for an evening wedding, gray tweed for work, even dark red velvet for the holidays. Some gape at the armholes, some hit at a weird length on the leg, and one doesn't have a kick pleat so it's tough to walk in it, but it's a style that is flattering and versatile so she grabs them any time they are available. She can just wear a minimizer, higher heels, or wear it to a seated event, right?
The FoMO Closet isn't about the woman who has five of the same perfect U-neck tee shirts that aren't cap sleeve but don't hit right at the bustline and are long enough to tuck in but not tunic length and aren't transparent and wash beautifully. It's not about the woman who has the same Levi's jeans in dark wash, distressed wash, black, dark red, and a longer dark wash to wear with heels. It's not about the woman who loves a certain shoe from Cole Haan and bought a second pair in black when it went on sale to keep in reserve when her current pair kicks the bucket. There's a difference between being smart and purchasing multiples, and creating a FoMO closet out of fear and frustration.
I love the Gap Real Straight jeans. I have them in dark wash in a length that works with flats, one that works with heels, and then a distressed pair for weekends and when I want to channel Lita Ford. The Nine West "Flax" pump is my jam – walkable heel height, pointed toe, single sole, elegant look. I have them in a peacock print, silver, leopard pony hair, and likely will buy them in nude and black within the year. And then Old Navy's Vintage V-neck is perfection at a beautiful pricepoint. I have it in light gray, charcoal, black, pink, white, heathered blue and heathered navy. And yes, I have a white and a light gray still in plastic waiting for when my current ones get too worn looking to wear. I believe in buying multiples when it makes sense, but I don't believe in hoarding not quite right pieces out of fear and frustration.
When the Old Navy Vintage V-neck is discontinued and my last one gets a hole in it from being laundered one too many times, I will be sad but I will move on. Things happen for a reason, and sometimes fate is telling you it's time to branch out and reassess your personal style. When you wear the same exact style or silhouette day after day for years you no longer see your personal style and can't get a true gauge of yourself and how you look. Brands like Lands' End and J. Crew will have classics – pieces they bring back year after year in different colors and sometimes different fabrics. But even these brands eventually retire these pieces when they are no longer seen as classic and found dated.
I remember when my mom had a FoMO moment. For years she wore a shimmery soft pink lipstick with a blue undertone. One day, the lipstick was discontinued. She kept buying lipstick after lipstick, frustrated that she couldn't find a proper replacement. Eventually moved on, and with that move tried different products and applications for the rest of her face. The loss of her trademark lipstick forced her to break out of her beauty rut and helped her find a new fresh look.
You know yourself best, and only you know if that merino sweater is such perfection that it deserves a twin or even a triplet. But don't let your closet hold you back from growing and improving and finding the current you. Shop smart, shop thoughtfully, and keep an open mind; you may find a new silhouette or color that better defines who you are today!
Follow Me | Twitter | Facebook | Instagram