This article may contain affiliate links; if you click on a shopping link and make a purchase I may receive a commission. As an Amazon Associate, I earn from qualifying purchases.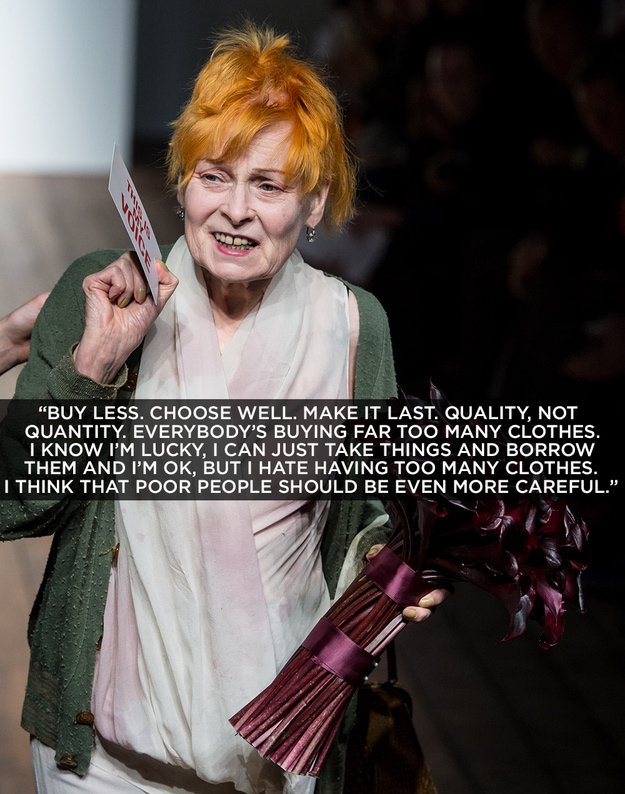 I mean really, those of us who don't have the money to go willy-nilly in Bergdorf's SHOULD be more cautious. We're bombarded with utter crap at lower pricepoints – cheap scratchy cotton, irregular cuts, tacky replicas of runway looks, shiny transparent polyester frocks, and sweaty glued-together plastic shoes. When you have money, you can buy more expensive pieces, higher end brands, and are more likely to find better quality materials and craftsmanship.
I don't think Westwood is telling poor people to stop shopping. She's just saying what anyone who writes about personal style says – choose quality over quantity.
Quality can be found at every pricepoint if you shop carefully. Don't buy to buy, don't "make it work," don't believe that a few extra buckles and baubles will make a garment look more expensive. Shop outside your retail comfort zone, consider thrift and consignment shops, troll eBay and Etsy, realize the sale rack at a pricier shop may have pieces the same price as full-price at a lower end store. And understand that style doesn't come from how much you have, but the quality of what you have.

Update: I want to clarify the use of the word poor. To Westwood, I think she means anyone who cannot afford designer clothing. I used it in the same manner. I am not, and I doubt Westwood is judging the sartorial choices of those who are below the poverty level. It wasn't necessarily the best word choice for her but that doesn't discredit what she is trying to say.
Follow Me | Twitter | Facebook | Instagram