This article may contain affiliate links; if you click on a shopping link and make a purchase I may receive a commission. As an Amazon Associate, I earn from qualifying purchases.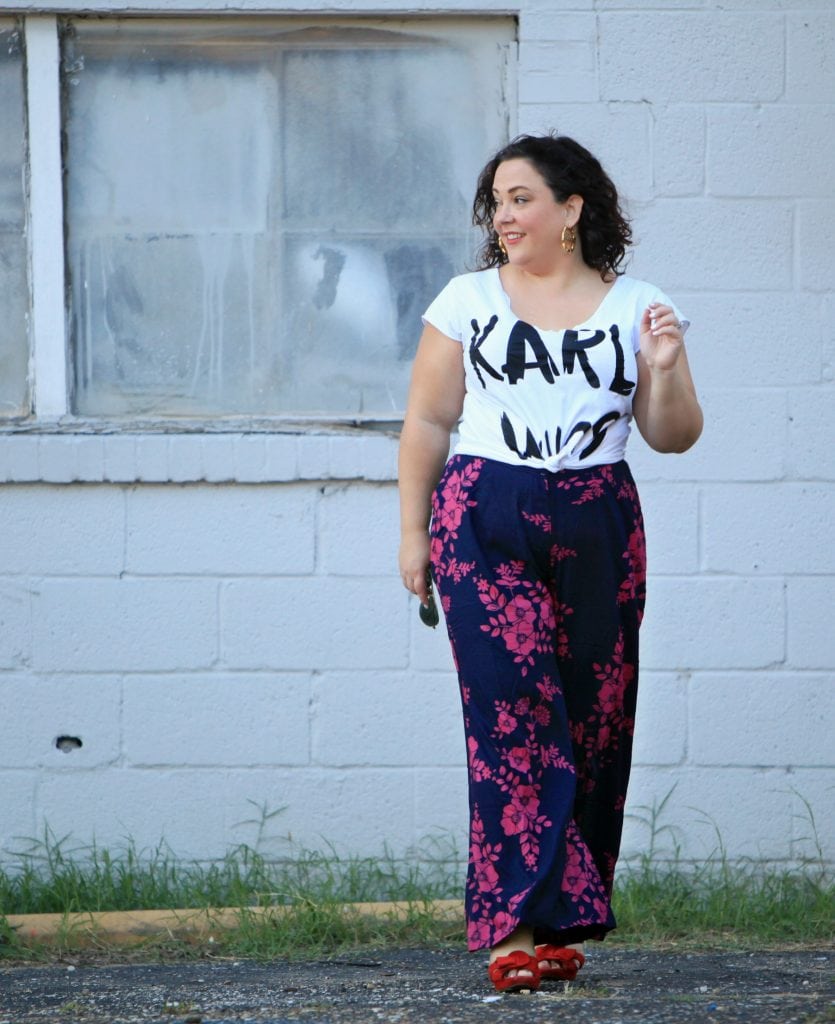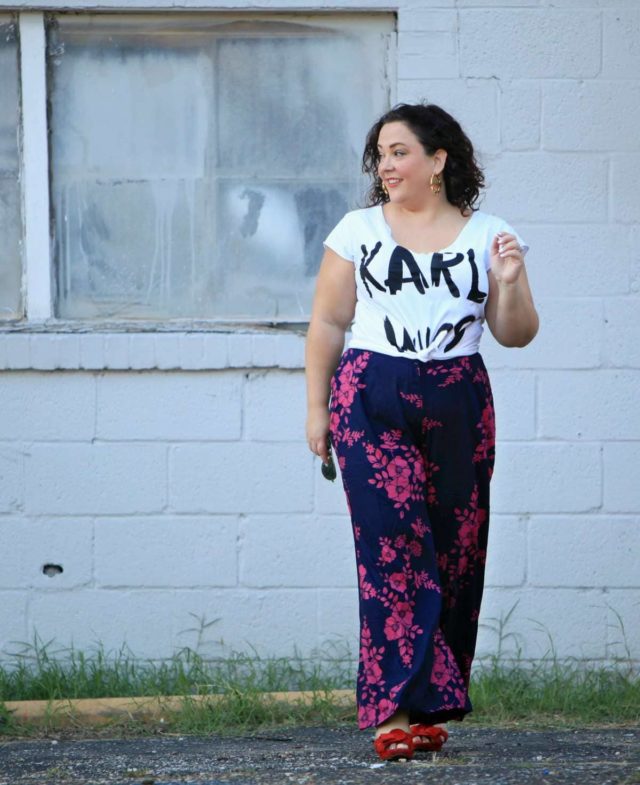 This season I'm really feeling the look of a fitted top with a high waist full or flared pant or skirt.  I'm short waisted so I have avoided high waisted pants in the past… but now that I'm over 40 I care less about traditional figure flattery and more about having a great time getting dressed.  And by changing this mindset, not only do I enjoy getting dressed more, I'm finding my looks are garnering more compliments.  Don't get me wrong, I still love to make myself look longer and leaner with fashion, but sometimes it's fun to buck the rules and just have fun.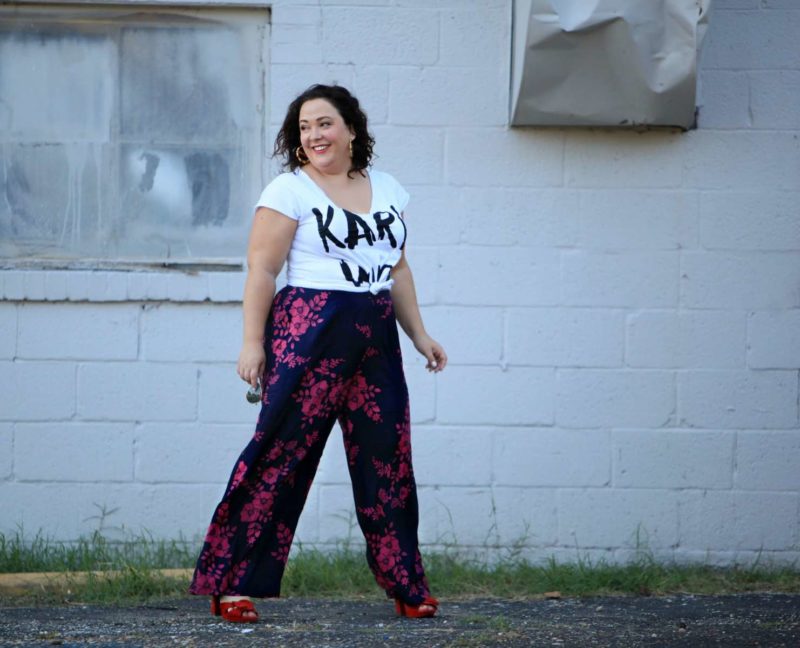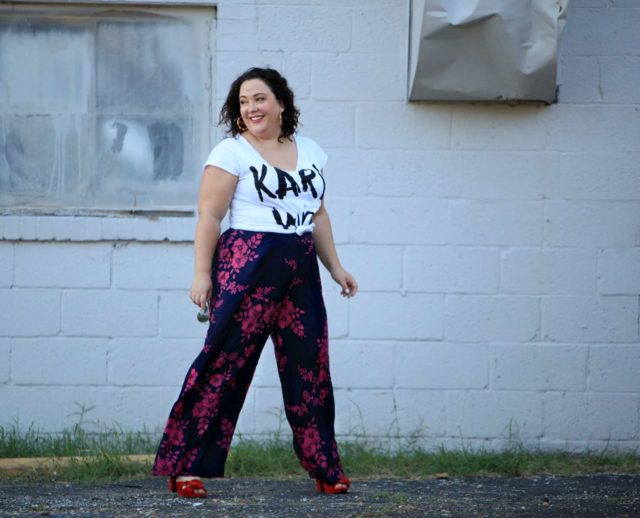 Tee: Etsy | Pants: c/o JD Williams | Shoes: Naturalizer | Sunglasses: Ray-Ban | Earrings: eBay (similar) | Lipstick: L'Oreal in 'Eva's Red'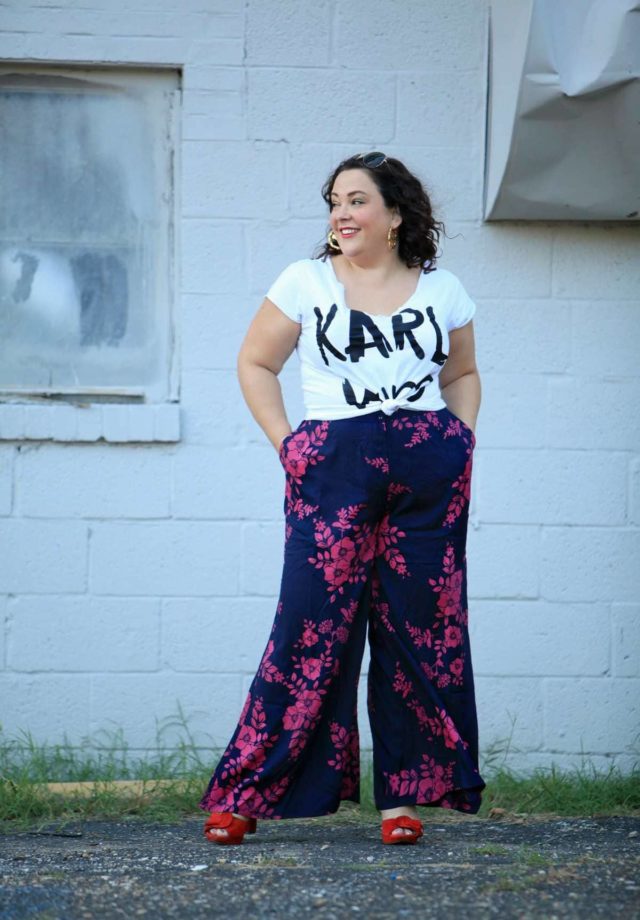 So when I saw these pants at JD Williams I had to try them.  I was envisioning them with my ELOQUII bell sleeve wrap top and black funky ankle boots and statement earrings.  I didn't know how JD Williams fit (these pants came at the same time as the clothes in this outfit post), so I asked for a 14 and 16.  The 14 was out of stock at the time so they sent me a 16.  These pants are all I hoped for – a cool print in a gorgeous combo of navy and magenta, a traditional fly front but subtle elasticized waistband in back for a flattering fit, real pockets that lie perfectly so they are functional but don't gape open adding bulk.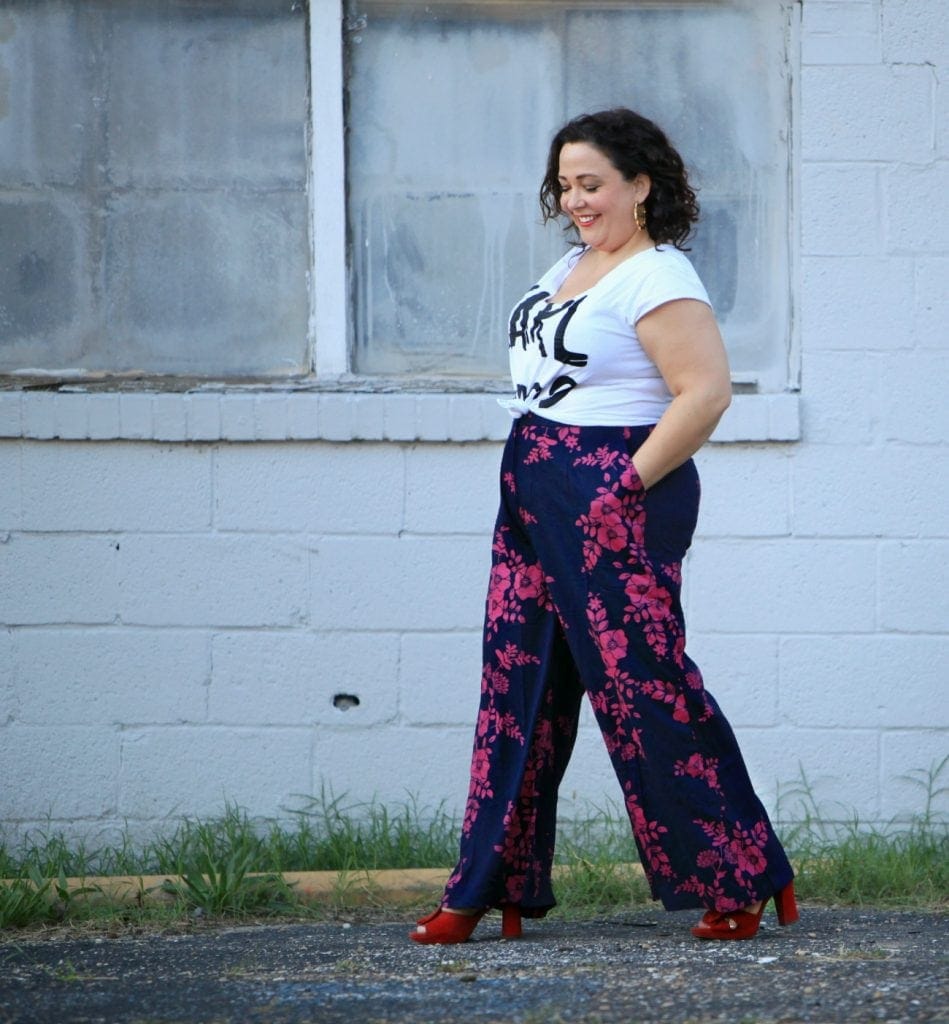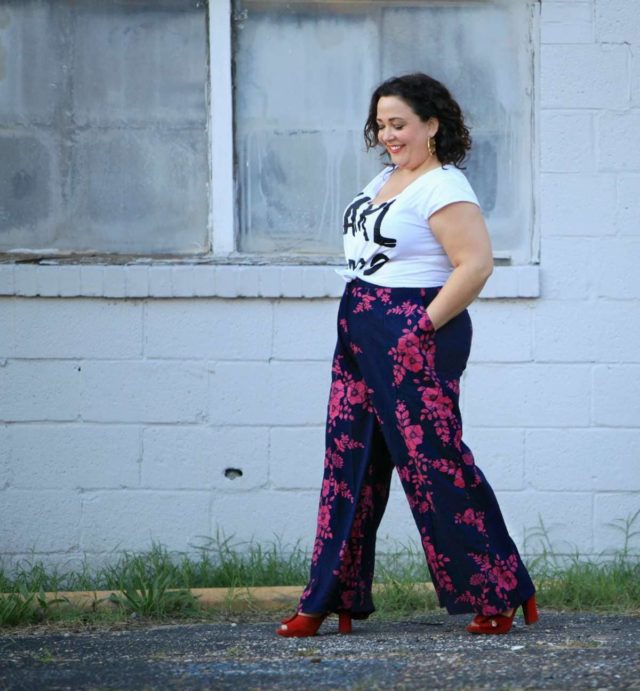 However, the 16 is too big.  Like I would fit into a 12 just fine big.  Like I folded over at least an inch of the waistband in back and used safety pins to hold in place big.  But with the shirt knotted like this, it covered the waistband in back and I wore this out to dinner with my family.  I want to get these in 12 when they're back in stock because I know I'm going to wear the heck out of them this fall.  I'd love them with my white blazer and a fitted tank, a striped tank or scoop tee and denim jacket, maybe my striped off the shoulder top, a band tee knotted or tucked in with a leather jacket, a black fitted turtleneck sweater with booties, and yes my ELOQUII top.  If navy and magenta isn't your scene, this black floral option is also fun.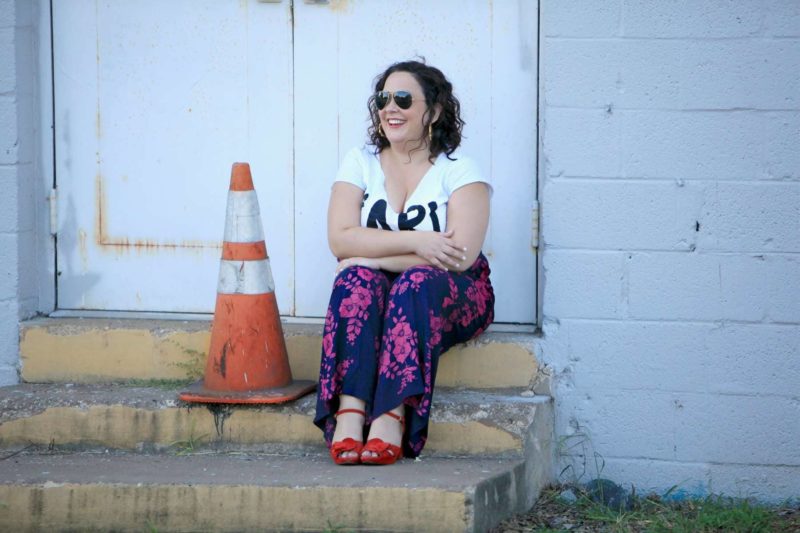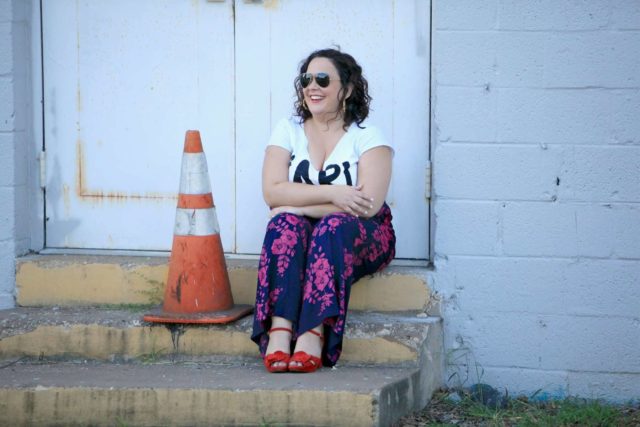 tee | pants | shoes | sunglasses | earrings
And when I saw this pattern, I knew I had to pair them with my red Naturalizer sandals; love the color combo, it reminds me of what I wore to the last night of the rewardStyle conference!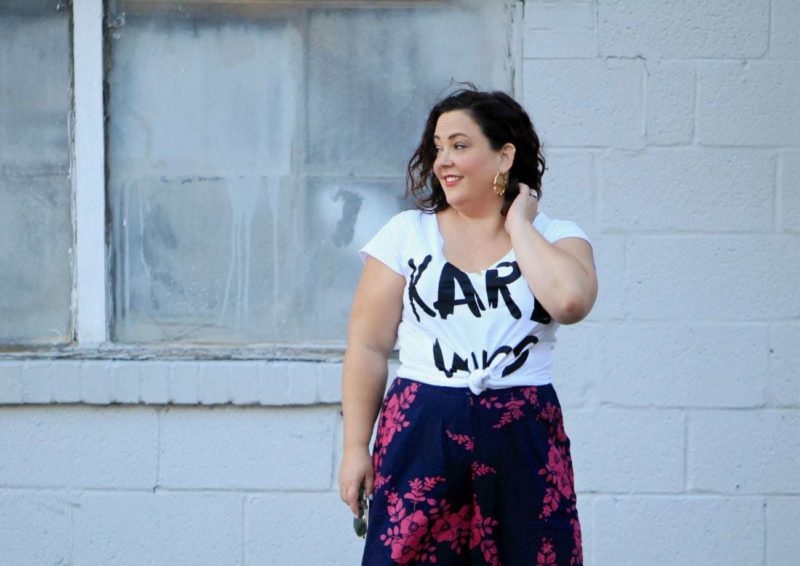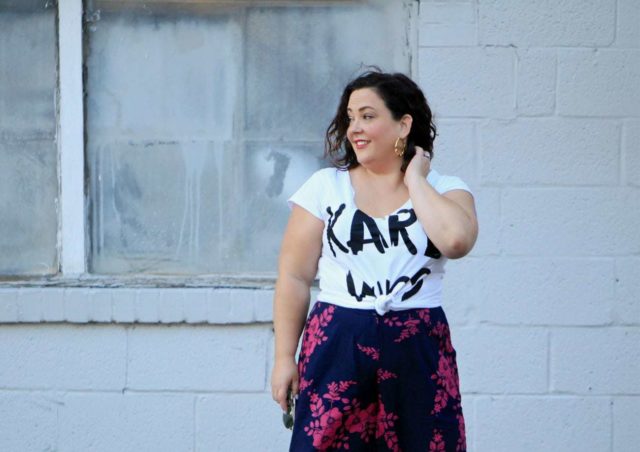 As for this shirt, it's based on the Naco Paris bag that Karl Lagerfeld carried in a tongue in cheek manner.  With a husband having the same name, I couldn't resist getting the shirt! I cut off the hem of the sleeves and cut out the neck so it's a more feminine fit, and a nice neckline under jackets.  I've worn this shirt on the blog before, and it's the only white shirt I've ever owned that remains snowy looking even with multiple wears.