This article may contain affiliate links; if you click on a shopping link and make a purchase I may receive a commission. As an Amazon Associate, I earn from qualifying purchases. 
I am all about searching for a bargain. I have found high quality items at big box retailers, discount stores, thrift stores and eBay. Thing is, nine times out of ten if you buy from a company that prides itself on low prices, you'll often get quality comparative to that price.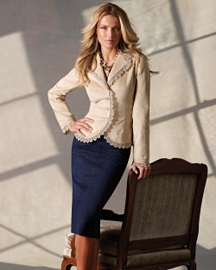 Case in point, Newport News. I know, I have been burned by them before. However, I recently won a dark denim pencil skirt (see photo) from them via another blog. It arrived, the fabric seemed good, the seaming was sassy, and other than not coming in petite sizes and being a tad too long, it fit well.
Through the day, the skirt grew. Nothing shocking, all stretch denim seems to grow a size throughout a day of wearing. By the end of the day the skirt could be a tube dress, it had stretched out so much. I washed it on the gentle cycle on its own (the skirt bled like crazy – would have ruined anything else with it) and hung it to dry and it shrunk back to almost its original size. A quick sweep of the iron and the fabric looked brand new.
Almost… the skirt was now a good half size bigger than it was when I received it. Sort of unfortunate considering I am a 12/14, ordered a 12 and even brand new it seemed a bit big. I really hate the inconsistencies of sizing these days and it seems the cheaper the garment the greater the vanity sizing.
So today I decide to wear the skirt. I wear a fitted top with it to counteract the not-so-pencil shape the skirt now has. Thought it looked pretty good. Zipped up the back and headed to work. Got out of the car, and felt something metallic on my back under my shirt. Felt around while walking to the office and nothing seemed out of the ordinary. Walked to my desk and felt it again. This time I realized my skirt was unzipped. I went to zip it up and surprise surprise, it won't stay zipped. The zipper seemed to lose its grip, the pull didn't lock flat and was acting like a 40-year old garment put against extreme strain, not a twice-worn skirt that is too large for its owner.
This skirt is cute, its $29.50 price tag is appealing. However like almost everything else from this company, it's crap. Ladies, it is far better to wear the same black pencil skirt every week for five years, than to buy five skirts at the same price and end up tossing them in the trash or the donation bag after a season (or less) of wear.
Recently I found an adorable jade green sweater at Target. Scoop neck, puffed cap sleeves and a delightful bright color. Best thing, it was on sale for $10. I tried it on and it looked cute enough to purchase, even though I know garments of that synthetic knit have done me wrong in the past (getting runs, pills, not washing well). Heck, it was only $10, right?
After one day at work, the skinny seam around both armholes had given so that the hem separated from the top. No worries, I have a sewing kit at home and fixed it while watching America's Next Top Model. Then the button fell off. No worries, I had an extra button that would work just fine. Then the hem gave way near the bottom of the top. Come to find out, that $10 bargain is costing me more time and stress than the most delicate and expensive dress in my closet.
Point is, just a reminder to really put thought and care into what you purchase. There is a chance that a $10 sweater could be a great addition to your wardrobe, but before you take the plunge, check the garment carefully and analyze how it will fit with the rest of your collection. Do you need it? Is it perfect for you? Would it better to use that $10 toward a more expensive sweater that will be more versatile and possibly last longer in your closet? Style comes from quality, not quantity.
Now I am off to hunt down a safety pin…