This article may contain affiliate links; if you click on a shopping link and make a purchase I may receive a commission. As an Amazon Associate, I earn from qualifying purchases. 
Another terribly foggy day in the Nation's Capital. Heading north on 295 traffic was stop and go – not because of any issues – just people rubbernecking at fog. I then treated myself to a Pumpkin Spice Latte at Starbucks after my ridiculous commute.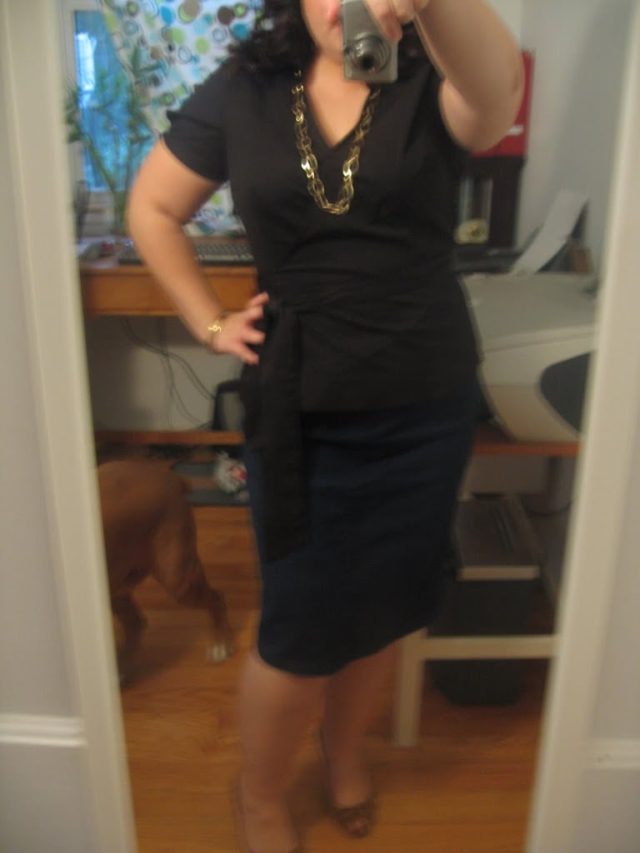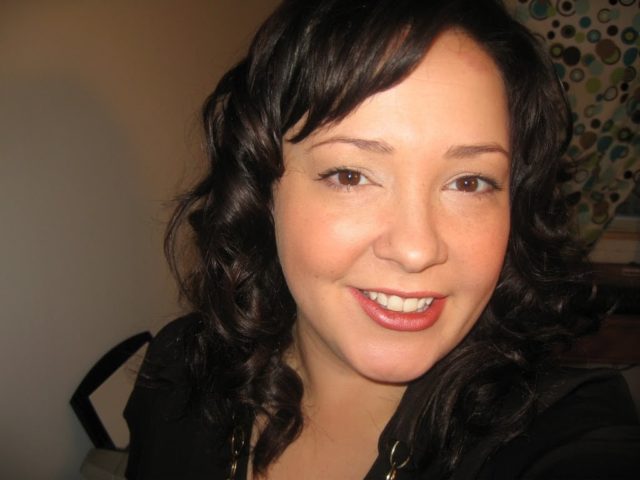 Black cotton wrap shirt from Ann Taylor, dark denim pencil skirt from Newport News (that I will be writing about at Wardrobe Oxygen later today because as all Newport News stuff – it is CRAP), leopard peeptoe heels from BCBGirls, gold bangles from Ralph Lauren, gold necklace from a beach boutique.
Hair is second day. Brushed it out with my Body Shop wood-bristled brush, then hit the right side with a curling iron (was a bit flat and the left side looked awesome), then a bit more Jonathan Silky Dirt to the bangs and twirled around locks.
Makeup is L'Oreal True Match concealer in W405, philosophy's The Supernatural in Beige, Cargo Matte BeachBlush in Tenerife, Revlon ColorStay shadow quad in Neutral Khakis – ivory in inner corners, khaki on lids. Lahses curled, two coats of DiorShow in black and on lips is Revlon ColorStay Lipcolor in Rich Raisin.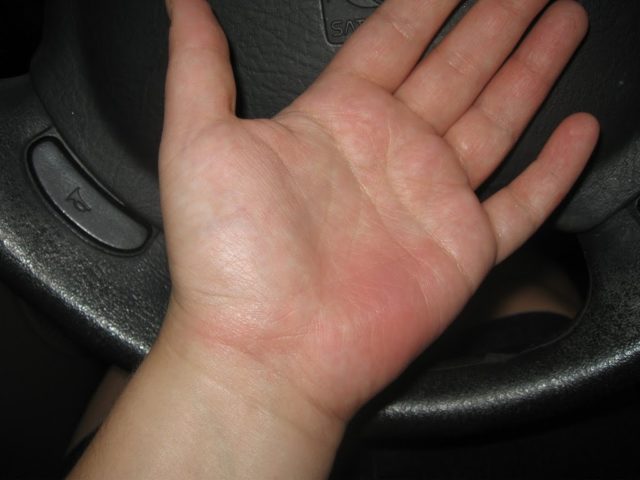 I know a few of you long-time readers remember my skin allergy in January – thinking it was due to mold and mildew but found out I was actually allergic to blue cheese. Well I have stayed blue cheese-free ever since with no issues, but in the past week or two my hands – just the palms and not the top have been extremely itchy to the point of waking me at night. Cortisone, Benadryl and regular moisturizers do not help.
As you can see from the picture, the hand is a bit swollen and red in places (swollen and itchy enough that I can no longer wear my wedding set) but not anything supern out of the ordinary. The top of my hands are normal – hydrated and happy. The skin doesn't lok or feel dry, just so itchy, almost like after a sunburn. Doing some internet searching, it seems it too could be an allergic reaction, or something bigger like hypothyroidism. I'm guessing it's an allergic reaction, but not sure what as that there haven't been any changes really in my handwash or body care products and my diet really hasn't changed either. I know if I go to the doctor they will tell me to go to fragrance-free everything to guess what it may be. I figure I'll start on my own – first switching out my beloved Body Shop Coconut Hand Wash since it seems to only be my hands. If I end up allergic to coconut, I will just cry. Blue cheese AND coconut? What next, red wine, sushi and cheese?
And I apologize for any typos – I used to post in Firefox which has a built-in spellcheck. With my new laptop, something is on it where Firefox won't store cookies but IE will (the company pushes us to stick to IE) so I'm back to spellcheck/theme/add-on free IE. 🙁