This article may contain affiliate links; if you click on a shopping link and make a purchase I may receive a commission. As an Amazon Associate, I earn from qualifying purchases.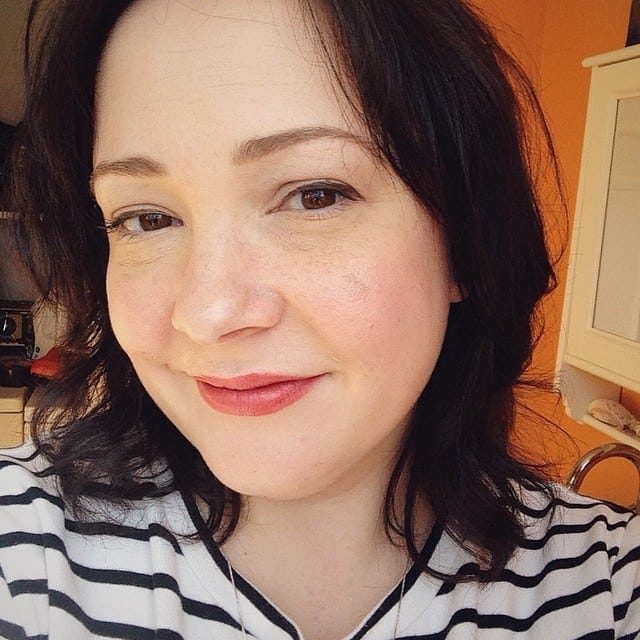 After I shared a selfie last week on social media, I received a bunch of questions asking how I take care of my skin. I'll admit I get tempted by new and shiny products and reviews on blogs, but I'm trying to stick to my current routine because it works, and for the first time in years my winter skin is happy and hydrated.
Night Skincare Routine:

Garnier Clean + Nourishing Cleansing Oil – I use this almost every evening. Two pumps in dry hands, rub on dry skin, and then rinse off. Okay, you don't "just rinse;" rinsing isn't that easy and you will be left with what feels like a film of oil on your skin. Trust me, this isn't a bad thing. Unlike other drugstore-brand oil cleansers, Garnier doesn't clog my pores and it does remove all my makeup, even mascara and liquid liner. I emulsify and rinse with tepid and blot (don't rub) my skin dry.
CeraVe Cleanser (Normal to Dry) – I use this from time to time, just to switch things up. I've used it for years and like how it's budget friendly, gentle, and cleans thoroughly without stripping. Once or twice a month and after a day where I wore hardcore makeup, I'll use it with my Clarisonic, and then follow up with the Garnier oil cleanser.
Neutrogena Rapid Wrinkle Repair Eye Cream – I keep trying other brands, get disappointment, and return to this product. No irritation, absorbs nicely, makes the skin feel soft and I think helps with wrinkles and dry skin.
Neutrogena Rapid Wrinkle Repair Serum – Again, I try other products and come back to this one. It works, it doesn't cost an arm and a leg, and it doesn't make my skin angry. I apply this after the eye cream to my entire face, neck, chest, and the top of both hands.
Dr. Dennis Gross Alpha Beta Glow Pads – I don't use these as often as I did in the fall and early winter because the rest of my body has gotten so pale it looks fake. But I do it sometimes if I have an event to go to, I'll use in place of the Neutrogena serum. I wear a dark bra, and wipe it on my face, neck, and chest inside the lines of the bra for an even finish. Then I take the almost-dry pad and wipe down my arms and tops of my hands to give a touch of color and then wash my hands.
L'Oreal Youth Code Youth Regenerating Skincare Serum – I've written about this many times before. I've tried other serums and they don't compare. I can't clearly explain what this does but it makes my skin happy. Two pumps, on face, neck, a bit on chest and leftover on tops of hands.
L'Oreal Collagen Moisture Filler Cream – This is a day/night cream but it hydrates nicely without being greasy or clogging pores. I find the heavier night creams cause breakouts and this doesn't but it still keeps me from cracking or getting red and miserable in cold weather. And how can you resist a decent cream under $10? I run on face, neck, chest, and tops of hands.
Random Hippie Clove and Vitamin E Cream – I got this at a local shop made by a local artisan not online. But it's a cream made with Vitamin E, cocoa butter, clove oil, and has a consistency that's a mix between Chapstick and Vaseline. I rub it on my lips and sometimes I rub it under my nose if it's red and raw, and I rub more on my hands and around my cuticles.
Water – I have a Kleen Kanteen next to my bed. I fill up, drink half, refill, and then sip on it while I read before bed and at times when I wake up. Water is a necessity to happy skin.
Morning Skincare Routine:

My Basic Makeup Routine:

The rest really varies on my mood. Sometimes I wear shadow (and don't have any I really love and swear by right now), sometimes I don't. I have mascaras for thick drag queen lashes, waterproof mascaras, lengthening mascaras. I do always curl first (I use Kevyn Aucoin's lash curler), it makes a difference. And if I wear liner, it's Maybelline Line Stiletto in Brownish Black; it's not too shiny or black for day, it can do a very thin precise line right at the lashline, or get bigger for a cat eye. Mucho love for it. And as you know from my outfit posts, I switch up my lips all the time.
I'd love to hear from you as to what your favorite skincare and beauty products are. Some of my favorite products are recommendations from readers and your Holy Grail may be a HG product for me or another reader!