This article may contain affiliate links; if you click on a shopping link and make a purchase I may receive a commission. As an Amazon Associate, I earn from qualifying purchases. 
For those who have little ones who watch Sprout, you may have their version of the birthday song become your home's standard song for special days. When we sing, "Happy Birthday to You" Emerson is meh, but if we sing, "Happy happy birthday to you, to you, to you!" she gets all excited and dances and sings along. And that is what she sang to me this morning.
Today I am 36 years old, a gosh darn dinosaur in the world of personal fashion bloggers. However I am proud to still be photographing what I wear each day for one doesn't lose the passion for fashion once you hit your '30s (or '40s or '50s or gosh even your '90s!). I like to represent those women who may be over 30, but still want to be stylish, and don't own a single pastel-colored pantsuit or boiled wool cardigan tunic in her closet.
For those who have been reading for a long time, you know I buy myself a beauty-related birthday present each year. Once it was Nars Orgasm blush, another time it was the coveted Shu Eumura lash curler. This year I indulged in the Clarisonic Mia
.
Mine is pink
, but otherwise it looks just like this picture!
I resisted the hype for a very long time. From years working for The Body Shop I believed that manual exfoliants could do the job just fine. From years learning about French style and beauty, I then believed that exfoliating is not necessary, simple cleansing (even sans water) is all you need for beautiful skin.
However in the past year, after the postpartum puffiness and skin craziness has subsided, I see that my skin looks old. I always looked younger than my years, but pregnancy and motherhood and a sometimes-stressful job have taken their toll. So I started doing research and saw that people found the Clarisonic to be extremely gentle, will minimize pores, reduce the look of fine lines, and help balance out skin that is dry in some places, scaly in others, and oily in other spots.
I have been using my Clarisonic Mia for a week and so far I am a fan. It is extremely gentle – not at all like the old-school battery-operated face brushes that scraped off the top layer of skin. It turns itself off after a minute so you can't over-clean. The cleanser that comes with the Mia is very gentle, smells a bit like cucumbers, rinses clean, and leaves my skin feeling so soft and amazing. I haven't seen drastic changes to my skin, but then again I have only had the thing for a week. After a month, I will give a detailed review.
I am not one who wants to be pampered and spoiled on her birthday – I don't need cakes and parties and hub bub. Today my husband is coming to visit me at work and he is bringing Emerson – that is the best present ever because I get to show off to my coworkers the two people I think are the most awesome in the entire world. And I also get a ride home instead of dealing with the Metro. This Sunday I am going to breakfast with a couple of my friends – nothing fancy, just diner food. A perfect birthday.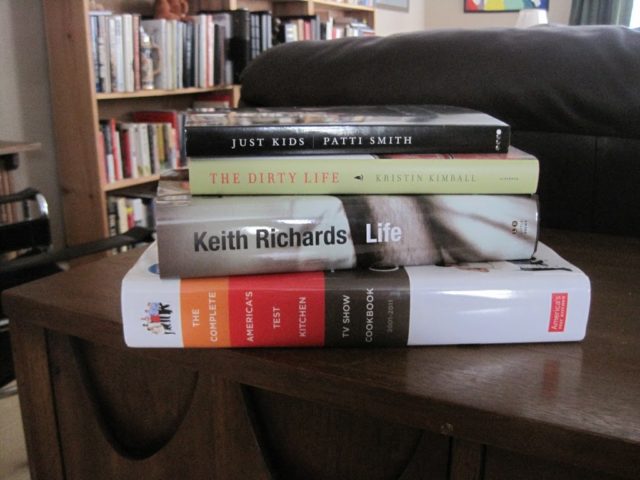 Well actually this birthday is more than perfect. My mom gets me a present every year and this year she really outdid herself. The photo above is my present from her. These are all books I have been wanting to read, and have been putting off thinking I could borrow from a friend or the library. It feels so decadent to have all these books waiting to be read (Just Kids – Patti Smith
; The Dirty Life – Kristin Kimball
; Life – Keith Richards
; The Complete America's Test Kitchen TV Show Cookbook
). I'll be sure to write a review when I finish one!
Friends, family, books, beauty. All in all a pretty fantastic 36th birthday!