This article may contain affiliate links; if you click on a shopping link and make a purchase I may receive a commission. As an Amazon Associate, I earn from qualifying purchases. 
In my last Elizabeth Arden skincare post, I mentioned how I have added SUPERSTART Skin Renewal Booster to my skincare routine. Since that post, every morning and evening I have used it under PREVAGE® Anti-Aging Daily Serum. The condition of your skin's surface layer is directly linked to how healthy, radiant and youthful your skin looks. When the surface layer is damaged your skin may not be able to retain moisture, and it loses its natural defenses to protect itself and, ultimately, loses the ability to renew itself. By optimizing your skin's surface layer, SUPERSTART ultimately ensures that your skin is more responsive to all products in the regimen, and your skincare delivers stronger results. Based on a home consumer test 95% of women agree that SUPERSTART boosts the effectiveness of their skincare products*, 92% of women agree that SUPERSTART helps repair the look and feel of damaged or irritated skin** and 82% of women agree that SUPERSTART makes their skin more resilient and resistant to irritation and damage.**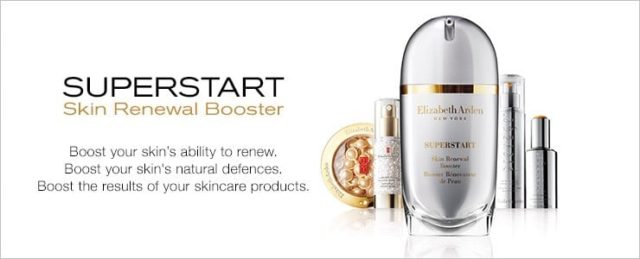 This all sounds really nice but does it actually work? I've tried a lot of anti-aging and skin improving products and have experienced decent results, but I can honestly say I saw more improvement after adding SUPERSTART to my skincare routine than any other product or regimen. Seriously. SUPERSTART works under other skincare products. I put it on after cleansing, then add serum, then moisturizer. SUPERSTART boosts your skin's natural defenses and its ability to renew, and it also boosts the effectiveness of your skincare routine. I think PREVAGE Anti-Aging Daily Serum is great, but using it with SUPERSTART was a game changer. The power of the two together is amazing. My skin looks smoother, happier, plumper. Fine lines near my eyes are reduced, and I have a more even skin tone. I have visible results even Karl noticed, yet no redness, no flaking, no dryness, irritation, or the other issues I have experienced with other anti-aging products. Gotta say, I am a fan. If you're interested in trying the products, they are available at EA.com; Macy's.com; Nordstrom.com
*Based on US home use consumer test on 62 women ages 25-59 after 8 weeks. **Based on US home use consumer test on 89 women ages 25-59 after 8 weeks.