This article may contain affiliate links; if you click on a shopping link and make a purchase I may receive a commission. As an Amazon Associate, I earn from qualifying purchases.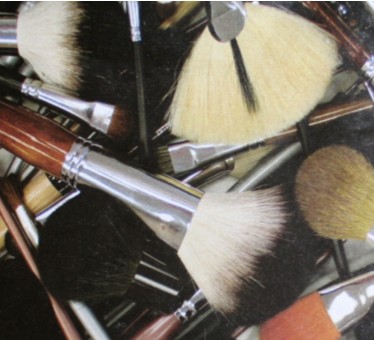 When was the last time you washed your makeup brushes? Not wiped them on a tissue to change shadow colors or even use a swab of makeup remover, but actually cleaned them? Not only will a good washing of your brushes keep them hygienic, it will help prevent breakouts from bacteria and miscellaneous crud being transferred to your skin, and also will help with the application and pigment level of your cosmetics.
There are some great precuts out there specifically for the cleansing of makeup brushes, but I use shampoo. A tip I learned when I worked in skincare is to occasionally switch out the gentle shampoo with an antibacterial wash (I use the Body Shop's Tea Tree Face Wash) to give the brushes a gentle yet thorough cleansing.
Wet the bristles with warm water, trying to keep the water on the exposed bristles only. In the palm of your hand, mix a bit of shampoo or cleanser with water to form a soapy lather. Swirl the brush in your palm gently; you will see the lather become opaque or change colors as the makeup is lifting away from the bristles. Rinse, and swirl to see if any pigment is left. If so, repeat. Dry brushes flat on a towel, reshaping the bristles. If possible, let the bristles hang over the edge of your counter or table to help air flow through the bristles to prevent any mildew.
You will feel as though you have a new set of super-soft brushes and your makeup will go on so much more smoothly! Before you decide your blush, bronzer or foundation is starting to look dull and boring; wash your brushes. Often times, the problem isn't the product or even your skin, but the applicator!