This article may contain affiliate links; if you click on a shopping link and make a purchase I may receive a commission. As an Amazon Associate, I earn from qualifying purchases.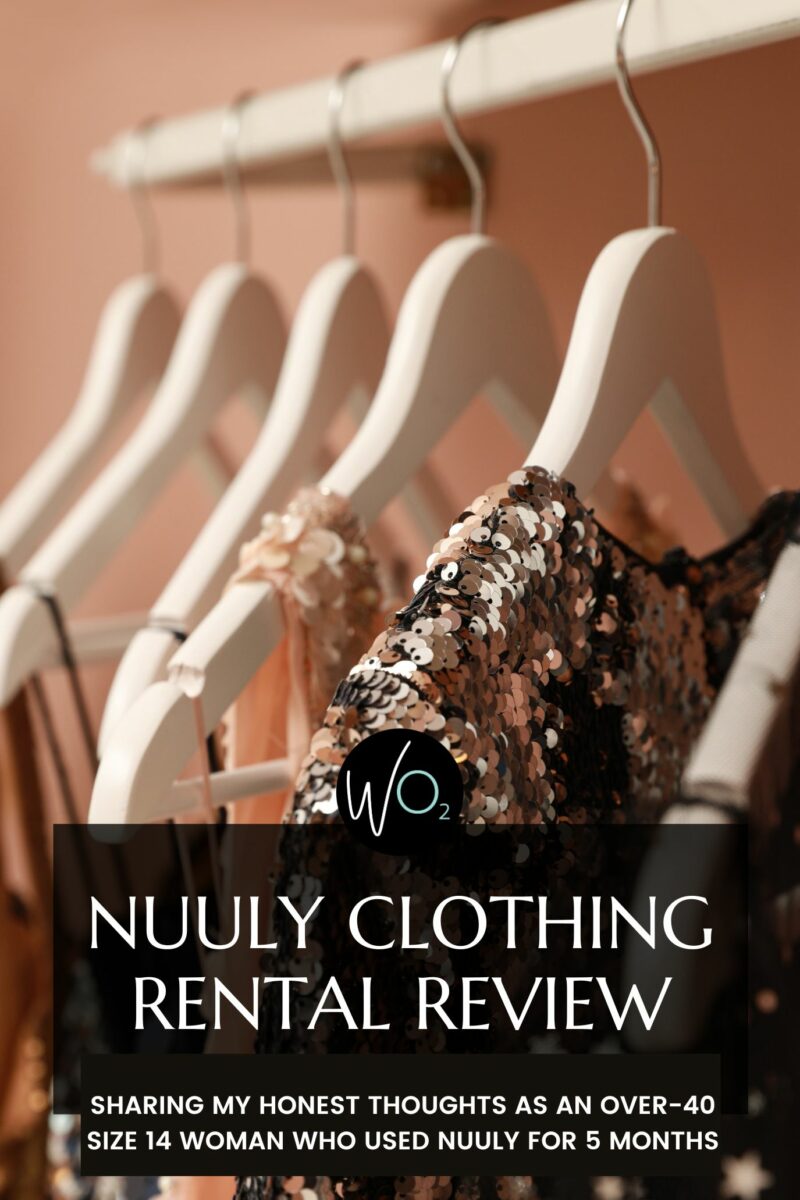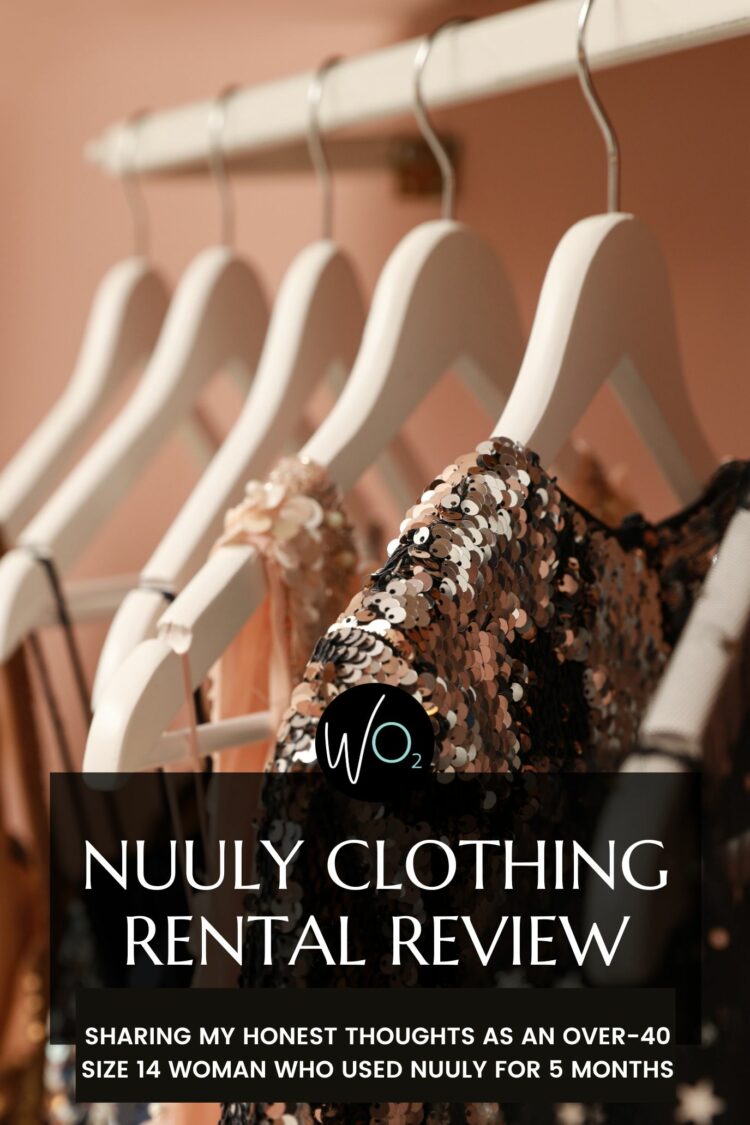 Nuuly Clothing Rental Review
I love the concept of renting clothing. While I find value in workhorses in my closet that can be worn time and time again, year after year, I also love frivolity, trends, and statement pieces. Instead of buying such pieces and finding they collect dust after a season, it's great to be able to rent them to extend a wardrobe. Renting is also great when your size fluctuates, you're attending a special occasion, or are trying to find your personal style or update your look.
My Experience with Clothing Rental Companies
Not all clothing rental programs are created equal; I've tried a variety of them to mixed results. As someone who is over 40, a size 14 that is sometimes a 16 or 14W and often a petite, I've found some clothing rental programs don't even include my size, and many clothing rental programs cater to a younger demographic. After so many positive reviews from fellow midsize and plus size women and grown women who had tried and loved Nuuly, I decided to join Nuuly as a customer, not an influencer.
I never reached out to Nuuly, and didn't get any special pricing for my membership. I wanted to experience Nuuly as a regular customer. I was a member for five months prior to writing this review, so I could experience Nuuly's selection for more than one season and for the range of situations life throws my way over almost half of a year.
In the past, I have tried Dia & Co, Gwynnie Bee, Stitch Fix, Le Tote, and Rent the Runway. Not all rental programs, but all programs that send clothing to your door that you can try before you buy and have access to that which you may not find at the local mall. Of all these programs, the one I had the greatest success with as a grown woman was Rent the Runway. I found fantastic dresses, sweaters, outerwear, bags, and accessories and the monthly rental price was worth it to be able to carry designer bags and find perfect looks for special occasions or to update my existing closet.
Why I Considered a Nuuly Subscription
While I have a 100% work from home job and I am self-employed, this job has me often attending events that require business attire, cocktail attire, and stylish/trendy looks. As someone who prefers a small, hardworking closet, I appreciate a clothing rental program that lets me embellish my wardrobe without purchasing a lot of new items.
I used Rent the Runway off and on throughout the late 2010's, but with the pandemic, I ended my membership. In 2021, I decided to resume my Rent the Runway membership and found I struggled to find apparel in my clothing size that fit my wardrobe needs.
Designer fashion is cut differently from mall brands and often the 14s and even 16s I received from Rent the Runway were often too straight/narrow for my curves, pants and longer dresses too long for my 5'3″ frame, and selection in general for larger sizes was minimal and usually cheaper-priced items from mall brands. Even when Rent the Runway featured brands with extended sizes and plus sizes, they often didn't stock the larger sizes.

Unlike clothing rental companies like Rent the Runway which offers a range of brands and designers, Nuuly exclusively carries the brands sold at Anthropologie and Urban Outfitters. Anthropologie is known for offering stylish plus size fashion up to 3X as well as petite apparel. At Anthropologie, you can find stylish plus size clothing from brands like Farm Rio, Reformation, Plenty by Tracy Reese, and PAIGE; plus size occasion dresses from brands like Amsale, Sachin & Babi, and Tadashi Shoji; and petite apparel from popular brands like Favorite Daughter, Shoshanna, Frame, and BLANKNYC.
This is why Nuuly is a popular clothing rental choice for those of us who are shorter and wear clothing sizes larger than a 12. And this is why I decided to start a Nuuly subscription.
How is Nuuly Different from Other Clothing Rental Companies?
Nuuly is a monthly clothing subscription program. For a monthly fee (currently just under $100) you are able to rent six pieces of apparel of any price, style, or size. All six items come in one package, which is usually a reusable fabric bag (one order had multiple coats so it came instead in a larger cardboard box). The packaging arrives with a prepaid UPS shipping label you apply over the label that sent the package to you when mailing back the items.
Unlike other clothing rental companies which offer a range of brands and designers, Nuuly exclusively carries apparel from the Anthropologie, Free People and Urban Outfitters family. If this brand is sold at one of these brands, it is likely available through Nuuly.
With Nuuly, you receive six items and must return all six items at the end of the month. Any items not sent back will be charged to your form of payment. If you mail back that item at a later time (say with next month's collection), your card will be credited back the cost of the garment. You are able to add more than six items to your monthly Nuuly delivery for an additional charge of $20 per garment.
You create a profile with Nuuly where you share your height, body type, bra size, and all the clothing sizes you wear. When you search Nuuly for items to add to your delivery, the search will default to items in the size range you specified. However, you can always change the search to exclude or include other sizes. Nuuly doesn't care what you order; you can order the same dress in three sizes and three colors if you like.
Nuuly only offers apparel. Unlike Rent the Runway and some other clothing rental programs I've used, there are no bags, jewelry, or sunglasses to complete your looks.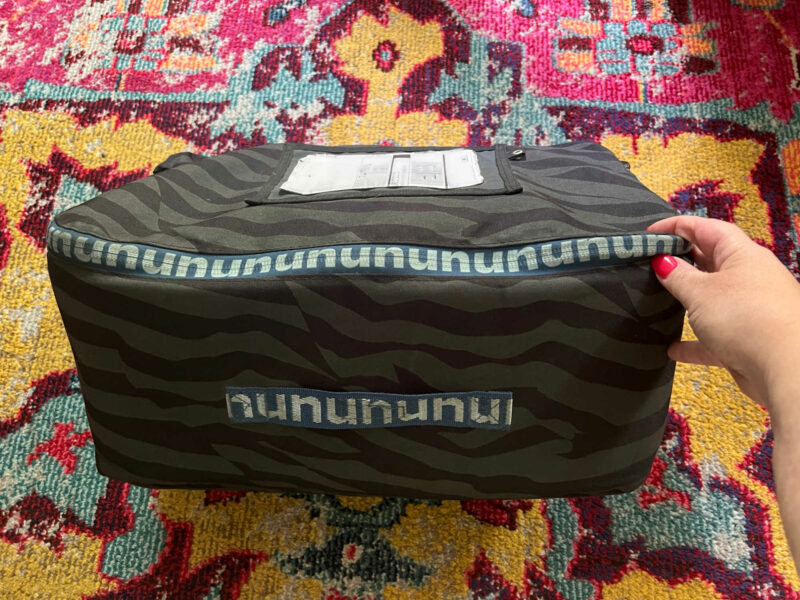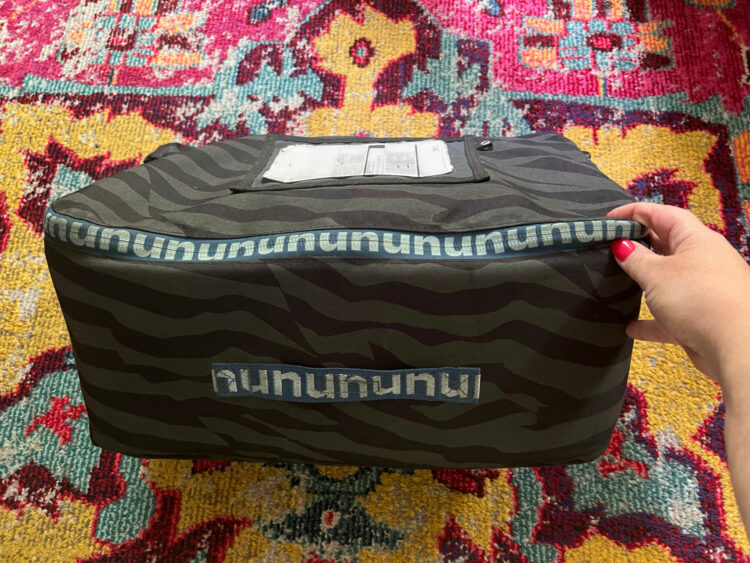 There are no cleaning or damage fees with Nuuly. Wear the items as often as you wish within a month and stuff them back in the fabric shipping bag. There aren't hangers, plastic bags, hang tags, or tissue paper to deal with; the program is very low on waste which I really appreciate, though it means more chance to receive garments that require steaming or ironing.
If you wish to buy something you rented from Nuuly, you can either just keep it or notify Nuuly within your account. You will be charged a discounted price that is clearly stated on Nuuly; the whole process is very transparent. All sales are final and Nuuly does not offer price adjustments.
Nuuly uses UPS for shipping and returns. Nuuly subscriptions cannot be delivered to PO Boxes or APO/FPO addresses, U.S. territories, or anywhere outside of the United States.
You can pause your Nuuly subscription at any time, but you must return all six items from your last order to not be charged for the following month. Pausing and canceling is very easy and can be done within the Nuuly app without having to make a phone call or send a separate email.
My Nuuly Clothing Rental Review
As with other clothing rental programs, with Nuuly you can set your sizes so when searching for items to rent, you will only be shown pieces that come in that size. However, unlike Rent the Runway Nuuly shows everything that comes in that size, whether or not it is currently available.
My First Month with Nuuly
I spent an hour scrolling and clicking on items that looked appealing to find they weren't in stock at the time in my size. But I finally found two sweaters, two statement coats, a skirt, and a dress that looked appealing and were my size. It was a mix of Anthro brands and department store brands like One Teaspoon, Unreal Fur, and Farm Rio.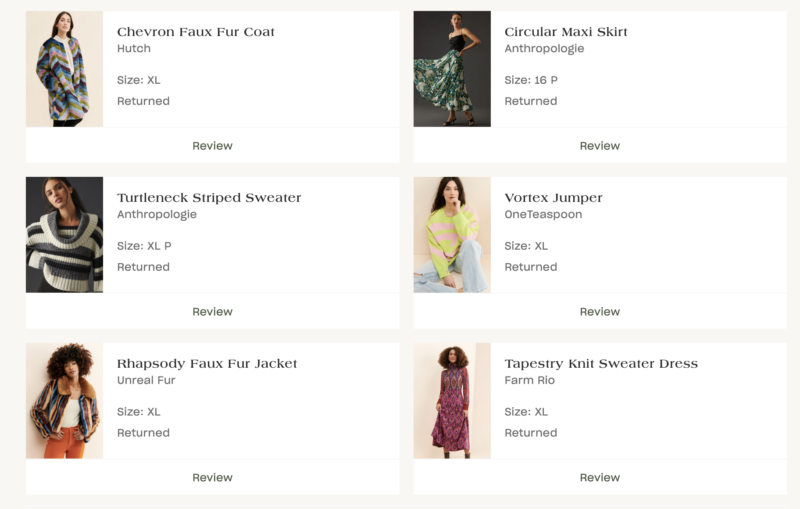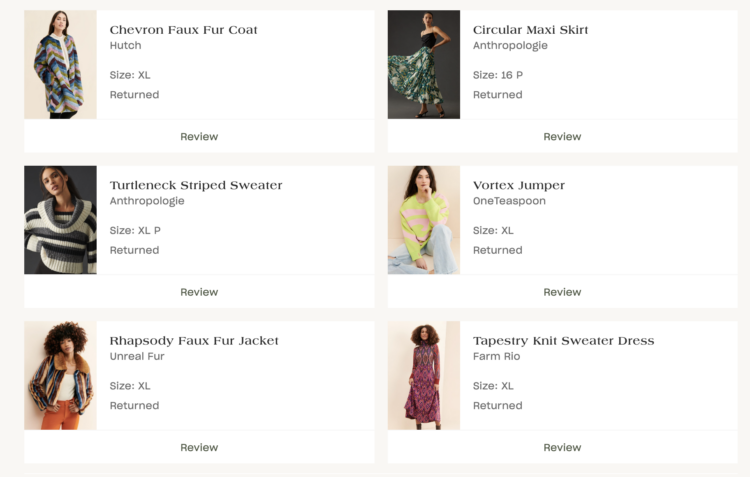 One coat arrived and clearly I was the first person to wear it. It still had the tags attached! However, three pieces I received were so worn I wouldn't even buy them if I found them at the thrift store. snagged knits, stretched out waistbands and necklines, and faded colors. Another was a sweater that was so pressed it had perma-creases in the sleeves and shoulders causing the whole thing to fit weird like paper doll fashion.
The skirt was too small to zipper, one jacket had arms too tight to slide on, and the Farm Rio dress was made for a person several inches taller than I. I wore one sweater once, and then my daughter wore it twice. I also wore the brand new coat twice and sent everything back before my month was through.
My Second Month with Nuuly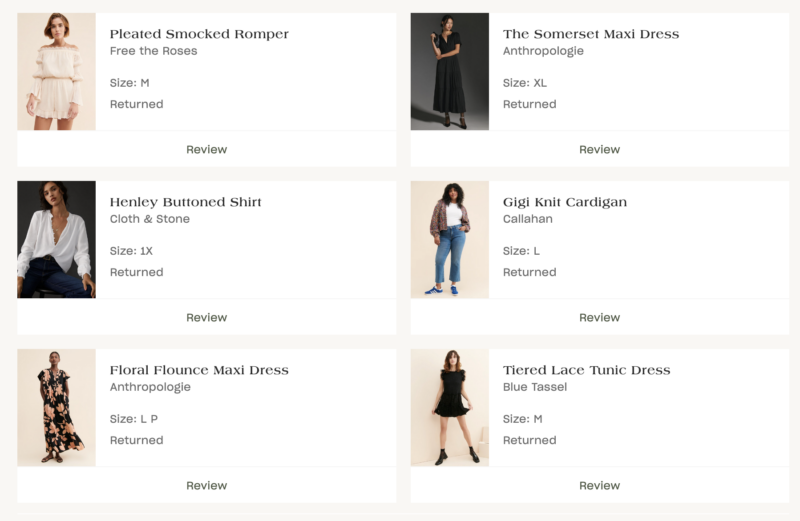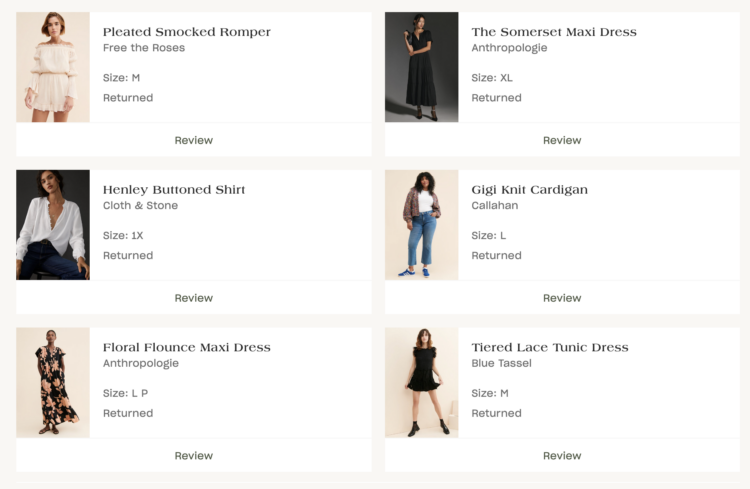 The next month, I struggled even more with trying to find pieces that I'd want to wear and were in my size. If I wanted mini dresses, strapless going out tops, and backless gowns I'd find plenty, but when it came to work-friendly or weekend day attire for the current season and weather, everything was out of stock in my size.
I got one blouse in a size larger than I usually wear, a sweater in a size smaller than I'd choose hoping the reviews were right that it was oversized, and two late spring/early summer dresses that may be too optimistic for March in Maryland. Unable to find anything else, I used my last two spots to get dresses for my 14-year-old who had a piano recital coming up.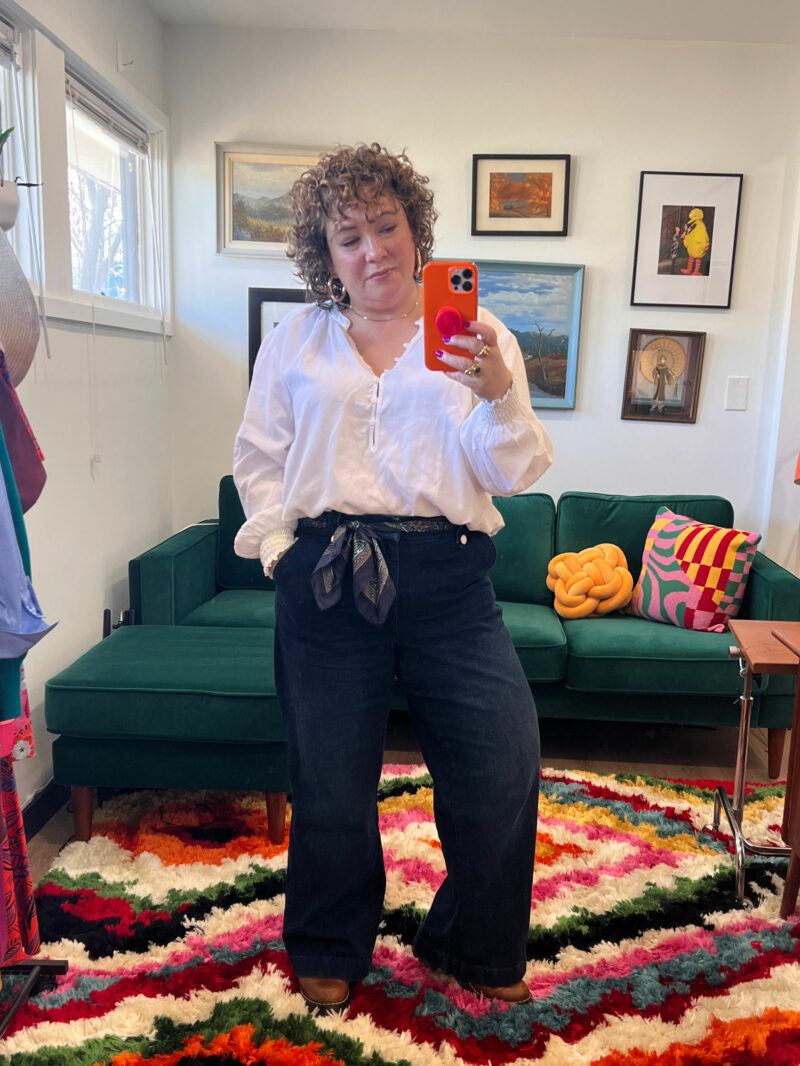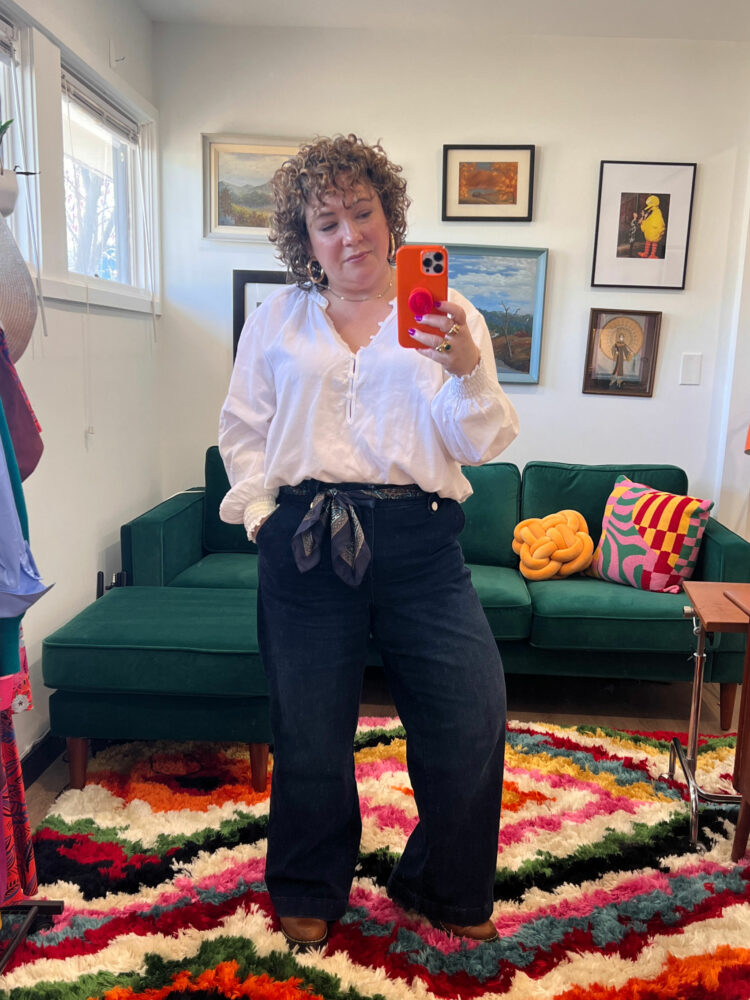 Both dresses I received were well worn. One dress had a broken closure and was faded under the arms. The other one was washed so often it had faded, the edges all curled and had that coated soft feeling of too much detergent. One dress my daughter ordered had the lining a good inch longer than the eyelet overlay. The sweater was also fuzzy from wear. I wore it once but it was a bit snug; my daughter wore it several times. The blouse I received was lovely, in good condition and I ended up wearing it three times.
My Third Month with Nuuly
Month 3, I was annoyed. Spring had arrived, but most of the things available in my size were winter fabrics, cocktail attire, and items that had negative reviews for being worn out, or not designed for curves or breasts. That, or more of the same I had already rented. The same blouse in other colors, the same dresses in other prints. I ordered myself a blouse I had been admiring on Anthro and the other five my daughter ordered dresses for upcoming events.
The blouse came well worn, the hem loose showing the elastic of the band. I never wore it. From the four dresses my daughter received, two were pristine and from stylish brands (Selkie and Farm Rio). The other two were well worn, one with the elastic of one puff sleeve so worn out it wouldn't stay up.
Each month I was spending an hour at a minimum searching Nuuly's offerings. I found it easier to search on my laptop than the app, but with both the search and filter wasn't as intuitive or robust as with Rent the Runway. Each month, I'd find a few versions of the Somerset dress, the Marias dress, and the Colette pants in my size but otherwise it was often a real weird mix of club fashion, black tie wedding guest dresses, and fashion that I would have rocked the heck out of in college but at 48 have no place or desire to wear.
I mentioned this on Instagram Stories and Nuuly replied back, saying they'd be happy to connect me with a Nuuly stylist who could help me find the styles best for me. I'll admit I didn't take them up on it. It wasn't that I didn't know what looked good on me, it was that what I knew looked good on me wasn't in stock and I didn't want to get a month of 6 Somerset maxi dresses with broken snaps.
My Fourth Month with Nuuly
The following month, with dances, graduation, and other special events on the calendar, I let my daughter pick all six items. One dress came with a small stain on the front I was easily able to get out, one dress looked very well worn (but she didn't care and wore it saying it looked "vintage"), one again had the lining longer than the overlay likely from improper laundering. The other three were in great condition and they, along with the "vintage" dress, were worn for a range of 8th grade end of year events.
My Fifth Month with Nuuly
This month, being a time where spring and summer pieces make sense, where I am looking for occasion, casual, and work-friendly pieces, I decided to take the time, peruse the offerings, and choose six pieces for me from Nuuly. I didn't let the dozens of my size but not in stock picks dissuade me, and searched on my laptop by garment category and the featured collections Nuuly created that were "Wear to Work," "Summer Outfitting," "Vacation Shop," and "Suits + Sets."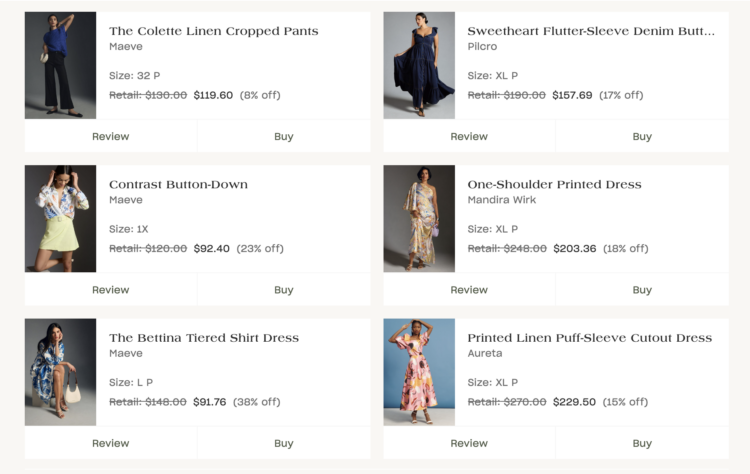 I had more success for summer fashion than I did for winter and spring. I found this to be the same with Rent the Runway, but Nuuly had even more in my size and larger. I chose four dresses, including two that caught my eye when creating shopping posts for Wardrobe Oxygen, a blouse, and the Colette pants in linen since they get such good reviews and are so plentiful in my size.
The one-shouldered printed dress is gorgeous, and I want a wedding invite to have a reason to wear it. The printed linen puff-sleeve dress was brand new with tags still attached and looked great. The rest did not look great.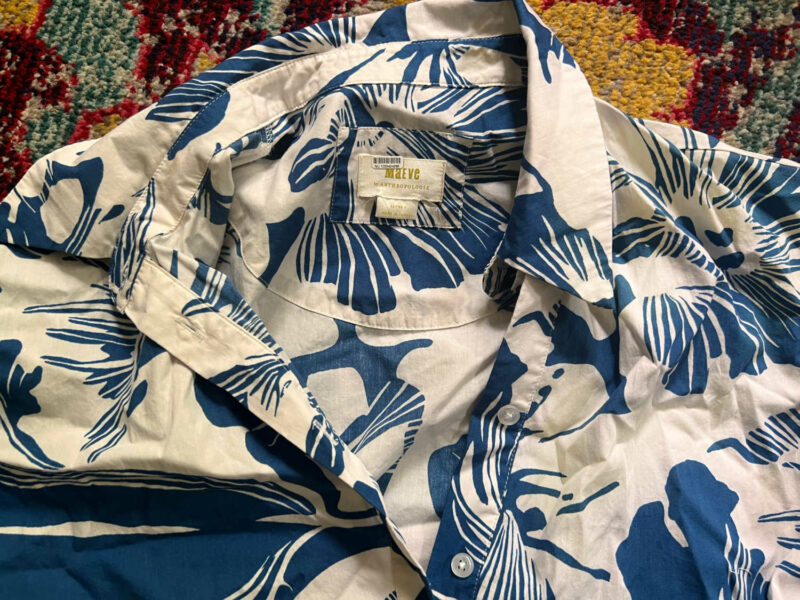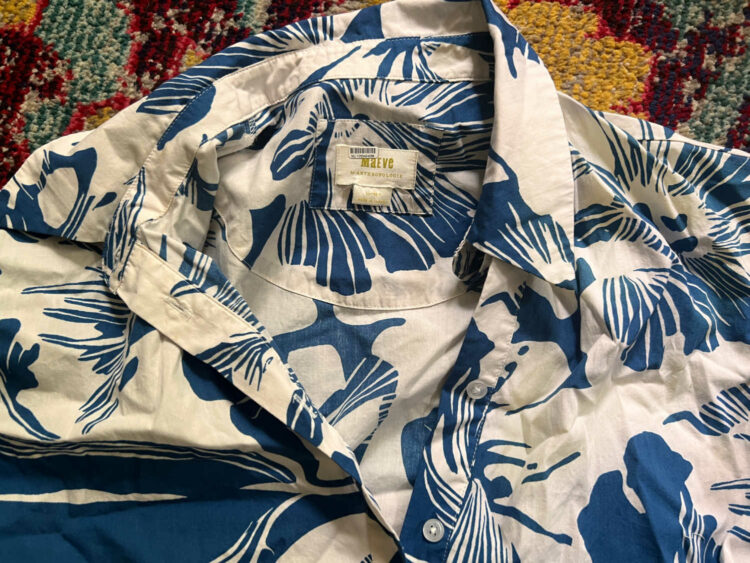 The linen pants were fine, but a bit stretched out from repeated wears and washings and needed to be ironed. The tiered shirtdress (above) looked worn and the white wasn't really white anymore. However, it could be cleaned up with a good ironing if I had found it fit (far too snug in the bust and the elastic at the sleeve hems cut into my arms).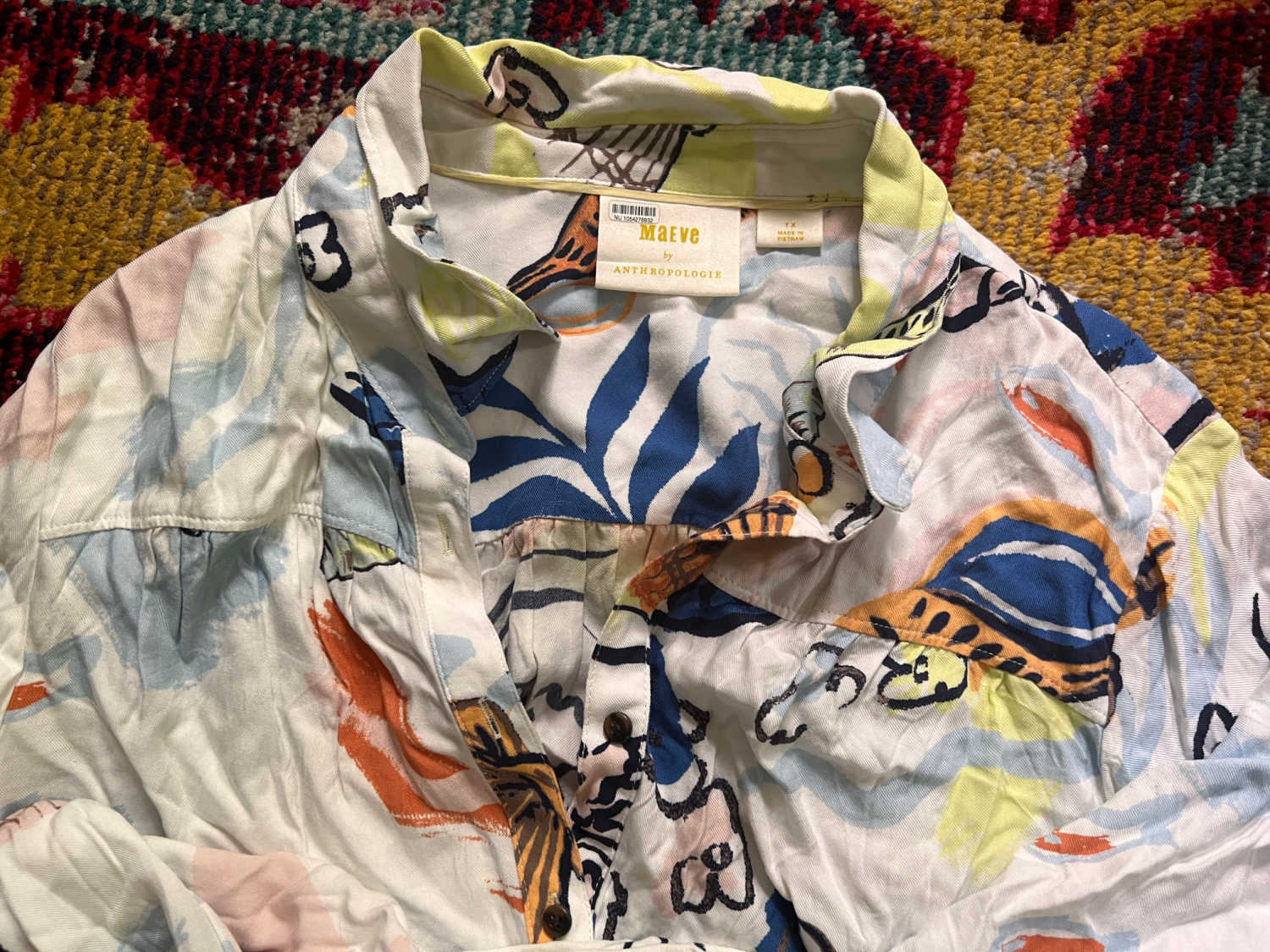 The denim dress had been laundered enough that it had become very soft, the elasticized straps wouldn't stay up, and the fabric under the buttons down the front of the dress wouldn't lie flat to provide modesty. But the most depressing piece was the button-front shirt which was so wrinkled it was unwearable and didn't even lie correctly when I tried it on. It looked nothing like the top on the Anthro website, it looked more like a Gordon Gartrell.
Honestly, pulling out the iron is worth it if the pieces are in decent condition. One month of Nuuly is cheaper than one pair of the pants I received in my subscription this month. However, it's hard when you're not sure if what you're receiving will be in condition good enough to wear to the workplace or a social event. Faded things are fine for grabbing coffee or running errands, but not the best when you're a grown woman in the office, on a date, attending a wedding or a cocktail party.
When Nuuly Was a Success for this Grown Woman
Nuuly was great when I was looking for occasion dresses. I found wedding guest dresses, for day weddings and evening events. Unlike Rent the Runway, I could find occasion dresses in petite sizing, which is major for a 5'3″ person who is a size 14. When it comes to occasionwear, it's usually too long for me and you can't tailor rental garments. This way, I could benefit from clothing rental for one of the most expensive items I'd usually purchase.
Nuuly was great when I wanted very casual spring and summer dresses. From the Somerset maxi that they offer in dozens of different prints to shirt dresses made to be worn with a tote bag and Birkenstocks, I was always able to find cotton dresses in my size. These usually arrived well-worn and didn't always fit right, but made it easy to throw on and go.
Nuuly was great for a growing teenaged daughter who is still finding her personal style. I definitely saved money using my Nuuly subscription for her dress wardrobe this spring.
Do I Recommend a Nuuly Subscription for Grown Women?
It's hard to say whether I recommend a Nuuly subscription for my fellow grown women. It really depends on your size, shape, and wardrobe needs. It also depends on whether you have the time and access to steam or iron the garments that arrive as rarely have I received a garment ready to wear.
Issues with the Condition of Garments
The majority of the items I have received over these five Nuuly shipments were not ready to wear. Unless they were new with tags still attached, the items smelled strongly of detergent, and occasionally of perfume, body odor, or cigarette smoke. I experienced the same with Gwynnie Bee and Rent the Runway, but not as consistently as I have with Nuuly.
What's different with Nuuly is there is clearly no attempt to steam, press, or iron garments after laundering. Pieces were misshapen from tumbling in machines, and it could take a half hour for me to iron a piece into a wearable condition. Steaming helped a bit, but most pieces were far too crumpled to get the wrinkles out with my garment steamer.
For example, with my last delivery, I received a dress that had tiny buttons with fabric loops down the front. The dress was so wrinkled the placket behind these buttons was crumpled and creased causing the buttons to not sit well and skin being exposed between them. I had to carefully steam press that placket before I could even try on the dress to see if it fit.
From the worn items I did receive, about half of them were so well-worn I'd question even buying them from a thrift store. Items came with the eyes from hook and eyes missing, elastic stretched out, fallen hems, colors faded, overlays shrunken from laundering causing them to be shorter than the lining.
There is no option to send back unwearable items and get replacements. If you are depending on your Nuuly delivery to cover you for a vacation, wedding, work event, or special occasion you may end up SOL because the garment may not come in a condition you feel confident wearing. And even if it isn't faded or damaged, you may need to invest in dry cleaning to get rid of the strong scent of detergent and get the fabric looking crisp.
Issues with Stock Level of Cusp-sized Professional Attire
If you are a straight size looking to add statement pieces and occasionwear to your closet, Nuuly may be a great use of your money. If you are plus size and are sick of the offerings at the mall retailers but can't afford Anthro on a regular basis, this could be a great choice. If you are one who regularly has occasions where you need cocktail attire, Nuuly could be a good choice. If you are going on vacation and would love a suitcase full of sundresses you don't have to dryclean when you get home, Nuuly can offer that.
But if you are hoping to find work separates, sophisticated day dresses, and the occasional elegant piece to wear for an anniversary dinner or networking event, Nuuly may not be the right choice. As a size 14 woman who needs petite for pants and long skirts, I didn't find enough pieces that as a grown-ass woman could be worn to the office, to lunch with a friend, dinner with my husband, or even running errands on the weekends.
I definitely did not get my money's worth from Nuuly for my own wardrobe… but in the long run Nuuly was worth my money for my household.
Why a Nuuly Subscription Was Worth My Money
January through June with an 8th grader made me grateful for Nuuly. It's an age of recitals, ceremonies, weddings, dances, Bar and Bat Mitzvahs, and graduations. And thanks to my Nuuly subscription, we didn't have to purchase a single outfit for such occasions. She found casual to cocktail-appropriate dresses that I also found appropriate for her age.
She was psyched to find brands that social media influencers she followed also wore. Free People, Farm Rio, Selkie and more as well as on-trend styles and colors. She rocked trendy sweaters over her school uniform, stylish rompers and casual dresses on weekends, and statement-making dresses for special occasions and I didn't have buyer's remorse with that item collecting dust in her closet after one or two wears.
Teenagers keep growing and changing both physically and sartorially. What fit their body and personality in March may be totally the wrong size and style by May. This fall, my daughter is off to high school and it's a school without a dress code. I may resume my Nuuly subscription at least for the first few months of school to get her through homecoming, recitals, and holiday events as well as navigating her own personal style in a new environment.
Have You Tried Nuuly?
I am only one person. We all have different bodies, different lifestyles, and different needs for our wardrobes. I know in the Wardrobe Oxygen Facebook group, folks had mixed experiences with this clothing rental service. Have you tried Nuuly? Do share in the comments your experience along with some details about your lifestyle/wardrobe needs, general size and age. Such reviews are really helpful to other members of the community and can help us all be informed and savvy consumers.