This article may contain affiliate links; if you click on a shopping link and make a purchase I may receive a commission. As an Amazon Associate, I earn from qualifying purchases.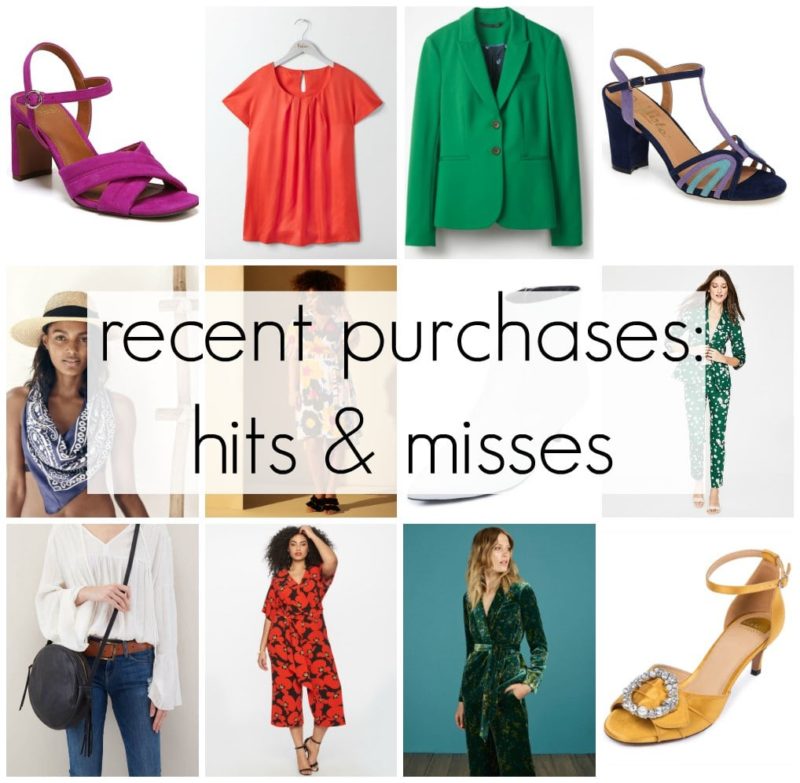 Greetings ladies and gentlemen, and welcome to another edition of items I tried to add to my closet and whether they were keeps or returns! This is an especially interesting one because my body has changed a lot since last year. I'll have a post on it soon, but I've been working out at the gym every weekday since the beginning of December and while I haven't lost a ton of weight, my shape is very different and different from how it's ever been before. Picking clothing has been a challenge, things fit strangely and I don't know my size even in brands I've worn for over a decade. So grab a La Croix or a Spindrift (I'm in love with the lemon one) and let's go through my wardrobe hits and misses:
Banana Republic
Banana Republic has extended their size range to 20 which is freaking awesome. I was looking for some unique pieces to glam up my wardrobe basics from this brand I have worn and loved for years. Stay tuned, I placed a second Banana Republic order after this one (they had 50% off and free 2-3 day shipping and I couldn't resist) so I'll do another recap in a couple weeks.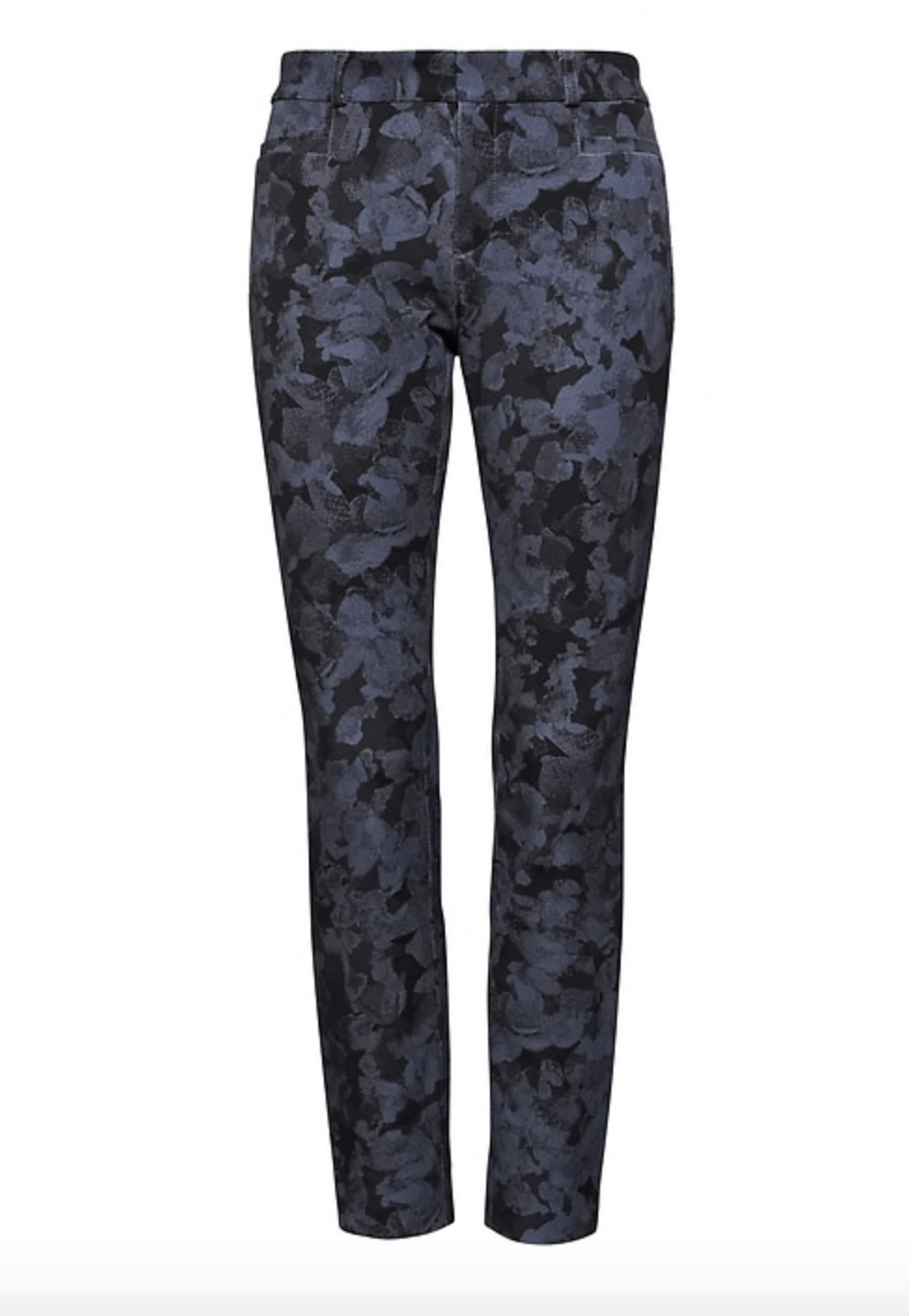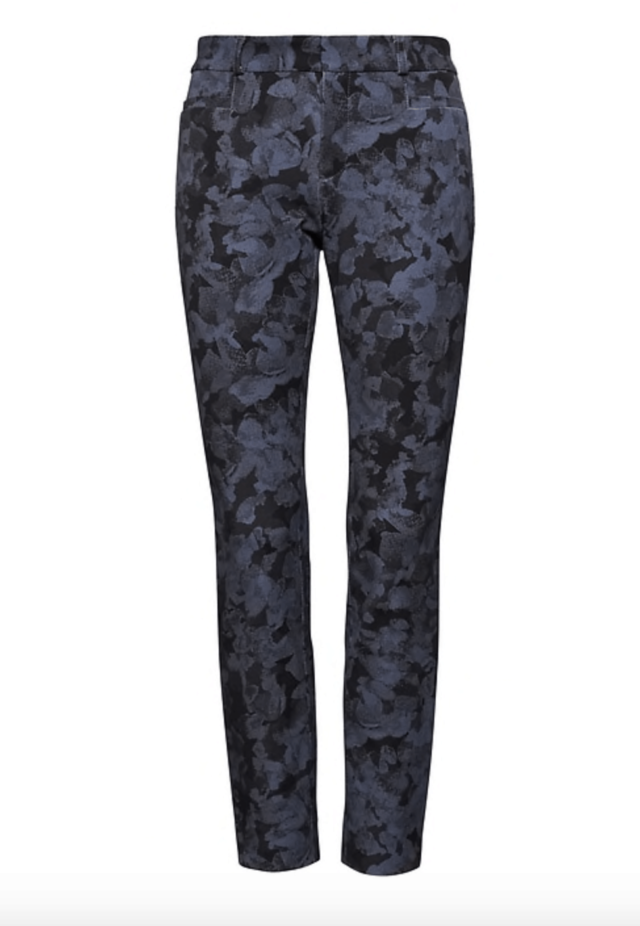 I thought a navy and black printed pant would be a fun addition. Wear with a Breton top and my red camo Rothy's flats, style with a black blazer and heels, tuck in a black silk camp shirt, leave out a black crepe camisole. I swore my other BR pants were a 16 short. They weren't and no surprise these didn't fit. As an FYI, I am more a 14 petite in Banana. These went up to my ribcage, were dragging on the ground, and had enough room for a loaf of bread in my crotch. Also the print and fabric wasn't as cool/funky as I had hoped and likely would have only worn with the blazer and cami for an evening event. Miss.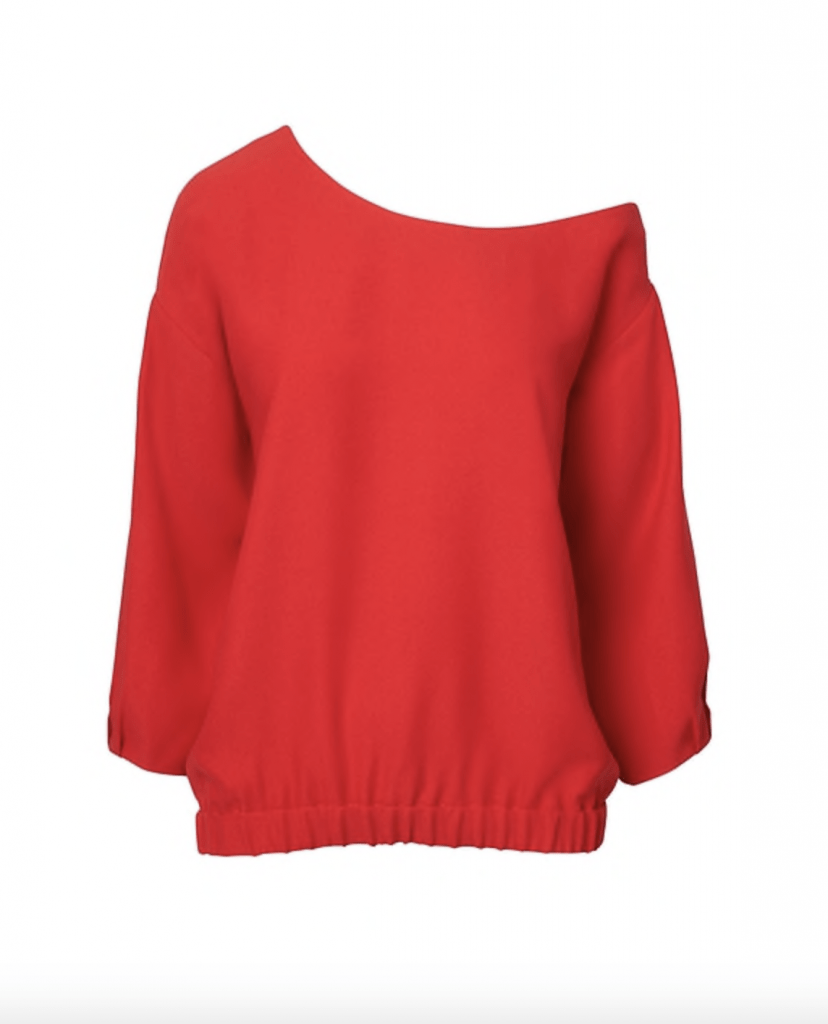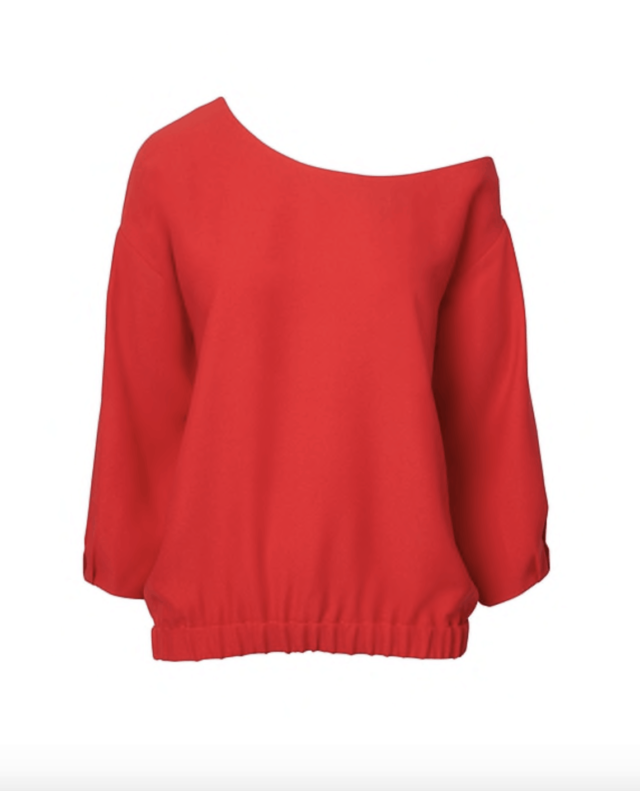 I love an exposed shoulder. With a good strapless bra, it's a way to look festive and sexy without wearing anything too tight or too revealing. Throw it on with jeans and you're ready to rock. I buy so much black, I thought red would be a nice change. This red wasn't as bright and popsicle-like in person. The fabric was also heavier than I expected. And an XL? Well it was practically a dress on me. I went to try to reorder it in a Medium (medium? I haven't worn a medium since college. That's not weightloss that's extreme vanity sizing) and the only sizes left were XL and XXL. Writing this post I see it's now back in stock but I don't know if I will reorder. Miss.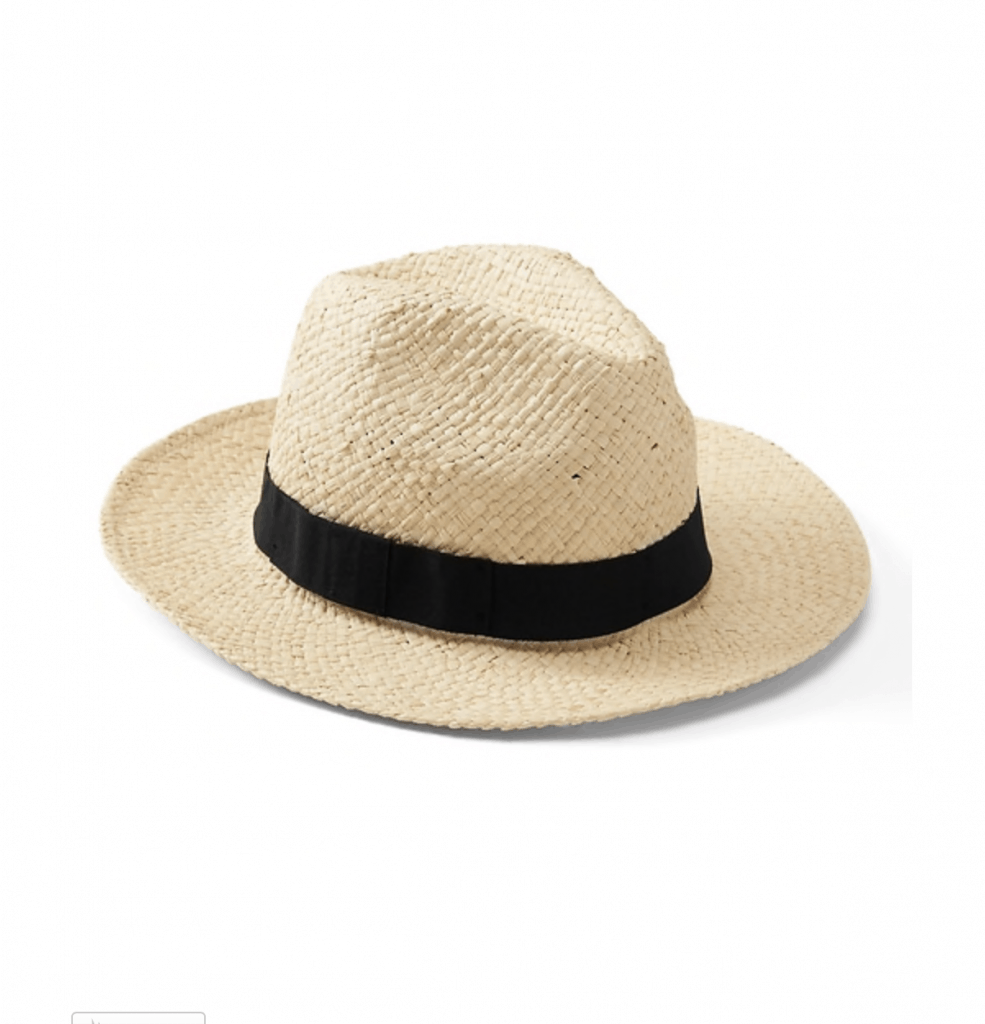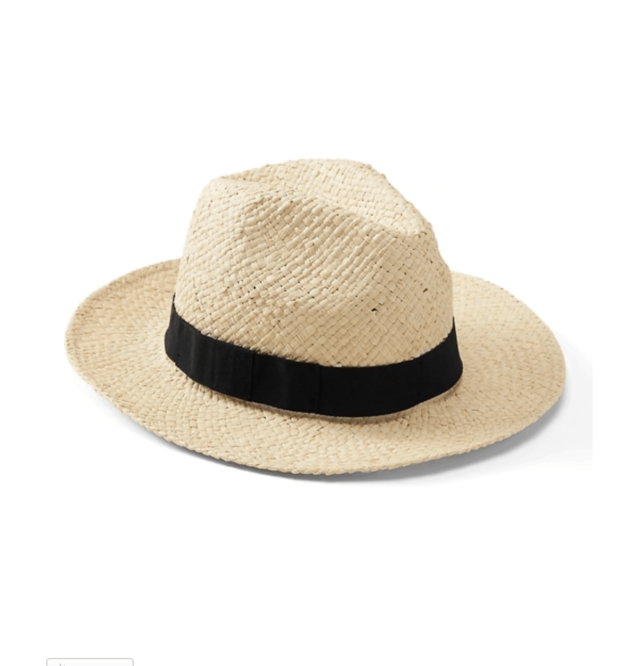 Now that I work from home I am alllll about hats. I don't have time to shower between the gym and taking my daughter to school so I usually hide my hair with a beret or baker boy cap. With spring coming I was looking for a lighter weight cap to do the same thing. I have a hat from Banana I got last summer that I like and thought this may fit similarly. And being packable? Fab! Except that this hat was so misshapen it looked as though it was packed in an overstuffed suitcase and wasn't made to be packable. It also looked like it cost way less than the $48 I paid for it. Miss.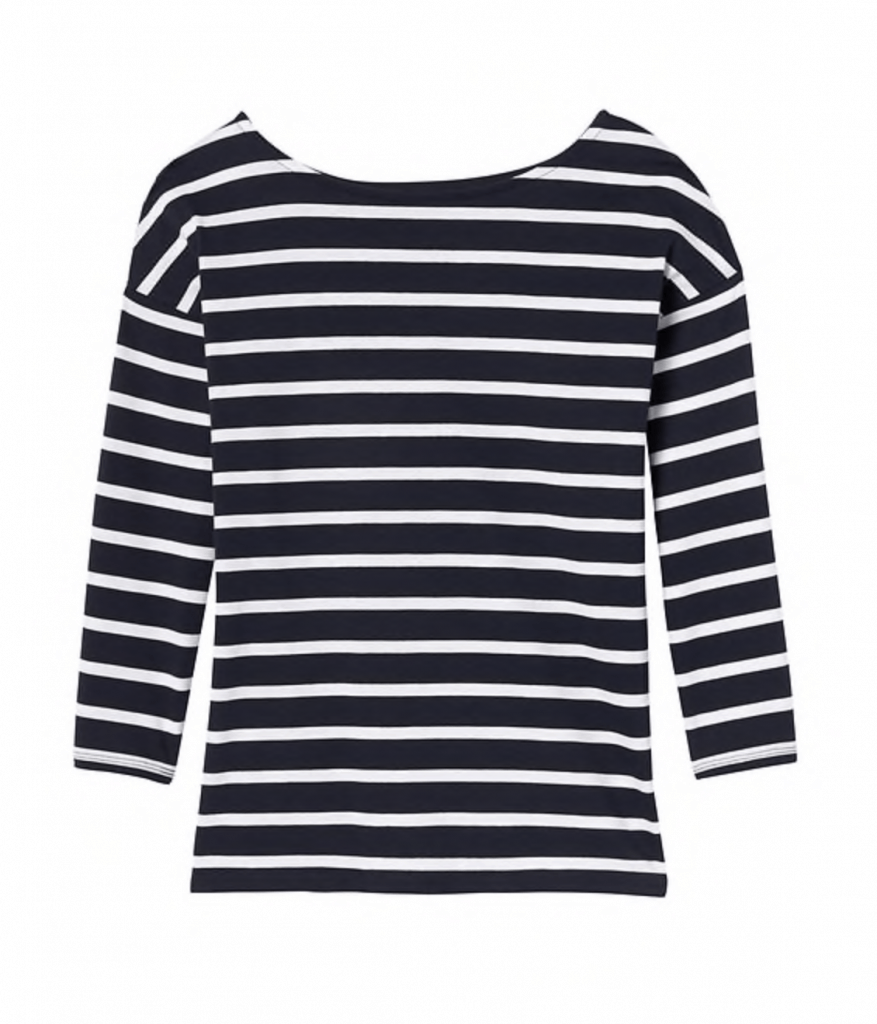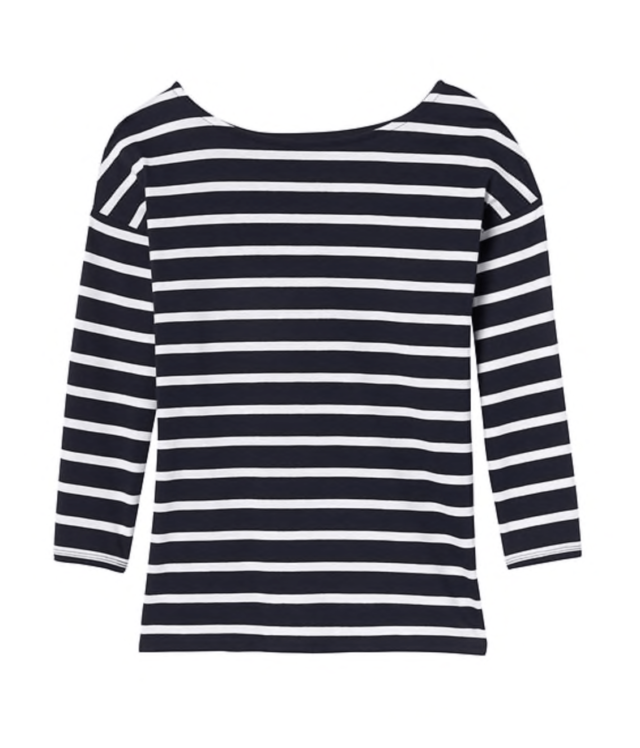 I recently had a wardrobe mishap where I ruined 99% of my stripe shirt collection. I saw this top and thought it may be a good replacement. It was giant, but it also had no shape so it puckered at my bust and tented straight down from my breasts. I didn't like it enough to try it in a smaller size. Miss.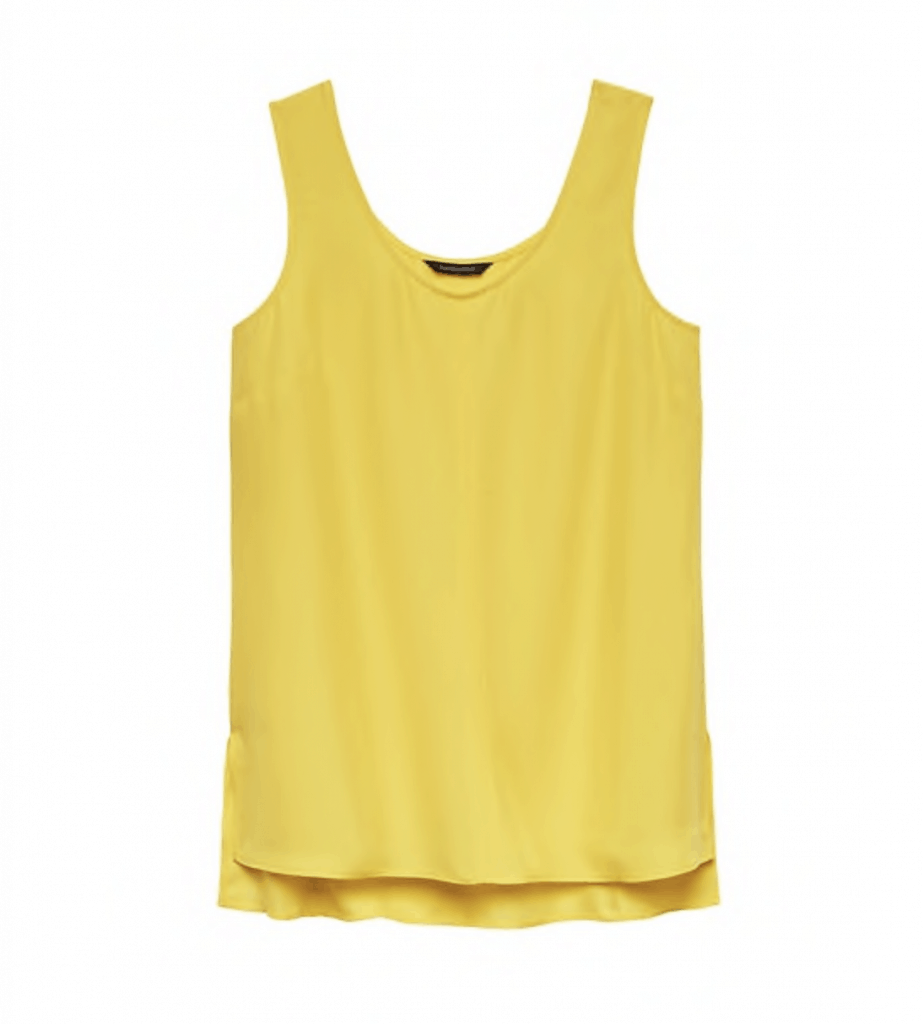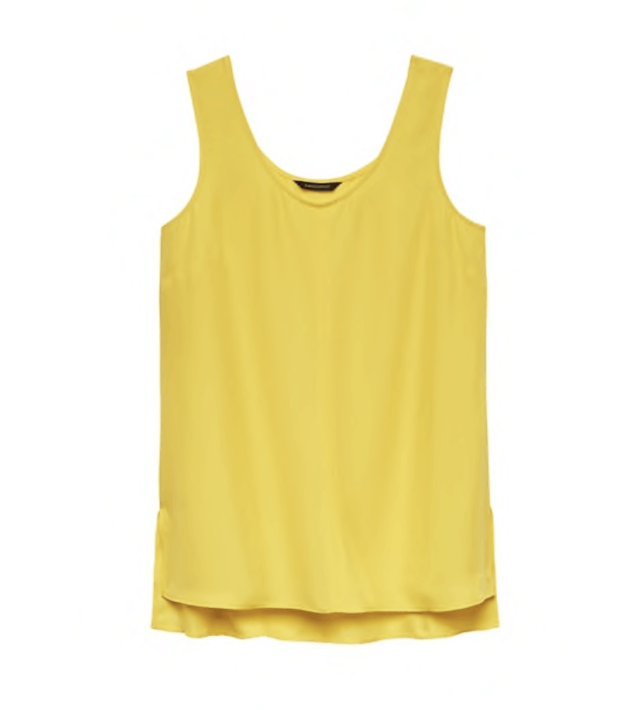 I don't know why I ordered this. I thought it may be neon, or more chartreuse? It wasn't, it is Big Bird yellow. And after trying on everything else in XL I knew it would be a fail. I didn't even take it out of the plastic. Miss.
Boden
I placed this order at the beginning of February but many pieces were backordered and the last item didn't arrive until a few days ago. You've already seen the ponte blazer on the blog, but I'll share a full recap. I shopped at Boden because… well it's Boden. I love Boden, I love their color, and I have good luck with fit, especially with dresses and blazers.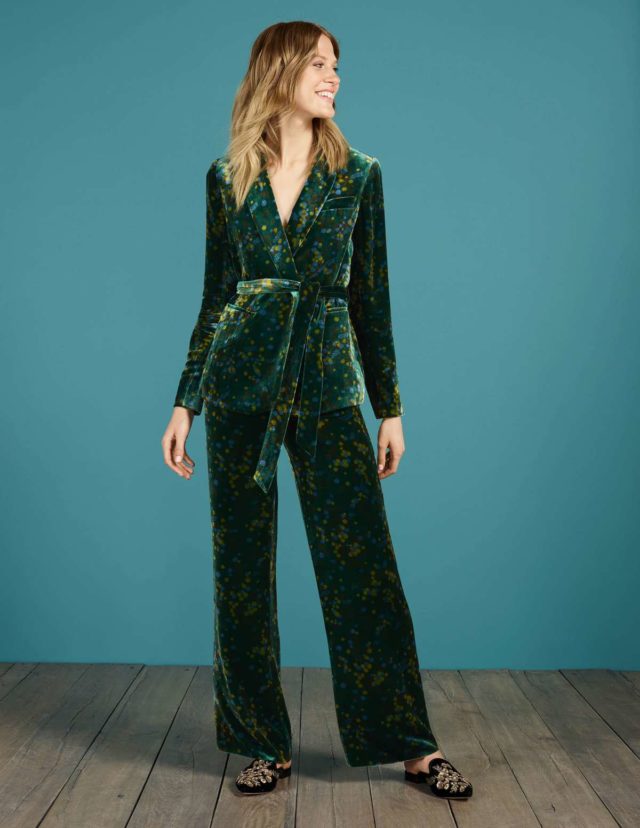 I saw this gorgeous dark green printed velvet belted pantsuit and HAD TO HAVE IT. But gosh it's so impractical, I don't NEED it, it will be spring soon… but I kept thinking about it. I saw the jacket with boyfriend jeans and heels, with white jeans, open like a kimono. And the pants… even with a simple white tee and sneakers! So I ordered it.
The velvet is gorgeous, which is to be expected with Boden. However, this just didn't look good enough on me to justify its price (I paid $162). It would have needed some tailoring (I would have done better with a petite) and the belt didn't have enough width or interfacing to keep it smooth. I think with my soft curves I need a more tailored jacket. Miss.
They didn't have them in 14. I figured if the jacket was so very awesome, I'd get the pants tailored. I didn't take them out of the plastic after trying on the jacket. Miss.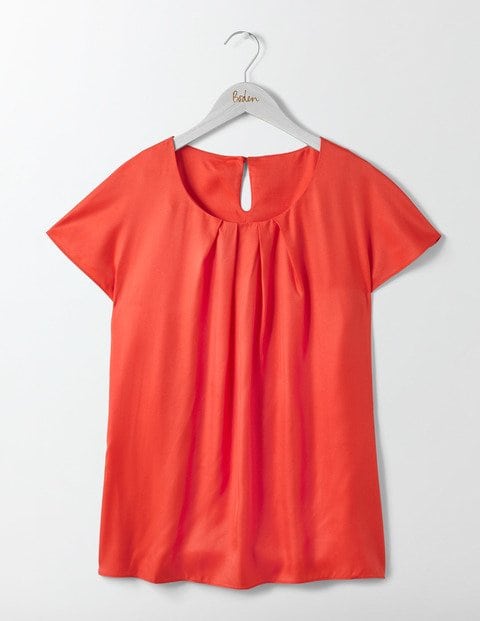 I am no longer a 16 in Boden. This was huge on me, plus the melon crush color which I was hoping would be like a melony orange was more like a melony neon. A fun color, but not for me. One plus from this is I have a Ravello top in the attic, I think a 14 that I packed up because it got too small and I bet it fits now (this one, I love it so much).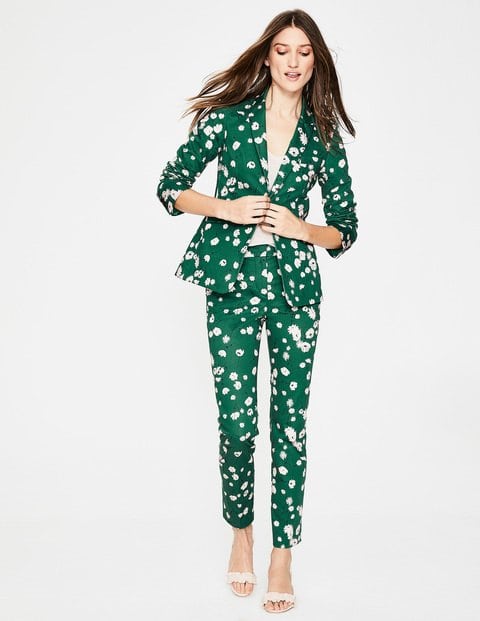 This came after my green blazer, and I didn't even try it on because A) The Elizabeth Blazer I got and love is a 14 so I knew this would be too big, and B) I already had a green blazer, it seemed like overkill to also have one in green floral. Also, the floral didn't look as quirky in person, it was more preppy/classic. Very pretty but not my style. Miss.
I didn't try these on since they arrived after the matching blazer. Also, they were the wrong size. However, this is a pretty print and a nice pant, you can see them on my friend Beth at Style at a Certain Age. But for me, a miss.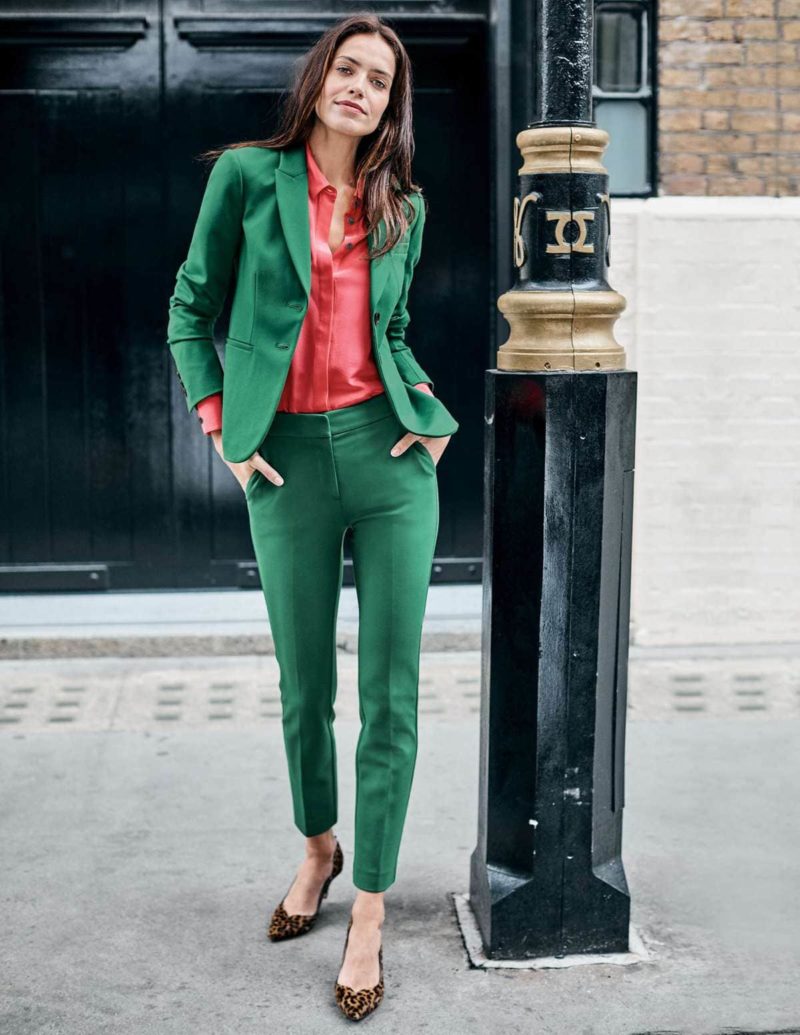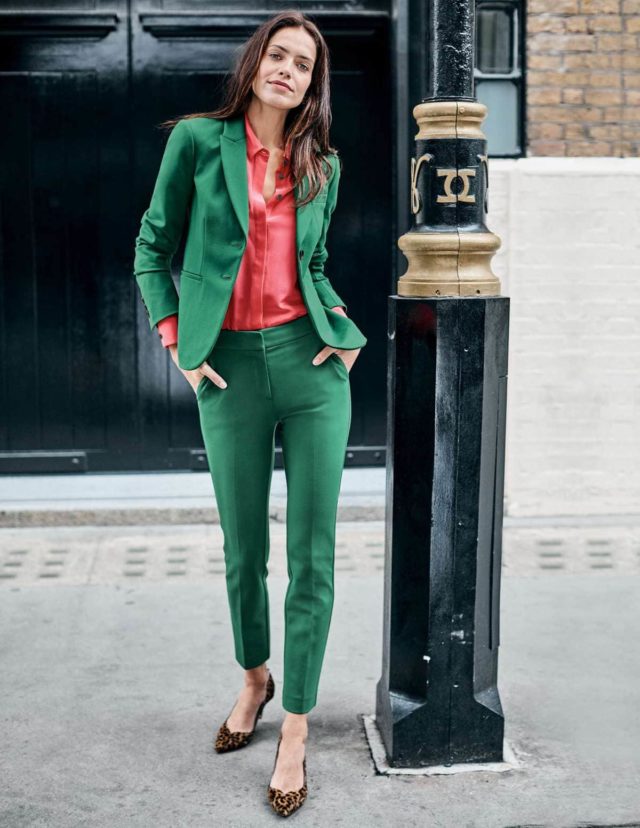 This blazer is what inspired this entire order. I was working on one of my capsule wardrobes, went to Boden because I rely on Boden for great blazers, and fell in love with the color. The jacket doesn't disappoint. It fits great, is made well, and the color is fantastic. You can see me wear it in this blog post. Hit!
These were backordered nine weeks. NINE WEEKS! I just got them… and they're huge. They aren't ankle length on me, and the waist I can pull up to my ribcage. I really need a 12 Petite in these but Boden is one of those companies who thinks short women can't be over a size 10. I thought maybe I'll get these in 12 and get them tailored but they're backordered until the beginning of May. MAY! They're still in my shopping cart, but I just know they still won't fit right and by time I get them tailored, it will be the middle of the summer and the last thing I'll want to wear is a ponte pantsuit. And who knows if I'll be the same shape or size come fall. Sigh. Miss.
J. Crew
J. Crew is usually my go-to for great striped knit shirts. So when I had my laundry issue, I went right to them. I was surprised by how few striped shirts they had (they used to have a submenu just for striped shirts) and how many of their striped shirts had a weird something – a ruffle, a shirttail, a bow, whatever. Come on J. Crew, you're not doing well financially, wouldn't it make sense to have some classics people can buy over and over each season? However, I did find some and a few other things: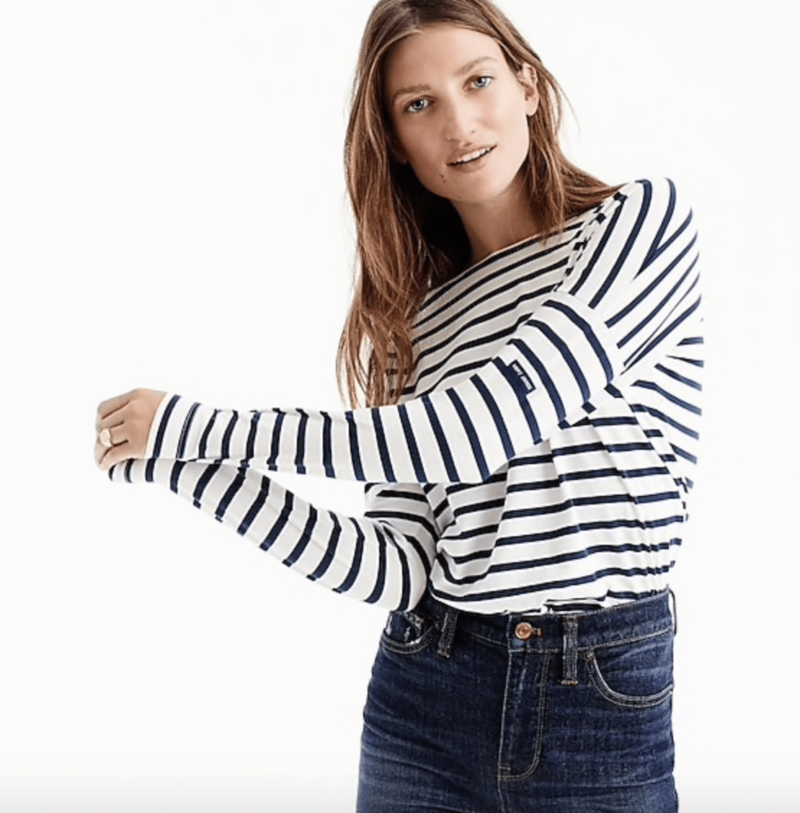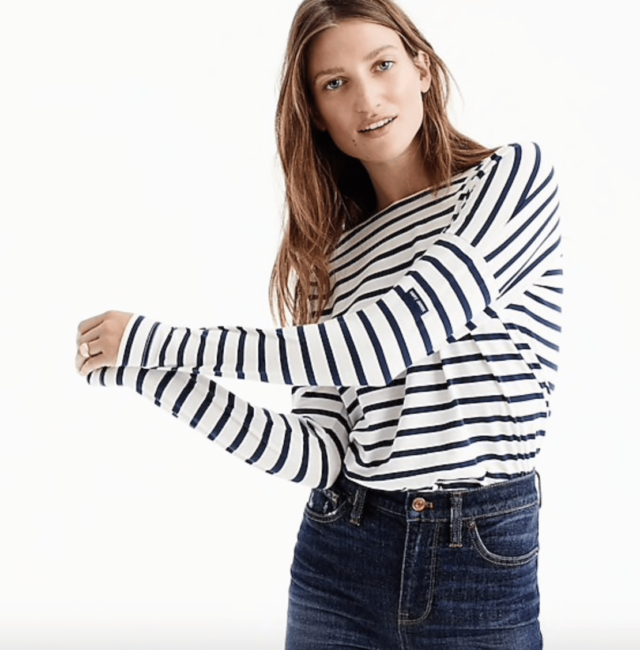 With my body changes, maybe I could finally fit into the iconic Saint James Breton top! I believe in quality not quantity, I wear stripes alllll the time, if this top really is as awesome as the Internet says, it may be a smart purchase.
It was terrible. It has no shape, peaked on the sides of my boobs, made me look like a linebacker, and wasn't any better fabric than ones I've found at Lands' End or Boden or J. Crew. The sleeves are really full, no way to push them up and have them stay there. I'd say I was disappointed but truthfully I'm glad because I really didn't want to fall in love with a $90 striped tee I'd likely spill coffee on before summer. Miss.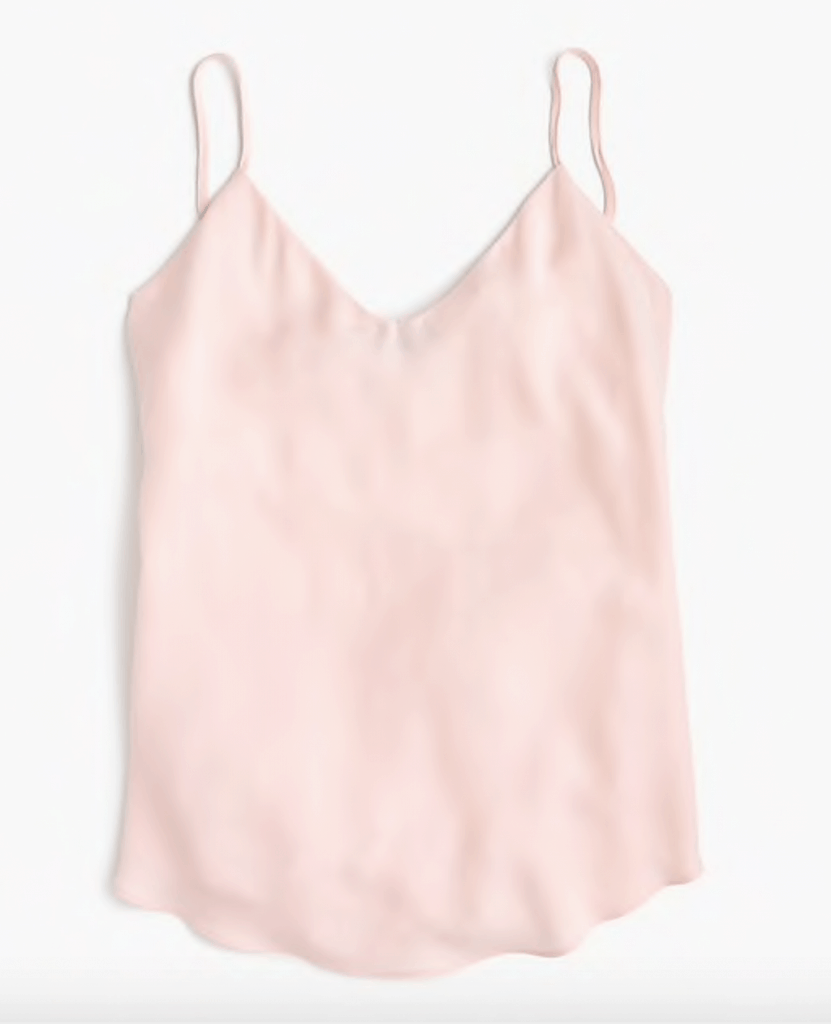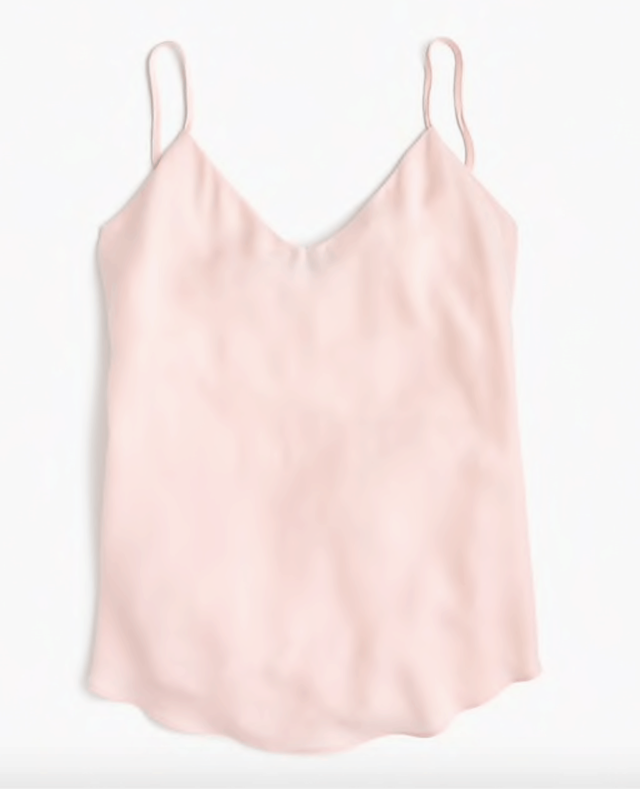 I had two outfits that needed camis like these. I have a few double-layer camis I picked up at LOFT last Spring but I put the too-small ones in the attic and the ones I left out are now too big. And I was lazy and didn't want to go up in the attic and dig through everything to find the navy cami I had, not sure if it would even fit. I also needed a pink camisole for the Newsbash event where the dress code was pink. These were a good price (around $35 thanks to a promo code) so I picked one up in navy and one in pink.
These look like sandwashed silk but they're machine washable poly. They have adjustable straps; I had to shorten them as much as possible to hide cleavage but they're still long enough to tuck in and blouse out. Unlike the LOFT ones I got last spring, these don't have as much shape, pretty straight up and down. I like them under jackets, but wouldn't wear by itself with a strapless bra. I was hoping I could do that with white jeans and a long gold necklace or pair of statement earrings and flat leather sandals. I've worn both and like them, but I'm not in love. However, if you need a camisole to wear under jackets and sweaters, this isn't a bad one, And if you have a smaller bust, it may be a better fit to wear on its own. So hit? Miss? I'll say hit, because usually camis have too long of straps for me to even consider and I like that I can wash these.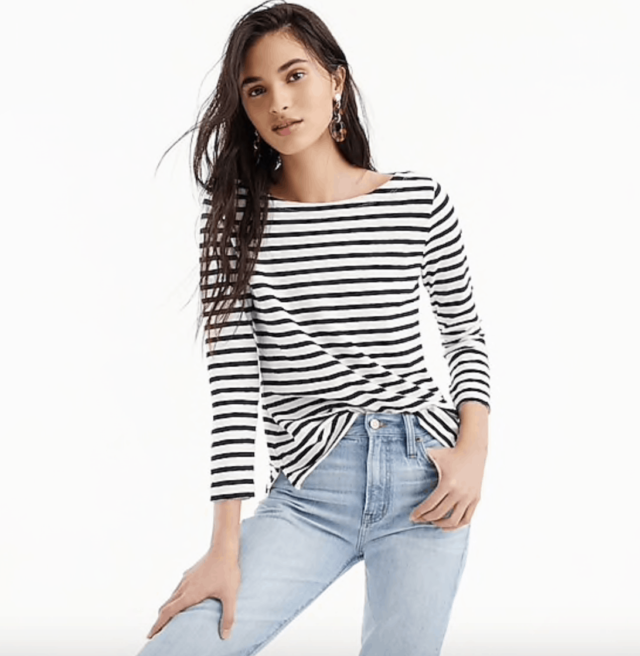 This is a lovely shirt… that I already own. Okay J. Crew, you have kept a classic. Iv'e owned two of these, one I bought last year and one the year prior. Same color (it's not ivory, it's closer to white if not white), same fit, same material. I still have one of those striped shirts that didn't meet an early death so I returned both. I'm glad I ordered both sizes. I have an XL right now and it's fine. The Large fit better. If I hadn't ordered both I wouldn't know that the L looks more polished and actually more expensive because it fits better. When the one I have gets too big or kicks the bucket, I know I can go to J. Crew and find a replacement!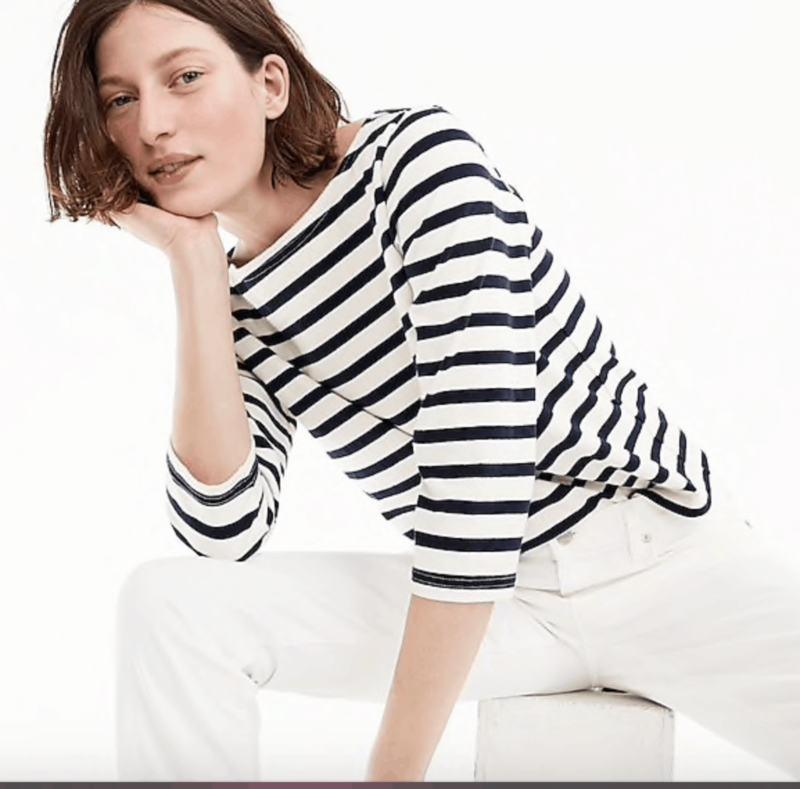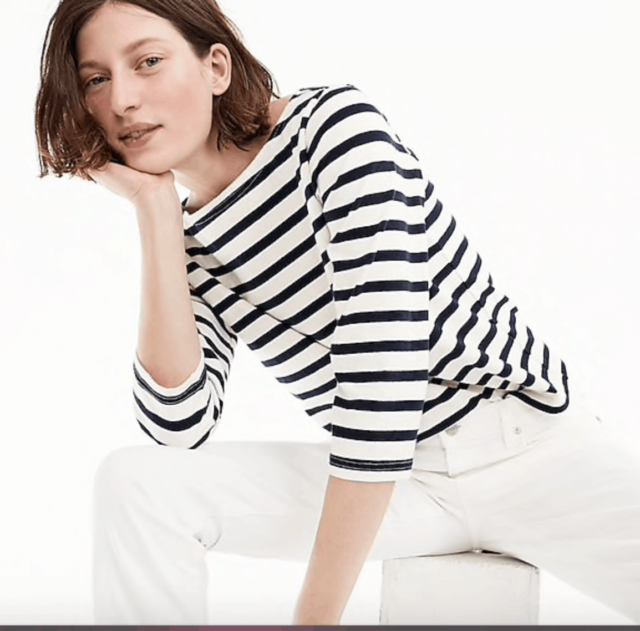 Okay this shirt IS ivory and navy. And it's more structured, a heavier weight fabric (more of a pique finish though heavier), less stretch. I first put on the L and thought… this fits. But it shouldn't fit. Let me try on the XL. And the XL also fits, but it makes me look bigger because the stiff fabric tents out. The L is really nice. It's the kind of striped shirt you can wear to the office because it doesn't look like a T-shirt. The sleeves end below the elbow, the shirt is shorter and hits just below the waistband. I kept only the L and have worn it quite a lot with my Universal Standard high-waisted jeans, under my ivory Talbots blazer, with overalls. This is a refined striped shirt, a nice addition to the wardrobe. Hit!
Nordstrom
Nordstrom continues to be my favorite place to shop. Free speedy shipping, free easy returns, plenty of variety in style and in price. Seriously folks, I often get better deals at Nordstrom than Kohl's so don't judge a department store by its reputation. I was looking for hats (still) and shoes to update my wardrobe for spring.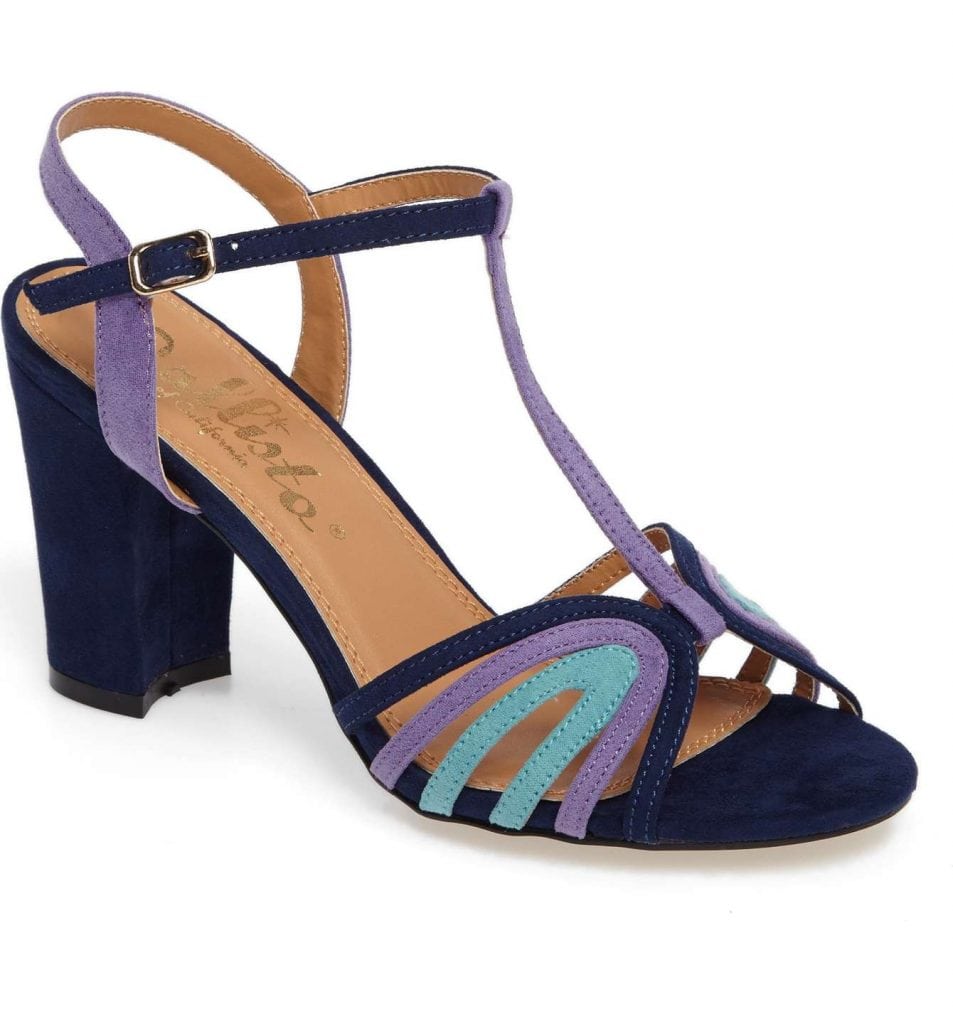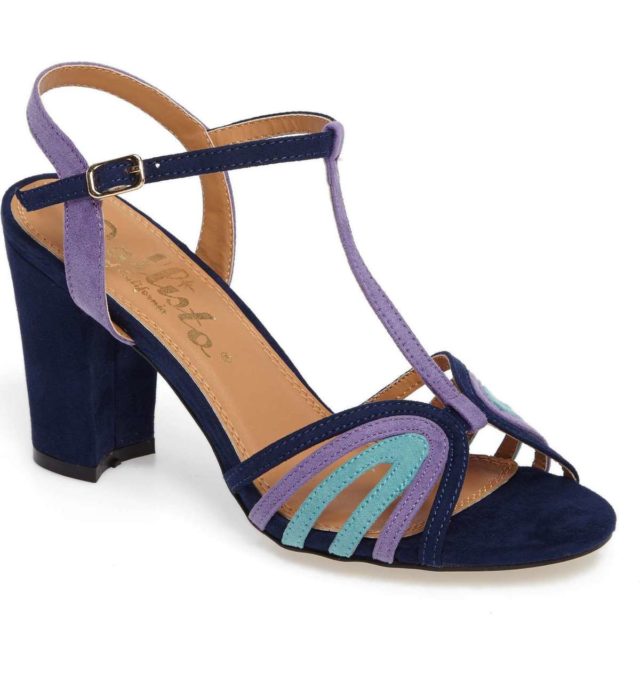 This shoe was calling out to me so hard. With jeans, with dresses, with jumpsuits, with everything. It's a mix of blues that becomes a neutral like denim and can be styled with so many things. And the shoe came and it's just as gorgeous in person… but too narrow for my chubby feet. So buy them and let me live vicariously through you. I can't share how comfortable they are because I couldn't even get my foot in the shoe (I usually wear wide for such styles). So a hit of a shoe, but a miss for me.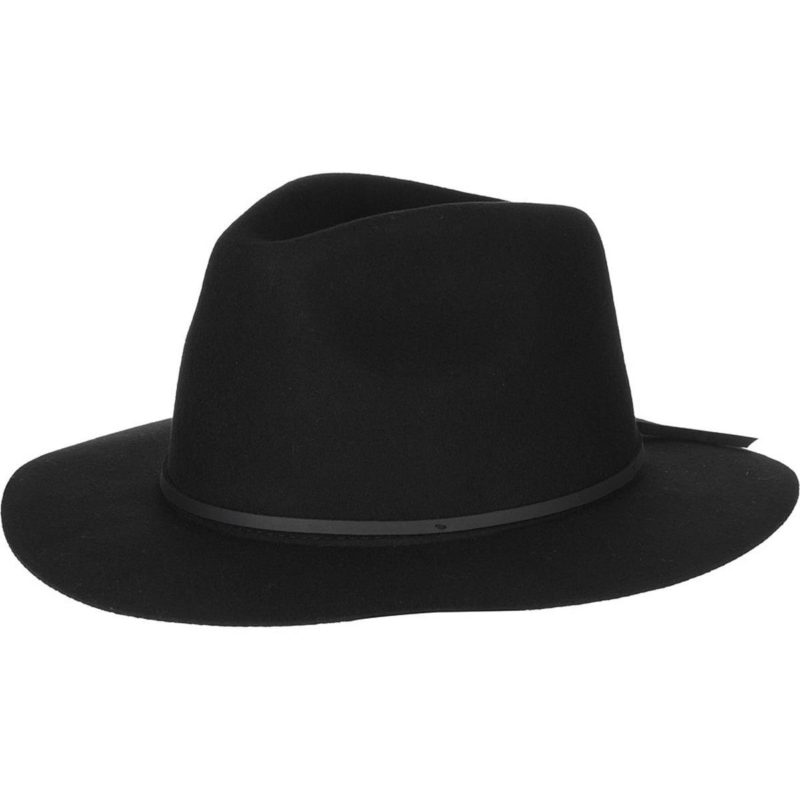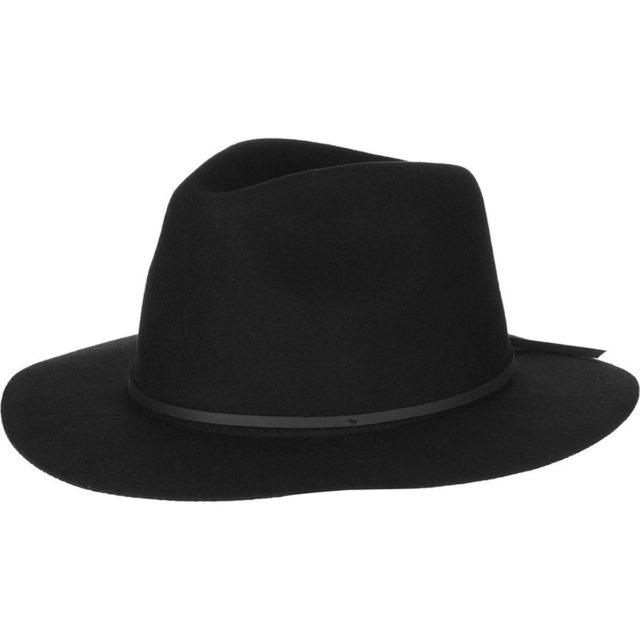 This hat looks nice and crisp on the website. It's not. It's one of those soft sorta floppy hats that can look charming on some and a disheveled mess on others. I looked like a disheveled mess. Miss.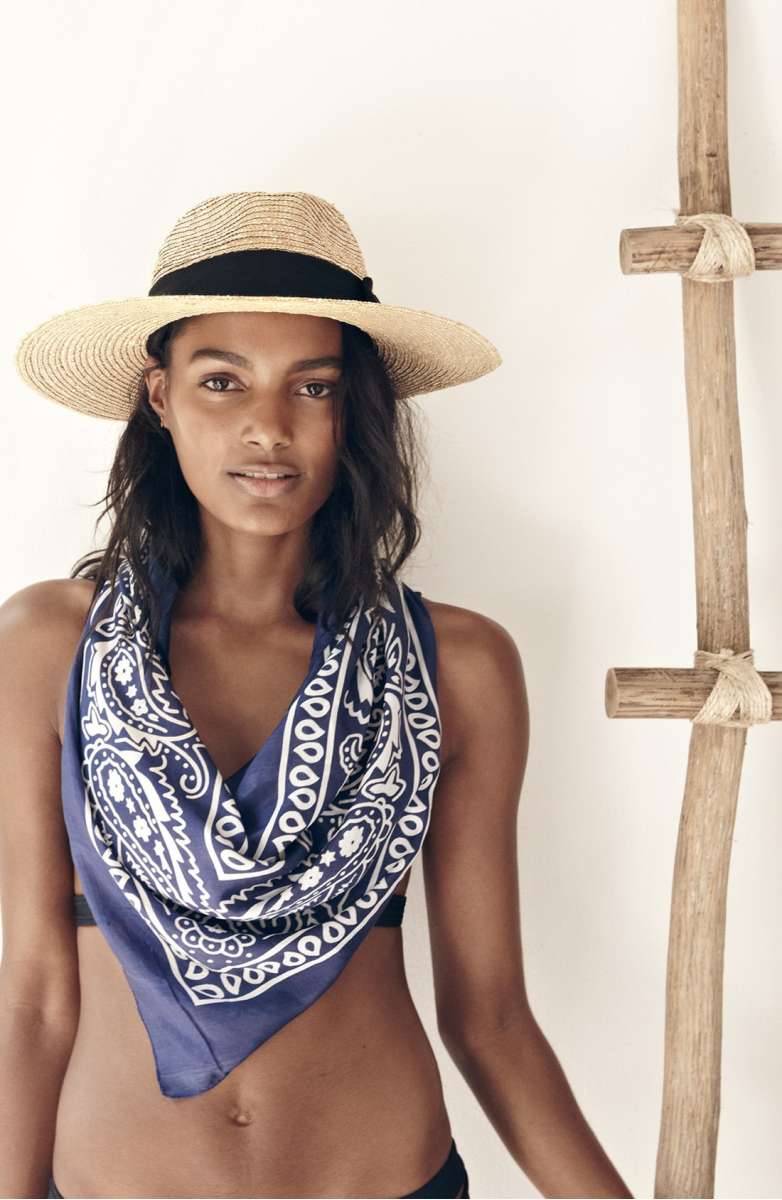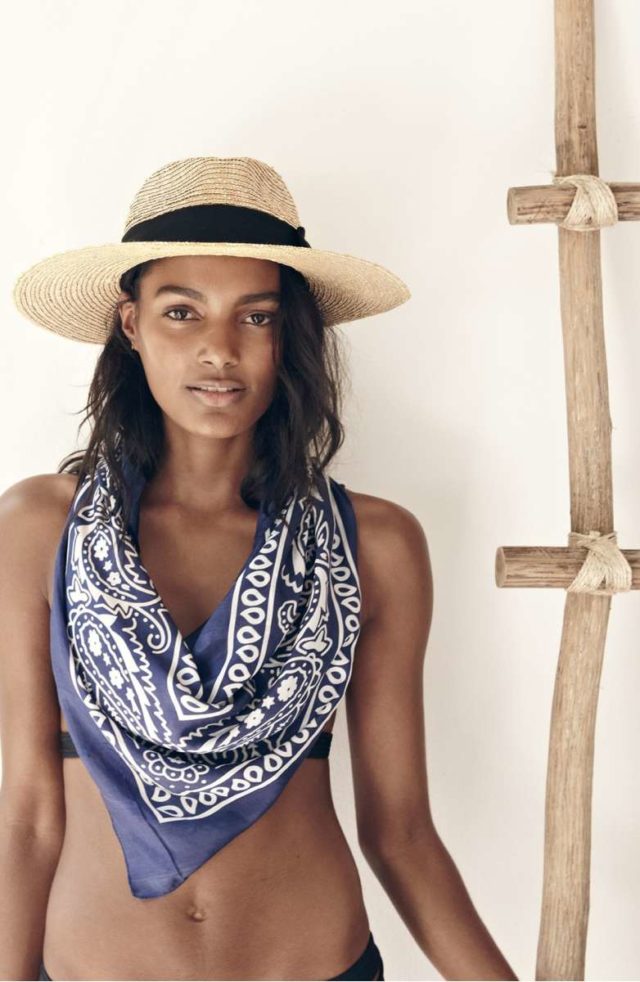 This hat was comically large on my head. Not in band size, but in the fact that it looked like one of those stickers you can put on yourself in InstaStories. Like Man with the Yellow Hat big. It's very stiff, very bright, very tall, very wide, and is essentially walking around with a basket on your head. I don't believe that you can only wear certain things at certain ages, but with hats I'm finding that some styles just look better on the young. On an older person they can look comical or frumpy. That being said, being older you can rock some styles way better than a woman in her 20s! But yeah, this was a mega miss.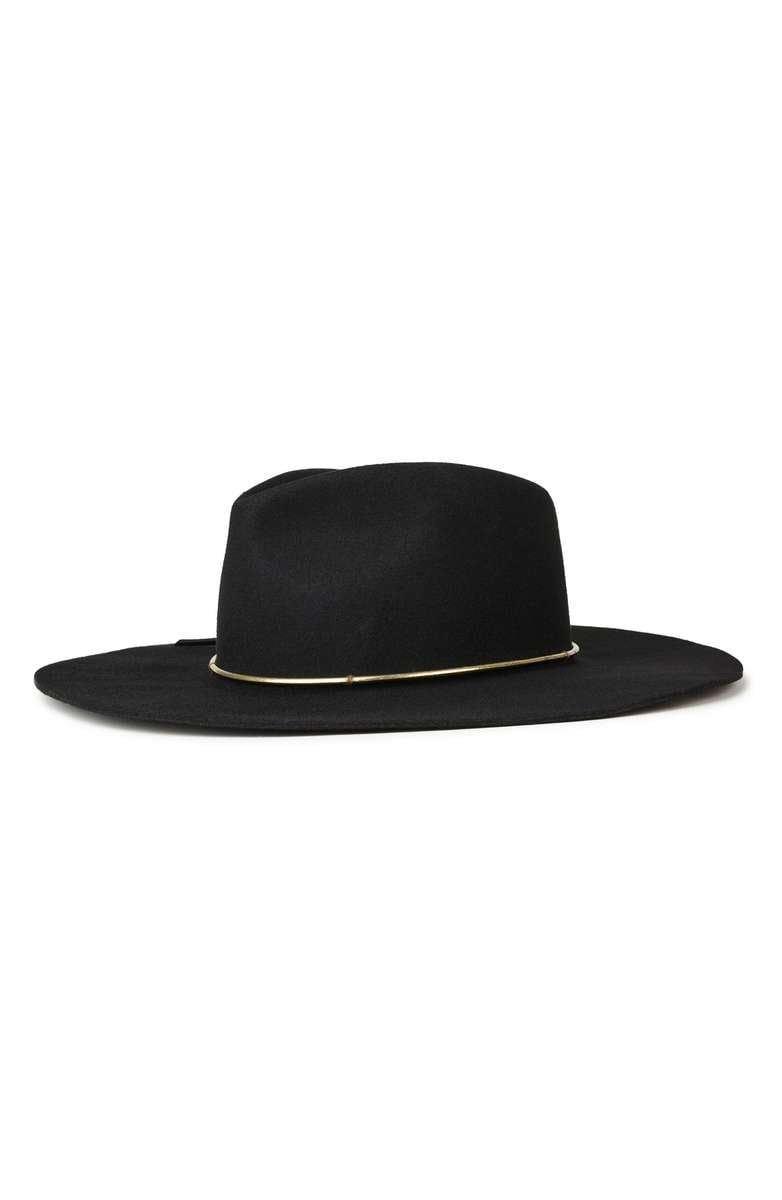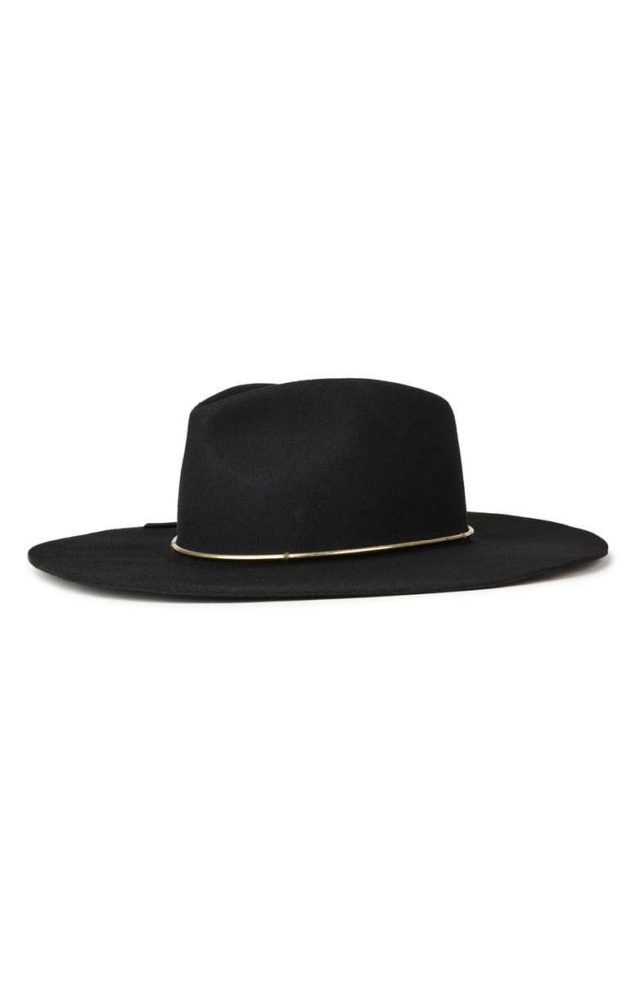 Now this hat looked amazing on me. I loved everything about this hat. The brim wasn't limp, the hat fit well on my head, I loved the metal hardware. The only reason I didn't keep it was because the brim was so big. If I lived somewhere like a winery where I'd be walking around outfoors in brisk yet sunny weather I'd keep this hat. But it was so big, I'd feel I'd take up the whole sidewalk in DC. I wouldn't be able to drive while wearing it. It just was a bit too much. I wish they made the same exact hat with about 2″ less of a brim. Miss.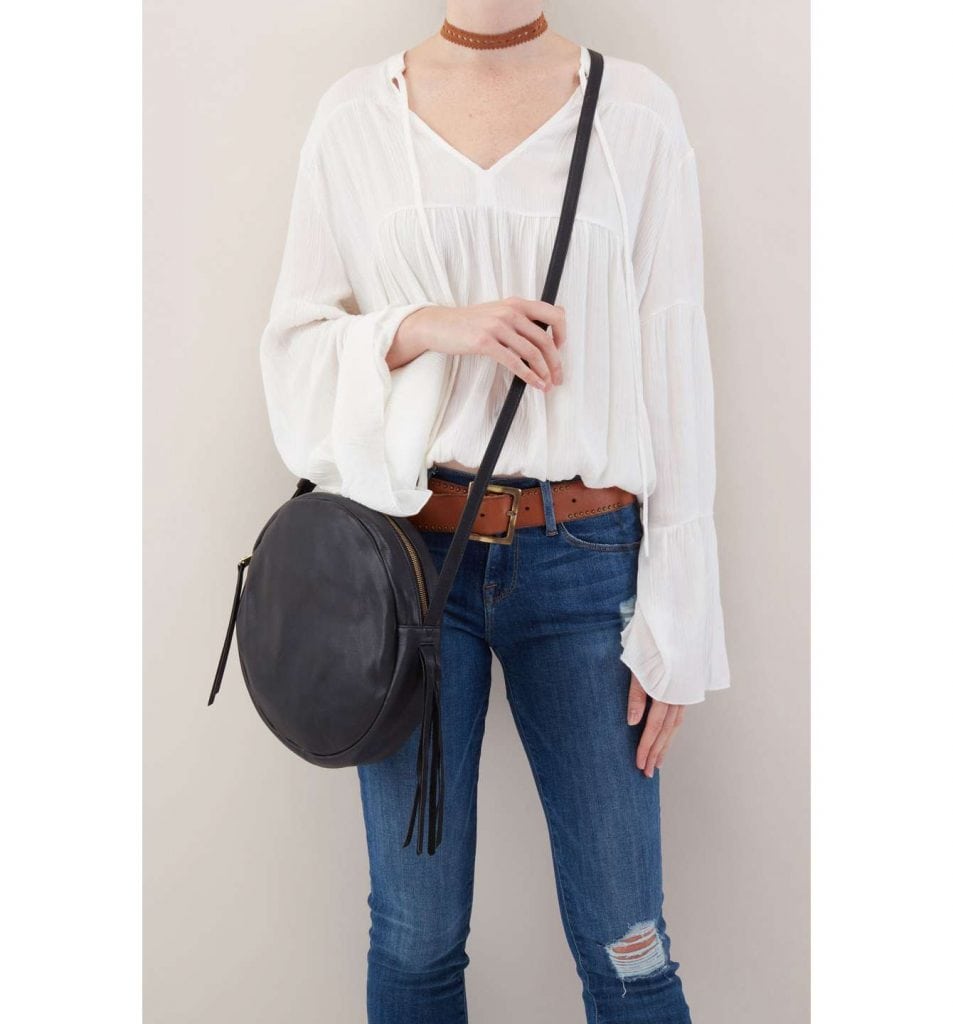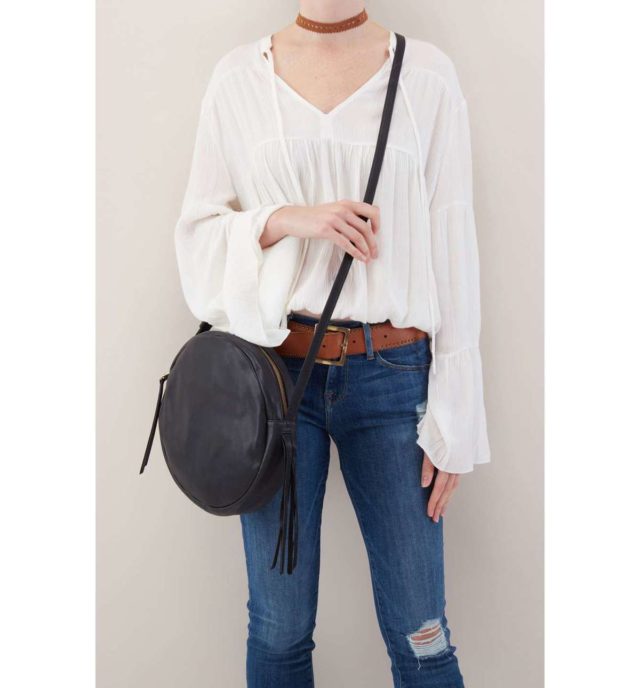 As I mentioned in this blog post, I wanted an everyday crossbody that was on-trend but not trendy, big enough to carry a book, didn't cost $500 and wasn't made by a Scientologist. That's harder to find than you would think. Should have known that Hobo would have one. I've always like Hobo (FKA Hobo International) and this bag is pretty fantastic. The leather is so soft I catch myself petting it. There's a pocket on the outside on the back which is great for a farecard or something you need to grab quickly. A zipper pocket inside, and a light-colored lining to find everything. The only thing missing is a double zipper; I'd love to be able to have it open from the top or either side instead of a traditional zipper. It also comes in a gorgeous camel/cognac color that would be perfect for spring. Oh and it's under $200! Hit!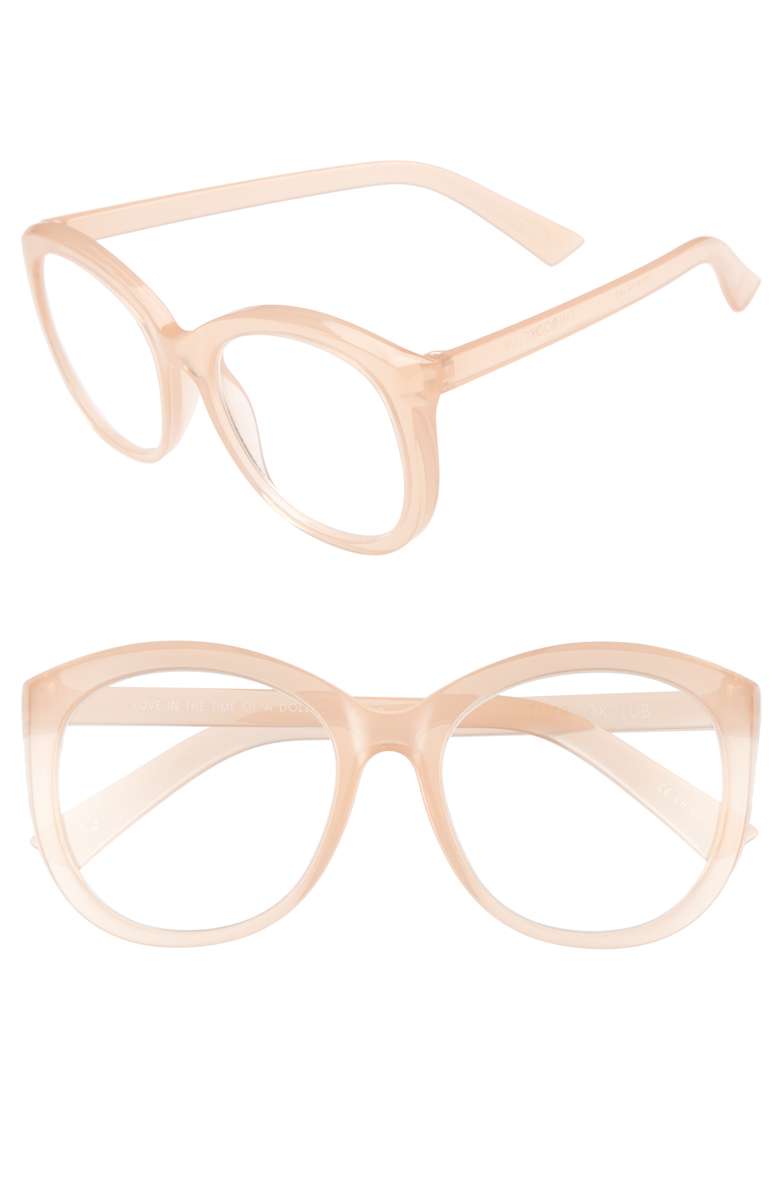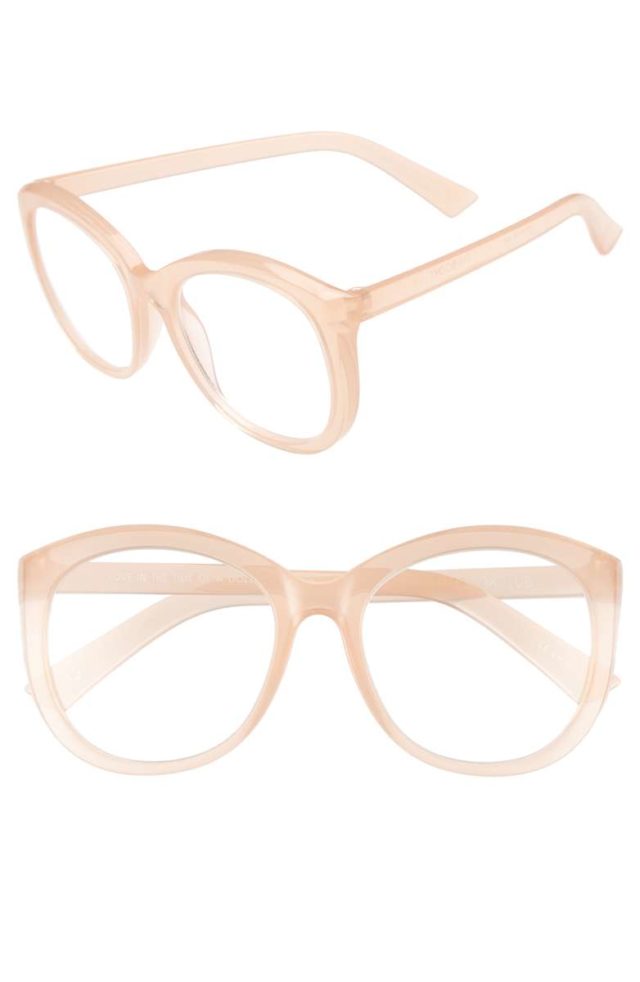 I spend all day in front of a computer and my off-hours are often spent looking at a phone screen. Such is the life of a blogger. The blue light that emits from these devices can cause headaches, mess up your circadian rhythm and affect your sleep. I'm looking for easy ways to improve my health and well-being and was willing to take a chance with these $40 glasses. I love the oversized retro look of them, and like that they're so big they don't block my vision. You can see them on me in this blog post. I think they work; my eyes feel less tired at the end of the day. Hit!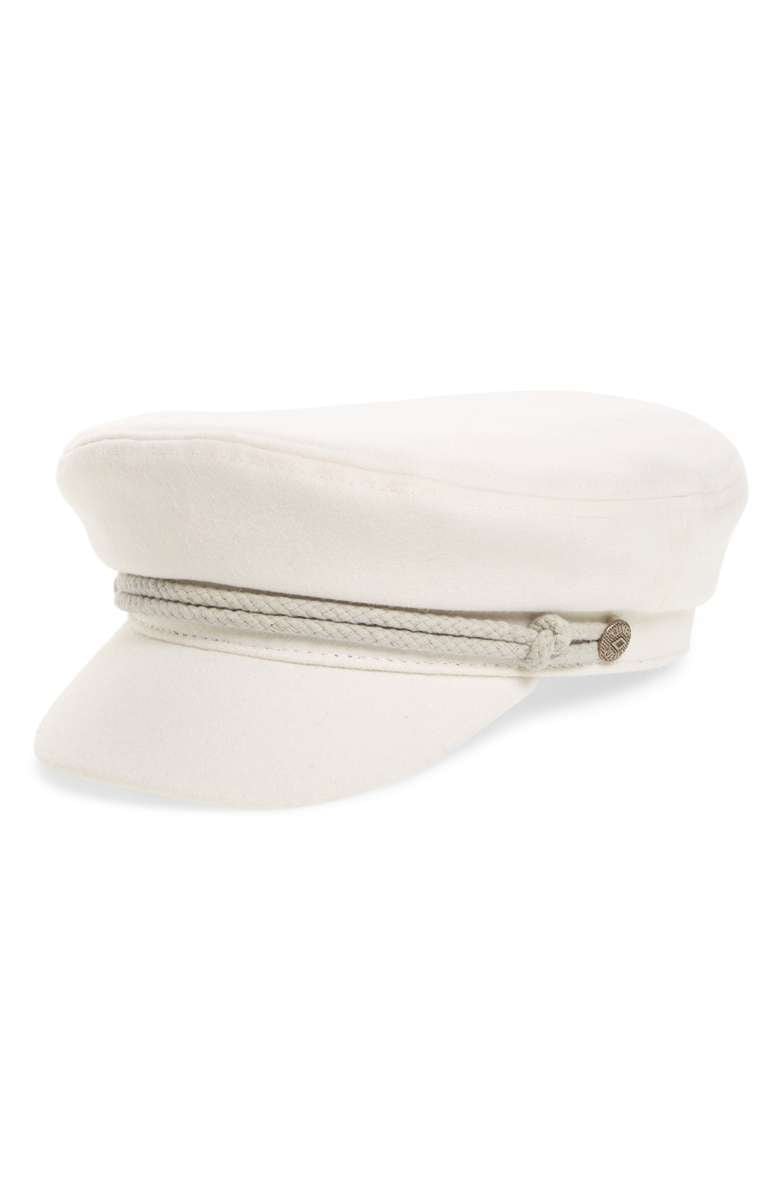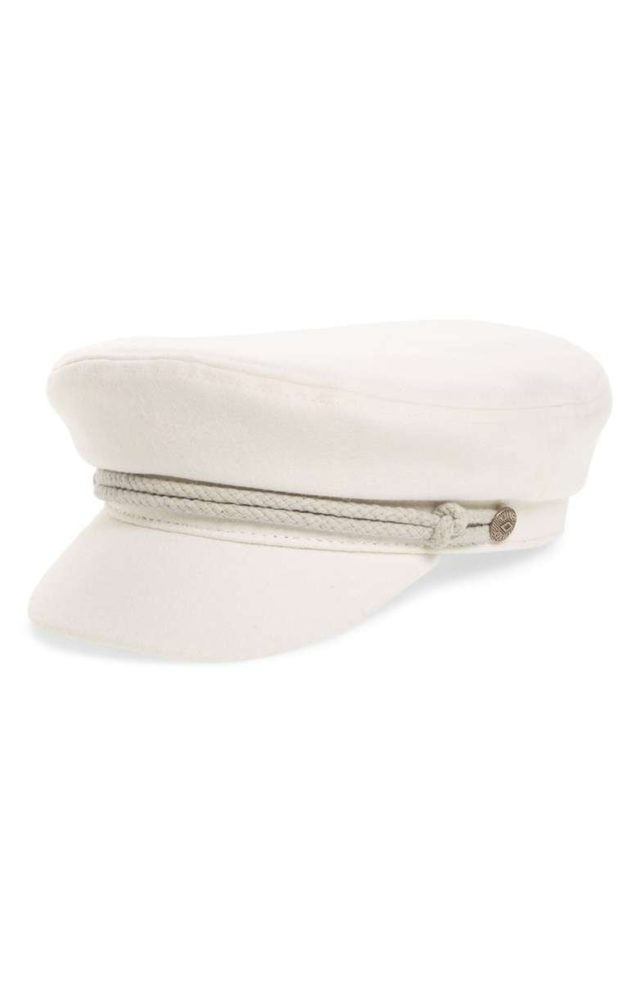 My dad used to wear a hat like this. I ordered it and looked in the mirror and looked too much like my dad. If your dad didn't wear a hat like this, you may feel like you look like you're in the marching band or a '70s funk band or an old man on his boat in downtown Annapolis. Or maybe you're 25 and you can make it look adorable and charming. But on me, nope. I looked like a dad. Miss.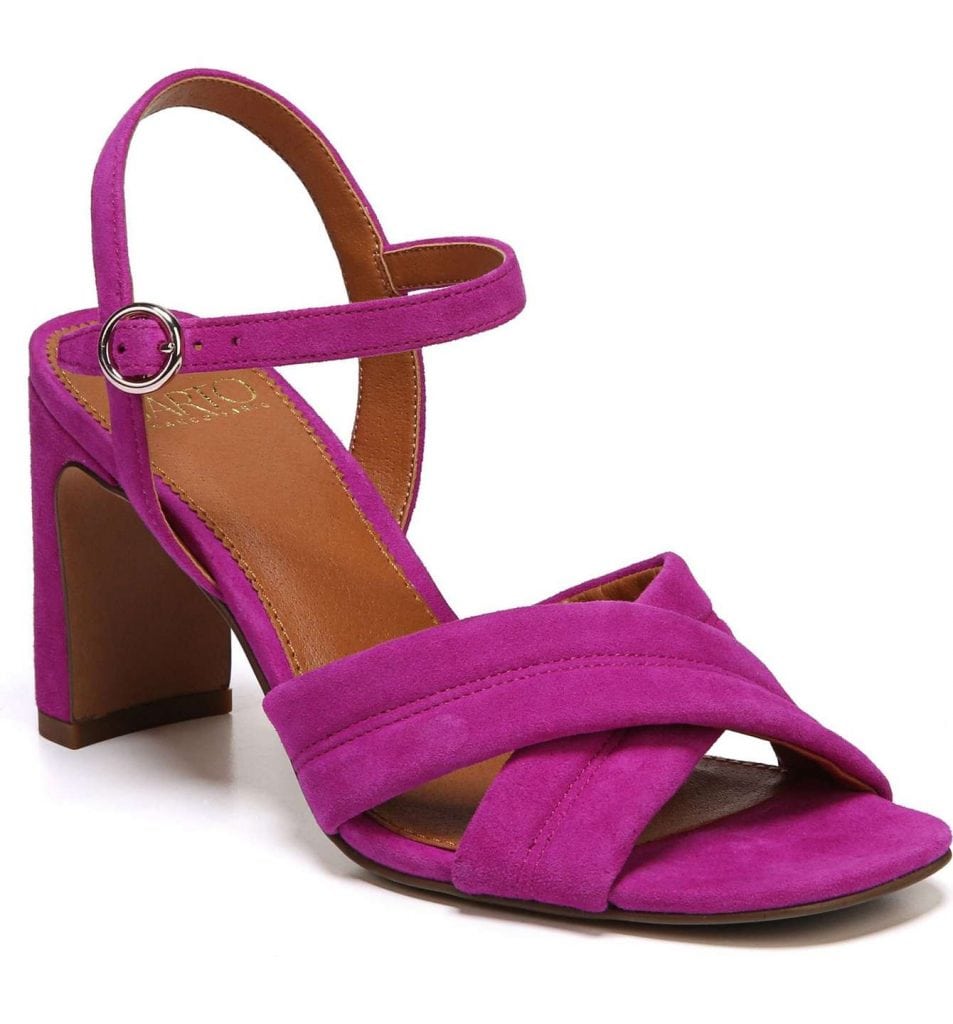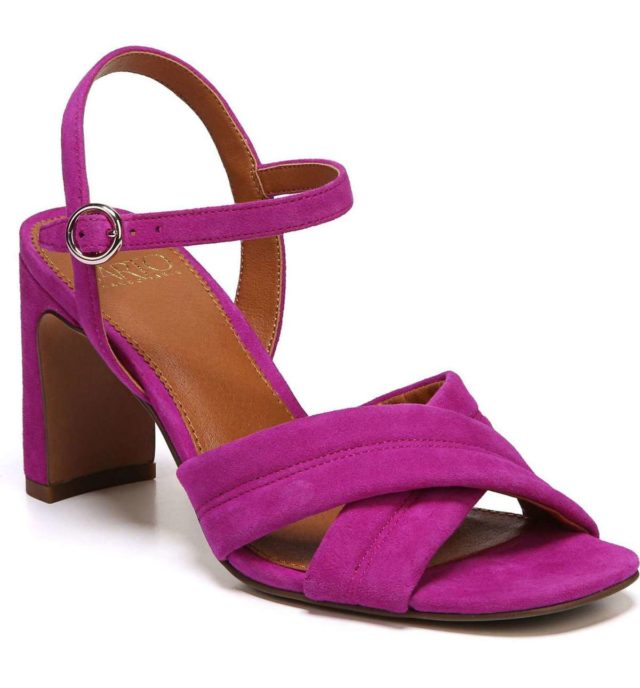 With my exercise, I've found my feet aren't quite as wide. I've been going through my closet finding things to donate and sell and found a pair of Franco Sartos that used to fit and do again (though I'm not really the 4″ heel with a platform kind of girl these days). So I took a chance with these shoes. They fit! And my pinky toe isn't trying to escape! And my ankles don't look like a popped can of biscuits around the ankle strap! The color is phenomenal, one of those saturated colors that stand out and can go with absolutely everything. They also come in orange, tan, and black and I am so tempted to buy another pair but I won't. I will just enjoy these in their wild violet glory. Oh they're also relatively comfortable for their height! Hit!
ELOQUII
I love ELOQUII. Like big puffy heart squishy hug love this company and the amazing people behind it. Some of the most-loved and most-worn pieces in my closet are from ELOQUII but I'm finding some of them are now too big. But I'm going to keep trying because dang I love this brand.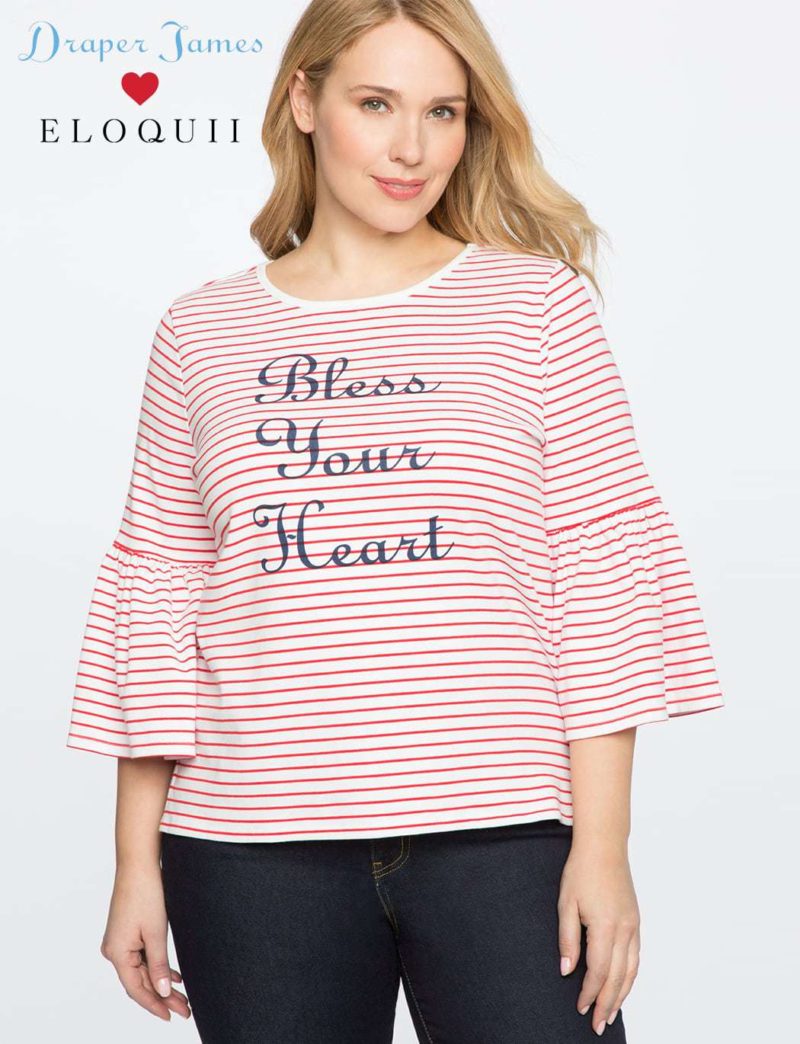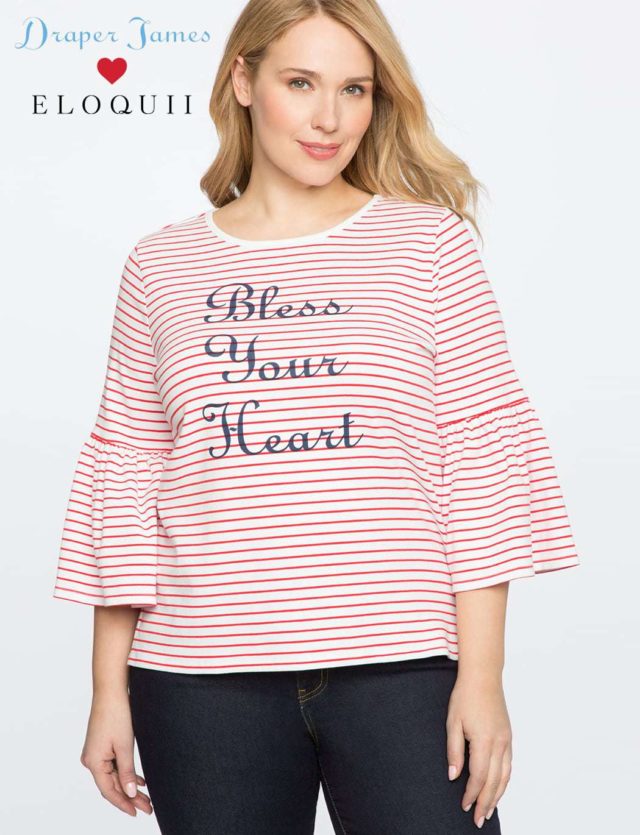 I'm not a preppy person, so while I was excited to see the Draper James x ELOQUII collaboration and thought some pieces were cute I wasn't racing to get any of them. However, when I saw a shirt that said, "Bless Your Heart" on it I had to try it. That phrase, said by one of my clients in Alabama back in 2005 is what inspired me to start journaling my outfits and create what is now Wardrobe Oxygen. I was psyched to see that this collection comes in size 12. The top fit, a 12 was a good choice. That's pretty much my only positive comment on this top. The silkscreening was thin, you could see the stripes through the navy font. The white banded collar cheapened the look. The ruffled sleeves looked comical. It looked like a top I'd buy Emerson when she was three. Seriously, she's 8 and would find this top to be too juvenile. I have silkscreened tees from ELOQUII and they are much higher quality than this one. I see many raving about this collab, I doubt this top is indicative of the entire line's quality but for me this was a mega miss.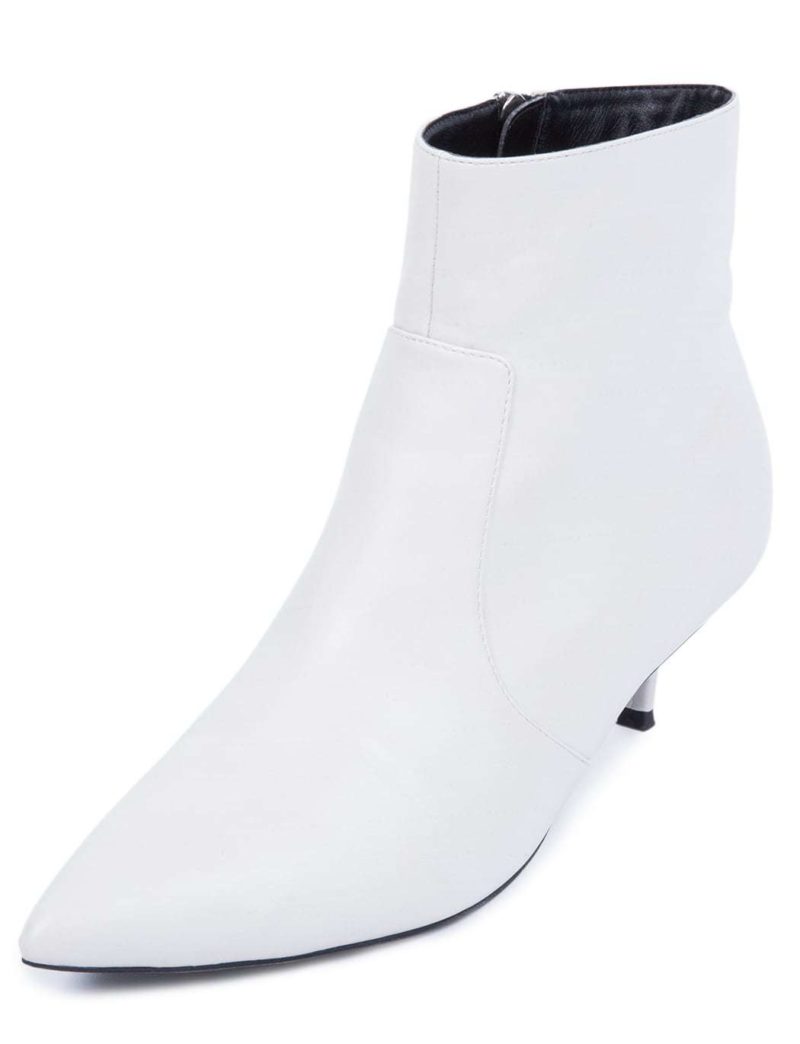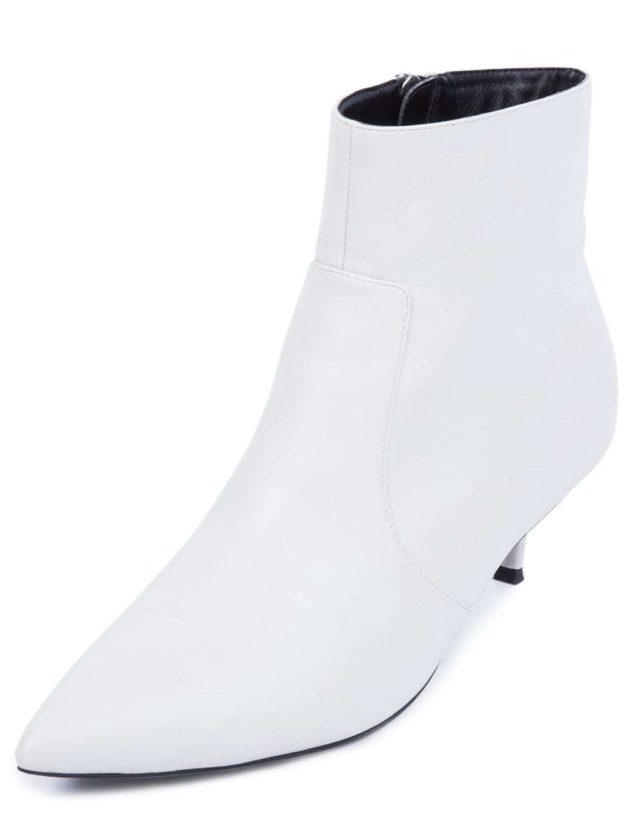 I was swayed by the 'gram. I saw so many fab women rocking these booties with bare legs, with jeans, with shift dresses and suits… I had to try them. I'm pretty pale and liked the idea of a low-contrast (and low heel) bootie for spring. These fit, they look like real leather and I could zip them up. Already better than my previous bootie experience with ELOQUII. However, these did make my ankles/shins look like a popped can of biscuits. They were so tight at the top my legs spilled over. I put my skinny jeans over the boots and there was a definite muffin top going on underneath. However, I have very thick legs, thick ankles and shins from walking on my toes as a kid. I think most would find these boots to fit just fine. Seriously, most boots like this can't even zip up on me so if you usually find such boots tight but can zip them up, these will likely look amazing on you. But for me they are a miss.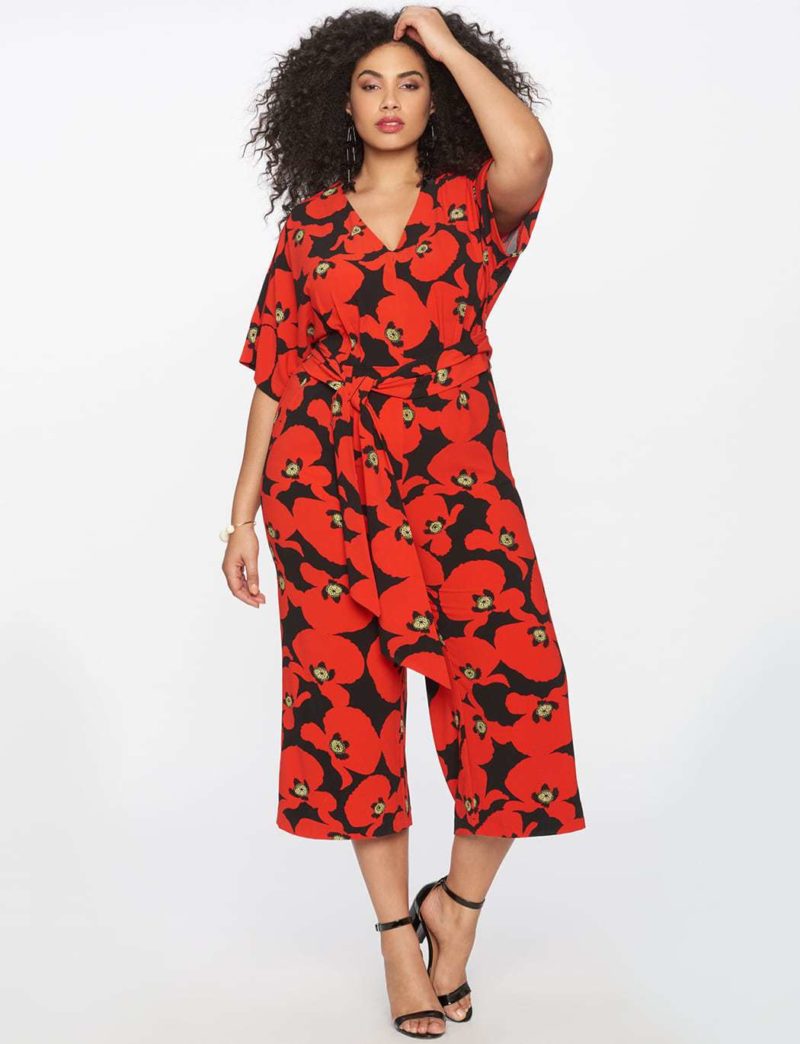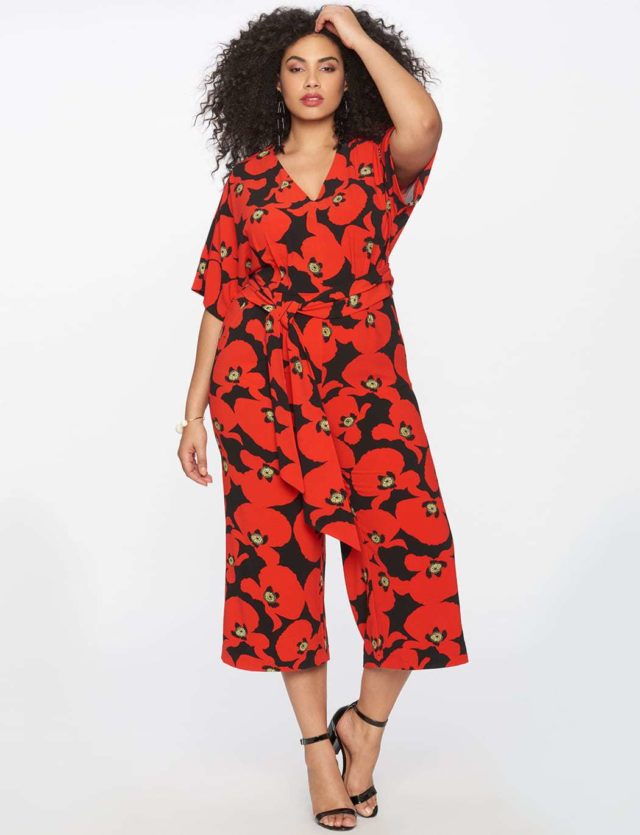 FYI I received this jumpsuit for free from ELOQUII. I love love love my denim jumpsuit from ELOQUII, one of my favorite pieces in my closet and I was hoping this jumpsuit would fit the same. And it DOES! It's a lighterweight fabric that drapes nicely and looks expensive but it fits and looks cool and funky and fun and I cannot WAIT for the weather to warm up so I can rock it! I tried it with my strappy black heels similar to what the model is wearing and love it, but also think it would look great with some pointy flats. As for those worrying about how to zip a jumpsuit when in a bathroom stall alone, I swear by the Zipper Genie. It changed my outlook on jumpsuits forever. This jumpsuit is a hit!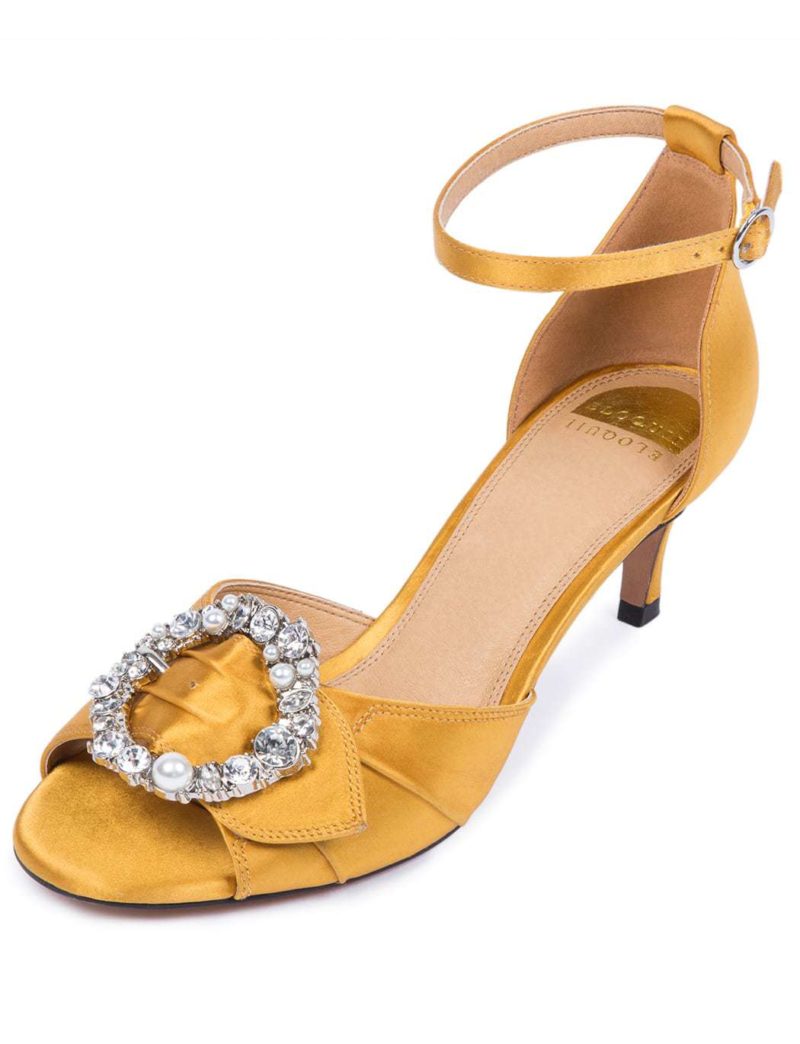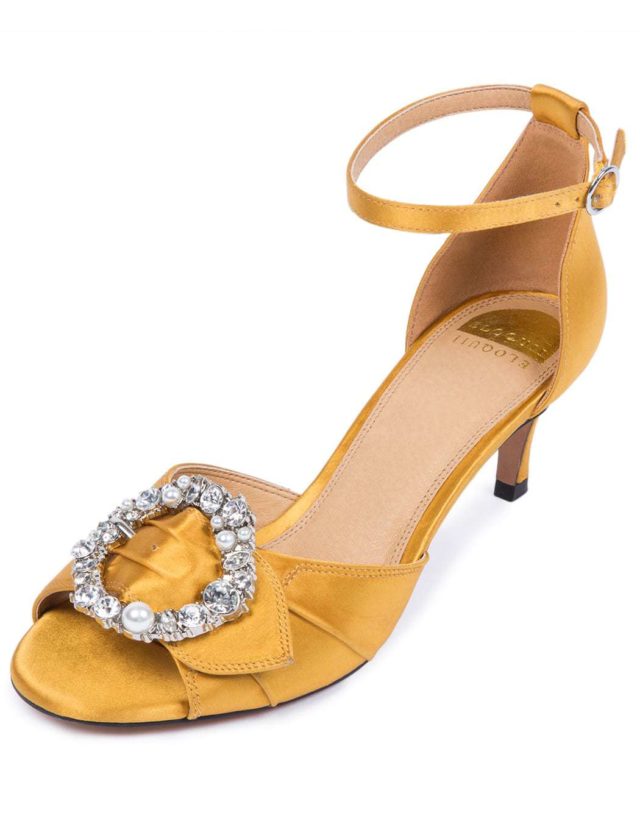 I also received these shoes for free from ELOQUII. I'm always looking for dress shoes to fit my wide feet, high arches, and short toes. I haven't had much luck with shoes like these… but ELOQUII delivered! These fit, are a wearable height, the crystals are sparkly and varied which makes the shoe look more interesting and a bit vintage. I felt the gold color would be less contrast and maybe work as a neutral; these would also look amazing peek out of a pair of dark denim. Hit!
I also received this dress for free from ELOQUII. I was sad that the pink lace dress in this post was too long in the torso for me and hoped a true wrap dress in a stretchy fabric would be a better fit. Again, I guessed correctly! This is a really fun dress. The mix of patterns looks a bit like a circus online but in person with a nude shoe this is quite chic and wearable. I like the high-low hem, it gives it movement and doesn't look too trendy (and is great for those of us with a round booty so the dress isn't too short in back). I don't even need to safety pin the neckline! The only thing missing is pockets, but I fear with this cut and fabric that pockets would just look bulky. Knowing ELOQUII they tried and came to that conclusion (they're very pocket-happy with their styles). Another hit!
And so this concludes another episode of Allie's retail hits or misses. Stay tuned, next time we'll delve into beauty products! And if you've had any amazing hits, or misses so bad you need to warn your sisters, let us know in the comments!