This article may contain affiliate links; if you click on a shopping link and make a purchase I may receive a commission. As an Amazon Associate, I earn from qualifying purchases.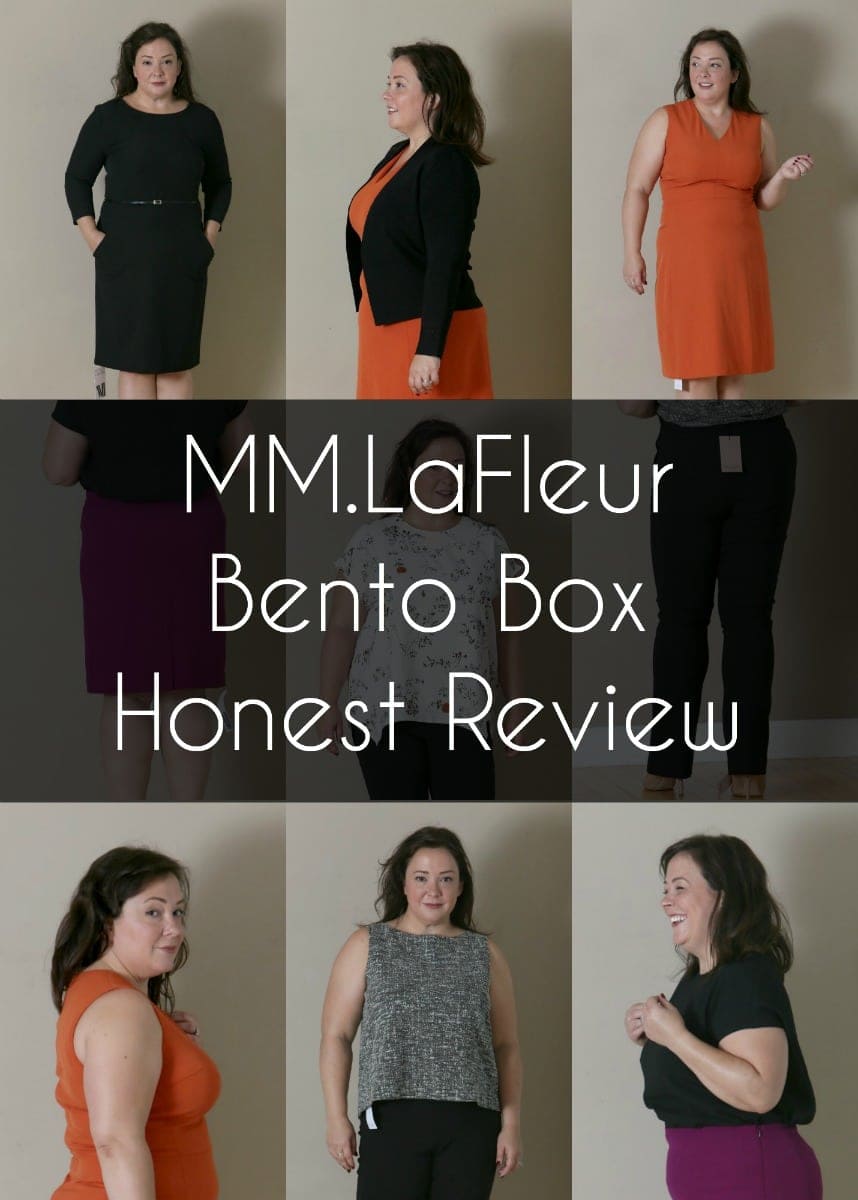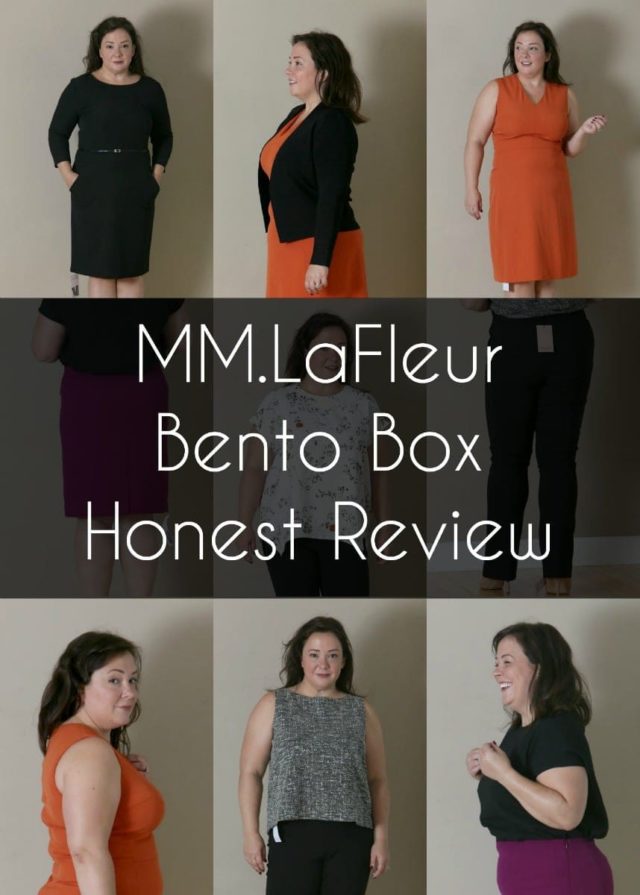 Over the years, many of you have tried MM.LaFleur and raved about your experience or asked me to do an MM.LaFleur Bento Box review to help you decide whether to try the brand yourself. For those not familiar with MM.LaFleur, it's a women's corporate fashion company. Their goal: to help women harness the power of self-presentation, and to rethink the shopping process altogether. Their mission: take the work out of dressing for work. Available in sizes 0P through 22W, MM.LaFleur clothing is made from high-quality fabrics, half the production in NYC and half in WRAP-certified factories in Italy, China, and Vietnam that are regularly visited.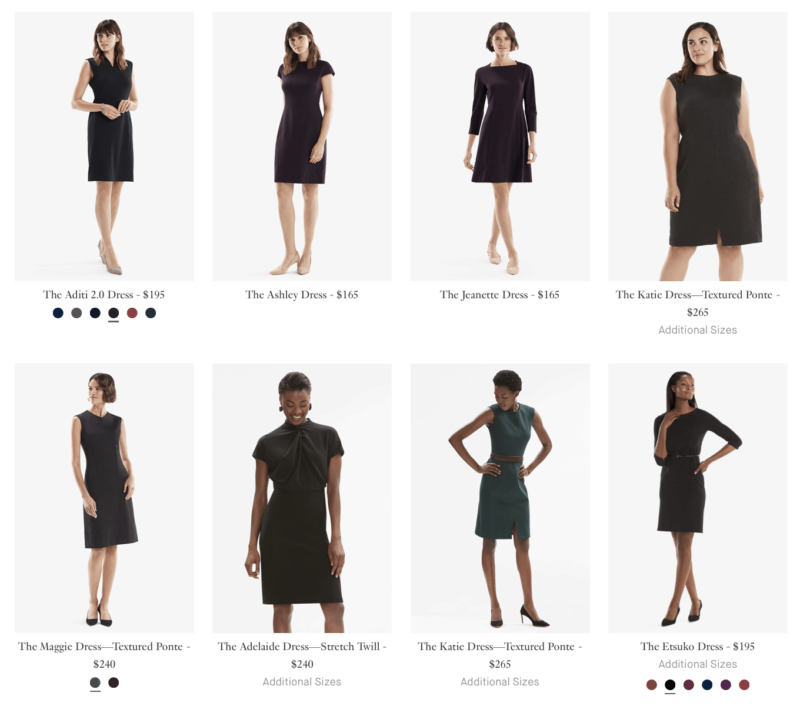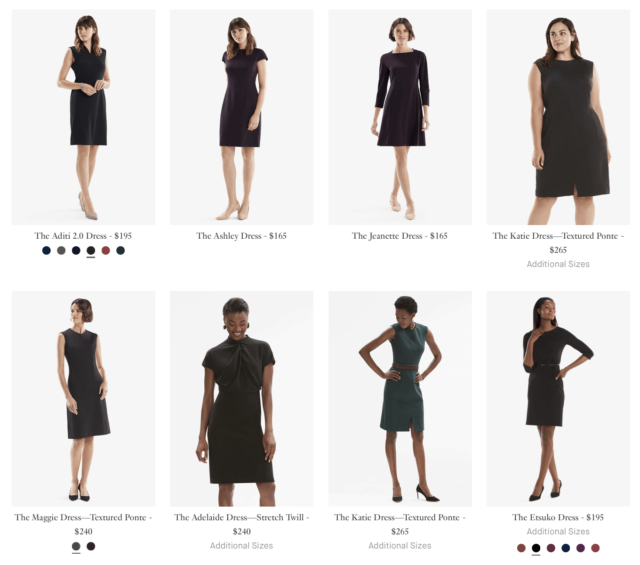 Speaking of sizes, MM.LaFleur is one of the few brands that offer photos of their clothing in a variety of body shapes and sizes. It is refreshing to see the same skirt in the same color modeled on a woman shaped more like me, and not just hidden as the last possible photo in a slideshow. Along with a variety of body sizes, MM's models also come in a variety of skintones and ethnicities.
The site is easy to navigate with a variety of photos to view a product from a variety of angles. I appreciate the ability to filter by machine washability of the clothing, as well as filters for travel-friendly, made in the USA, and friendly for certain aspects of your body (middle or full hips friendly, if it's a good choice for those with a full bust or if you're petite).
You can shop MM.LaFleur in a variety of ways. You can visit one of their showrooms or pop-up shops (by appointment only), go online and pick out what you want (knowing there's always an online stylist there to assist), or try out a Bento Box. Take a quick online survey, and an MM stylist will create a personalized box for you that includes a selection of wardrobe items and accessories. This isn't a subscription service, you won't keep getting Bento Boxes each month, you're not charged a dime for your Bento Box, just what from the box you choose to keep. I decided to try a Bento Box to get the full MM.LaFleur experience in a manner all of you can experience yourself (there's a showroom in DC, but many of you don't have a store near you). This is not sponsored, I didn't notify MM.LaFleur that I was doing this review, my experience is like any other customer.
The MM.LaFleur Online Survey
Before ordering a Bento Box from MM.LaFleur, you complete an online survey. If you've tried a virtual styling program like StitchFix or Dia&Co you are used to this aspect. The MM survey is focused on your workwear style – what kind of clothes do you wear to work, what colors and silhouettes you like, and it lets you share what size you wear in one of many popular brands (so nice because a 14 isn't the same size across brands). Based on your survey results, an MM stylist will select a mix of clothing and accessories to send to you to try out.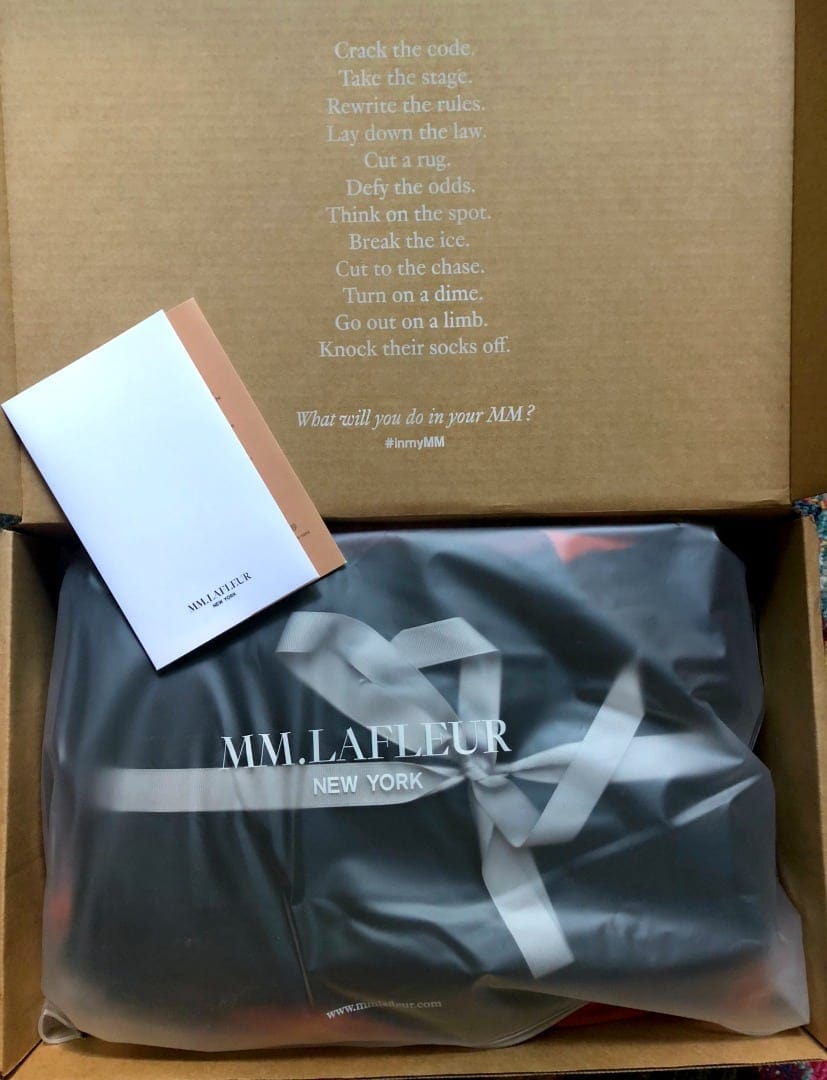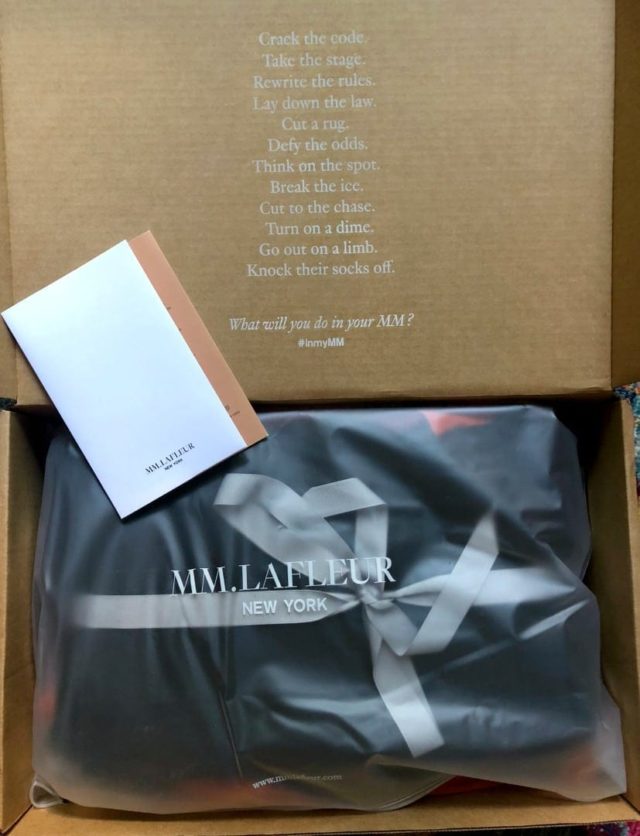 My MM.LaFleur Bento Box Review
The Bento Box arrived in just a couple of days in a sturdy cardboard box, the kind you want to keep to store mementos or Christmas ornaments in (I can't be the only one who rates cardboard boxes in this online shopping age). Inside was a small folder with a note from my stylist and some information about the Bento Box. The clothing beautifully folded, tied up with a grey grosgrain ribbon, and tucked into a large frosted plastic bag that has a Ziploc-like closure.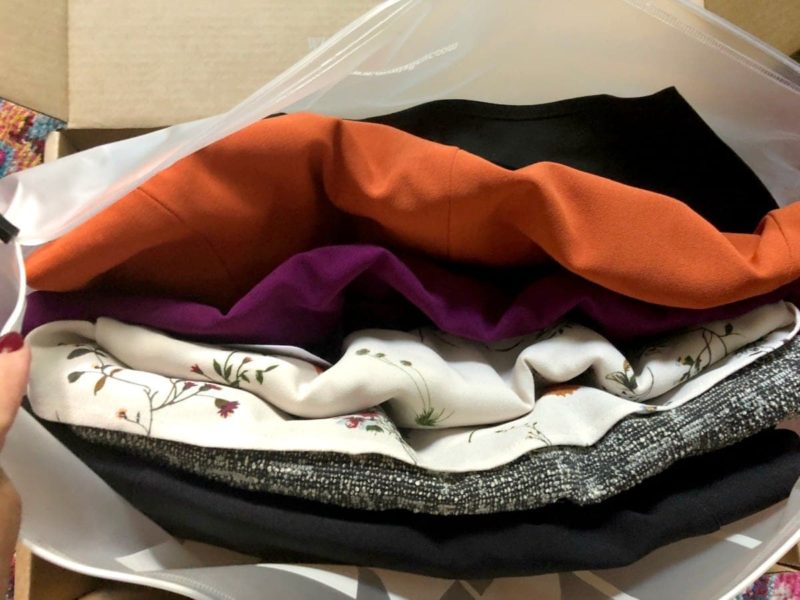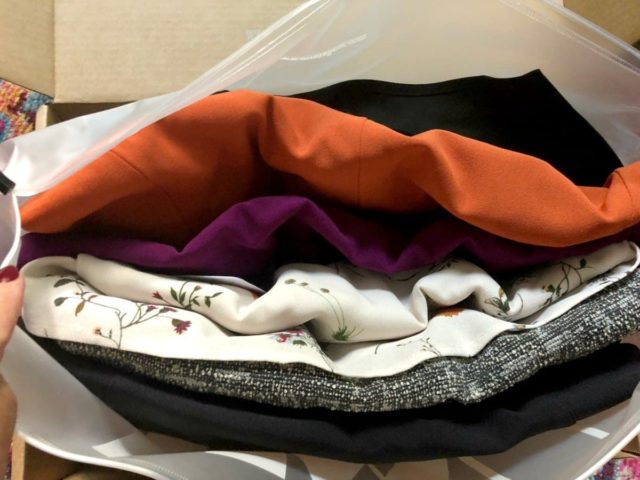 I received:
MM.LaFleur Clothing Review
Overall, I was highly impressed by the fabrics. Tightly woven knits with a professional finish, textured boucle that looks luxe, crepes and other work fabrics that have a hint of stretch while still being completely at home in a boardroom. The colors I received were rich – the plum of the skirt was almost electric yet would still be appropriate in a conservative workplace. The persimmon color was a gorgeous orange that was surprisingly flattering and would look chic, not Halloween with black and other dark neutrals. Items were well crafted, made with care.
Unfortunately, I didn't have much luck with the fit of these pieces. While MM.LaFleur carries a 0P, that is the only petite they carry. I often find petites to be too short in the rise, length, and torso but when trying my Bento Box, I was wishing there was a petite option. For reference, I am 5'3", around 185 pounds, usually wear a 14 or 14 petite in most mall retailers (J. Crew, Banana Republic, Talbots, Ann Taylor, etc.). I am 43 and while I work out on a regular basis I still have soft curves. These photos were taken with a standard bra and underwear, no control garments to show the true fit of the garments.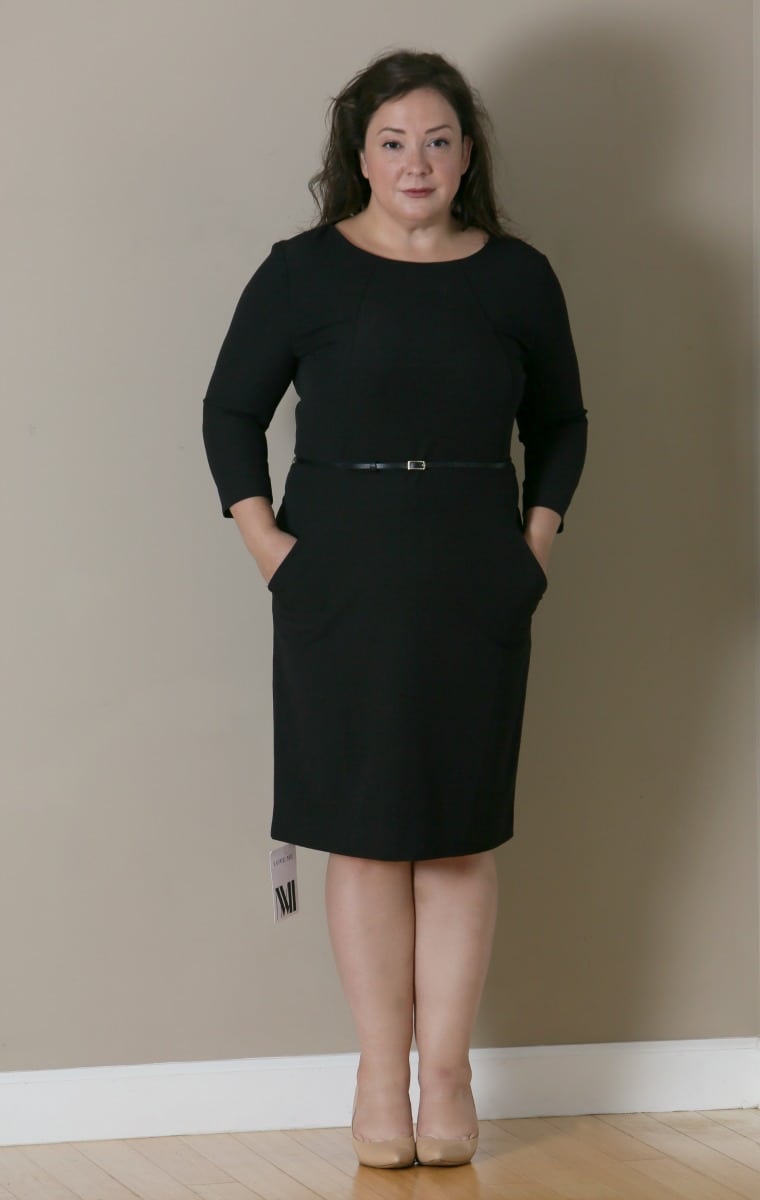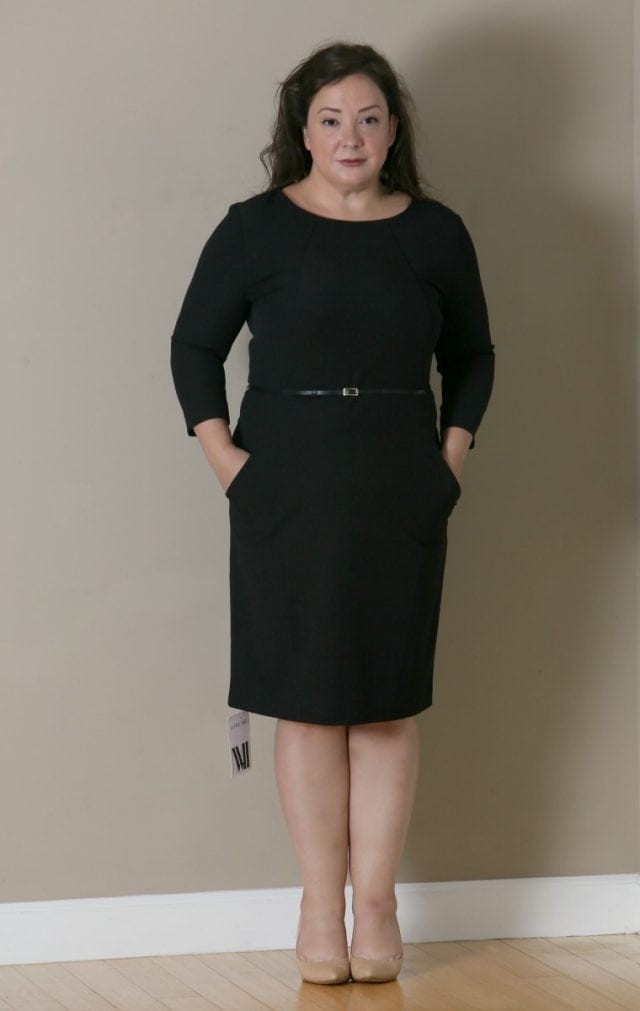 This dress is the kind I wish I always had in my closet. Funeral, second interview, client meeting, date night. Switch out the belt and it could work for a wedding. The sleeve length makes it work for three seasons, the stretchy yet elegant fabric dresses up and down and doesn't wrinkle and is thick enough to smooth the figure. The silhouette is super flattering and classic enough to be chic for years. And hello pockets!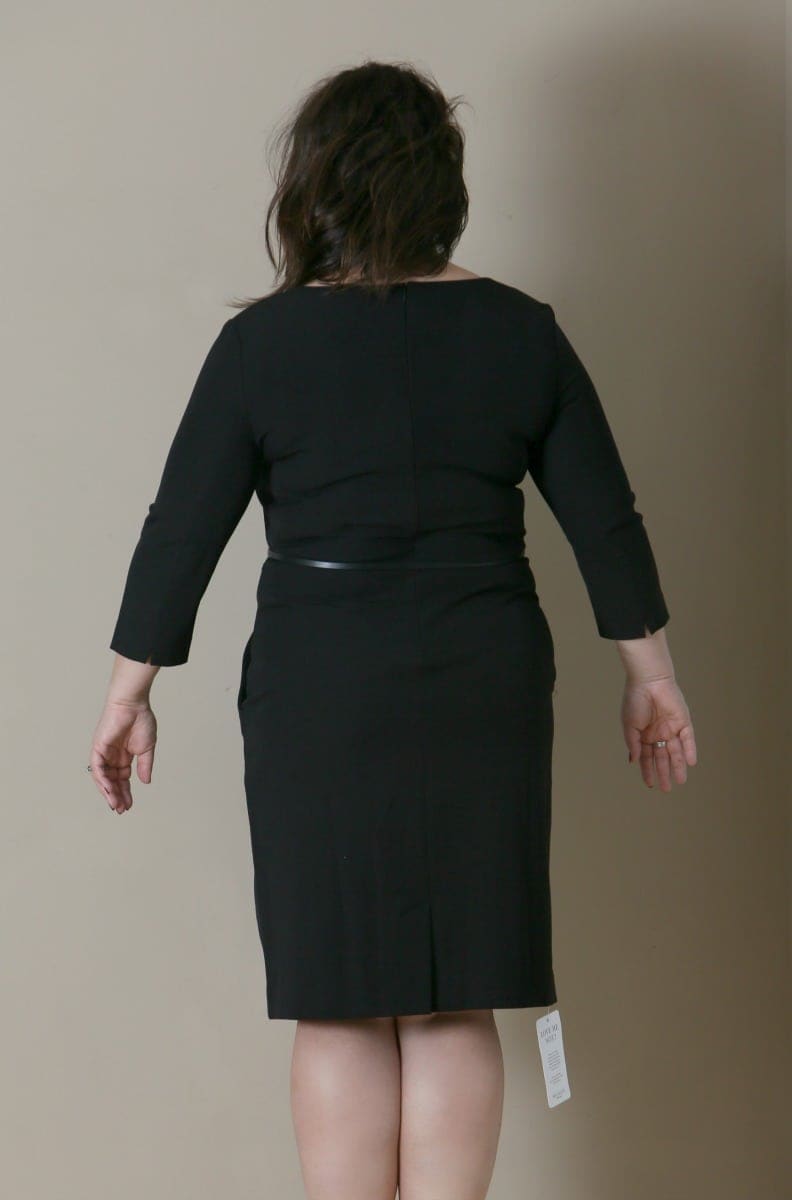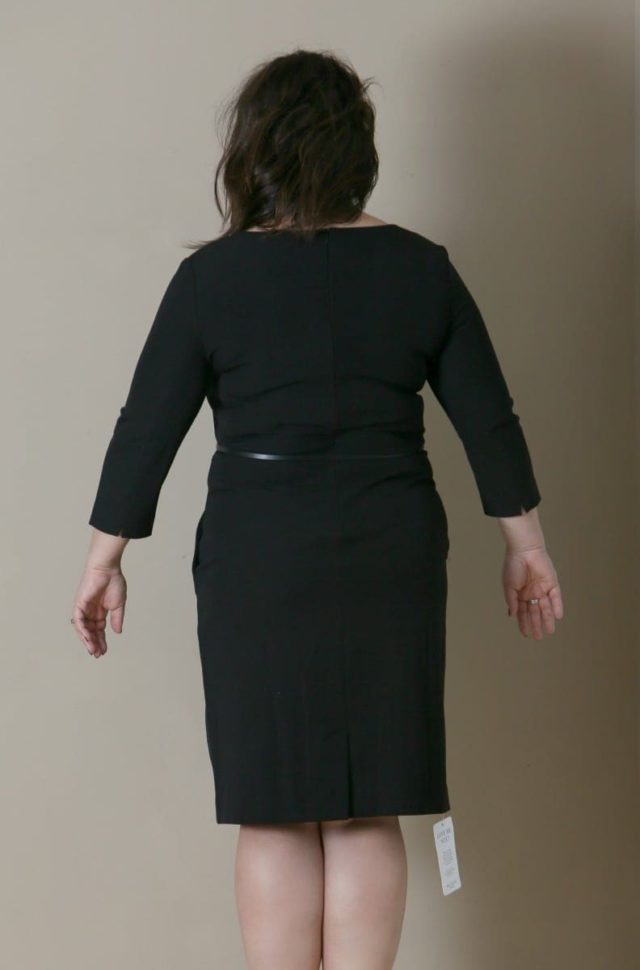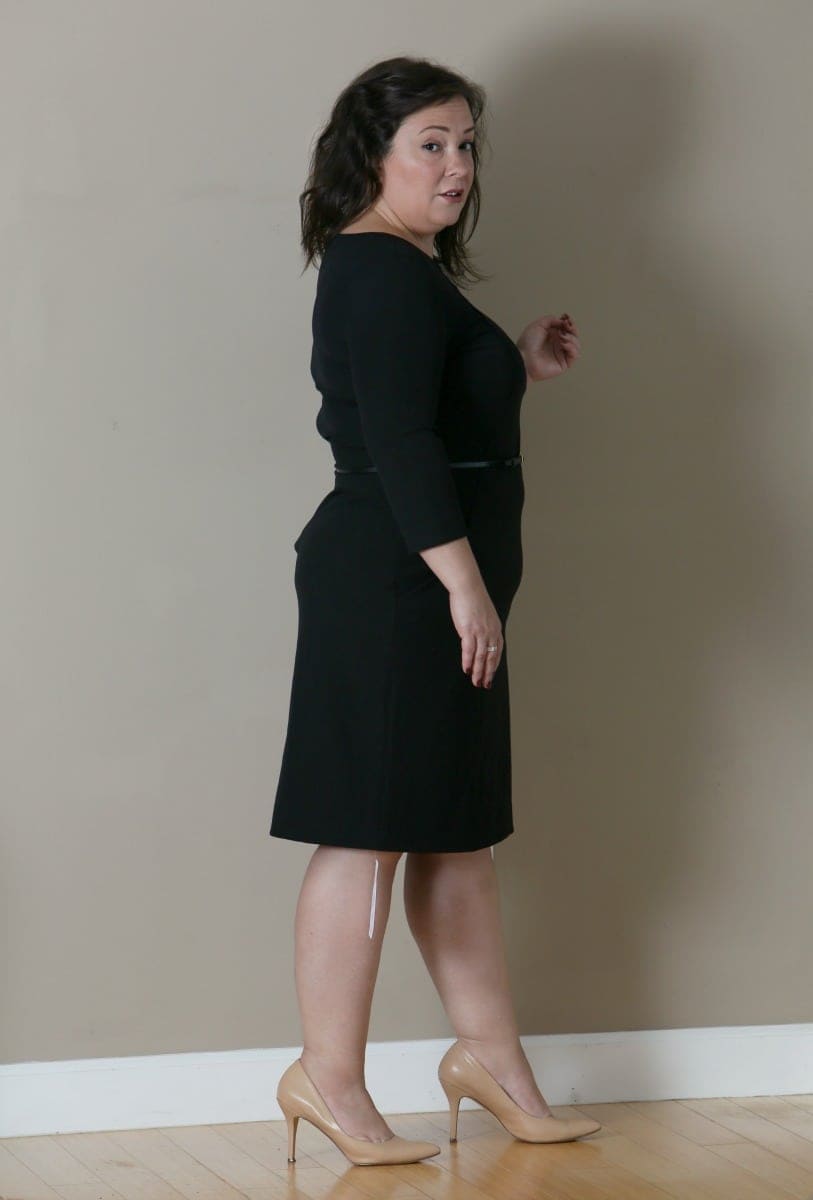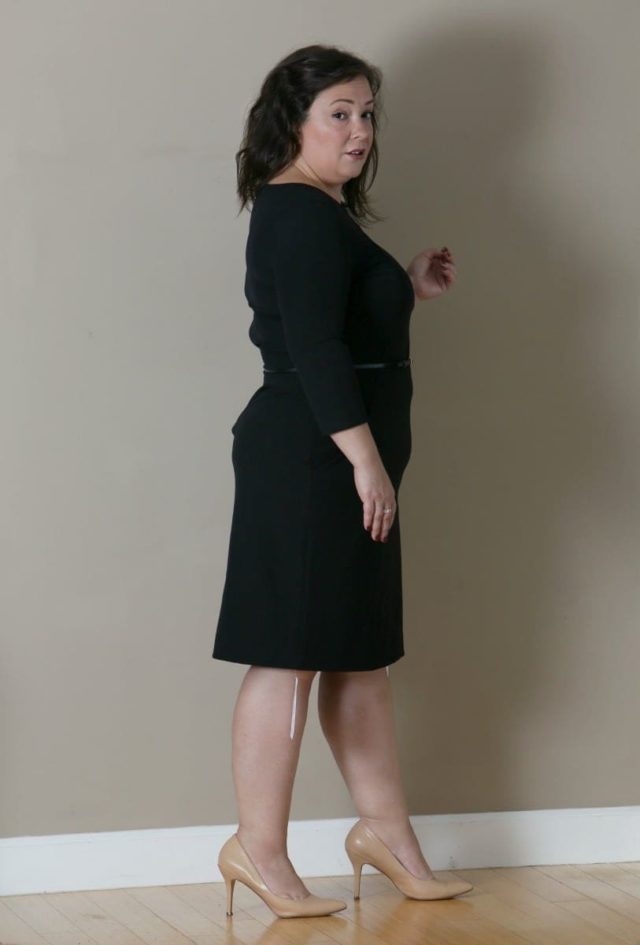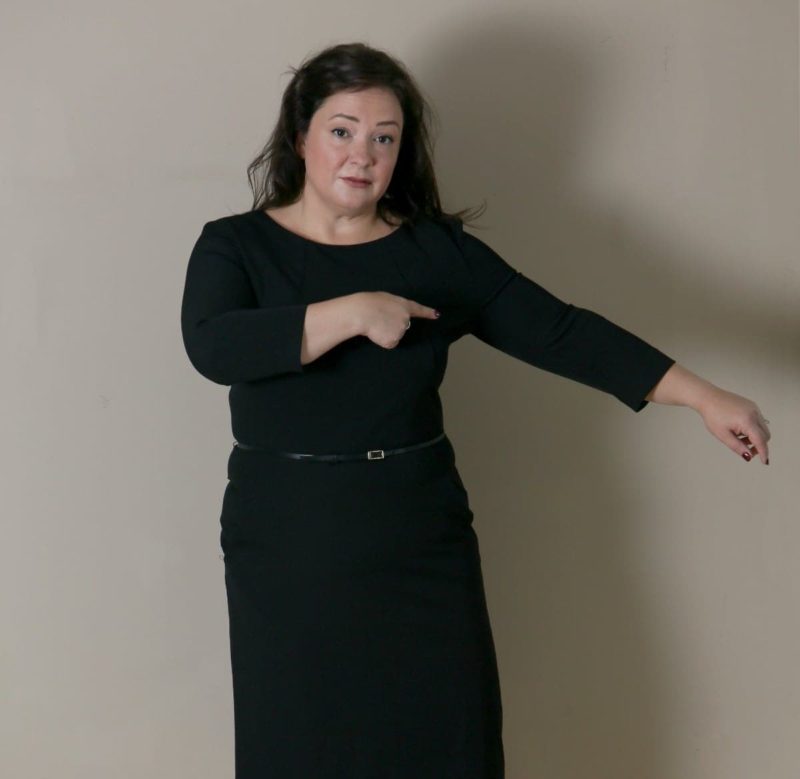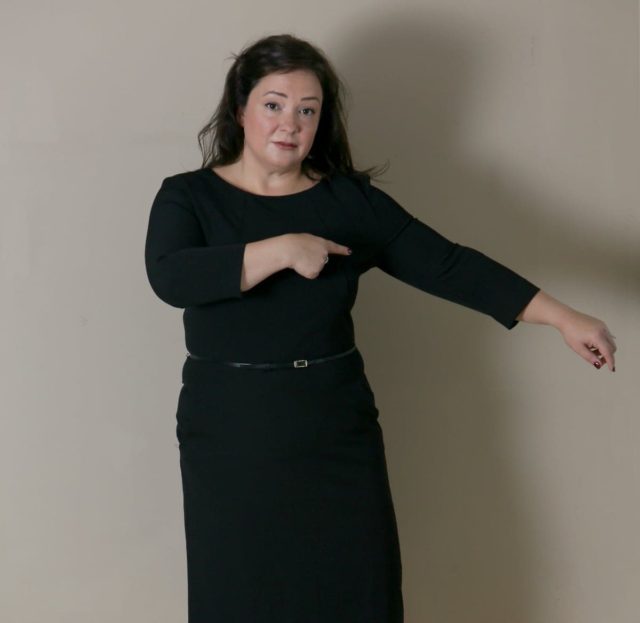 But my arms are so thick and shoulders so broad I couldn't fully get the sleeves up. My husband had to zip it closed because my arms couldn't move. And my torso is a bit too short causing the zipper to buckle in the back. If I were a couple inches taller and not so busty/arm-y/shoulder-y this dress would be in my closet. FYI, this dress is available in seven different colors and the full-size range.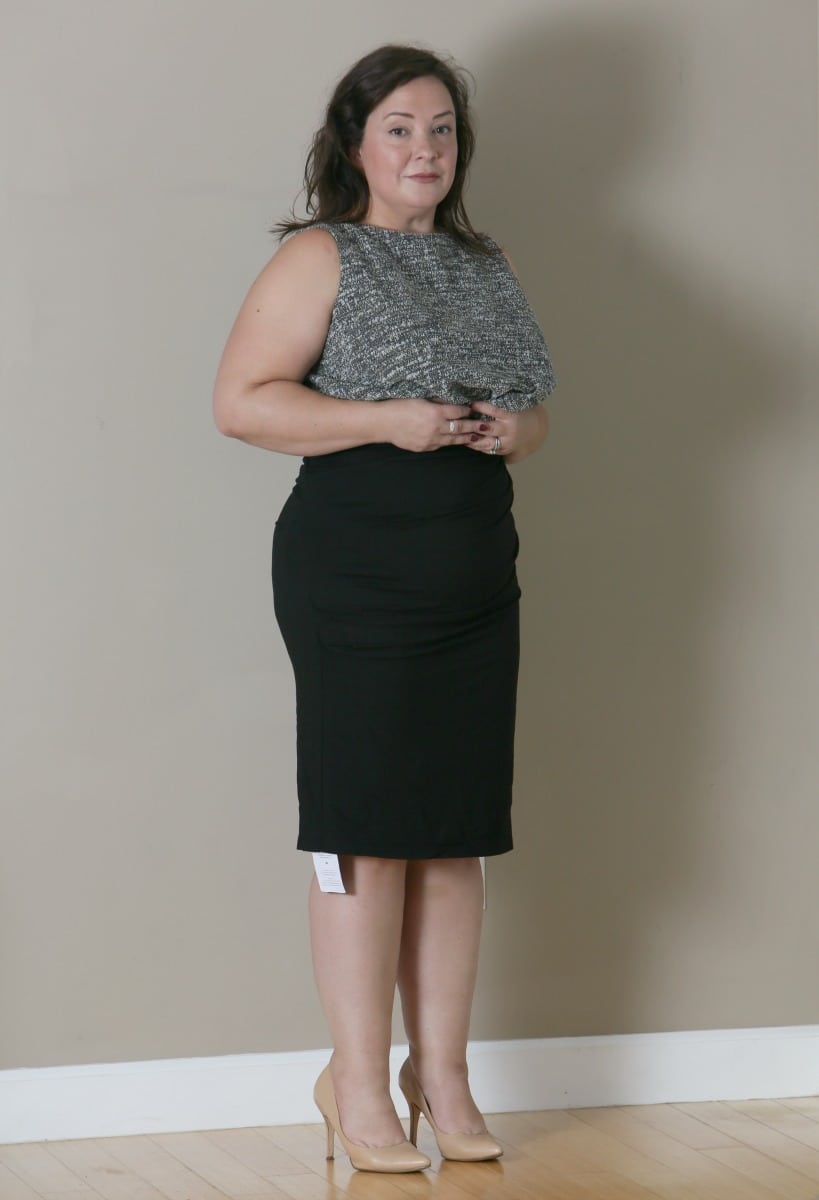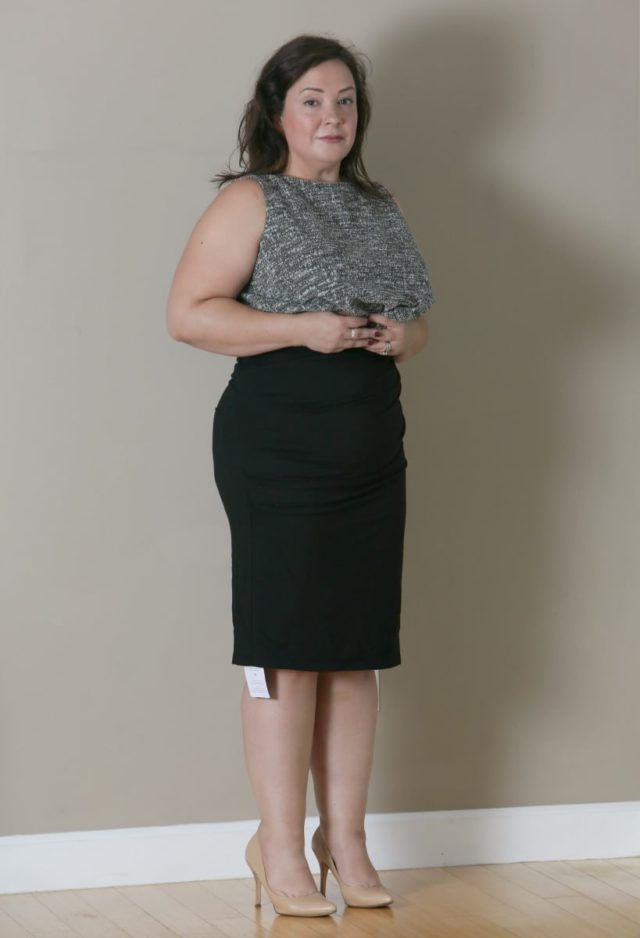 I expected to hate this skirt. It was very tight going on, and it's jersey. This doesn't look like workwear, it's more like clubwear right? I wiggled it on, looked in the mirror and was surprised by how flattering it was. The draping and layering (it's lined and a doubled waistband) really make this a great skirt. This would look amazing with a jersey top to create a dress effect, but would also be chic with a crisp white button-front shirt.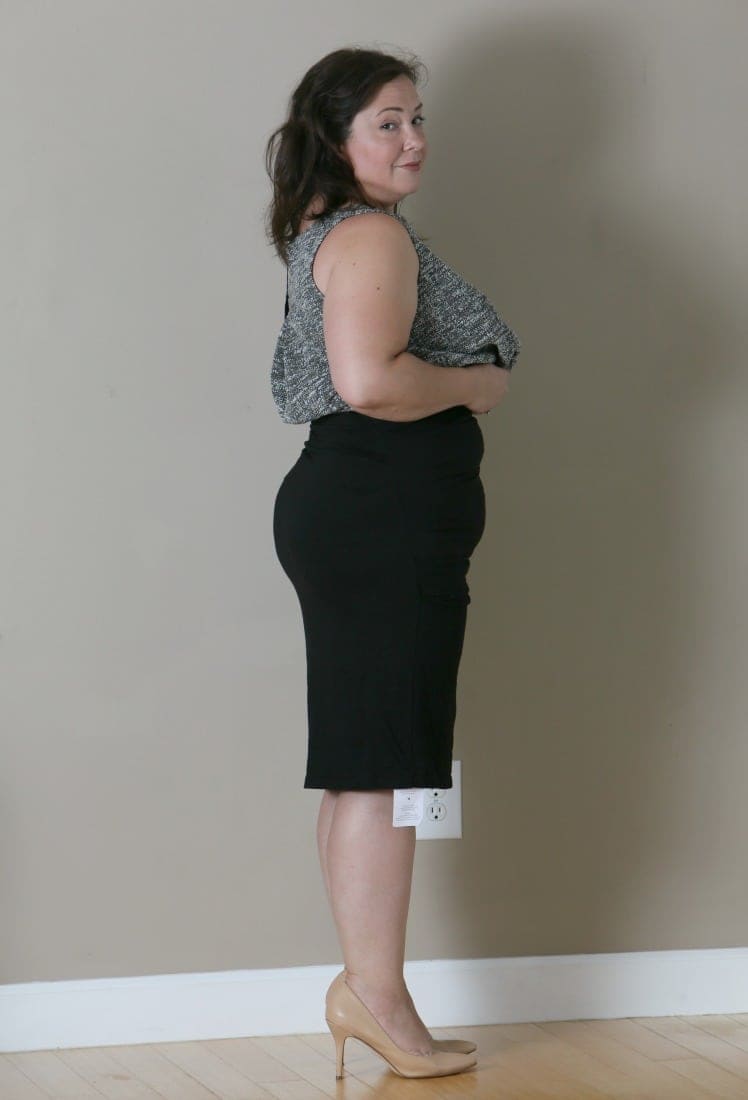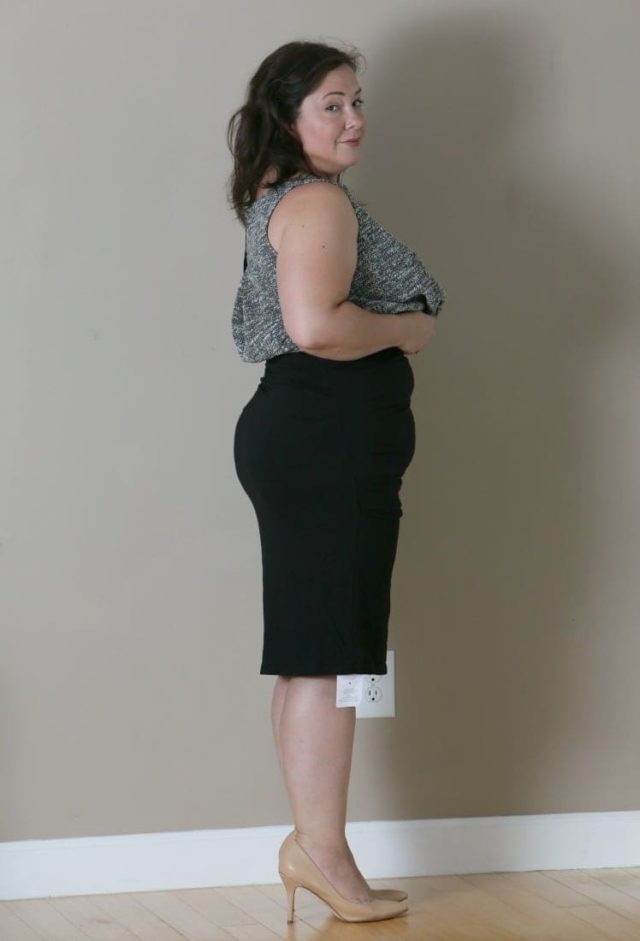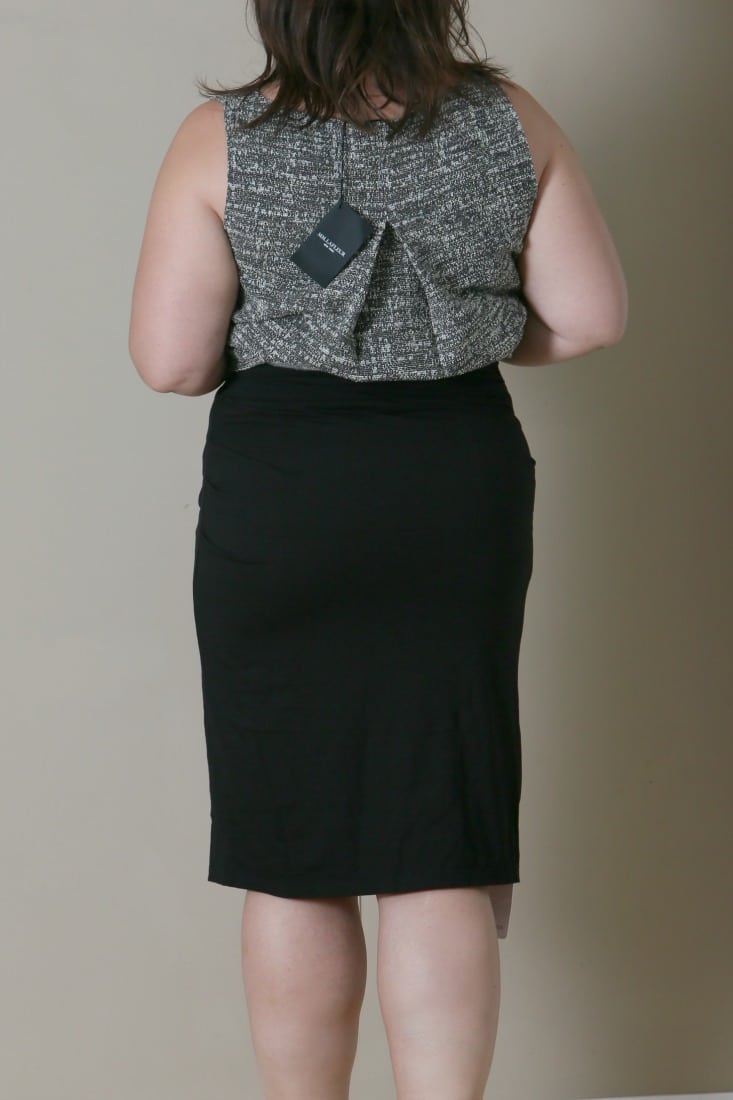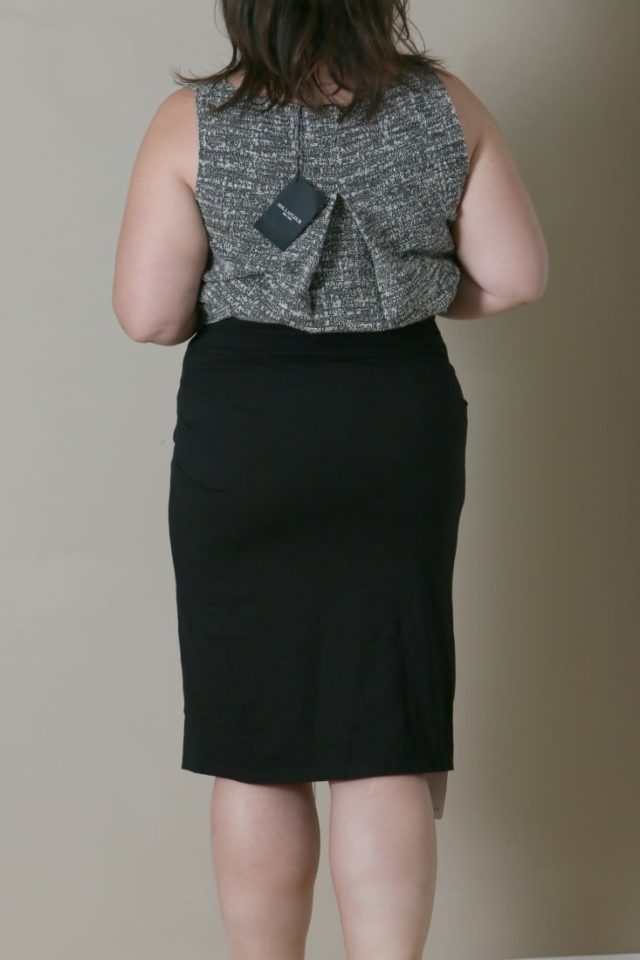 However, I am not really a skirt girl and not to sound like a broken record but it was a bit too small and I would need it in petite. This skirt comes in two colors and the full-size range.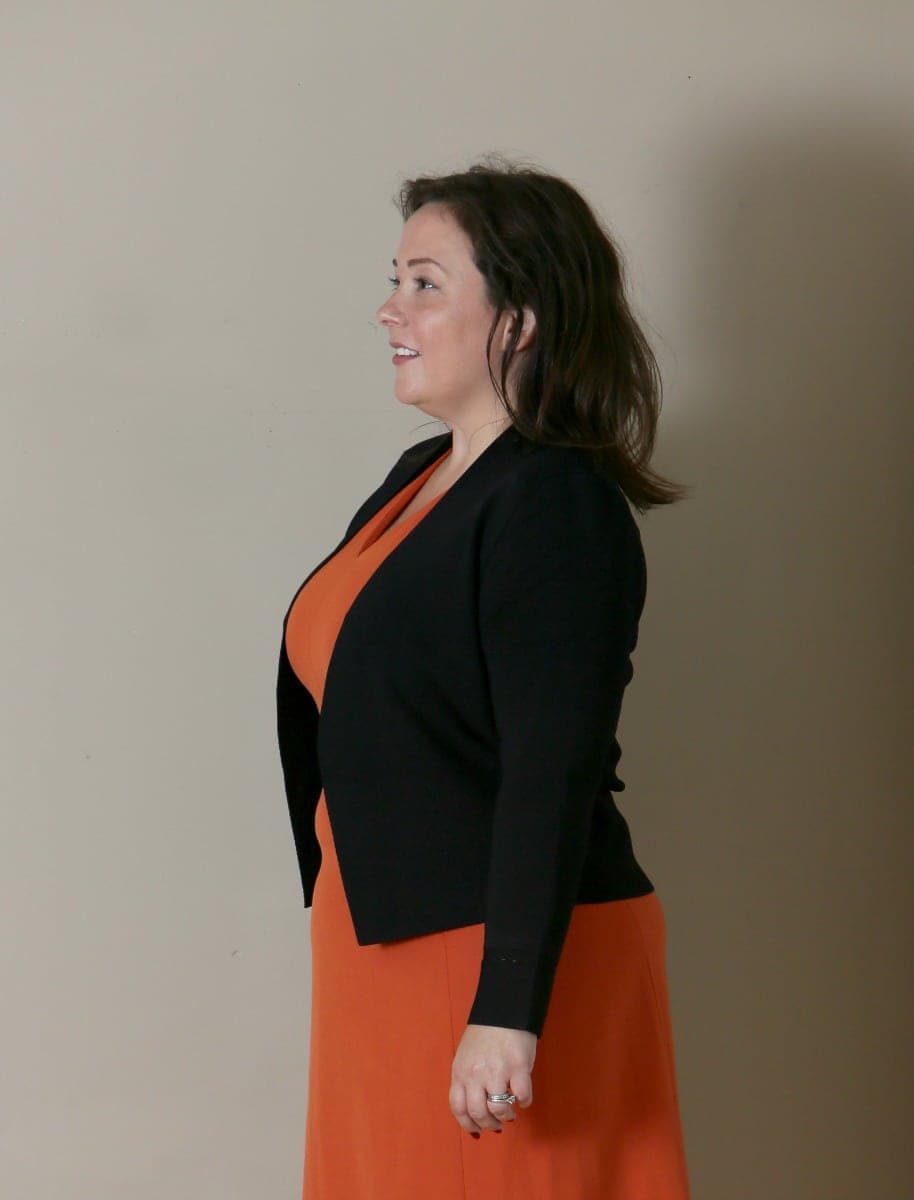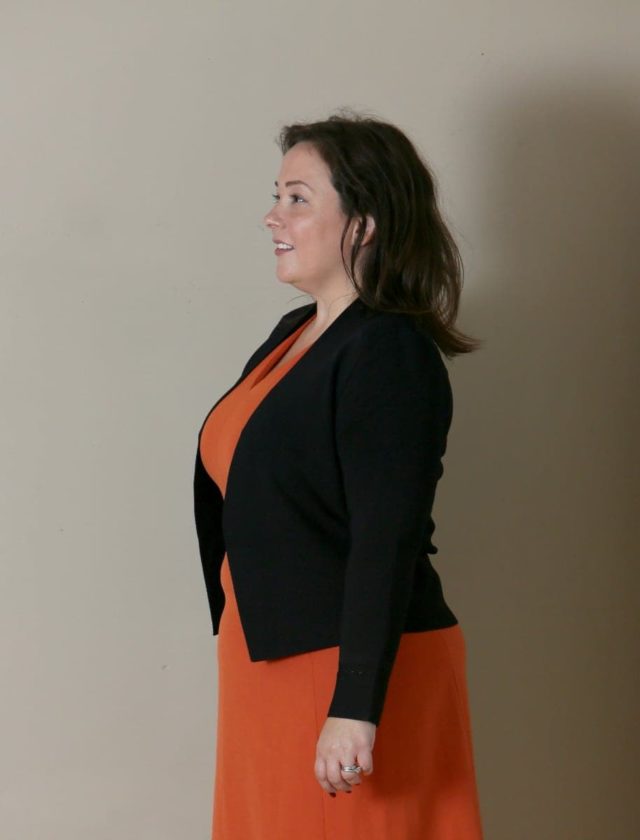 For all you women emailing me asking me where to find a cardigan that looks great with dresses, this is it. You can be covered without looking dowdy or twee. This is a heavy ottoman rib, think a mix between ponte and that stretchy fabric from Chico's Travelers collection. It's polished, it's professional, and it will look great over all your shifts, sheaths, shirtdresses, and fit and flares. There's a cool little openwork design at the end of the sleeves that make it look less utilitarian.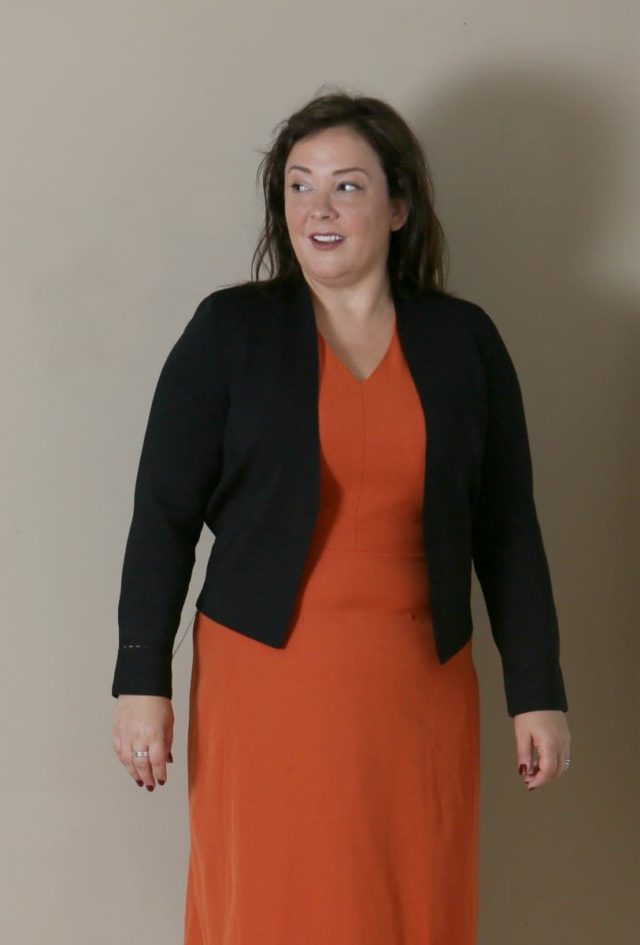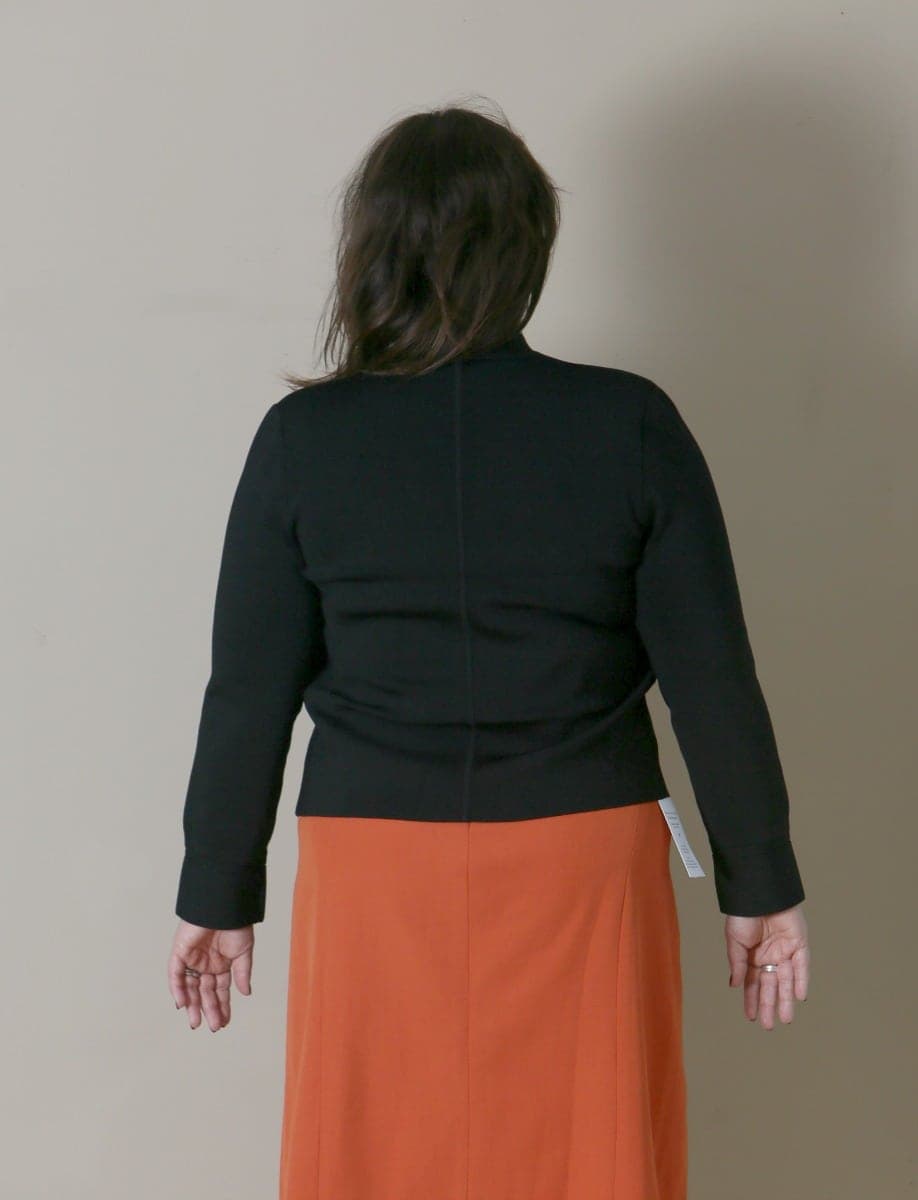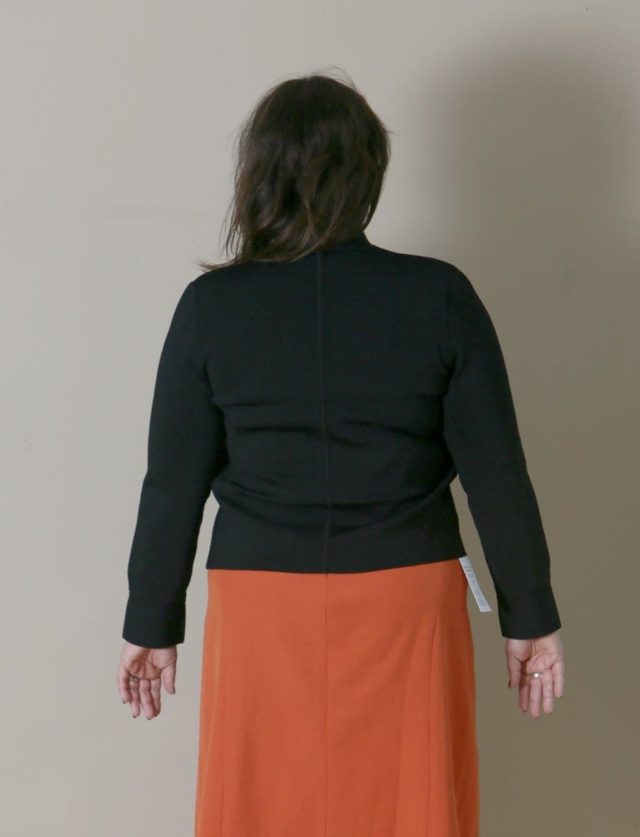 However, with my bust, I think one size up would be good and help prevent it from sliding into my armpits when I do too many hand gestures (I gesture a lot with my hands). But like everything that came in my Bento Box, this is really high-quality fabric and completely appropriate in a workplace setting (add a sparkly brooch and it would also be great to have on hand with your cocktail dress at a chilly wedding or event). Select colors are available in the full-size range; there are five colors to choose from.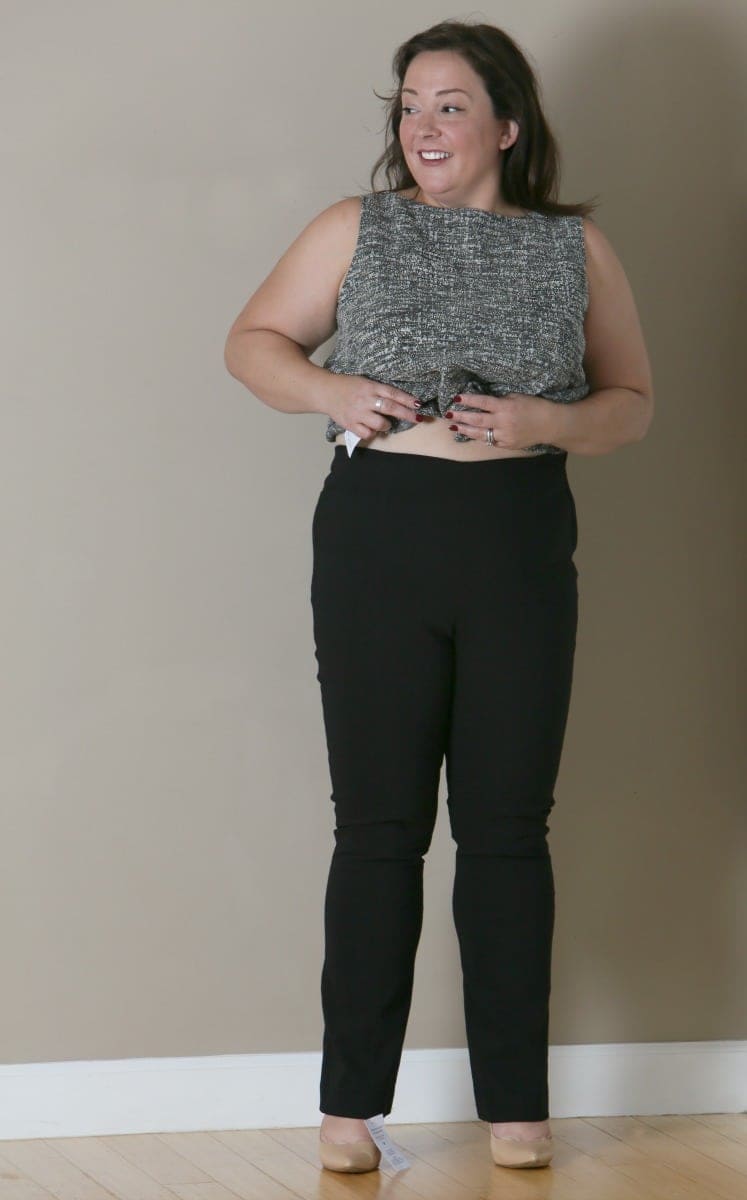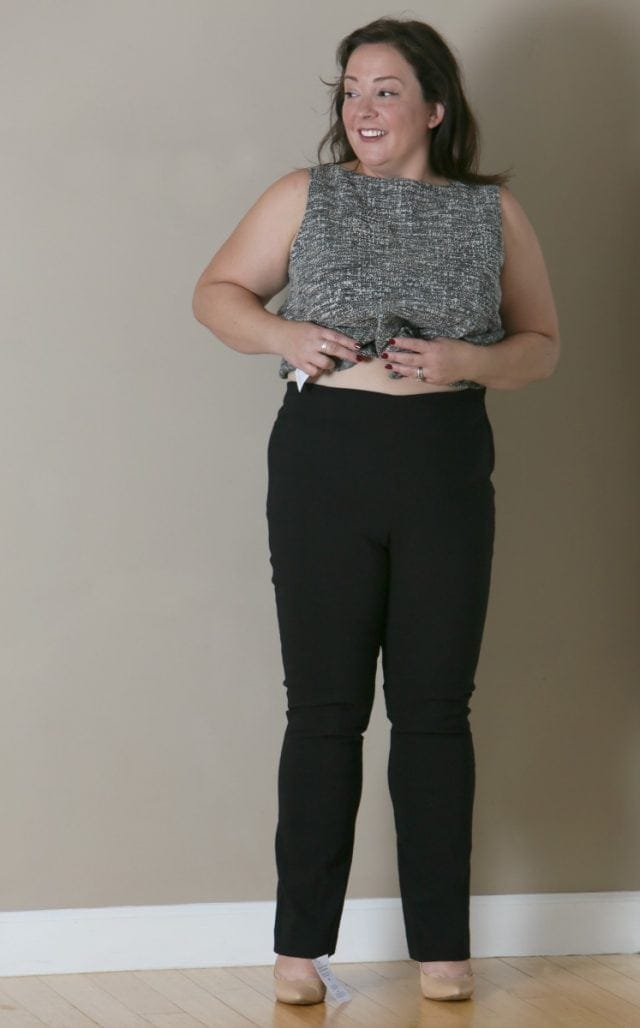 This is an amazing pant. The fabric is phenomenal – thick but stretchy but looks like suiting fabric and it bounces back and it's not too shiny, and doesn't show lumps and bumps and would coordinate nicely with most blazers in your closet. It's a side zipper which I usually don't like because it emphasizes my belly, but these don't do that. At the top of the zipper is an inside tab with two buttons to keep a smooth waist that won't fold down like many side-zip pants. On my body, I found the pants too tight in the calf and thigh. Also at 5'3" these were not ankle pants and required heels to not drag on the ground.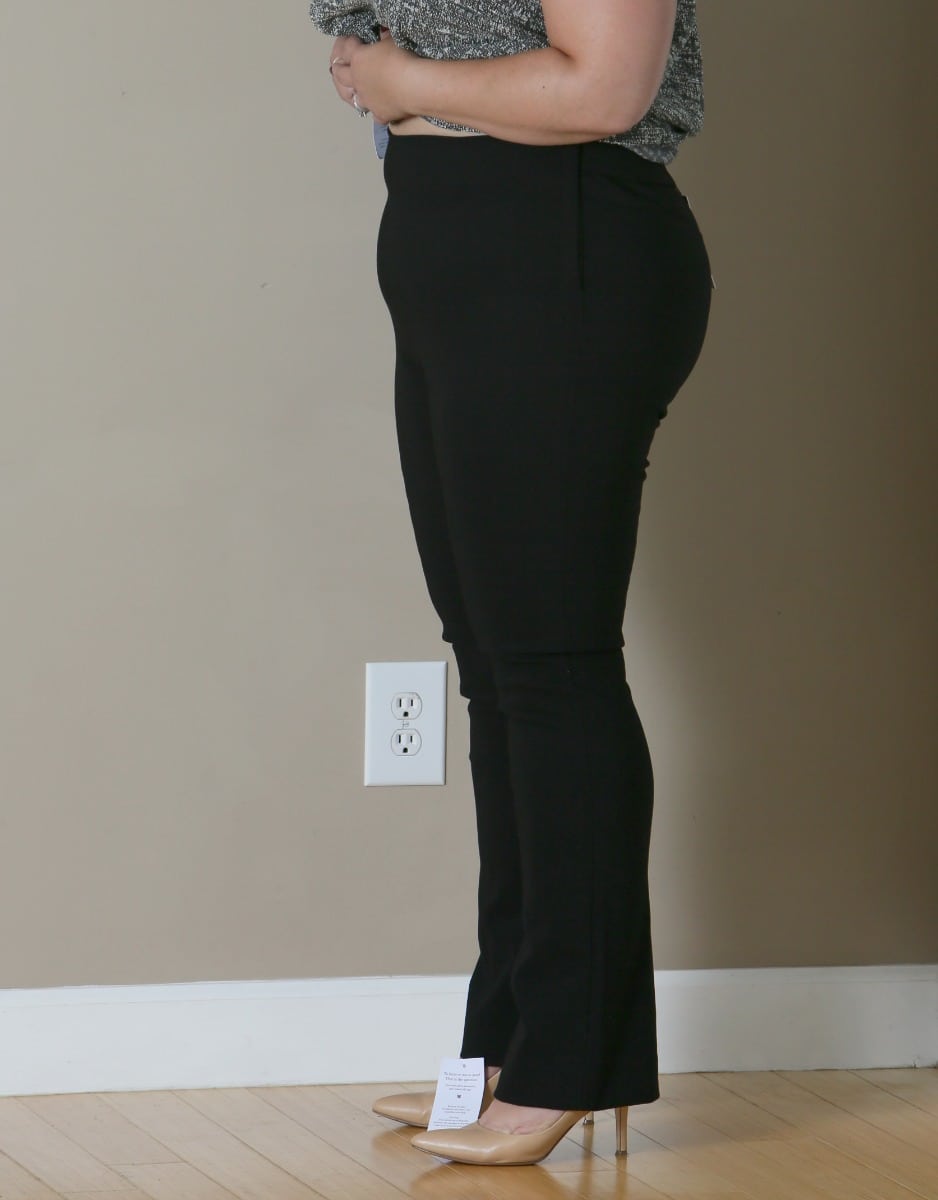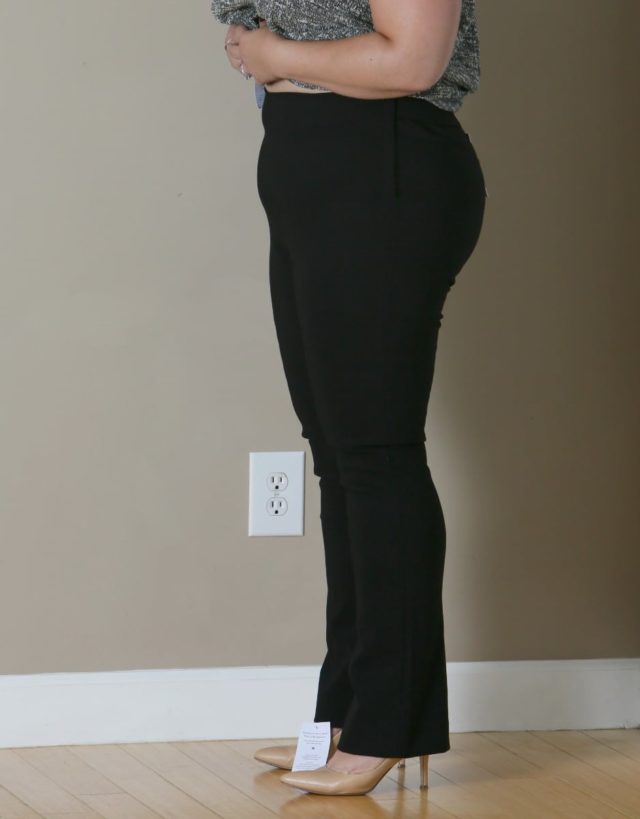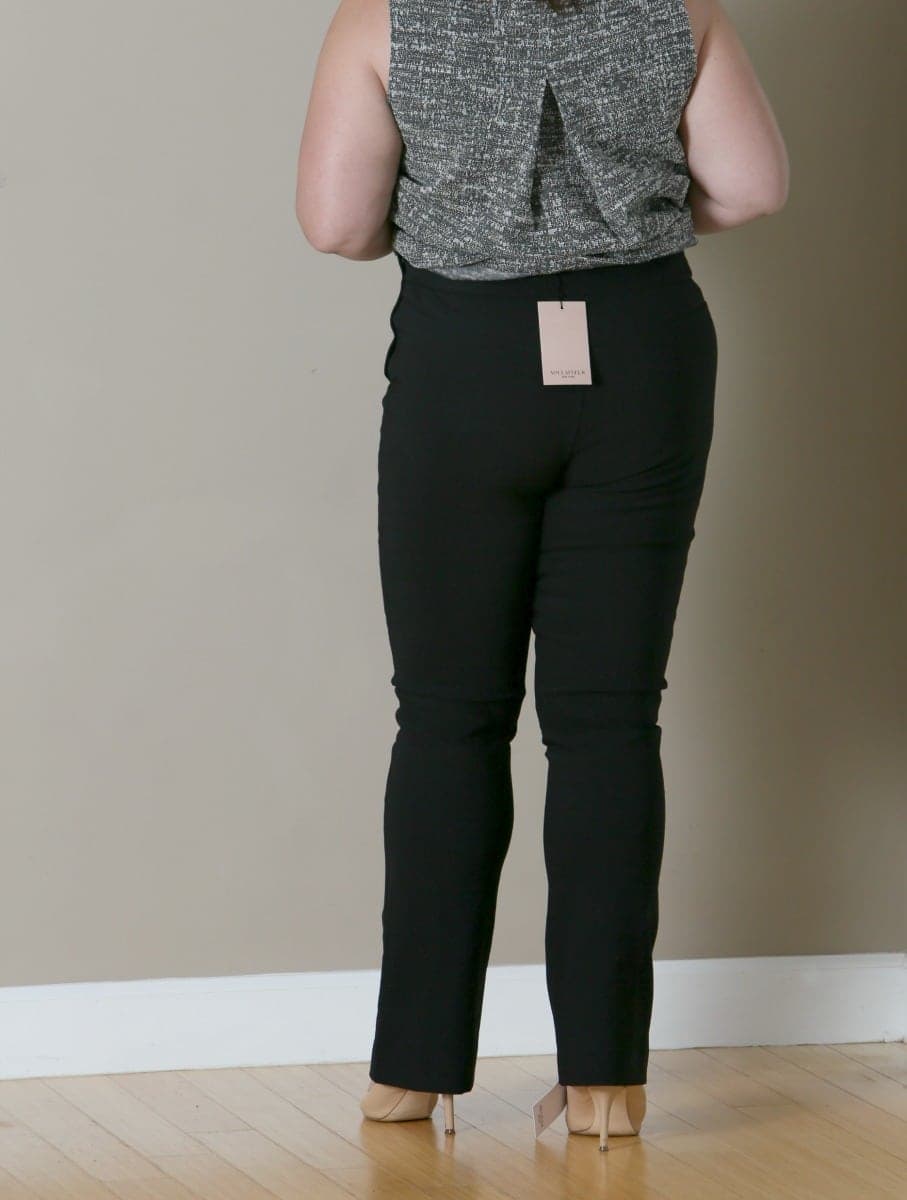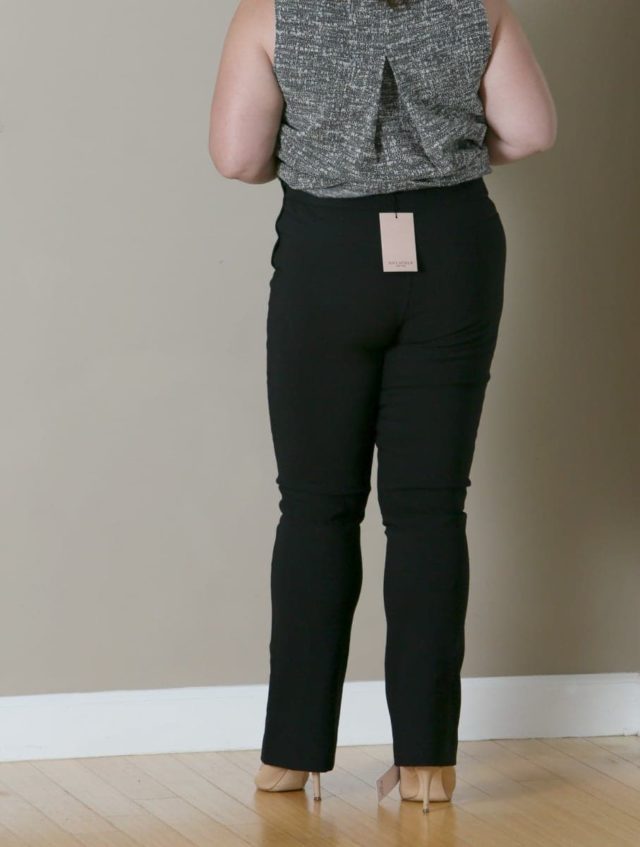 They are considered petite friendly likely because they still work if not ankle length, but I found the rise to be too high for comfort. But if you're 5'5" or taller and don't have legs so sturdy you require wide calf boots, try these pants. They're amazing. They are available in the full-size range and four colors.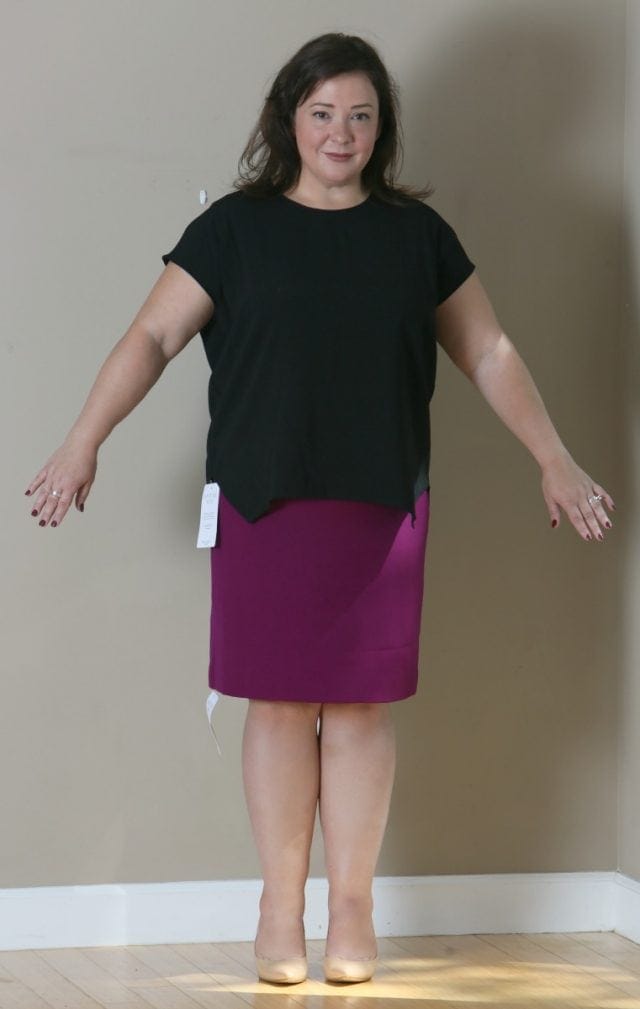 When I first tried on this top I loved it. At first glance, it looks like a simple crepe t-shirt but it's quite ingenious and unique. It's a machine washable crepe, but it's lined in a silky fabric which feels amazing and helps the crepe drape nicely and not cling. Note the hem; the back is curved like a normal top but the front has a blunt angled edge that not only adds style to the look but makes it easy to do a half-tuck without looking disheveled. The sleeves are a flattering length and not too tight.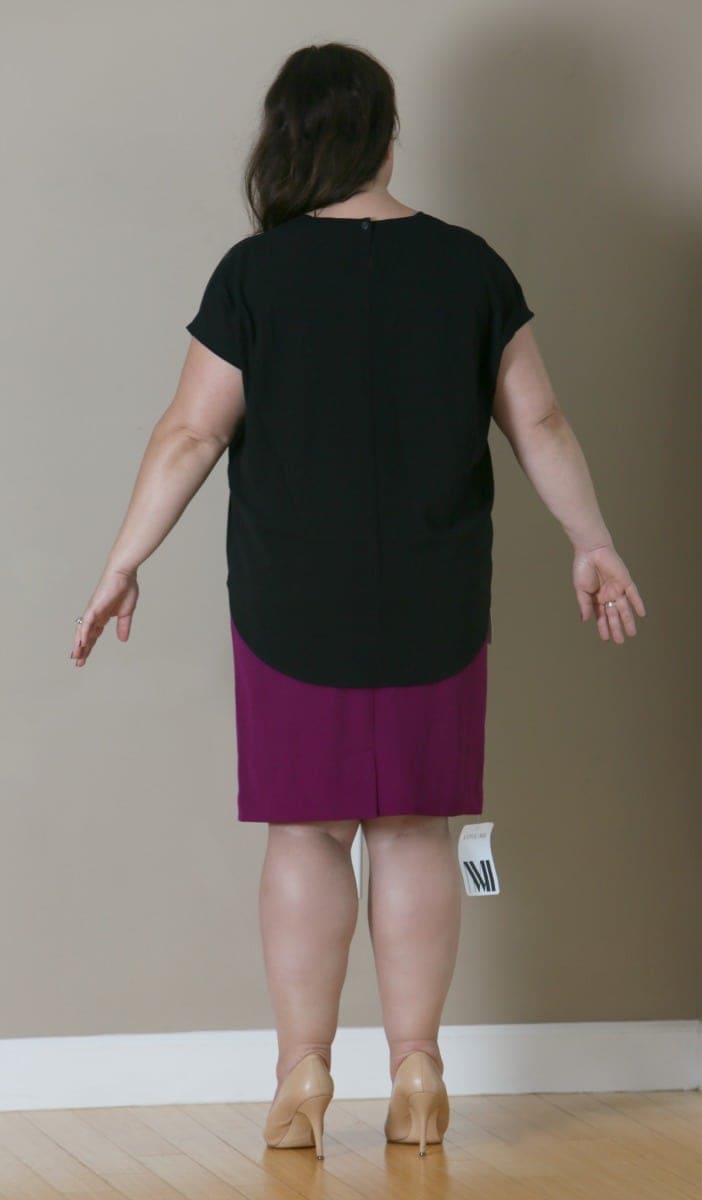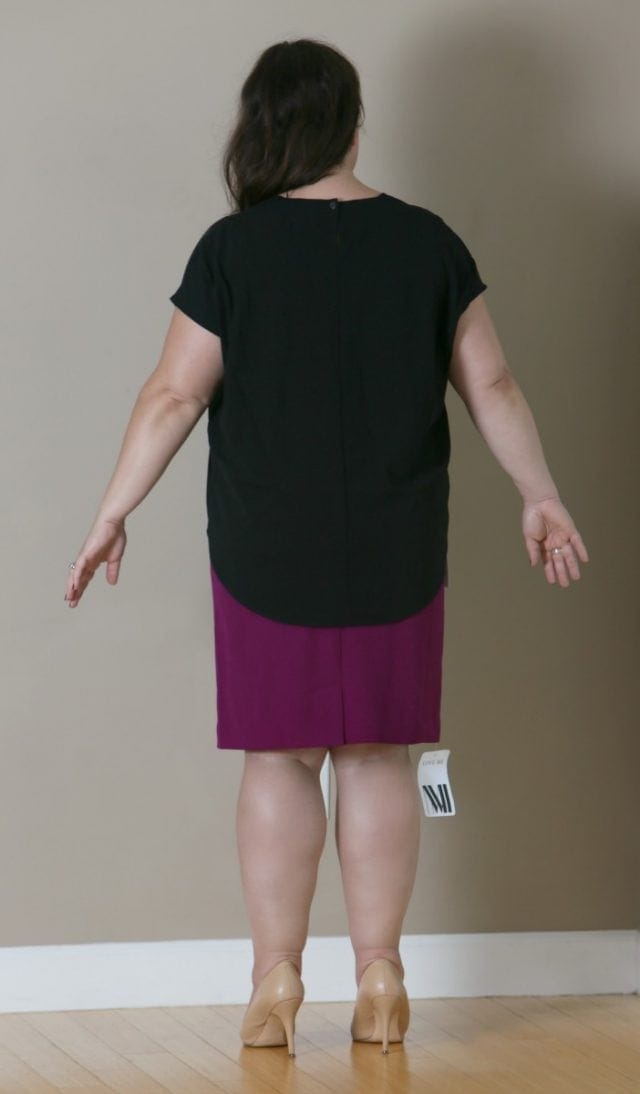 It's $110. I work from home and no longer need to go to an office. I felt I couldn't justify the cost of this top, no matter how nice it was. I did my review of the Bento Box (see below) and informed my stylist that I was returning this… and then after this shoot, I changed my mind. This is a classic piece that can be worn year-round. I can throw it on with skinny jeans and flats and meet friends for a casual dinner. I can tuck it into a pair of ivory trousers and add heels and head to a shower or brunch. I can wear it tucked or untucked under a blazer. How cute would it be half-tucked into some ankle pants (I have these from Banana Republic and the fabrics are so complimentary it almost looks like a jumpsuit)? And so many times I have wished I had a top that was dressier than a t-shirt, but not an actual blouse. So I revised my feedback to MM.LaFleur and decided to keep this top.
The links above are only to this top in black; this link is to all the different colors and prints available in the Didion top. Select colors and prints are available in the full-size range.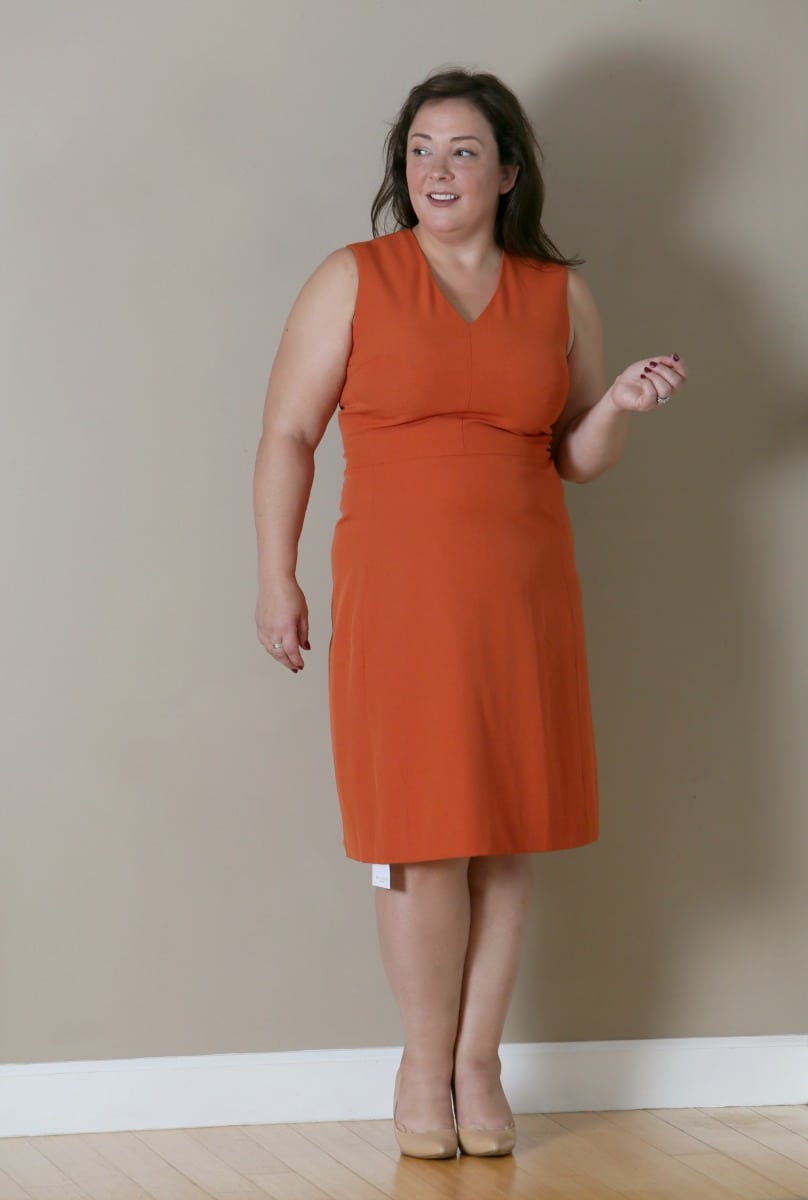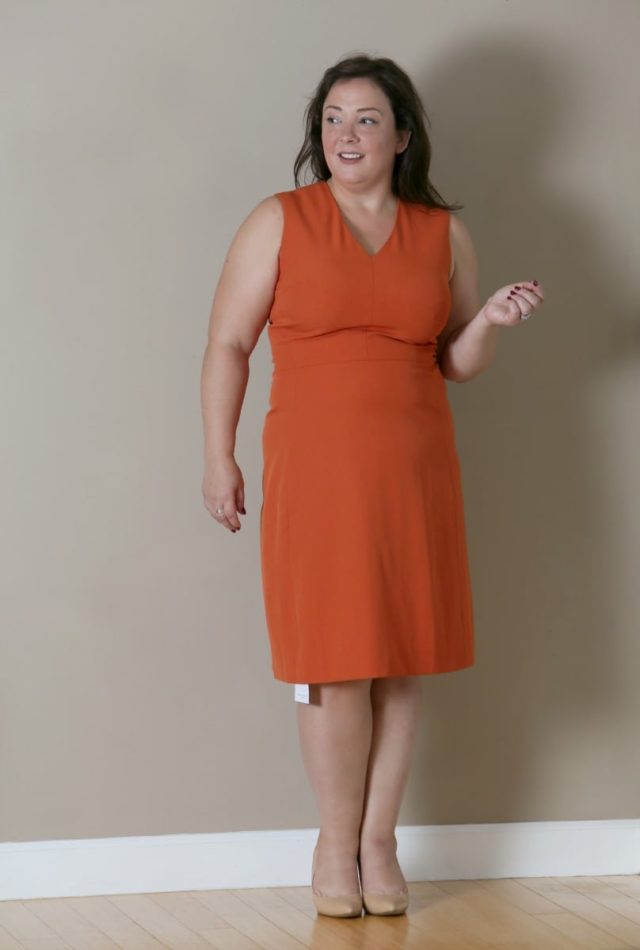 This color of this dress is gorgeous. Orange can be hard to wear but this persimmon/pumpkin shade is not only more office friendly, but friendly with a variety of skin tones. The fabric is textured but not itchy. The dress is unlined and stretchy but like all the other pieces I tried, it looks very structured, polished, and professional.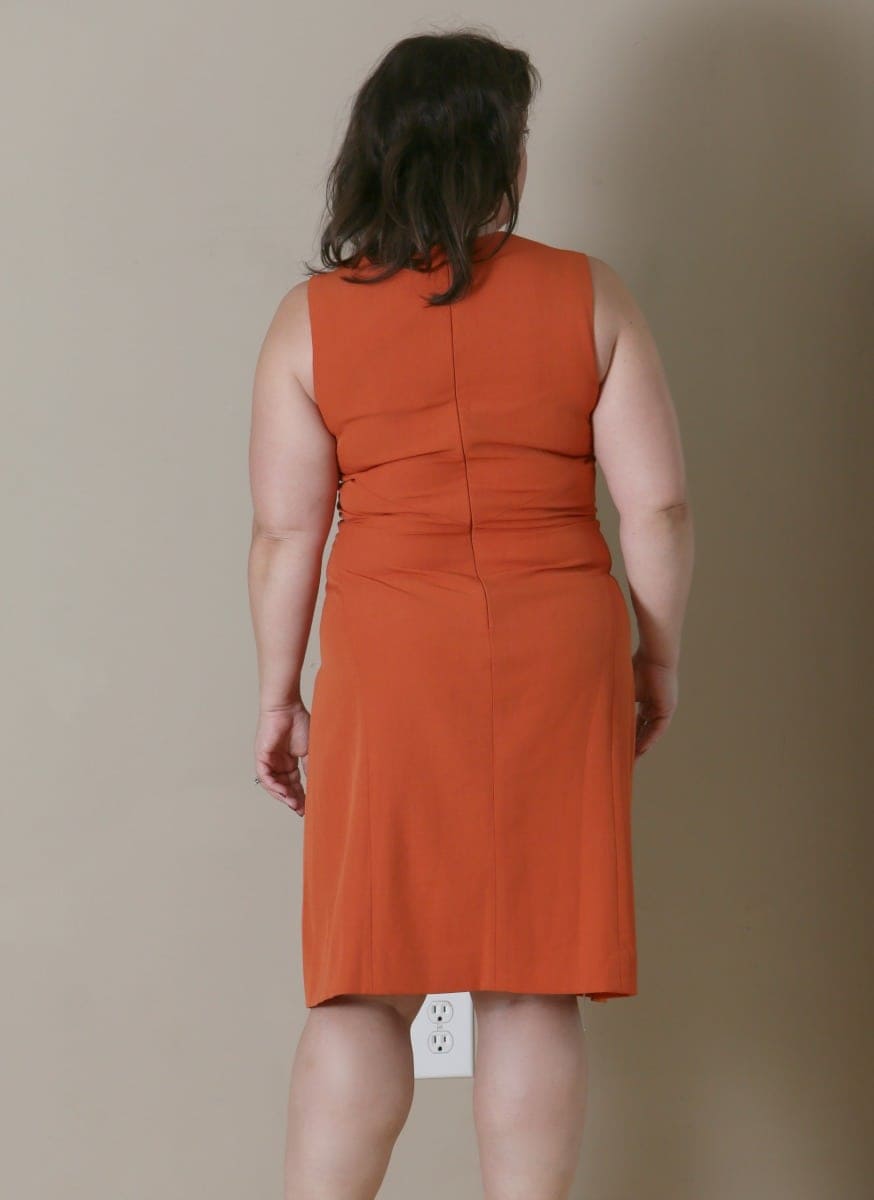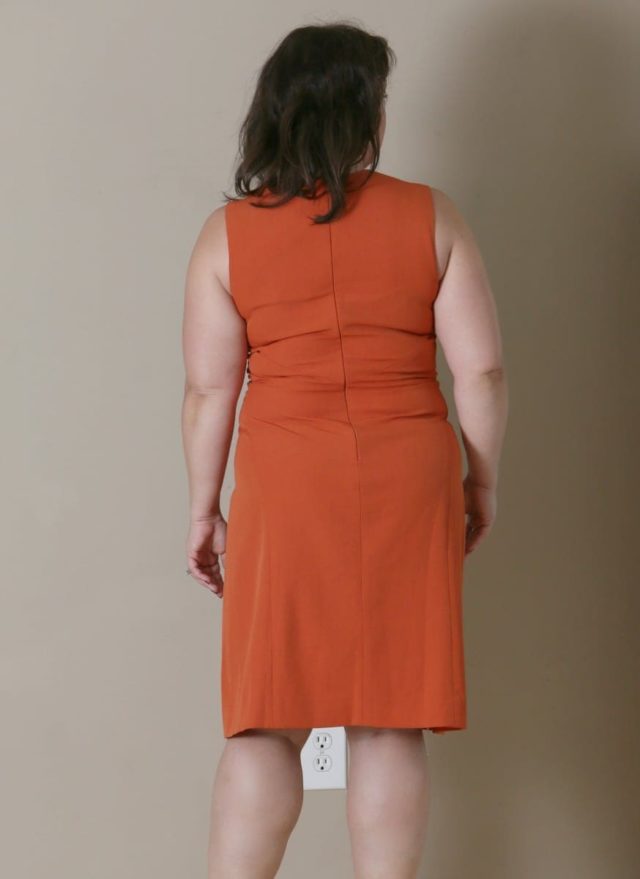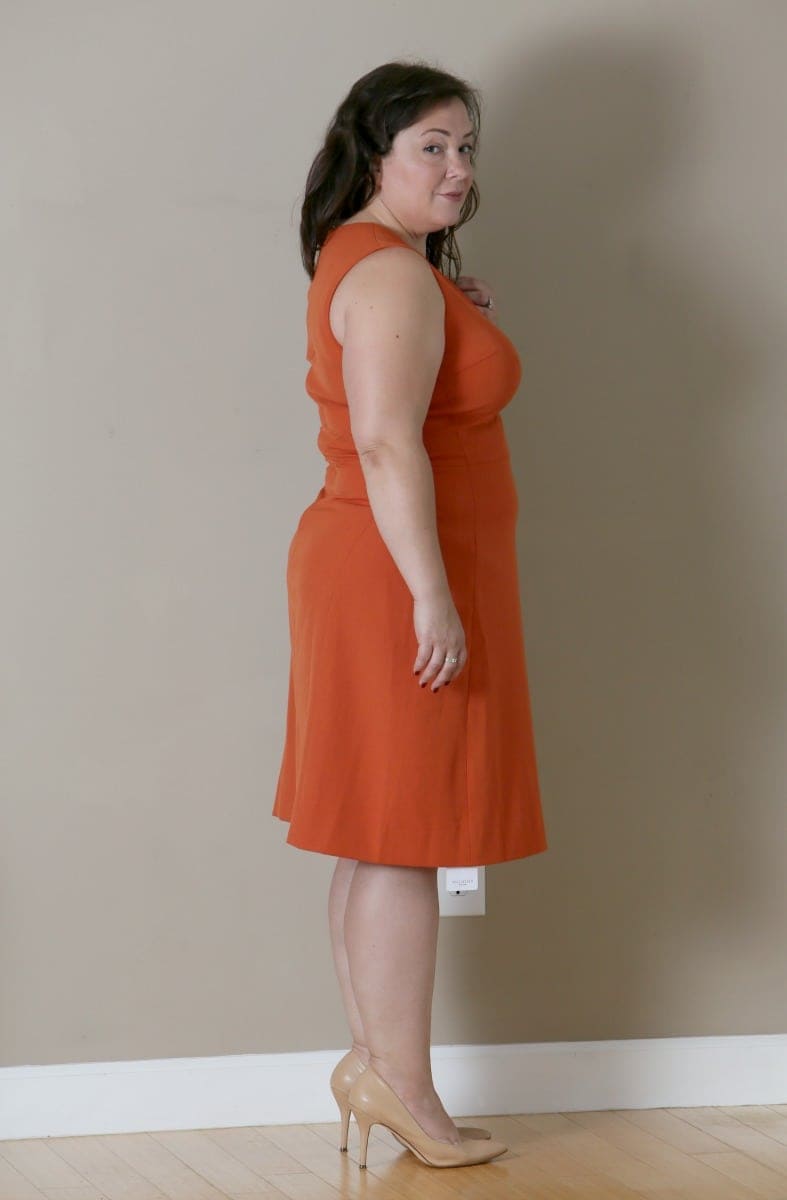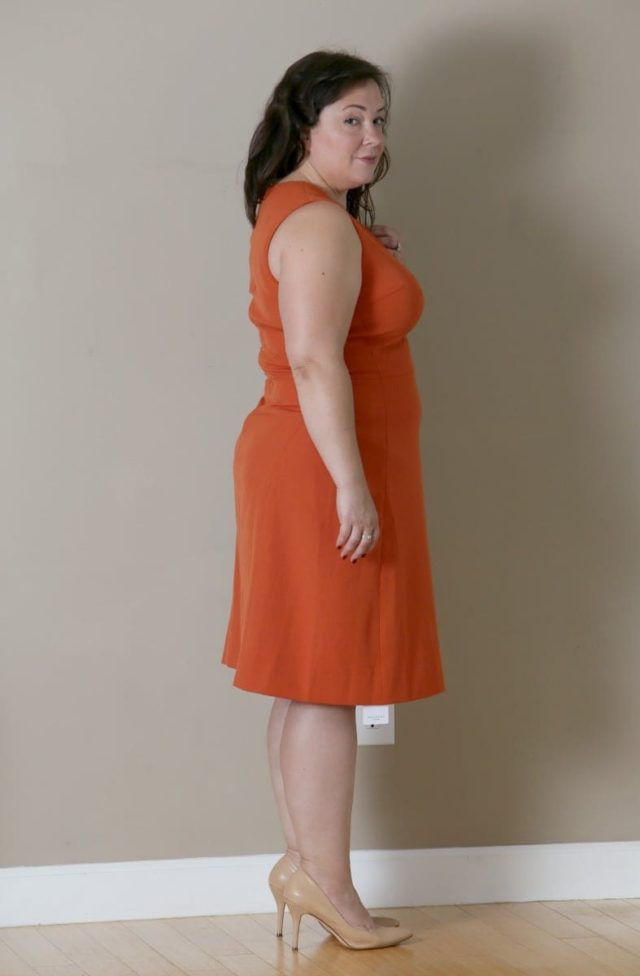 Too bad that just like the other dress, it's too long in the torso and a bit too snug. If it was a size larger and came in petite, this would be a winner as it's a very flattering and versatile piece. Please note this dress is only available up to a size 16, and it is available in seven colors.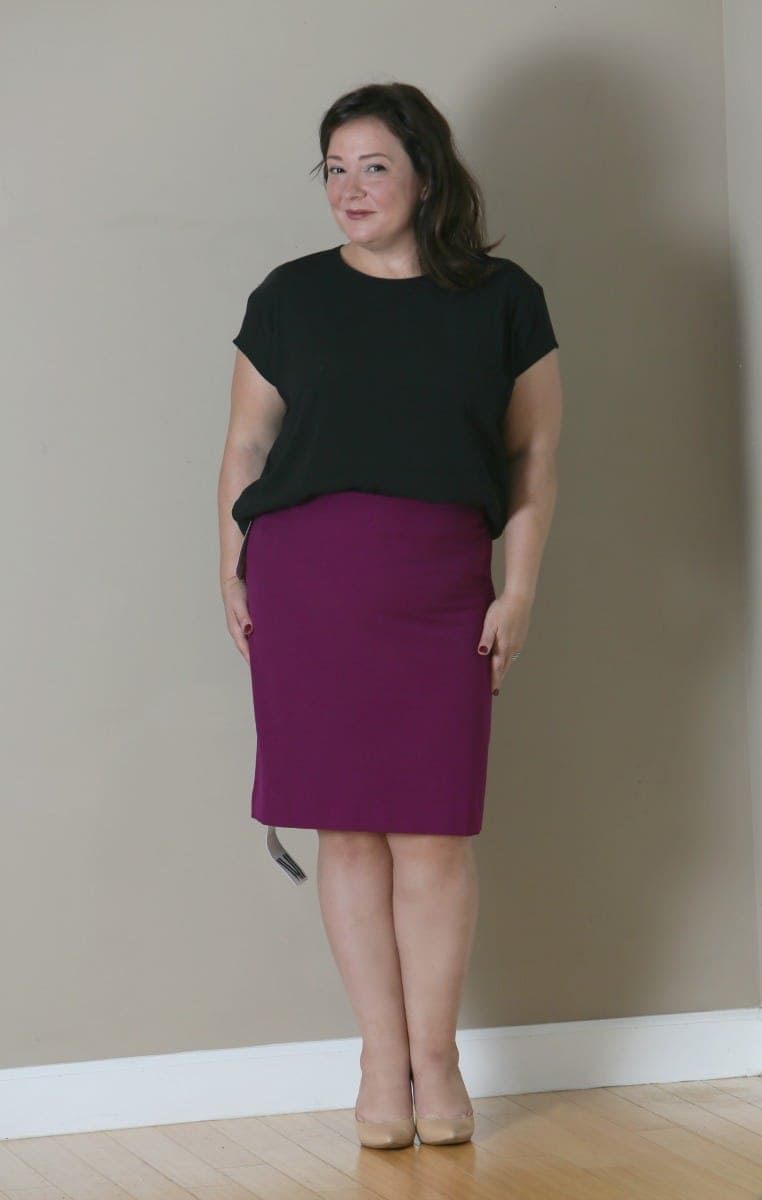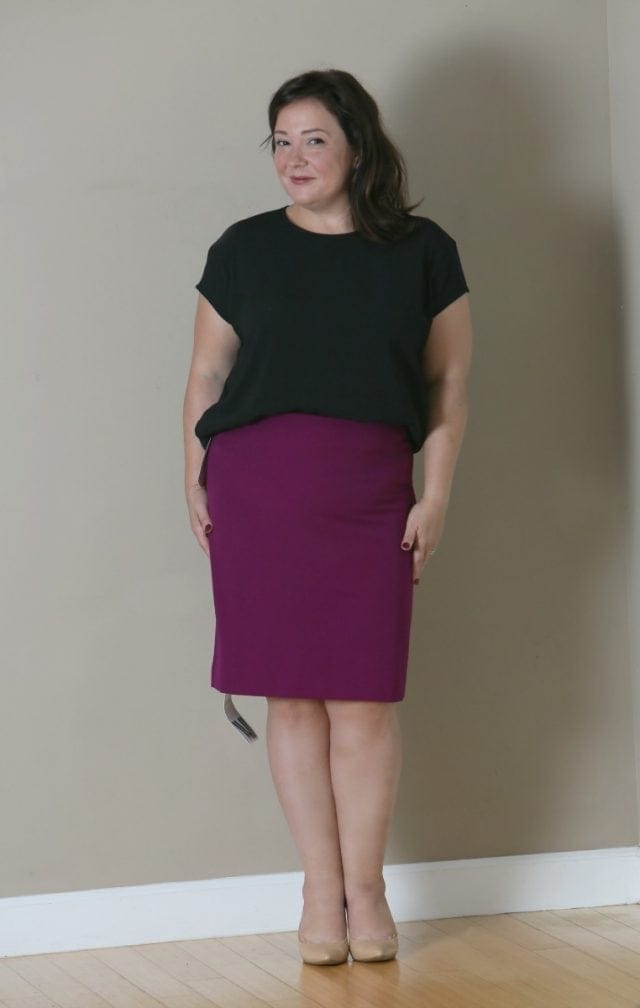 This is a really nice skirt. Before this photo was taken, I wore it to set up the space, move some furniture and paintings, I switched the clothes from the washer to the dryer and folded that which was in the dryer, and then sat down on the couch to write a bunch of copy that's in this post. No terrible creases or bagging. The skirt is a nice suiting fabric with a subtle nubby/crepe finish. Side zipper, and a lining that is lightweight and stretchy.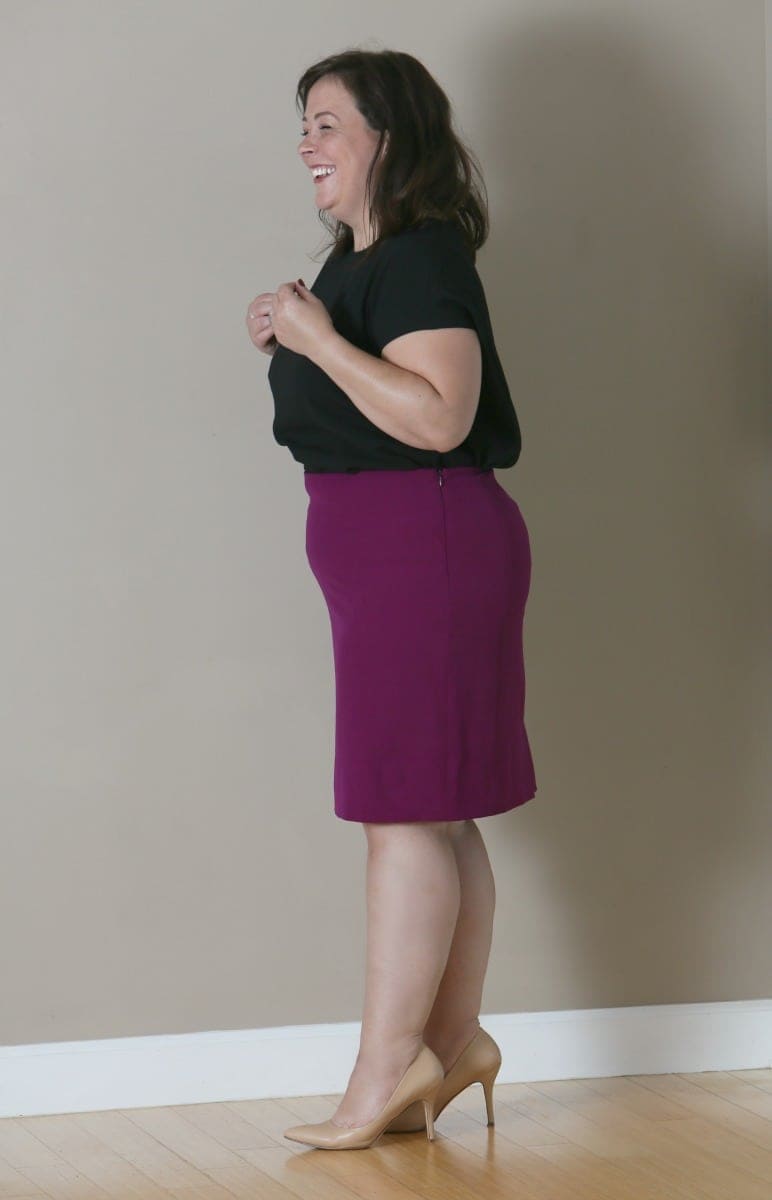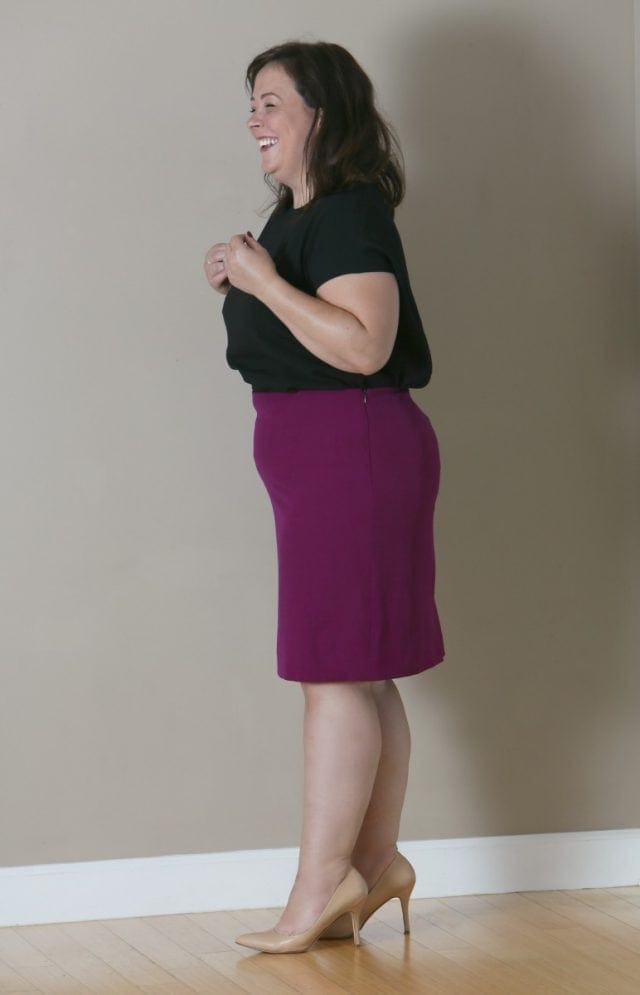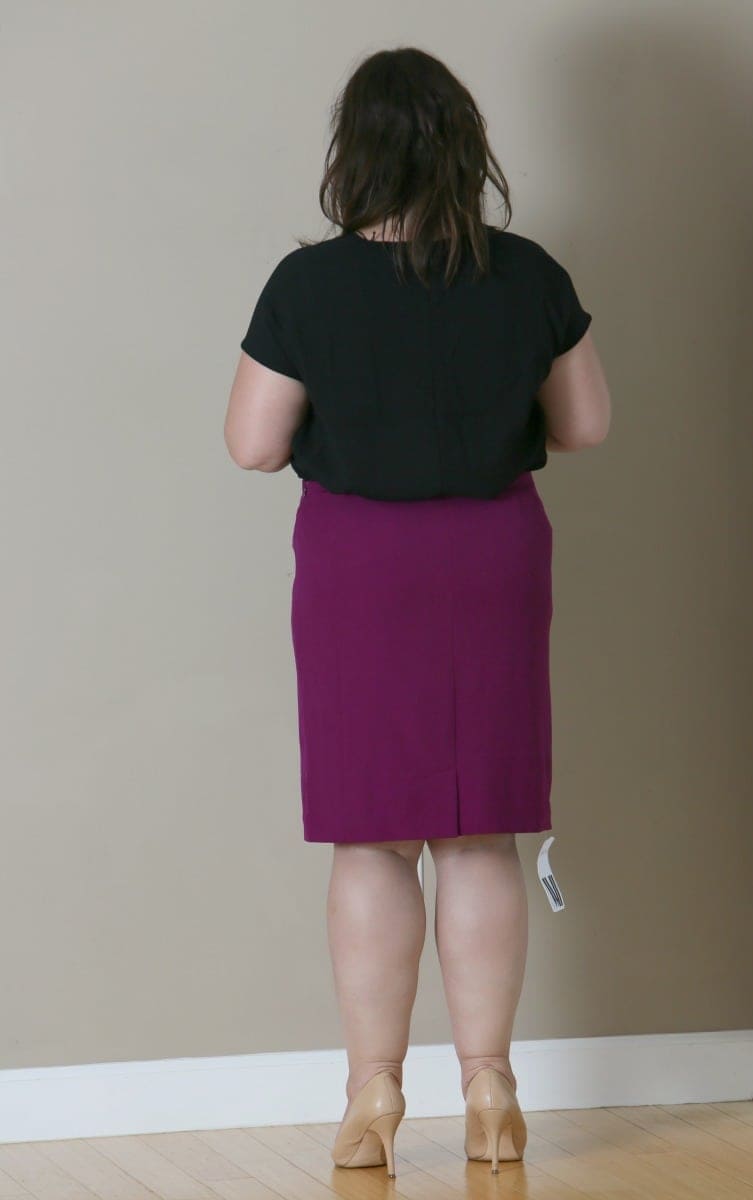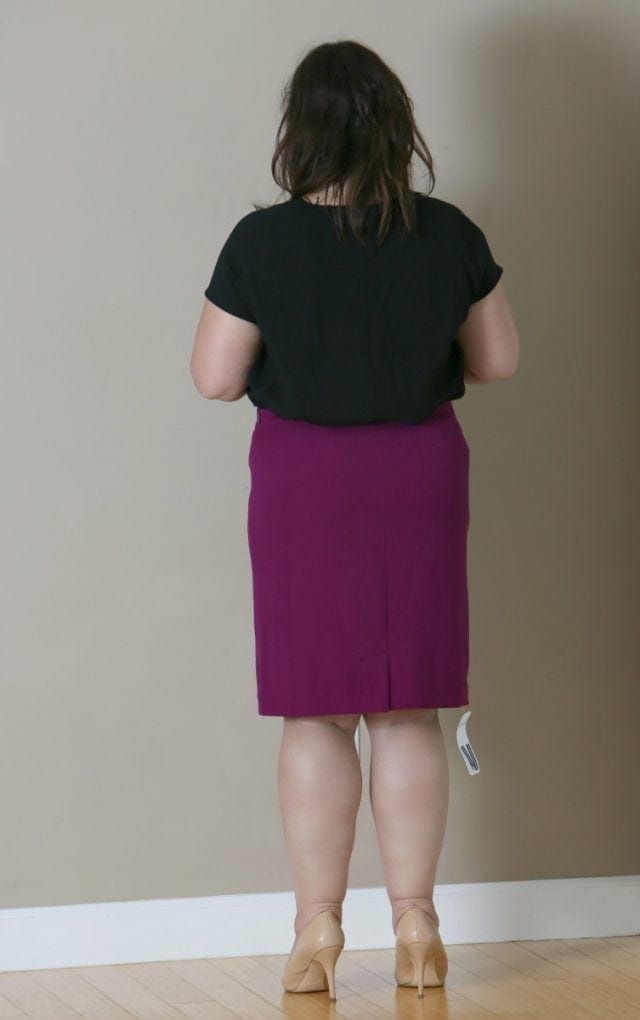 Skirts often look terrible on me with my lower belly and round booty. I can look cute from the front, but the side view I resemble a lampshade (or else have way too much on display). This skirt is so flattering from the front, side, and back. This skirt comes in the full-size range and is available in seven different colors.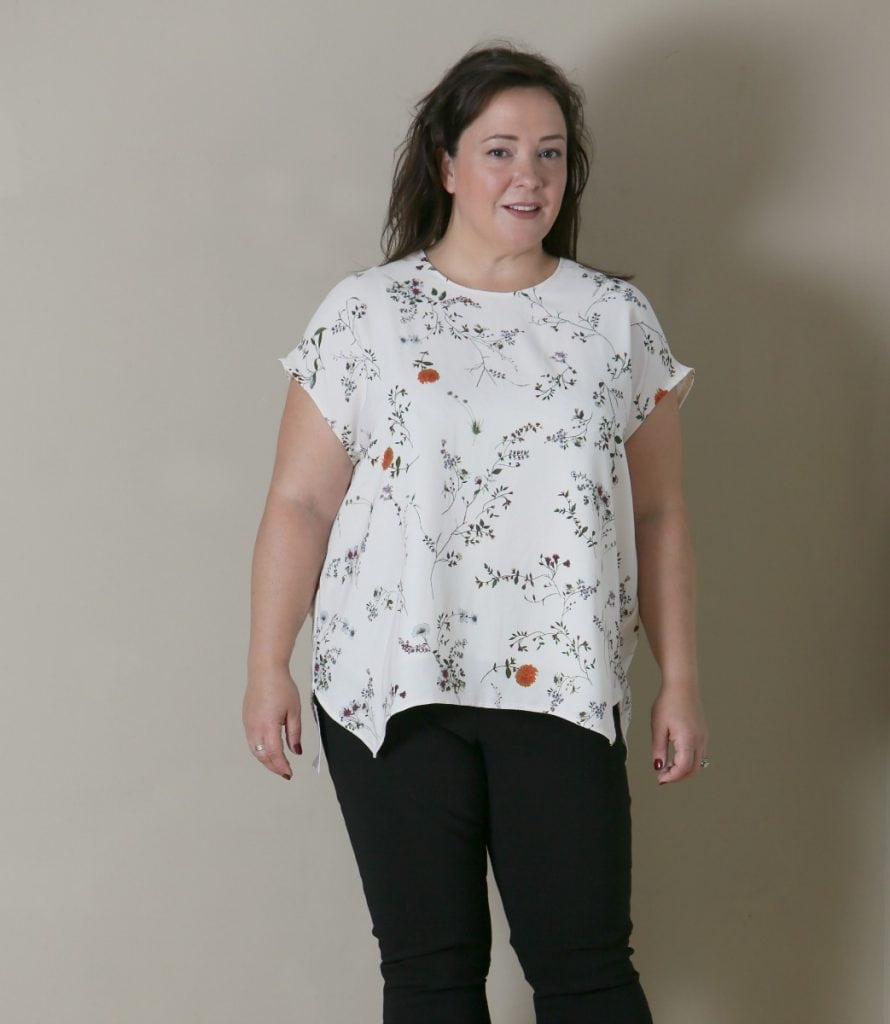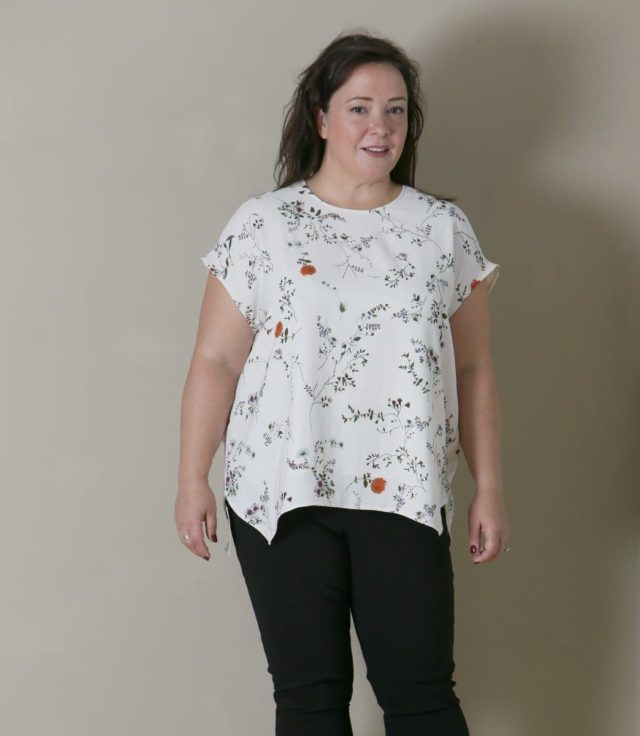 This pattern is NOT me, nor is the color.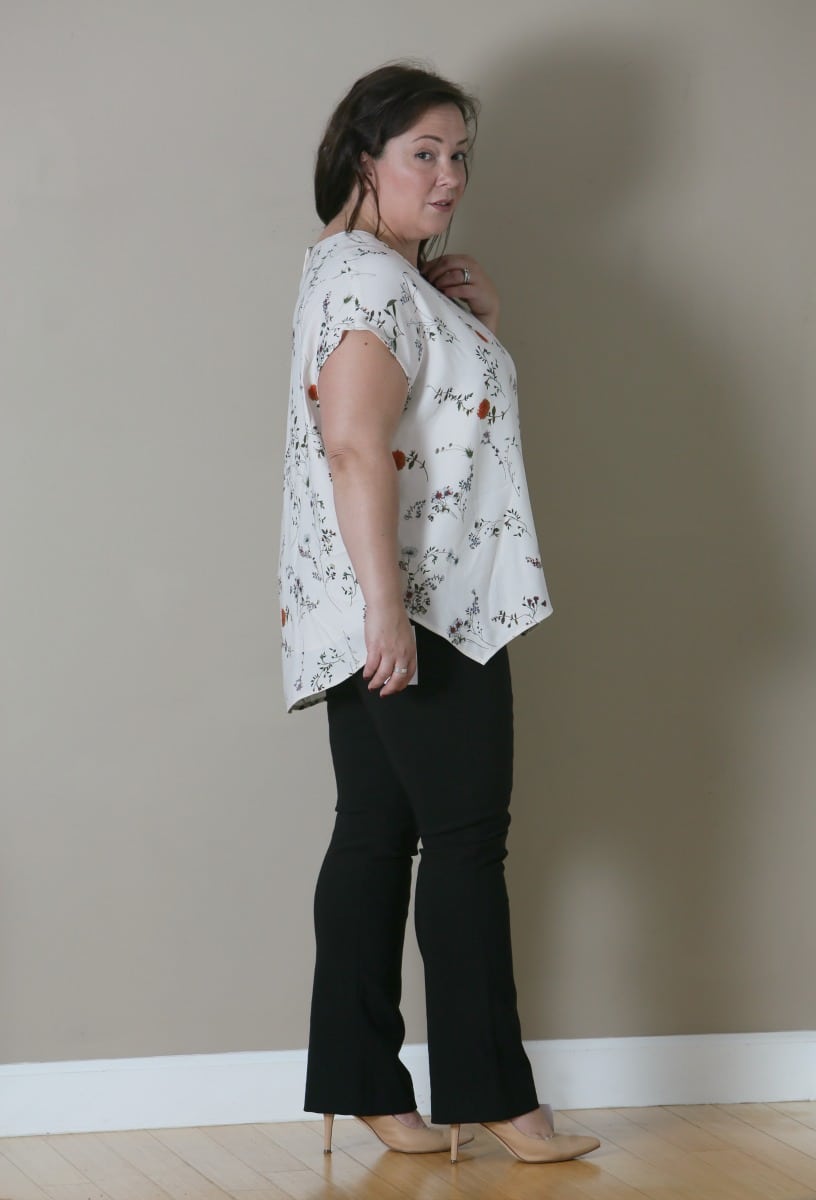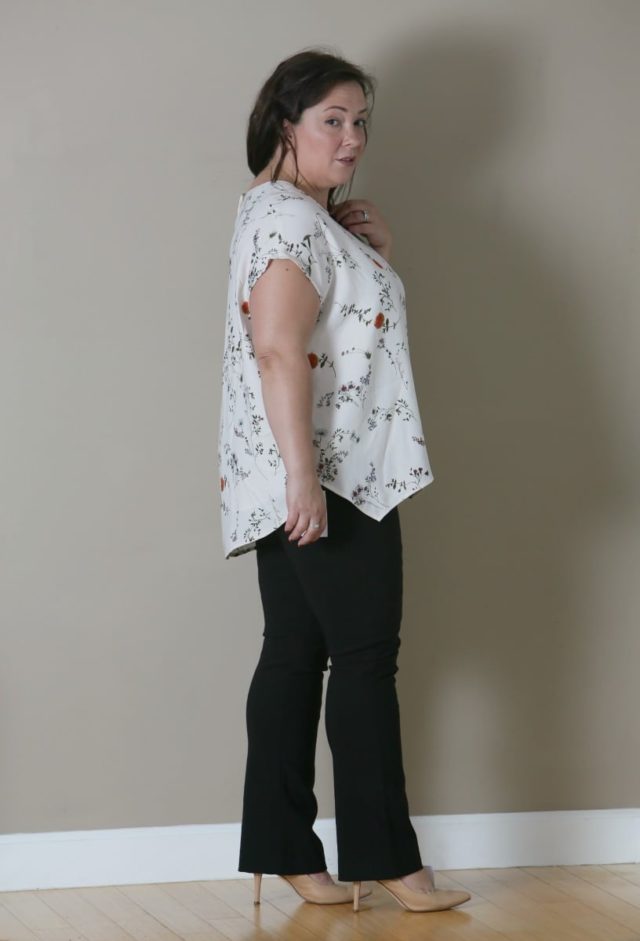 And while this is the same top and size as the black one, I found this one to be too big on me.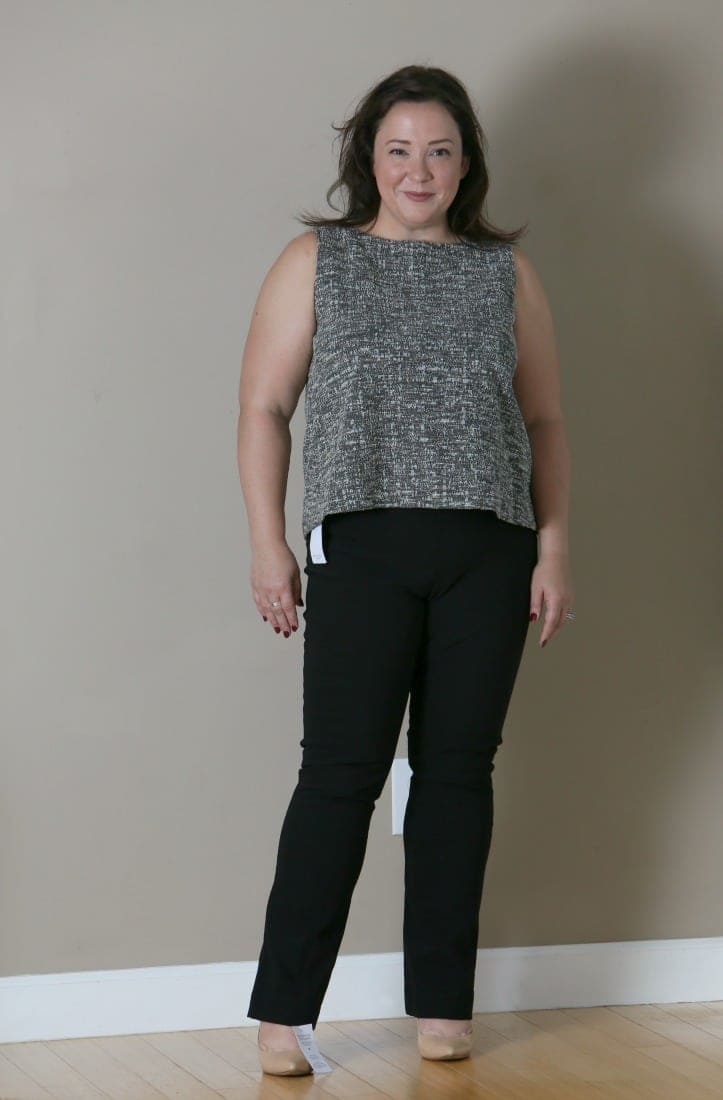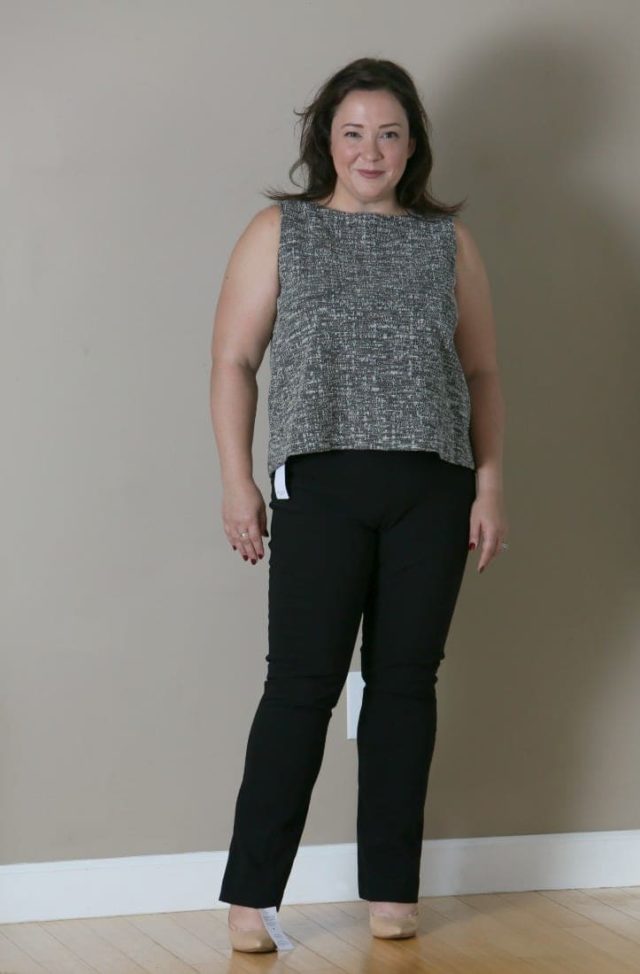 This is a super cool looking top. The boucle is stretchy and while the top is not lined, it's not itchy at all. This would be a super cute swing top to wear with high-waisted black pants, a pencil skirt, the coordinating trousers, or the coordinating skirt. That is, if you have smaller than a DD chest and are taller than 5'3". With my boobs and height, the top tented out in front and bunched up on the top of my booty.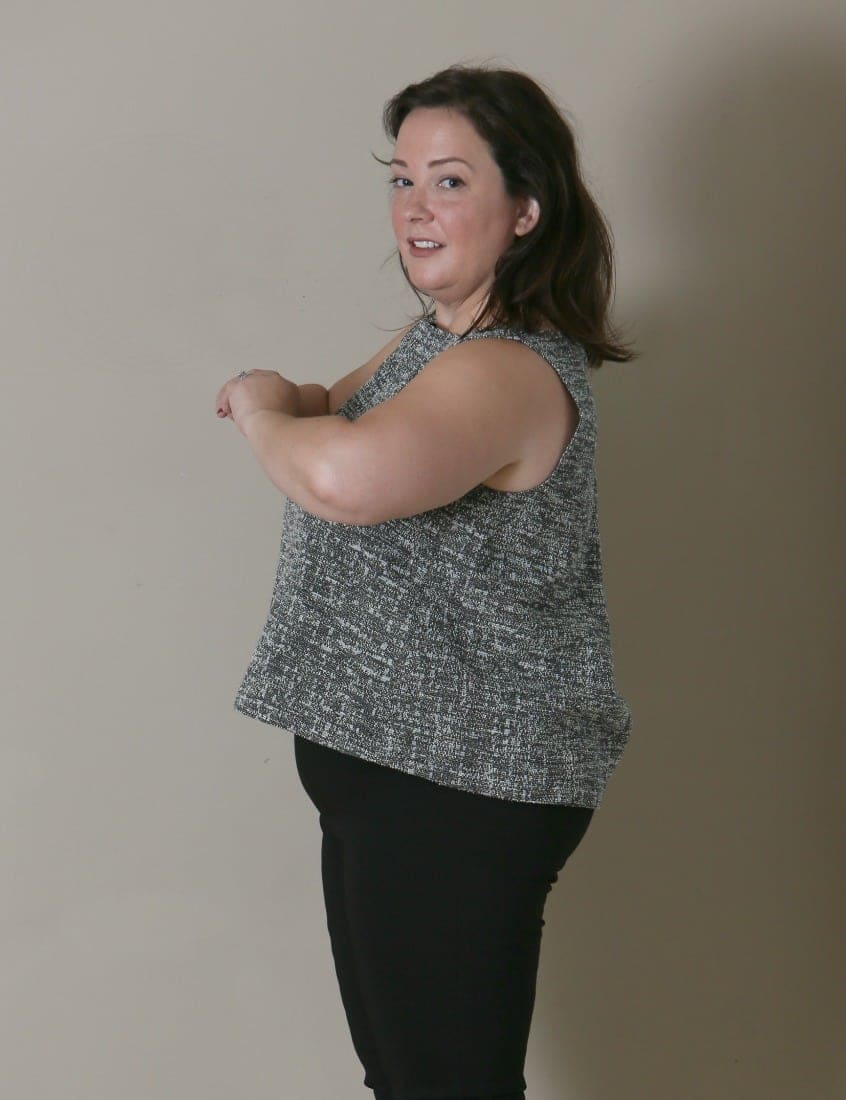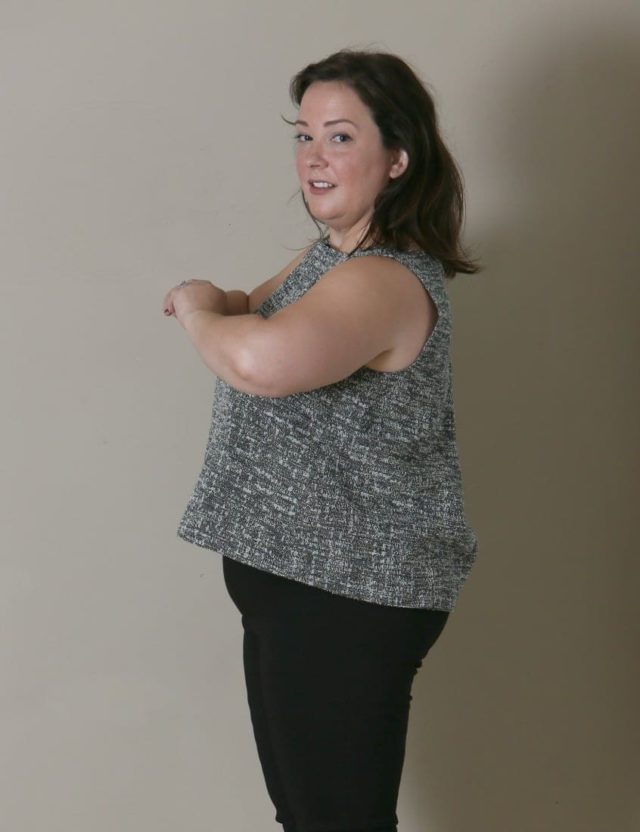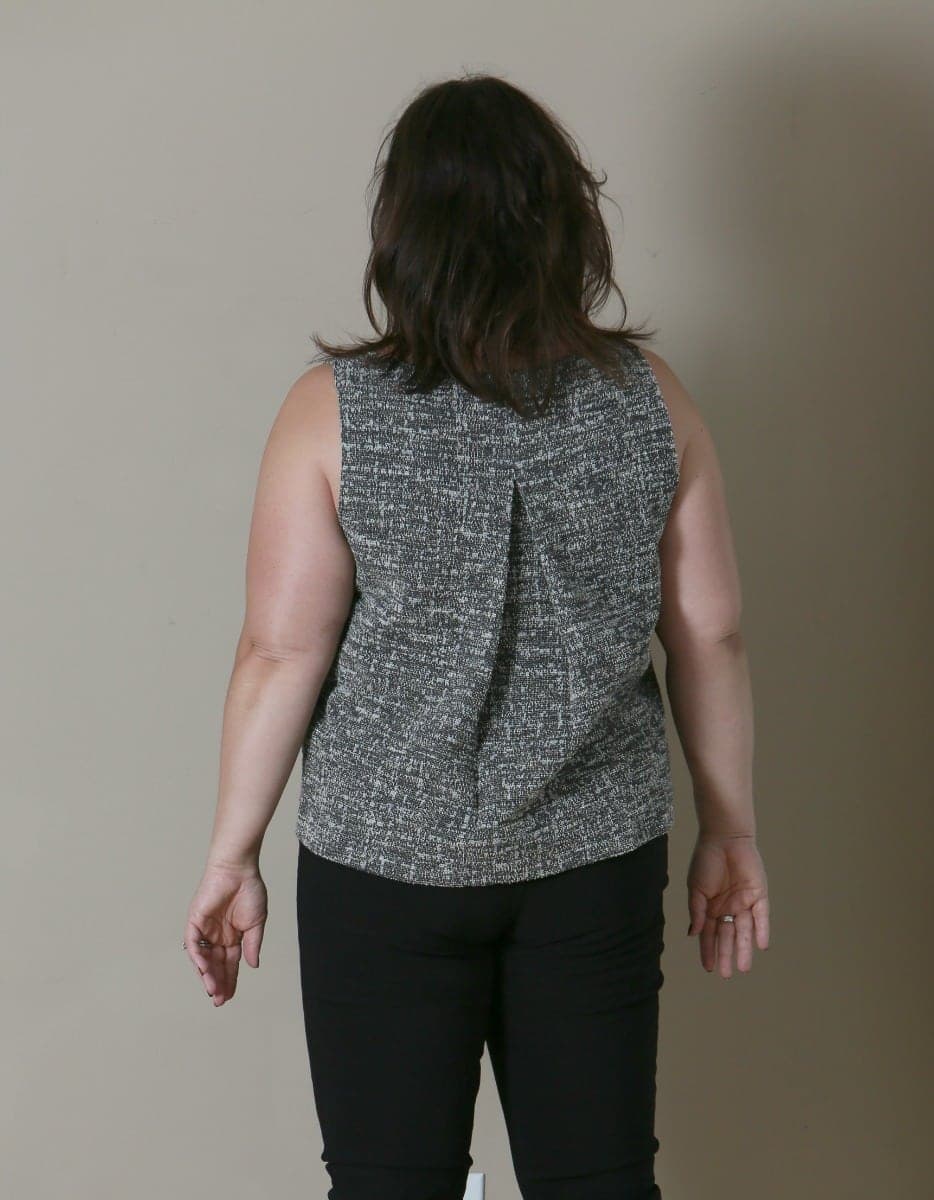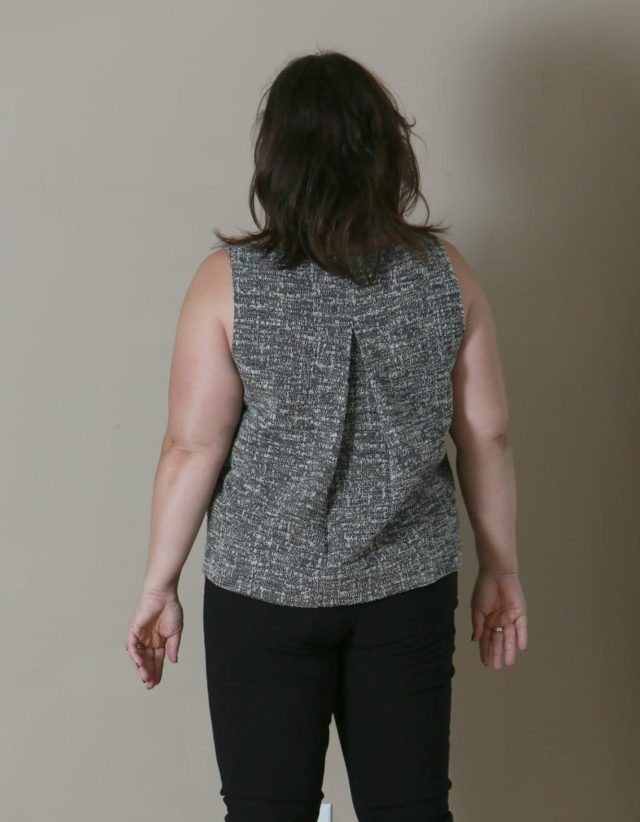 This would look amazing on the right body, and has perfectly shaped armholes and a nice pleat in the back that gives it elegance. But on my short curvy body, there was no elegance. This link is only to the top in grey/white and at the time of writing this, it only had three sizes left. This is the link to the same top in Galaxy Blue but it too is currently available in a few sizes.
After Receiving my MM.LaFleur Bento Box
When you order a Bento Box, you are assigned a stylist. This isn't a computer algorithm charmingly named Amanda, it's a real person (you even see a photo of her). She sends regular emails and feedback within the MM website. I was able to tell her I needed two extra days of my trial via email and she updated my account without any cost or issue. Your stylist truly wants feedback – what worked and why, what didn't and why, so she can improve your future orders.
Once you get your Bento Box, you're sent a link to provide feedback. Keep or return, and then details as to why. You can click selections and also have a field to write more specifics. When you finish your form, you're offered the opportunity to order another Bento Box. If by chance you change your mind, as long as you haven't mailed back the items you are able to go in and revised your feedback form.
My Final Verdict
The whole concept of shopping from MM.LaFleur is pretty fantastic. There's no hard sales pitch, you won't get annoying emails every day promoting products, your stylist won't hound you. You can do a Bento Box and try the brand without risk and also get a virtual stylist to help you build a work wardrobe, you can buy individual items online without any assistance, you can make an in-person appointment. There's plenty of support with stylists and customer service to answer questions and offer suggestions without any pressure. Online shopping isn't usually described as elegant, but MM.LaFleur has achieved just that. For the price of their clothing, it's nice to have an appropriate level of service and class to go with it. MM.LaFleur makes you feel like a valued client.
MM.LaFleur makes extremely high-quality professional workwear. These are clothes that would feel at home in a boardroom, but many pieces would be just as perfect for brunch with friends, to a day wedding, or a business casual office. The fabrics are luxe and the cuts are made to flatter a body.
The problem is, the body MM.LaFleur is trying to flatter is not mine. I am simply too short for the brand. I have a friend who has tried the line, wears a different size from me but is essentially the same height and experienced the same, even with an appointment at their DC showroom. I don't think my shape or clothing size, however, is an issue. I think most of the issues I experienced were due to height and just having the wrong pieces from their extensive collection in my Bento Box. If I were 5'5" or taller, I would be ordering a new Bento Box and likely ending up with several pieces of MM in my closet.
If you are 5'5" or taller and are looking for quality work clothing, MM.LaFleur is worth a try. Their Bento Box program makes it risk-free. The box ships for free and comes with a pre-addressed bag to send everything back free via UPS. Don't like anything sent to you? Send it back to MM within a week and you won't be charged a dime.
I was not paid to do this review, MM.LaFleur has no idea I am writing this Bento Box review. However, all links to the brand are affiliate links and if you make a purchase through them I may receive a small commission. If you have any questions, do ask them below in the comments and I will answer them with full honesty. If you are an MM.LaFleur customer, I welcome your thoughts and answers to questions in the comments as well!