This article may contain affiliate links; if you click on a shopping link and make a purchase I may receive a commission. As an Amazon Associate, I earn from qualifying purchases. 
How is this month almost over? I feel I was just writing the Style File for the beginning of June! But time flies when you're having fun, and this month has been pretty spectacular.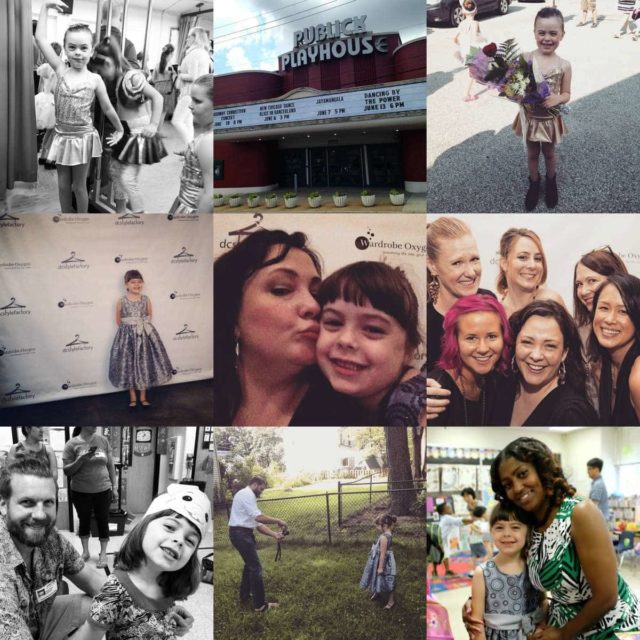 June 4th was our 11th wedding anniversary. Last year's anniversary was pretty terrible – I was still in a splint and a lot of pain from my second arm surgery and couldn't go far from home. We went to a local Tex Mex restaurant where Emerson threw a fit and my mom called stranded at the airport after her trip to Russia. I spent the dinner trying to secure her a ride home from Dulles and the evening ended with both Karl and I getting food poisoning from the meal. We swore this year would be better. We had tickets to see The Decemberists and Father John Misty the night of the 4th but there was a torrential downpour. We had lawn seats and decided it would be a far nicer night staying in our warm dry house, listening to albums and enjoying a bottle of wine.
June 6th was Emerson's end of the year recital for her dance school. The theme was "Alice in Dancerland" and Emerson's class had two performances – one jazz as a Jub Jub bird, and one ballet where she was a Changeling. She did an awesome job, and it was so cool to see her performing on a big stage at an historic theater in our area that I visited when I was her age. It was an especially emotional recital because it was the last for her school, which is closing. Emerson has been taking dance there since she was three and we'll miss the teachers, the students, and I will miss the gang of parents I used to hang with during classes. Over all these years we have become friends and we haven't been able to find another school that fits all of our schedules and is as convenient of a location.
June 10th the sutures were removed from my arm. I'm doing a bit of physical therapy now to prevent scar tissue from causing issue and to build up some strength in my fingers, but it's not a big deal and I really enjoy PT.
June 11th was my blog party, which was a big fun blur. Hrm, I can vaguely recall dancing to EMF's "Unbelievable" and a certain friend and party host admitting she saw them in concert way back when…
June 12th Emerson presented her first school project. Each class had a country they studied for Multicultural Night, and Emerson's class was China. To add to this, each student was assigned an animal they had to do report on. Emerson got monkey, so we focused on the Golden Snub-nosed Monkey. She made this awesome diorama and a simple report and did a great job presenting in front of her class and other parents. After, her class performed a play about the Chinese animals in the zodiac; Emerson was the rat.
The Wednesday after was Emerson's kindergarten graduation. No tiny caps and gowns, but the four kindergarten classes walked up to receive certificates and performed two songs for the audience. We got Emerson an Our Generation doll as a graduation gift and my mom and sister pitched in together to buy her the Our Generation Airstream trailer and the five of us went out for a celebratory lunch.
It's amazing how far Emerson has come in one school year – she's reading us bedtime stories now, she is always writing letters and notes and entries in her diary, she's saving money and understanding how to add and subtract, she's extremely independent and self-sufficient and we've learned that she LOVES performing in front of an audience. This summer she'll be in a creative performance camp and will begin ballet classes at a new school.
In Girl Scouts, this month we had an second Investiture Ceremony for the three girls who have joined our troop in the past couple of months, and tomorrow we're having our end of the year ceremony which includes four of our girls bridging to Brownies. Last week, the Service Unit had a peace rally in the community where they erected a peace pole older Girl Scout troops decorated and we all made peace cranes. While we won't have any meetings this summer, us three co-leaders will be busy creating curriculum for the fall and independent study for the girls who missed meetings to earn petals and those older girls who were only in Daisies one year but want to earn all the petals before going to Brownies.
July and August are already looking busy. I'll be going to my first blogging conference – BlogHer next month, and bringing Emerson and Karl with me. Between seminars and such the three of us will get a taste of The Big Apple; Karl and I have been many times but not for a while and Emerson has never been. August Karl and I are taking a couples weekend (details in an upcoming blog post), and my mom, sister, Emerson, and I will take our annual Girls Weekend to Rehoboth Beach, Delaware in September. There's a few concerts already on the books and I likely will add a few more as the weeks go by and the Evites and Facebook Events have been rolling in for crab feasts, cookouts, and children's birthdays and I can see every weekend filling up. But it's all good stuff.
This month has been full, but really full of good people, good memories, good actions. I feel really blessed to have this life and be surrounded by such amazing people. I know summer will be over in the blink of an eye but I'm going to do my best to slow down, take deep breaths, and be present as much as possible. I hope you're all doing well, and I'd love hear of any summer plans you have!