This article may contain affiliate links; if you click on a shopping link and make a purchase I may receive a commission. As an Amazon Associate, I earn from qualifying purchases.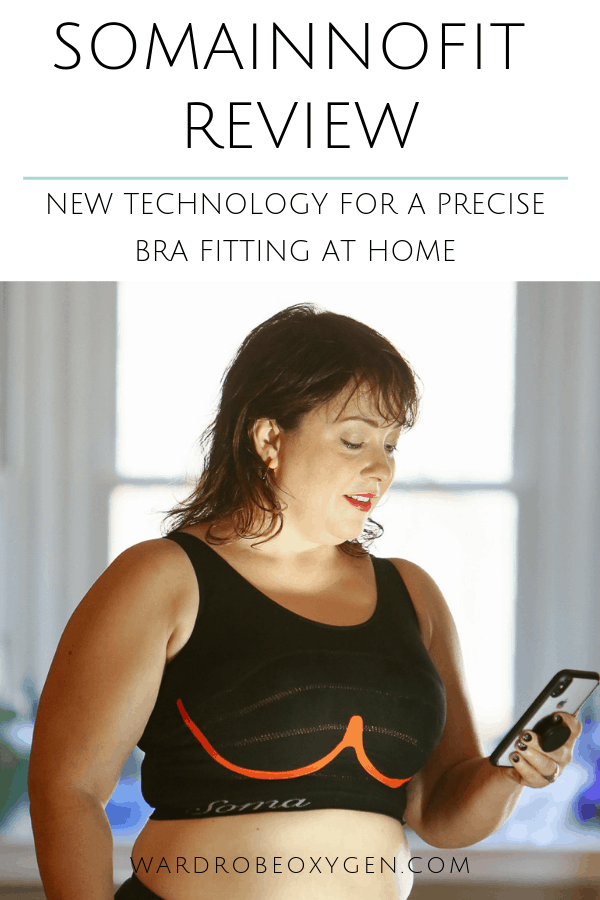 Have you heard of SOMAINNOFIT? It's this new and revolutionary tool from Soma to get a precise bra fitting at home. In fact, the SOMAINNOFIT bra provides a more accurate fitting than by many professionals. SOMAINNOFIT is a battery-operated bra with a coordinating free app; the combination measures you for a perfectly fitting bra without even needing to get naked! With exclusive new measuring technology, SOMAINNOFIT provides accurate measurement and the perfect bra size right from your smartphone. Soma sent me a free SOMAINNOFIT bra to try out and review; this post is sponsored by Soma.
I've been a fan of Soma Intimates for years; in fact as I write this I am wearing a Soma bra and a pair of their leggings. This summer, I visited a Soma for a professional bra fitting and had a great experience. Over my years of raving about Soma, many of you shared you don't live near a Soma or other lingerie boutique, or you don't have the time to schedule in an in-person bra fitting. Many of you also shared you don't necessarily feel comfortable during an in-person fitting or have been mis-sized. SOMAINNOFIT is perfect for all of those reasons and more.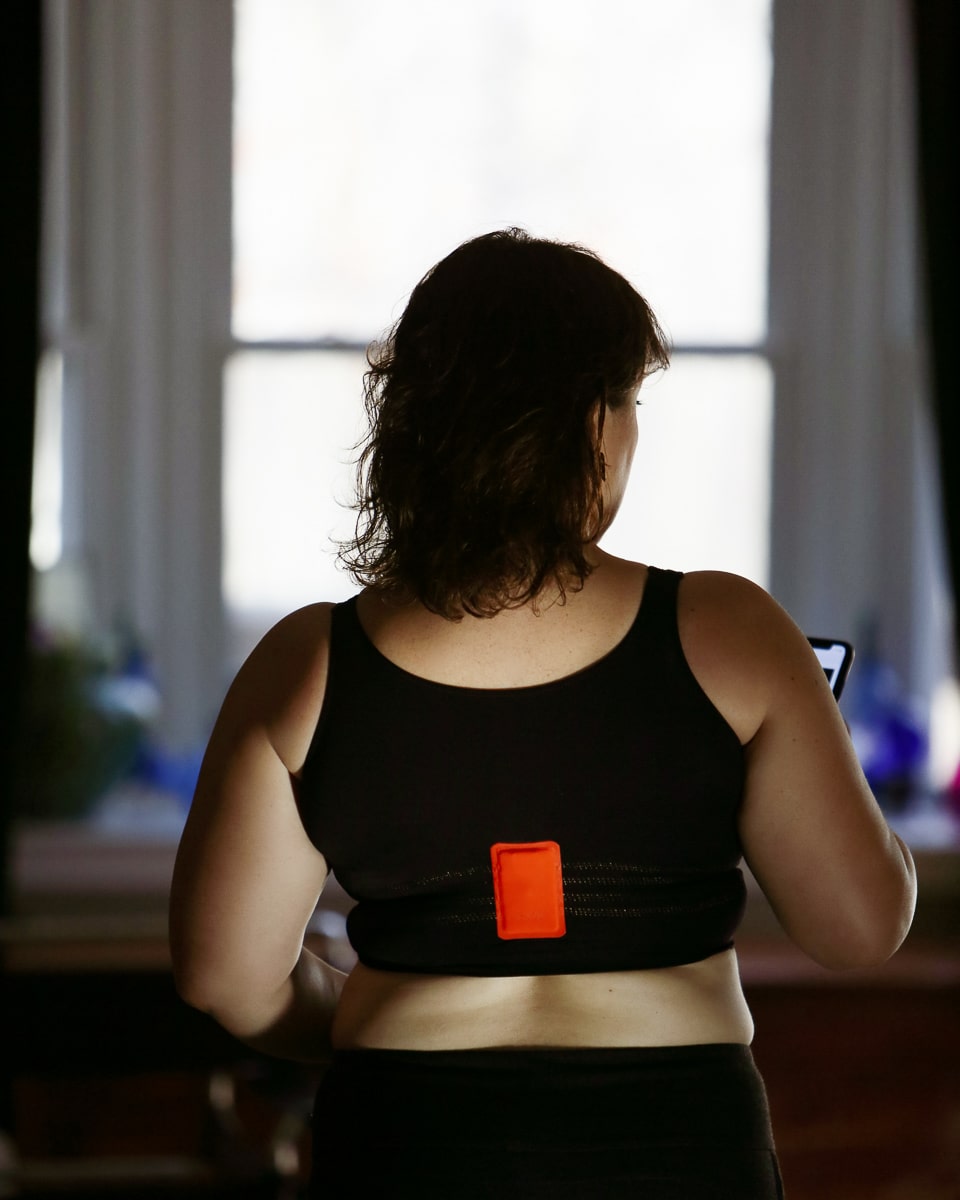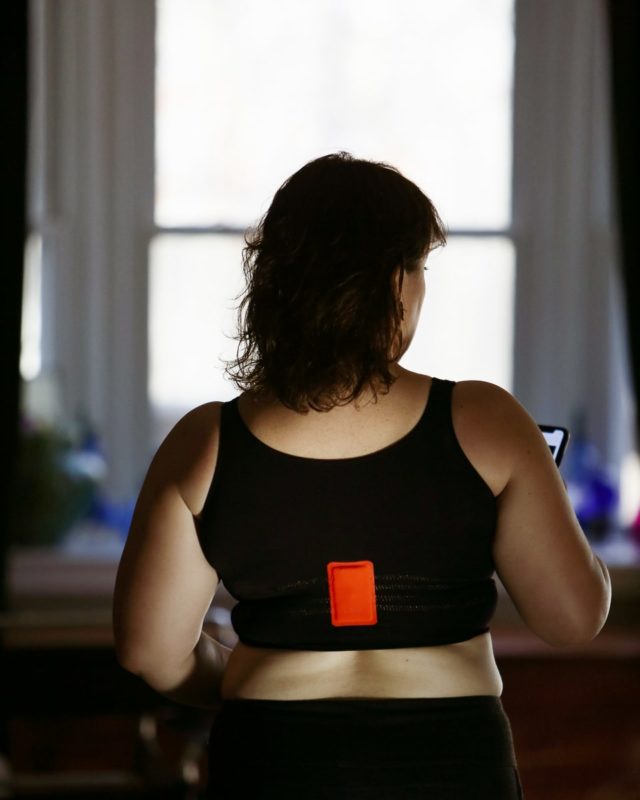 What is SOMAINNOFIT?
The SOMAINNOFIT bra is like a sports bra made of a super stretchy fabric; one will fit sizes from 32A – 44G (I am a busty size 14 and easily got it on and it was not an uncomfortable fit). It arrives in a box with very clear to follow instruction cards with photos. The bra is pulled on over your own bra, so no need to strip down. It's recommended to use your best fitting unpadded bra. The bra has metallic threads creating several horizontal stripes across the front. At the back of the bra is a small and extremely slim battery pack; press the power button on the battery prior to using the app.  The battery will last around five years with normal use; this is a product that is designed to be used more than once.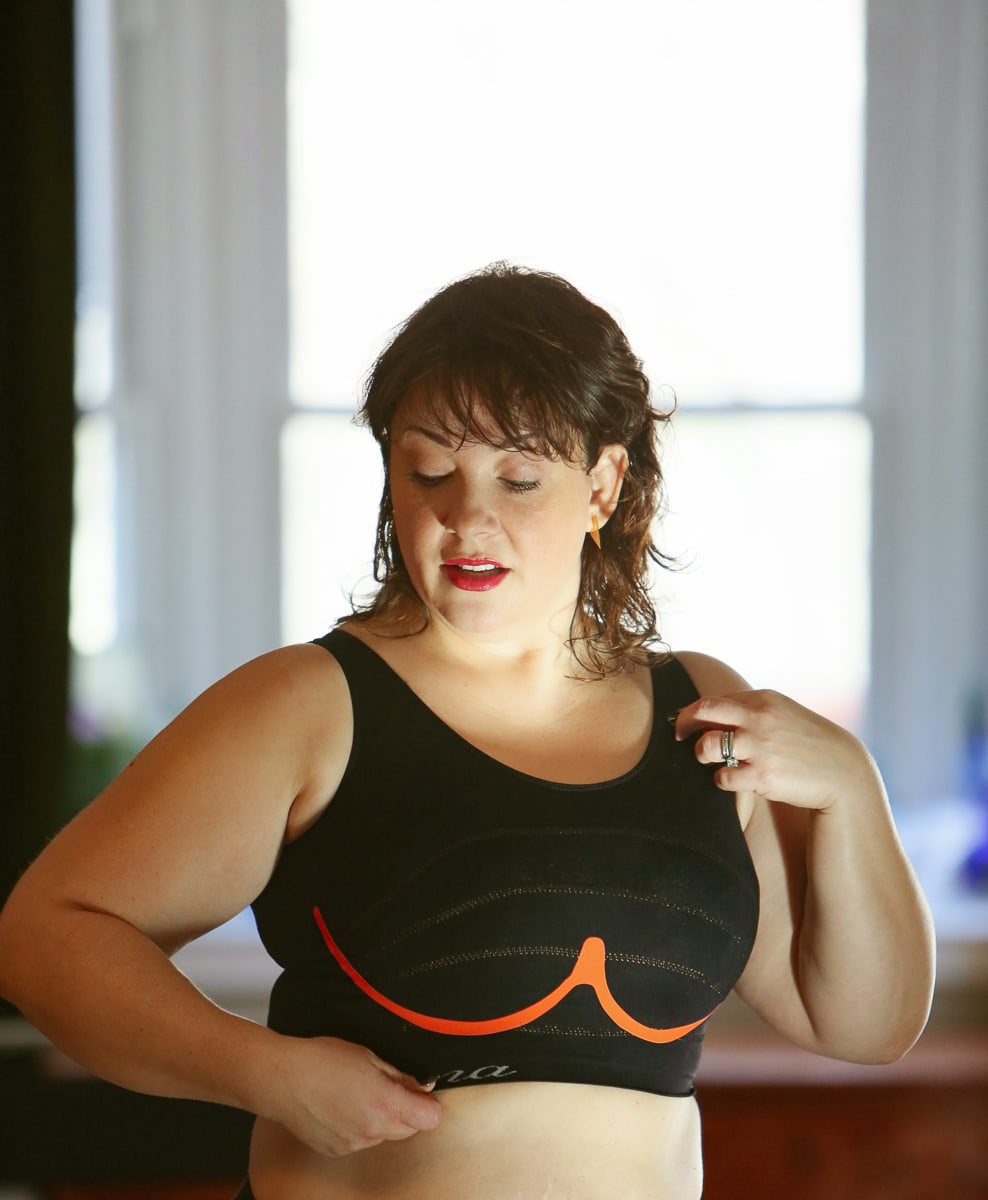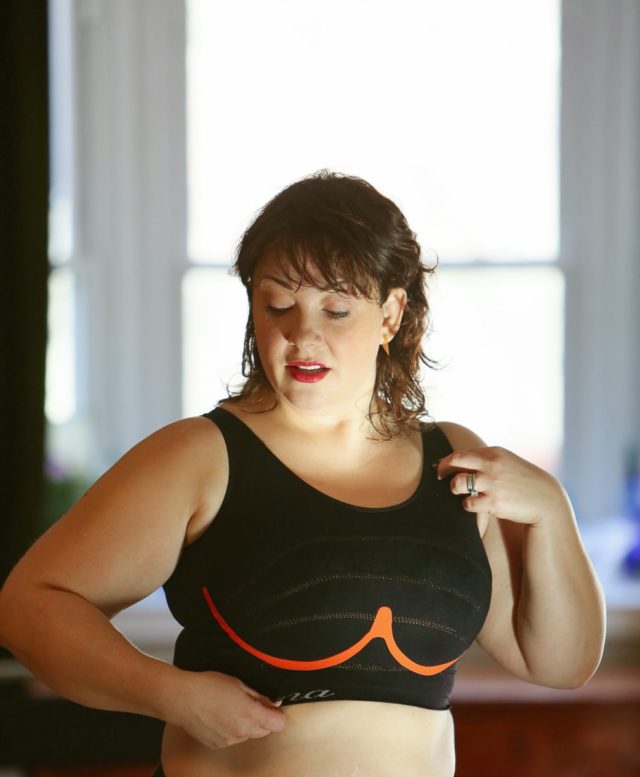 Using the SOMAINNOFIT App
The SOMAINNOFIT app is free and available at both the Apple and Google app stores; it is necessary to download the app prior to using the bra.  The app is clean, elegant, and easy to use.  When you first open it, you will be invited to register with your name and email address. You then have the option (not required) to share your height and weight and then share two bra brands you wear and the size in those bras. Once you have filled out this information, the app guides you through putting on and using the bra with clear photos and language.  It even provides an informative video.  Once you've gone through the steps of putting and turning on the bra, click measure and stand still for a few seconds while you are measured (you don't feel a thing).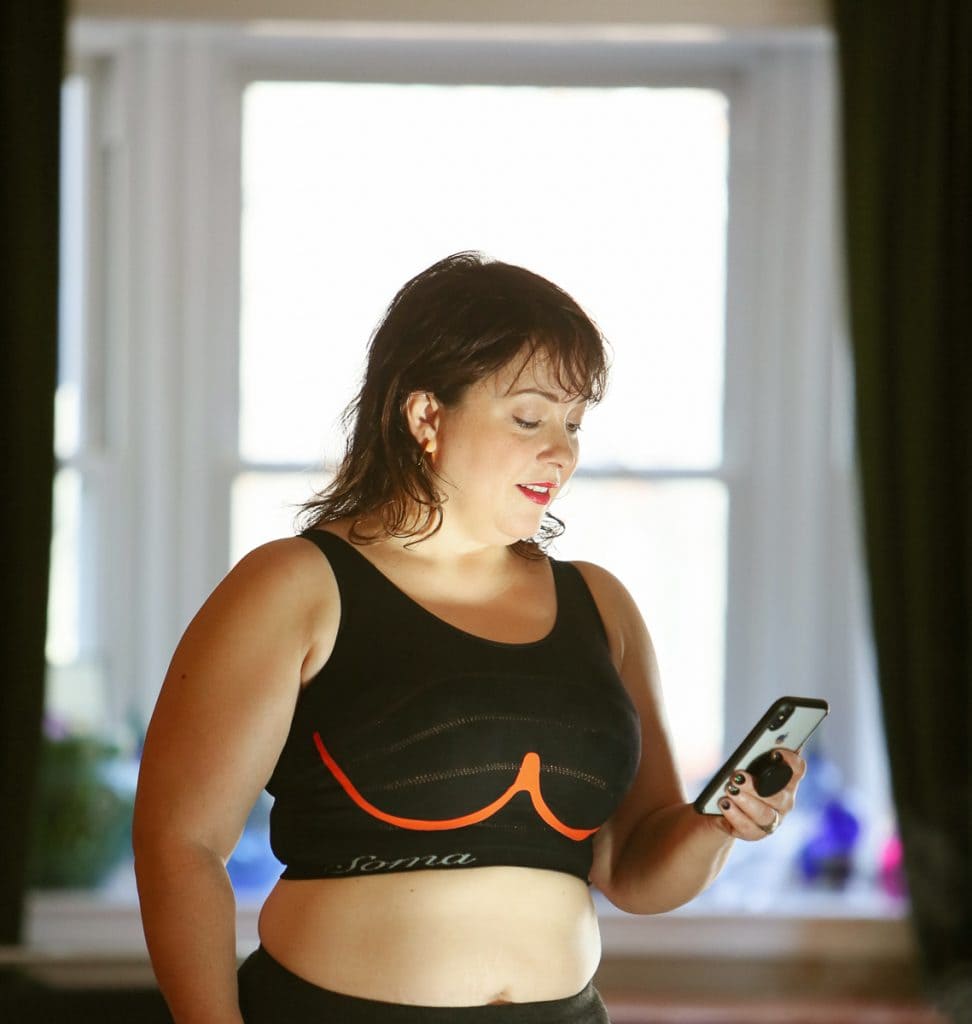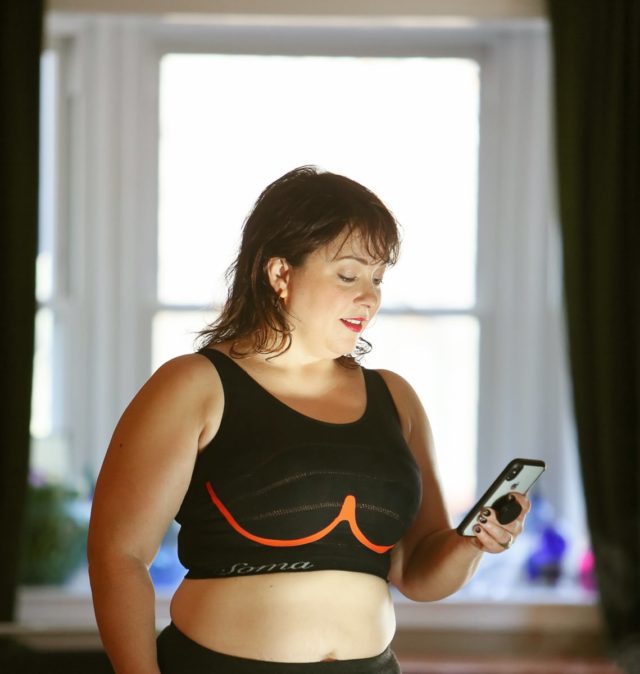 Once the measuring is complete, you will receive your bra size as well as the bras Soma recommends for your specific size and shape. I found the selection appropriate; almost all the bras recommended were the ones recommended when I last visited a Soma boutique! One new-to-me suggestion was the Soma Enticing Lift Unlined Balconette Bra. I clicked on the photo for larger photos of the bra and then clicked now. I was redirected to my phone's browser where I saw the page for this bra, my bra size and color choice already selected for me! Like the app, the Soma website is clean and easy to use on a phone (and also easy to sign in, save your items in your cart, and come back on your computer to place the purchase).
SOMAINNOFIT Review
A proper bra fitting is important; a well-fitting bra improves your posture, reduces bra discomfort and back pain, and makes you look a heck of a lot better in your clothes.  Your body is constantly changing thanks to diet, fitness, and well, gravity.  Experts recommend a bra fitting every year.  This ensures your bras are the right fit and also right style and shape for you. With SOMAINNOFIT you can do these fittings at home with just as if not more accurate of results.  Since the battery will last around five years, one purchase will benefit you for several fittings. SOMAINNOFIT will retail for $59 but you can currently pre-order (it was so popular it sold out in hours!) at an introductory rate of $25. The SOMAINNOFIT bra is also available to try for free at Soma boutiques, as part of the expert fit service they provide.
To be honest, I don't like shopping in person.  While I have had great experiences at multiple Soma boutiques, I do like the ability to get fitted for my bra in the comfort of my own home.  I found the SOMAINNOFIT bra and its app super easy to use, take maybe five minutes in total, and be quite accurate.  Such technology and convenience don't come cheap, but the price is pretty amazing for the ability to bypass the mall for a few years yet receive the same precise measurement. Thank you, Soma, for sponsoring this SOMAINNOFIT review and giving me a chance to try out this cool technology!