This article may contain affiliate links; if you click on a shopping link and make a purchase I may receive a commission. As an Amazon Associate, I earn from qualifying purchases. 
2014 for me was the year of the bag. I curbed my clothing shopping, I purchased fewer but better chosen pieces, but I fell hard for handbags. There was the Isabella Fiore tote, the blue Chancebanda, and a few bags I acquired before this year ended up getting more play in 2014 than ever before (hello Latico crossbody, Fossil satchel). I also received some amazing bags from amazing brands, and one is AlmaRose.
Almashea' Spotser was a busy working mom who left Corporate America when her Navy husband was transferred to a new duty station. She took her love of sketching, and while pregnant with her second child, created AlmaRose Bags. Being a busy mom, Almashea' considered this with her bag creation and made each bag a great merging of fashion and function. As stated on the brand's site, "Each bag was created with the woman who happens to be a mom in mind first."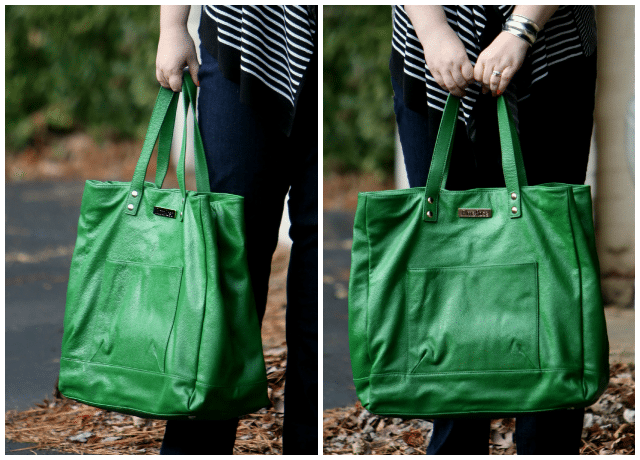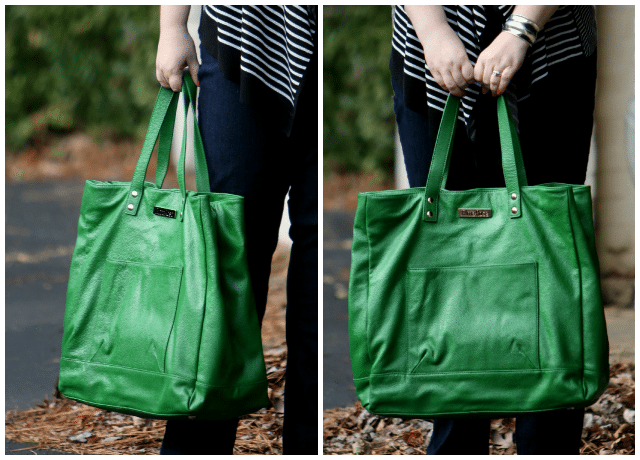 AlmaRose bags are diaper bags, and I am (thank goodness) a couple years past that point with Emerson. However, the brilliant part of these bags is that while they have that function, they work so much further past diapers and wipes. AlmaRose was kind enough to send me the Maxine, which I saw to be a gorgeous statement-making weekender bag or work tote. I slipped out the changing pad to enjoy a quality leather tote with perfect pockets to store everything and find everything at a moment's notice. The water and stain resistant interior keeps it looking gorgeous even if the cap falls off my lipgloss or I spill a bit of my bagged lunch. The feet on the bottom of the bag and the shape of the Maxine keeps it upright no matter the contents, making it a great choice for those of us who always seem to have their hands full when their phone starts ringing in their bag. I love the included Express Bag, which is a removable pouch perfect when you need to dash to the restroom or Starbucks but don't want to take your entire tote; it also makes switching from day tote to evening clutch a breeze. There's even a padded pocket to store my tablet or Kindle! And come on, who can resist the gorgeous green tumbled leather exterior?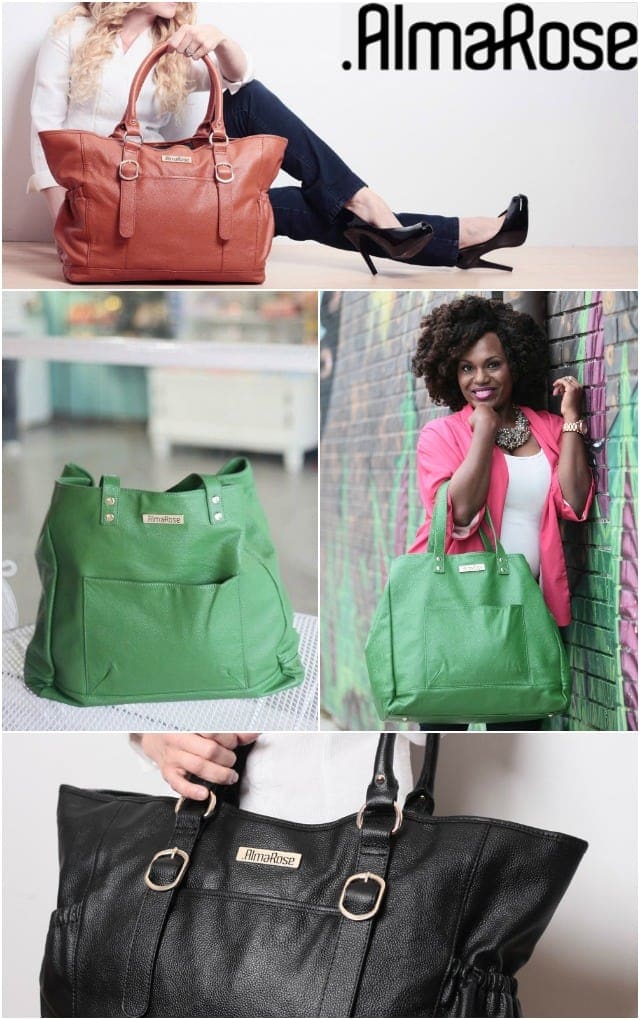 AlmaRose has two other styles of bags: the Claire and the Lydia. These totes are also classic shapes and come in classic colors making them either a chic alternative to most diaper bags, or a brilliantly-designed day tote. With the same great features of the Maxine, these have elasticized side pockets that can hold bottles, but are also great for stuffing in gloves, water bottles, or even your current novel. The leather is thick making all AlmaRose bags built for longevity.
Right now the Maxine is 50% off, making it only $145. Where else can you find such a beautiful large leather bag in such a beautiful color for such a low price? And at the time of writing this, AlmaRose is offering free shipping on their bags.
The Small Business Saturday series on Wardrobe Oxygen features US- and/or women-owned independent brands and artists that focus on style with substance and soul. Stay tuned to learn about more great small businesses, and if you know a business that deserves to be featured please share it in the comments!