This article may contain affiliate links; if you click on a shopping link and make a purchase I may receive a commission. As an Amazon Associate, I earn from qualifying purchases.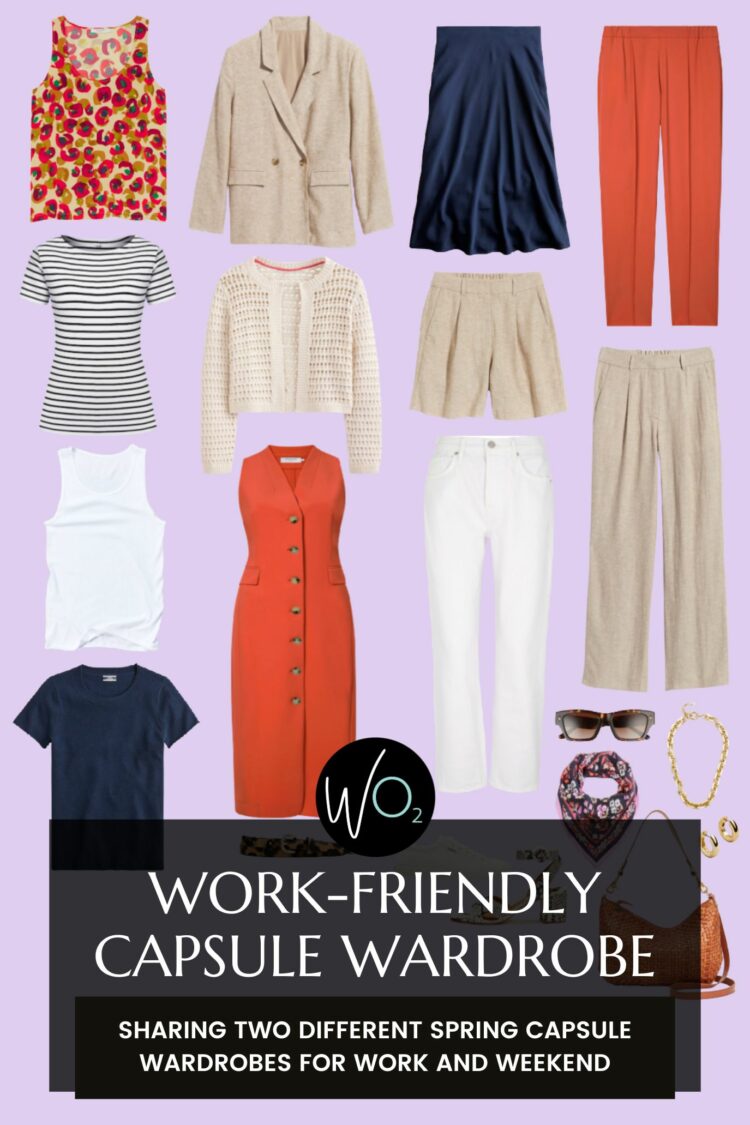 After my recent spring capsule wardrobe, I had some folks reach out asking if I would consider putting together a spring work-friendly capsule wardrobe. One of my DMs on Instagram mentioned they purchased the Old Navy blazer and matching trousers so I decided to make a spring to summer workwear capsule wardrobe based on those two pieces.
I didn't expect to make two work-friendly capsule wardrobes for spring. But we all know when shopping for apparel these days, items don't stay in stock very long. I usually try to craft my capsule wardrobes with extended-size and size-inclusive apparel brands known for having the same pieces at least through a season if not over multiple seasons. However, even those go-to retailers go out of stock. I made lemonade out of this lemon of an out-of-stock piece, and turned this into another capsule wardrobe lesson!
2 Spring Work-Friendly Capsule Wardrobes + Tips To Create Your Own Capsule Wardrobe
Today's lesson is about using a capsule wardrobe as guidance, not gospel. While some will take my capsule wardrobe and buy every single exact item and recreate it, I know many of you do not have the desire, the funds, the personal style aesthetic, or the available size range to make that happen.
While your buying my entire capsule is great for my bank account (learn how blogs like Wardrobe Oxygen make money), I'd rather you see the capsule as inspiration. To see items in it that you may already own and get ideas on how to restyle them. To think how a midi skirt may not be your jam, but you can achieve the same effect with a pencil skirt, or a pair of wide-leg cropped pants, or a dress. To start seeing clothes in a new way, to help you achieve big style with a small closet.
The two work-friendly capsule wardrobes I have below are very different, but also the same. They have the same number of garments, can create the same number of looks, but use different silhouettes, different fabrics, different colors, and different prints to achieve similar results. Keep reading to see what I mean and get tips on building your own capsule wardrobe!
Spring Work-Friendly Capsule Wardrobe Inspired by the Old Navy Linen Suit
I created a spring to summer work-friendly capsule wardrobe that doesn't rely on your typical neutral colors. Spring fashion usually incorporates pastels, summer fashion usually features bright colors. I wanted to show you can still be springy and summery with shades of pumpkin and navy.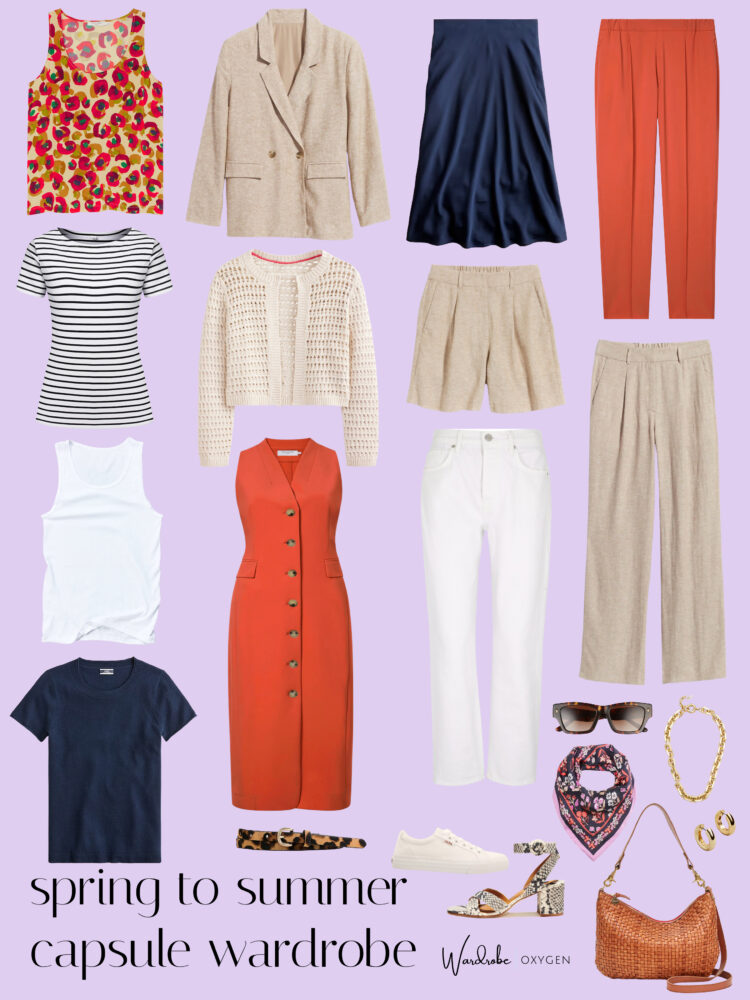 Shop This Capsule Wardrobe:
printed washable silk tank (XS-XXL) | short-sleeved Breton stripe tee (XS-XXL) | white ribbed tank (4XS-4XL) | navy cashmere tee (XXS-3X)
linen blazer (XS-4X w/ petite/tall) | open-work cardigan (XS-XL) | orange button-front dress/vest (00-18)
navy silk skirt (XXS-3X) | 6″ inseam linen shorts (XS-4X) | white jeans (2-24 w/ petite/plus petite)
orange ankle pants (00-18) | linen pants (XS-4X w/ petite/tall)
leopard calfhair belt (XS-XL) | snakeskin low heeled sandals | white canvas sneakers | tortoise sunglasses | floral scarf | gold necklace | gold hoops | woven leather bag

I used a lot of the tips to make capsule wardrobes that I had in my spring capsule wardrobe. As in that capsule, I have a striped top, a patterned square silk scarf, and a mix of bottoms and tops in a variety of cuts, fabrics, and styles that mix and match. Sticking to a color story of three main colors makes items play nicely with one another. By purchasing the same color pieces from the same retailer, you're more likely to get a matched set that looks more elevated and can dress up nicely.
I stopped at 24 outfits, but you can clearly create even more. I did add a few extra items: this work tote, this raffia clutch (my sister has it and it's cute and a great size), these eclectic reading glasses, these earrings and matching bracelet, this lip gloss (I own in red and clear and love), and this longer pendant necklace.
To see the 24 looks larger, click on any of the thumbnails. Swipe or use the arrows to go through all of them, and then click the "X" or anywhere outside of the images to return to this screen.
I created this capsule wardrobe on a Friday, and when Monday came around to craft the different outfits for the capsule, I found that one of the pieces was no longer available (a navy cashmere sleeveless sweater/shell). I ended up replacing it with the navy cashmere t-shirt. I didn't love it as much, but when I switched out the skirt and shell for black and it just felt too harsh and autumnal. I thought I would have to recreate the entire capsule because the t-shirt isn't quite as dressy or versatile for the capsule, but it got me thinking…
Spring Work-Friendly Capsule Wardrobe Based on a Black Slip Skirt
Why not recreate this capsule wardrobe for a different person with different tastes? Same concept of a capsule, but drastically different pieces so you can see how a capsule can be a concept. Guide, not gospel. You can recreate it exactly, or you can work with what you have or what you can find that fits your body, wallet, and style.
So starting with the same skirt as seen in the above capsule wardrobe but in black, and with the matching black cashmere shell, I created a second capsule wardrobe. This one is a bit more eclectic, a feminine spin, but still can create the same number of looks and have the same versatility.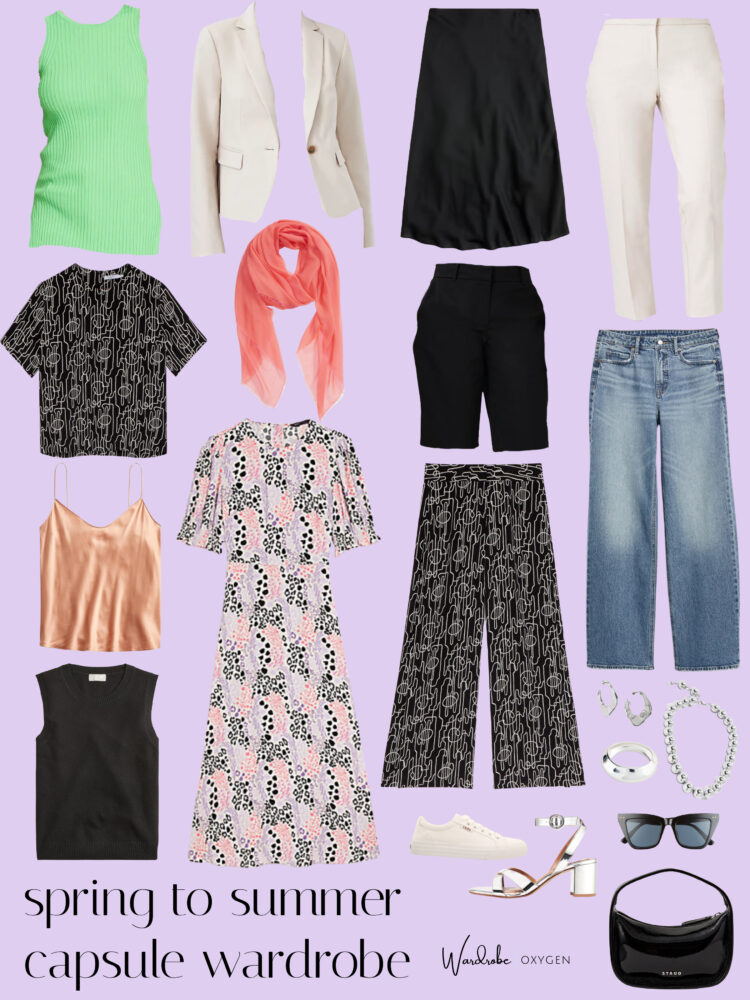 Shop This Capsule Wardrobe:
green sleeveless knit top (4XS-4XL) | black print washable silk tee (XS-XXL) | blush washable silk camisole (XXS-3X) | black cashmere shell (XXS-3X)
ivory blazer (00-18 w/ petite/tall) | coral wrap | floral dress (2-20 w/ petite/long)
black skirt (XXS-3X) | black shorts (00-18 w/ petite/curvy) | black washable silk crop pants (00-18)
ivory ankle pants (00-18 w/ petite/tall/curvy) | wide-leg jeans (00-30 w/ petite/tall)
white canvas sneakers | silver sandals | silver hoops | silver bangle bracelet | silver necklace | black sunglasses | black patent convertible crossbody

Again, I stopped at 24 looks but could likely create more. I added a few pieces to complete the looks: this laptop tote, these reading glasses, this distressed denim jacket, this wrap belt, these black sandals, this dressy bag, and this lipcolor (Fête, which I own and love).
To see the looks larger, click on any thumbnail. Use the arrows or swipe to go through all the slides and click the "X" or anywhere outside the image to return to this screen.
At first glance, this looks like a completely different capsule wardrobe. The skirt and the sneakers are the same, everything else is different. Few of the pieces are the same silhouette, this one has a lot more prints and quirky pieces. But it can also achieve a lot of versatility and create looks for the same exact situations. And it's the same number of garments.
In fact, this second capsule originally had this halter top in place of the green knit top but I felt it read too dressy/evening for the office. I was going to replace the Bermuda shorts with this pencil skirt that matches the blazer, but felt it was too corporate/structured for the concept I had in mind. I originally had these drapey wide-leg pants but when trying to find a non-stripe patterned top I found the matching top and pants and switched them out.
Advice for Creating Your Own Capsule Wardrobe
My point is, you don't need these exact pieces to achieve this versatility. It's okay if it reads more dressy or casual, professional or social, depending on your lifestyle and needs.
Both have:
A casual shoe and a dressier shoe
Shiny statement jewelry to elevate wardrobe staples
Luxe fabrics to elevate looks with a switch of accessories
A suit for more professional days in the office
Elevated shorts (maybe not for the office but for social situations)
A pair of jeans and two pairs of pants, all with different silhouettes and fabrications
Patterned tops in classic cuts to add interest to wardrobe staples
When creating a work-friendly wardrobe, consider your work culture. Some can wear jeans and sneakers, some can be a bit more fashion-forward, some are more casual, or traditional. I hope the variety of these two capsule wardrobes show you how you can use the same concept and make it work for your office environment.
Use the Rule of Three To Edit Your Closet
As you transition your closet from the colder months to the warm, think about versatility. As you add and remove items from your closet, use the rule of three. Can a piece be worn in three drastically different ways? I don't mean that top can be worn with your blue straight jeans, your black straight jeans, and your white straight jeans. I mean, can it be worn with a skirt? With a pair of trousers? Under a vest? Under both a blazer and a denim jacket?
Thinking this way can help you get into a capsule state of mind, which will help you realize you don't need a large, overflowing closet to have great looks to wear for any situation that arises. A smaller closet is easier to manage, it makes getting dressed easier, and helps you realize that re-wearing clothing is not only normal but incredibly chic. Here's to big style with smaller closets!