This article may contain affiliate links; if you click on a shopping link and make a purchase I may receive a commission. As an Amazon Associate, I earn from qualifying purchases. 
So, to let the cat out of the bag… I am starting a new job the week after Thanksgiving.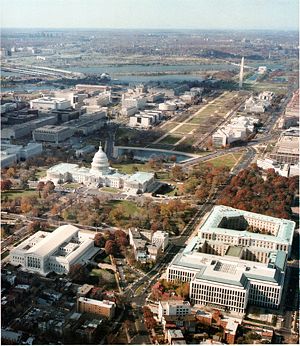 It's a different field, but similar job description and duties. I have been at my current company for almost three years and while it is a very good company full of very nice people (who do on occasion wear Quacker Factory), I was ready to move and grow in a different direction.
The new job is in D.C. proper (arial view is stock photo, not where job is) and in a different field, so you may see a slight change in my attire and outlook – from my past working in the city, the life and even the air is so much different from the suburbs of Maryland. I am looking forward to it.
I was instant messaging with my friend yesterday who is on the hunt for a new job and we were discussing to questions we wish you could ask during the interview process…
1. Will you stick me in an office or a cube?
2. If it is a cube, how tall are the walls and how much privacy will I get?
3. If it is a cube, do your current employees understand and adhere to cubicle etiquette (not using speakerphone, using headphones for music, not taking off their shoes or bring tunafish sandwiches for lunch)
4. If it is an office, is it an actual office or a converted supply closet?
5. If it is an office, will I be sharing it with another person (or a 10'6' stack of file boxes)?
6. Do you provide us with goodies like coffee and snacks? Cuz it's nice when I don't have to go to Starbucks every morning… my wallet likes free coffee, especially if it's good
7. Describe your most annoying and disgusting coworker and let me know his proximity to my future desk, in inches.
8. Do you recycle? If you say you do, do you actually recycle the stuff or have the cleaning crew toss it with the rest of the trash (I do not kid, a company on my resume used to do this, saying the recycling boxes and bins helped employees "sleep better at night" but they didn't want to front the cost of actual recycling).
9. Am I allowed to decorate my desk area, or do you like things sterile and uniform (another company would not even let us pick our calendars for fear of them being offensive to colleagues. Sucks to be in a gray box all day without a picture of family, a goofy cartoon pinned up, a calendar my mom makes every year from Snapfish)?
10. Do you have a holiday party? How fancy, how much does it cost and can I bring a date?
I didn't ask any of the above, but did find out the attire at this job seems to be even more casual than my current company (except when meeting with clients) and everyone seems to genuinely like one another and joke around and hang out with each other. Staff varies in age, but seems to have far more employees near my own age and it's in a central/good part of the city where I will be able to meet up with lots of my friends for lunch and after work. So, yay! Just had to share with you guys!
(this also explains why I had a few weird fashion days lately and a Friday with no pictures but a pinstriped pantsuit)