This article may contain affiliate links; if you click on a shopping link and make a purchase I may receive a commission. As an Amazon Associate, I earn from qualifying purchases. 
Dresses rock for many reasons:
One-stop Dressing.
No need to worry about your top matching your bottom, if your heel height goes with your hemline, and if you need a belt. Throw on a dress and you are good to go.
Comfort. Depending on the style, it's easier to sit on one foot in your office chair, relax in the car on the commute home, and get around in general. This season's a-line and babydoll styles make dresses the perfect go-to when feeling bloated or all around icky.
You Can Wear Comfy Undies. Again, this season's styles make it easy to wear a great pair that covers everything, sucks in if need be, or offers non-restrictive ease and comfort. I have on my Victoria's Secret cotton briefs in a very fun stripe under my work-appropriate crepe jersey dress. Usually these panties with thick seams and edging are relegated to rigid denim and loungewear and the Hanky Pankies work the 9-5.
Boys Don't Have the Option. Unless a gentleman works in a very liberal environment, is at a music festival or Scottish, he is rarely able to sport a dress or skirt in public. Hey, something women can do that men can't? Take advantage and sport those frocks!
Working What You Got. Great curves? Matte jersey, various fabrics with stretch and wrap styles showcase them. Great legs? Go for a shorter style with some great tights. Nice arms? Wear a heavier coat outside and sport a wool tweed shift. Dresses don't work against a woman's shape but with it.
Being a Lady. Now I am all about comfort, being able to cross my legs and sit on the floor and climb a ladder (or a tree). However, there is something about a dress that has you stand a bit taller, walk a bit more gracefully, sit properly. People open doors for you, pull out seats for you and often shower you with more compliments than when wearing trousers. If we have this ability to get attention and respect by the switch of our wardrobe, why not use it once in a while? Again, it's a special something that only us women own!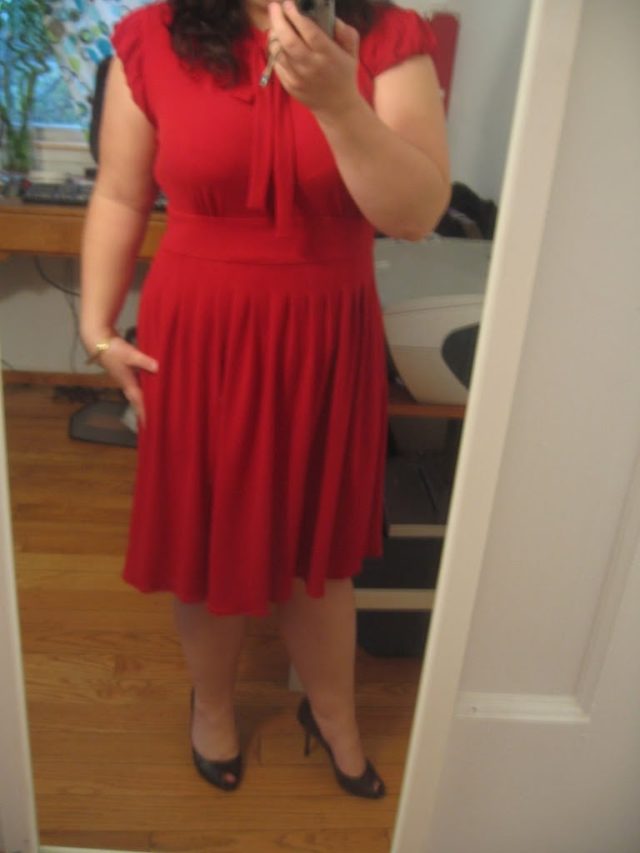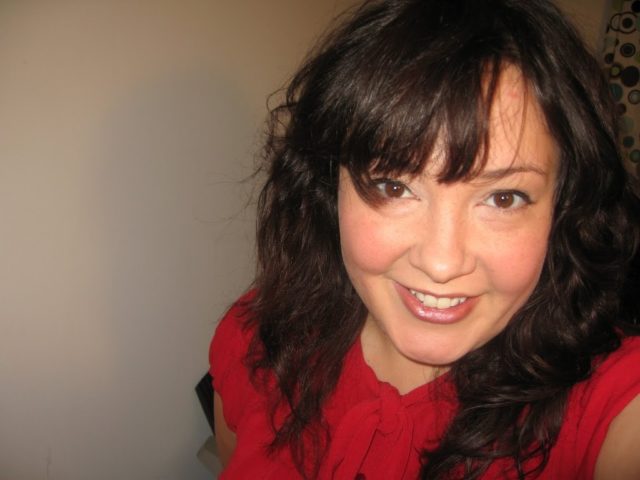 This morning, I got busy doing everything but getting ready for work and suddenly realized I had three minutes – THREE MINUTES to get ready. Hair was washed the night before and was a scary frizzy mess, but a few large sections around a curling iron (and used to smooth bangs) and some Jonathan Silky Dirt made it look reasonable and not at all Mad Scientist. Then I threw on my red crepe jersey dress from Maggy London, the first black shoes from my closet (BCBGirls croco peeptoe heels), a few gold bangles from Ralph Lauren for a bit of polish and quickly slapped on makeup (philosophy The Supernatural in Beige, Nars blush in Orgasm, khaki shadow from the Revon ColorStay shadow quad called Neutral Khakis, DiorShow mascara, Maybelline UltraLiner liquid liner on top lash line and Revlon LipGlide in Rum Radiance).
Not as easy to look so polished in such a short time with a pair of pants!