This article may contain affiliate links; if you click on a shopping link and make a purchase I may receive a commission. As an Amazon Associate, I earn from qualifying purchases.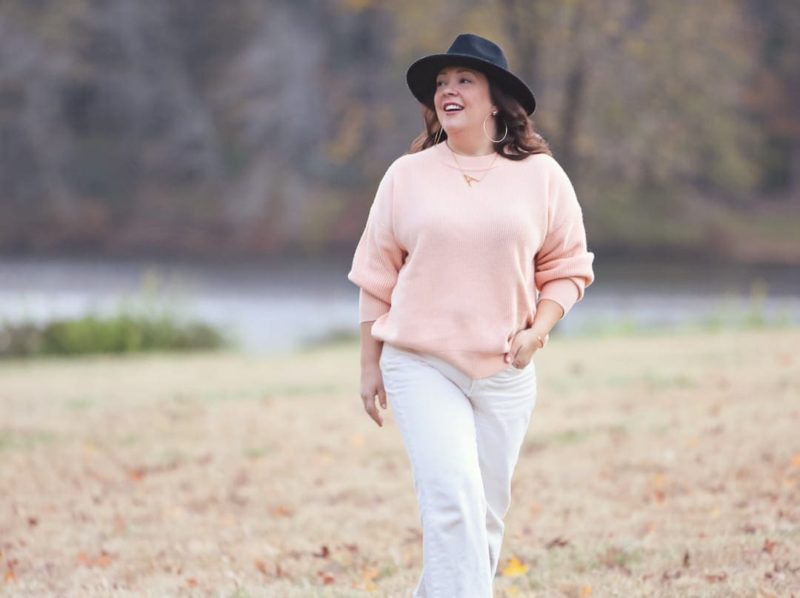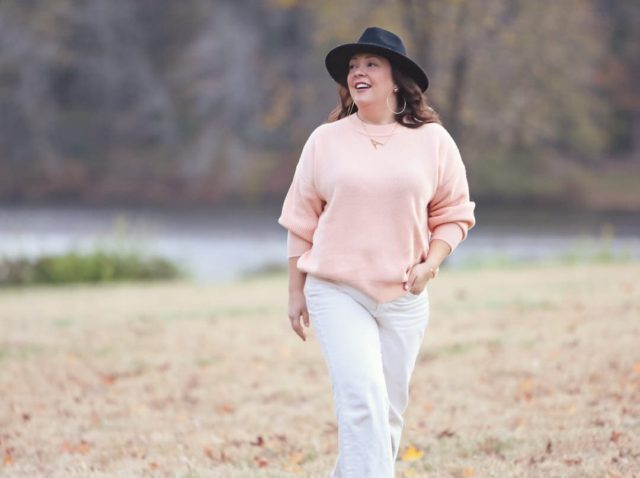 I don't know what it is this winter but I'm really gravitating towards pastels.  While fall I was all about merlot and pumpkin, now that it's truly cold I want to bundle up in softer shades. And Comfort reached out and asked if I'd like to try their Fika Sweater.  While available in black (which is always a fave) I decided instead to try the peach and I am so glad I did!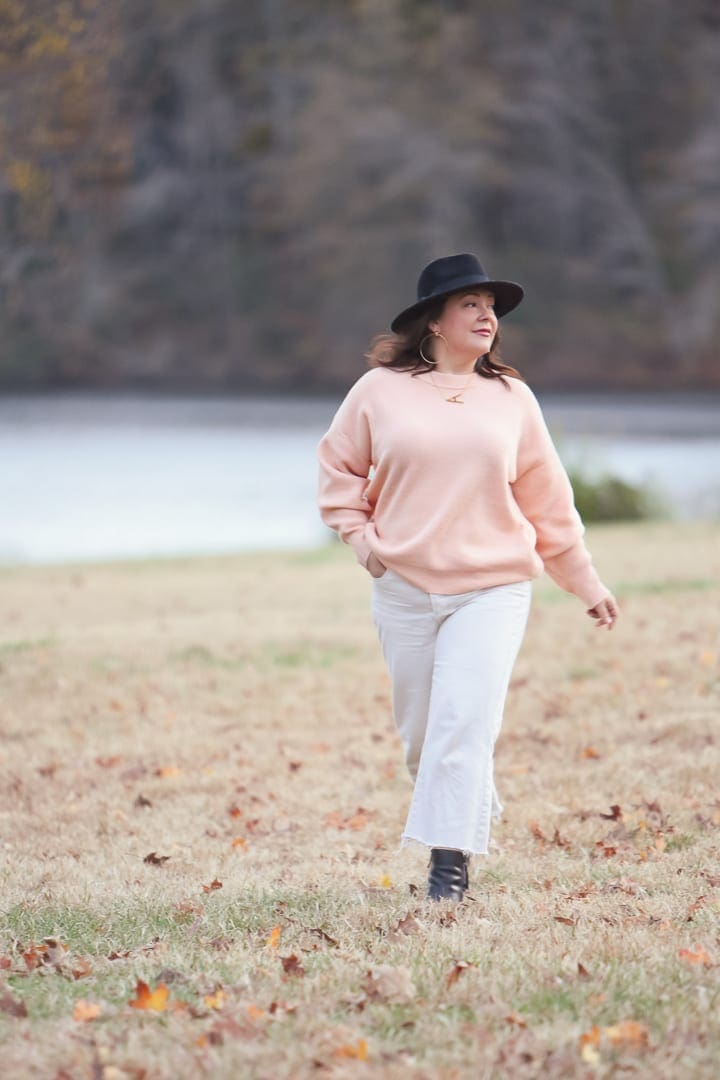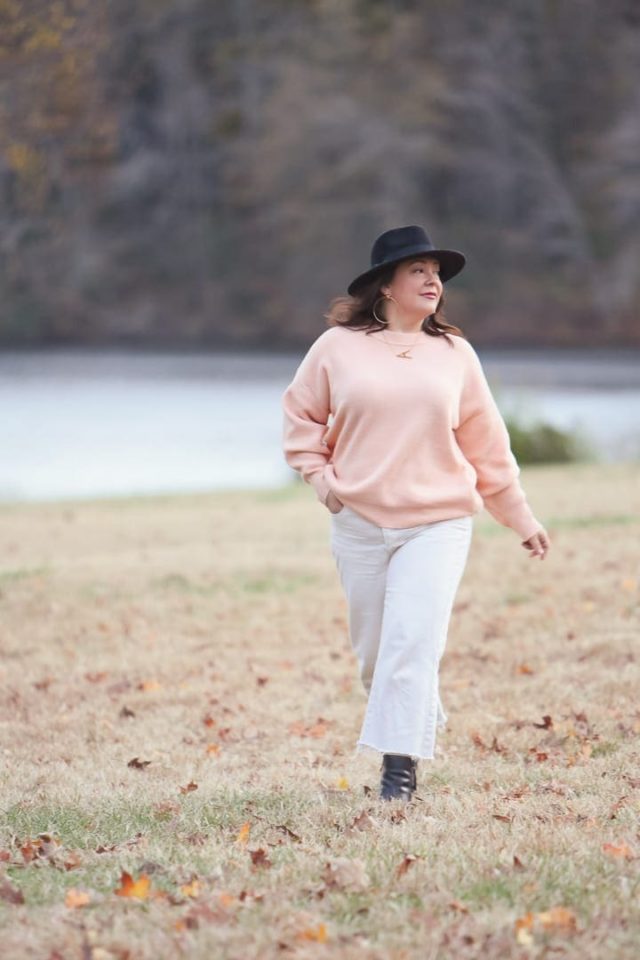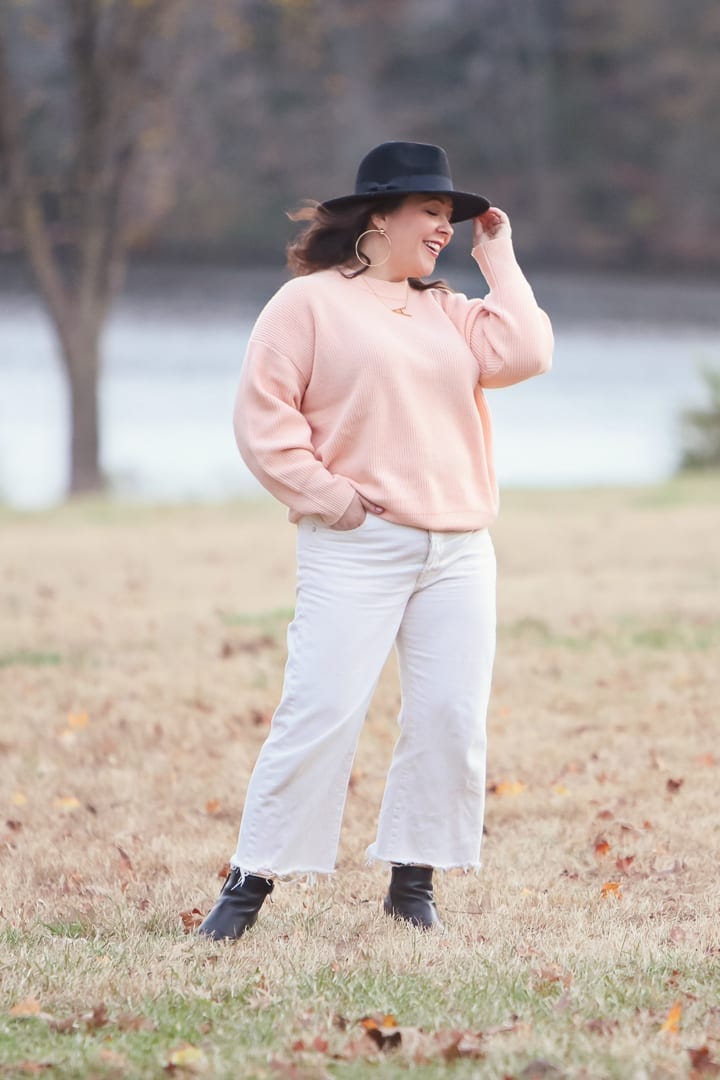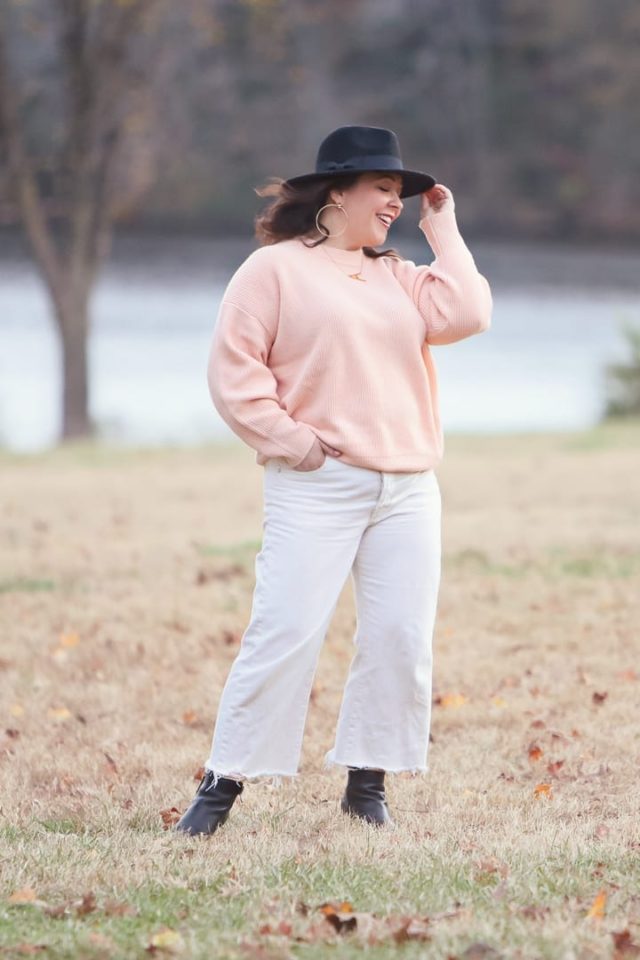 sweater | jeans | boots | hat | necklace | earrings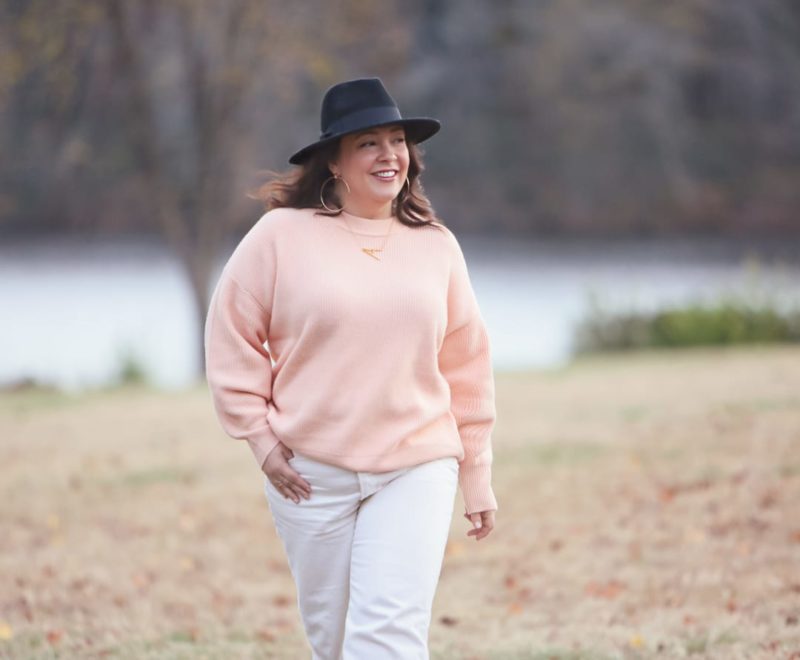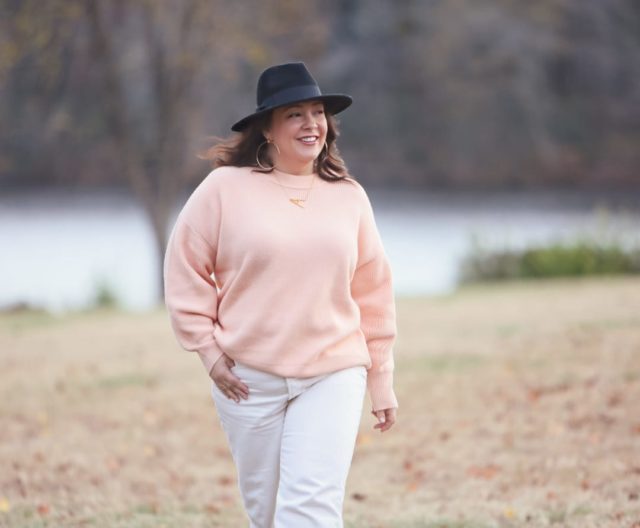 Sweater: The Fika Sweater c/o And Comfort (size 0) | Jeans: American Eagle (14 short) | Boots: Clarks | Necklace: DearMia on Etsy | Earrings: Large Faye Knockers c/o Jenny Bird | Hat: Ann Taylor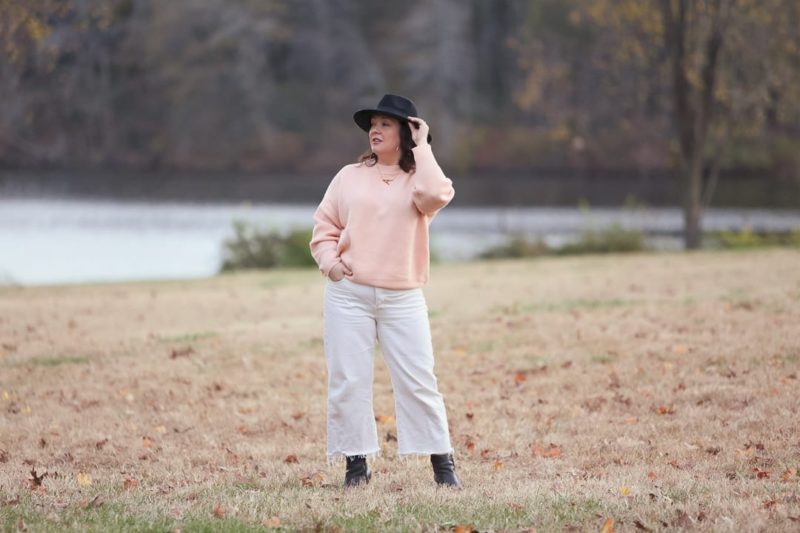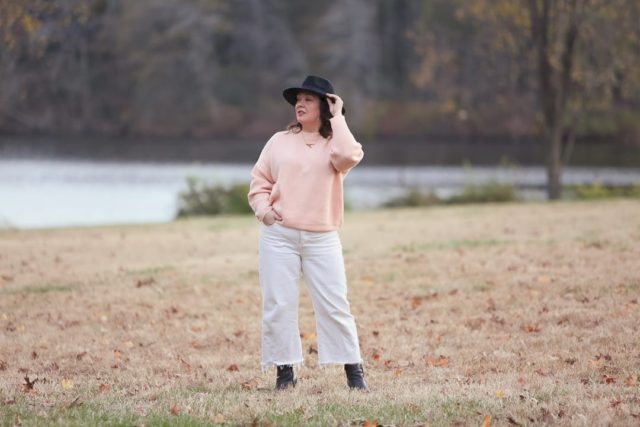 The And Comfort Fika Sweater is a cashmere/wool blend.  It's thick, but super soft and the ribbing keeps it from being too ordinary or too bulky.  Here I wore it with ivory jeans, but I've also worn it with my black Universal Standard jeans and my black faux leather front ponte leggings.  I think pastels paired with black looks very fresh and modern and makes pale shades feel seasonally appropriate. However, this past Sunday I wore this sweater with my new blush colored Lissom flats and it was a nice pairing with denim.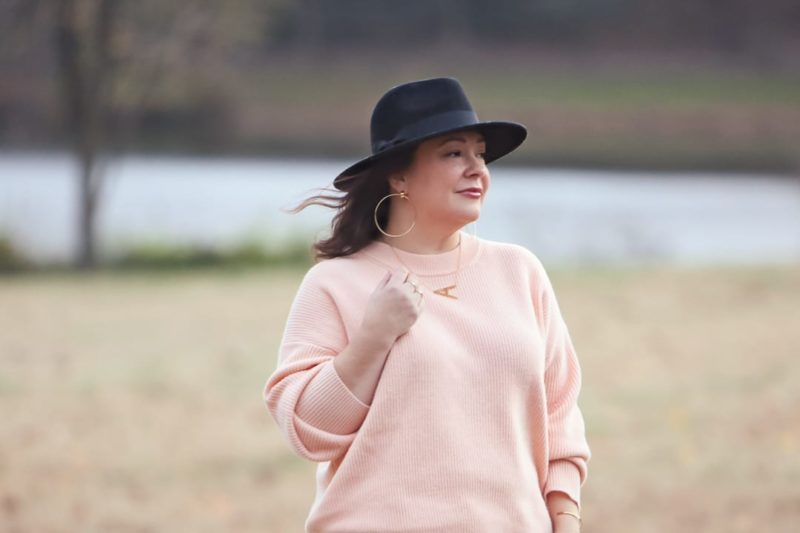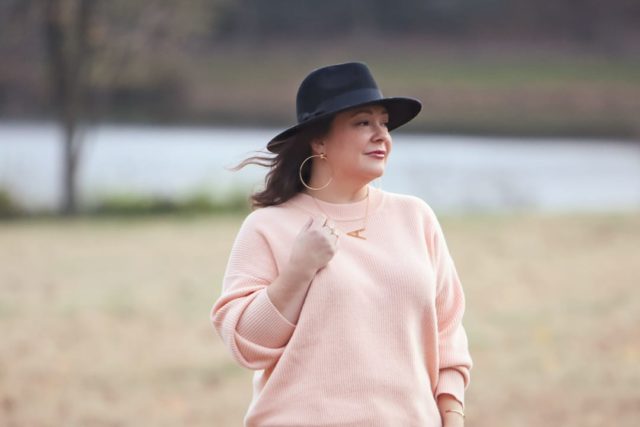 I felt the need for a delicate gold necklace in my jewelry collection.  I had one that was a horseshoe but it had completely disapeared; I worried I left it in NYC which is where I think I lost one of my small silver Carmine hoops from Jenny Bird.  I ordered this one which I like because it has an adjustable chain that is a minimum of 18″ with 2″ to spare; while 16″ may be trendy it's not great on those of us with thicker necks.  I got it, I loved it, I went to clean out Emerson's toy box in the living room before Thanksgiving and guess what I found? Don't be surprised to see me wearing both of my gold necklaces together!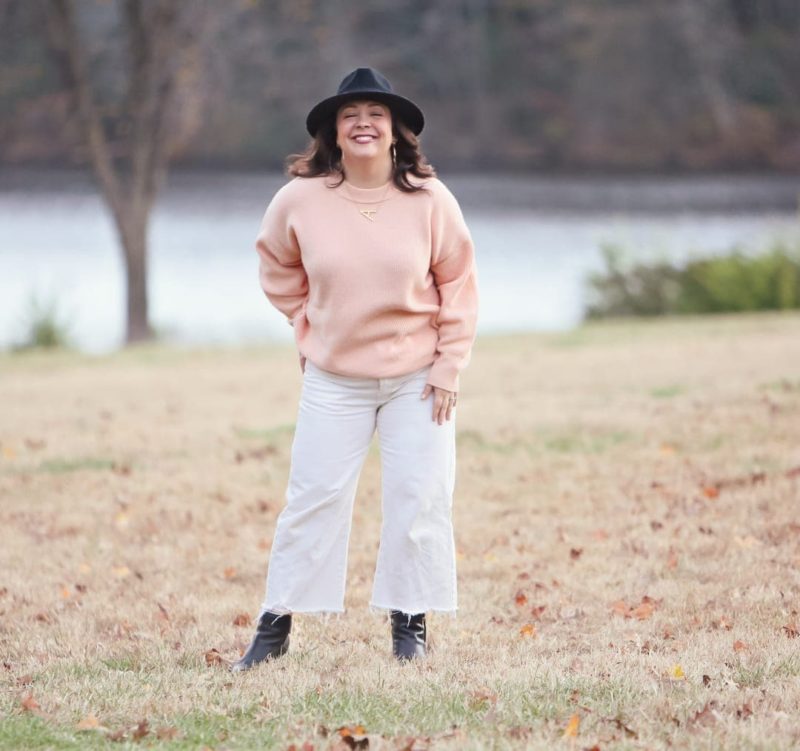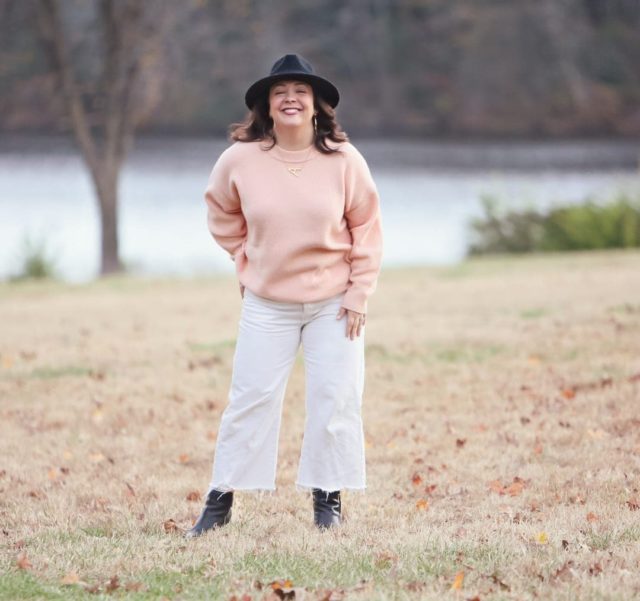 These are the same jeans I wore in this post (and in this article) but in a different color. Cream has been more worn and versatile than I could have imagined.  A regular look is them with a black cashmere sweater, my black belt bag, and black boots (or if the temps are nicer, black flats).  I've also worn them with a black and ivory t-shirt and black flats, and my cream cable knit sweater. With so much black and dark colors in the dead of winter, a lighter colored pair of denim can be a refreshing change.