This article may contain affiliate links; if you click on a shopping link and make a purchase I may receive a commission. As an Amazon Associate, I earn from qualifying purchases. 
When I was in a sorority in college, we were told to never "double letter." That meant wearing your sorority's Greek letters on more than one item of clothing, say "billboard" letters on a sweatshirt with a hat embroidered with them. It was a major faux pas and it was a style rule I stuck to beyond college with other aspects. Don't wear a leather jacket with a leather skirt (unless it's a matched suit), don't wear corduroy with corduroy, and don't wear an animal print with another animal print. Well, lately I am alllll about breaking rules so I broke this rule with this outfit! Tiger AND leopard? More is more!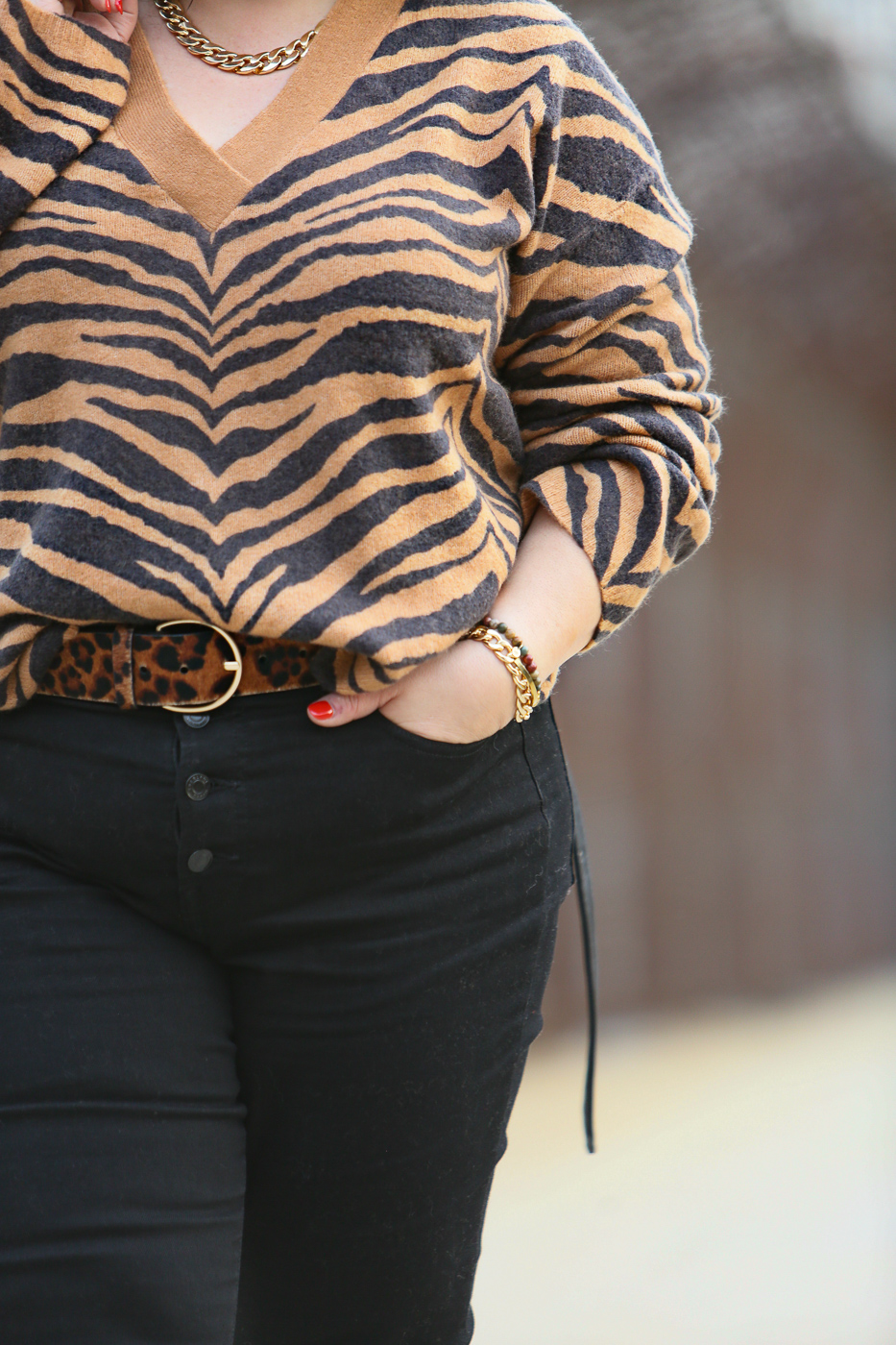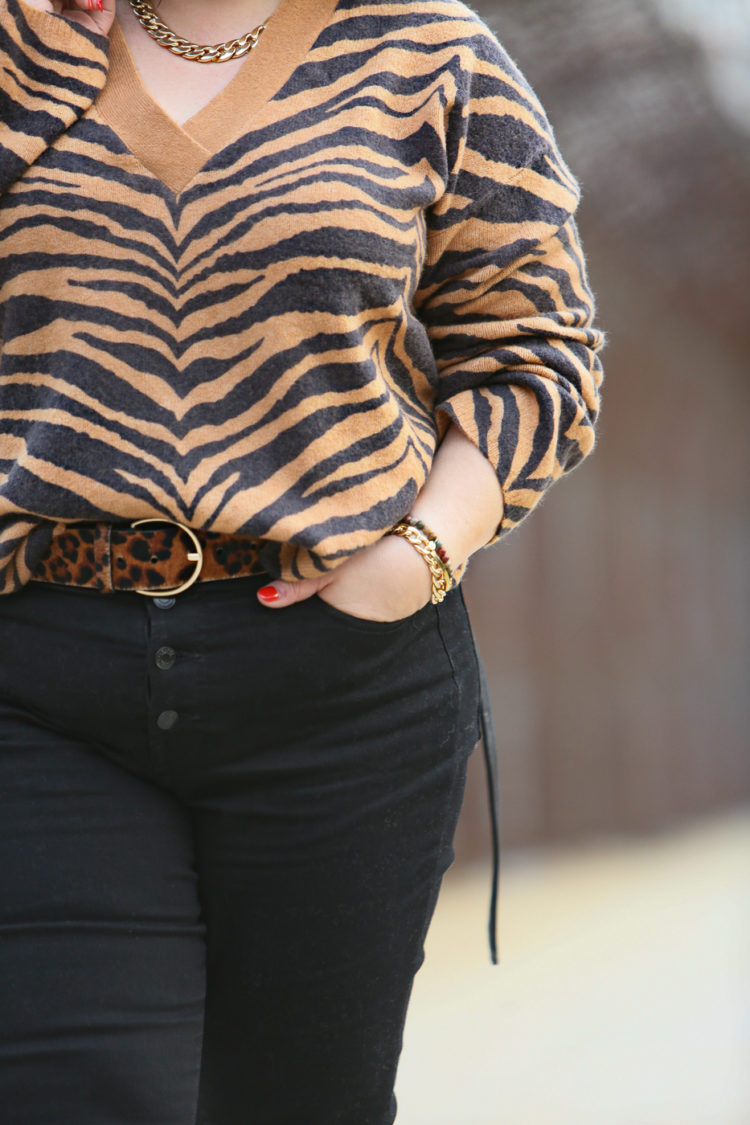 sweater | belt | jeans | jacket | boots | earrings | necklace | link bracelet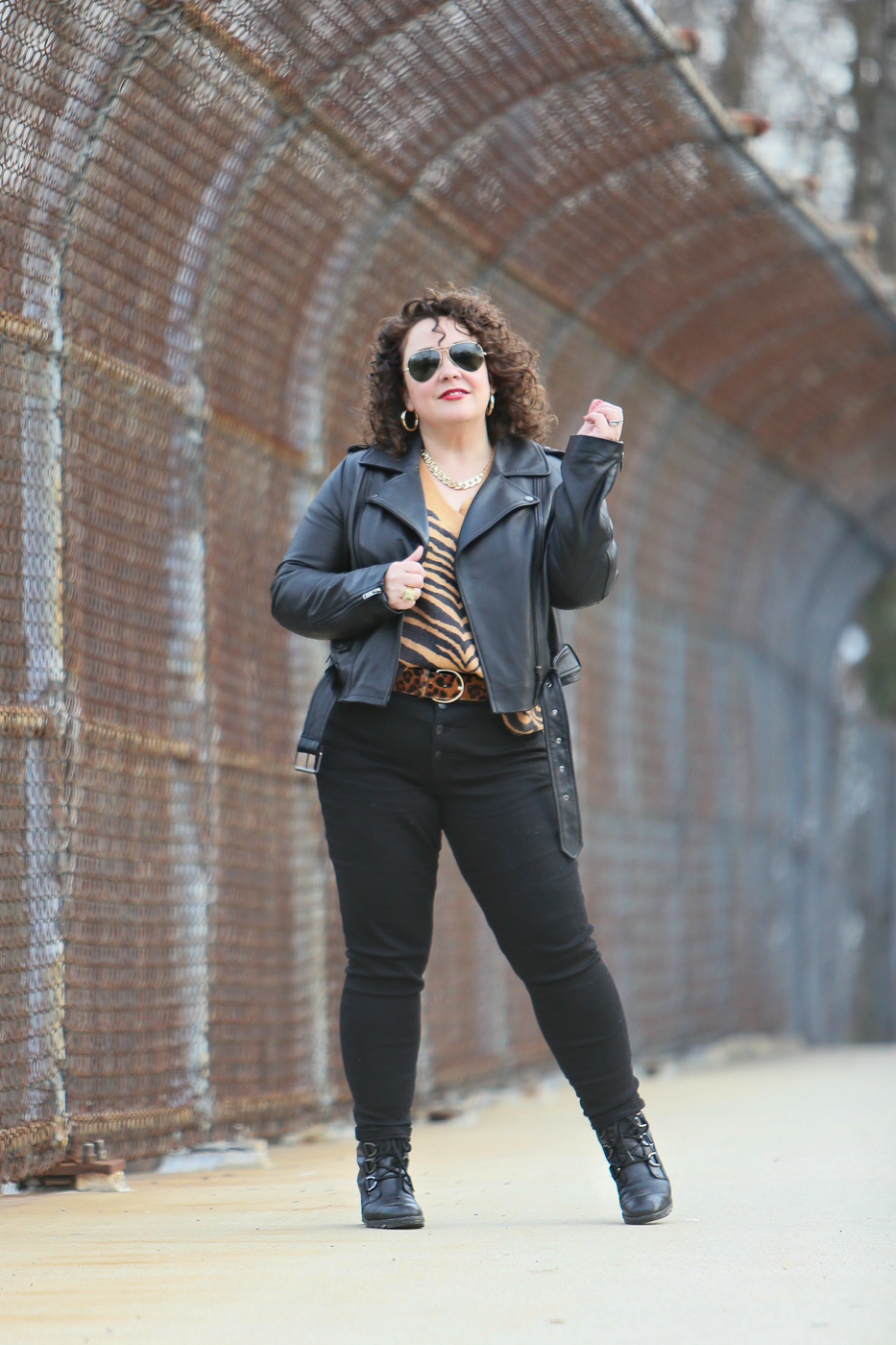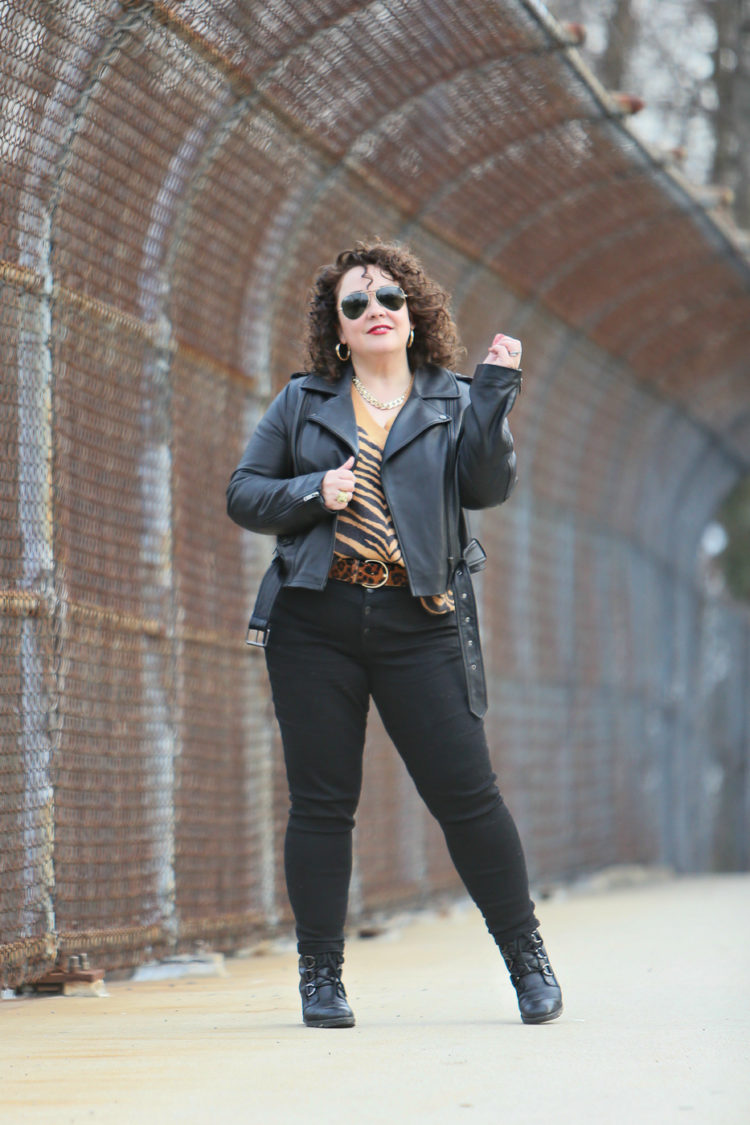 Sweater: Rails (Large; plus size option) | Jeans: Authentic Stretch High-Rise Skinny Button Fly c/o Everlane (32 ankle) | Belt: Beast Belt c/o cabi (last season; similar) | Boots: Sorel (low stock; similar) | Jacket: Leeron Moto Jacket c/o Universal Standard (XS) | Necklace: BaubleBar | Link Bracelet: BaubleBar | Earrings: c/o Chico's (old; may be the same ones)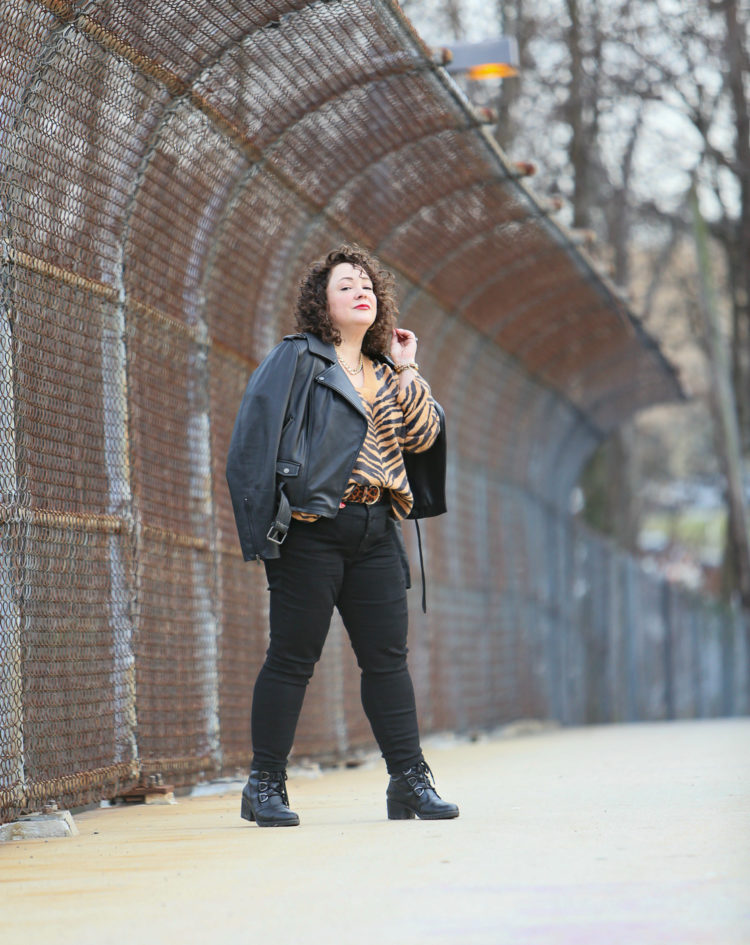 I'm trying to buy less, but I realize I need a couple more sweaters. And not dressy look so polished sweaters but cool throw on with leggings and jeans sweaters that don't look overworn or sloppy. I ordered this sweater because it reminds me of my tiger-stripe t-shirt from Banana Republic I wore in this Trunk Club review but far more appropriate for February. It's super soft and lofty and loose and comfy without looking like I'm still in my pajamas. It arrived while I was already wearing the jeans and leopard belt, I went to try it on and thought… I kinda like the "double lettering" of animal prints and decided to wear them together!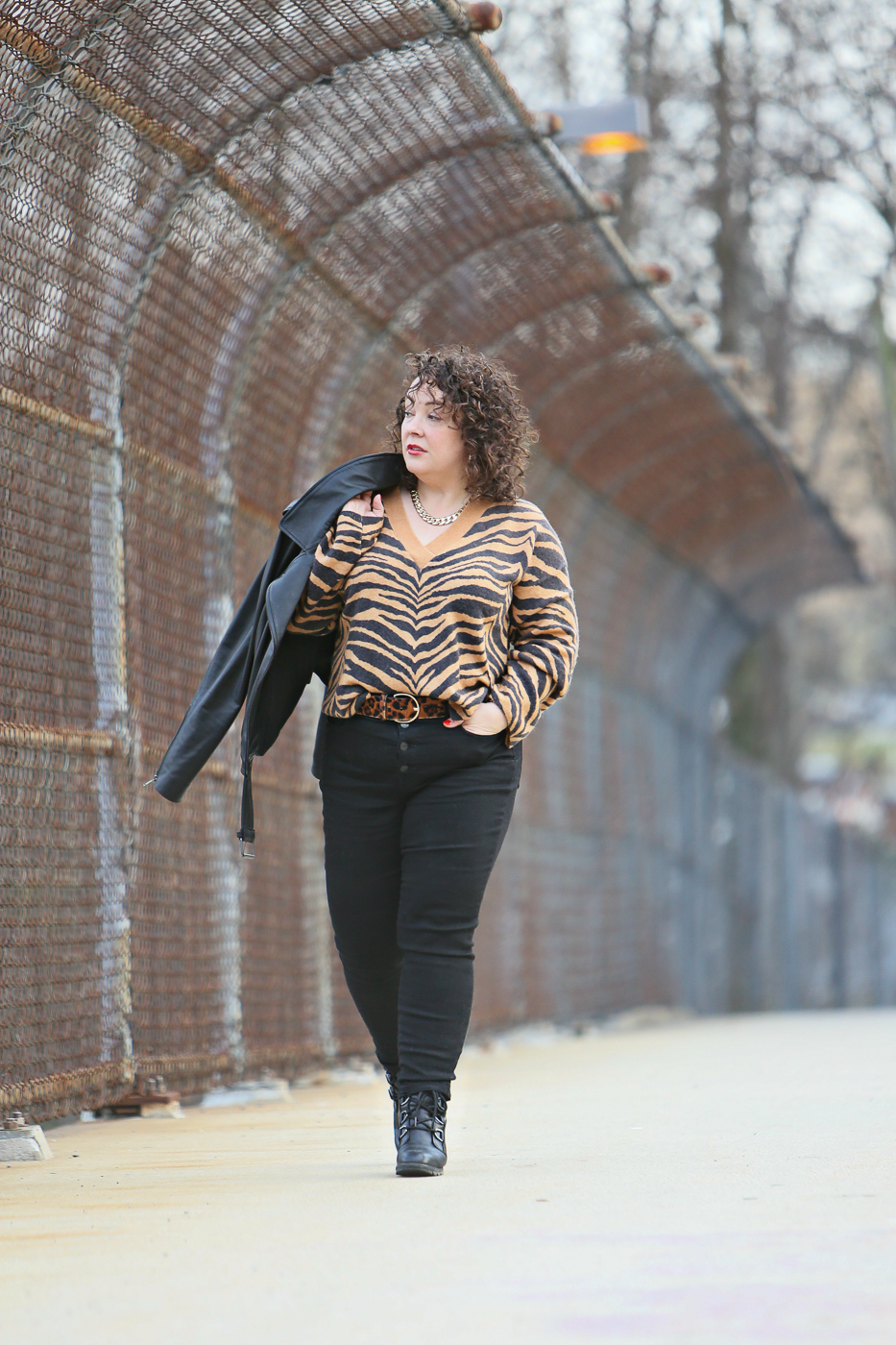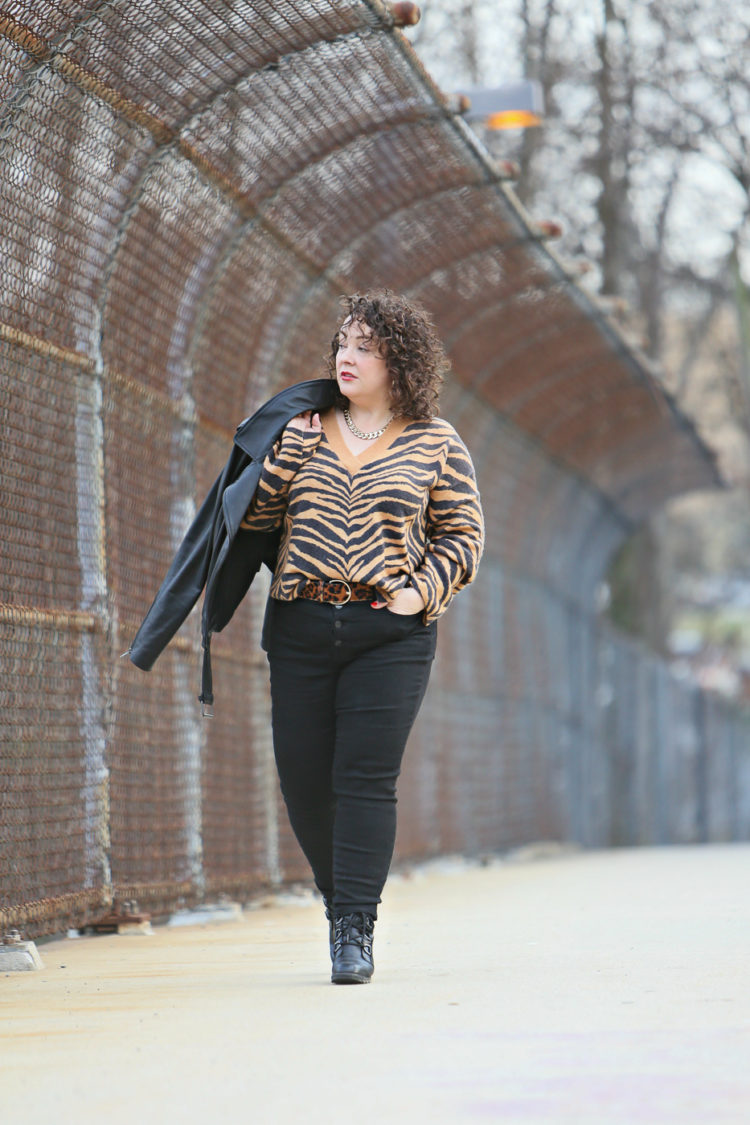 Shop Animal Print Sweaters: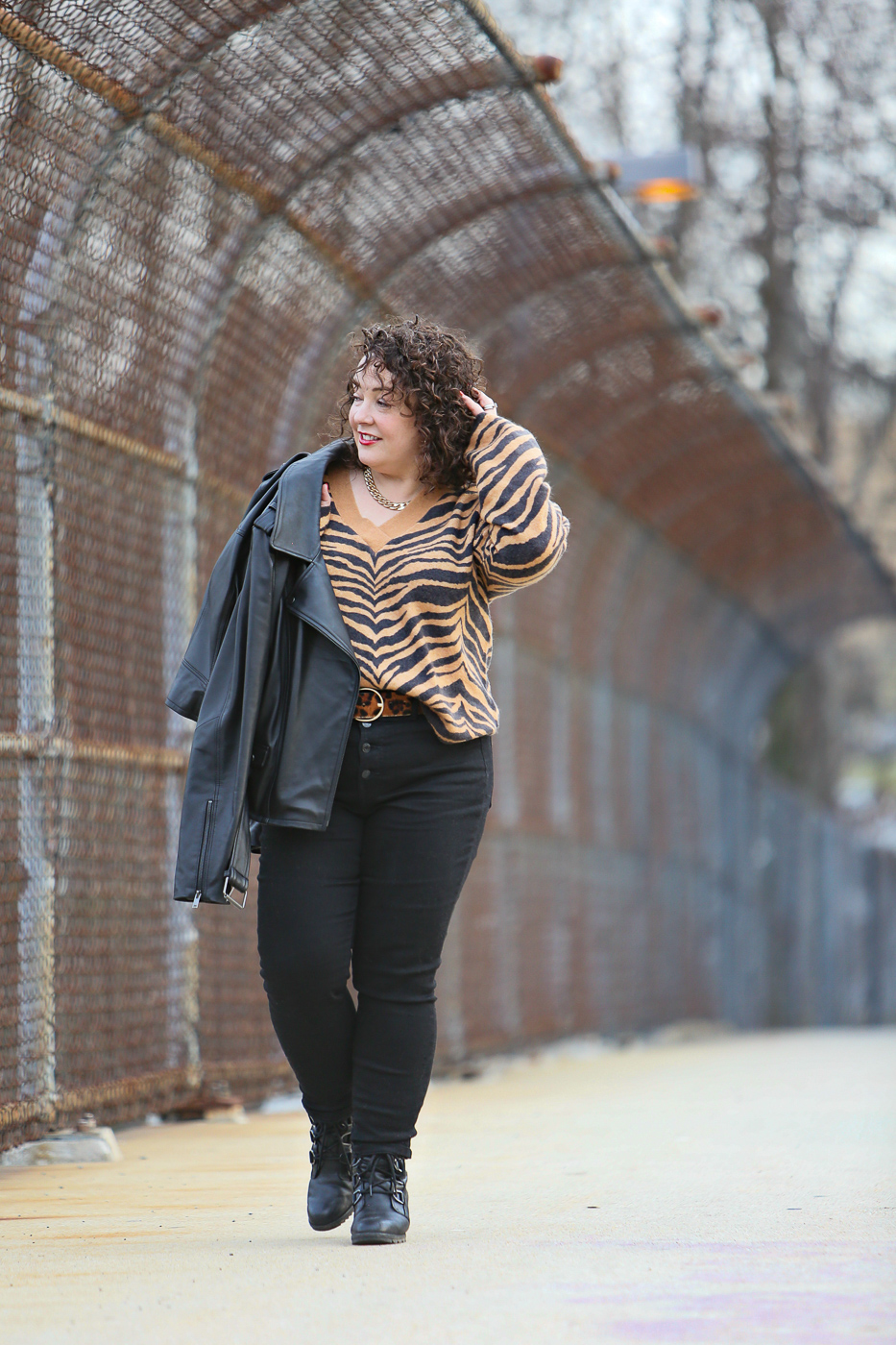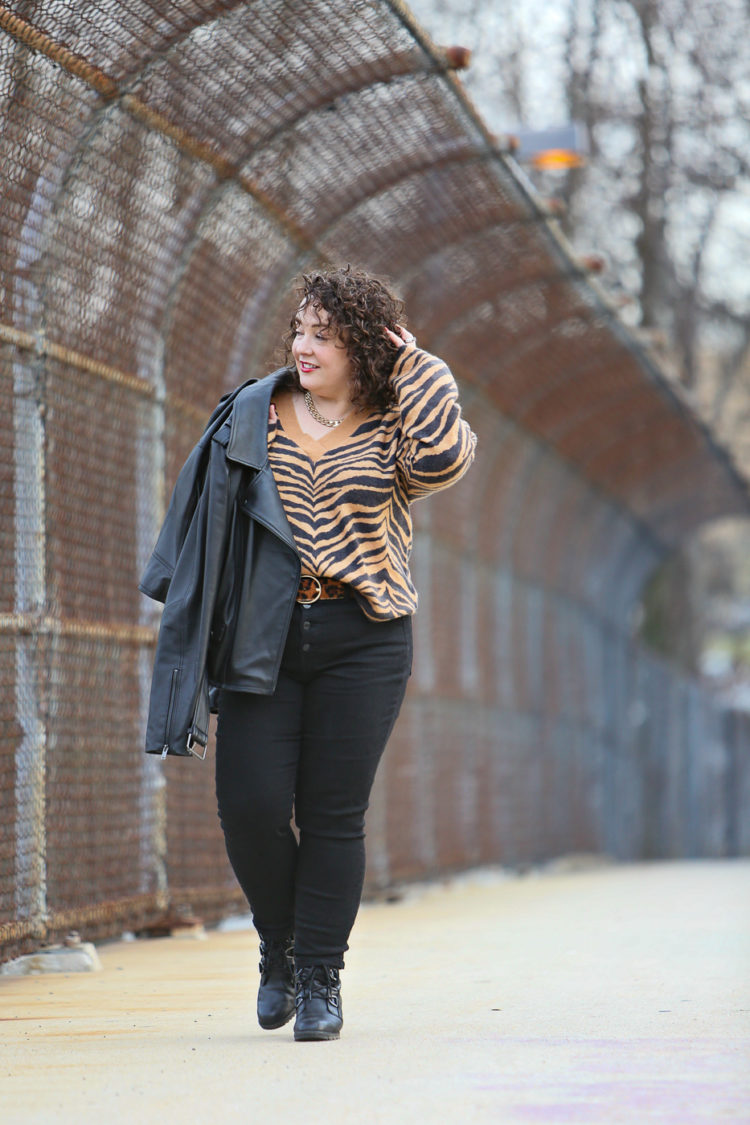 I already have these jeans in the washed black color and adore them. They're comfy, hold their shape, I like the button fly detail and the higher rise. Everlane recently asked if I'd like to try two or three things from them and I ordered these jeans in dark black. Yep, just as obsessed. Some denim brand, the weight and consistency of the denim changes with washes and colors. These fit and feel just like my washed black/gray version.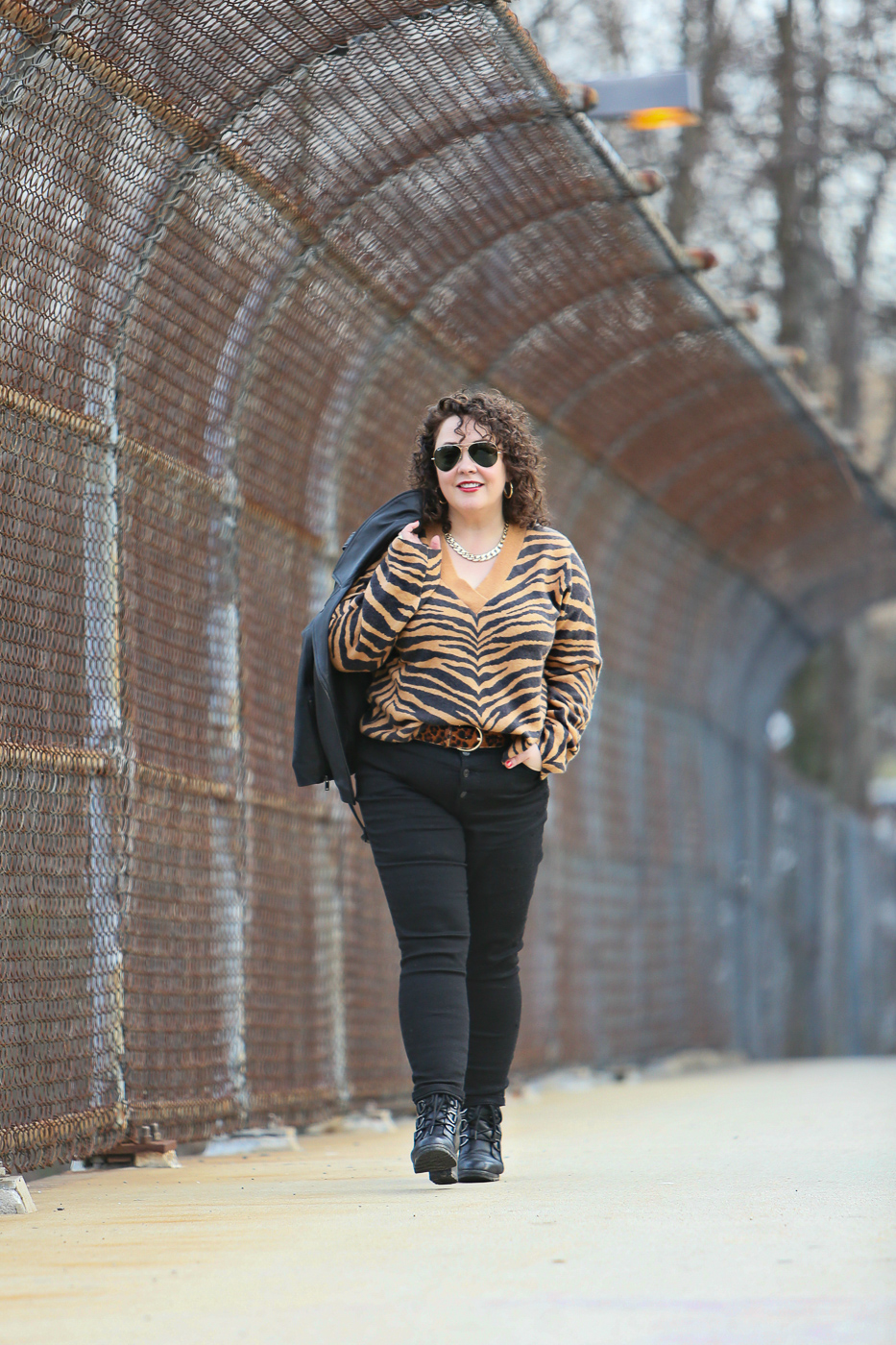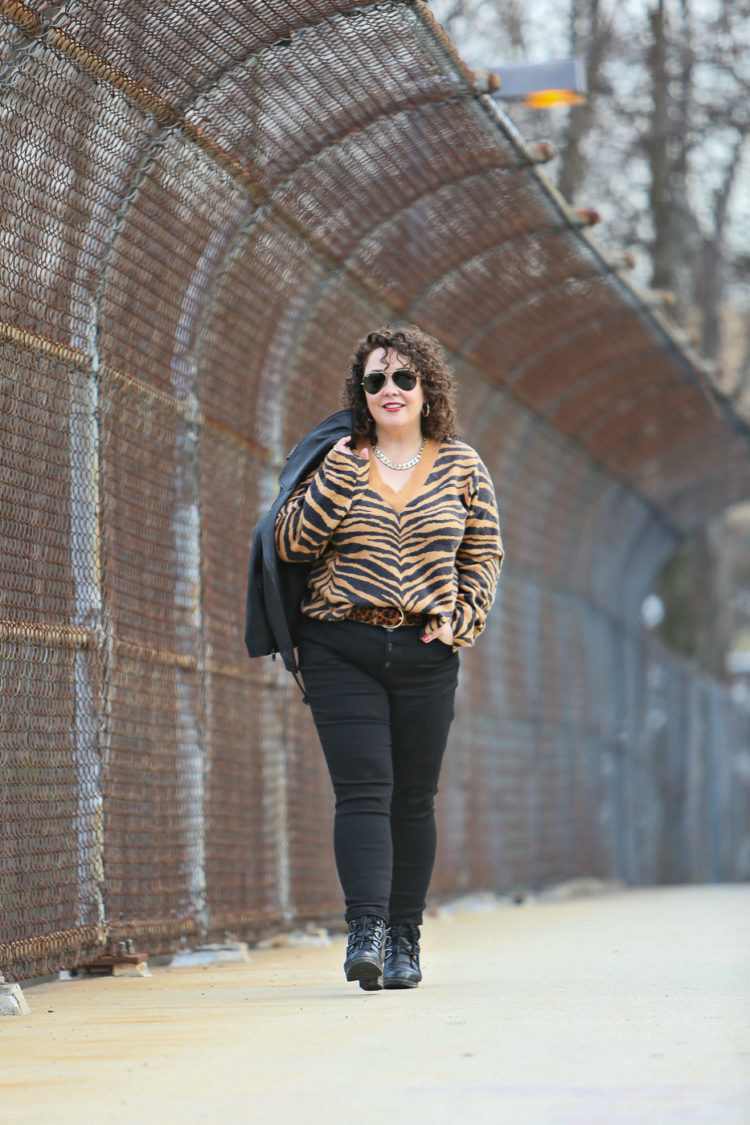 In high school, I used to wear a gold curb chain necklace, but back then I styled it with a Champion sweatshirt, puffy socks, and sky-high bangs. Links are back with most everything from the '90s and while some of the returning trends I will not wear again, this is one I really like. I got the necklace and the bracelet from BaubleBar, my favorite place for well-made yet budget-friendly costume jewelry. I have pieces from BaubleBar almost a decade old that still look great so for something like a gold chain, I knew they'd be a good place to look. To be honest, I first ordered from Jenny Bird because I adore the brand. I got this one… and my neck is too thick for it and the chain was too delicate for my taste. I also tried this one and the length wasn't the best for my height, bust, and wardrobe. The one from BaubleBar is far cheaper and on the longest setting (which I have here) I think it's a perfect length!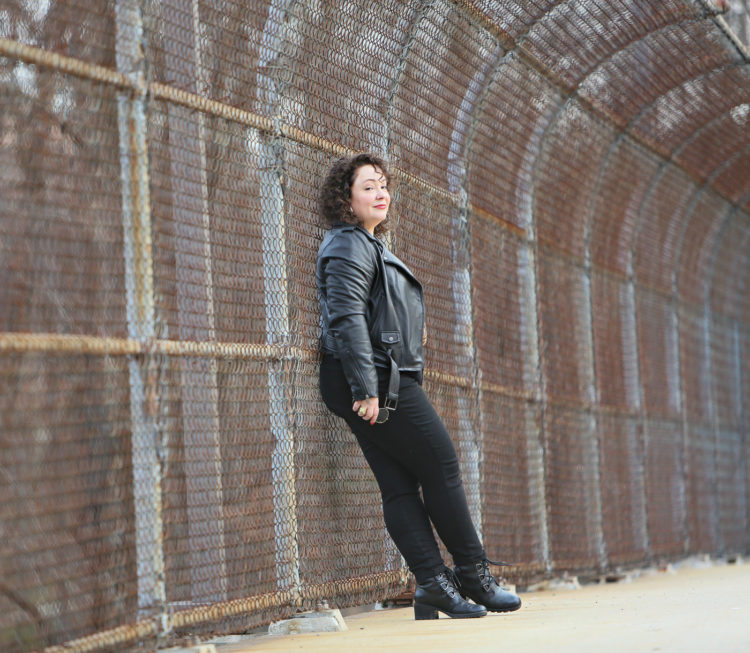 The moral of the story blog post is don't be afraid to break fashion rules and don't be afraid to revisit fashion trends from your past. Life's too short to not have fun with what you wear and if you enjoy what you're wearing it instantly gains mega style points!
Shop the Look: