This article may contain affiliate links; if you click on a shopping link and make a purchase I may receive a commission. As an Amazon Associate, I earn from qualifying purchases. 
It is difficult to be protected from the elements and still look chic. Difficult… but totally doable. Using the same steps as one would to create a functioning, classic wardrobe, one can collect all the necessities to be dry, warm, and protected without sacrificing style. It is possible to weather the weather with style.


Working in a metropolis, I experience pot holes, puddles, swiftly-moving rivers in wide gutters, slippery sidewalks and treks to public transportation through all sorts of precipitation. I see all sorts of ways that women protect themselves and their wardrobe from rain (and dirty splashes from the street) – some great, some not-so-great.
Rain Boots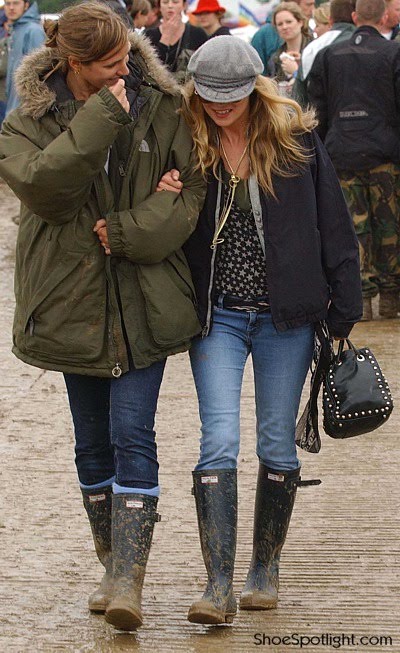 I remember several years ago, I received a Garnet Hill catalog in the mail and ooohed and aahed over the adorable rain boots for children that were made to look like frogs
and ladybugs
. "Oh wow, I wish they had those in adult sizes!" I remember gushing to a friend. She agreed that they were utterly adorable.
I may have said that, but really… I didn't MEAN it. And now, on every street corner I see adult women heading to work or the market in Wellies decorated with Hello Kitty
, candy-colored polka dots
and yes… even in boots made to look like ladybugs. These boots are easily found at any big box retailer for a very low price – they do a great job at protecting the feet from rain and slush and have a grippy bottom that helps one from slipping on slick and wet surfaces. That being said… they are NOT stylish. Nothing will kill your look more than a pair of gaudy, chunky childish rain boots.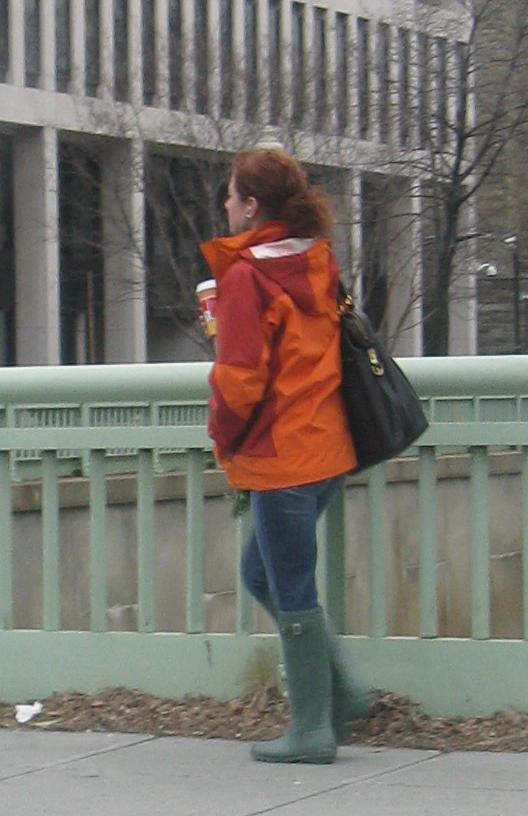 So what does one do? Well I am not anti-Wellies all together, but I feel that they should be treated like any other staple in a woman's wardrobe – well made, well cut, and of a simple solid color. Follow in the footsteps of Kate Moss with a pair of classic black
or olive
Wellies. The classic boot is from the company Hunter
, however you can find great rain boots in simple colors and silhouettes even at your local Target. Do know, no matter what the salesperson tells you, a pair of quirky boots will not tell the world that you are a fun or quirky personality – a pair of loud boots only make you look loud.
And for those of you who grab rubber footwear as soon as the meteorologist says there is a 10% chance of drizzles… there is no reason. Consider purchasing a waterproofing product to protect your boots and then you don't even have to think about sacrificing style for rain. Rain boots are only necessary when there is a lot of precipitation and chance for large puddles and splashing (or walking on grass/dirt). For other occasions… just look where you're walking and you and most of your footwear should fare just fine.
(First photo – Kate Moss. Second photo – Woman on the street in Washington, DC)
Umbrellas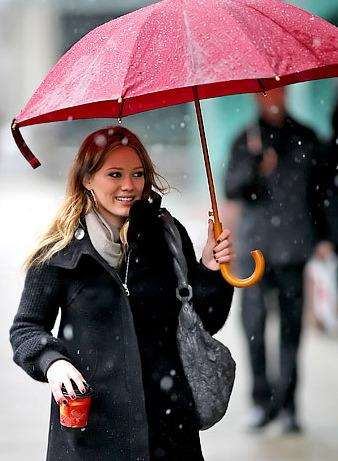 Love bright cheery colors and prints on a dark and dreary day? Why not bring those prints to the top part of your body? Nothing is more pleasing to the eye on a gray day than a cheery umbrella in a spring hue. A fabulous umbrella will help you stand out in a crowd and is a far better way to express your personality. You can go for your favorite color in a solid hue, show your feminine side with a floral, or your modern edge with a bold pattern.
I highly recommend investing in a well-made mini umbrella that will cover you and your bag, open with one hand, but fit easily into your purse or laptop satchel. Real Simple magazine has reviewed umbrellas (reviews here and here) and can give you some ideas on well-made collapsible umbrellas. Then you will always be prepared without having to lug around lots of rain equipment!
Rain Coats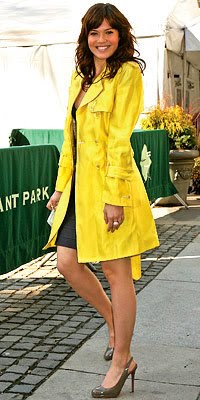 Rain coats and trenches are also a great way to bring color and personal style to your look.
A solid trench or mac in a flattering hue can brighten any rainy day. Colors like Robin's egg blue, blood orange, berry, and brick red are unexpected neutrals that will add personal style to your ensemble. As a person who finds herself wearing a lot of black and gray, I love being able to balance it out with a pop of a color like orange or purple in my inclement-weather accessories.
Want to go classic with tan or black? Show some spunk with a brightly-colored coat lining. Lots of coats these days come with fantastic polka-dotted, animal print or paisley linings. This is also a fun way to incorporate the color you may have chosen for your umbrella or scarf.
Many retailers are showing prints and stripes in rainwear; these can be fun but they are fads that won't look fresh by time next spring rolls around. Do yourself a favor and stick with classic details and solid colors – a well crafted trench, even in an unusual color will get you years of mileage (and miles of style).
A single-breasted style is the most universally flattering. Trenches are the most classic look, but a well-cut single-breasted coat sans flaps and belts will often be a better choice for women with curves.
Your inclement-weather wardrobe should follow the same guidelines as your personal wardrobe – build from basics that are well made. From there, add quality accessories in colors that make you smile and show your personal style.