This article may contain affiliate links; if you click on a shopping link and make a purchase I may receive a commission. As an Amazon Associate, I earn from qualifying purchases.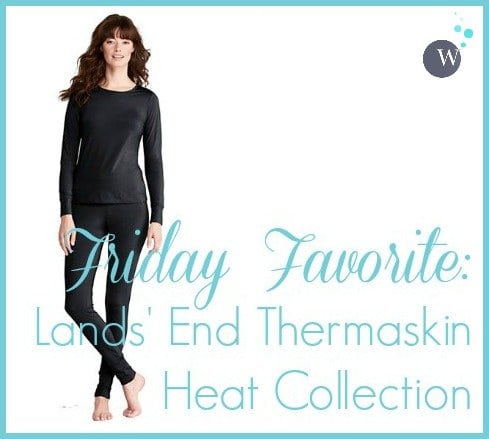 The day I am writing this (and per the forecast, the day this will go live), it is bitter freezing cold in the DC area. Windy, crisp, that sort of weather where the cold hits your bones, and usually the kind of weather where fashion is thrown out the window and I'm looking like the Michelin Man. But not this year, since I invested in some pieces from Land's End Thermakskin Heat collection.
I like fitted clothing, and I despise wearing layers. While I have doubled up on tights (or worn them under pants and leggings), I always feel like a stuffed sausage. I also hate visible camis, and I never hopped on the trend of layering knits because it always felts so bulky and awkward on me. I avoided anything like long underwear because of this reason; the idea of a pair of pants under my pants gave me the heeby jeebies, I'd rather just wear fleece tights, boots, a thick dress and a long coat.
Then a blogger (can't remember wish because I'd totally buy you a cookie in thanks) casually mentioned the Lands' End Thermaskin pants in a post, and she had them under leggings. She was curvy like me, so I put them on my Christmas list, my mom bought them for me, and they are an ultimate fave.
I'm short with a round butt, very thick calves, and sturdy thighs. I rarely can buy leggings because they cut the circulation off to my toes, and the whole dressy jogger trend I had to bypass because they always looked like leggings on my calves. The Thermaskin pants are stretchy and silky with a wide non-rolling waistband. They're super comfortable, and pants slip over them without any issue. In fact, I'm wearing them under my ponte skinny pants in this blog post. Can't even see them! And while they're warm, they're not too warm. I'm perfectly comfortable in my over-heated work office, and don't sweat if I'm dashing about town.
Since then, I also purchased the Thermaskin cami. This seems to really vary in size and quality but is worth the risk. After reading reviews, I went with a Large and one fit perfectly (not skin tight but slim enough to be invisible under slimmer knit tops) and the other one was wider and shorter and a bit thinner of fabric. This is a great base layer; I've worn it as a regular cami under dresses, slipped it under sweaters and knits, and am grateful for the adjustable straps.
Shop Lands' End Thermaskin Collection


All my Thermakin pieces have been through the washer and dryer without shrinking or losing quality. The Thermaskin Heat line also has tanks, short and long sleeved tees, socks, and activewear but I haven't tried any of them, but would likely purchase if I lived in a colder climate or did more winter sports and outdoor activities.
When shopping Lands' End, be sure to sign up for their emails, or at least check them out on a site like RetailMeNot as they often have promotions and steep discounts. The Thermaskin collection often has prints which go on clearance (at time of writing this, there were a few patterns on sale for less than $10). I'm psyched I finally tried some form of longjohns, and am psyched that they don't have to affect my style to keep me warm through the cold winter months!
The Friday Favorite series is an opportunity for me to share items I purchased that have really impressed me. Some may be fashion related, some not, all have exceeded my expectations. These posts are never sponsored, and all items have been bought with my own money.