This article may contain affiliate links; if you click on a shopping link and make a purchase I may receive a commission. As an Amazon Associate, I earn from qualifying purchases. 
Not a lot of pictures. A week of long days and early mornings.
Wednesday I wore… I think I again wore my teal merino shawl collar sweater from Banana Republic with my black pants from Semantiks. Thursday I didn't feel well at all, coming down with a cold. I wore my gray flannel trousers from Ann Taylor, black ribbed tank from Gap and my raspberry colored cardigan from Gap. I went home early that day because I felt so sick. Friday I worked a bit from home, but most of the day I tried to hydrate myself and sleep. Unfortunately Emerson was also sick.
Saturday I was feeling MUCH better and by the evening I was well enough to go to our friends' party. We didn't stay late, but it was nice to get out of the house.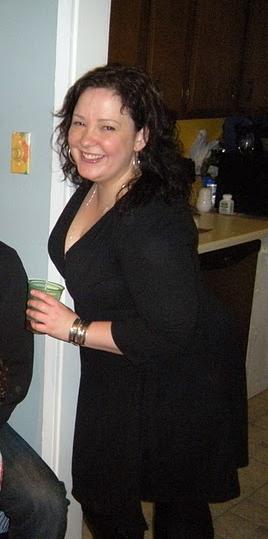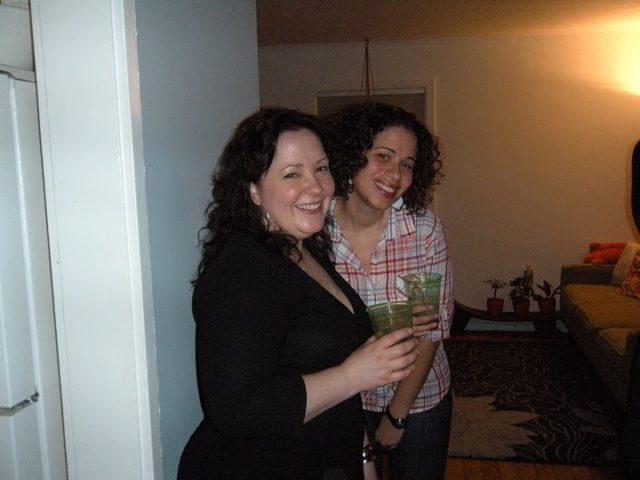 I had not done any laundry in a few days and all my jeans were dirty. So I decided to get jazzed up. I wore my old trusty black matte jersey wrap dress from Old Navy, black
Tight End Tights from Spanx
, and my black tall boots. My husband and I made it a date night, going out to dinner beforehand (and we had my mom as an overnight babysitter!). I tried making my hair curly but it hasn't wanted to do that lately and ended up looking a bit scraggly. Silver hoops and cuff and a silver chain with my wedding band hanging from it. Makeup pretty standard for me – black liquid liner as the focal point of the face.
Today we went to my mom's to pick up Emerson and she made us breakfast. Then Emerson fell asleep in the carseat so we took a nice Sunday drive around town, listening to music and talking. We came home and have been doing chores and playing with Emerson. I am wearing my dark Long and Lean jeans from Gap, a white ribbed tank and my purple cardigan from Gap.
Back to work tomorrow, and I am well prepared with clean laundry (though my delicates may still be wet from hanging to dry…).