This article may contain affiliate links; if you click on a shopping link and make a purchase I may receive a commission. As an Amazon Associate, I earn from qualifying purchases.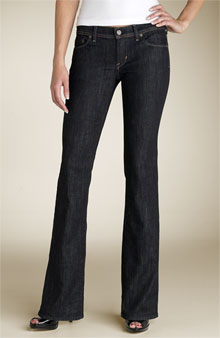 Reader Laurie emailed me recently after reading "Talking Fashion" on Washington Post's website about fall's trends. Suzanne D'Amato and Janet Bennett lead this chat and are very intelligent and stylish women, but mentioned in this certain chat that bootcut jeans are "Momtastic" and to be stylish one should choose a skinny leg, high-waisted style, or maybe a straight leg in a very dark hue. Laurie wanted to know if this was in fact true, and if her beloved denim was now passé.
I doubt you will see Kate Moss or Sienna Miller tromping around town in a pair of bootcut jeans this fall, but that does not mean they are a fashion don't. The thing is, trends come and go, and some styles seem to stay longer because unlike most of the garments going down the runway, they work with real women's bodies.
I love the look of the skinny jean. Paired with boots, booties, flats or heels it is a sharp look. A sharp look I personally will not be wearing. I am short. I have thick legs. I have a booty, a tummy, and thick ankles. If you put a pair of stovepipes on my gams, I would look like a walking Tootsie-Pop. I don't care how utterly stylish and popular they are, I will never be a slave to fashion and adorn my bod with things that make me look bad. Same with the high-waisted style. I can see this working if you are slim, leggy and long. Have some curves in the middle, and the high waist will make you look short, squat and heavy.
A straight-leg style is a classic look that works on many figures. I agree, this is a nice style, especially in dark denim. It can be worn with flats, heels, boots with ease and don't look costumey or obviously trendy. However, the bootcut is always going to the be popular favorite because the slightly larger leg opening balances out the curves that most women carry in the middle of their body. A bootcut (NOT flare. Unless you are a leftover hippie, do donate those flare jeans or put into the attic until the next 70s theme party) balances out hips, thighs, tummy and bum. It prevents the dreaded lollypop look of the 80s. Remember all those women with oversized tops and leggings? They looked ridiculous and there is a good chance that this season's slimmer denim will give a similar effect.
As for your bootcuts, there is a chance some of your pairs are starting to look a bit dated. If they are faded or a traditional "stonewash" color, they are a bit long in the tooth. The color now is dark and crisp, which is a good thing. A dark structured pair of jeans is far more flattering to a women's shape than the old faded pairs of a few years ago. Dark sturdy denim will elongate your body, be appropriate for casual as well as festive occasions, and look more polished (and expensive).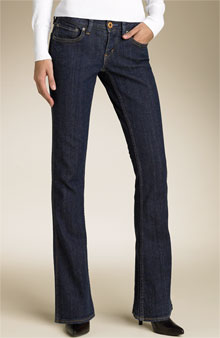 The cut of your bootcut may be a bit dated as well. Yes, you will still find bootcut jeans in all your favorite haunts, they just will be a bit slimmer than before. The leg opening will be a true bootcut – a slightly larger size than a straight leg – just that inch or two needed to get over a boot. At first glance, you may not even notice they are bootcut, but when on the body you will see the difference. The leg itself will also be slimmer – gone are the relaxed styles that you could probably pull up without unbuttoning.
If you purchase some jeans, these jeans should have the tailored, polished look of almost being denim trousers. A dark color is what is hot and flattering, a more streamlined cut, quality refined denim. Stretch is still out there, just don't have the jeans look like leggings on your legs. Stretch should add comfort, not the ability to think you can go down a size. It still is a nice look to have a slight crease down the front – this adds elegance and elongates.
To keep your denim looking great, wash it inside-out, consider hanging them to dry on occasion, and add a capful of vinegar to your cold-water wash for colorfastness.
So are bootcut jeans "Momtastic?" Well, it depends. I don't believe any one style right now is "THE" look, nor any one style is completely out of style (excluding anything with pleats, tapered legs or lace inserts). It's all about making slight changes to move with the times. No need to burn all your current denim, just reassess them. Try them on with your current fall tops, get a good look in a full length mirror, then use a hand mirror to get a look from behind. How do they make you look? Do they give off the image you wish to portray? Are they super comfy but sag at your backside and are just a hair too short? Are they a color that for some reason only seems to compliment black or white (this is a good test to see if your denim is an out of style color – stonewash doesn't look good with much else)? Be real with your wardrobe and your body and if you are in need for new jeans, don't fear. Bootcut is still out there and great to wear!
Featured: Levi's "Star" Slim Bootcut, and Citizens of Humanity "Electric Guitar" Stretch Bootcut, both available at Nordstrom.