This article may contain affiliate links; if you click on a shopping link and make a purchase I may receive a commission. As an Amazon Associate, I earn from qualifying purchases.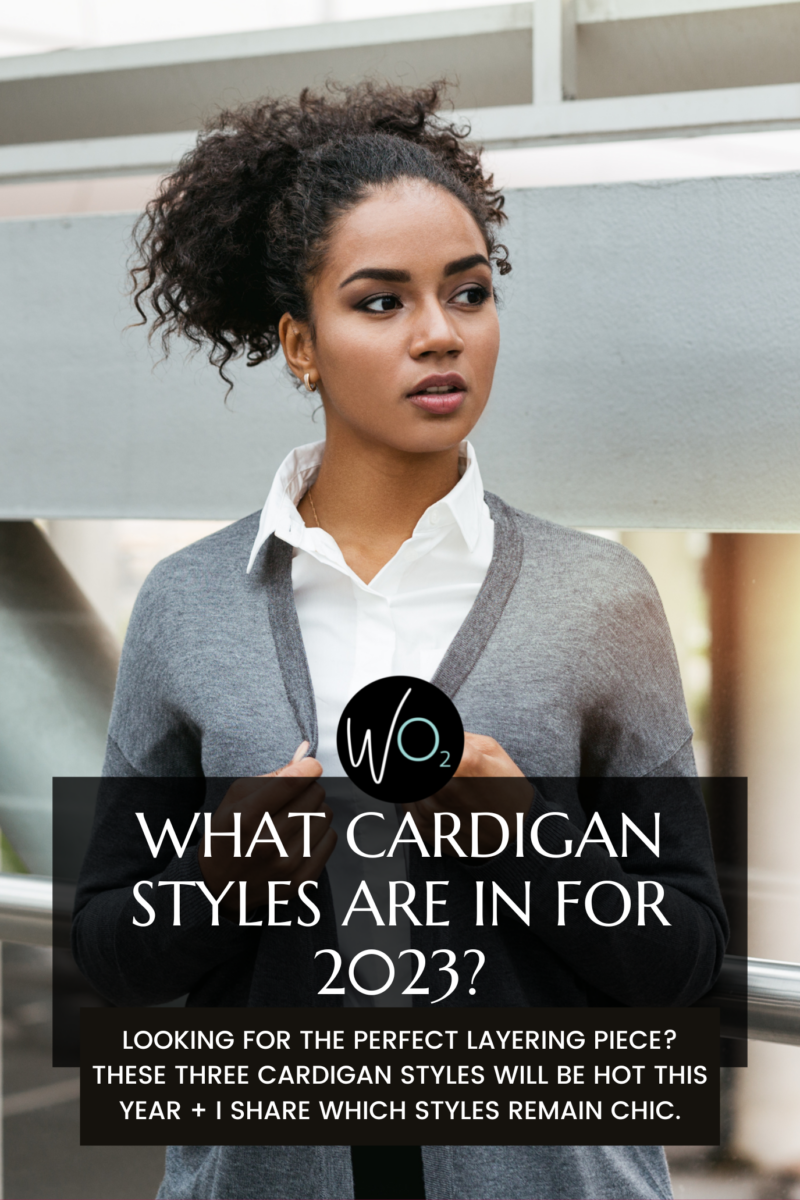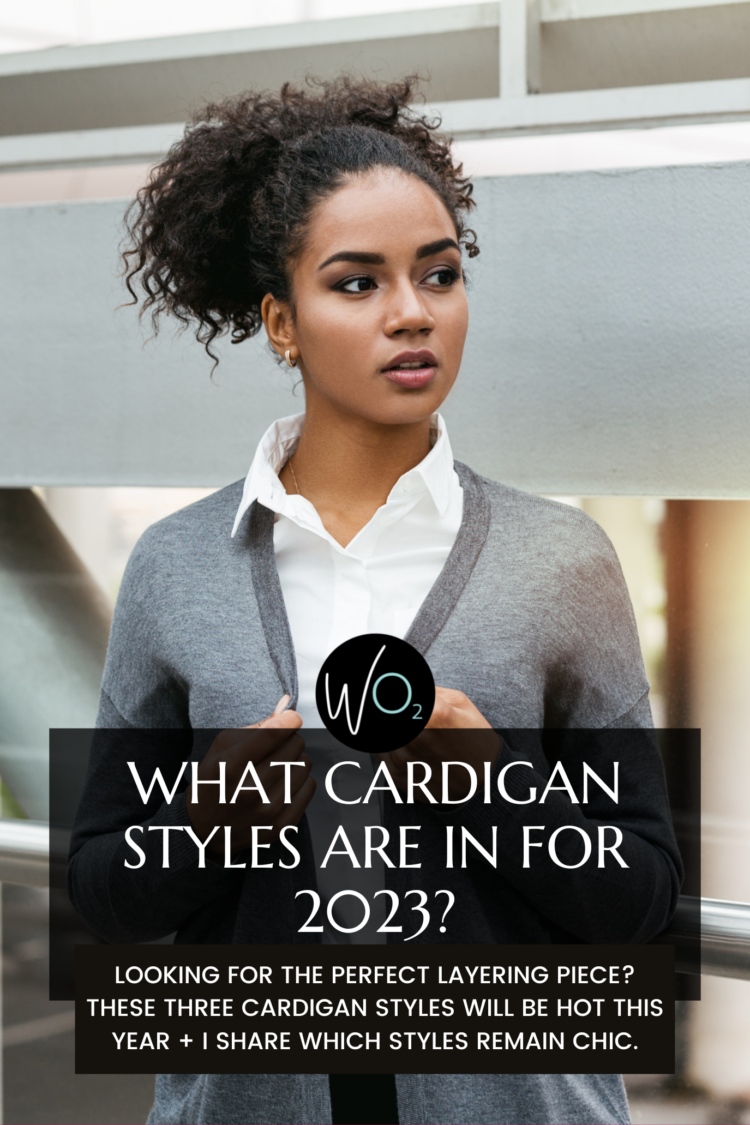 When I shared my post discussing how to navigate 2023 style trends, I received several emails, comments, and DMs asking me my thought on cardigans. I mentioned the waterfall cardigan felt dated with skinny jeans, but what is an alternative? What cardigans are in style for 2023?
First of all, you wear whatever makes you happy. If waterfall cardigans with skinny jeans make you happy, rock on with your bad self. Maybe try that cardigan with a different silhouette (try a lightweight drapey wide-leg trouser for a full head-to-toe drapey effect) but if you are looking to buy a new cardigan in a current silhouette or style, there are three prominent cardigan trends for 2023.
What Cardigan Styles Are Still Stylish?
First, let's assess your current cardigan wardrobe. Please know what I share before is guidance, not gospel. Fashion is fluid in 2023, wearing what makes you happy is the most stylish thing you can do. But based upon what is available this year from retailers and trends showing on social media, street style, and runways, this is my assessment:
We've had several years of tissue-weight, open weave, hip-to-knee length duster cardigans. Most are open in front without buttons. These are still being sold (like this one from NIC + ZOE or this one from Talbots), and are still useful being something other than a blazer as the third piece of a work outfit or to add a bit of warmth. However, I wouldn't buy more of this weight of long cardigan.
Similar to this, we have had a few seasons of the open-front cardigan. This is a heavier weight than the previously mentioned cardigan, and is usually shorter (mid-thigh/tunic length). This one from Jones New York is a good example. Occasionally this sweater has patch pockets, and occasionally it will also have a self-belt (see the M.M.LaFleur Merritt Jardigan). This isn't going anywhere; it's a great alternative to a blazer and also cozy enough to be a loungewear favorite. However, keep the loungewear knits (AKA that Barefoot Dreams version, sweatshirt versions, and anything jersey) at home and the more structured and polished knitwear versions for work and weekend.
We have also had many years of the sweater blazer, and I don't see this disappearing any time soon. Sweater blazers like the J. Crew Factory Schoolboy Sweater-Blazer fit our pre-pandemic fashion paired with skinny jeans and Pixie pants, but also fit our 2023 work from home/relaxed office vibe. Try with a wider leg jean or trouser in 2023; you may like the results.
The classic jewelneck cardigan like the J. Crew Jackie Cardigan is a classic for a reason but may feel wrong with 2023 fashion. Try wearing it buttoned up like a shirt; either alone or over a tank, fitted tee, or camisole. 2023 versions of this cardigan will be shorter, hitting anywhere from cropped to high-hip. If yours is longer you may want to try a different style or length this year. You will also see a crewneck version of the cropped v-neck cardigan I share below that is a nice alternative to this style of cardigan.
All of your "grandpa" style cardigans are still in style. These are v-neck sweaters that hit mid-hip to thigh like this one from Lands' End. They are sometimes open front, sometimes have buttons, and usually have two patch pockets. This year, if they are lightweight enough, consider buttoning them up and tucking or half-tucking them to give them a fresh effect.
What Cardigans Are In Style For 2023?
As I mentioned above, there are three prominent cardigan trends this year. I'll break down these trends and how to wear them:
The Cropped V-Neck Cardigan
This cardigan hits anywhere from the bottom of the ribcage to high hip. It is a substantial weight, often with subtle ribbing, and has 3-4 large buttons (often horn/wood look). There is often a band at the bottom and the neck is high enough that it can be worn buttoned up like a shirt.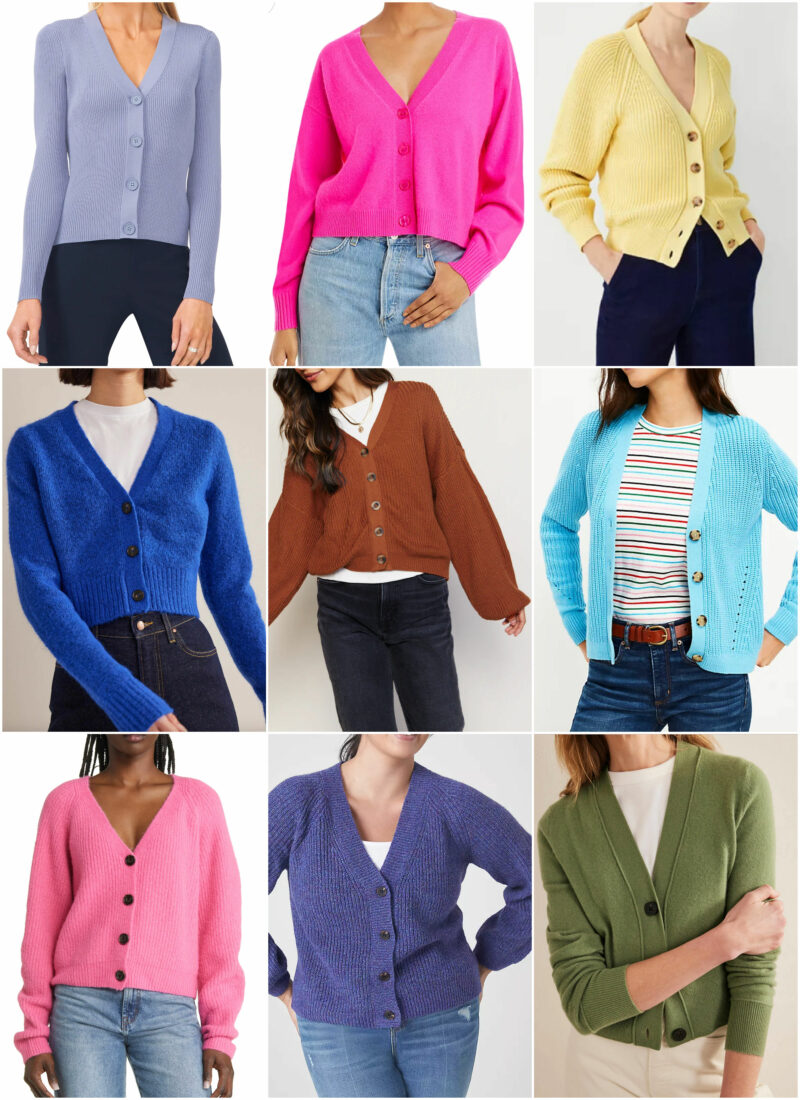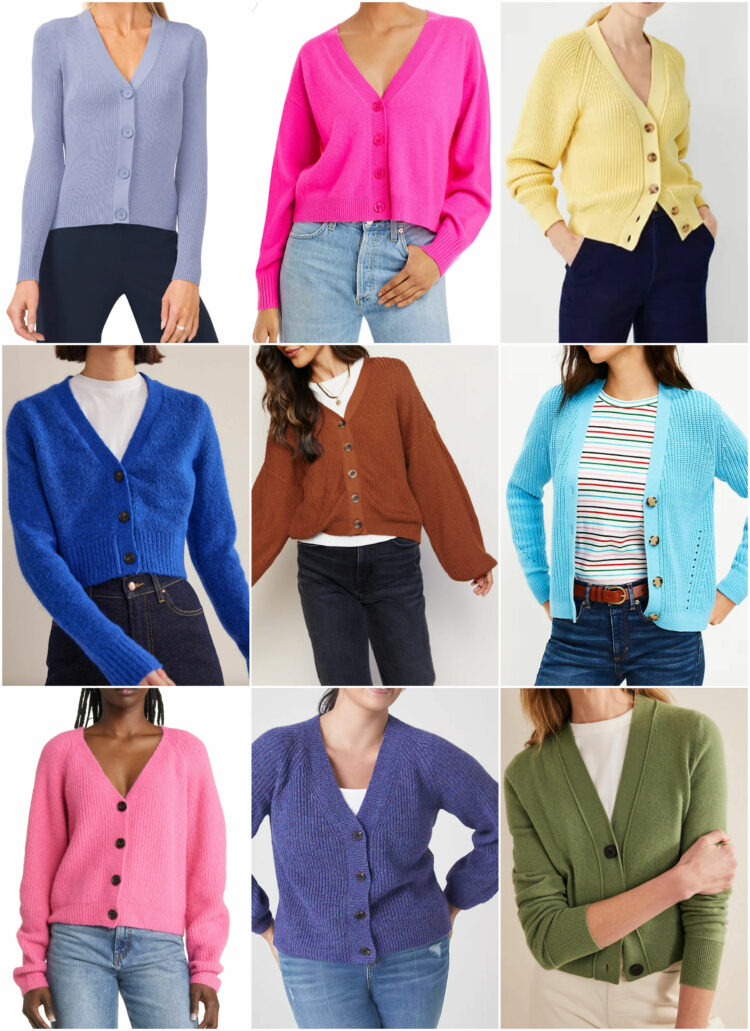 You will see this cardigan EVERYWHERE, and at every pricepoint. It's the default sweater for the 2023 trend of looser pants, jeans, and midi skirts. This sweater is designed to hit high enough so it complements a more relaxed silhouette of bottom, often resting at the top of your hip/rear curve.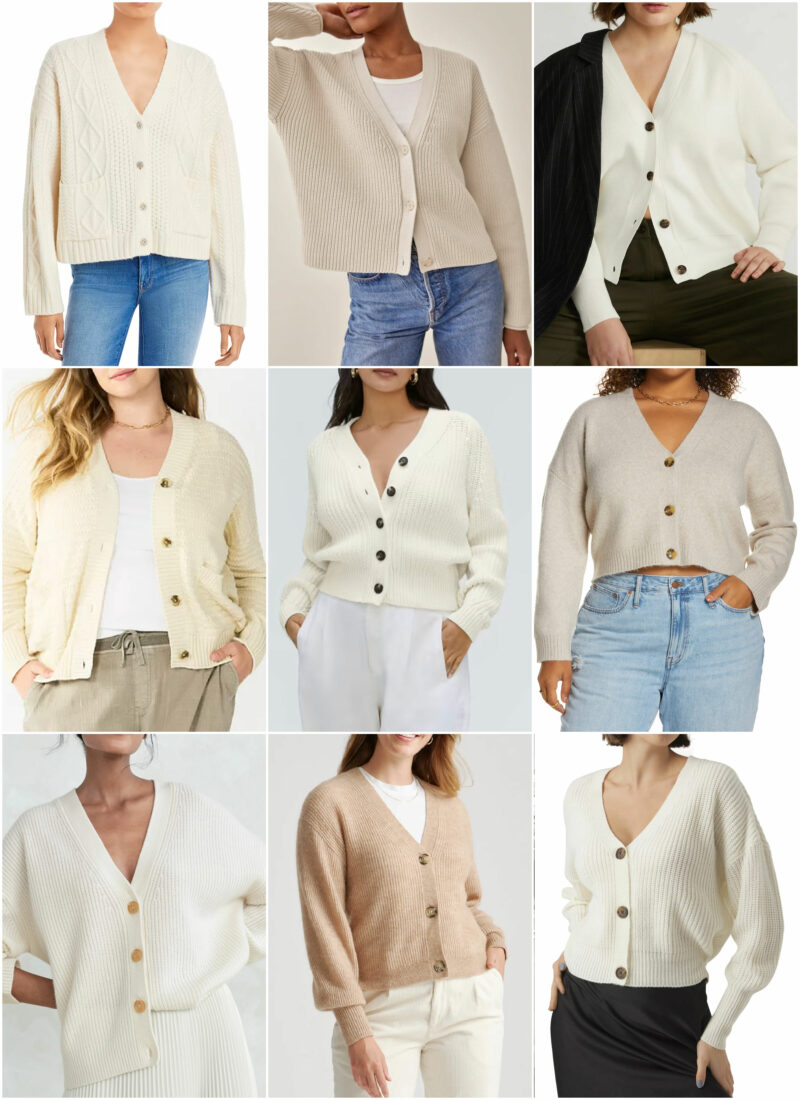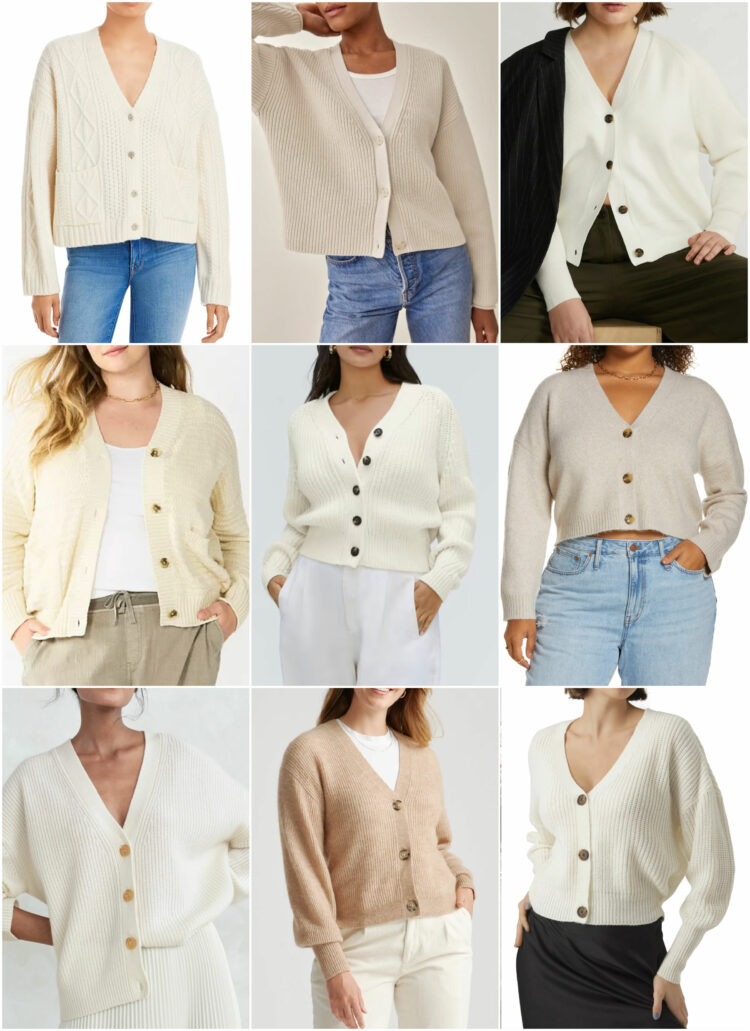 Any color works, but it seems a cream/ivory/beige version has been the most popular. Even I own one, this one from Universal Standard. I find I wear it most often buttoned all the way up, or with the last one or two buttons open. I wear it as a shirt, I wear it over crewneck tees, boatneck Breton striped tops, and tucked-in button-front shirts and blouses.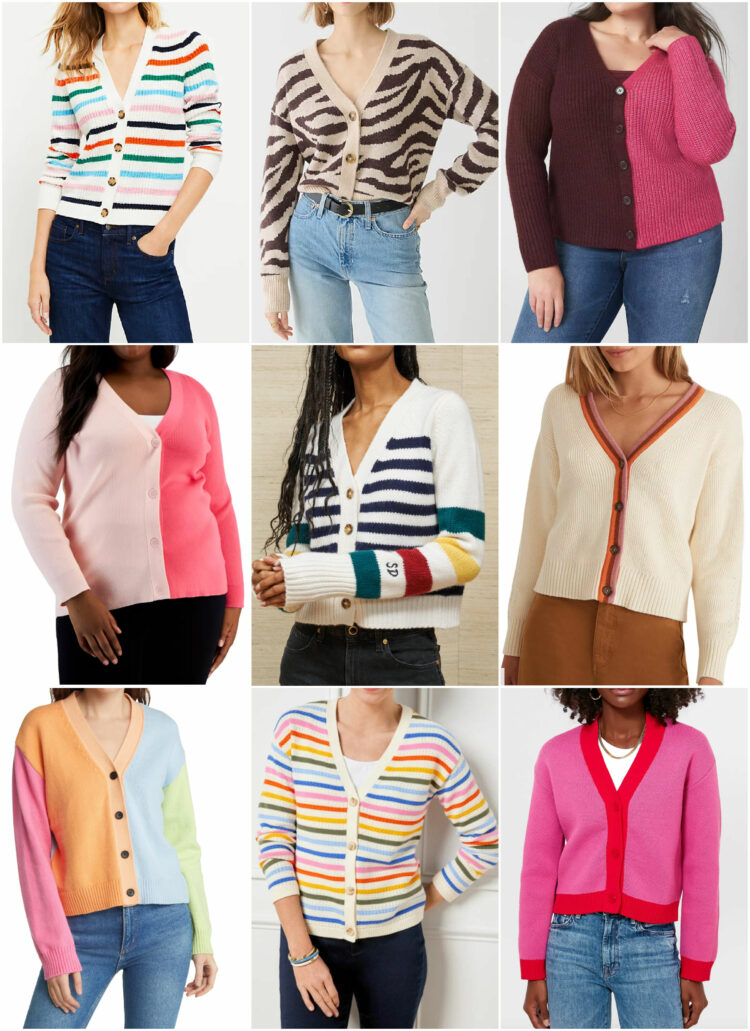 Depending on the weight of your cropped v-neck cardigan, you can wear it under blazers, either open with a third layer underneath, or as your base layer. Remember, as I mentioned in this article about 2023 fashion trends, the theme of 2023 fashion is Take Up the Space You Deserve. If it's comfortable, don't be afraid to layer!
The Boyfriend Cardigan
The boyfriend cardigan has been in style for a while now, and has been in style before. Also known as the grandpa cardigan, this sweater is also a substantial weight, has a banded v-neck and larger buttons (usually horn/wood look but occasionally decorative or the same color as the sweater). With optional patch pockets, this sweater hits anywhere from mid-hip to mid-thigh and is a straight cut without a band at the bottom.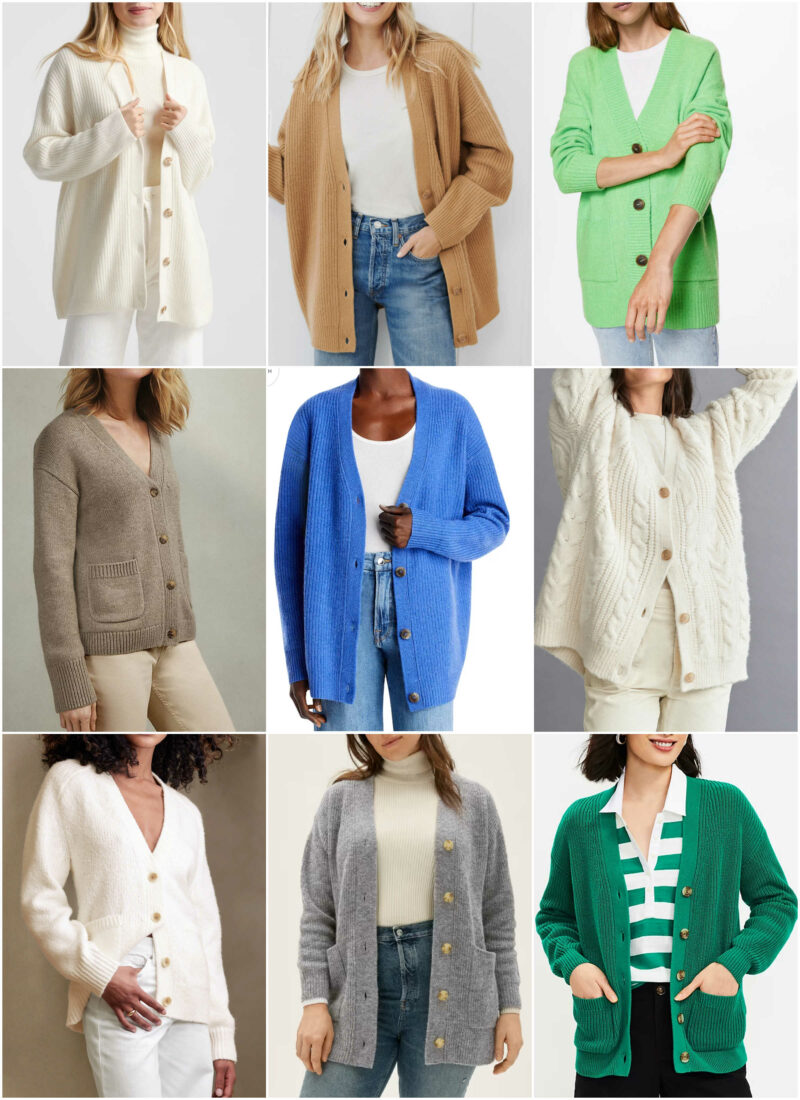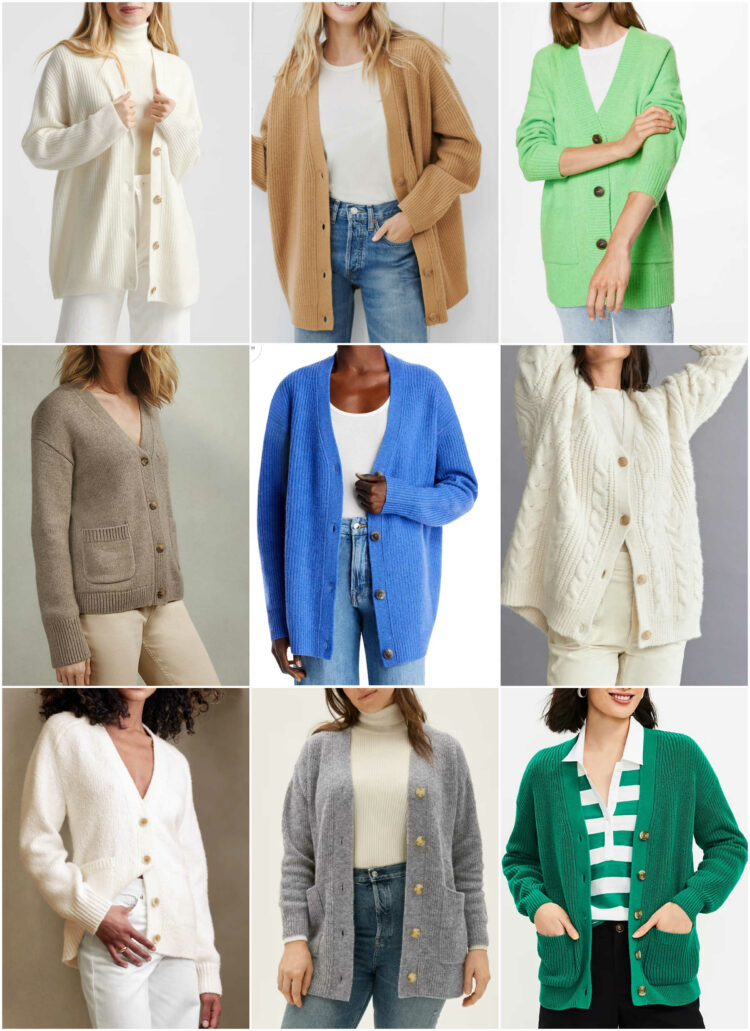 I explain these details because there is a good chance you will find or own a v-neck cardigan of this length that is open/without buttons, a lightweight knit (linen, silk, thin merino, etc.), has delicate pearlized buttons, and/or has a band at the bottom. Go ahead and wear these if you still have them, but don't add any more to your closet.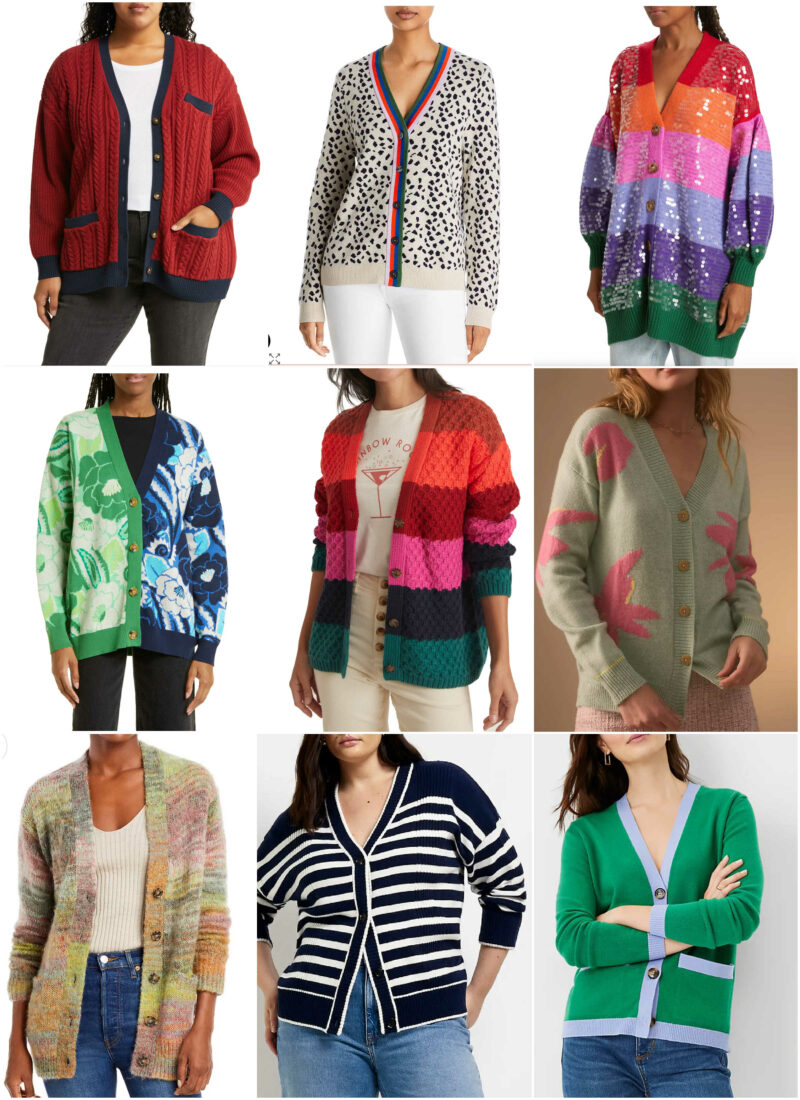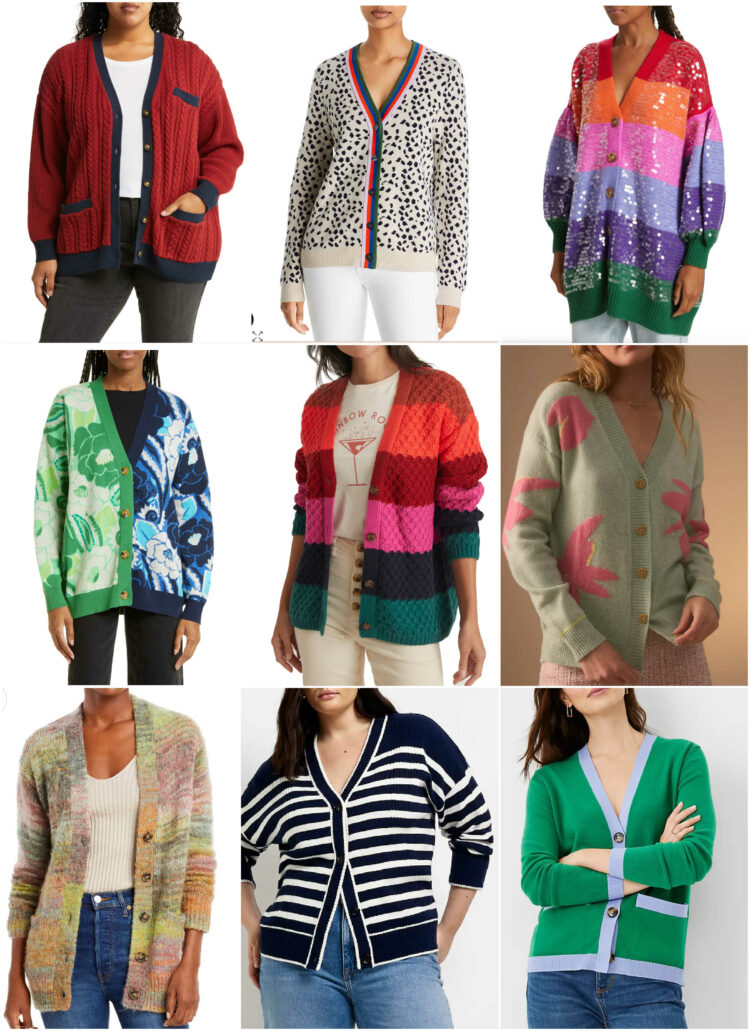 This sweater is called a boyfriend cardigan because it looks like you borrowed it from your boyfriend on the varsity team that earned him that sweater. While varsity-inspired cardigans are still in (contrast piping, sleeves a different color from the body, etc.), these sweaters can be a solid color, marled, an intarsia print, striped, and most anything else your heart desires.
The Sweater Jacket
This year you are going to see a lot of sweaters jackets. The Chanel-inspired jacket is a big trend in 2023, and it is being made in heavyweight sweaters as well as tweed and boucle. This is collarless, hits at the waist or just below, sometimes is open in front, sometimes double-breasted, usually with big gold buttons down both sides.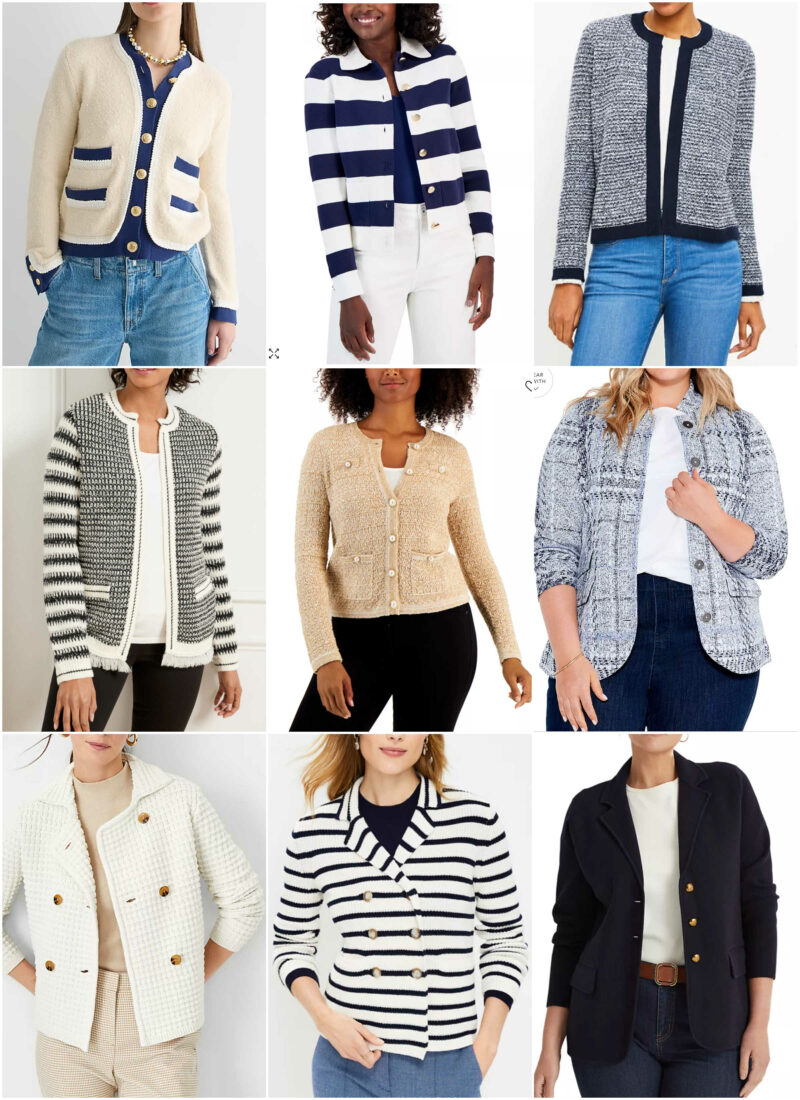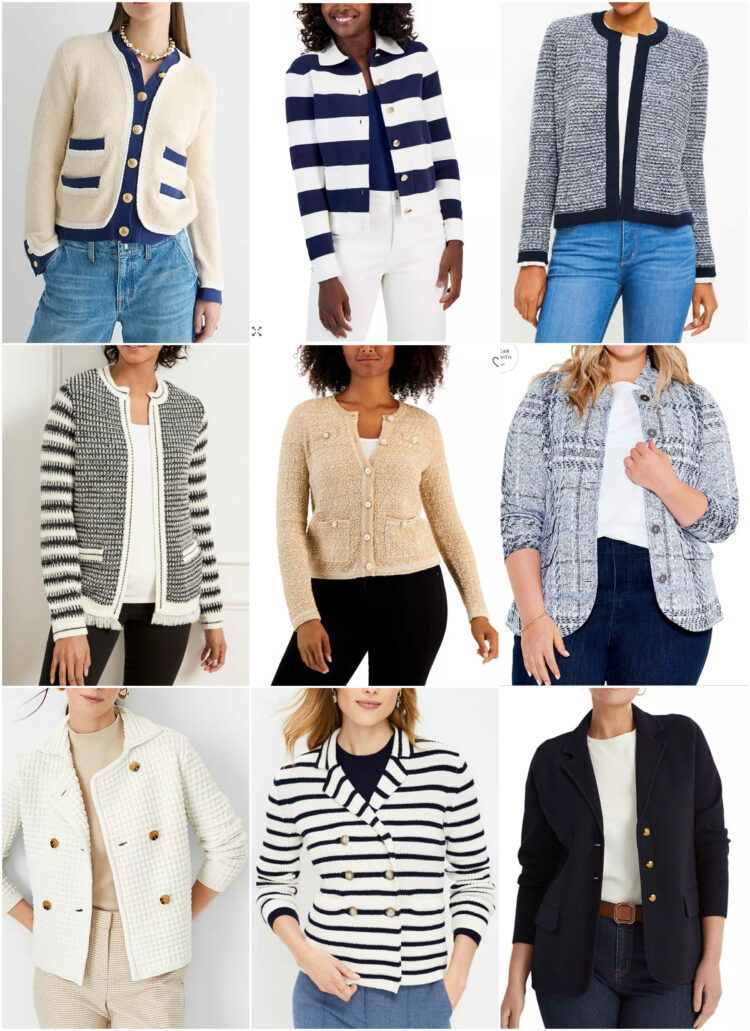 But beyond the Chanel-inspired sweater jacket, you will see sweaters imitating bomber jackets, moto jackets, and even denim jackets. Sweaters with enough heft to handle zippers, larger buttons, collars, buttoned cuffs, and pockets. This is a trend you likely can find thrifting or even in your existing closet, but pay attention to length and weight.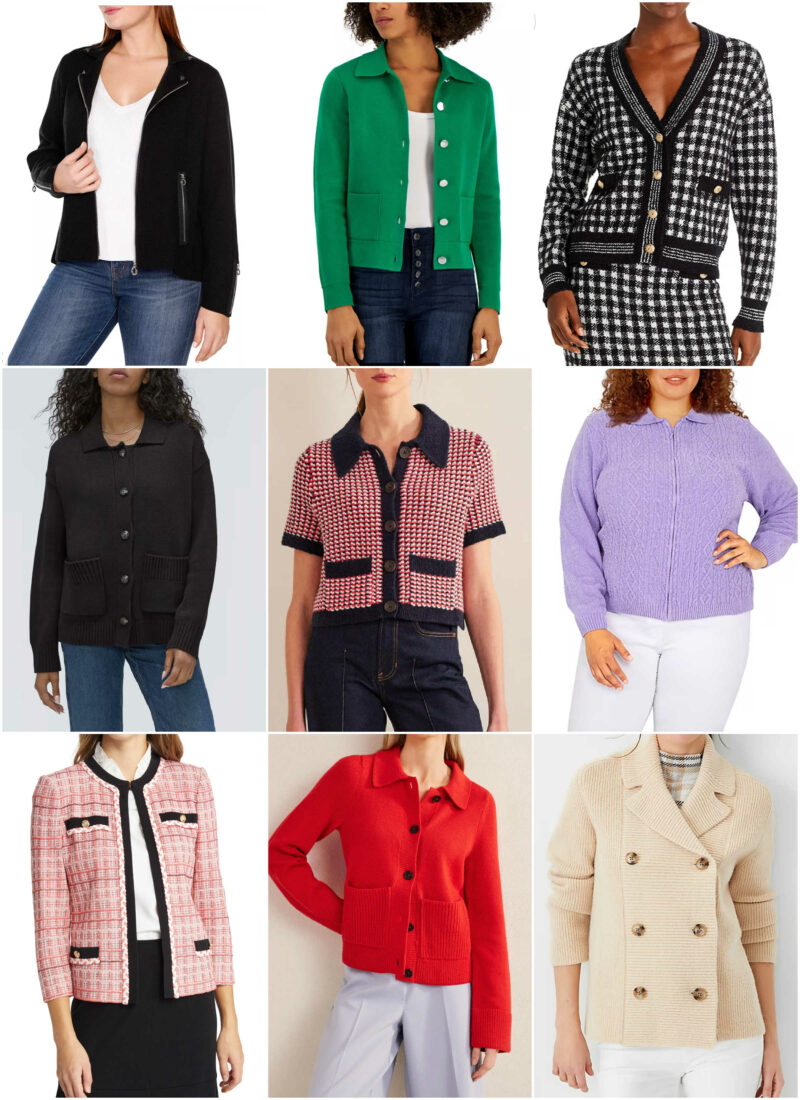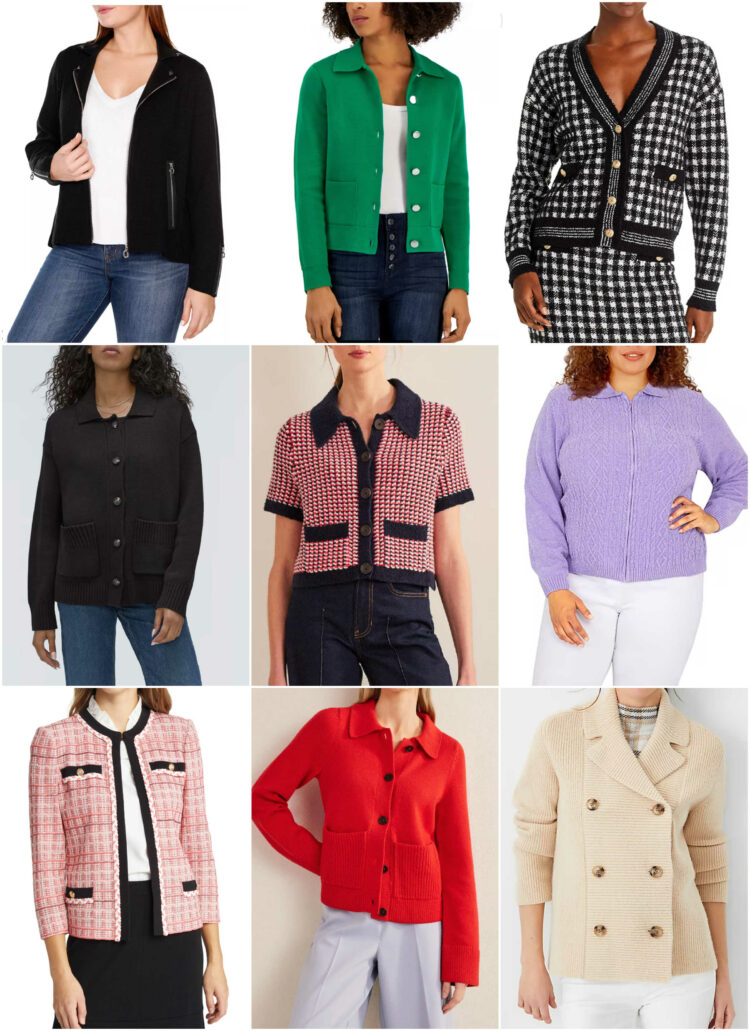 These are not sweater coats, and these are not delicate. They are cropped to mid-hip length like a jacket. They are sturdy knits. Consider these an alternative to a blazer or a denim jacket as that third piece to pull together a top and bottom, or to add pizzazz to a dress.
What Lightweight Cardigans Are In Style?
In the warmer months or when living in a warmer climate, when you desire a cardigan it is for a temporary chill (the sun set, you're going outside for lunch, the space is overly air-conditioned) or because you wish to have more coverage (sleeveless dress, outfit is very fitted over the torso or rear).
Consider a classic style in a lighter-weight yarn, still steering from the overly delicate linen and pointelle. You can still wear your lighter-weight long cardigans, grandpa cardigans, sweater blazers, and jewel-neck cardigans. but instead of defaulting to black, white, or beige, consider using the cardigan as a way to add a pop of color or personality to your outfit.
But you may find less a need for cardigans as you incorporate more current trends to your closet. Clothes aren't as fitted, sleeveless isn't as much as the default, and there are a lot of really cool lightweight jackets on the scene that keep you warm and stylish.
But What About [Enter Favorite Cardigan Style Here]?
My grown-ass friend, you do you. If you love your cardigan enough to have this question at the end of this article, it means it is a part of your personal style aesthetic and should continue to be in your closet. Make sure it is in good condition and is truly a part of your style and not just a sartorial security blanket.
There are no rules in fashion anymore. There is no trend you must adopt, nothing in your closet you have to toss to remain stylish. However, in 2023 you have permission to try something new. To try a combination that before you felt was wrong or weird or unflattering. To fail, and know it's just an outfit and not going to ruin your life, and try again. To have some fun, be a little wacky, be a little bold, and be unapologetically you.