This article may contain affiliate links; if you click on a shopping link and make a purchase I may receive a commission. As an Amazon Associate, I earn from qualifying purchases. 
I haven't done a recent StitchFix review because I haven't had one recently. My last one was a complete bust – wrong style, even wrong size. I took a couple months off, provided a lot of feedback and decided to do another Fix for the summer because I am still lacking essentials on my warm-weather wardrobe.
My stylist for this Fix was Jan. Her thoughts that came in my box, " I loved styling you and checking out your Pinterest, Insta, and fab blog, and I'm including fun tops for going out and summer days as well as easy dresses for the summer heat. I see that you look amazing in bright, bold hues and jewel tones, so I've pulled a variety of vivid shades – let me know which are your favorites." I must say when I opened the box before even pulling out the clothes I felt the color selection was the most "me" of any StitchFix box I received previously. Bold shades, prints that weren't too twee or matronly, and a nice mix of fabrics.
What I Received in my Summer StitchFix
Skies Are Blue "Reginald" Crochet Detail Top – Size XL, $54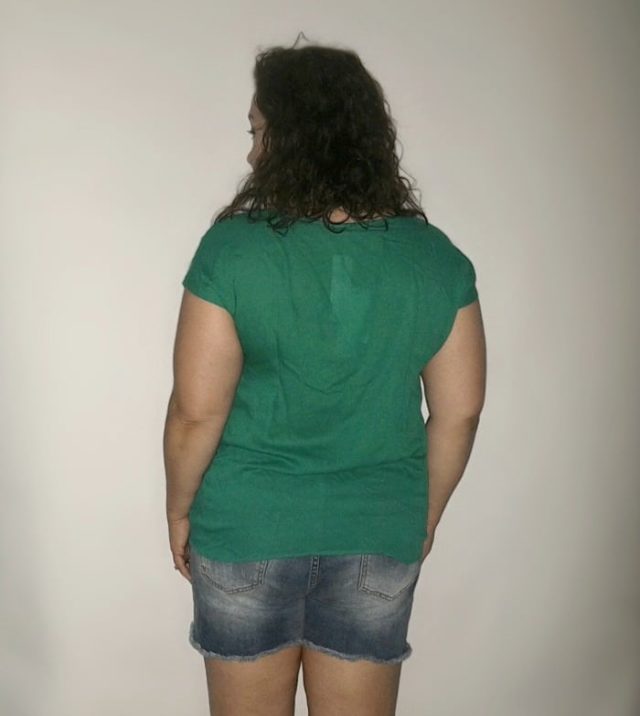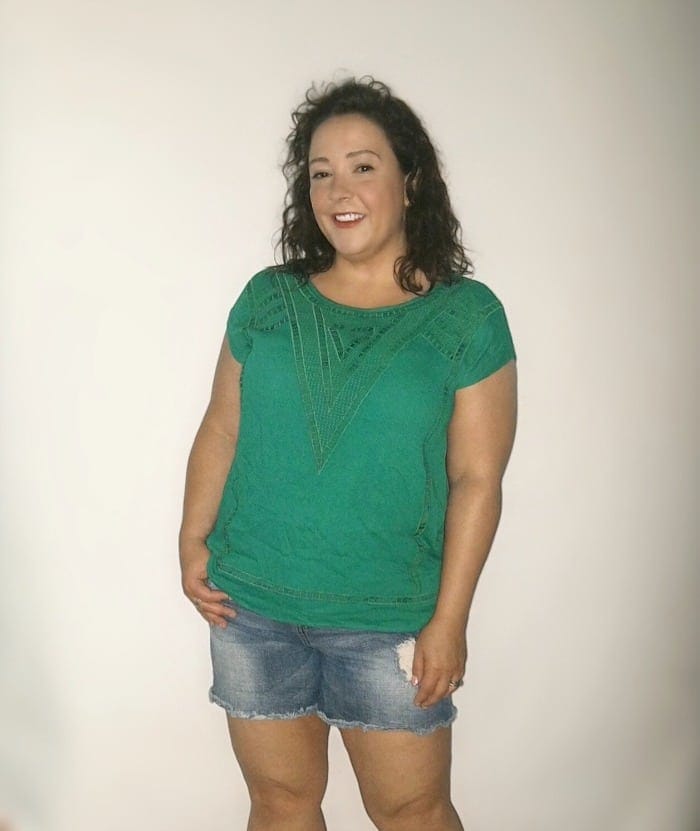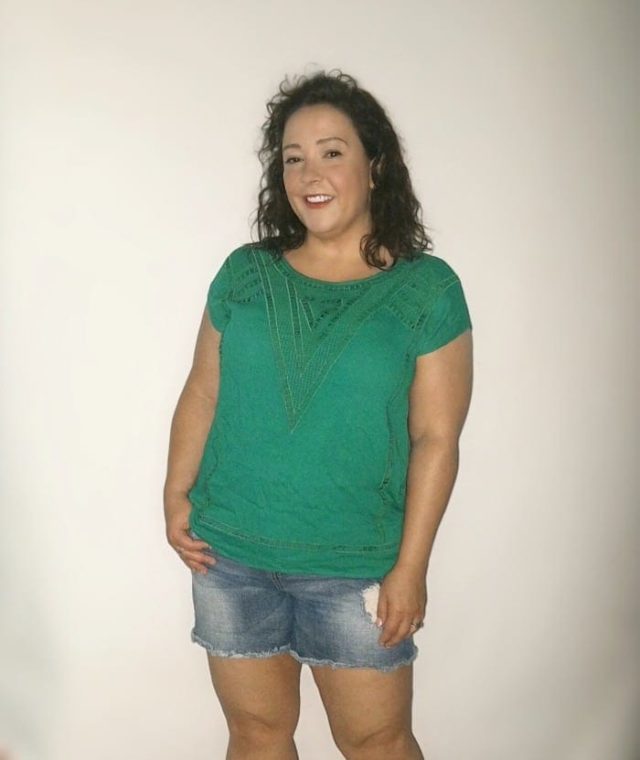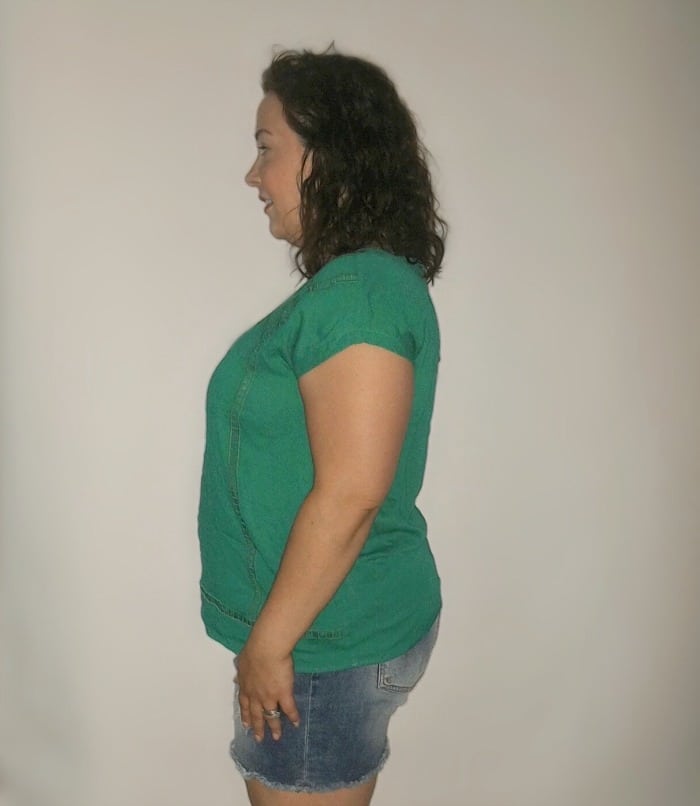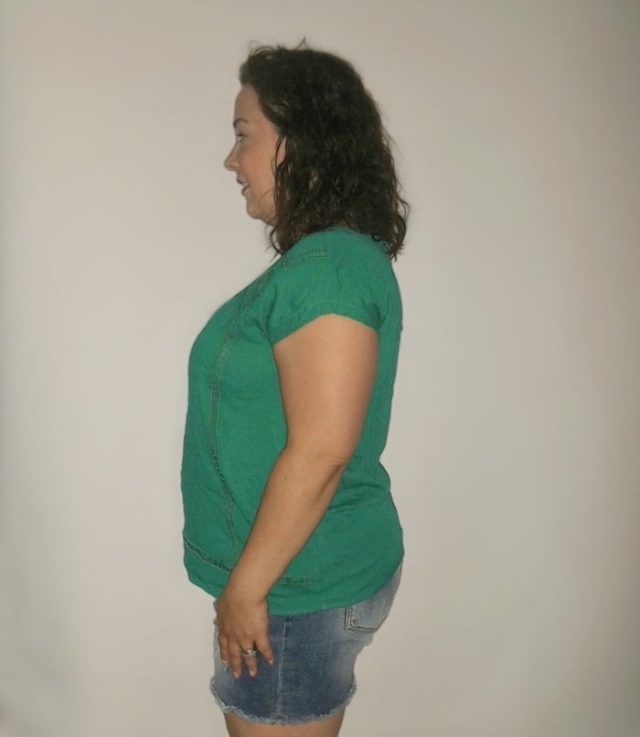 When I took these photos my mom was at my house while work was being done on hers. She saw this top and said she loved it. I said to her that I would say to all of you. Do you really love it, or do you just love the color? Because when I put it on, I too thought, "Ooh!" But then I looked more closely and realized I didn't like the fit, the design, or the fabric but I liked the color. This is a good basic top you can wear with shorts on the weekend and a pair of pants to the office, but it's the kind of top you pick up at TJ Maxi and have as a go-to when you haven't done laundry, not something you'd pay $54 for. Returned.
Leota 'Caledonia' Knit Maxi Dress – Size XL, $88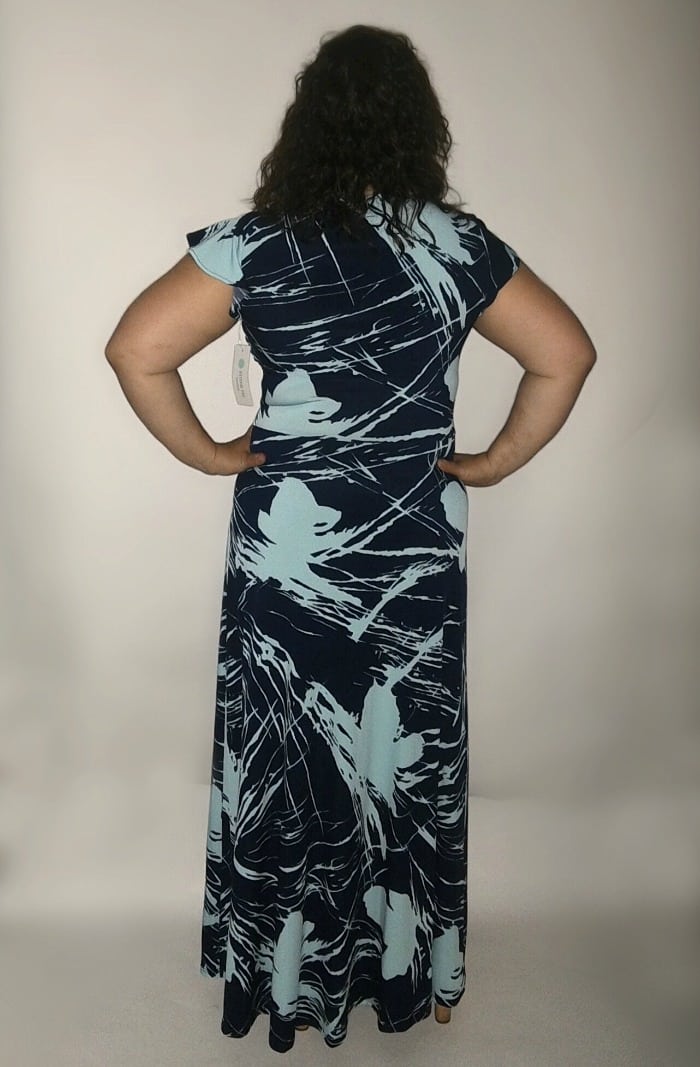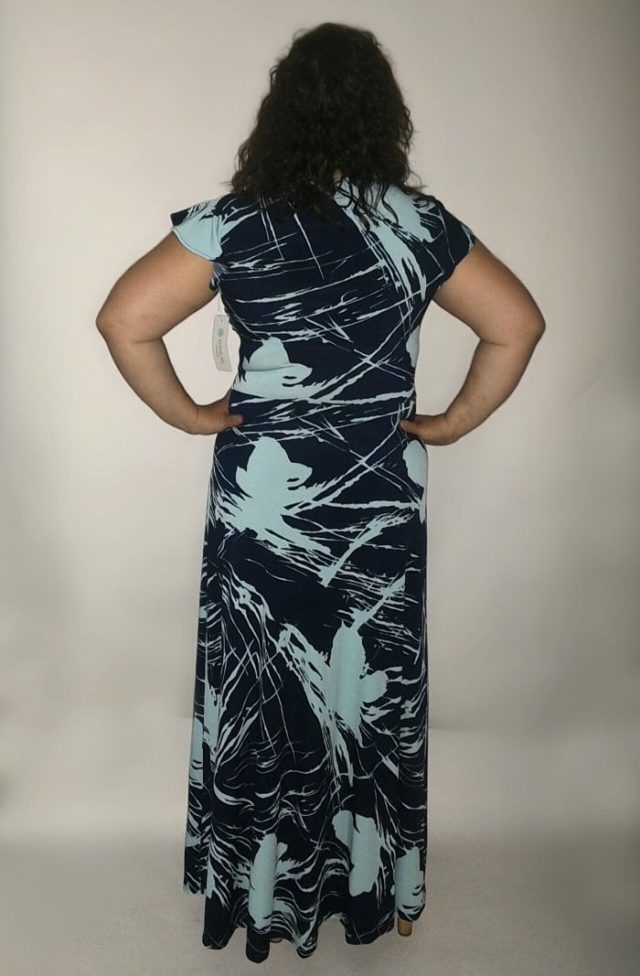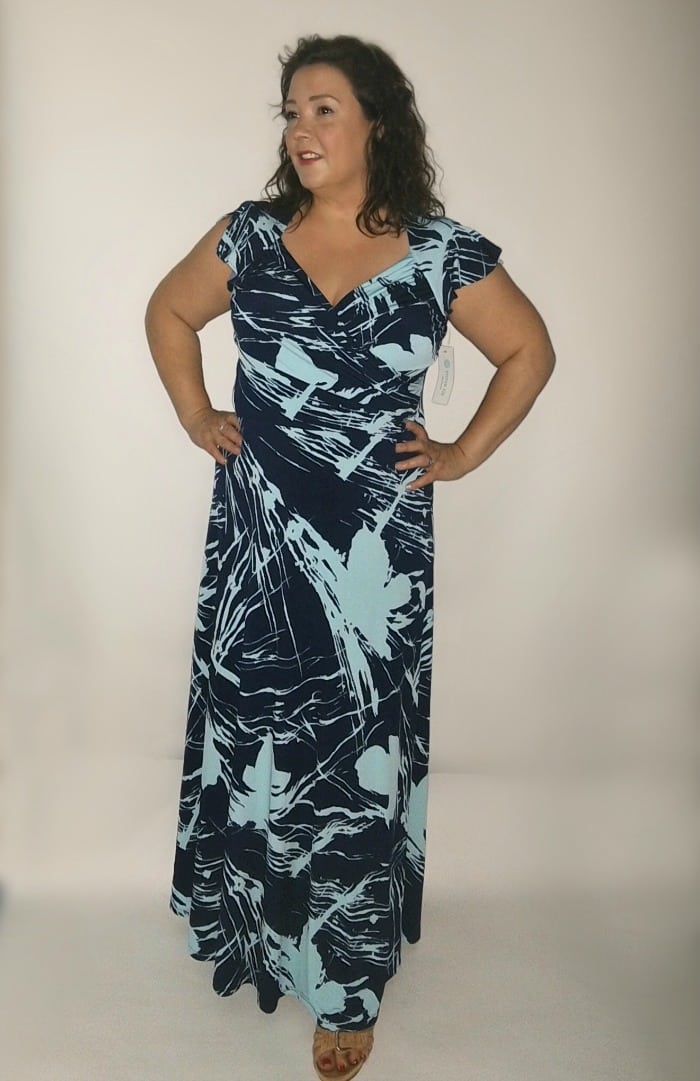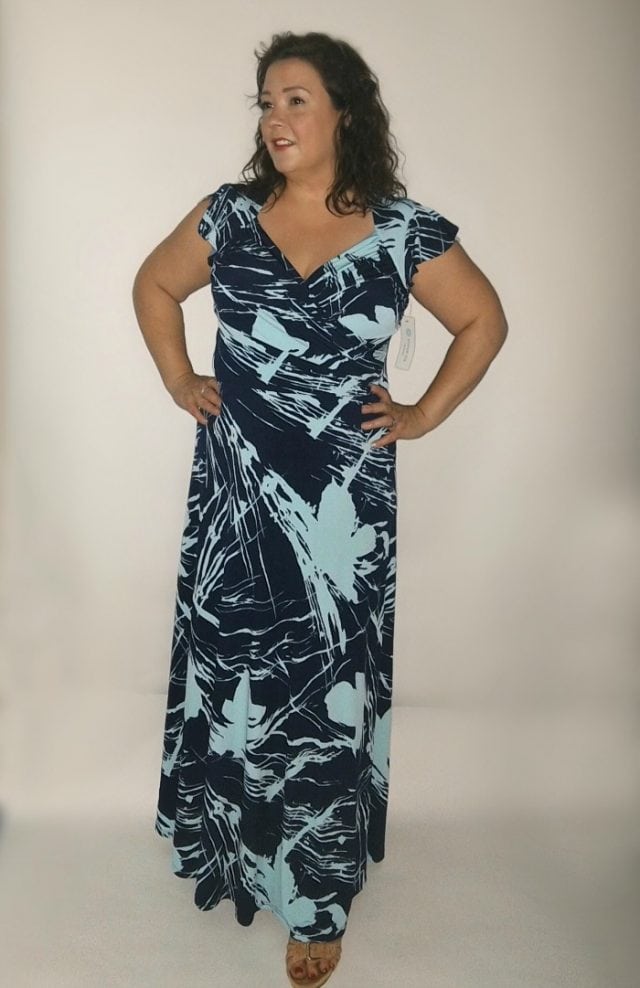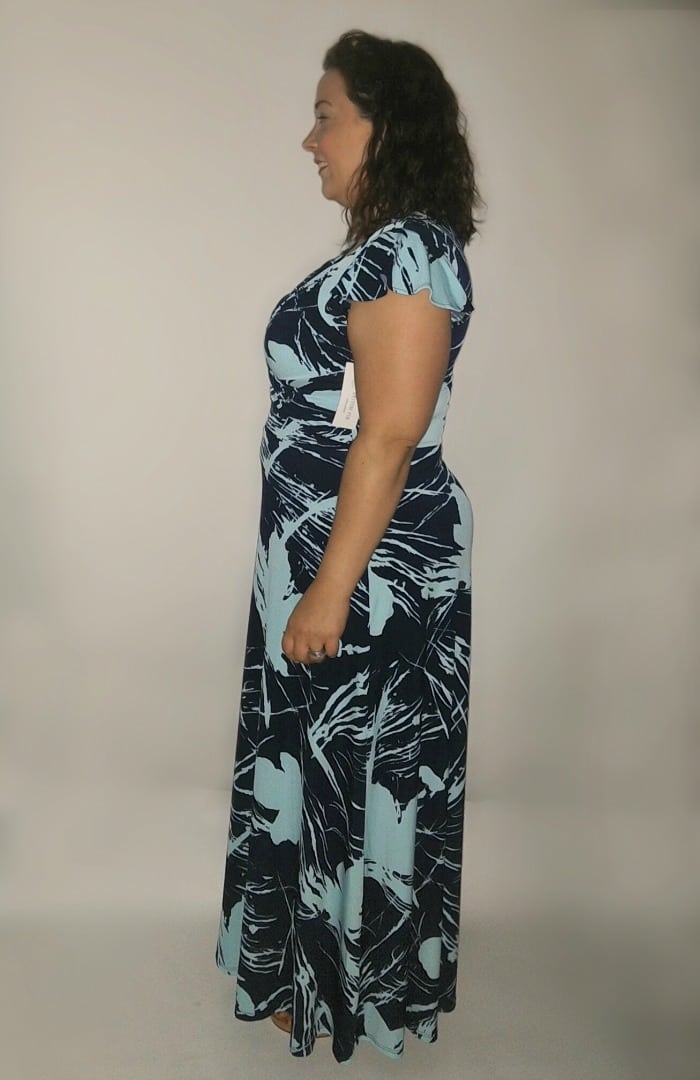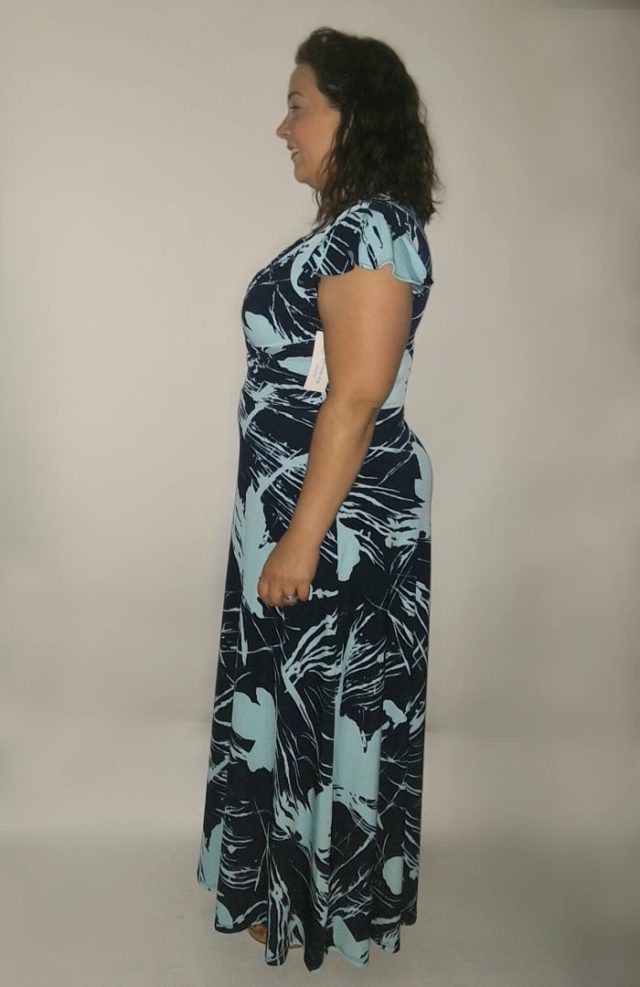 I like Leota. They make fantastic dresses that fit curves beautifully. This dress is no different. In fact, I think it may be the most flattering and best fitting Leota dress I've even tried. My mom agreed, it was uber flattering and a standout without feeling on display. Seriously the only problem with this dress is its formality. While it's not a formal fabric, the gathered bust and flutter sleeves somehow make this seem far more dressy than other maxi dresses in my closet. If I had a wedding to attend, I would possibly keep it but I don't and I have no idea where I'd wear this dress. But it reminded me of how great Leota is and I'll be seeking out the brand this fall. Returned.
Market & Spruce 'Allura' Cotton Chambray Off the Shoulder Dress – Size XL, $78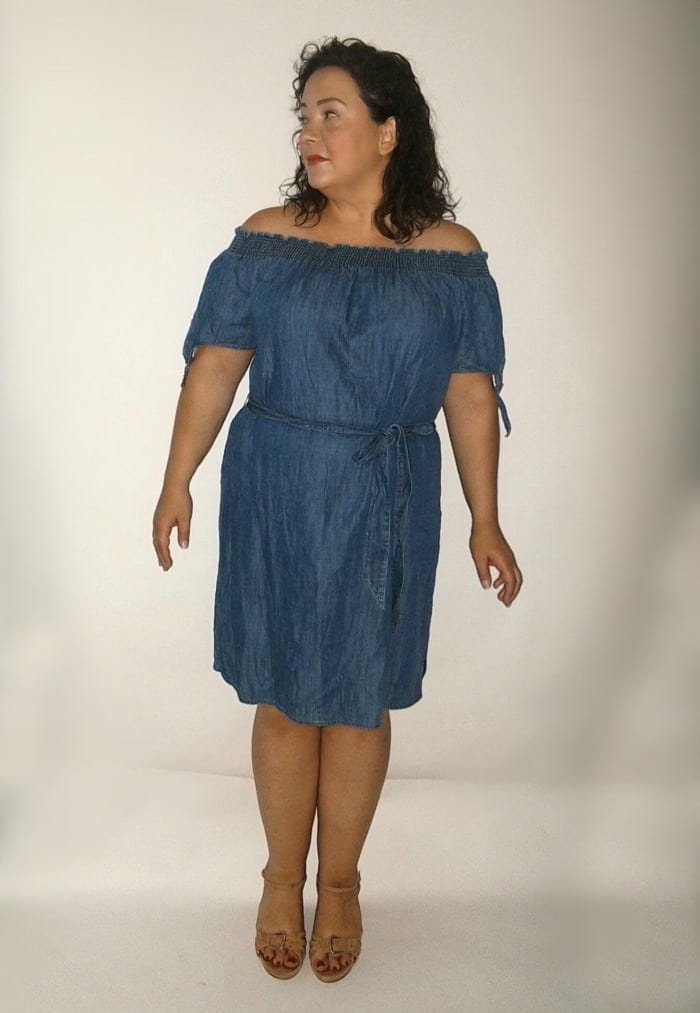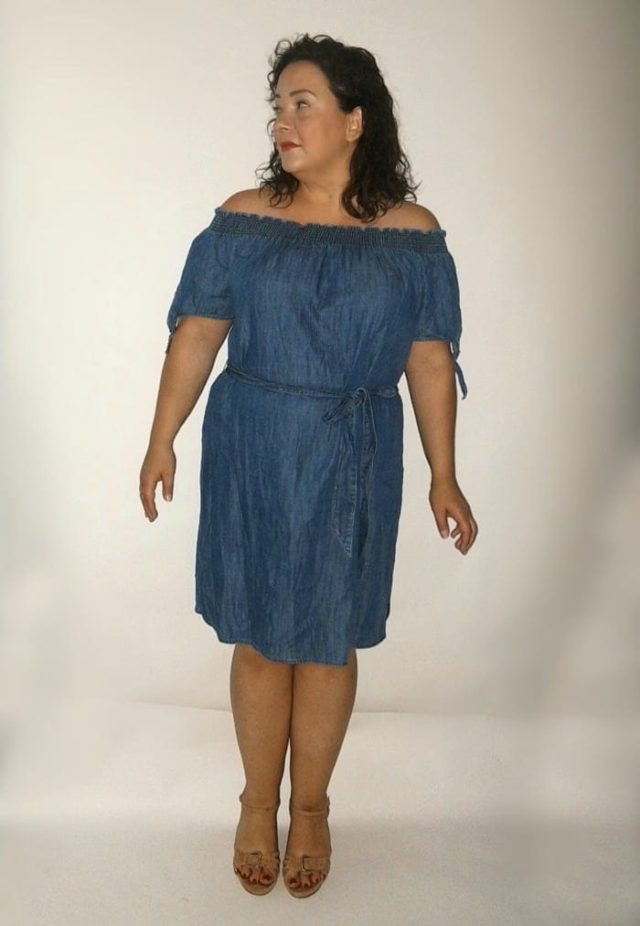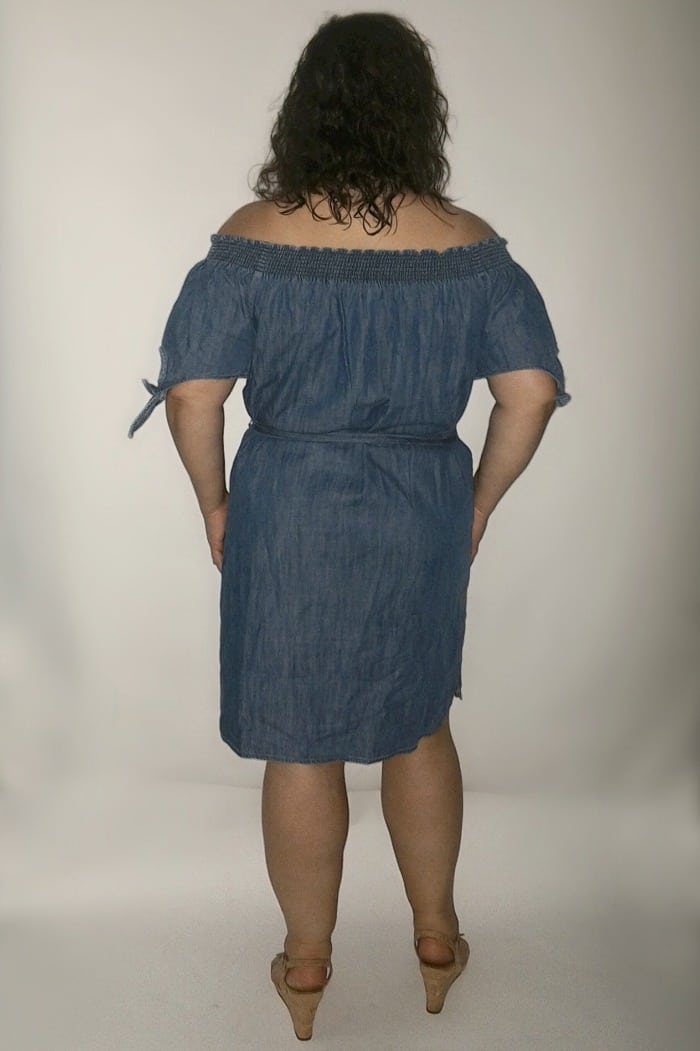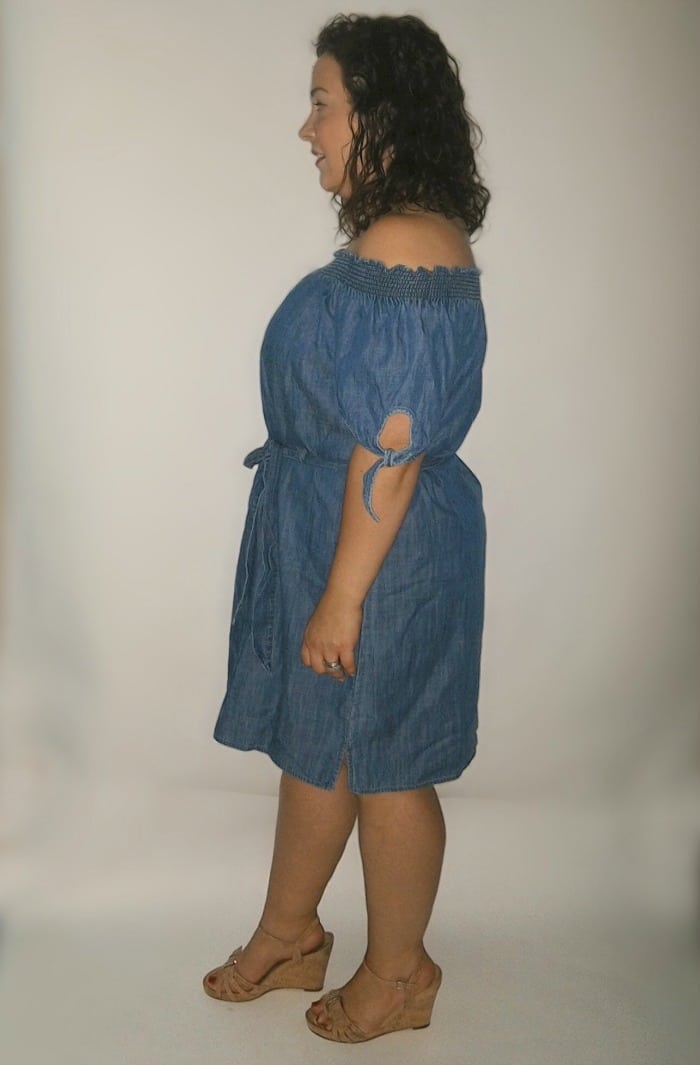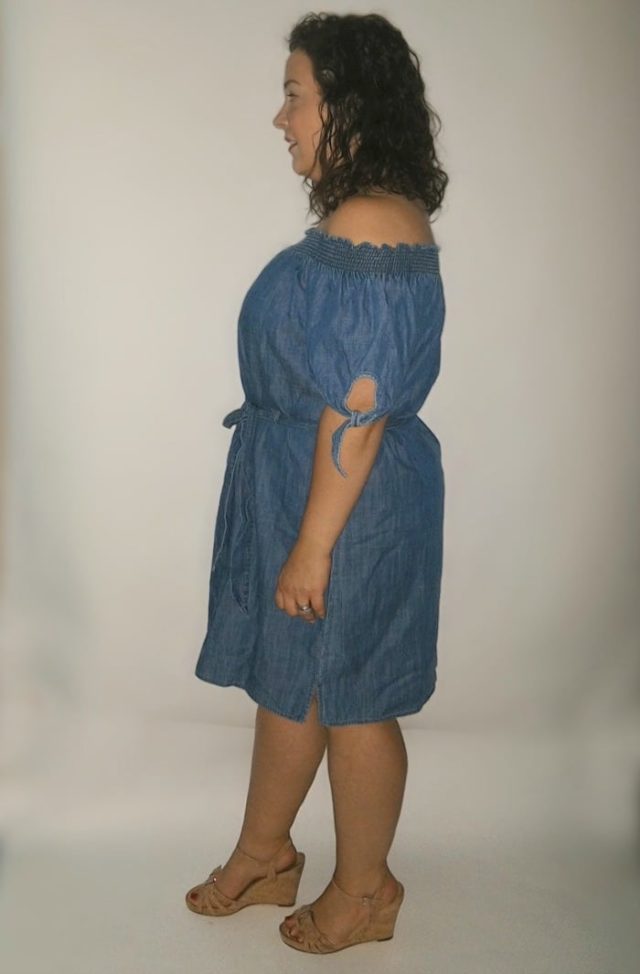 This dress is junk. You can find better at Target and for less. The elasticized top would NOT stay down. One sleeve was a big more snug than the other. The ties at the end of the sleeves was hokey while in the flat lay Stitch Fix sent, they looked longer and softer. There's no shape to this dress so when I cinched it with the self belt, it bunched and did weird things to my figure. This is the kind of dress that you could "make it work." Steam it, wash it to soften it, replace the belt, add a necklace, etc. But the thing is if it's not good as-is it won't ever look great even with a lot of work. Returned.
Collective Concepts 'Krissa' Keyhole Halter Blouse – Size XL, $54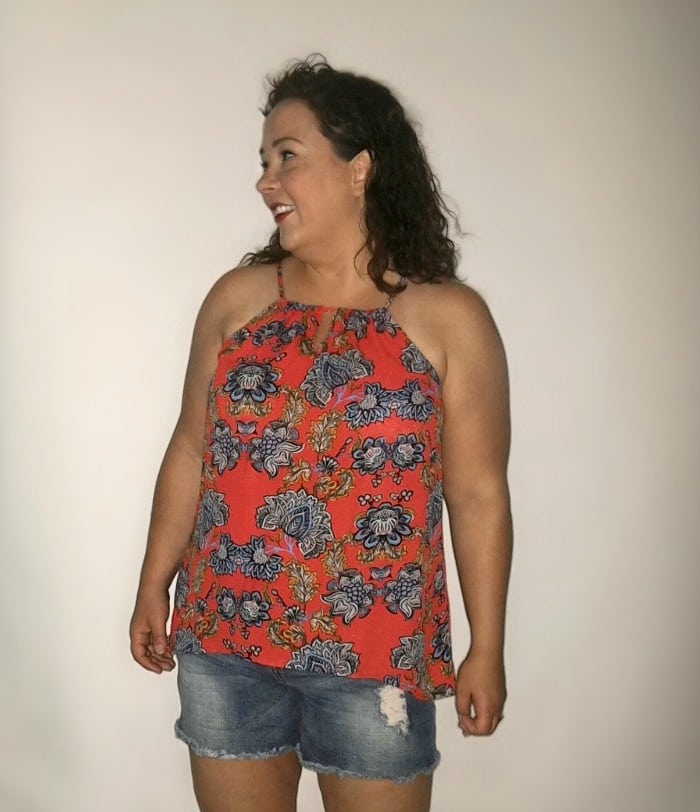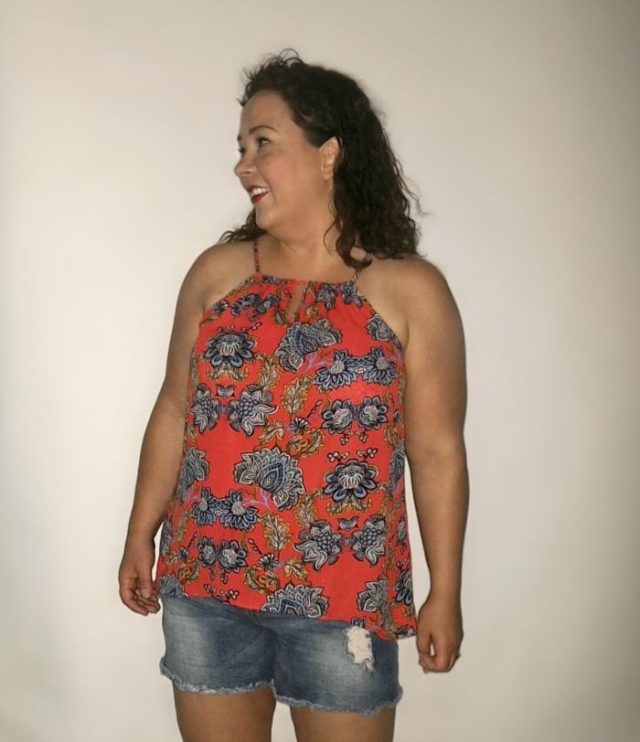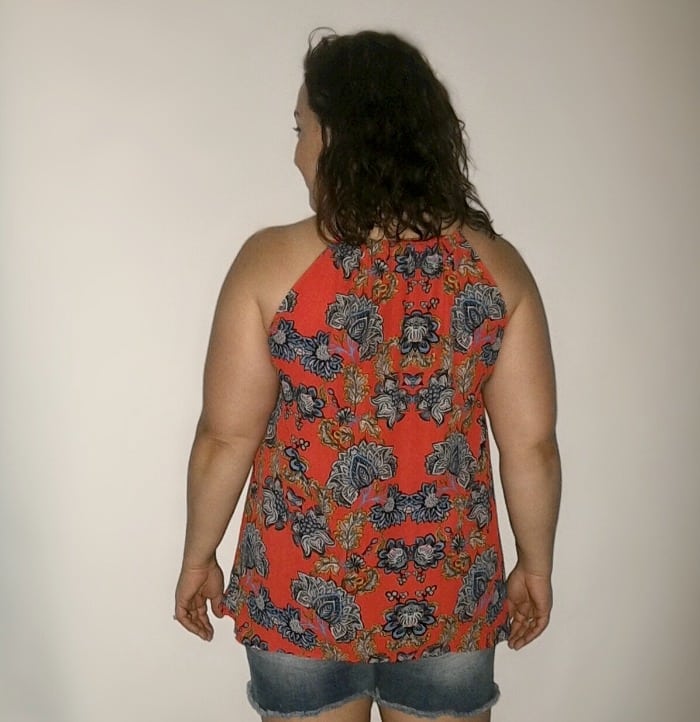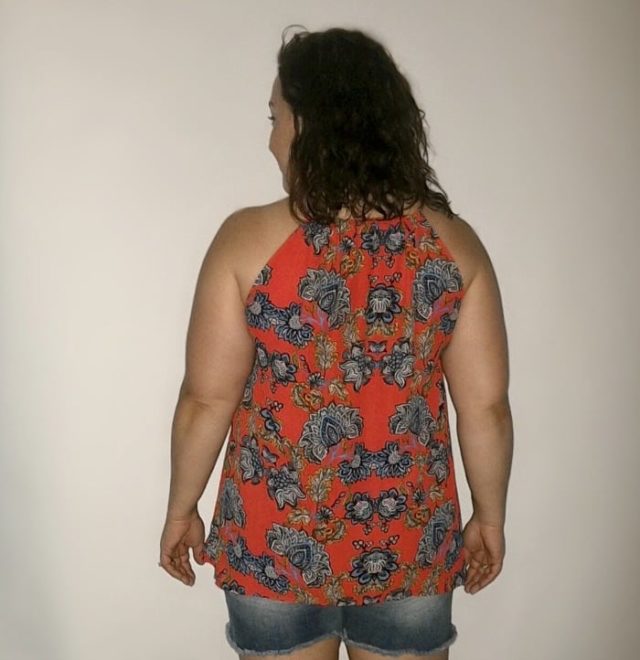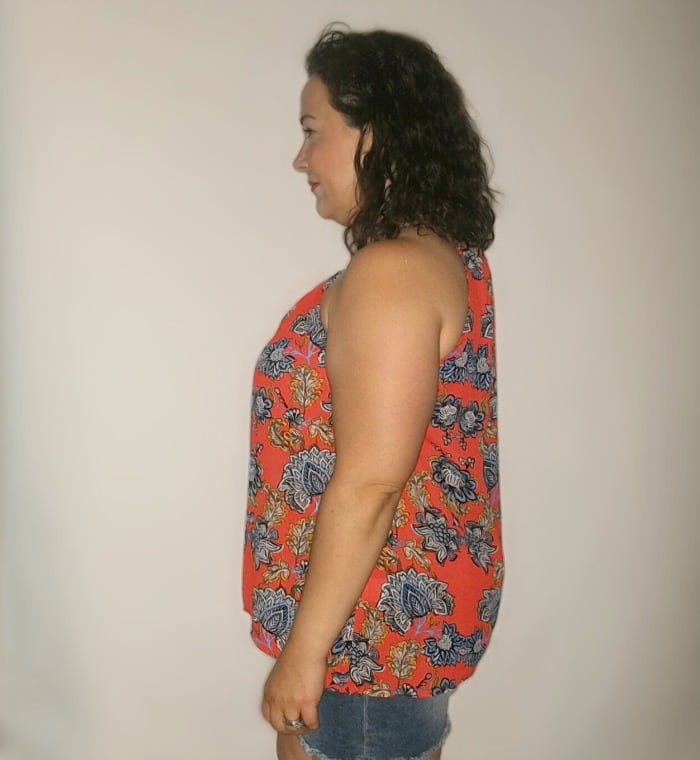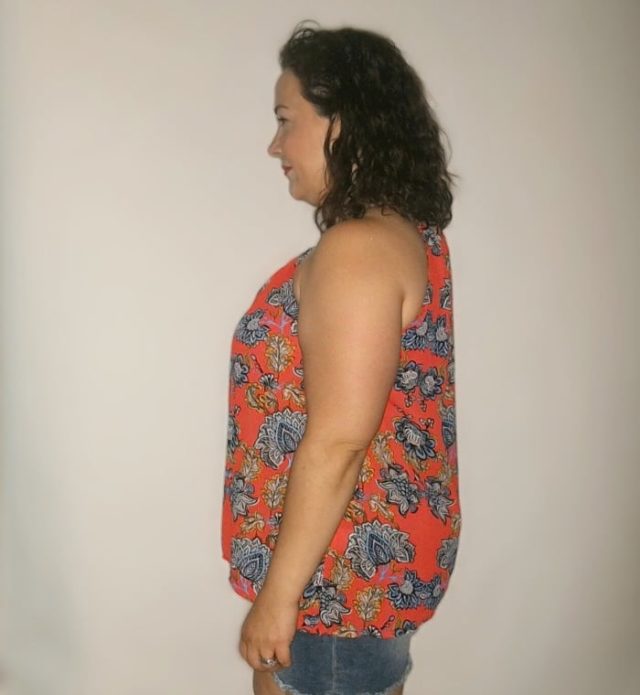 I love orange, it's my favorite color, especially when mixed with some red like this top. I like the print, it's fun without being too in your face or too trendy. I like the fabric, a poly crepe with texture that catches the breeze while being fully opaque. I wore it the day my StitchFix box arrived, I pulled off the tags, paired it with some dark ankle jeans and sandals and headed to the mall. Yes, you need a strapless bra with this top, but that's the only negative I see. It looks nice untucked or tucked and can transition into fall nicely with a denim jacket. Kept.
Market & Spruce 'Brea' Eyelet Dress – Size XL, $74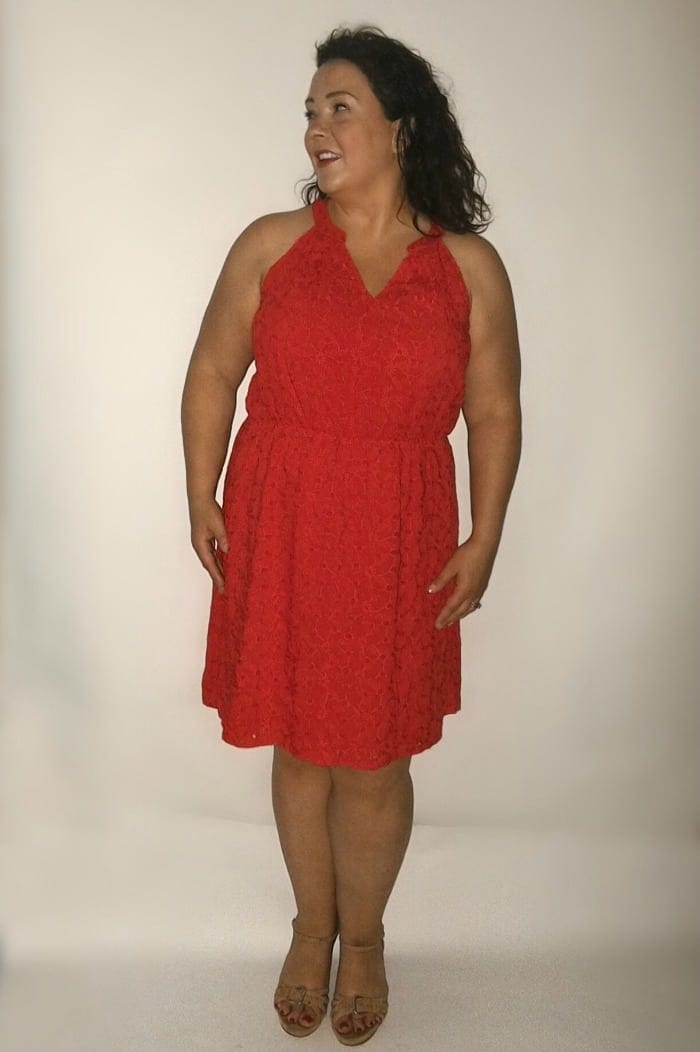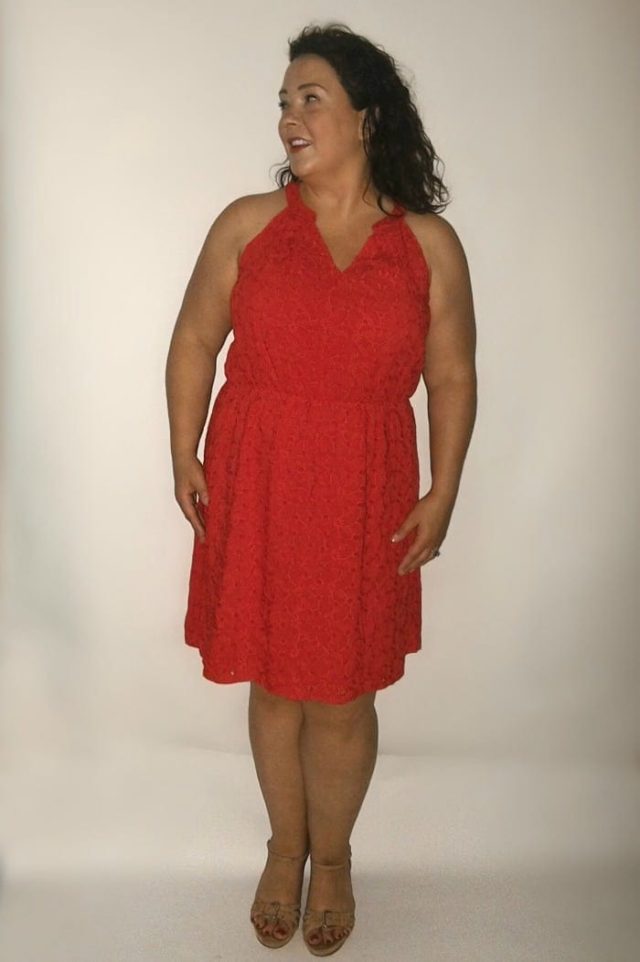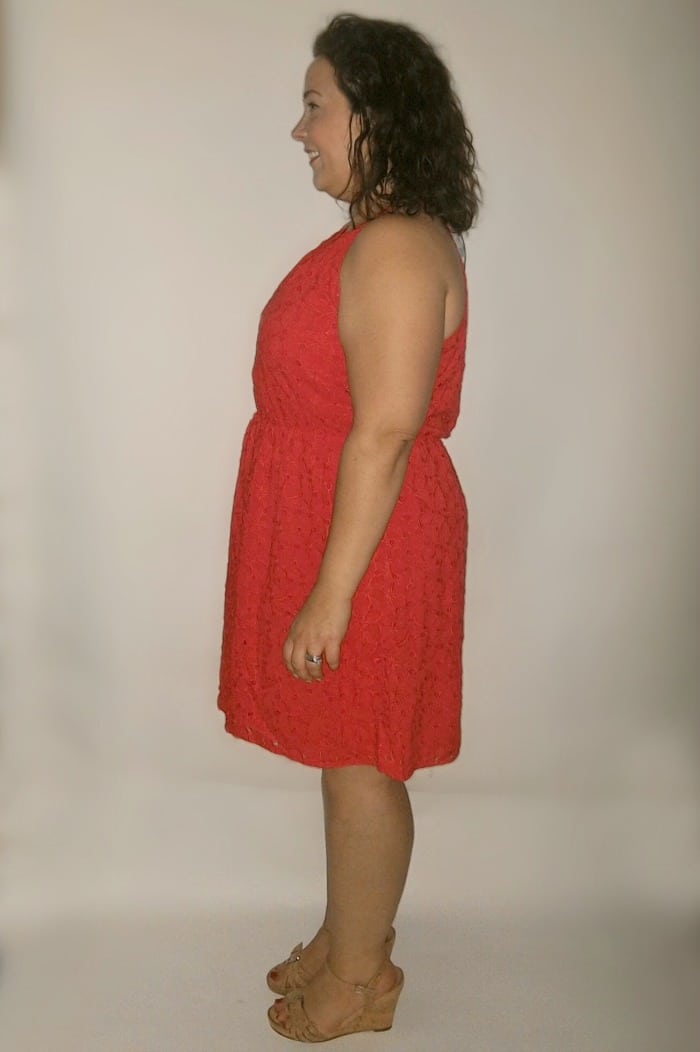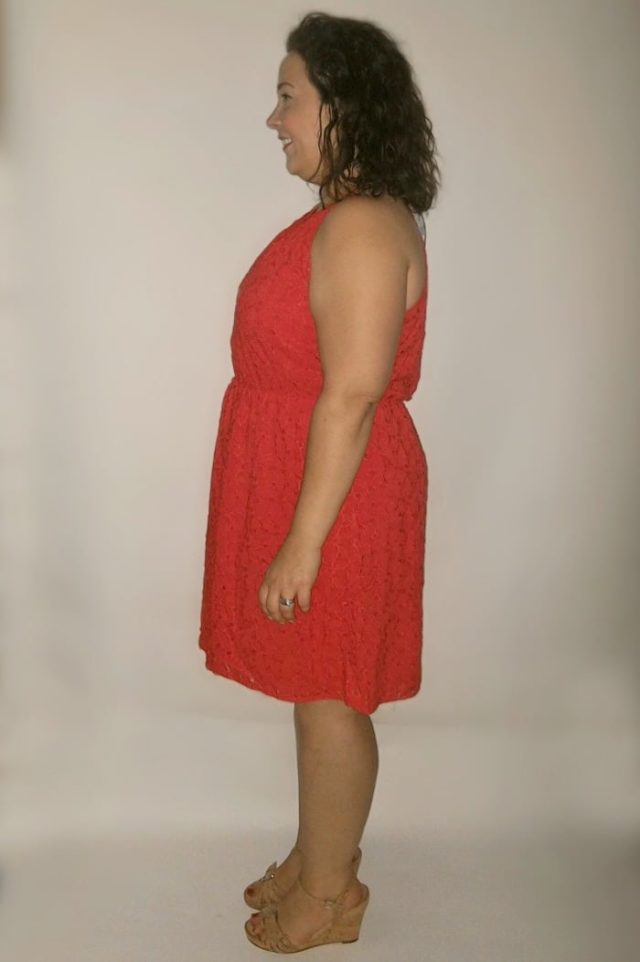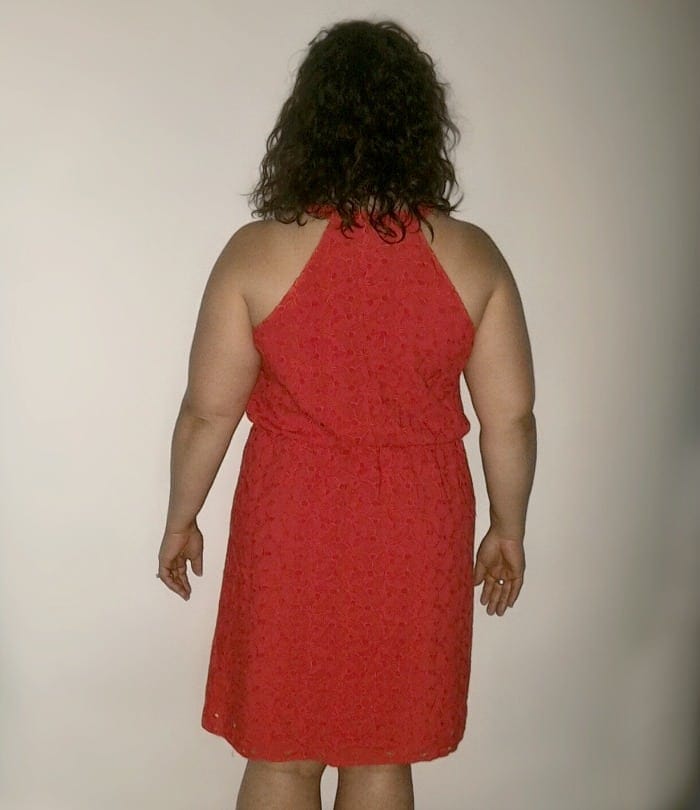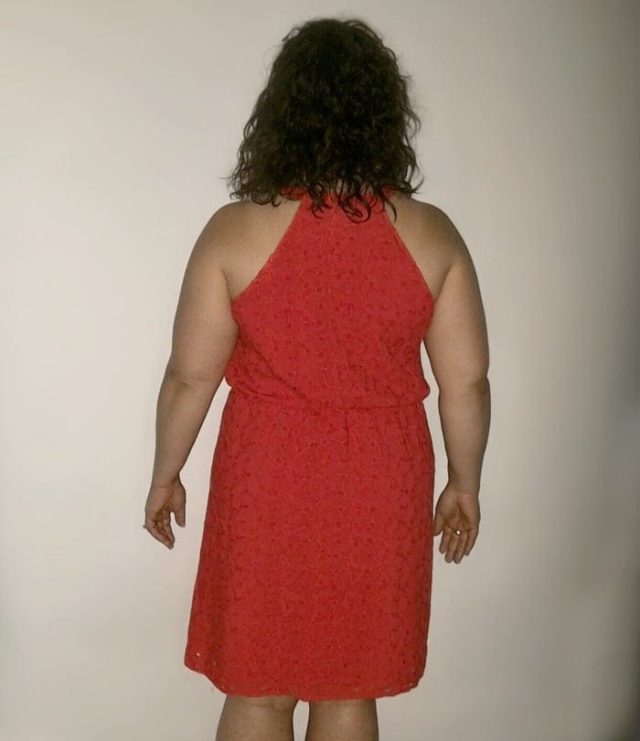 This was another piece that my mom loved until I picked it apart. It's another first glance winner. Gorgeous color, super flattering neckline (also needs a strapless bra), cotton so it will be nice in the heat. But let's break it down. It needs a strapless bra so it's not a throw on and go dress. It's a hair shorter than I'm comfortable at my age, size, shape, and lifestyle. The eyelet is pretty, but it does read young and preppy… two things I am not. Sometimes I don't mind an uncovered elasticized waist but on this dress I feel it made it read younger and also cheaper. If I were 10 years younger I'd keep this dress. I'd wear it to a winery with sandals and some oversized sunglasses and a crossbody bag. I'd wear it out to dinner with Karl at the Wharf with gold sandals and some statement earrings. I'd wear it come fall with an olive cargo jacket and suede ankle booties or a denim jacket and some Adidas sneakers. But that is not my age, my lifestyle, or my current wardrobe. Returned.
One thing I keep thinking with each StitchFix I receive is that it would be good… if I were younger. I feel the StitchFix stylists have a hard time understanding the over-40 woman who isn't old. My boxes skew either old and frumpy or too young and twee. I've played with my Pinterest, I share my Instagram and blog, I give a ton of feedback, I've updated my profile and increased the dollar amount I'm willing to spend but I still remain underwhelmed. I don't plan to get another StitchFix for me any time soon… I may try again deep into fall but not sure if it's worth it.
However, StitchFix has come out with a version for kids and I'm going to order one for Emerson to try. At nine years old, she's an age where she has strong opinions about her style, but is still trying to figure it out. Up until last year, I did all her shopping. Now, she's influenced by TV, YouTube, her peers, the magazines and catalogs that come in the mail. I'm thinking a StitchFix before school starts may help her try some new brands and styles and better find what she does and does not like. I don't usually share kid fashion on this blog, but I think this concept may be interesting to many, even those without kids. No matter our age, tools like StitchFix, even if they are all misses, can help us find our personal style. Sometimes figuring out what you hate is the best way to learn what you love.
This is not a sponsored post, but I did use a credit I received from StitchFix from a previous sponsored post to order this Fix. If you click on any of the links, I may make a small commission. These photos were taken with my Amazon Alexa, but in a different place from my last hits and misses post. Not loving the quality of these photos, stay tuned I will tweak for my next clothing review!
SaveSave