This article may contain affiliate links; if you click on a shopping link and make a purchase I may receive a commission. As an Amazon Associate, I earn from qualifying purchases.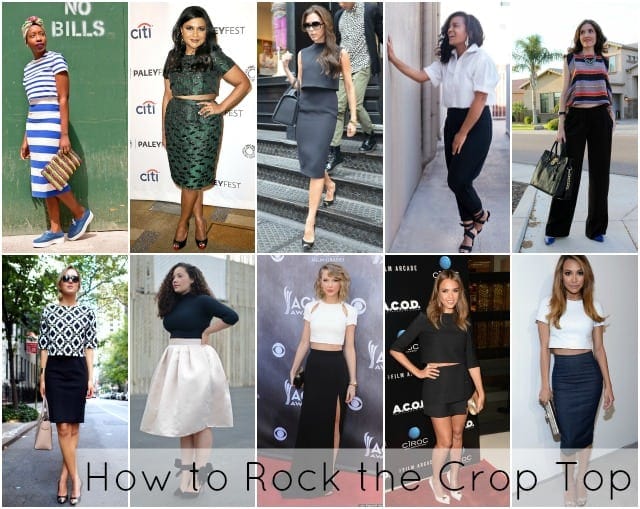 The crop top is back. I know, I know, I hear your moaning through the Internet. I wore crop tops in high school when I was channeling Kelly Kapowski, when this trend showed up on runways I KNEW it was one I would not revisit. However, brilliant style bloggers across the globe have been proving that anyone can carry off a crop top this summer, and here's some tips on how to rock the crop without looking like a Fly Girl:
Pair with a High-waisted Bottom
When a crop top is partnered with a skirt or pant that starts above the belly button, a crop top can be downright flattering. The smallest part on a woman's body is usually at the bottom or right below the rib cage; a crop top and high-waisted bottom highlight this area, and your sliver of skin flatters in the same manner a wide belt does. Having the visible skin so high prevents muffin top, and showing your belly button or post-baby stretch marks. While this pairing can work with most any type of top and bottom, the combination of a fitted top and fuller skirt or pants is both figure flattering and on trend (and with a fitted top there's no chance you'll flash your bra). Great examples of this trend can be seen on Jay Miranda and Girl With Curves.
Wear Over a Dress
Gosh, why didn't I think of this? I'll admit, seeing this outfit on The Classy Cubicle was when I started realizing crop tops can look modern and be age-appropriate. Treat a boxy crop top like a cropped jacket and pair with a simple sheath to update your workweek wardrobe staples or to freshen up your Date Night LBD. Also on Refinery 29, they featured an editor wearing a striped tank dress with a different striped crop top over it and the combination was fun and very wearable.
Layer over a Longer Top
You'll see retailers have already thought of this combination, styling mannequins in this manner and also selling shirts that create this effect. I love this top from Vince Camuto; it looks like two tops, achieves the crop top look, but has enough coverage to wear at more casual workplaces or weekends when you don't want to flash a ton of skin.
Get Matchy Matchy
When the top and bottom are the same color and/or fabric, the flash of your midsection isn't as obvious and doesn't feel so risqué. Mindy Kaling wore a jacquard crop top and skirt to an event and it worked because it was a matched set, the skirt was high, and the sliver of skin showcased the slimmest part of her figure.
Play with Volume
Not every crop top is fitted, and a bit of volume can make this shorter silhouette far more wearable.  The Tiny Closet shows how a floaty crop top can be quite flattering; while the post linked has her wearing it with higher-waist pants, she wears this top often with all sorts of bottoms. The August Diaries pairs a boxy crop with a high-low hemline with a skirt that is fitted on top, creating a balanced silhouette. I love this eyelet crop top with matching full maxi; both pieces in the same color gives a feel of a dress, the cropped top flattering the figure in the same manner as a belt. Adding volume is a great way to balance your frame and keep cool as the temps rise.
What do you think about the return of the crop top? Are you willing to try this trend?