This article may contain affiliate links; if you click on a shopping link and make a purchase I may receive a commission. As an Amazon Associate, I earn from qualifying purchases.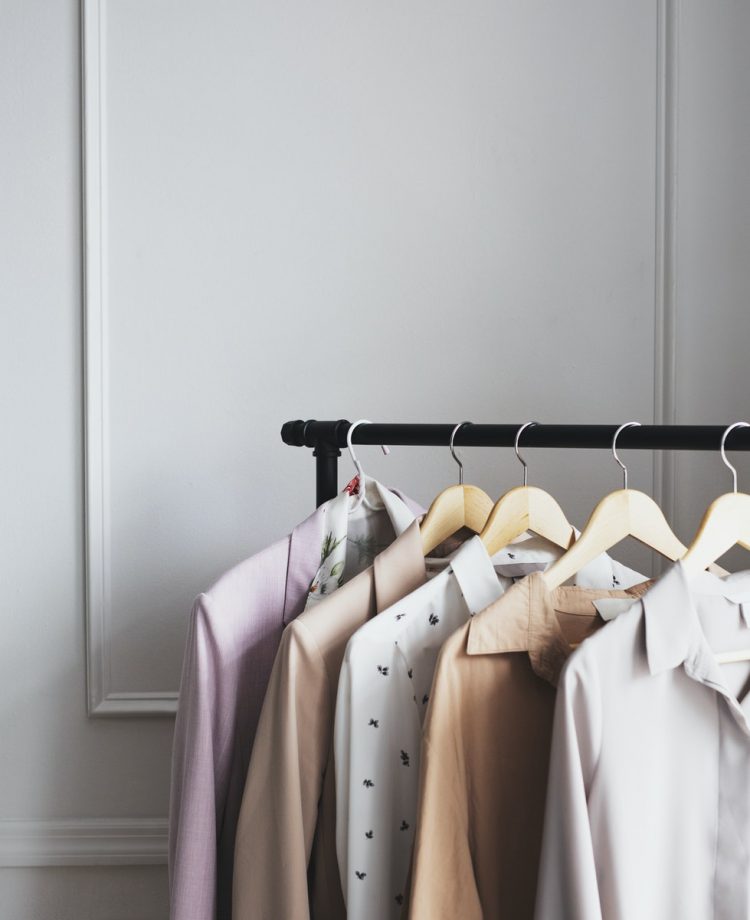 It's Saturday morning, and I am having a mild panic attack. My father-in-law's memorial service is in less than two hours and I am the officiant for the service. The idea of speaking in front of dozens of people while trying not to sob was not causing my anxiety… my wardrobe was.
I couldn't find my black dress. Okay, I could find one black dress – the matte jersey one with the tie-belt and the polo collar, but I couldn't find THE dress, the one I imagined wearing. Lightweight black jersey, surplice neckline, empire waistband, blouson sleeves. Appropriate for an outdoor memorial service, but still stylish and flattering to my 32-week pregnant frame.
"Who cares what you're wearing," my husband said. "People won't expect you to be stylish, you're in mourning."
But it's not about what other people think, it is about what I think, and how I feel.
I put on the dress with the polo collar, tied the belt in a bow, untied it, and did it in a knot. I hated it. The collar was limp, the belt hokey, my breasts looked strange, and the hem was now a bit too short this late in my pregnancy. I did my hair and makeup, hoping it would improve my reflection in the full-length mirror. I felt tacky, I felt awkward, and I felt wrong. I added black hose and the only black shoes that fit at 32 weeks – my Naturalizer flats. I didn't look like myself. My husband came by the door, "You look beautiful Alison." I knew he meant it, but I didn't feel it. I got on my hands and knees and dug through the closet, hoping THE dress fell off a hanger and was hiding behind some shoe boxes or suitcases. No such luck.
Time was running out, so I wore the dress with the polo collar. I jazzed it up with a skinny croco belt with a pave buckle and my large silver cuff bracelet. A feeble attempt to make it more "Allie" of a look. I arrived at the service where friends and relatives greeted me, telling me I looked so lovely, and they were so sorry for my loss. I tugged at my hem, wishing it was closer to my knees, and looked down at the swollen masses that used to be cute feet.
I attended my 15-year high school reunion this summer. At the restaurant, I went to greet a fellow classmate who I hadn't seen since graduation. I asked her how she was and how her life had been the past decade and a half. She told me about her travels and job and then said, "Well, I already know how YOU have been doing." I asked her how; she replied, "I've seen your blog. Some days your hair is curly, some days your hair is straight. Not much else going on, huh?" She smiled and walked away. My first feeling was embarrassment. Then I stopped and thought, why should I be embarrassed? I looked at her styled hair, her lined lips, and bold earrings – she must have spent at least as much time as I did this evening to look good for the reunion. The only difference between me and she is that I put my daily look on the Internet. 
I am often teased for caring about how I look, and I get more emails and comments than I can count where people blast me for being superficial, for being clueless, and as one email said, "for killing everything women have fought for the past few decades."
I don't blog to gain fame, to force my views on others, or to try to make Allie clones. I blog because, for me, clothing is armor. When I feel good in my skin and in my attire, I gain strength. I can stand in front of large crowds and officiate my father-in-law's memorial service. I can feel pity, not fear for the classmate who teases me after all these years for caring about my hair. I can work harder, care more, and do more because my appearance is one thing that I know I have control over. I cannot control the weather, I cannot control other people's actions, but I can control the armor I put on each day. I can walk, can talk, can smile and feel good about myself and concentrate on other things such as my thoughts, my beliefs, and how I interact with the world.
I cared about what I wore this Saturday because I didn't feel confident I could get through that service. I loved my father-in-law terribly so, and it hurt so much to see my husband hurting so much. I knew I would be surrounded by people hugging me, kissing me, feeling for me and I needed that armor to get through it all, to present a service, to present a strong face for my husband and his family. Some drink, some smoke, some get angry, some withdraw, some make jokes. I find it far more healthy and intelligent to spend a little more time smoothing my skirt and fluffing my hair to gain that strength to get through it.
Women are amazing creatures. We are often portrayed as the softer sex, but studies have proven that we have a higher pain tolerance than men, we live longer than men, we are able to create human beings, feed them from our bodies, care for our loved ones while being able to manage multi-million dollar companies and even countries. Women are beautiful, and work so hard, they deserve to feel beautiful, know their beauty on a daily basis.
Beauty doesn't come from having the perfect little black dress or pair of pumps. It doesn't come from finding that perfect foundation that hides imperfections and is invisible on your jawline. Beauty comes from loving yourself, being proud of whom you are, and having comfort in your own skin. It's finally falling in love with your crazy curls, getting off the diet train and understanding that maybe you are most wonderful at a size 14 instead of 4, respecting the heritage that gave your porcelain skin, and knowing that nurturing your body and it's appearance is just as important as nurturing your soul and your mind.
And what's wrong with a little armor to fight through the battle which is Daily Life? My goal with these blogs is to help every woman realize her immense beauty, and help provide her with a little armor to maintain that confidence and self-love. I blog because I care. I care about women, I believe in our worth, our strength, and that we are capable of anything we set our minds to.
Today I did a deep cleaning of my bedroom and did all the laundry. It felt good, to wash away all the stress and anxiety and sadness of this week; to prepare my armor for the upcoming week where I have to return to the Real World, still mourning the loss of a very special man. I already feel the confidence as I look as my organized closet and neatly folded drawers; knowing I have what I need to go into Monday's battle.
However, I still can't find that darn dress…