This article may contain affiliate links; if you click on a shopping link and make a purchase I may receive a commission. As an Amazon Associate, I earn from qualifying purchases. 
I'm about start a job as summer associate in a law firm, and I'm young (24) and plus sized. I don't really know where or how to find work clothes that are flattering, don't age me in an unwanted way, and yet appropriate for the work place. I own two suits; both make me look dowdy and age me. I don't want to look too young obviously, but dowdy is never a good look either. I also don't need to wear a suit all the time, so perhaps that might be a solution, but for times when I do need to wear a suit, I don't have any good options. Do you have any advice?
Two women, same age and figure can purchase the same black pantsuit from Ann Taylor. On one, it looks smart and chic; on the other it looks dowdy and dated. What can you do to make a suit more youthful, stylish, and contemporary?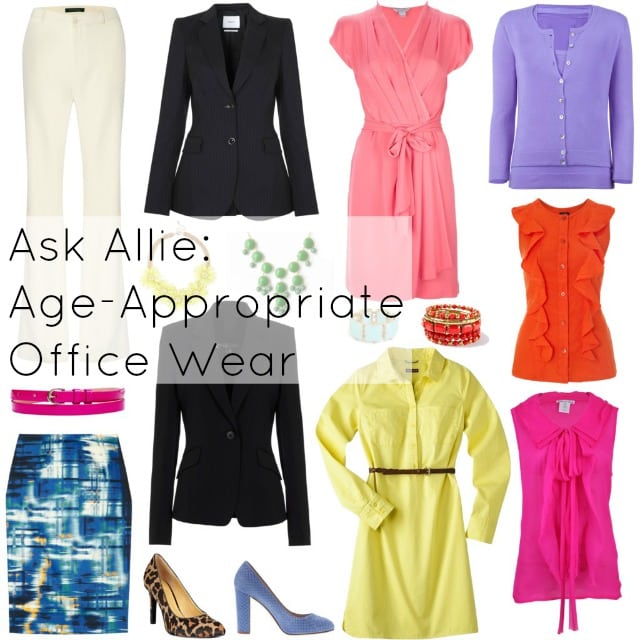 Get it Tailored
You can't imagine how much a good tailoring can do to a suit. Just having the sleeves and legs the right length will make you look thinner, more stylish, and also more professional. Having a piece fit at the shoulders, nip in at the right place at the small of your back, and not gape at the waist or pull at the hips is an amazing and powerful piece in your wardrobe. Tailoring will also make a cheaper suit look more expensive. Tailoring of a suit isn't cheap, but a quality suit should last you many years and a custom fit is worth the investment. If you're between sizes, go up a size and have a tailor or seamstress fit it perfectly for you.
Be Choosy with your Shoes
While a sensible flat with a rounded toe will be comfortable and appropriate, it will up the frumpy factor in a heartbeat. Shoes are a way to remain professional but show your style and make a suit more age-appropriate. I personally like pointed-toe low pumps because they elongate my frame, look cute peeking out of trousers, also work with skirts, and look trendy yet also classic. While a black or tan pump is versatile, consider pushing the boundaries as far as your dress code will allow – snakeskin and croco embossed leather, leopard print, a pop of color, an interesting detail or embellishment.
In the office, it's better to have fewer pairs of shoes that are quality and well cared for, than many cheap and overly trendy styles. Once you know a brand and style that fits well, check sites like 6pm.com or eBay for more in a different color or fabric. Take your shoes regularly to the cobbler to replace missing heel caps, resole each season, and to stretch snagged leather on heels. Polish your shoes – it's quite easy and something you can do while watching TV one evening.
Incorporate Color
A colored blouse or shell can transform a simple pantsuit. Emerald green silk blouse, shell pink cashmere tee, coral cotton button-front, mint chiffon ruffled top. To look more youthful, consider blouses and shells in hot-now shades – yellow, mint, emerald, anything on the Pantone Color Report for the season. Some colors can age – dark red, deep teal, forest green – if not in a contemporary silhouette. Lighter and brighter will add fun yet still remain appropriate.
Accessorize
As with colors, certain accessories can age a young woman. In general, steer clear of classic pearls and scarves. However, trendy necklace styles and a skinny belt in a fun color or print can add a youthful touch to your work wear. Look at sites like Stella & Dot, BaubleBar, and JewelMint for jewelry trends, and J. Crew for ideas on how to incorporate accessories into careerwear.
Break Up Your Suits
Pair your black blazer with your ivory trousers, your pinstriped jacket with a solid-colored pencil skirt.  This way you still look as though you mean business, but the look isn't quite as stuffy.

What to Wear When Not Wearing a Suit:
Shirtdresses – From crisp cotton to silk, such styles look great at the office with a simple pair of pumps. Make sure the hemline is close to the knee, the buttons don't gape or pull at the bust, and steer clear of very casual fabrics like seersucker and chambray.
Wrap dresses – Created by Diane von Furstenburg just for the career woman, the wrap dress is figure-flattering, professional, and available at most any pricepoint. I am fond of matte jersey, which is a seasonless fabric, doesn't cling, and can dress up and down with ease. With most figures, a strategically placed safety pin or a camisole in a more refined fabric will make the neckline more appropriate for the office.
Twinsets – One of the best inventions for offices, where it can be sweltering hot outside and freezing in an air-conditioned workplace. Having the shell and sweater of the same color and fabric is dressier and looks more luxe. Pair with pencil or gathered skirts, or with cropped or traditional trousers. The shell can be worn under a suit, the cardigan over dresses. Buy the highest quality you can, baby it (lingerie bags, drying flat, spot cleaning instead of laundering regularly) to keep it from getting faded, stretched, or pilled.  Add interest with a cluster of brooches or put a skinny belt over the shell (and under the cardigan).
Follow Me | Twitter | Facebook | Instagram