This article may contain affiliate links; if you click on a shopping link and make a purchase I may receive a commission. As an Amazon Associate, I earn from qualifying purchases. 
Reader Caroline asks:
Hi Wardrobe Oxygen,
I have a large bust (36DD) and am a size 8. I can never find shirts or jackets that look right on me. How does a curvy lady look feminine but not like she's putting the girls out on display? What types of shirts and dresses should I be looking for?
Hey Caroline:
As a fellow large-busted woman, I feel your pain. Having the curves on top, but an average dress size means items are usually too small on top, or else too large in the waist and too long in the hemlines.
First, here's a list of things you should try to stay away from: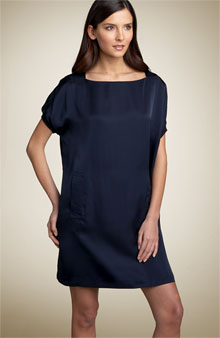 Crewnecks and Boatnecks
These necklines usually make your bust look bigger, and seem to make your shoulders look just as large. Even though this example is on a small-busted woman, you can see how this style of neckline accentuates her bust area. A slightly rounded or v-neck can give the same amount of coverage, but will lengthen the look of your neck and expose part of your collarbone, showing the world you are not a linebacker.
Double-breasted Jackets
Two rows of buttons over your chest is not going to flatter, or de-emphasize that part of your body. A single-breasted style, preferably with a notch collar will be far kinder to your frame.
Turtlenecks
Again, a turtleneck will draw all attention to your bust and shoulders. A cowl neck, or even some distraction (long necklace or scarf) over the turtleneck will elongate and make the eye see the whole pictures, not just your chest.
One-button Blazers
Seen as a wardrobe staple by many, this classic style is a no-no for any woman with a large bust. It is near impossible to get a good fit, so the neckline will gape at the bust, emphasizing that part of your body.
Button-down Shirts
Sometimes you will come across a gem that works, but more often than not, a button-down shirt doesn't work with a curvy frame. If you have enough fabric to comfortably stretch across your bust, you will often find the shoulders are too big and it is too loose in the torso. More often than not, you will find yourself tugging at a button-down all day to fit properly and not expose your bra between the buttons.
And a list of what usually works: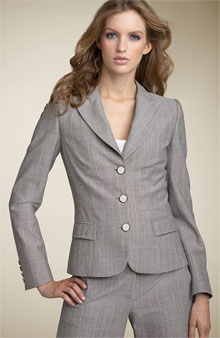 Three-button Blazers
Enough buttons to follow the line of your body, and a button high enough that your bust can't spill out of the neckline. Three buttons is still a classic look, but far more figure-flattering.
Camis
Worn under a wrap shirt or dress, or even a v-neck, camis will offer proper coverage while still allowing the v-style of the top garment to lengthen your look. Having the camisole the same color and a complimentary fabric to the top or dress will keep it looking sophisticated. I have knit ones to wear under cotton and other knits, synthetic to wear with silk and matte jersey.
Surplice and Wrap Necklines
A surplice neckline is one that has a crossover/wrap effect. It is different from a wrap shirt because it is sewn together and usually the wrap part ends around the bottom of the bustline, finishing with a traditional torso for the rest of the garment. Both a wrap and a surplice neckline are good for busty women because they nip in at the waist and offer a bit more fabric at the top.
A wrap dress is often most flattering on a woman with a large bust. Look for matte jersey and heavier knits that will work with your curves, and if you need an extra inch of coverage, a cami always works!
If a wrap neckline is gaping too much, it's usually better to leave it on the hanger than try to remedy the situation at home with a safety pin or cami. Too often I see fellow curvy females with a hodgepodge on their chest – weird gathers from hidden safety pins, brooches holding fabric together, a wrap shirt that hardly meets in front with a fully-exposed pair wrapped in a tight cami. Each shape of woman has some styles she just can't wear, if the wrap shirt in the store doesn't flatter or fit, it's okay. You can wear a scoopneck far better than most of your friends I bet! There are not hard fast rules with what one MUST wear, don't settle for a cut that doesn't work with your curves.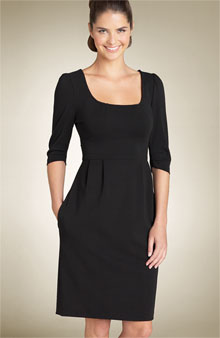 Knits
The most wonderful style this Spring for the curvy woman is the knit jacket. Free of stiff lining and structure, but still full of style and professionalism, the knit jacket is something to invest in while they are in the stores. Many are made of a fabric called Ponte de Roma, or Ponte for short. Ponte is a heavy, tightly-woven fabric that is sturdier and dressier than a traditional knit. It makes for great jackets, dresses and even pencil skirts and trousers. Often a Ponte jacket is unlined and its matching skirt or pants are, which makes for a very polished and well-fitting suit for curvy gals. This picture shows a dress from Ponte, and you can see how it has more structure than if the same dress was made from a lighter-weight knit.
Matte jersey is another wonder fabric – wrinkle resistant, easy to wash, quick drying and able to dress up or down. Great for dresses and for tops, be they under a suit or worn with jeans for a night out on the town.
Finally, every woman, especially those with large busts should get re-fitted for a bra every year and replace bras when they start losing elasticity or get stretched out. A good bra will completely transform your figure and how your clothing lays upon it!
Hope that helps!
Jacket by Elie Tahari, black dress by Maggy London, navy dress by Theory. Images and fashion from Nordstrom.