This article may contain affiliate links; if you click on a shopping link and make a purchase I may receive a commission. As an Amazon Associate, I earn from qualifying purchases. 
I'm heading to Las Vegas for my friend's 30th birthday and I have NO IDEA WHAT TO PACK! I live in a small town where a night out is the local bar or Ruby Tuesday's and I usually just wear what I was wearing all day. I'm not a skinny gal and am pretty freaked out by all I see online where it's skinny girls in bikinis and little dresses and heels. Any advice for a fellow curvy married gal who wants to have fun but not look insane? THANK YOU!
There will be seriously every style and look imaginable in Vegas, so don't feel that EVERYONE is dressing a certain way. No need to go out and buy an entire sequined-covered wardrobe for this trip.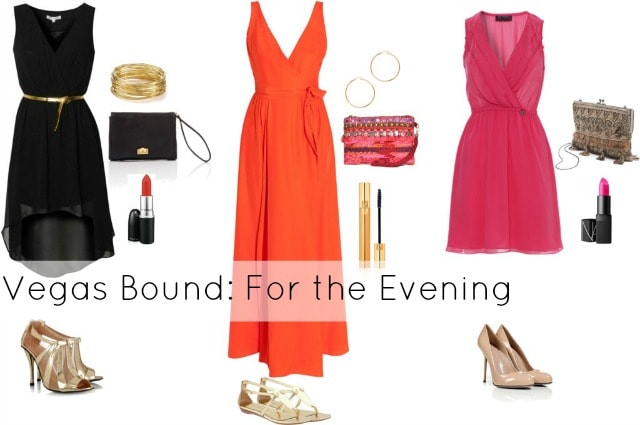 Nightclub Attire
Most nightclubs have dress codes, so it's better to dress up than down for the evening. That means leave your shorts, flip flops, and logoed tee shirts in the hotel room. Think of it as a festive version of Business Casual. You can't go wrong with an LBD, it's something you can re-wear, and you can amp it up for Vegas with more dramatic accessories and makeup. Color is great too – a fun cocktail dress with a bit of sex appeal and some fabulous shoes that still let you dance all night is a smart choice.
Evening Attire (Casinos, Shows, Nice Restaurants)
Again, leave the shorts, flip flops, sneakers, and tees at home. A sundress, a cute skirt or pants with a blouse, or even the LBD you plan on wearing to the club is a smart choice. Again, a concept of Festive Business Casual is a good rule of thumb and it's better to err on the side of overdressed than underdressed.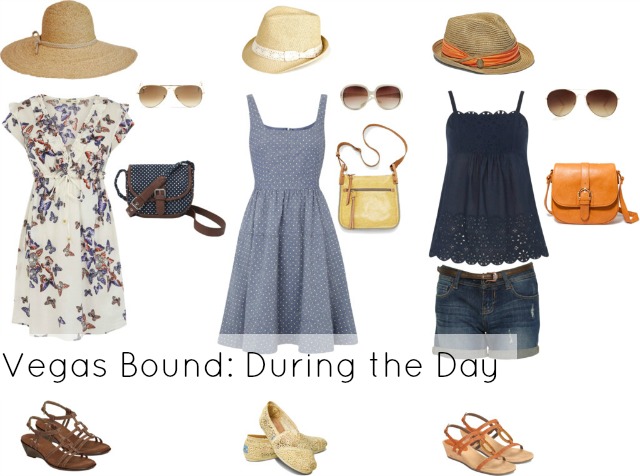 Sightseeing Attire
During the day, you will be going from frigid air conditioned casinos to the sweltering hot temps outside on the Strip. A simple sundress or shorts are perfect; be sure to wear comfortable sandals or shoes because you will be doing a LOT of walking. To protect against the sun, wear a hat, sunglasses, and sunscreen, and reapply that sunscreen often. A crossbody not only lets your hands be free, but also is better at preventing pickpockets. Be sure to tuck a cardigan in your bag to be comfortable indoors.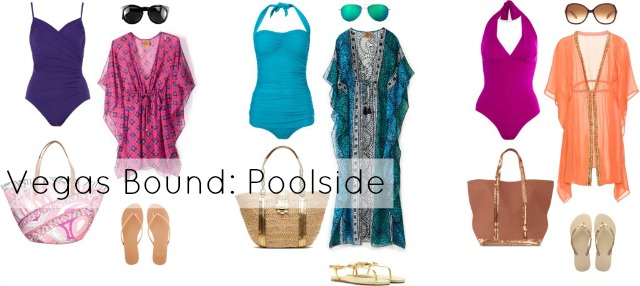 Pool Attire
It may seem intimidating to imagine a poolside full of slim women in string bikinis, but do know there are people of all shapes, sizes, and styles in Vegas. Take a suit (or two!) that flatters your figure and makes you feel confident. I usually go with the LBD of swimsuits – something black that supports the breasts, whittles the waist, and makes me feel svelte and sexy. As with the LBD at the danceclub, if you have a simple dress then have fun with accessories – a big floppy hat, fabulous sunglasses, a festive coverup or caftan and metallic sandals.

Additional Tips:
In Vegas you can carry off things you may not be comfortable rocking at home. Caftans at poolsize, sequined mini skirts, giant floppy sunhats. It's a good time to wear all those items you own but fear wearing in town!
It's hot outside. Drink lots of water, especially if you're drinking alcohol. Keep reapplying that sunscreen, and give yourself some breaks.
You're going to walk more than you think. Get some comfortable sandals for the daytime (and that doesn't mean cheapy flip flops) and consider getting a pair of foldable flats to tuck in your bag for your nights of clubbing.
Enjoy yourself, and let others enjoy themselves. This is not the time to be stressing out about your appearance. The goal of the trip is to HAVE FUN! Enjoy the experience with your girl friends, a great smile and laugh is the best accessory you can wear. One is more conspicuous when they are feeling awkward and trying to hide their figure than when they are just enjoying the moment. Your participation and experience is far more important than what you pack in your suitcase. Have a blast!
Have you been to Las Vegas? What are you suggestions for what to wear?
Follow Me | Twitter | Facebook | Instagram